This sweet basil vinaigrette is inspired from one of my favorite salads I order at a local Italian restaurant. Fresh basil and balsamic, you can't go wrong.
For those who've ate at Papa Vino's Italian Kitchen you know this salad and more specifically the sweet basil vinaigrette.
Oh my lord is it good! I can't imagine anyone who wouldn't love this salad… unless you don't like blue cheese or olives, and if that's the case how very, very sad ;)! It's because of this salad that I love blue cheese and the salad dressing is simply fantastic!
On a side note, it's pretty fitting to post this recipe today. This morning I received a text from my best friend telling me the news that my beloved Colasanti's market had a fire, damaging half of the building. Immediately I thought about how many memories I had there because it's so much more than a place to shop. It's the place I would take my girls when they were little to feed the peacocks and watch the geese. Earlier this spring I rescued one of them that got a little to close to the road out front. The parrots inside that will chat you up, Pat particularly liked these guys. Luckily they were rescued from the fire.
I stop in at least once if not twice a week for their top quality produce and to purchase some for of meat from Snook's Butcher Shop. If you've been following me for a while and I've referenced the market that I purchase the BEST bacon ever, it's from Colasanti's/Snook's. I was just there this past Thursday to grab the bacon for this salad and zucchini and summer squash for another recipe post. Like only three days ago it was alive and well.
If you live in the area and have ever stepped into it, you know what I mean. It's a special place. A place where you could just get lost walking around discovering all their nooks and crannies of excellence. It's hard to call it luck, so I guess by chance it was the green house side so I'm told the market and butcher shop is still open for business. But I'm sad to think of what damage has been done and all the loss.
But I digress.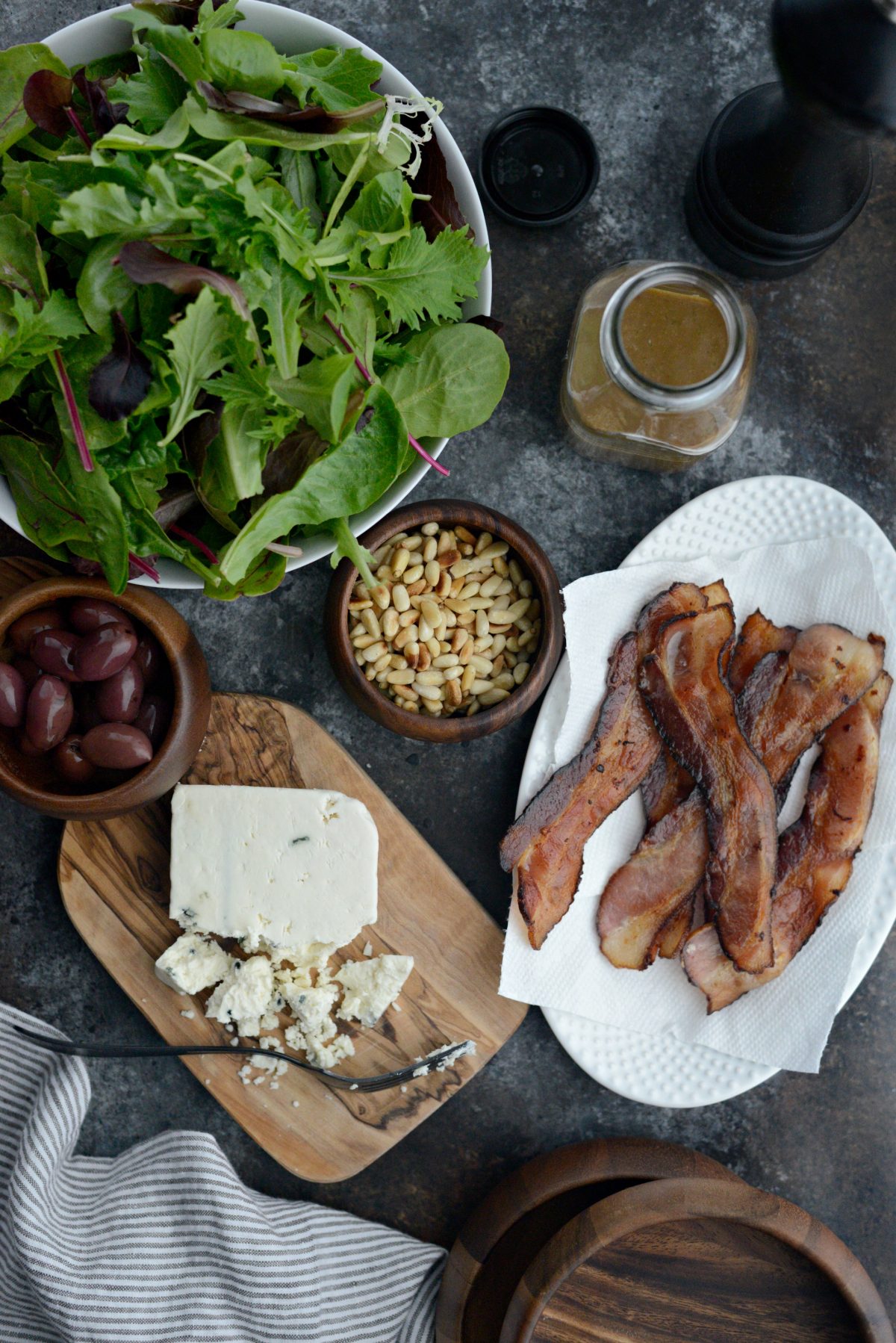 This salad. This weekend I made a glorious salad. I've given the salad dressing (and posted about salad you can drizzle it on) a recipe remake. I fine tuned the vinaigrette a tad, updated the photography and decided it needed a new post altogether. The salad is one you will want to make; it has bacon, blue cheese, toasted pine nuts and olives and yes, this sweet basil vinaigrette. Seriously your tastebuds will love it! I specifically love it with slices of grilled chicken breast on top. You can read about it HERE and grab the recipe while your at it.
This post may contain affiliate links.
Buy the Cookbook: Simply Scratch : 120 Wholesome Homemade Recipes Made Easy Now available on Amazon »
THANK YOU in advance for your support!