What's not to love about this bacon blue cheese house salad with sweet basil vinaigrette? Mix of tender spring lettuces tossed with crispy bacon, stinky crumbled blue cheese, buttery, toasted pine nuts and briny olives is then drizzle with a homemade sweet basil vinaigrette. It's a delicious flavor punch to your palate.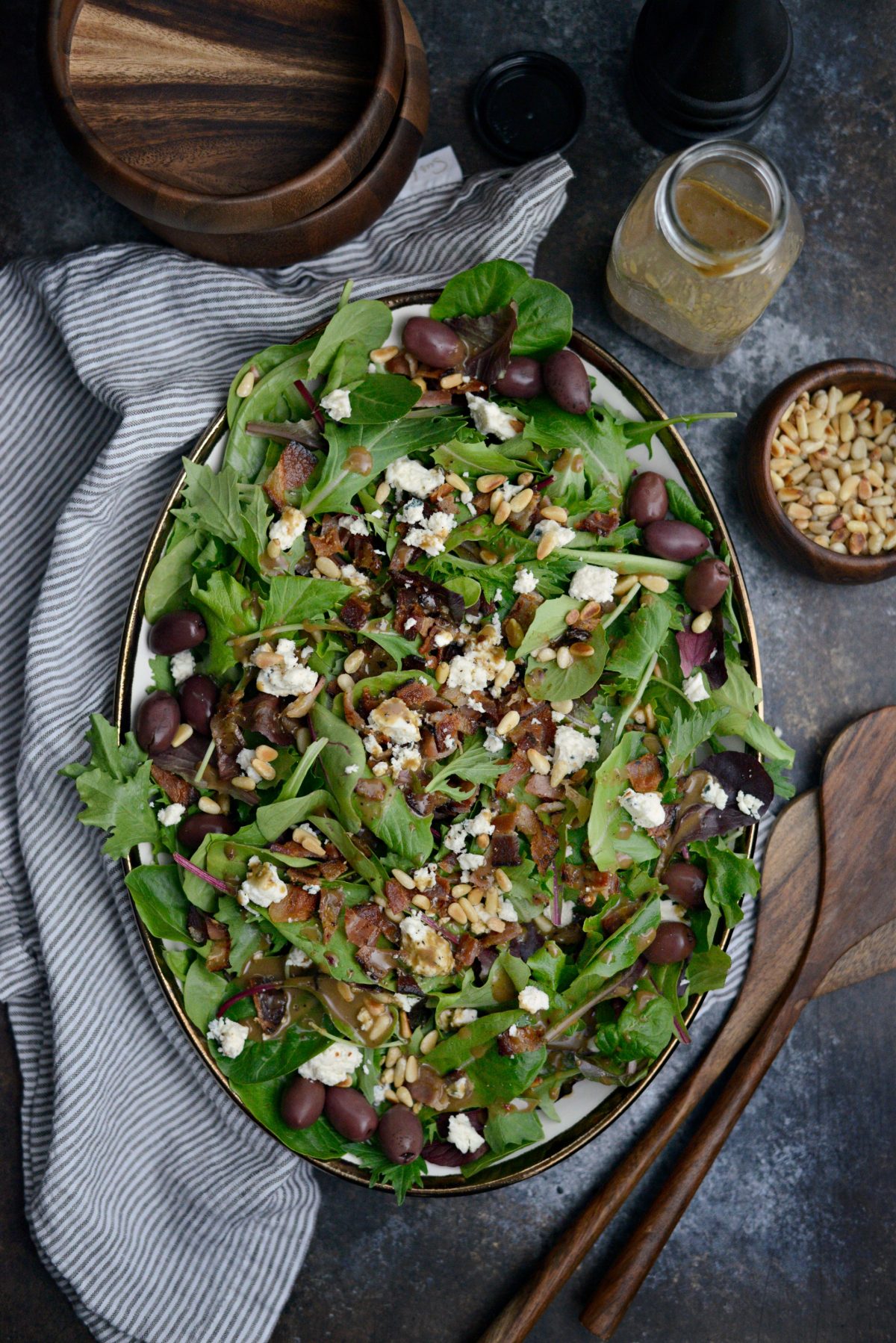 Another stellar weekend for the McNamara family! Pat and I got some more fishing in while the girls were in school Friday, I'm still in the lead for the most fish caught (me 7, Pat 5). Did I mention he is the super outdoorsy guy who's been hunting and fishing his entire life? And I'm beating him. Ha!
Later Friday evening, we checked out a local street taco joint and I was inspired by some items on their menu and plan to test out some new recipes in the coming weeks. The remainder of the weekend we just hung out; Malloree went to the beach with her friend, without a parent. Seriously, how is she old enough for this?? Meanwhile Haileigh had one of her best friends over and we picked up pizza and breadsticks and later went on an evening boat ride.
Truth be told, rarely do I cook on the weekend. Usually Pat will grill and I sort of get to take a break from the kitchen. It's appreciated, because by Friday I'm just done and if I have to wash one. more. dish… However I never do mind making a salad, especially one that calls for bacon and blue cheese. For reals, have you met me?
This salad is pretty much based on a salad Pat and I would order years ago at our then favorite Italian restaurant. This is the salad that began my love affair with blue cheese. Back then we would order it with the blue cheese on the side, now we have it scattered all over and under.
If you haven't noticed, making salad dressings and homemade vinaigrettes are my thang. The simpler the better and this sweet basil vinaigrette is one of my long time favorites. The base is balsamic, Dijon and lemon juice, flavored with fresh garlic and basil, sweetened with honey, and seasoned with kosher salt and red pepper flakes.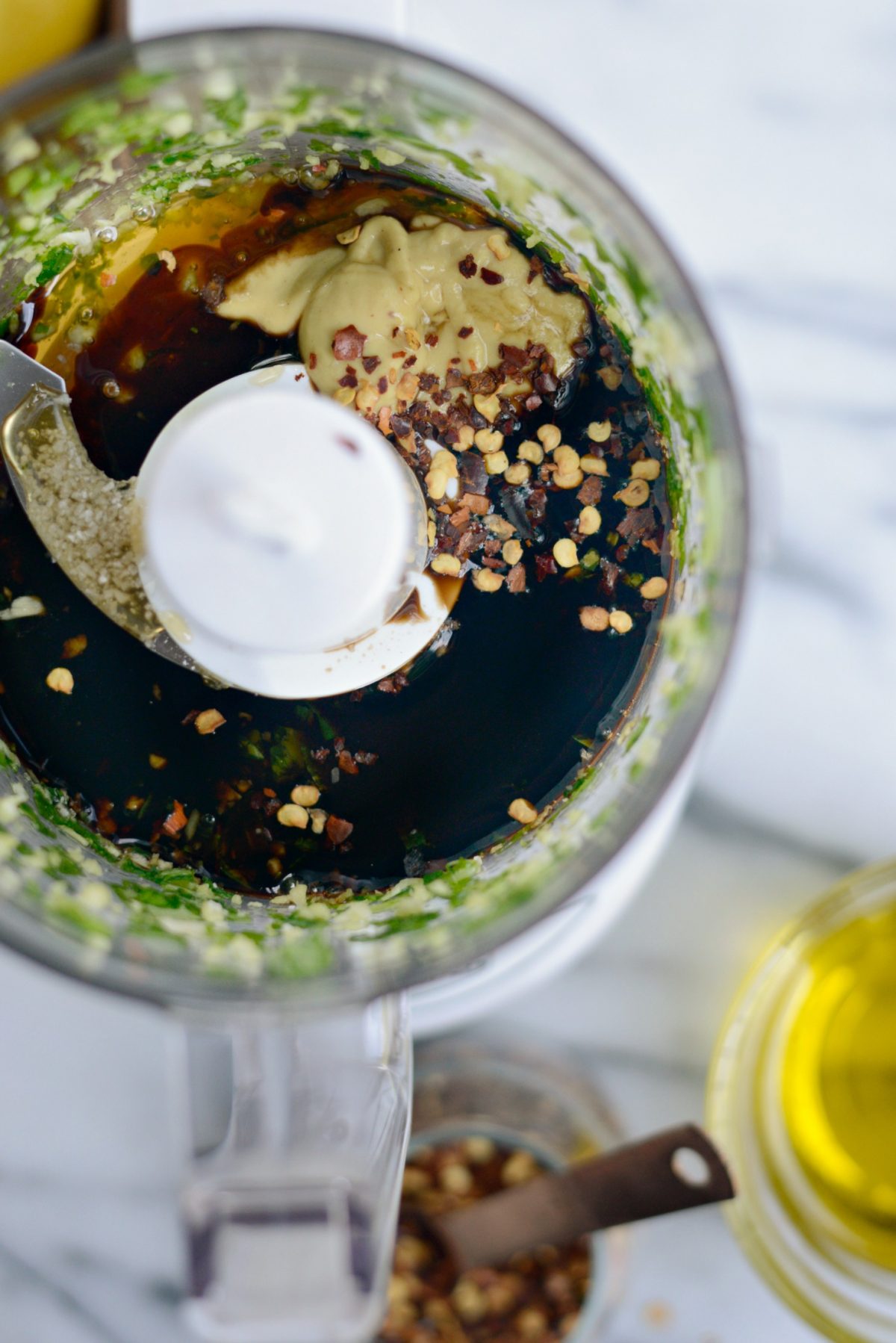 First, pulse the garlic and the basil until chopped. Then add in the 2 tablespoons of each honey, lemon juice and balsamic vinegar. Then 1-1/2 teaspoons Dijon mustard, 1/2 teaspoon kosher salt and 1/4 teaspoon red pepper flakes. Pulse to combine.
Then secure the lid and turn on your food processor while slowly pouring in 6 tablespoons of olive oil.
Done.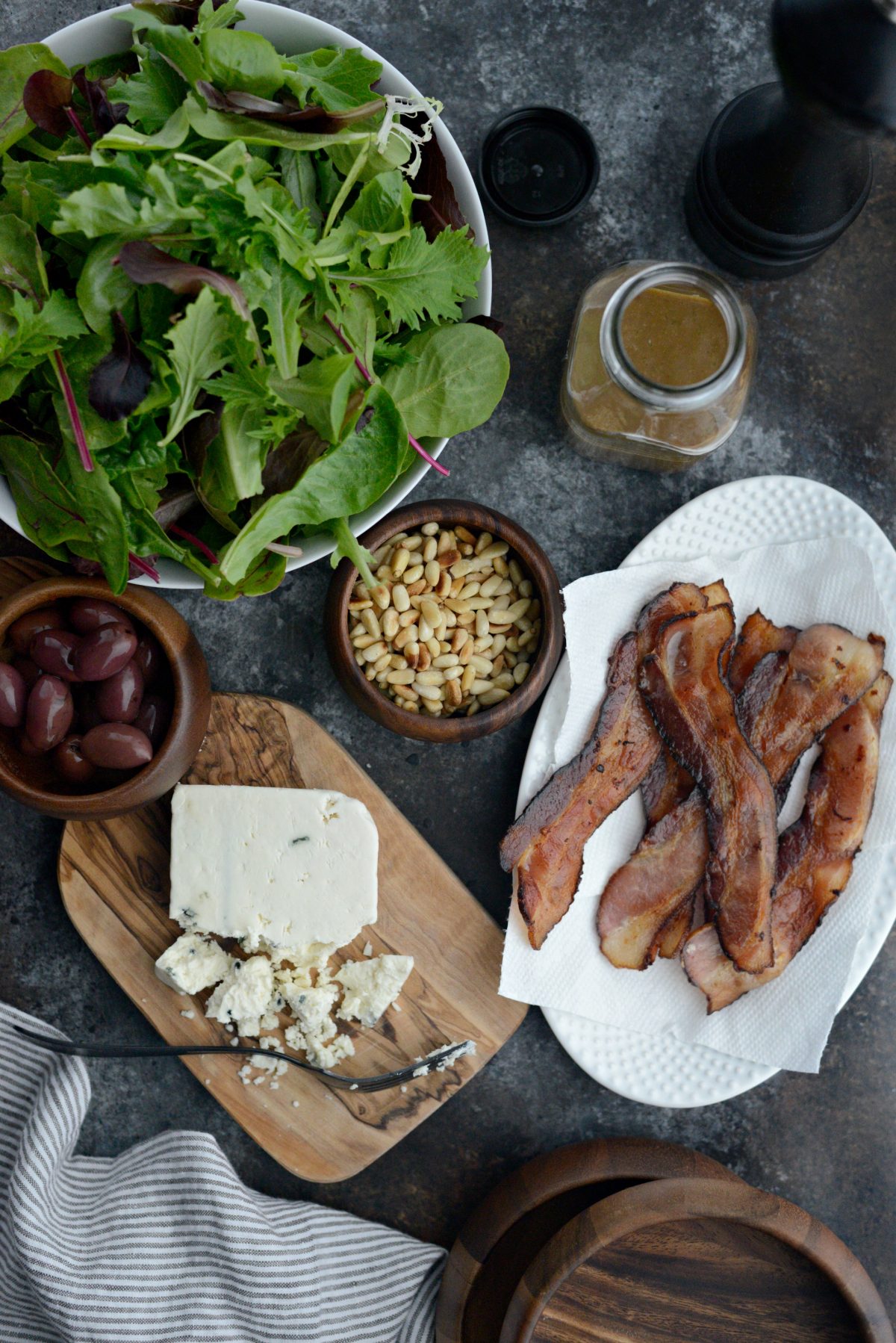 Bacon, blue cheese and olives, three of my favorite food groups. Put them in a salad and top it with the most amazing sweet basil vinaigrette. Did I mention olives? Oh it's such a crazy thing to mix bacon and blue cheese with Greek kalamata olives but trust me on this. 'We' like this combo.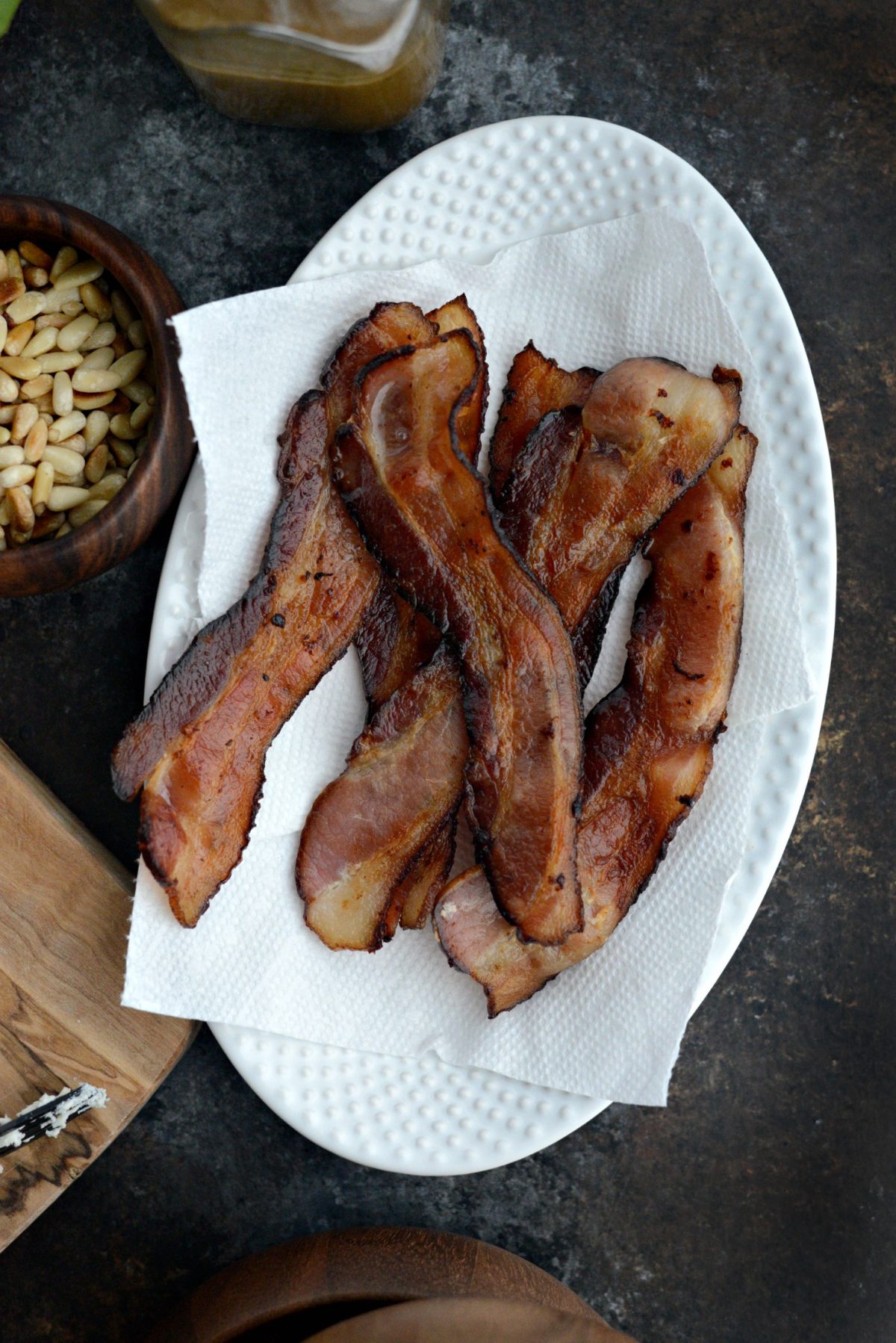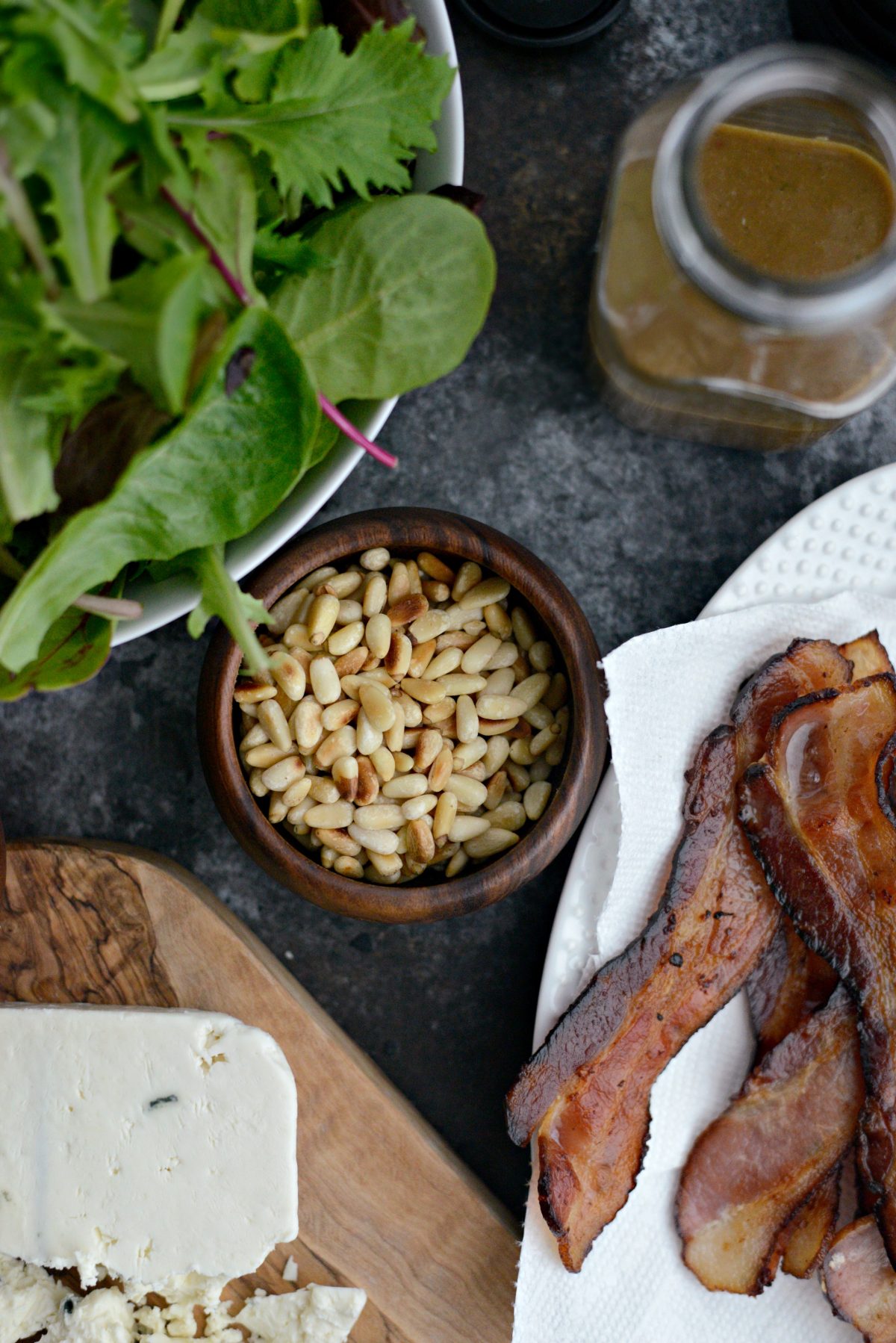 Cook up 6 strips of thick-cut applewood smoked bacon until crispy, then toast the pine nuts in a dry pan until fragrant and golden. Gather the rest of the ingredients; your favorite blend of spring or power lettuces blends, kalamata olives, black pepper and the sweet basil vinaigrette.
There's no wrong way to build this bacon blue cheese house salad, just pile up the leafy green lettuces and top with crumbled bacon, blue cheese and the toasted pine nuts. Lastly scatter the olives and add a few grinds of fresh black pepper.
Drizzle with the vinaigrette and serve.
This bacon blue cheese house salad with sweet basil vinaigrette salad works with just about any main dish; pizza, grilled steak or chicken or even your favorite pasta. It's a symphony of flavors in the most delicious harmony. In fact, I did grill last night — Pat went golfing so I was forced to cook– and served warm slices of grilled chicken on the salad I had leftover. It was phenomenal to say the least.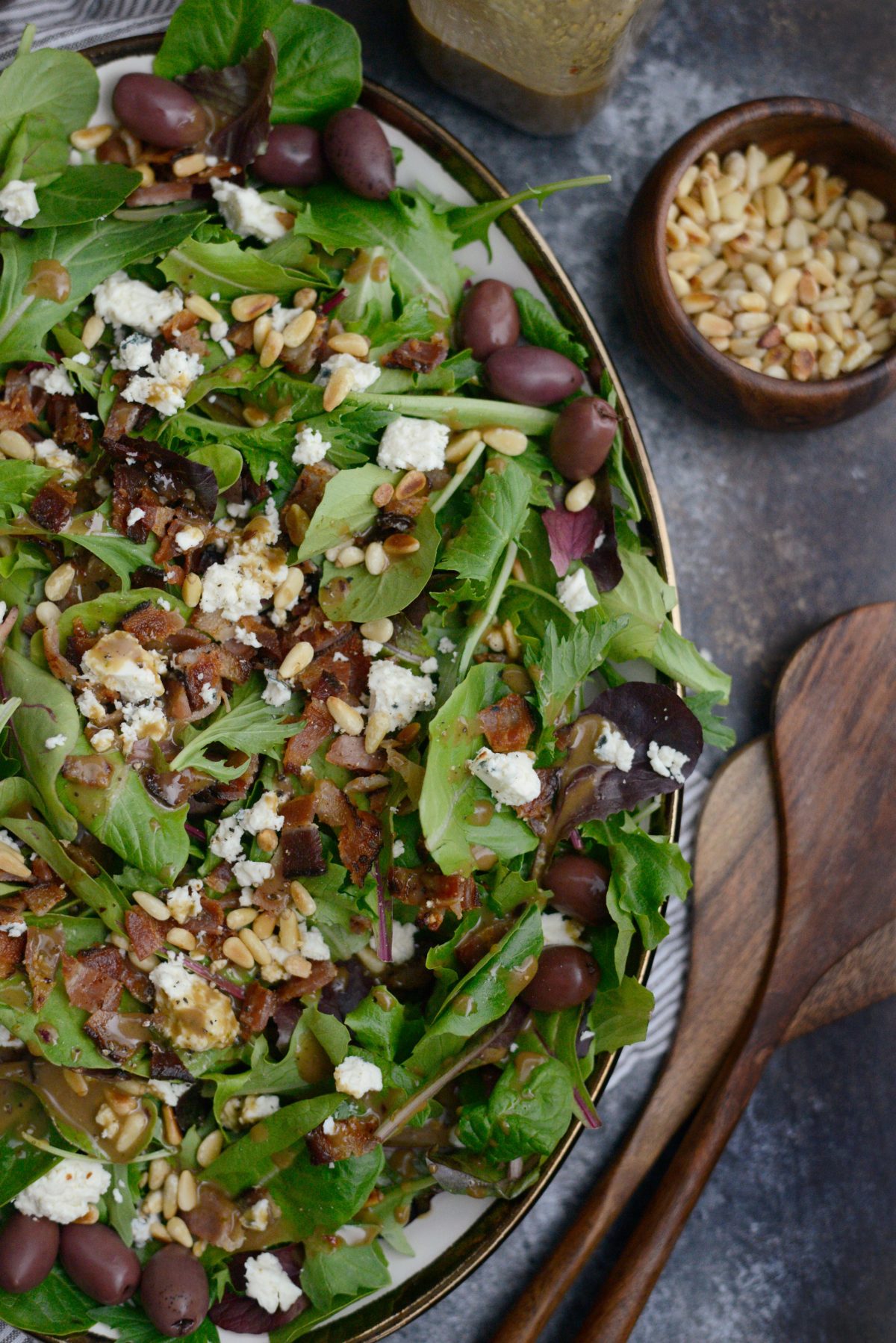 Enjoy! And if you give this recipe a try, let me know by snapping a photo and tagging me on twitter or instagram!
My cookbook Simply Scratch : 120 Wholesome Homemade Recipes Made Easy is now available! CLICK HERE for details and THANK YOU in advance! 
Bacon Blue Cheese House Salad with Sweet Basil Vinaigrette
What's not to love in this bacon blue cheese house salad with sweet basil vinaigrette? Tender greens tossed with crispy bacon, stinky blue cheese, buttery, toasted pine nuts and briny olives is drizzle with a homemade sweet basil vinaigrette. SO good.
Yield: about 4 to 6 servings
Prep Time: 10 minutes
Cook Time: 20 minutes (for the bacon)
Total Time: about 20 to 30 minutes
Ingredients:
SWEET BASIL VINAIGRETTE:
1 medium clove fresh garlic
6 to 8 basil leaves (medium in size)
2 tablespoons honey
2 tablespoon balsamic vinegar
2 tablespoon lemon juice
1/2 teaspoon kosher salt
1/4 teaspoon red pepper flakes
6 tablespoons olive oil
BACON BLUE CHEESE HOUSE SALAD:
5 ounces mixed salad greens
6 strips thick-cut Applewood smoked bacon
2 to 3 ounces blue cheese
1/3 cup toasted pine nuts
Kalamata olives
Sweet Basil Vinaigrette
freshly ground black pepper
Directions:
TO MAKE THE VINAIGRETTE: In your mini food processor or blender; add the garlic and basil leaves and pulse until chopped. Then add in the honey, balsamic, lemon juice, salt and pepper flakes and pulse to combined. With the lid secured and processor on, slowly pour in the olive oil.
FOR THE SALAD: In a skillet, cook the bacon until crispy. Drain and cool on a paper towel lined plate, then chop.
Then in a dry skillet, add the pine nuts and heat on medium and toss occasionally until toasted.
Place the lettuces on a platter or in a large serving bowl. Top with chopped bacon, crumbled blue cheese and toasted pine nuts. Scatter the kalamata olives and drizzle with the sweet basil vinaigrette and a few grinds of freshly ground black pepper.
[this post contains affiliate links.]