This grilled romaine Salad with cherries, feta and toasted pine nuts is fresh, flavorful and beautiful! 
Cherries and tomatoes and feta. Who would've thought?
According to me, a former anti-fruit-with-vegetables-in-salad kind of girl, this is huge! I say former because fruit with my veggies in my salad is something I do on the regular. Technically tomatoes are fruits that mask as veggies but you get what I mean.
I live for these sorts of salads. Summery produce topped lettuces with a light vinaigrette completes me.
Oh and there's cheese. Let's not forget the cheese.
As you can see I had hopes of adding nectarines (instead of the tomatoes) but when I cut around the pit and tried to separate the spheres away from it, I ended up decimating the nectarine with my super human strength. Or the center of the fruit wasn't ripe enough? Good thing I had just purchased a mix of locally grown tomatoes and picked out the beautifully orange Sun Golds in replacement of those poor nectarines. The tomatoes added the pop of orange color I was looking for along with the necessary sweetness. So. Good.
I found these adorable little lettuces at my local grocery store. I instantly had thoughts of brushing these halved gems with oil and quickly grilling them. Grilled romaine is so ridiculously good! If you have my cookbook you know this to be true and the best part? It only takes 30-45 seconds on a preheated grill. Grilling adds this smoky-char flavor that totally works and makes it look pretty for the platter.
Don't knock it till you try it.
So after a quick trip to the grill, I then haphazardly scatter the top with pitted cherry halves, tomatoes, crumbled Greek feta, pepitas and toasted pine nuts. Making sure to cover the salad with lots of flavor and textures.
Earlier I made my house balsamic vinaigrette, because balsamic and tomatoes and balsamic and cherries is never a bad idea. I then spoon-drizzled copious amounts of it all over this gorgeous salad.
Lastly but not least, I hand some extra cracked black pepper lying around so I sprinkled that over the salad as well . My husband should be proud.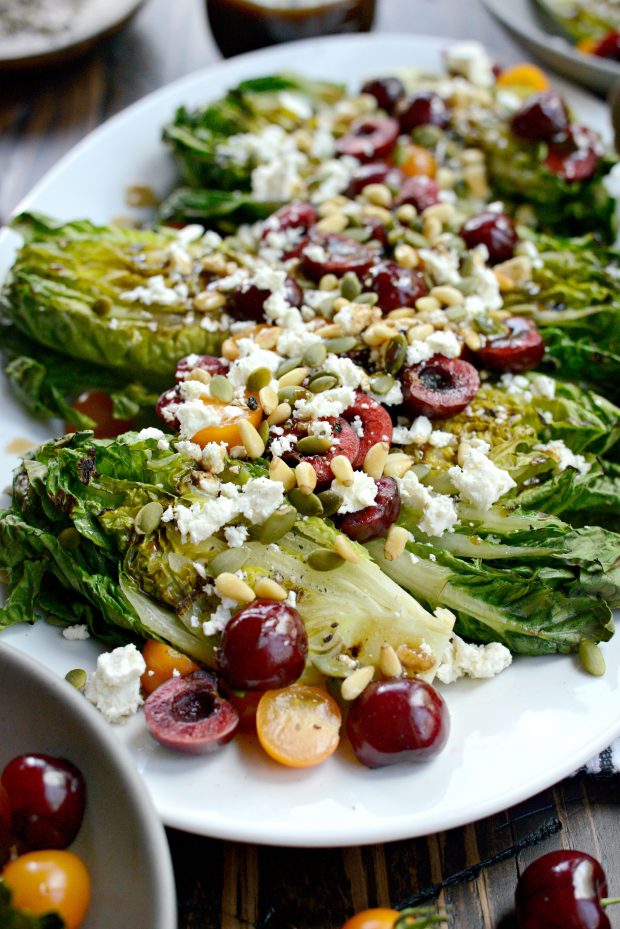 Although I couldn't talk (i.e. bribe) my girls into trying this salad because they're punks (kidding) it is my latest and greatest. Grilled lettuce really elevates the salad but the tomato-cherry combo along with the feta and toasted nuts: phenomenal.
It can be scaled down or up depending on the situation. It's fancy without being terribly difficult and paired with a chilled glass of rosé and/or grilled salmon perhaps? It's summer at it's finest.
Get your forks and knives ready!
Enjoy!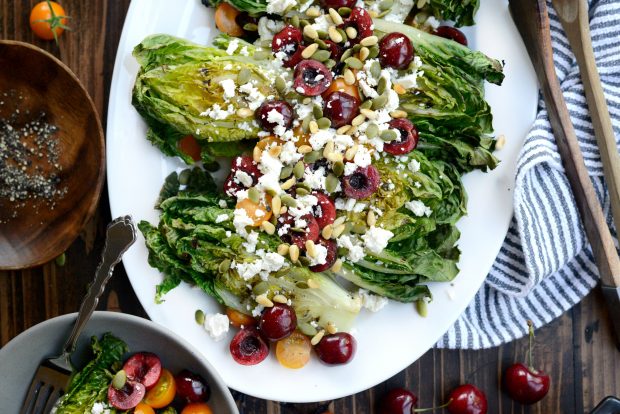 My cookbook Simply Scratch : 120 Wholesome Homemade Recipes Made Easy is now available! CLICK HERE for details and THANK YOU in advance! 
Grilled Romaine Salad with Cherries, Feta and Toasted Pine Nuts
Lightly grilled lettuce "wedges" topped with summers finest fruits: cherries and tomatoes, along with crumbled Greek feta, toasted pine nuts and my favorite balsamic dressing!
Yield: 4-8 depending
Prep Time: 15 to 20 minutes
Cook Time: 30 to 45 seconds
Total Time: about 15 to 20 minutes
Ingredients:
4 gem lettuce heads, halved lengthwise
olive oil
1 cup fresh cherry halves
1 cup fresh sun gold tomatoes
3 tablespoons fresh Greek feta cheese
2-3 tablespoons toasted pine nuts
2-3 tablespoons pepitas
house balsamic vinaigrette
fresh cracked black pepper
Directions:
Preheat your outdoor grill or grill pan to medium medium-low. Brush the cut side of the lettuce with olive oil and grill for 30 to 45 seconds. Lettuce should have grill marks but still remain to be firm and retain it's shape.
Arrange the lettuce, grill marks side facing up, and top with the cherry and tomato halves, feta, pine nuts and pepitas.
Drizzle with the balsamic vinaigrette and sprinkle with cracked black pepper.