In this spinach mushroom ricotta frittata, there is pockets of gooey cheese, creamy ricotta, onions, mushrooms and spinach all in one glorious frittata.
Oh my gosh have I missed you. For real. Like the last month went by in a blurry, floury, buttery, dirty dish-washing blur. I'm not even kidding.
For those who may have missed this post, I am writing or actually, I suppose can now technically say "I wrote" a cookbook. My first draft being a 340-some page… over 57,000 word actual freaking BOOK! It hasn't sunk in completely yet… but that could be the wine that I've been giving myself intravenously in order to get over the past who-knows-how-many days that I've been holed up in my house. Without makeup, messy bun and chapped hands from all the dishes. So glamorous.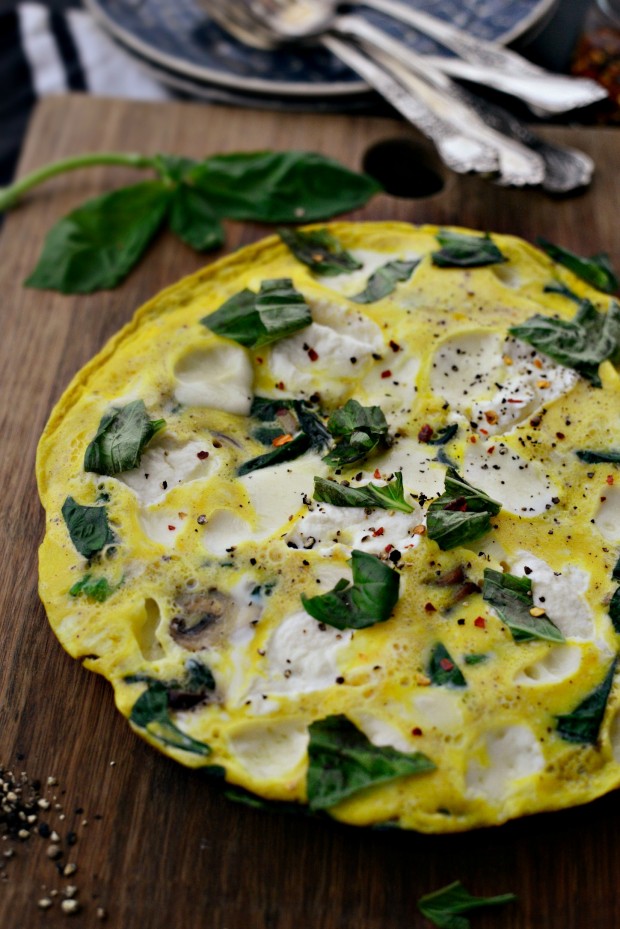 Anywho… (more on that later) as an apology-slash-thank-you-for-your-patience I thought I'd make it up to you with a cake. A big fluffy frosting covered cake. So yeah… its not that you aren't completely worth it and all (because you really are!), but I just didn't have it in me. My brain is spent. My fridge needs to be sorted out and well, that's all I've got. Rain check?
Instead I made you a frittata. Rhymes with ricotta. Tastes amaze-lotta. Wait. (My daughter dared me to leave that sentence in. So naturally, I did.) And plus I'd choose a frittata over cake any day.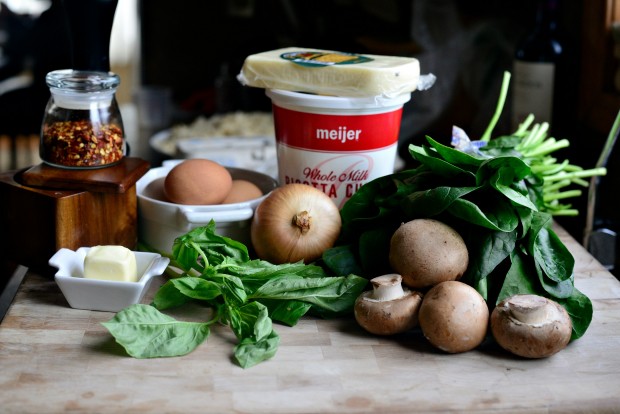 Frittatas are best for cleaning out the fridge. Using a little of this, the rest of that and then add cheese. Poof! Breakfast. In this clean-out-the-fridge frittata I knew I was dropping spoonfuls of ricotta in to it. The rest just sort of happened.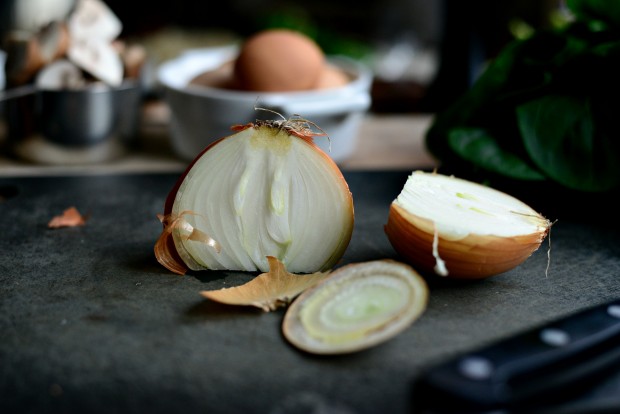 Cut a small yellow onion in half.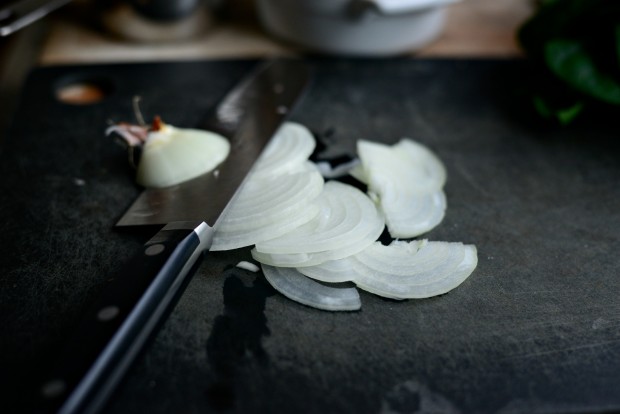 And slice it thin.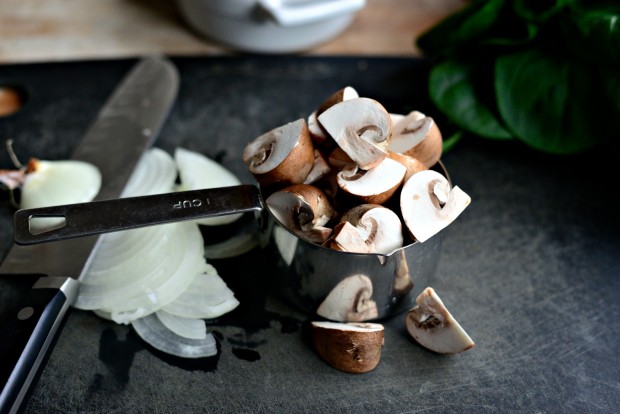 Quarter up enough cremini mushrooms to equal a heaping cup.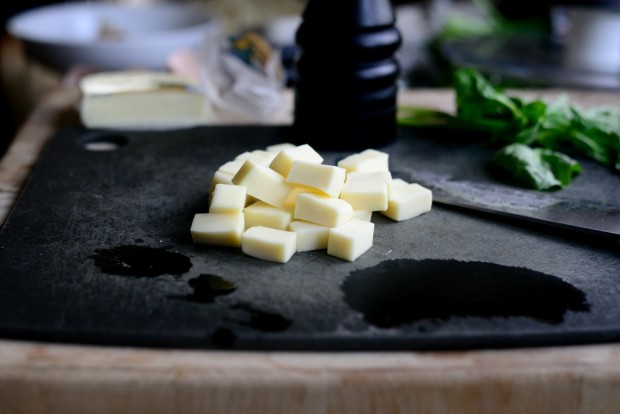 Dice up 4 ounces of farmer's cheese or mozzarella will do.
Chop up two cups of fresh spinach leaves.
Give them a rinse and set off to the side for a minute.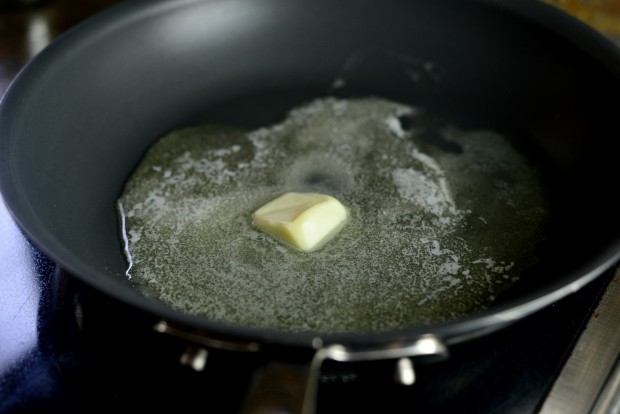 Melt two tablespoons unsalted butter into a 10-inch, non-stick frying pan.
Drop in onions and season with a generous pinch of kosher salt and a few grinds of black pepper.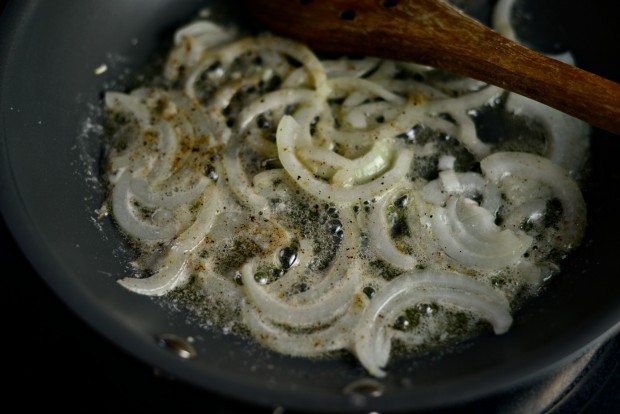 Cook, stirring occasionally for 5 to 8 minutes or until just soft.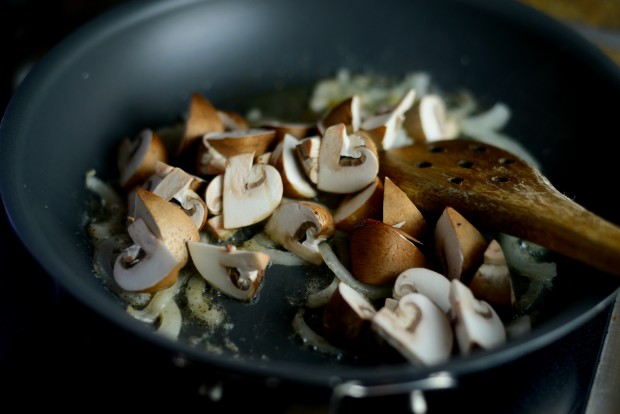 Drop in the mushrooms…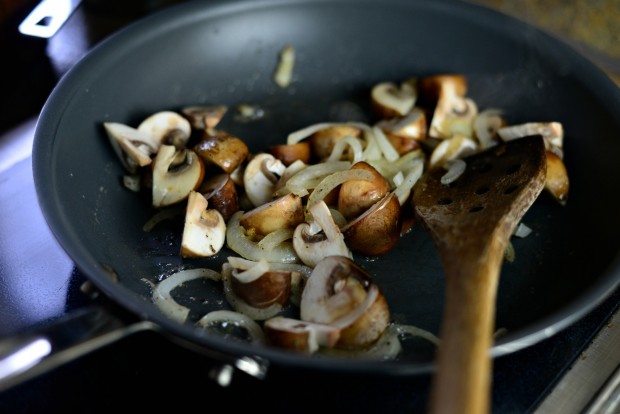 Stir to coat in the butter…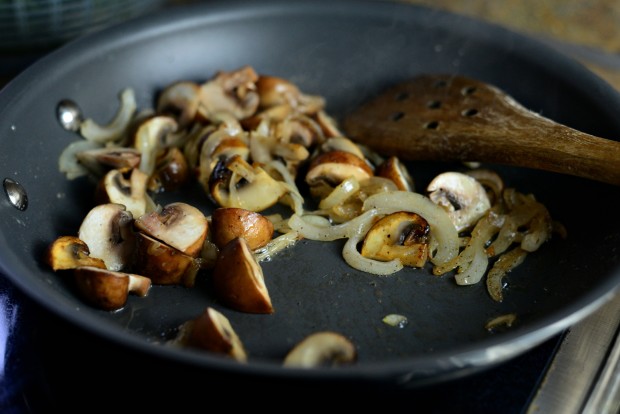 …and cook until edges caramelize.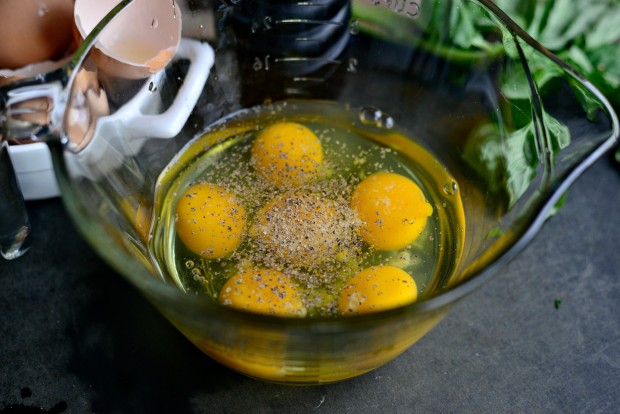 In the meantime, crack 6 eggs into a bowl and season with another pinch of kosher salt and more grinds of black pepper.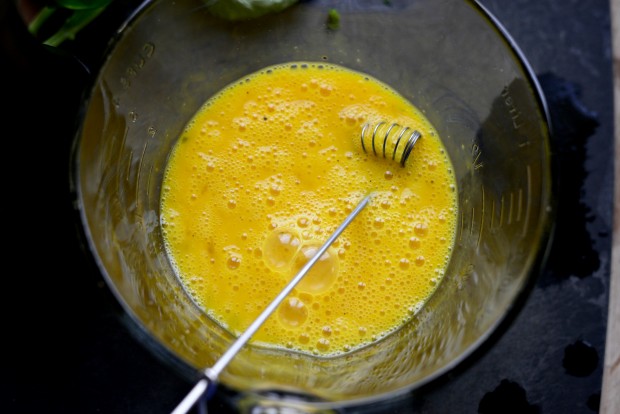 Beat until eggs are thick.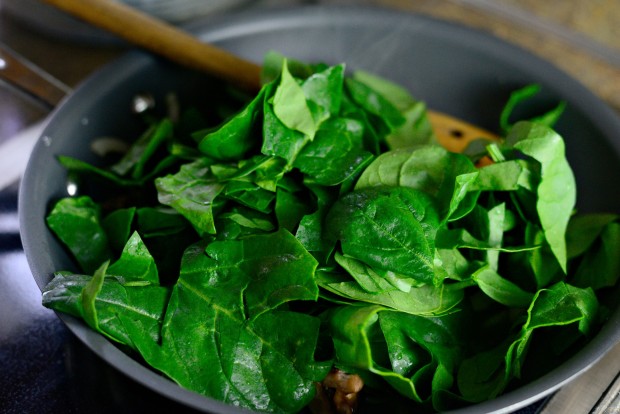 Add the two cups of chopped spinach…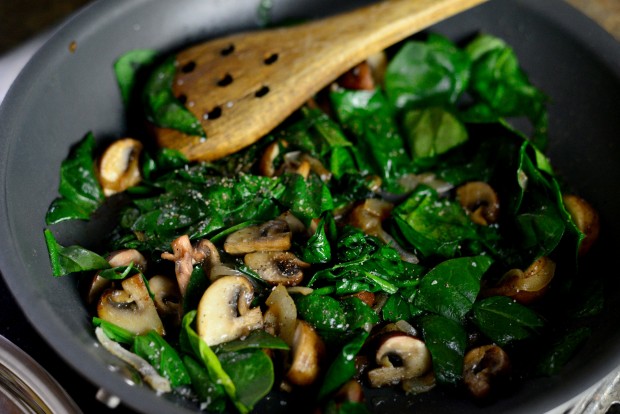 Cook until wilted but still with some texture to them. Season with a small pinch of salt and pepper…
And then pour in the beaten eggs.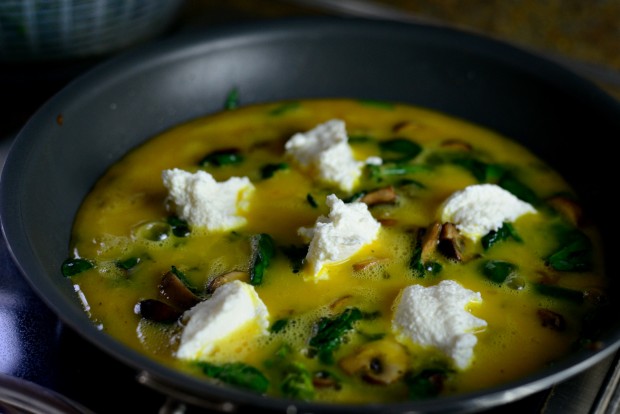 Drop in tablespoons of whole milk ricotta…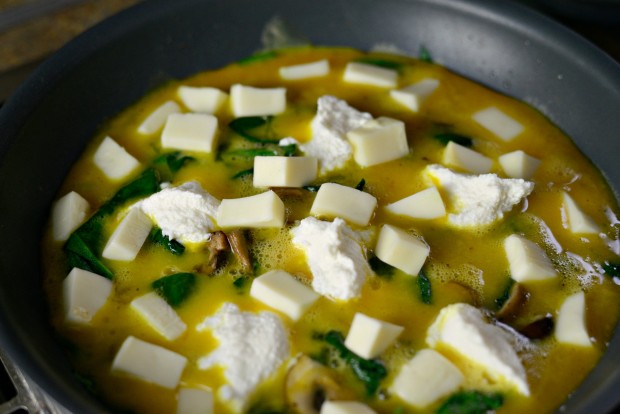 Then drop in the cheese. The cheese has to be soft from setting out or else it won't melt.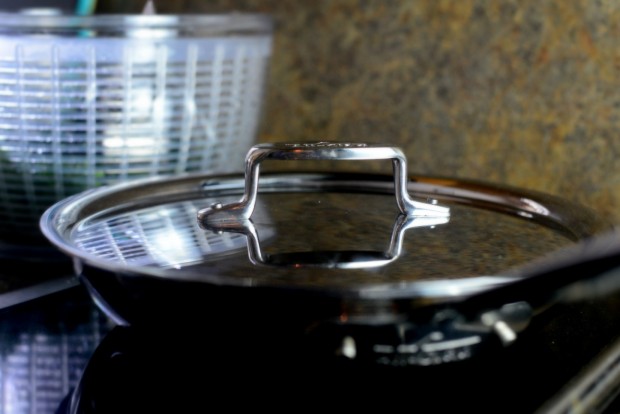 Cover and cook for 8-10 minutes or until the eggs have set.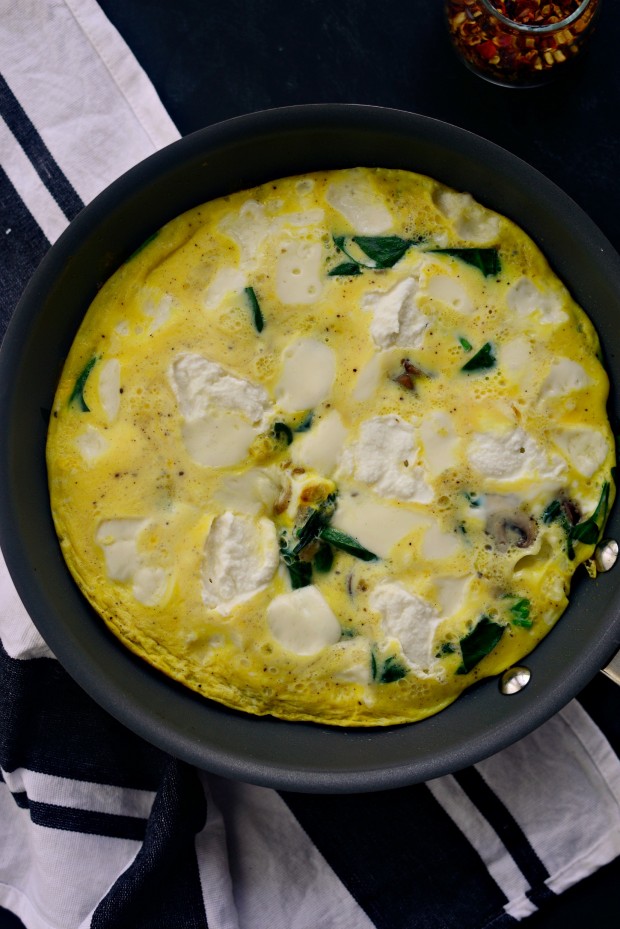 Pockets of gooey cheese, creamy ricotta, onions, mushrooms and spinach. Holy breakfast.
I topped it all off with torn fresh basil leaves, cracked black pepper and some red chili flakes for some spicy flair.
Amaze-lotta ricotta frittata. (ohmygosh.)
Enjoy!
Spinach & Mushroom Ricotta Frittata
Pockets of gooey cheese, creamy ricotta, onions, mushrooms and spinach all in one glorious frittata.
Yield: 4-6
Prep Time: 10 minutes
Cook Time: 25-30 minutes
Total Time: 40 minutes
Ingredients:
2 tablespoons unsalted butter
1/2 cup thinly sliced Yellow Onions
Salt
Pepper
1 heaping cup quartered (or cut into eighths if large) Cremini Mushrooms
2 cups fresh chopped Spinach Leaves
6 large Eggs
5 tablespoons Whole Milk Ricotta
4 ounces diced Farmers Cheese or Mozzarella, softened to room temperature
Cracked Black Pepper
Red Pepper flakes
torn fresh Basil Leaves
Directions:
In a 10-inch non-stick skillet heat 2 tablespoons of butter over medium-low heat until melted. Add in onions, a pinch of salt and pepper and sauté until onions are just tender.
Increase heat to medium and add in mushrooms, toss in the butter and cook for 5 minutes until caramelized.
Decrease the heat to low and add in the spinach, sprinkle with just a small pinch of salt and pepper and cook until wilted but still a bit firm.
Meanwhile, beat eggs with pinch of salt and pepper. Pour over slightly wilted spinach. Drop in 5 tablespoons of ricotta and sprinkle with cubed cheese. Cover and continue to cook (on low) until eggs are set and cheese has melted, about 8-10 minutes.
Remove and let cool for a few minutes before sliding frittata out of the pan and onto a cutting board. Sprinkle with coarse black pepper, red pepper flakes and torn fresh basil leaves.