This kale and beet greens salad is a vibrant, nutrient-filled salad that is tasty and good for you! I like to drizzle it with a poppy seed dressing.
…and wheat berry and pecans and cracked black pepper with a honey poppy seed dressing.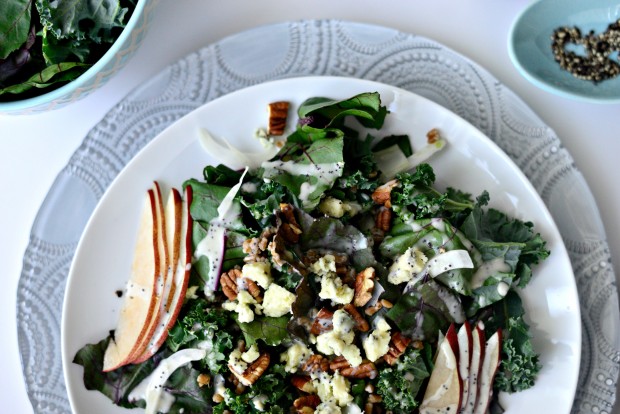 I literally was just at the store and filled my basket 3/4 of the way full with produce only. Sometimes I stroll through the produce area and want to buy it all… and some days I actually do.
On Tuesday it looked like I raided the plant area of the home & garden section. I had beet leafy greens, fennel fronds, dill, cilantro, parsnips (with the parsley still attached) and carrot tops sticking out of my cart. I'm sure my check out gal just loves seeing me roll up in her lane. She probably thinks "oh great. There's that blogger girl. Again." Because I'm one of those people that they have to weigh and manually enter in my 58 dollars worth of produce and that just has to be annoying… even though when I do it at the self checkout I find it to be sort of fun and I bag groceries like it's my j-o-b.
So I had these mental plans to make this glorious winter kale salad loaded with healthy toppings, a little Gorgonzola action and a light drizzle of honey poppy seed dressing. I just couldn't wait to make this salad, it's like my body was craving dark leafy greens (and gorgonzola- as per usual).
I wanted a salad big enough I could eat it as my lunch for days. A salad for me. And for you.
Those are the best kinds of salads.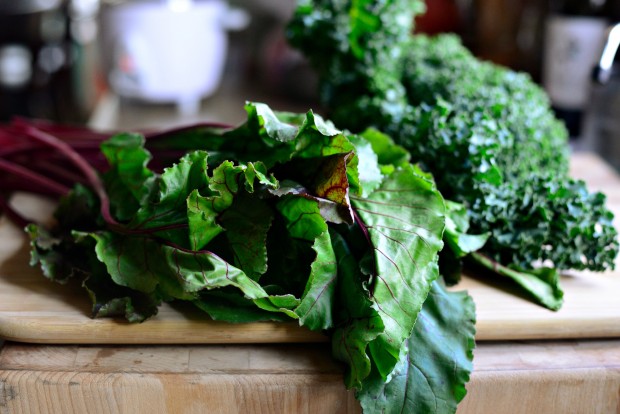 So I roasted beets the other day and was looking at those beautiful leafy ends and decided right then and there that I was putting those in my salad. They're full of iron, vitamins and minerals and can be sautéed like spinach or dipped into ranch (don't hate). So the next time you buy a big-o-bunch of beets do NOT toss out those tops… put'em in your salad (or dip them in ranch, just sayin')!
I use my rice cooker for so many things. Rice, quinoa, wheat berries… you name it. I cooked up 1/4 cup (dry weight) wheat berries, but be sure to follow the measurements pertaining to your rice cooker. Or heck, use an old fashioned pan. In my defense I don't own a pan with a lid that small and I love this little appliance. (Simply Stainless… that makes me giggle.)
I also love my salad spinner. A lot. I use it for all things green like lettuce, kale, beet greens and when I need massive amounts of herbs washed for pesto or basil chips. So I bought this spontaneously one day when I ran into Target to pick up socks for my daughter. Then I walked out with her socks plus other random things like leggings, bowls and a salad spinner. Story of my life.
Once the greens are washed and spun…
Next give them a rough chop.
And then throw them into a big bowl and give them a toss.
Next grab the fennel, peel off any tough layers, cut in half, remove the core and slice paper thin. Toss it in with the kale and beet greens.
Then thinly slice up a red pear…
Add a pinch of salt to the wheat berries…
Next roughly chop up some toasted pecans.
Place the fennel and greens on to a plate, sprinkle with a tablespoon or so of wheat berries, chopped pecans, crumbled gorgonzola, cracked black pepper and then drizzle of the creamy-dreamy honey poppy seed dressing. Orrrr just toss it all in one gigantic bowl.
This is may be my best kale and beet greens salad yet.
But then again, I say that about every salad.
Enjoy! And if you give this kale and beet greens salad recipe a try, let me know! Snap a photo and tag me on twitter or instagram!
Yield: 6 servings
Winter Kale and Beet Greens Salad with Pear, Gorgonzola and Fennel
A vibrant, nutrient-filled salad that is tasty and good for you!
Ingredients
1 bunch kale leaves, leaves stripped and stems discarded
1 bunch beet greens, leafy tops from one large bunch of beets
1 small fennel bulb, cored and sliced thin
1 red pear, sliced thin
1/3 cup chopped pecans
1/2 cup gorgonzola, crumbled, more or less to taste
3/4 cup honey poppy seed dressing
Instructions
In a large bowl toss the chopped kale, beet greens and fennel slices together.

Divide among bowls or plates.

Top with thinly sliced pear, chopped pecans and crumbled Gorgonzola.

Season with cracked black pepper and a few spoonfuls of dressing.
Serving: 1g, Calories: 278kcal, Carbohydrates: 19g, Protein: 5g, Fat: 22g, Saturated Fat: 4g, Polyunsaturated Fat: 10g, Monounsaturated Fat: 6g, Trans Fat: 1g, Cholesterol: 15mg, Sodium: 280mg, Potassium: 373mg, Fiber: 3g, Sugar: 11g, Vitamin A: 2324IU, Vitamin C: 32mg, Calcium: 128mg, Iron: 1mg
[this post contains affiliate links.]
This post may contain affiliate links.
Buy the Cookbook: Simply Scratch : 120 Wholesome Homemade Recipes Made Easy Now available on Amazon »
THANK YOU in advance for your support!