Lighter Chicken Enchiladas use grilled chicken, whole wheat tortillas, and a broth-y chipotle sauce that is to die for! Move over red sauce!
I've made A LOT of enchiladas in my days. Enchiladas filled with beef and beans or chicken and rice… but it all boils down to one thing.
The red sauce.
I wouldn't say I hate it, I'm just not a big fan of it. I could take it but I'd rather leave it, if-you-know-what-I-mean.
So today I'm sharing with you my favorite enchiladas just minus that red enchilada sauce. Cool?
Now can these still be called enchiladas if they're without the red sauce you ask? I think so! In fact I like to think I've lightened and livened up the traditional ones!
I make mine with whole wheat flour tortillas and fill'em with saucy shredded grilled chicken, and then I top them with a brothy-chipotle sauce that is TO.DIE.FOR and a good sprinkle of one of my favorite ooey-gooey cheeses. Muenster.
I hope you're ready for 39 pictures of enchilada bliss. Yes? Good. Now let's do this.
It looks like a lot… but really these are simple. Remember the star of the show is the sauce… and the chicken… and the cheese.
Start by spraying (or lightly rub with some olive oil) a 13×9 baking dish and then set it out of the way.
Finely dice up a cup of yellow onion.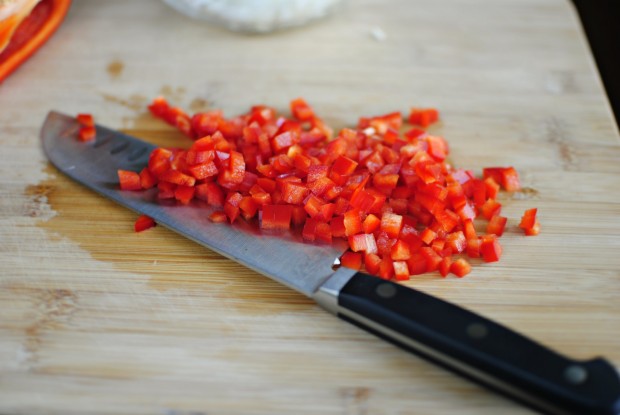 And do the same to half of a bell pepper. Red, orange, green… it really doesn't matter.
Then smash, peel and mince up three cloves of fresh garlic.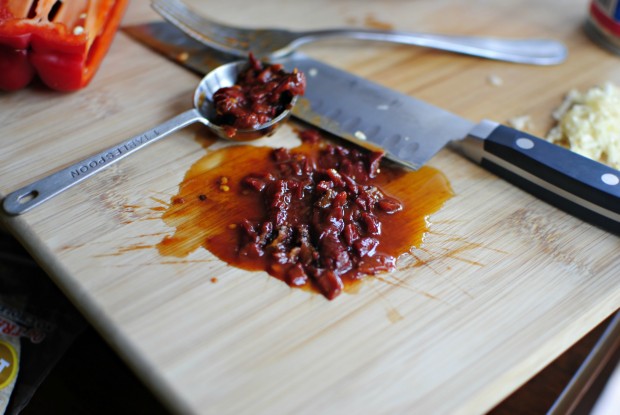 Open a can of chipotles in adobo and fish out 1 or 2 and give them a good mincing.
Before all this prep work happened, I grilled two chicken breasts. No salt, no pepper… nada. Just chicken meets grill grates. There's so much flavor in the sauce you really don't need to marinate, but I like season them with a pinches of salt and pepper, cumin, chili powder, paprika, garlic and onion powder- no measuring, I just use my fingers and sprinkle away. Then simply grill'em (or sear in a hot pan with a teaspoon of oil and then bake at 350 degrees for 15 to 20 minutes) annnnd place them into a good sized bowl.
I started to shred the chicken and realized I have a perfectly strong husband who could get this done in half the time (duh!) so I worked on the "enchilada sauce"…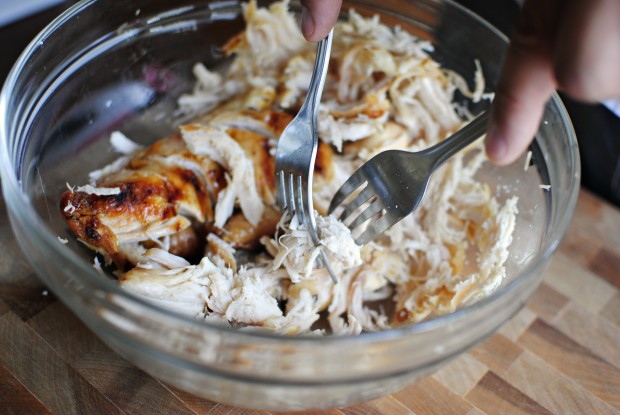 Just so we're clear, those manly fingers are not mine… but those man-hands sure knows how to shred some chicken!
Just set the bowl of to the side when you're done. Ps… I did hear of how you can shred chicken in nanoseconds by using your Kitchen Aid mixer. But really I was just feeling a little bit on the lazy side and wasn't up for lugging out the beast. But feel free to do it that way too!
In a large skillet over medium heat; add 2 teaspoons olive oil and drop in the peppers and onions.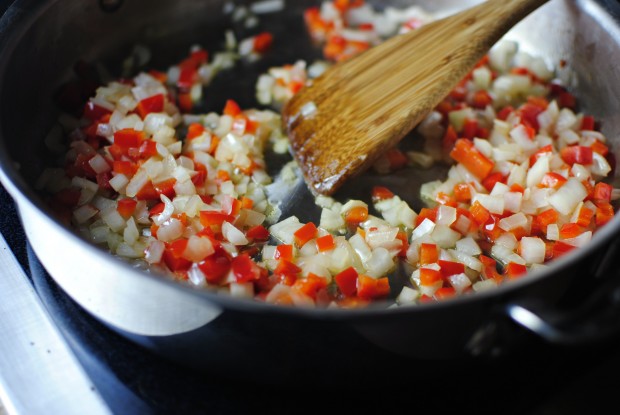 Cook until the peppers soft and the onions are translucent.
Add the minced garlic to that and cook for one minute.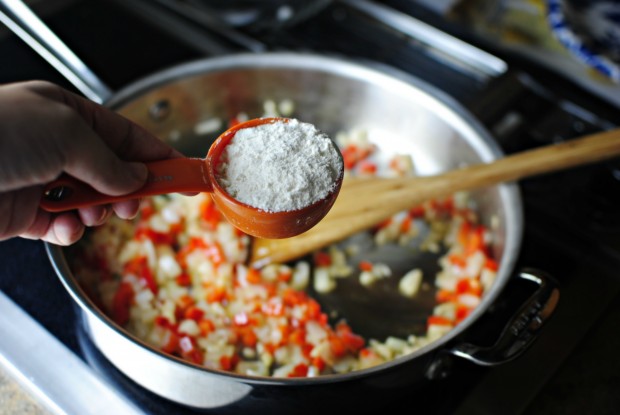 Add in a 2 tablespoons of butter and stir until melted, then stir in the 2 tablespoons of all purpose flour.
The teaspoon of cumin.
Stir until the flour is absorbed and then add in the minced chipotles.
Whisk in 1-3/4 cup of chicken broth…
If you're in the mood for more heat, as if this isn't spicy already, add in a tablespoon of the adobo from the can. We in our house like to walk on the spicy side.
Whisk and simmer over medium heat for 5 minutes or so until it has thickened.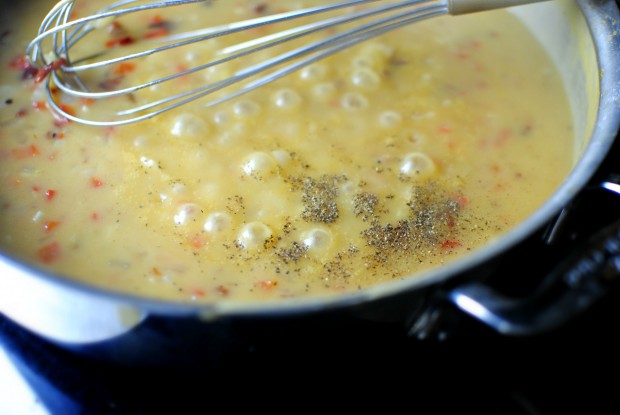 Season with 3/4 teaspoon kosher salt and a few turns of black pepper, about 1/8 teaspoon give or take.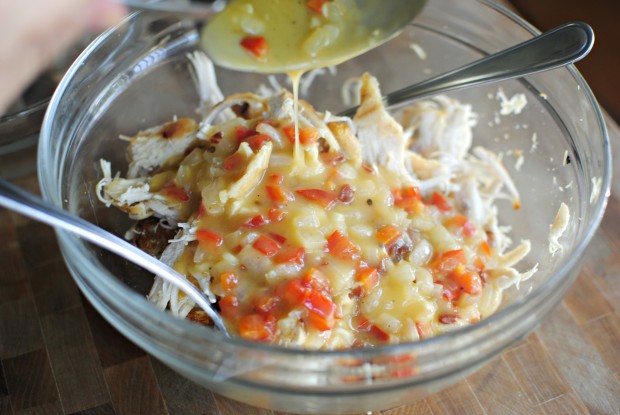 Add a cup of the thickened sauce to the shredded chicken…
…And toss.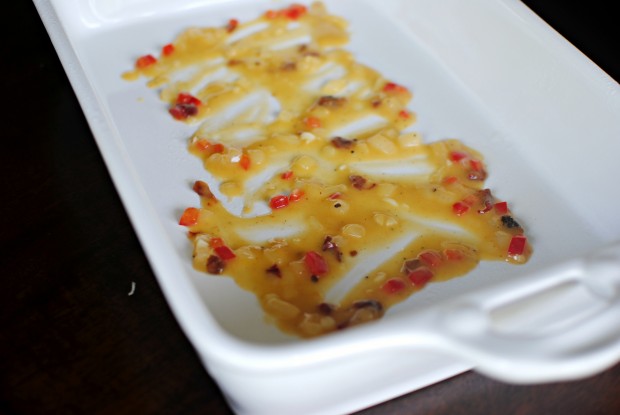 Spread a quarter cup or so of the sauce into the bottom of the prepared baking dish.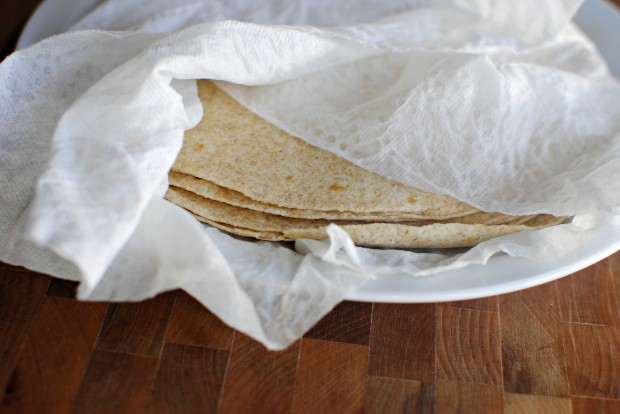 I use room temperature tortillas, but if yours are cold, just wrap them in some damp paper towel and pop them into the microwave for a minute.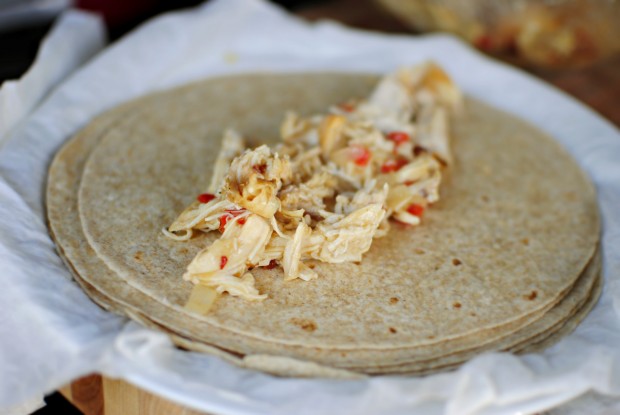 Spoon some of the chicken mixture down the center of the warm tortilla…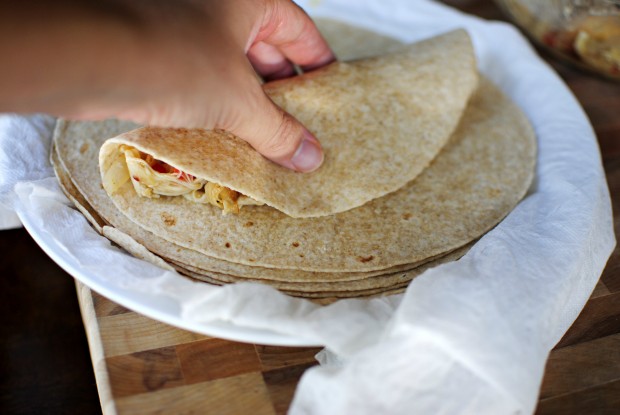 …tuck…
…roll and repeat.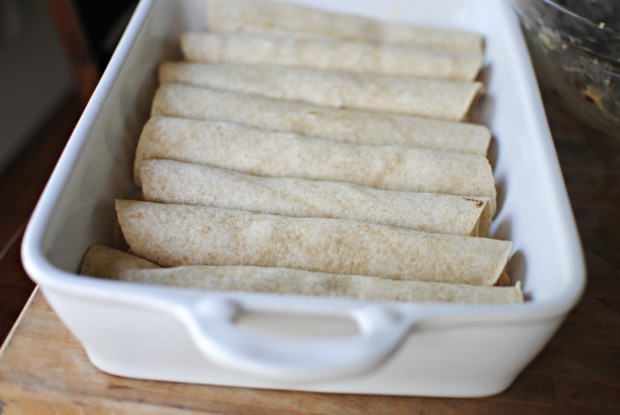 Line them up, seam side down, in the baking dish.
Pour all of the remaining sauce over top.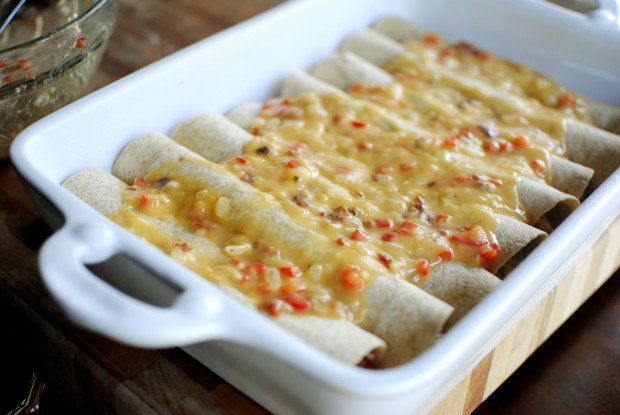 Spread it around.
Lastly, grate about a 1/2 to 1 cup (you decide) of Muenster cheese.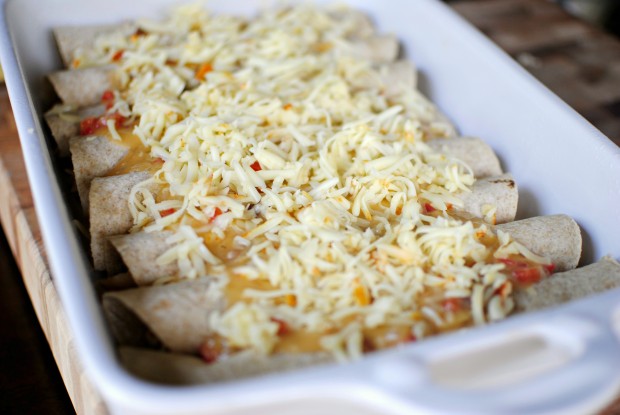 And sprinkle it over top.
Bake these lighter chicken enchiladas in a 400 degree oven for about 15 minutes or until the cheese is melted and golden.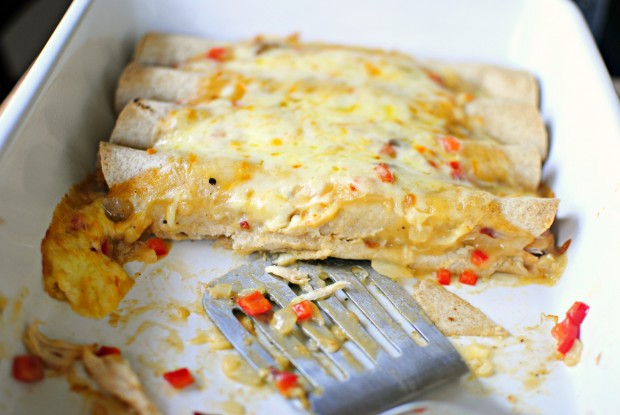 Now just wait a few minutes before serving these up.
To me, these lighter chicken enchiladas have the perfect level of heat, but you could dial it down by adding half the chipotle and nix the adobo.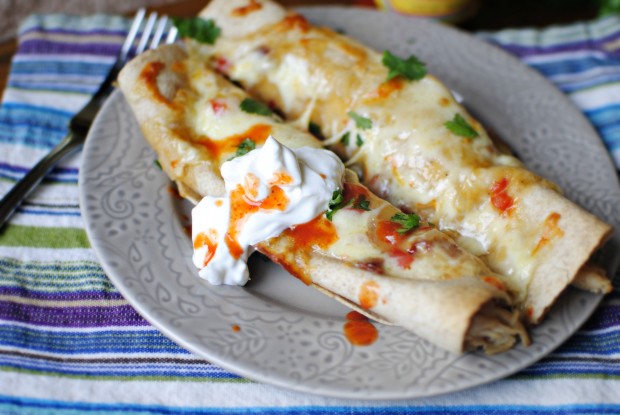 I like mine with a little dollop of sour cream, a few dashes of Cholula some torn cilantro leaves and thinly sliced green onions. But you could so do black olives, salsa or even pickled jalapenos.
These lighter chicken enchiladas are definitely a family favorite in our house and I hope they are in yours too!
Enjoy! And if you give this Lighter Chicken Enchiladas recipe a try, let me know by snapping a photo and tagging me on twitter or instagram!
My cookbook Simply Scratch : 120 Wholesome Homemade Recipes Made Easy is now available! CLICK HERE for details and THANK YOU in advance! 
Lighter Chicken Enchiladas
These chicken enchiladas are lightened up by using grilled chicken, whole wheat tortillas, and a broth-y chipotle sauce that is to die for!
Yield: 4 servings (2 each)
Prep Time: 35-45 minutes
Cook Time: 15 minutes
Total Time: 60 minutes
Ingredients:
FOR THE CHICKEN:
3 boneless, skinless chicken breasts
kosher salt
black pepper
a pinch of: oregano, cumin, chili powder, paprika, garlic and onion powder
2 teaspoons olive oil
FOR THE SAUCE:
1 teaspoon olive oil
1 cup finely diced yellow onion
2/3 cup finely diced red bell pepper (green may also be used)
3 cloves fresh garlic, minced
1 to 2 chipotle peppers, minced
1 teaspoon ground cumin
2 tablespoons unsalted butter
2 tablespoons all purpose flour
1-3/4 cups low sodium chicken broth
3/4 teaspoon kosher salt
1/8 teaspoon freshly ground black pepper
8 whole wheat tortillas (at room temperature)
1/2 to 1 cup grated muenster cheese
sour cream, for serving
hot sauce, for serving
sliced green onions, for serving
chopped fresh cilantro leaves, for serving
Directions:
For the chicken:
Season both sides of the chicken breast and grill on medium to medium-high heat for 6 to 8 minutes per side or until fully cooked. Alternatively, heat 2 teaspoons of oil in a skillet on medium-high heat. Sear the chicken for 3 to 4 minutes per side, transfer to a rimmed baking sheet and bake in a preheated 350 degree oven for 15-20 minutes. Let the chicken rest for 5 minutes before shredding it with two forks, set a side.
Lightly spray the bottom of a 13x9 baking dish and set aside and preheat your oven to 400 degrees.
Heat 1 teaspoon of oil in a large, 10 to 12-inch skillet over medium heat. Add the finely diced onion and peppers, season with a pinch of salt and then cook, stirring occasionally, until the onions are translucent and the peppers are soft, about 5 minutes.
Next, add in the garlic, chipotle peppers and cumin; stir and cook for one minute. Add butter and stir until melted. Whisk or stir in the flour and cook for 2 minutes.
Whisk while slowing pouring in the broth. Increase the heat to medium high and simmer until the sauce has thickened, about 4 minutes. Season with 3/4 teaspoon kosher salt and 1/4 teaspoon black pepper, or to taste.
Toss the shredded chicken in a cup of the sauce.
Spread 1/4 cup of the sauce in the bottom of the prepared pan.
Spoon a little of the chicken mixture down the center of tortilla, tuck and roll, placing it seem side down into the baking dish. Repeat with remaining tortillas and filling
Pour and spread the remaining sauce over top of the enchiladas and then sprinkle with the grated Muenster cheese.
Bake, uncovered, in your preheated oven for 15 to 20 minutes or until the cheese has melted and bubbly.
Serve two with a dollop of sour cream, hot sauce, sliced green onions and torn cilantro.
Enjoy!
[this post contains affiliate links.]