Wine + citrus juice + freezer-time + fork = the best summer treat you could ask for.
Now I have to ask… the Fifty Shades series. Have you read it? I succumbed and I have just 30 pages left of the last book and I swear so many times throughout these books I thought to myself; Oh-muh-lord-I-can't-EVEN- believe-what-I'm-reading, yet I couldn't put it down… in fact if you've just begun this series… you may need this granita to cool you off after. No joke.
Okay so seriously my friends, smutty books aside, if you like sangrias you will LOVE this. It literally takes a few minutes for prep and requires no more than a few hours in the freezer, a good forking (Did I just say good forking?) and you will be on your patio in no time, spoon in one hand, book in the other.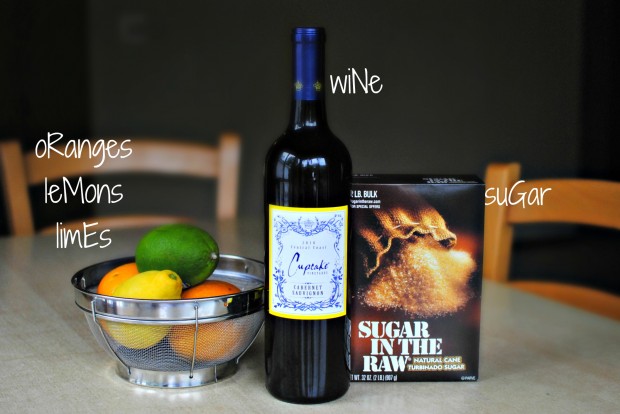 Wine, citrus and sugar is all that you need. Oh and water… but that shouldn't be too hard to find.
You'll need a full-bodied wine. I like cab, but merlot would work too. Just pick your favorite to sip on.
Measure 3/4 of a cup of wine. There's something about the smell of wine in the early afternoon…that… makes me, umm, thirsty.
Pour it into a saucepan.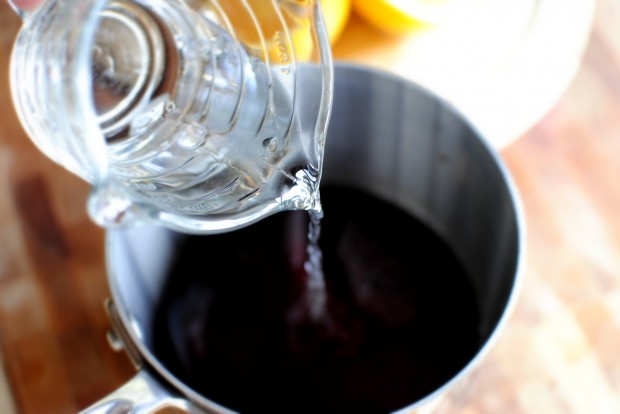 Add a half cup of water.
Next add the turbinado sugar. You could totally sub (get it, sub! Sorry it's a Fifty Shades inside joke) with white sugar… but I think turbinado works well with the citrus flavors goin' on here. Give this a stir and bring to a boil for a minute before removing it off of the heat to cool slightly.

Squeeze (and strain) a 1/4 cup of juice out of an orange. Then squeeze the entire lemon and lime.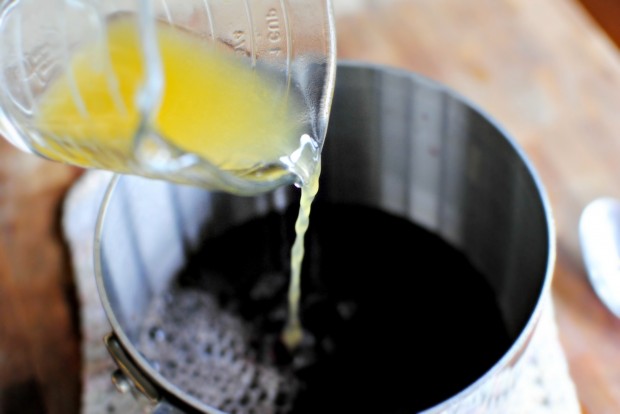 Add that into the wine/sugar concoction and stir.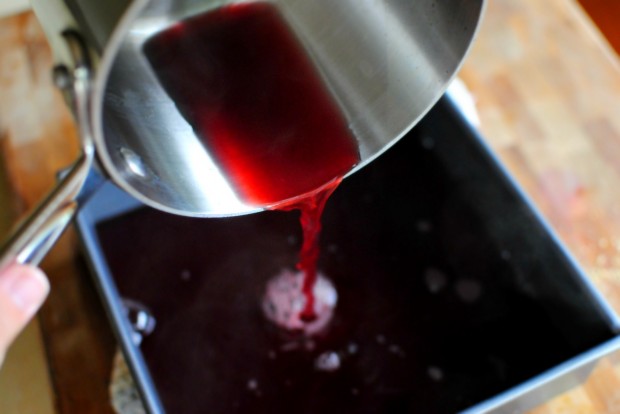 Pour the fruitified wine into a 9×9 metal pan. The metal pan helps speed up the freezing process so it's a great trick to making granitas… fast. Once cool enough pop the pan into the freezer for 30 minutes.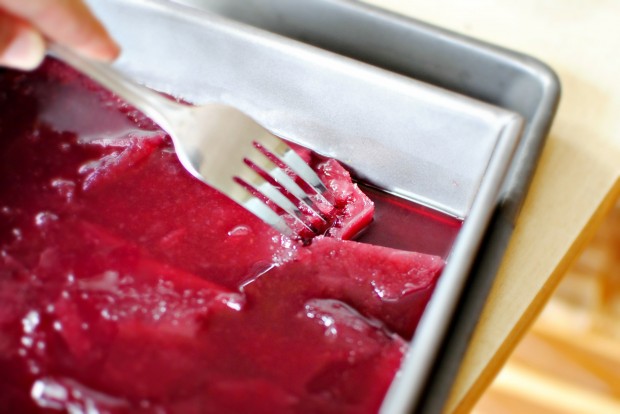 Remove and with a fork, scrape up all the frozen bits. Pop it back into the freezer for 30 more.
Remove. Scrape. Repeat for 30 more minutes.
Scrape the granita one last time, then cover with plastic wrap or foil and keep it in the freezer until you're ready to dish it up. Frozen wine heaven… omg you HAVE to make this!
Happy Friday!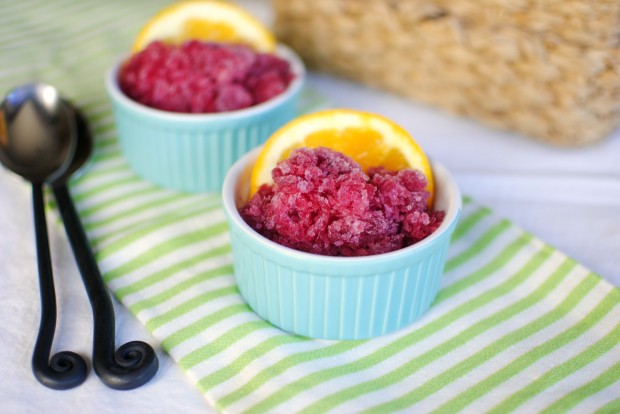 Sangria Granitas
Yield: 4-6 servings
Prep Time: 20Minutes
Total Time: 4-6 hours
Ingredients:
3/4 cup Cabernet Sauvignon
1/2 cup Water
1/4 cup plus 2 tablespoons Turbinado Sugar
1/4 cup fresh Orange Juice
1 small Lemon, juiced
1 small Lime, juiced
Directions:
In a saucepan combine the wine, water and sugar. Stir and bring to a boil. Boil for 1 minute then remove off of the heat and add in the citrus juices.
Pour into a 9x9 metal pan and let cool before popping it onto a small sheet pan and placing it into the freezer.
After 30 minutes remove. With a fork scrape the edges and break up any frozen clumps. Return to the freezer for 30 more minutes and repeat one or two more times.
Cover with plastic wrap until ready to serve.
Scrape the granita one last time before dishing it up into small bowls.