These cinnamon sugar almonds remind of Christmas! Every year when holiday shopping, little stands would be selling these crazy delicious and addictive nuts. And now you can make them at home.
This time of year I look forward to a handful (or two) of these cinnamon sugar almonds.
When I was a kid, every holiday season little stands named Almond Haus would pop up in the aisleways at our local mall. I would scrounge up the money just so I could buy a warm bag of those sugary crunchy almonds and eat the whole thing on the spot.
A few years ago, I brought a small bag of these into work to let my good friend Ann try them (she of course loved them!) and then my friend Jacqueline who's from Germany tried them too. After she popped one into her mouth, she looked at me and said "these remind me of Germany"  and I knew this recipe was a keeper.

Here is what you'll need: almonds, sugar, cinnamon, an egg white, vanilla and kosher salt.
First things first, preheat your oven to 300°. Place a silpat into a rimmed metal baking sheet or line the pan with parchment paper.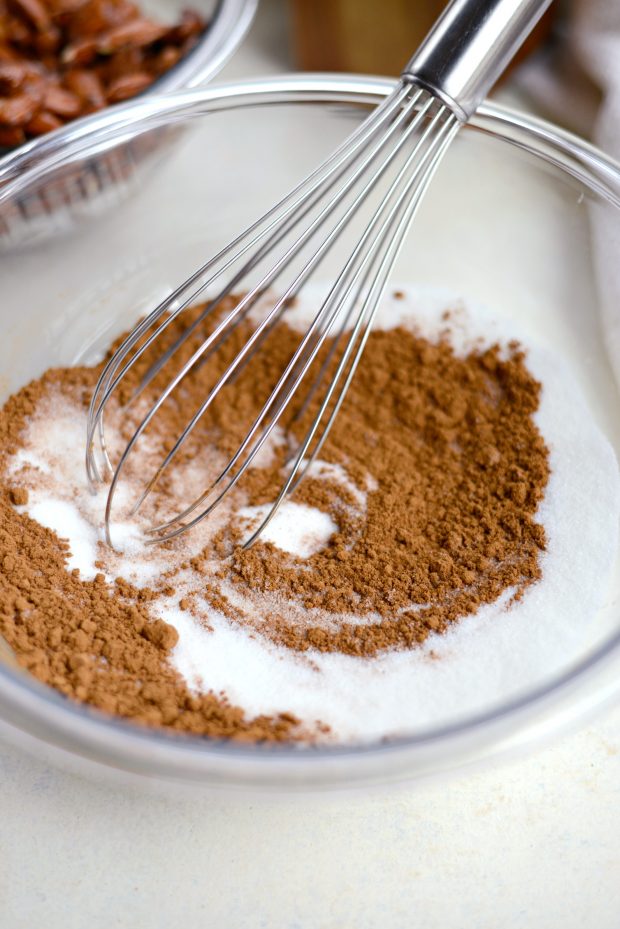 Then in a large bowl measure and add 3 tablespoons of cinnamon to 1-1/2 cups of sugar. Whisk the two together until combined and then set aside.
In a separate bowl, whisk the egg whites until foamy. Then measure and add in the pure vanilla extract and a pinch of kosher salt. Whisk to combine.
Add the almonds to the egg white mixture and toss well to coat the almonds.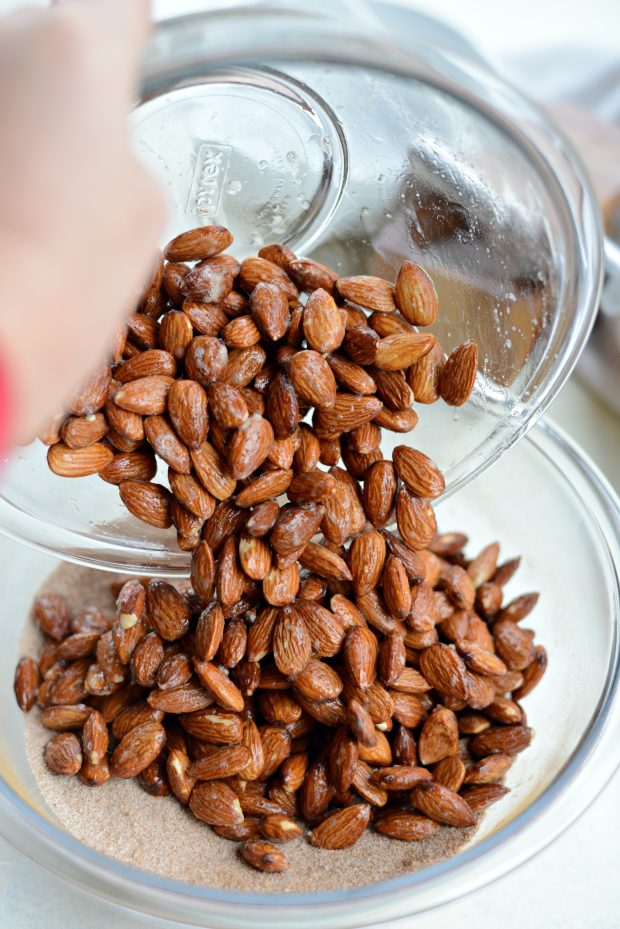 Now just add all of the almonds into the cinnamon and sugar mixture.
Continue to stir and stir and stir until every almond is generously coated!
When I get to the bottom of the bowl, I do use a slotted spoon to shake the extra sugar/cinnamon off the nuts before adding the final cinnamon sugar almonds to the pan.
Spread them out on the silpat [affiliate] lined baking sheet and slide the pan onto the middle rack of your preheated 300° oven. Bake for 10 minutes.

After 10 minutes of baking is up take them out of the oven, toss and then in for another 10 minutes.
Lastly, remove and toss the almonds again, then place back into the oven for an additional 5 minutes. Let the cinnamon sugar almonds cool completely before storing in an airtight container.
I like mine slightly warm and crunchy. These cinnamon sugar almonds taste just like I remember the Almond Haus almonds I would get at the mall.
These almonds should come with a warning: Highly Addictive.
Check out more of my nut recipes here.
Enjoy! And if you give this Cinnamon Sugar Almond recipe a try, let me know by snapping a photo and tagging me on twitter or instagram!
My cookbook Simply Scratch : 120 Wholesome Homemade Recipes Made Easy is now available! CLICK HERE for details and THANK YOU in advance!
Sugared Cinnamon Almonds
Cinnamon sugar crunchy coated almonds... just like you get at the mall during the holiday season!
Yield: about 3 cups
Prep Time: 5 minutes
Cook Time: 25 minutes
Total Time: 30 minutes
Ingredients:
1 pound (16 ounces) of almonds
1-1/2 cups sugar
3 tablespoons ground cinnamon
1 egg white
1-1/2 teaspoons pure vanilla extract
1/8 teaspoon kosher salt
Directions:
Preheat your oven to 300 degrees.
Line a baking sheet a silpat or line with foil and lightly butter.
In a large bowl whisk together the sugar and cinnamon.
In another medium bowl whisk egg white until slightly frothy. Then stir in the vanilla and salt. Add the almonds to the egg mixture and toss to coat.
Next, pour the almonds into the cinnamon and sugar, toss to coat.
Spread the cinnamon sugar almonds onto the baking sheet and bake for 10 minutes. Remove and toss, place back into the oven for 10 more minutes. Remove one last time, toss and bake for 5 additional minutes.
Let cool slightly on pan before snacking!
[this post contains affiliate links.]