Your Basic Grilled Chicken Marinade is a staple, must make recipe. A simple marinade that calls for basic pantry ingredients like balsamic vinegar, dijon, dried spices and fresh rosemary. The perfect balance of savory with just a touch of sweetness. Serves 4 but can easily be doubled.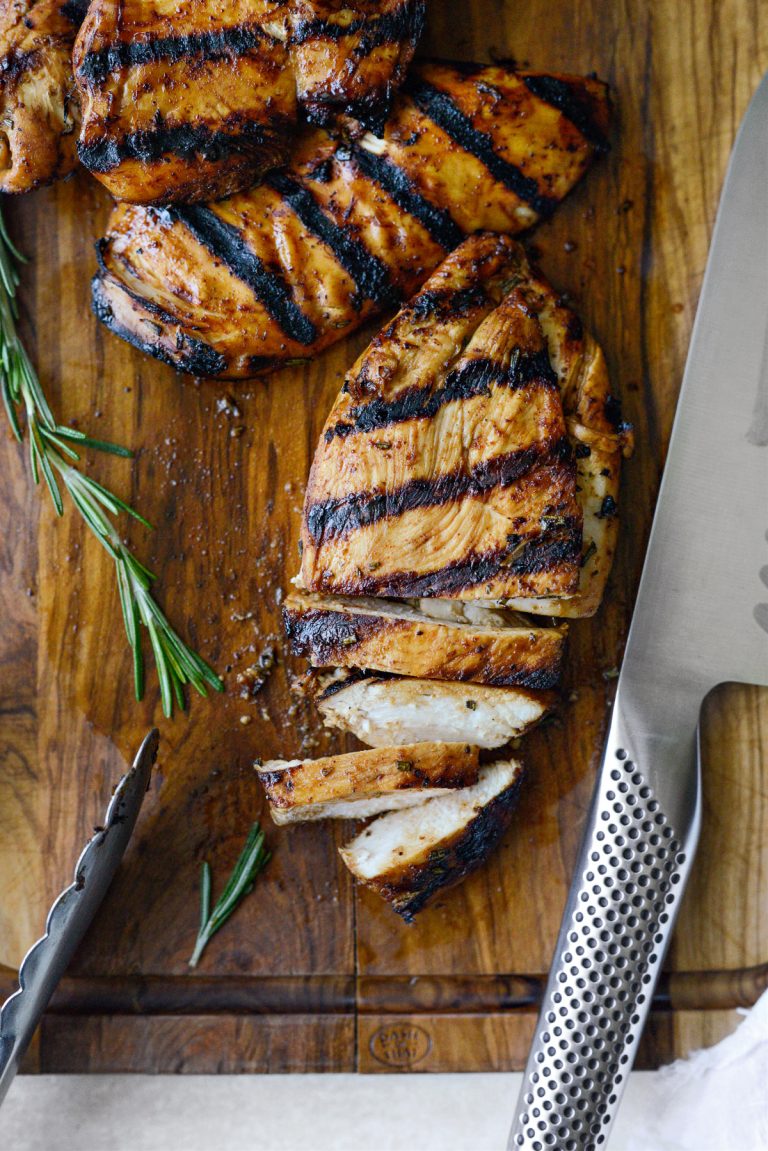 Sick of boring old grilled chicken? I've got you.
Because this is my go-to recipe for perfectly moist and flavorful grilled chicken. And it's filed under the "Your Basic Recipe" section of this blog because everyone needs a basic grilled chicken recipe amiright?
The recipe itself is so simple to throw together and I usually always have these ingredients on hand. Especially in the summer months when I grow rosemary in my garden. I love that I can step outside on my porch to snip off a sprig or two.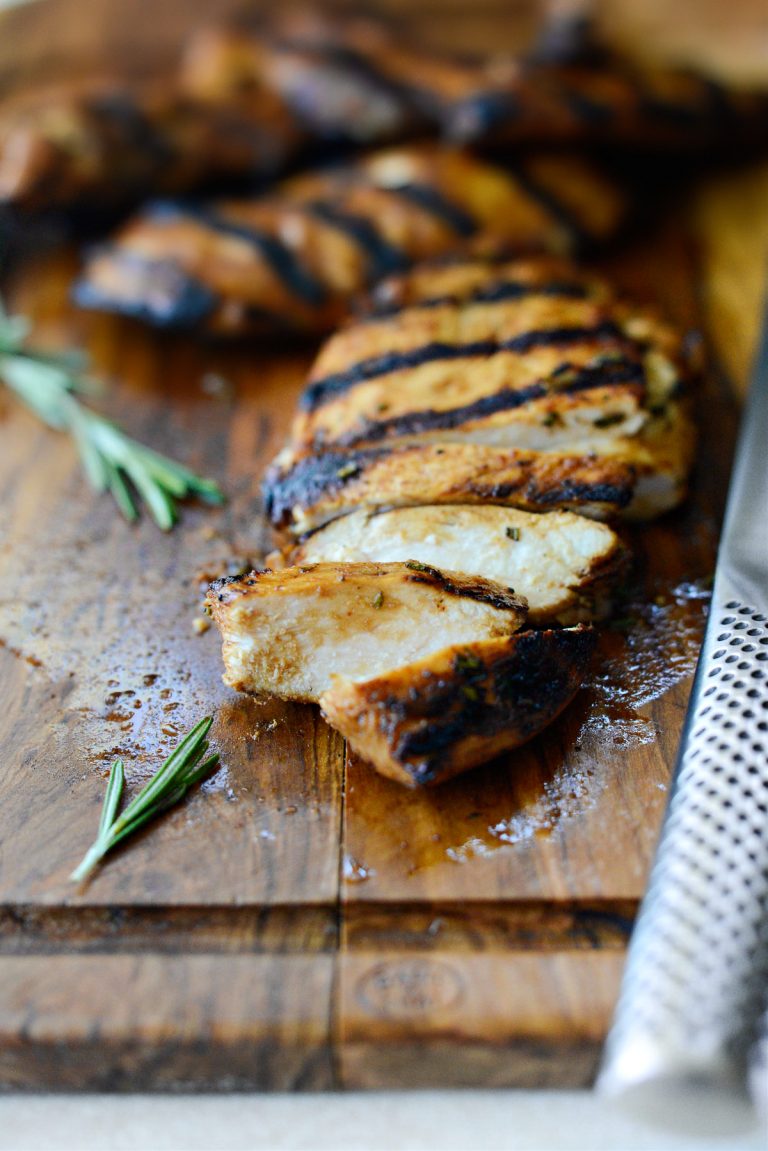 So the second the weather is about 50° I start grilling. And I make this chicken all. the time. For dinner, for meal prep, for life. It's saucy, moist and unbelievably delicious.
To Make Your Basic Grilled Chicken Marinade You Will Need:
dark brown sugar
rosemary
garlic powder
ground black pepper
paprika
balsamic vinegar
extra light olive oil
light soy sauce or tamari if gluten free
worcestershire sauce
dijon mustard
chicken (boneless skinless breast or thighs)
In a bowl or liquid measuring cup, measure and add; 2 tablespoons dark brown sugar, 1 tablespoon minced fresh rosemary (1-1/2 teaspoon if using dried rosemary), 3/4 teaspoon garlic powder, 1/2 teaspoon both ground black pepper and paprika.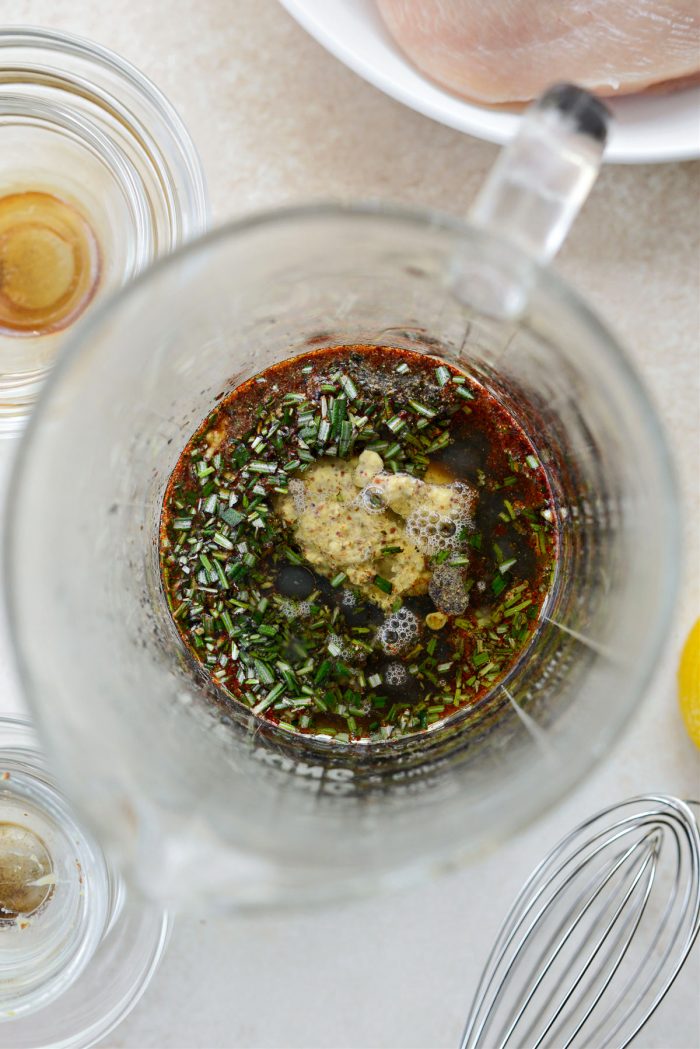 Next, measure and pour in 1/4 cup balsamic vinegar, 2 tablespoons extra light olive oil, 2 tablespoons light soy sauce (or tamari if gluten free), 2 tablespoons worcestershire sauce (store-bought or homemade) and 1 tablespoon dijon mustard.
Because soy sauce is salty, you do not need to season the chicken nor add any salt to the marinade.
Whisk well to combine.
Lastly, place 1-1/4 to 1-1/2 pounds chicken breasts (I cut 2 large breasts in half horizontally) and place them into a gallon size resealable bag.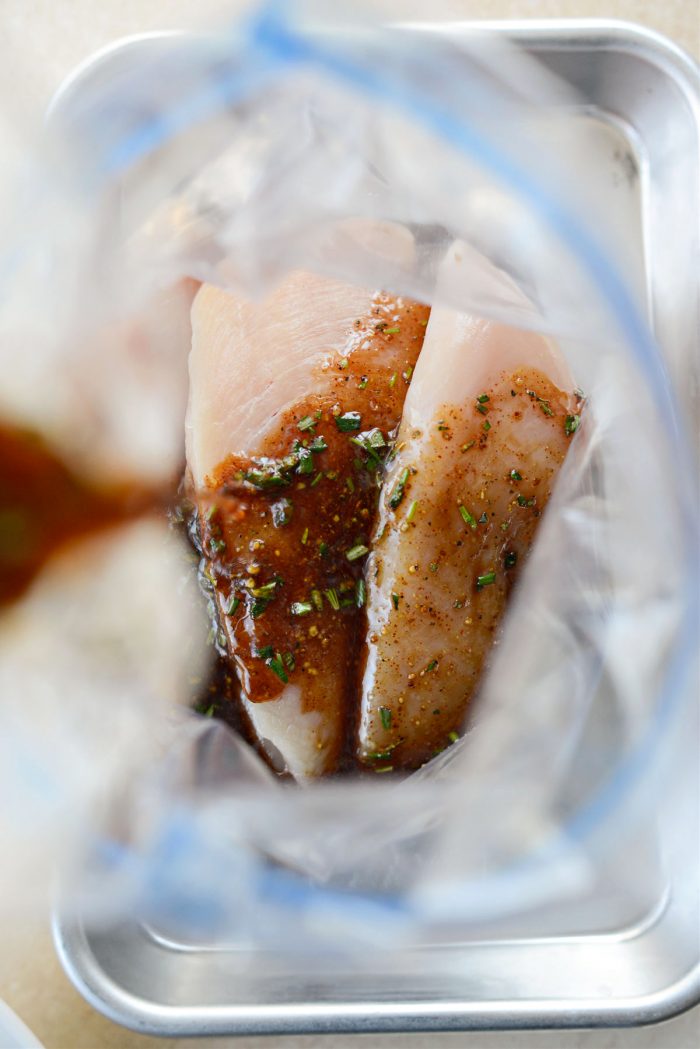 Pour the marinade over top.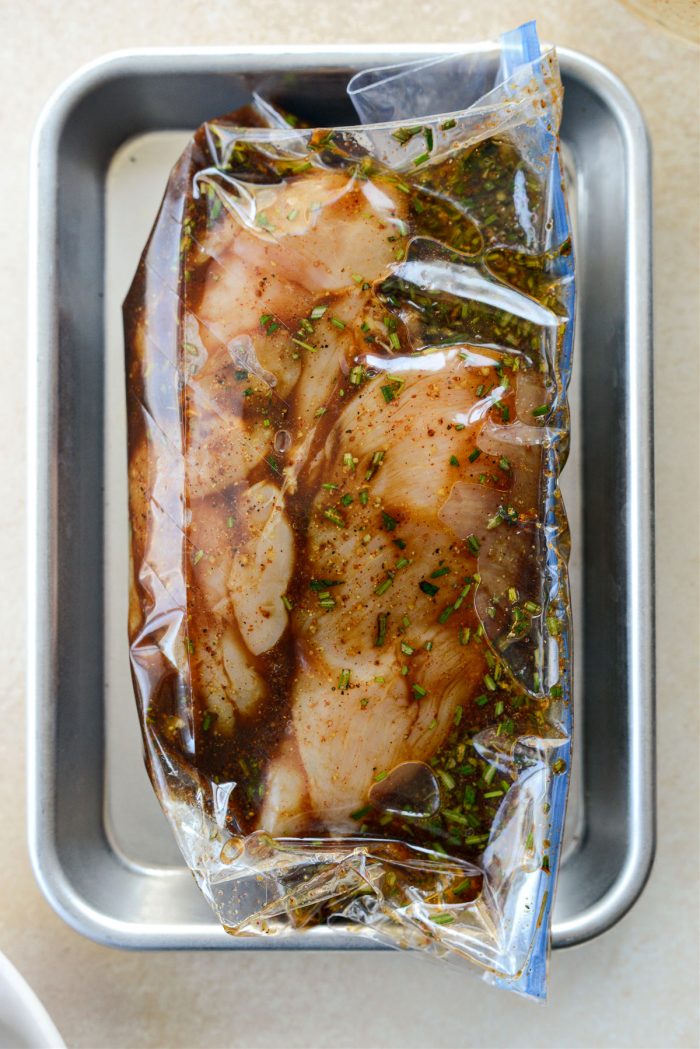 Toss the chicken in the marinade. Press or squeeze as much air out of the bag as possible, seal and let marinade for 2 to 6 hours. I like to place the bag on a tray just to make sure there aren't any leaks.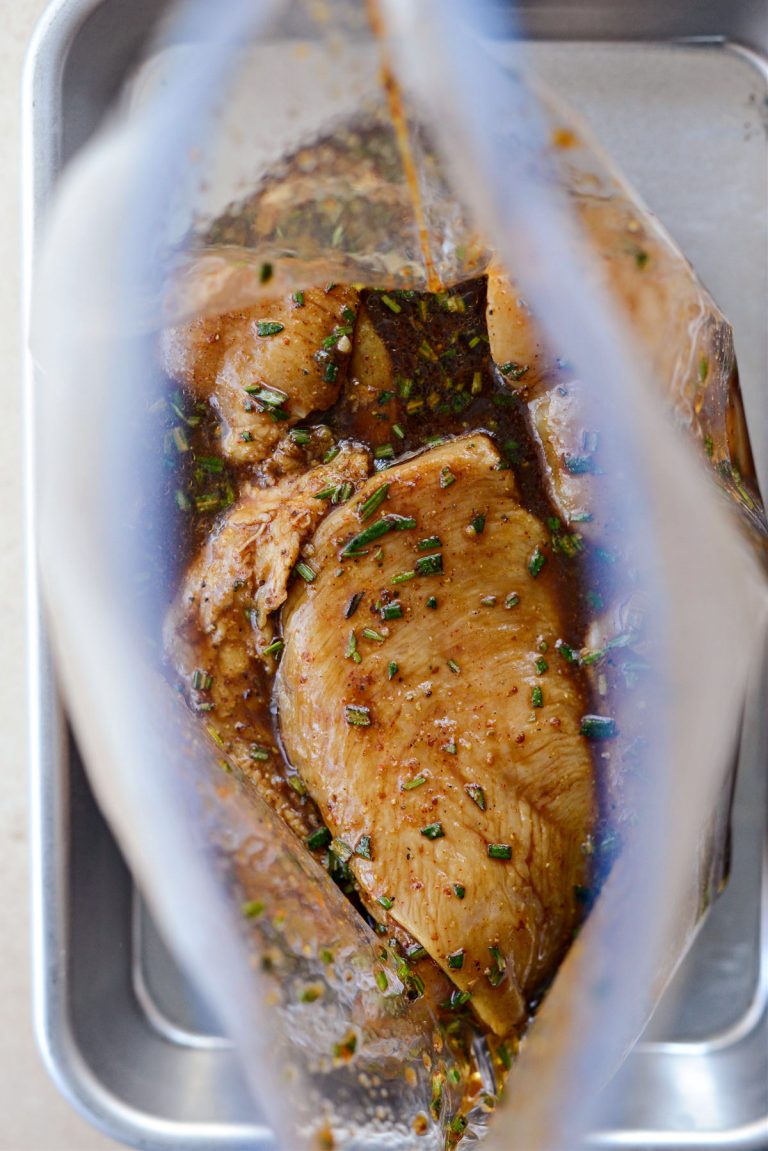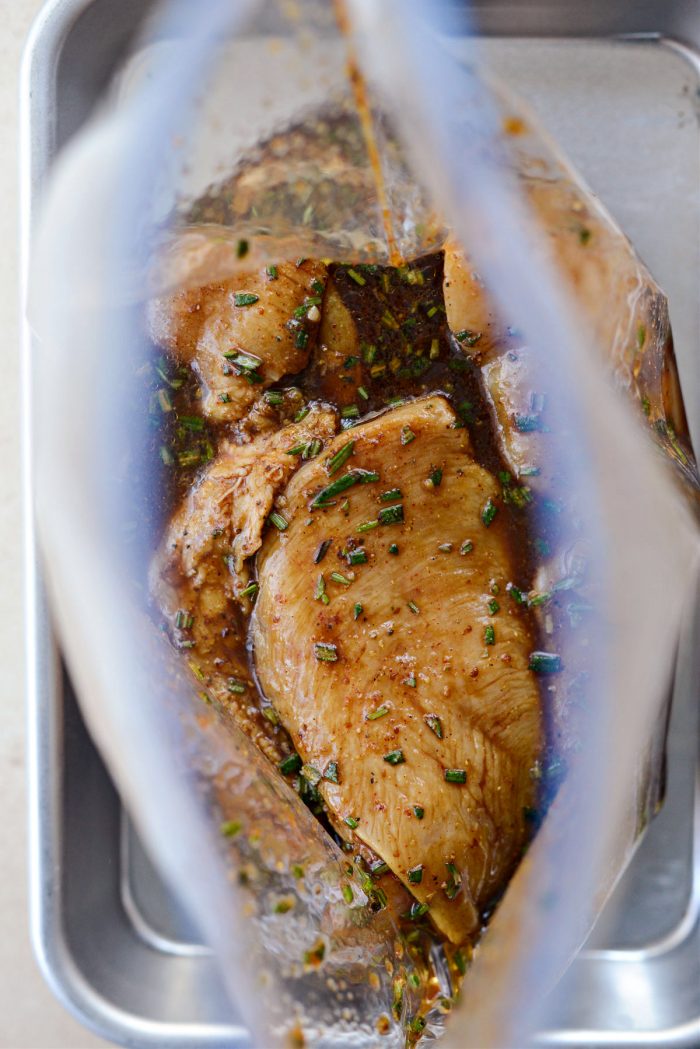 Remove the chicken from the fridge. Use paper towel dipped in a bowl of a little extra light olive oil and wipe your grill grates.
Preheat your outdoor grill to 500-550°.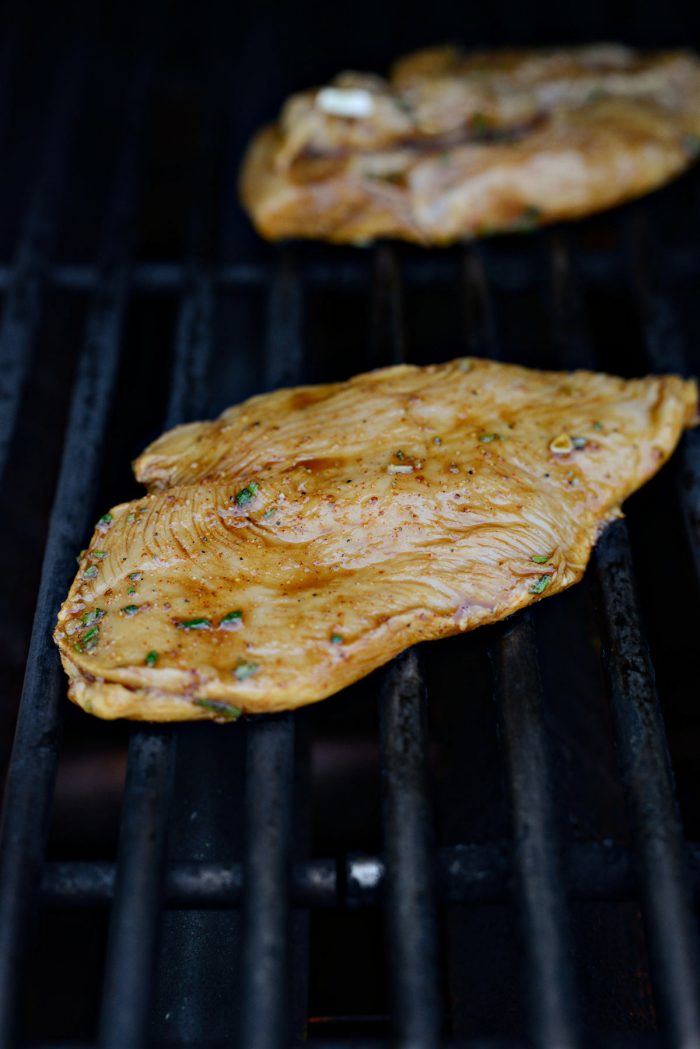 Once hot, place the chicken onto the hot grates, cover and grill for 3 to 4 minutes. Of course the timing will depend on how thick your chicken breasts or thighs are.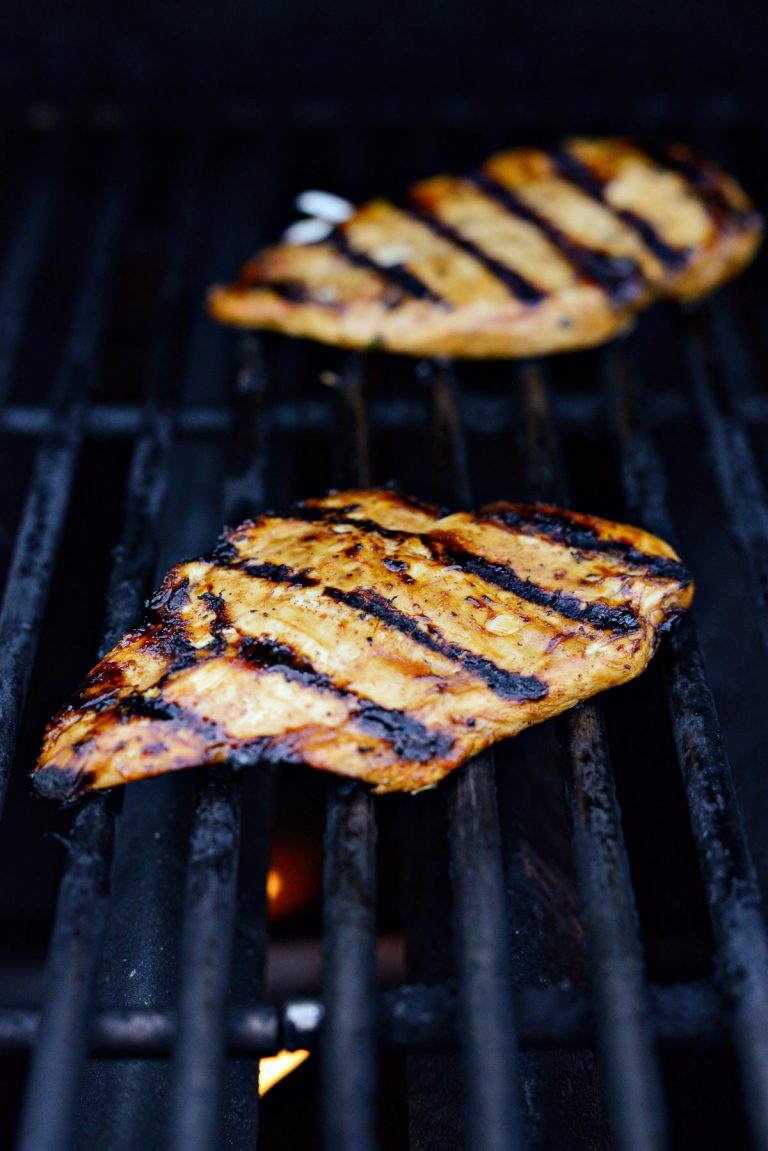 To be honest, this chicken really likes to stick to the grill (even when oiled), so be patient and use the tongs to really scrape and get under the chicken. Turn and continue to grill for 3 to 4 more minutes OR until the internal temperature is 165°. An instant read thermometer is great for this!
Transfer the grilled chicken breast to a carving board and allow it to rest for a few minutes before serving.
This ultra moist chicken is delicious as is, served with corn on the cob and roasted potatoes. But I also like to make a batch, and enjoy it in my salads all week long.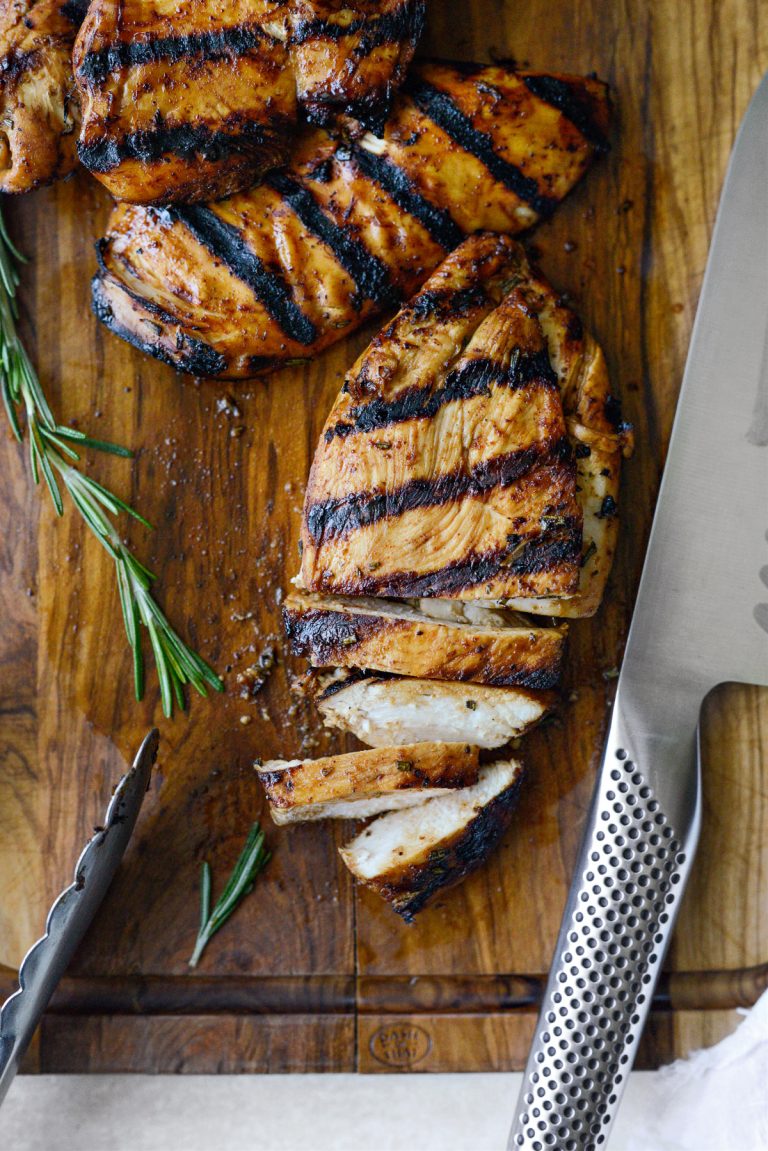 Enjoy! And if you give Your Basic Grilled Chicken Marinade recipe a try, let me know! Snap a photo and tag me on twitter or instagram!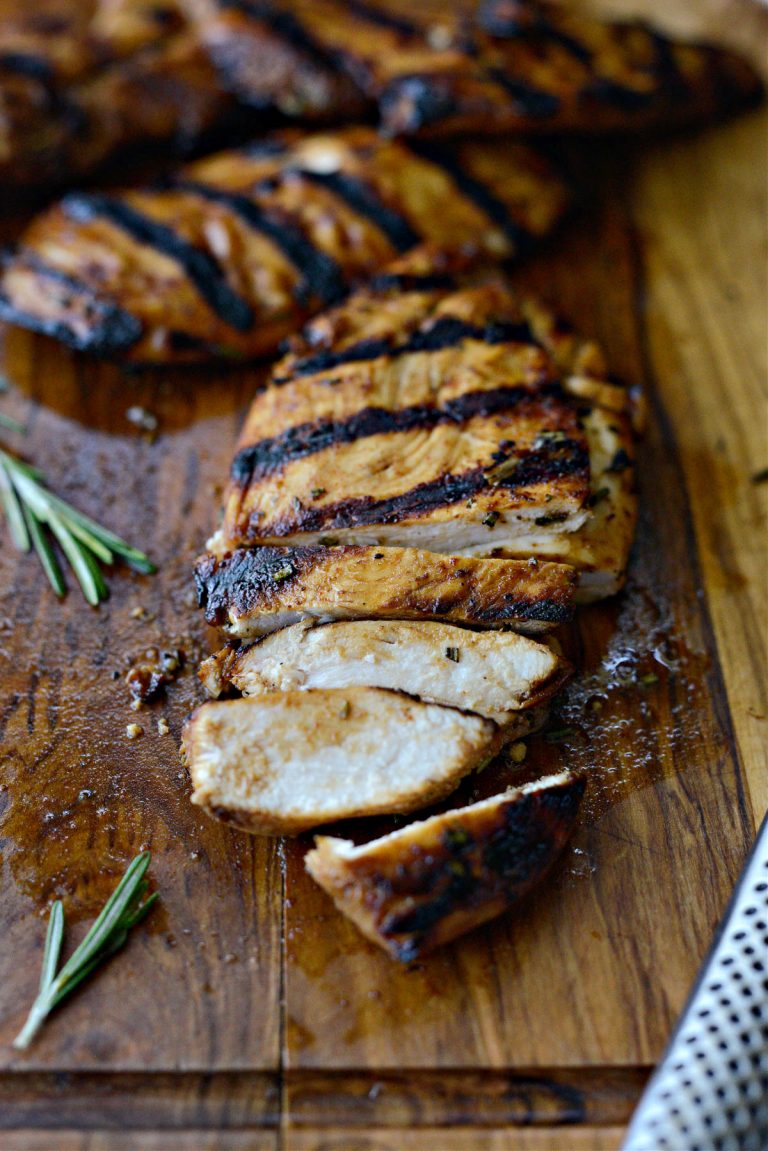 This post may contain affiliate links.
Buy the Cookbook: Simply Scratch : 120 Wholesome Homemade Recipes Made Easy Now available on Amazon »
THANK YOU in advance for your support!