Glazed Whole Roasted Carrots; tender carrots glazed in a sweetly-tangy balsamic and honey glaze. Easy peasy delicious carrots!
Carrots rule.
Not only are they good for your eyes BUT they also put hair on your chest! All right so they really don't make you sprout hair on your front-side, that's just something my dad would tell us growing up. Actually he said that about lots of things… carrots, coffee, yard work (blech!). Okay so forget about the chest-hair thing and just go with "they're-good-for-your-eyes" because I actually really do want you to make these! —–>(Hi Dad) <—–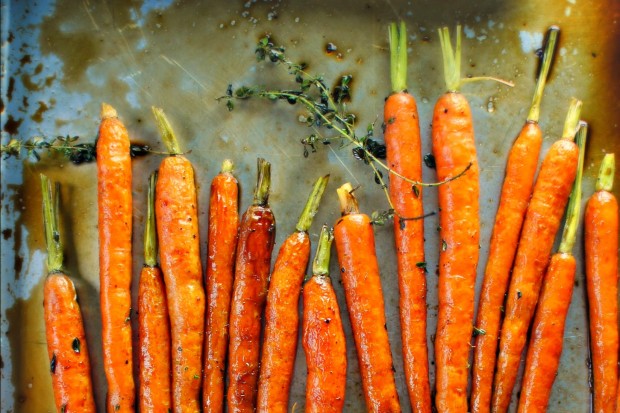 So as I was saying… Carrots rule, but carrots roasted and candied with balsamic and honey are top-notch! And in celebration of October being Fair Trade Month, I busted out my Fair Trade Glorybee honey and got to roasting. I made these to go along side meatloaf and baked potatoes (at my daughter's request), which so happens to be one of my favorite fall comfort meals and these carrots are absolute perfection!
To Make These Honey Balsamic Glazed Whole Roasted Carrots You Will Need:
carrots
olive oil
black pepper
sea salt
thyme sprigs
balsamic vinegar
honey
For this recipe in particular you want to find the carrots that still have their tops on. The skin tends to be softer, so you won't have to peel them (score!) and they're also more tender which makes roasting them whole that much easier. You don't want to buy those big, clunky carrots that are in bags next to the celery… those are better for making stock or sayyy, feeding to horses. And let's just be honest… they just won't look as pretty on the plate.
Trim off the carrot tops and give them a good scrub. You could also trim off the vine-y ends… but I happen to like those, gives 'em character. I'm such a dork… I know.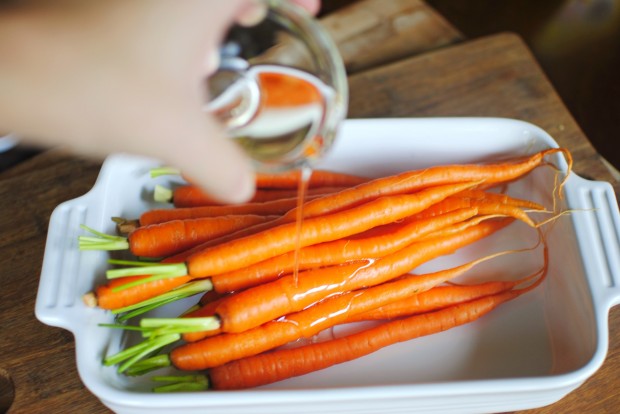 Drizzle with olive oil.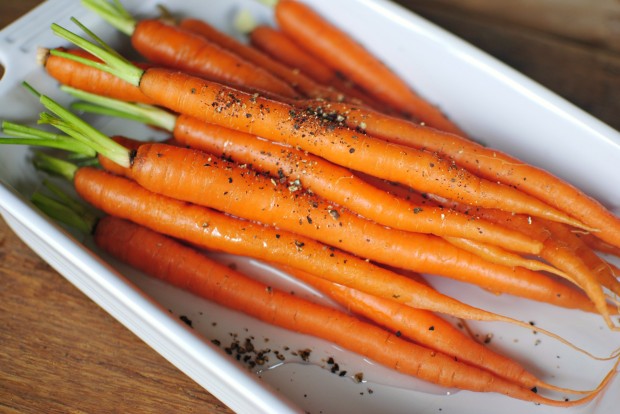 Sprinkle with crushed black pepper. Like I literally took a meat tenderizer to a baggie of peppercorns! For maximus peppery-ness.
And sprinkle with kosher salt.
Toss them all around so each carrot is generously coated in the olive oil and S & P.
Throw on a couple of sprigs of fresh thyme. I have an abundance of thyme growing in my herb garden so I've been throwing it in, on and under EVERYTHING!
Now just pop these carrots into a preheated 425° oven for like 15 minutes.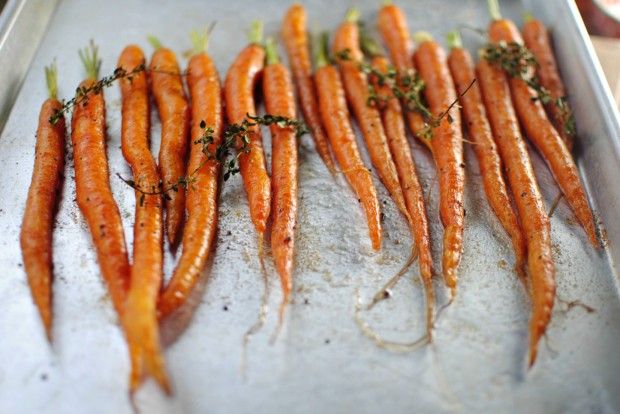 When the time is up, remove the pan from the oven and set the pan off to the side to cool down for a moment. Meanwhile you can quickly make the balsamic honey glaze.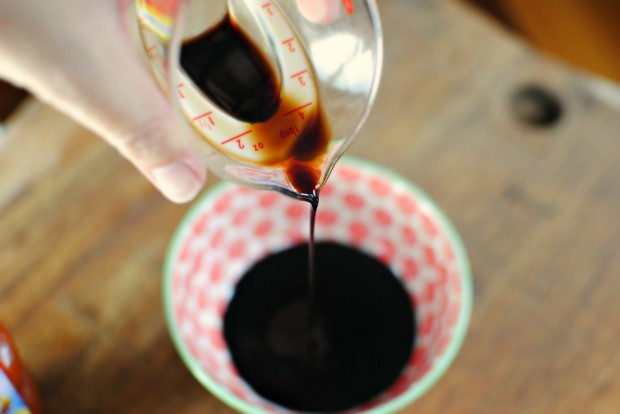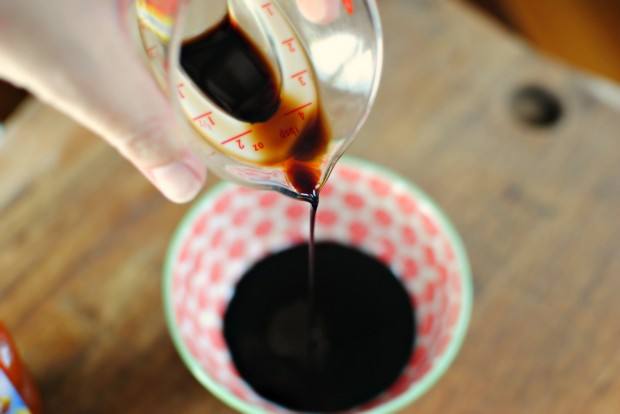 Balsamic… naturally.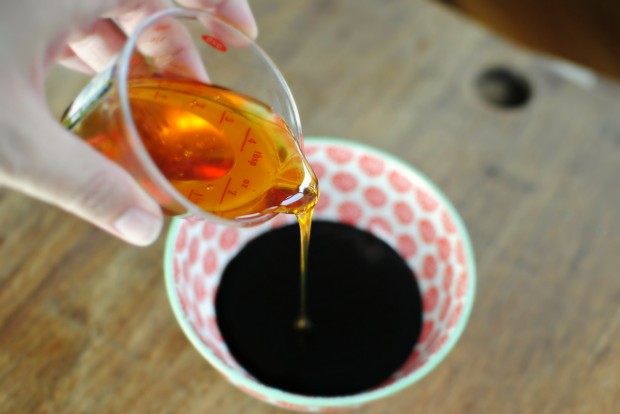 Honey… obviously. (dark brown sugar would be yummy too!)
Stir to combine… of course! How easy is THAT?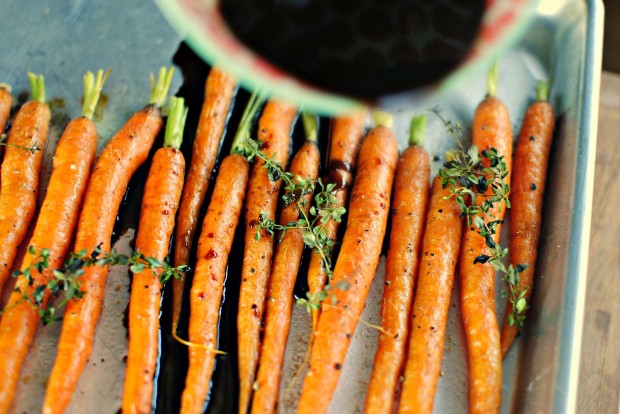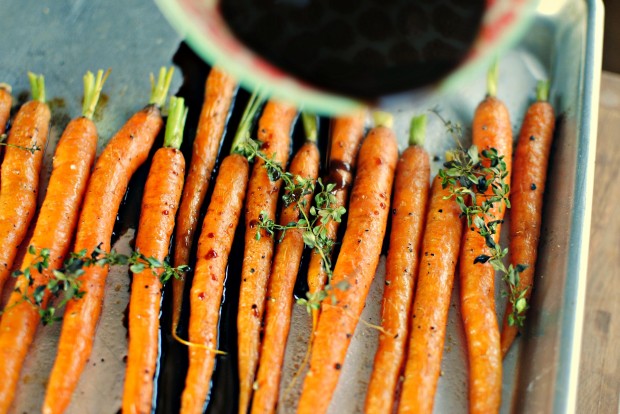 Drizzle over top of the semi-roasted carrots, toss them all around and pop them back into the oven for 10-15 more minutes. Halfway through give them one last toss.
Stand back when you open the door, or you could get slapped in the face with the balsamic vapors! It's bad news… mascara dripping down your face isn't best look.
I looooove these Glazed Whole Roasted Carrots. They are the perfect combination of sweet and tangy. If and I mean IF there's leftovers they reheat just splendidly.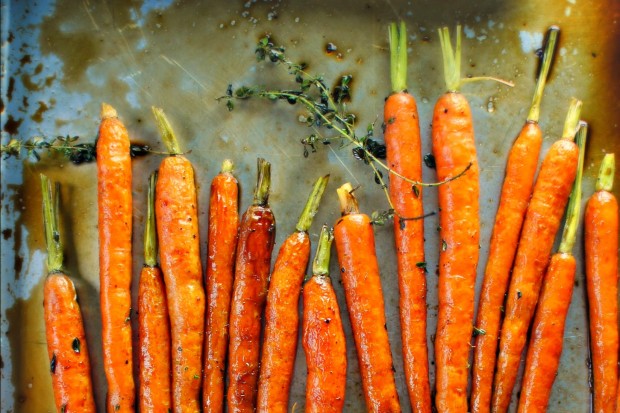 So totally easy and so totally yum.
Enjoy! And if you give this Glazed Whole Roasted Carrots recipe a try, let me know! Snap a photo and tag me on twitter or instagram!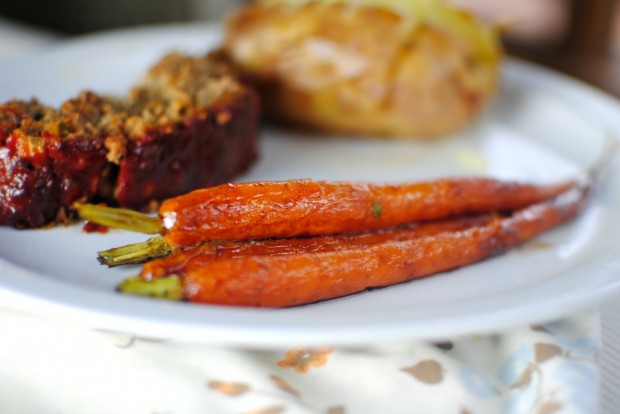 Yield: 6 servings
Honey Balsamic Glazed Whole Roasted Carrots
Tender carrots glazed in a sweetly-tangy balsamic and honey glaze.
Ingredients
2 bunches baby carrots, go for the ones that have the tops still on
1 tablespoon extra light olive oil
3/4 teaspoon kosher salt
1/4 teaspoon freshly ground black pepper
4 sprigs fresh thyme, optional
2 tablespoons balsamic vinegar
2½ tablespoons honey
Instructions
Chop of the leafy carrot tops and scrub well.

Toss the carrots in the olive oil, salt and black pepper. Place the carrots on a rimmed baking sheet and throw on the sprigs of fresh thyme.

Slide the carrots into a preheated 425 degree oven and roast for 15 minutes. Meanwhile prepare the glaze by mixing the balsamic vinegar with the honey.

Remove the carrots from the oven and drizzle on the glaze. Toss to coat and place the carrots back into the oven for 10-15 more minutes. Just give them another toss halfway through.

Remove and discard the thyme sprigs and serve.
Calories: 105kcal, Carbohydrates: 21g, Protein: 1g, Fat: 3g, Saturated Fat: 1g, Polyunsaturated Fat: 1g, Monounsaturated Fat: 2g, Sodium: 409mg, Potassium: 371mg, Fiber: 4g, Sugar: 15g, Vitamin A: 20717IU, Vitamin C: 5mg, Calcium: 53mg, Iron: 2mg
This post may contain affiliate links.
Buy the Cookbook: Simply Scratch : 120 Wholesome Homemade Recipes Made Easy Now available on Amazon »
THANK YOU in advance for your support!