In this easy Tuscan Chicken and Potato Sheet Pan Dinner, fingerling potatoes roast alongside chicken breasts that have been seasoned with my homemade Tuscan seasoning blend, garlic and fresh lemon juice. A side parcel of balsamic tomatoes completes this easy one-pan meal. Serves 4 in about 45 minutes.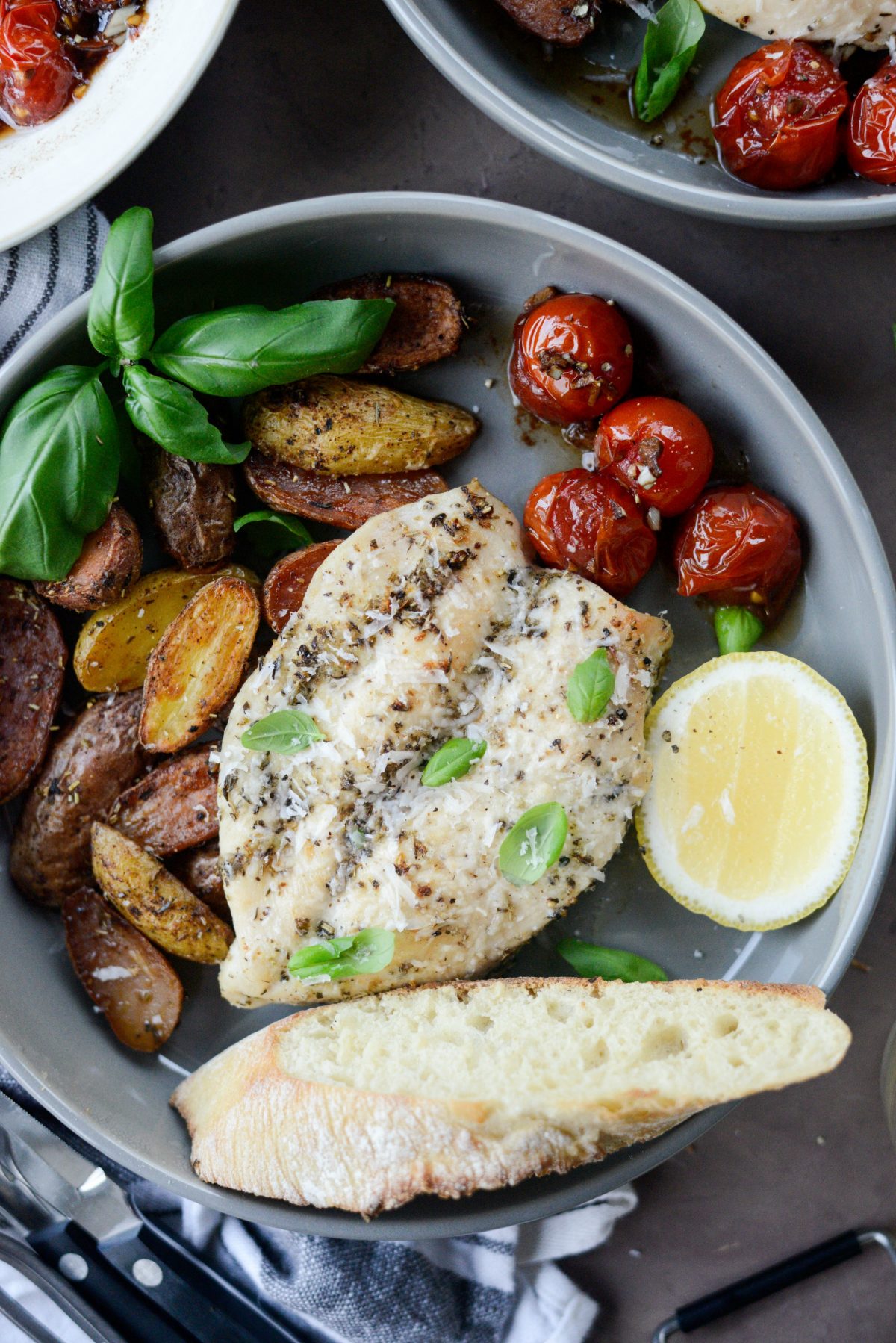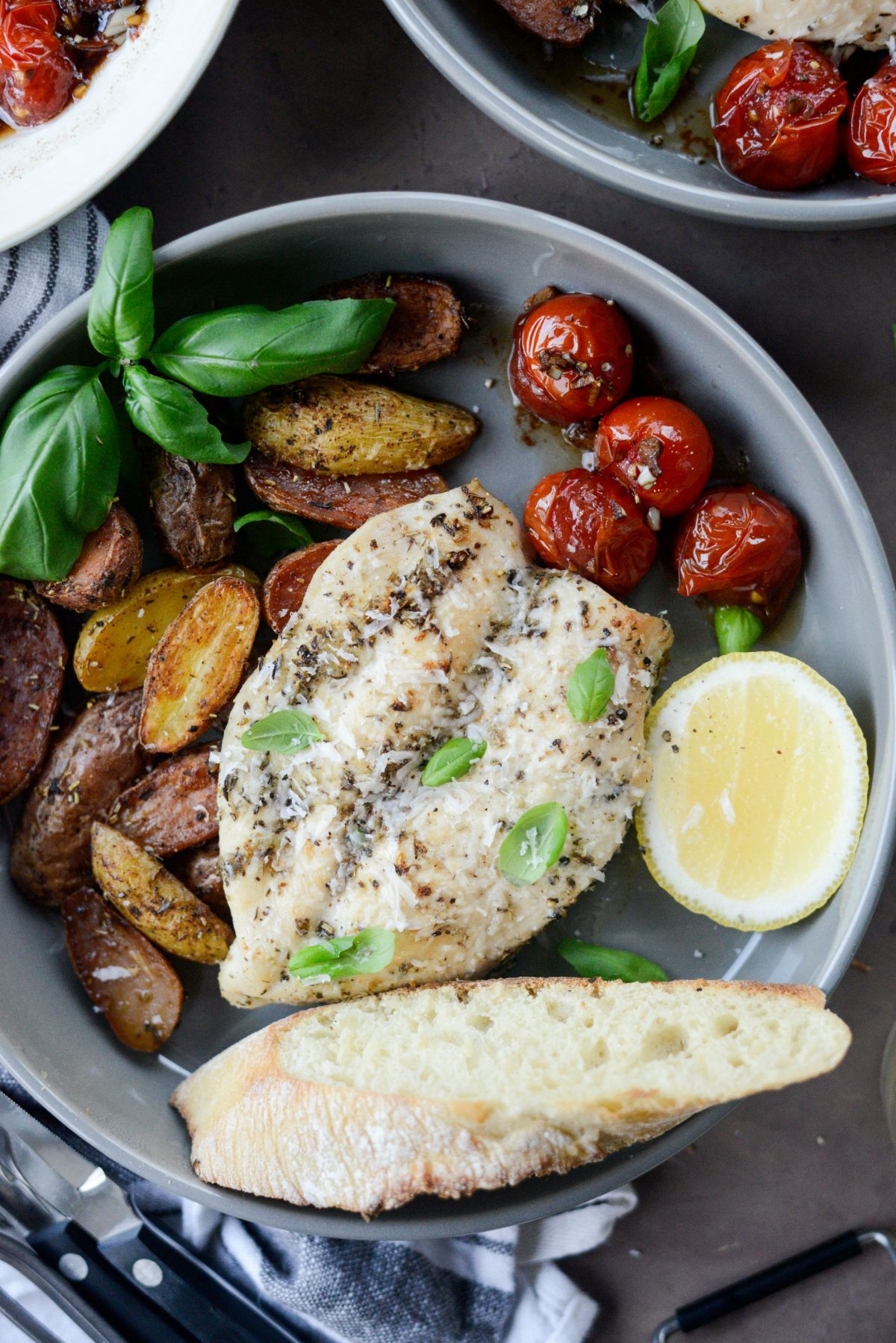 You have no idea how good it feels to not have to write about turkey or leftovers. Instead, I get to tell you about this delicious sheet pan dinner I made weeks ago. Since then, I've made it twice. That's how much we loved it.
Early this month I randomly shared my recipe for Tuscan seasoning. A blend of dried herbs and spices like rosemary, fennel, onion and garlic powder create a simple yet aromatic blend that I put to work in this recipe. Seasoning not only the potatoes but the chicken, in what very well could be one of my favorite sheet pan dinners.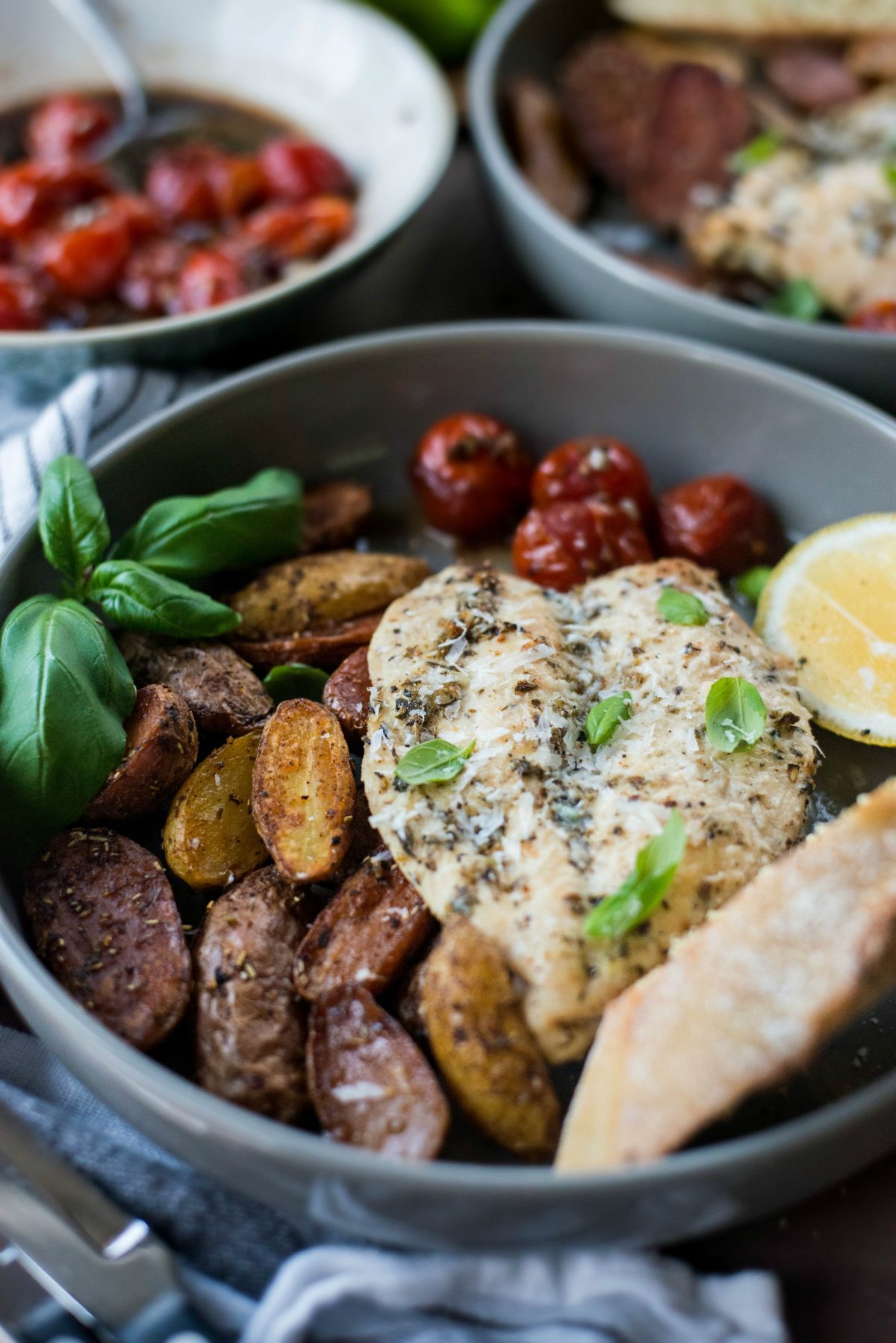 I hope you enjoy it as much as we do!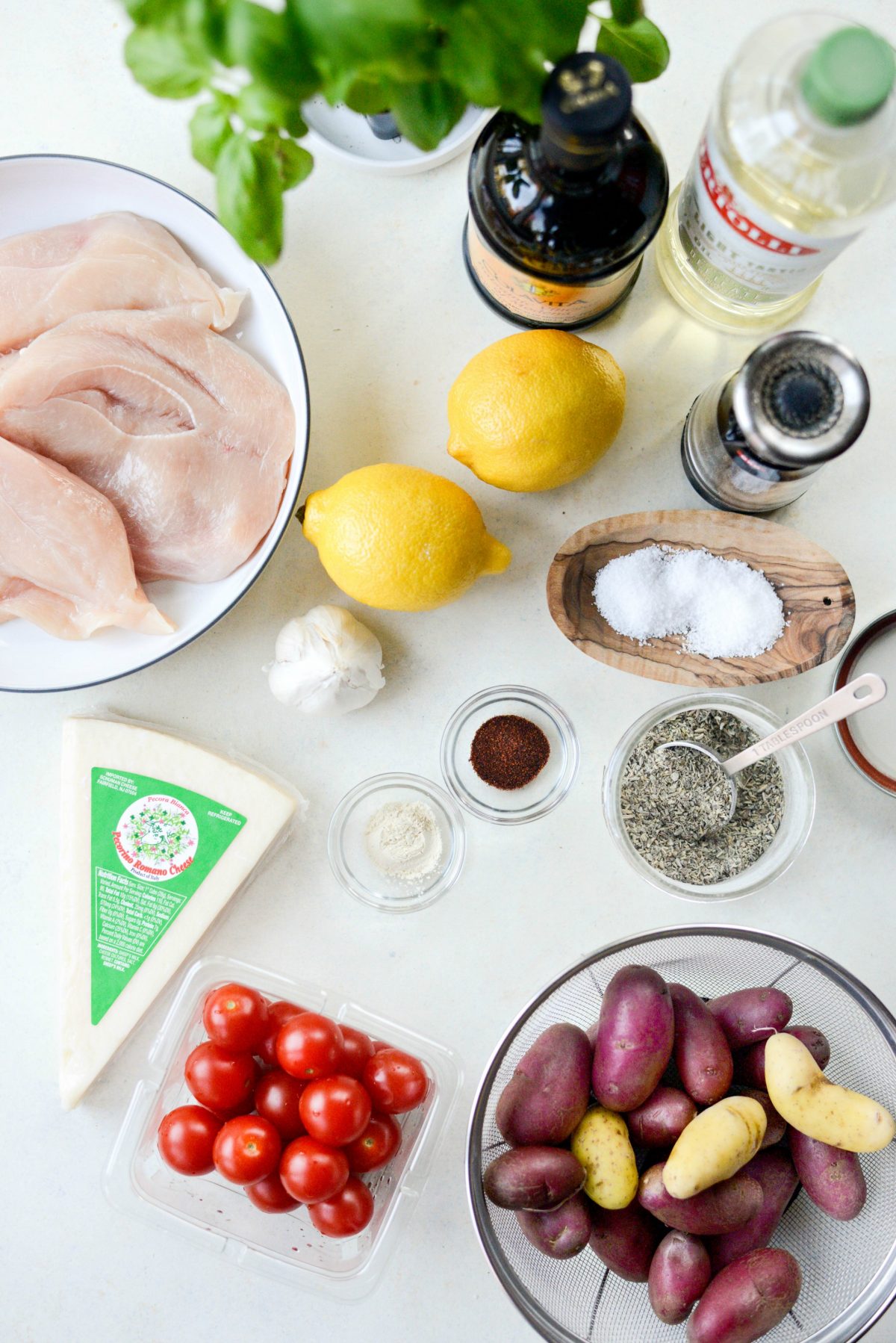 To Make This Tuscan Chicken and Potato Sheet Pan Dinner you Will Need:
cherry tomatoes
balsamic vinegar
olive oil
kosher salt
freshly ground black pepper
fingerling potatoes (or other small, baby potatoes)
Homemade Tuscan Seasoning
garlic powder
paprika
thin cut chicken breast
juice from a lemon – about 2 tablespoons
garlic
Pecorino Romano cheese
fresh basil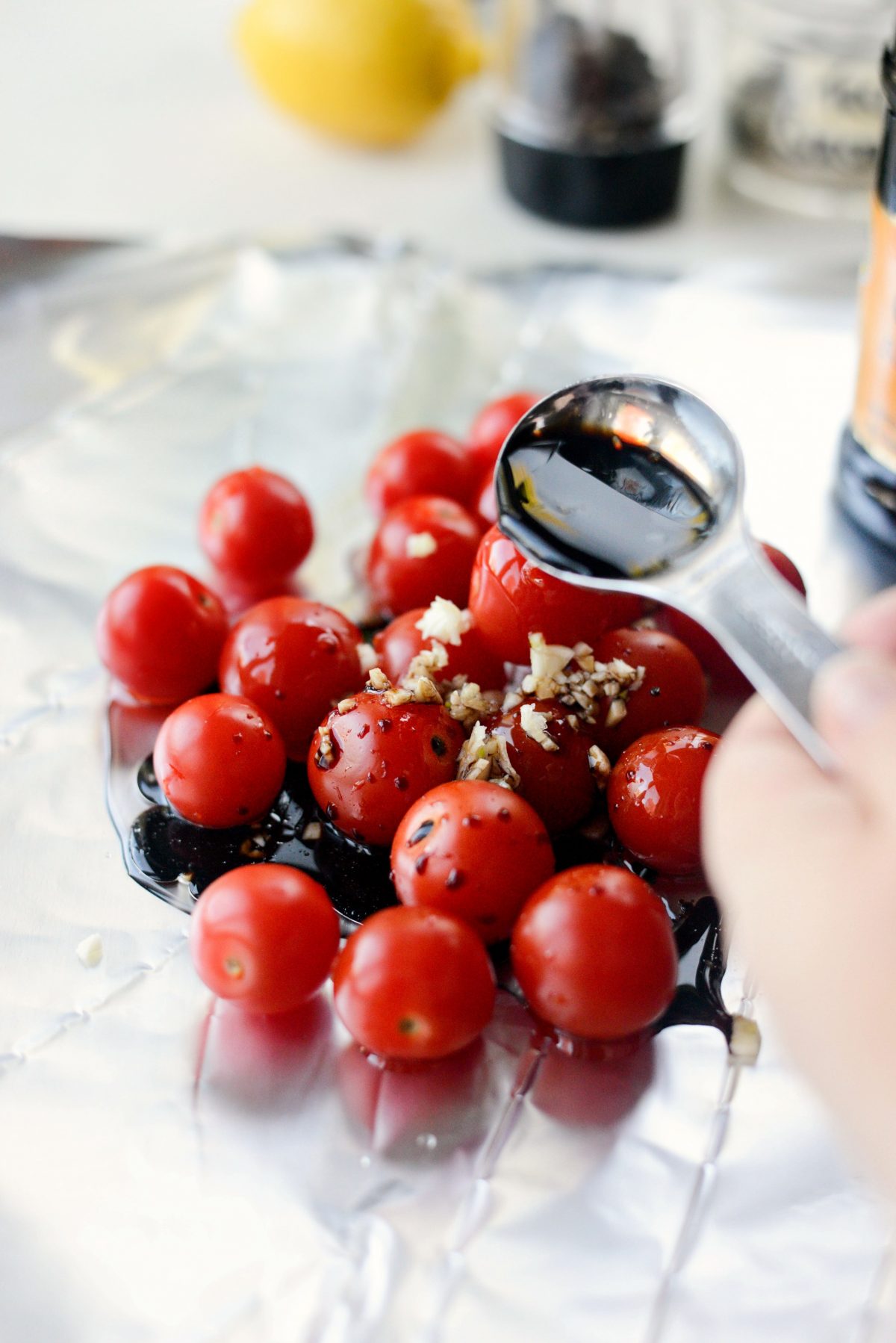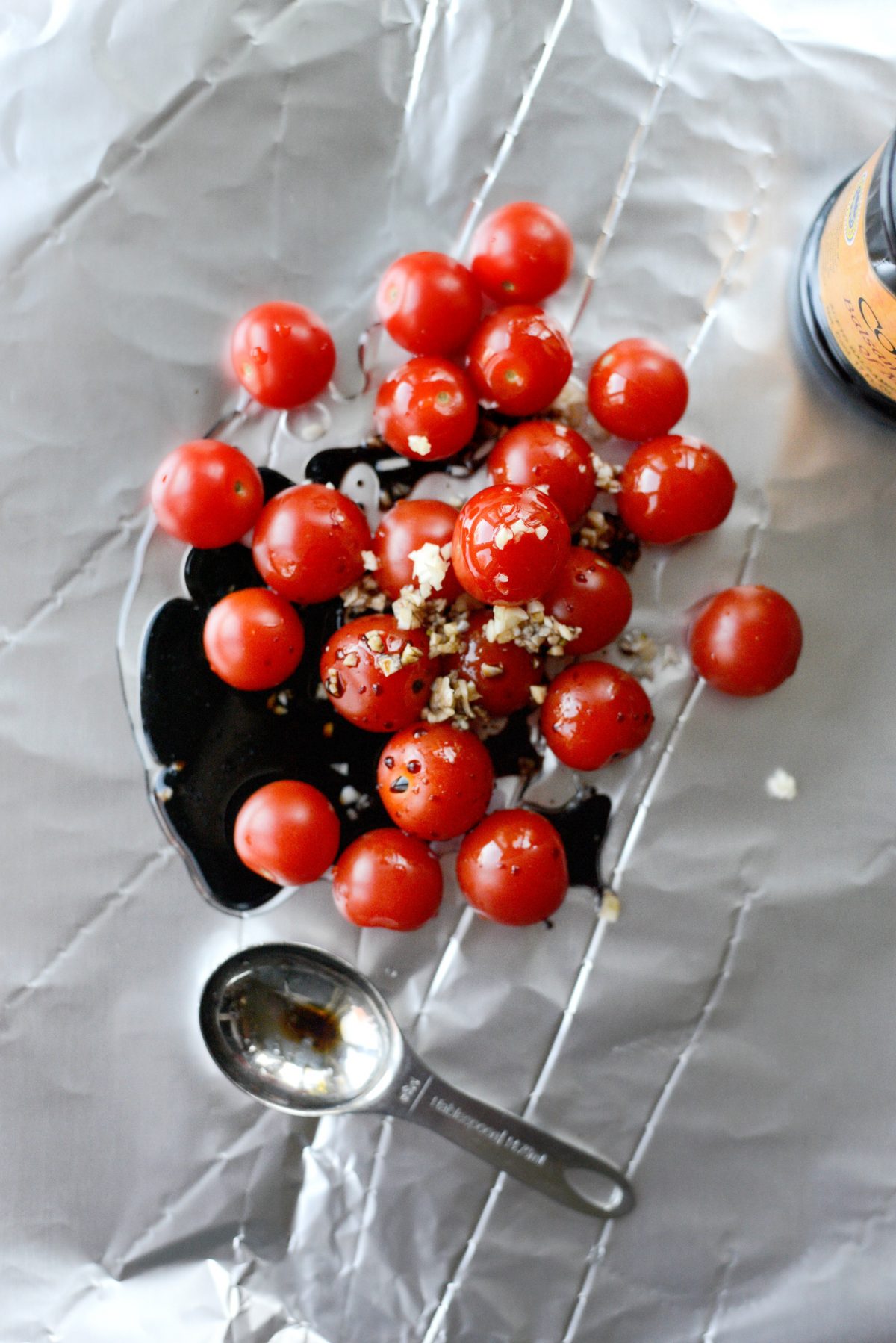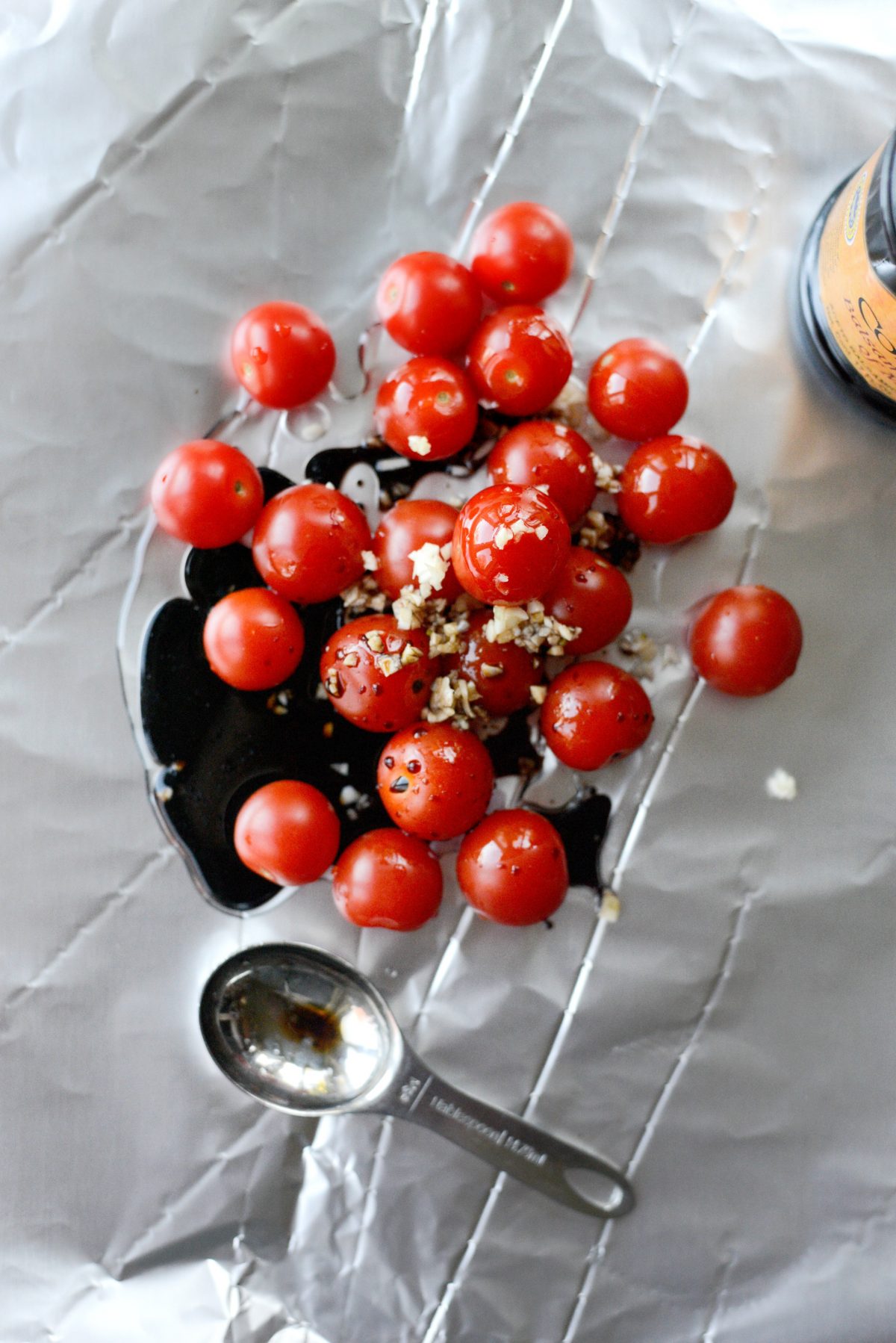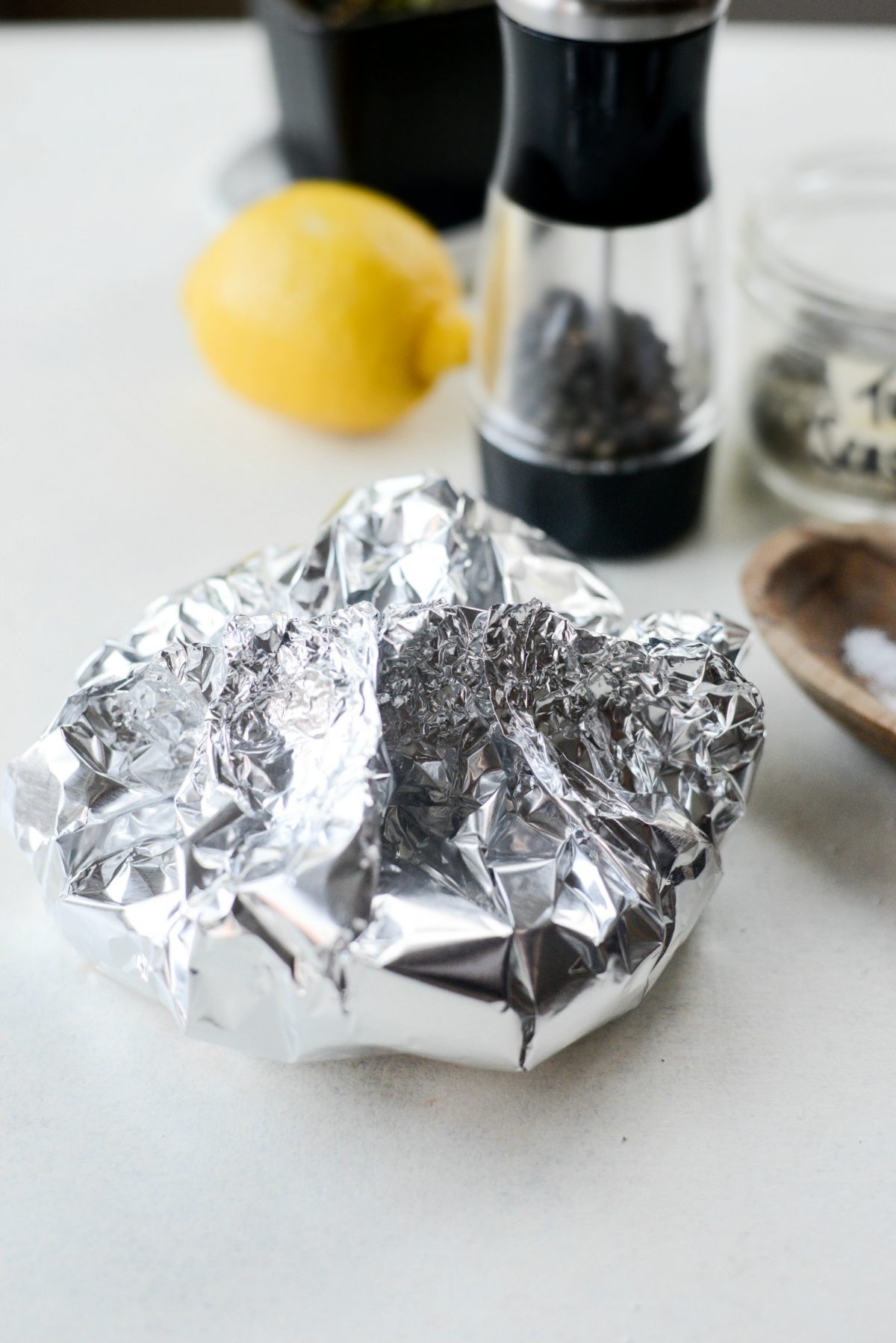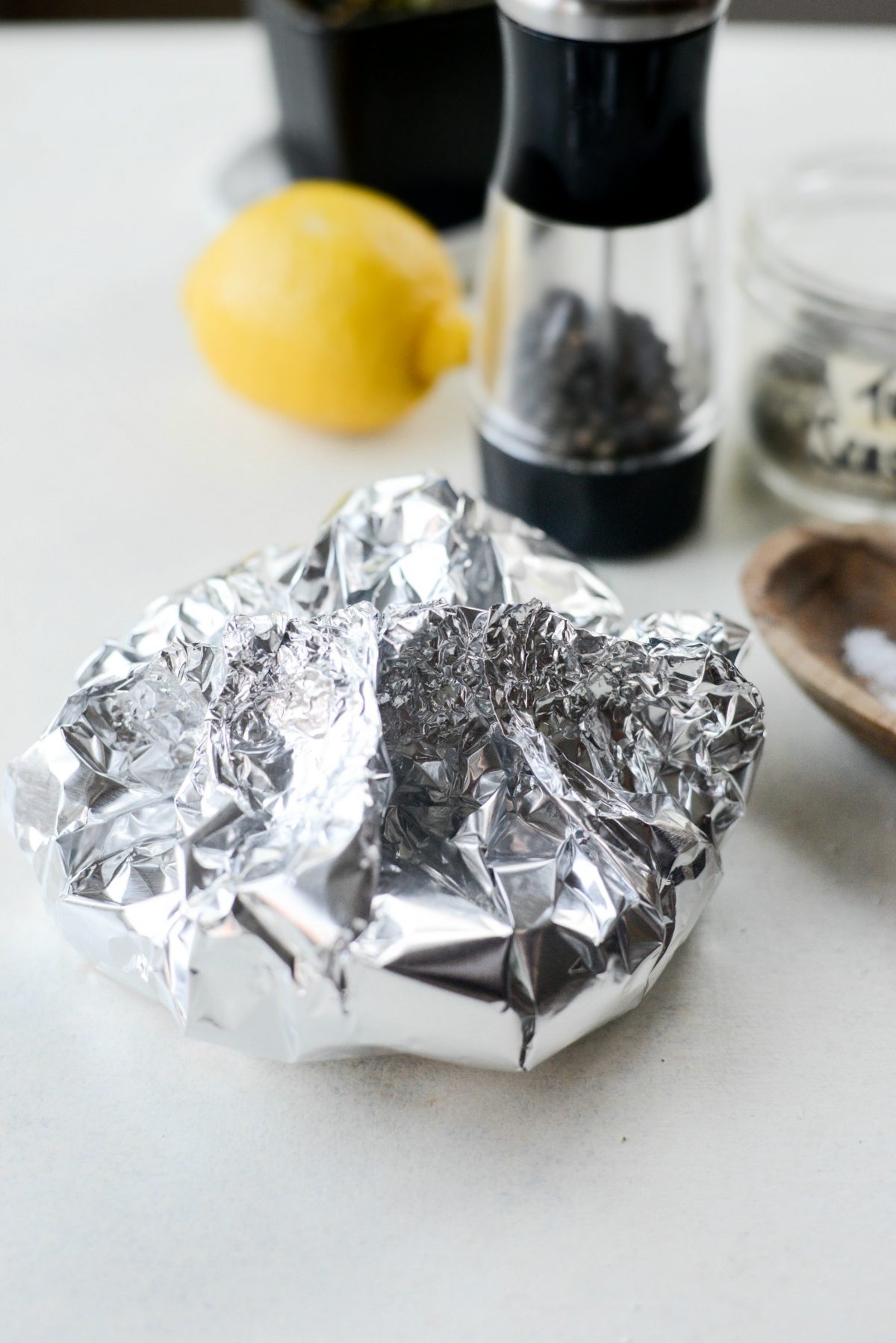 First, preheat you oven to 400º.
Next, place the pint of (rinsed and patted dry) cherry tomatoes and 2 cloves of garlic that have been minced onto a large sheet of aluminum foil. Drizzle with 2 teaspoons each of olive oil and balsamic vinegar. Then season with a pinch of kosher salt and a few turns of freshly ground black pepper.
Once preheated, place the parcel on the bottom rack of your oven and roast for 20 minutes.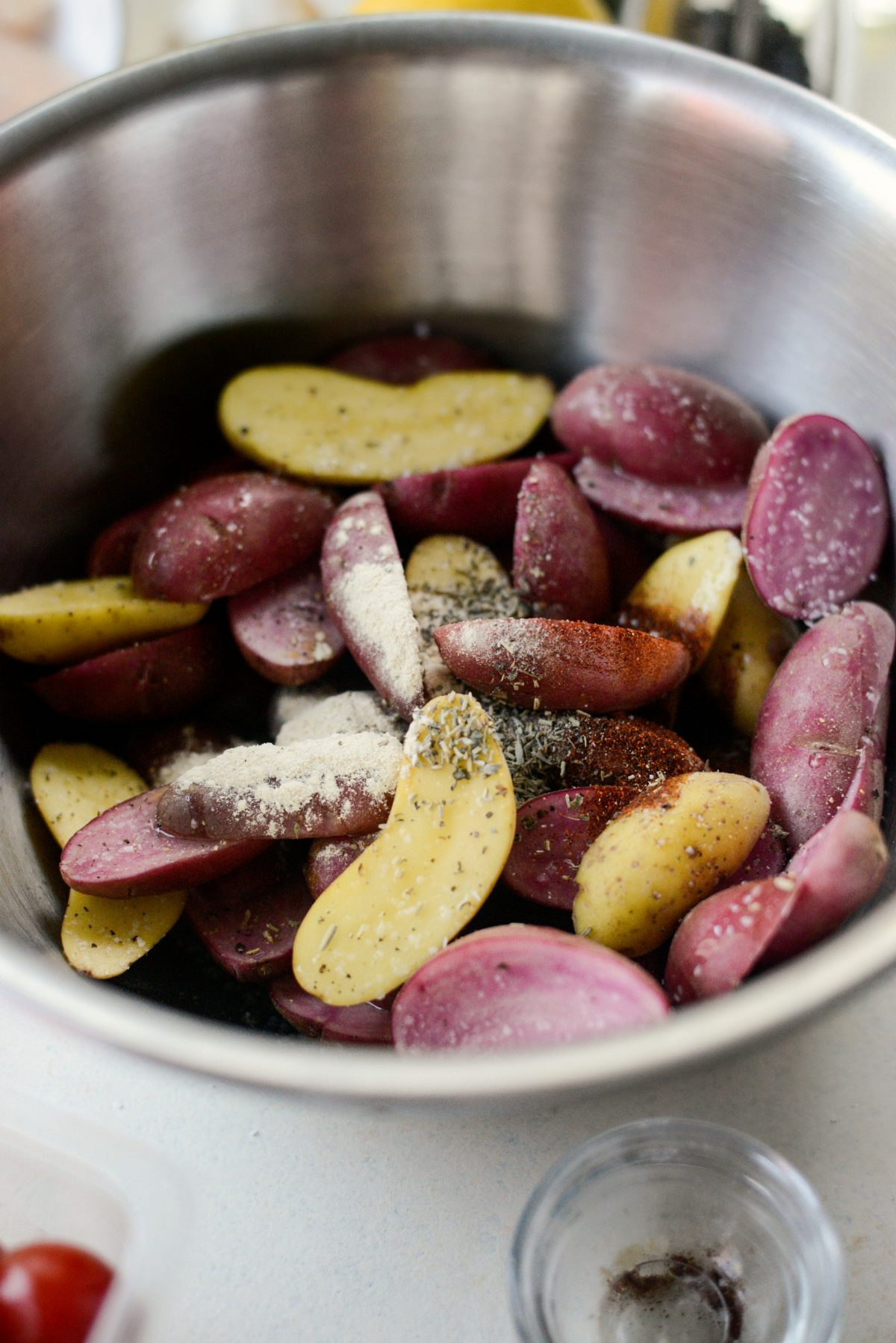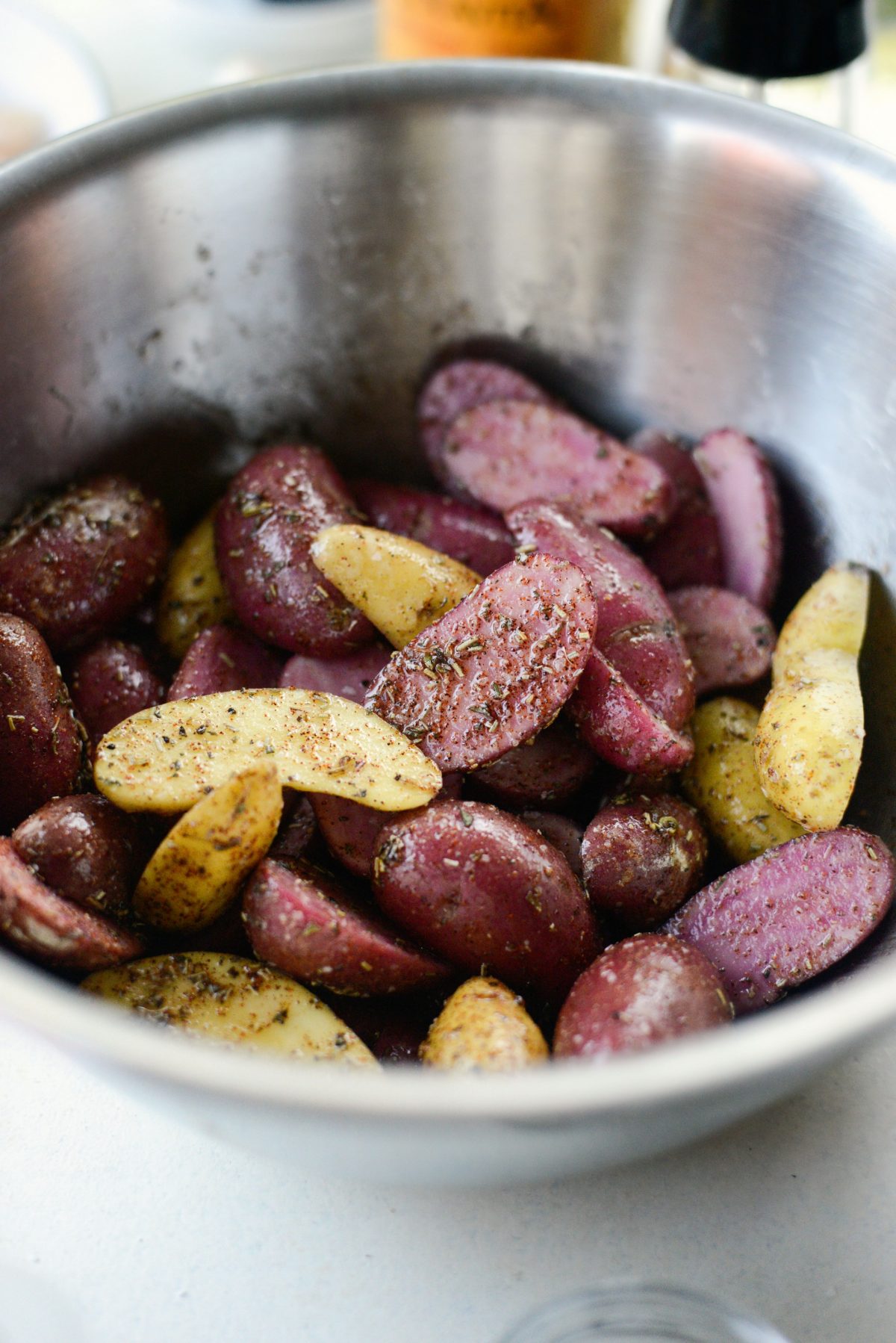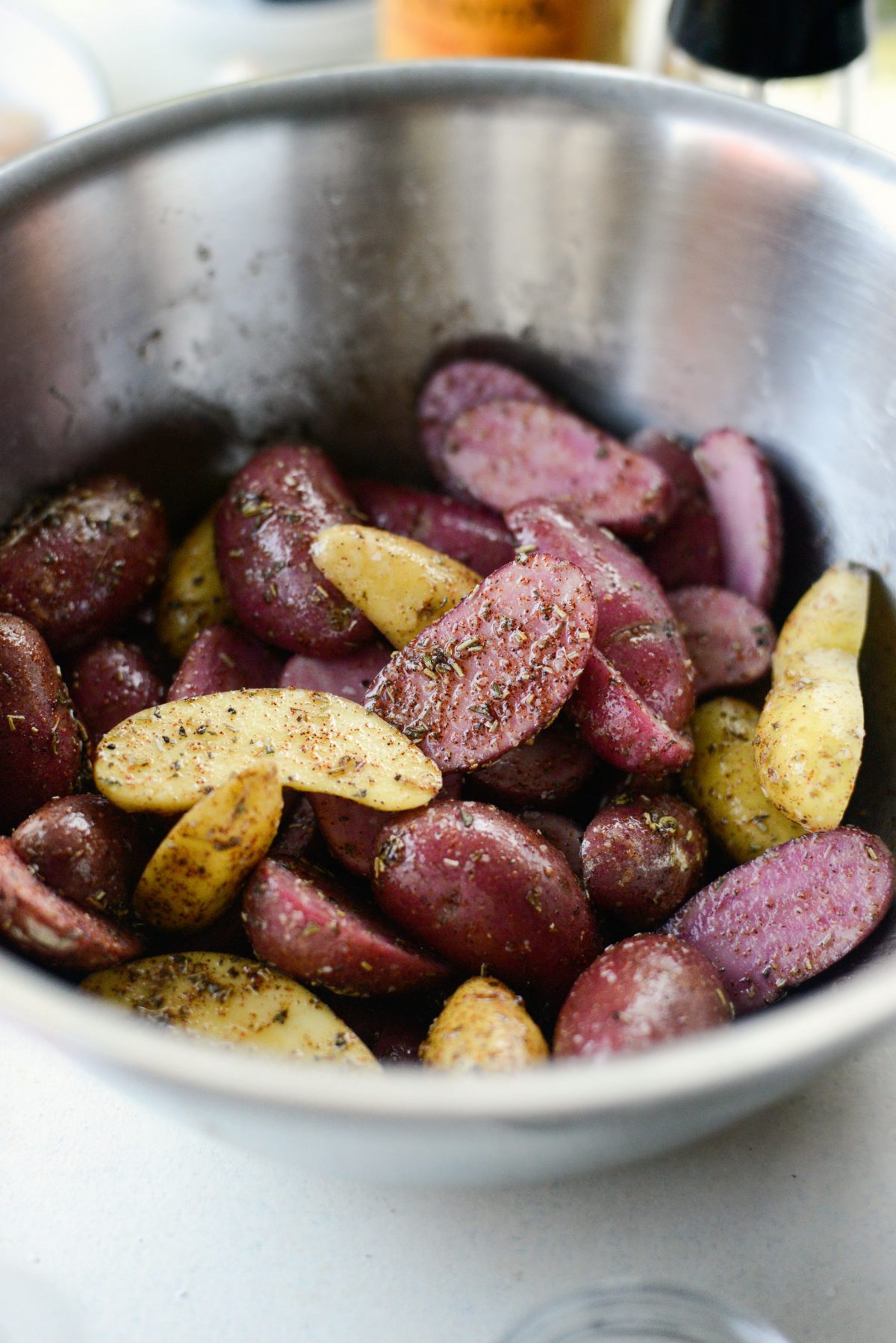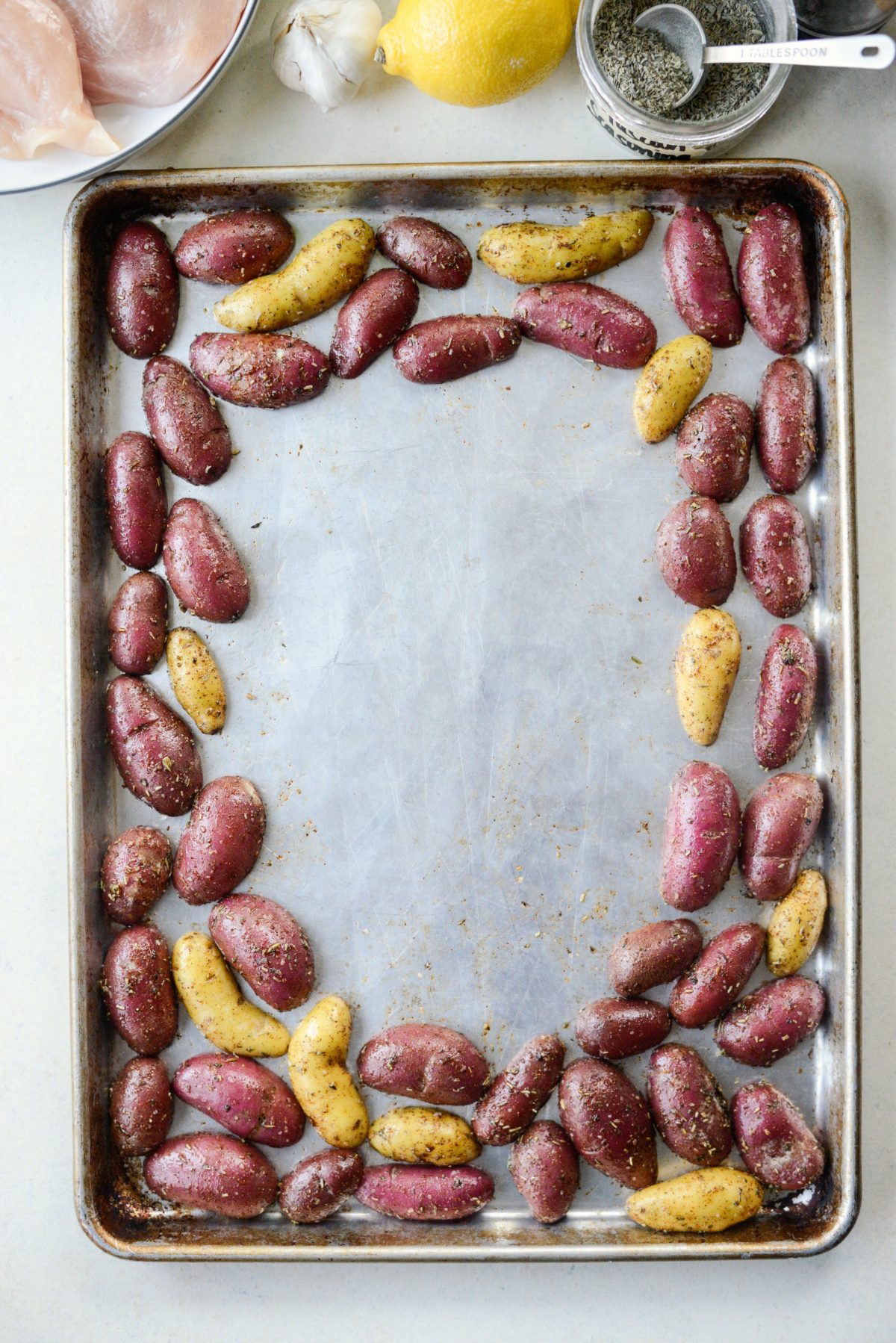 Meanwhile, in a mixing bowl, toss the 1-1/2 pounds of potato halves with 2 teaspoons olive oil, 1 teaspoon Tuscan seasoning, 1/2 teaspoon both garlic powder and paprika, and a few pinches of kosher salt.
Then arrange the potatoes around the parameter of a rimmed, metal baking sheet. Roast on the middle rack of your preheated oven for 10 minutes.
So easy!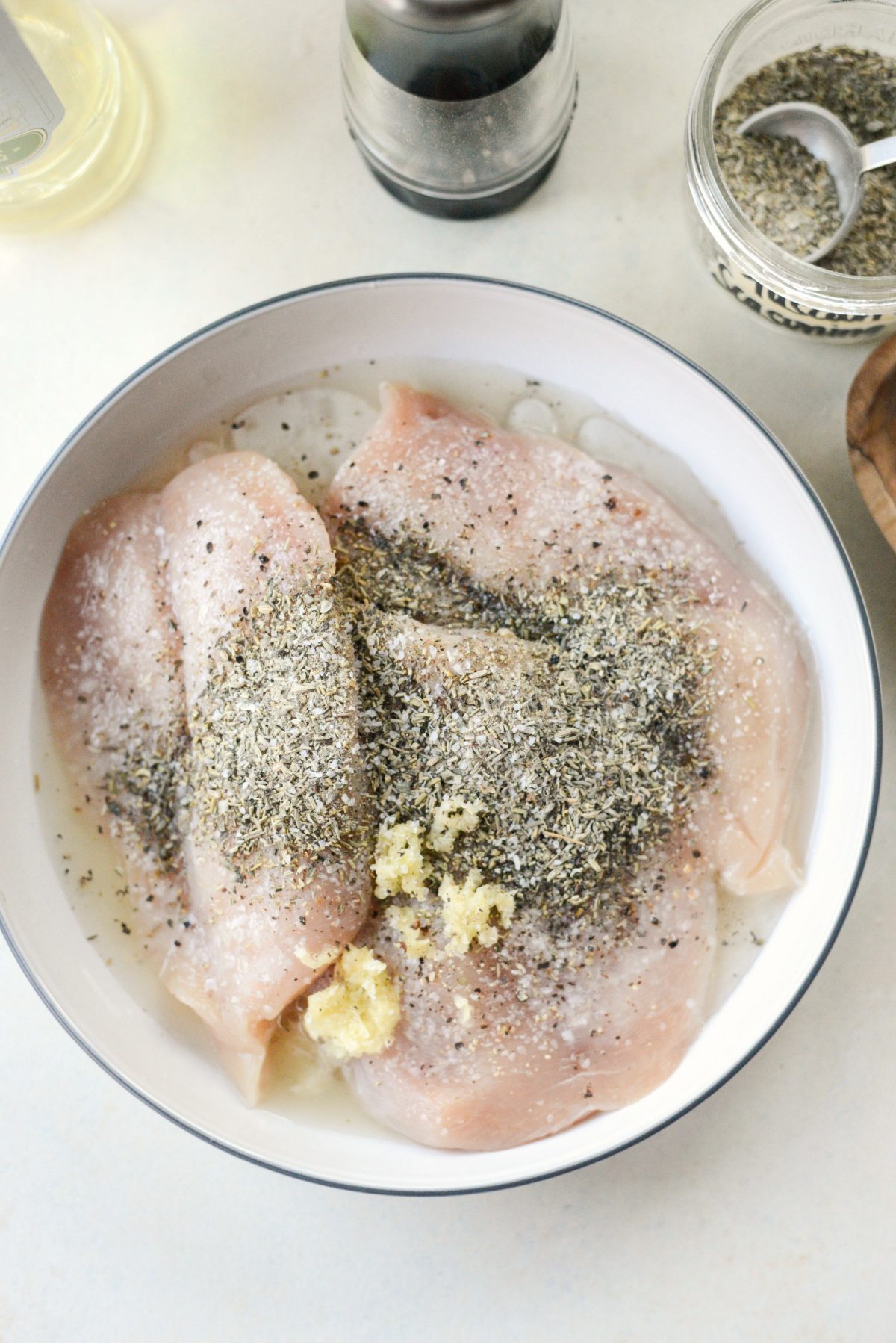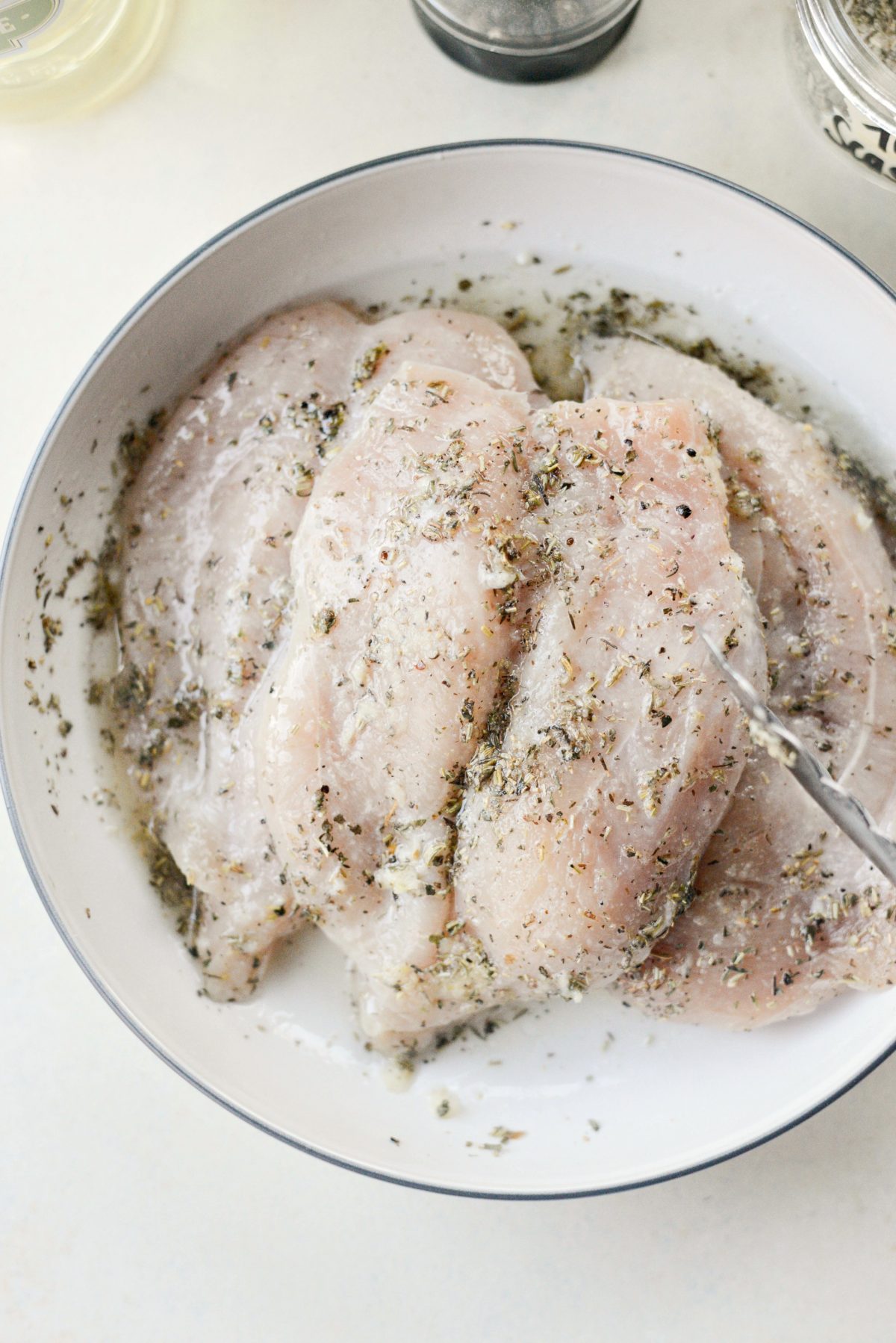 Next place the 4 thin-cut chicken breasts into a shallow dish or use the bowl from the potatoes. Drizzle with a teaspoon of olive oil and the juice of 1 lemon. Grate 2 cloves of garlic and measure and add in 1 tablespoon of the tuscan seasoning, toss to coat evenly.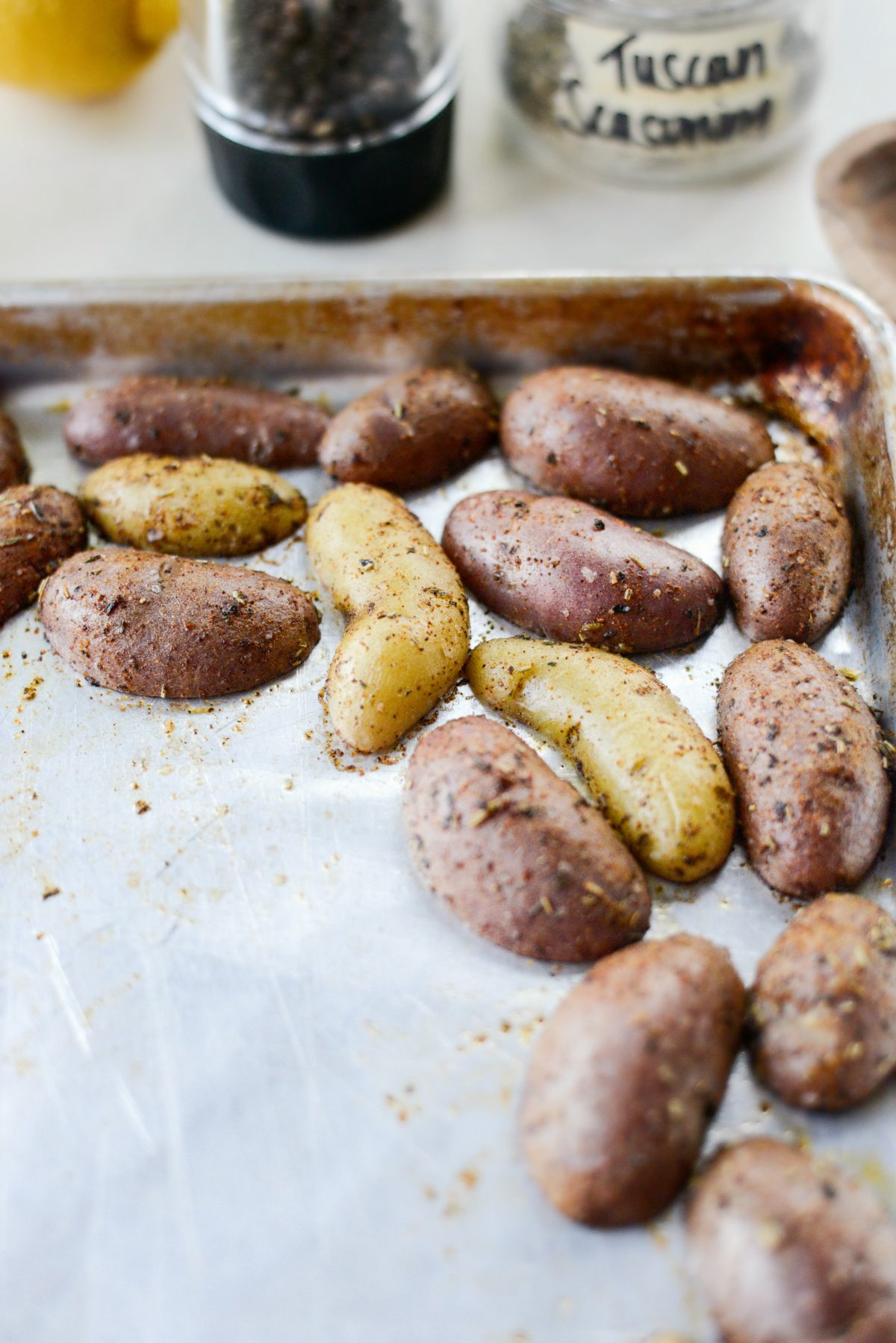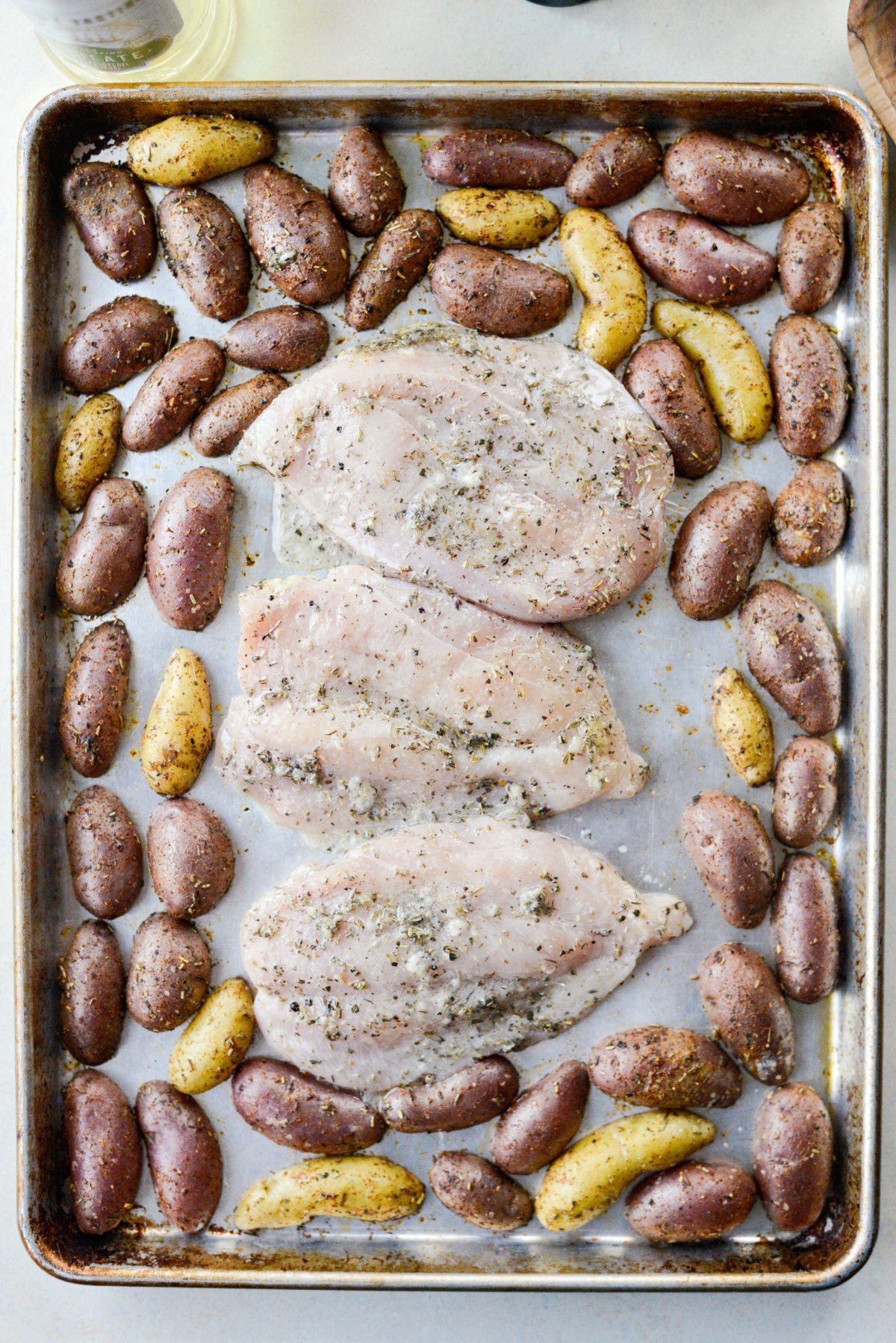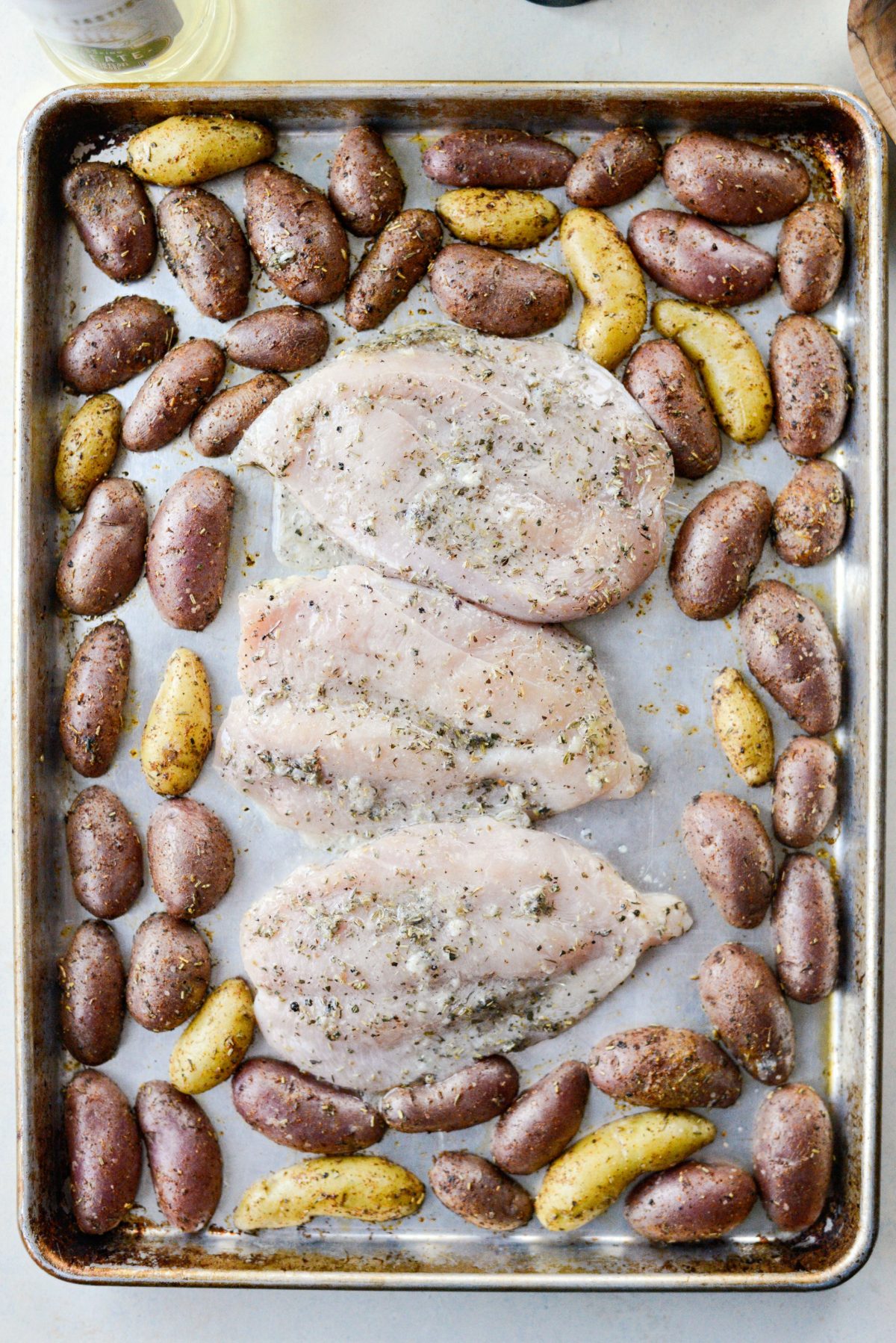 Once the potatoes have roasted for 10 minutes, place the chicken breasts and any remaining marinade in the center of the sheet pan and roast for 20 minutes. Rotate the pan half way through to ensure even cooking.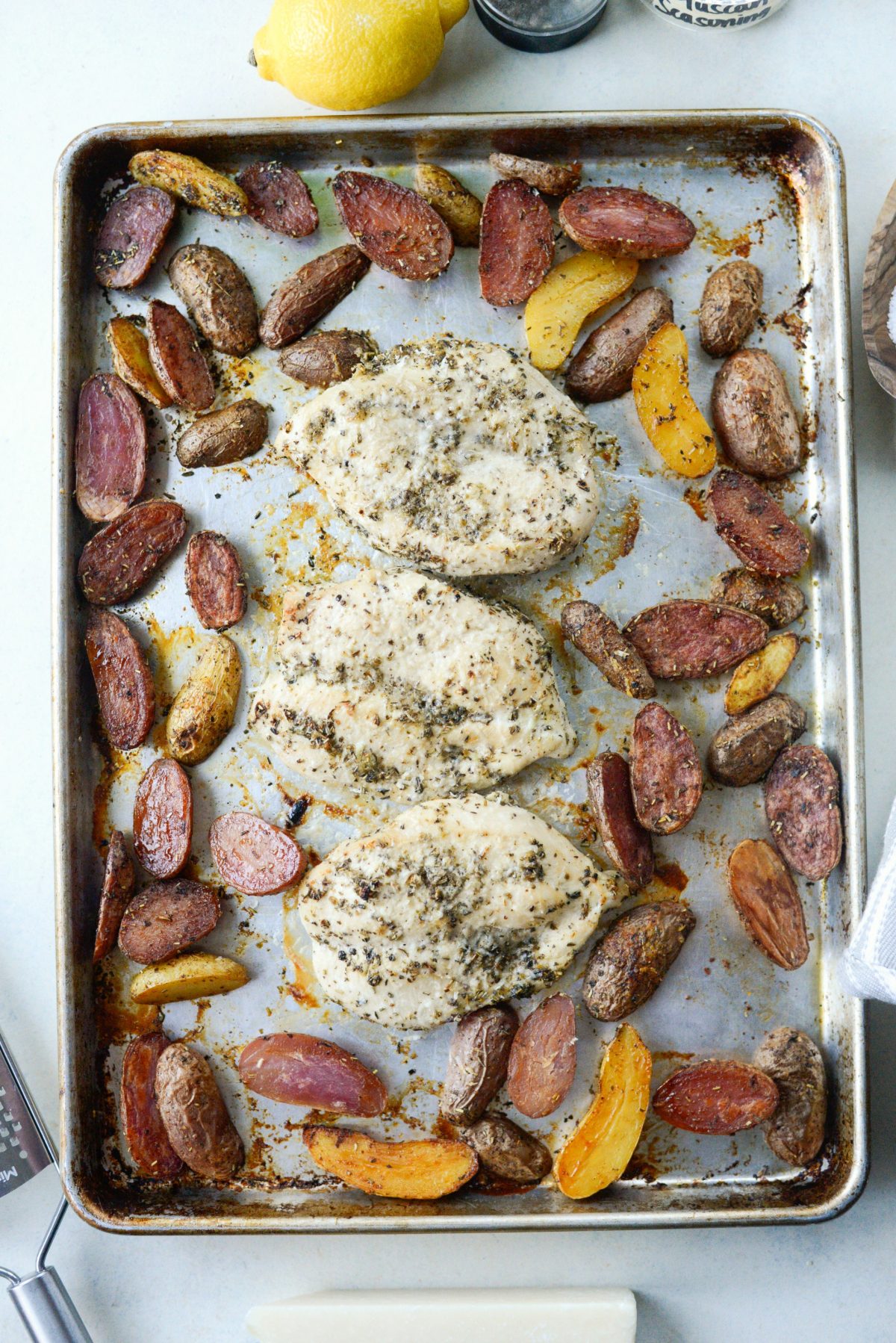 Once the chicken has roasted for 18 to 20 minutes, remove the sheet pan and move the oven rack to the highest position and turn on your broiler. Next, grate roughly a 1/2 tablespoon of Pecorino Romano cheese over top of each of the chicken breasts and slide the pan under the boiler until the cheese has melted and the chicken is golden in spots. Watch carefully so the potatoes and/or chicken do not burn.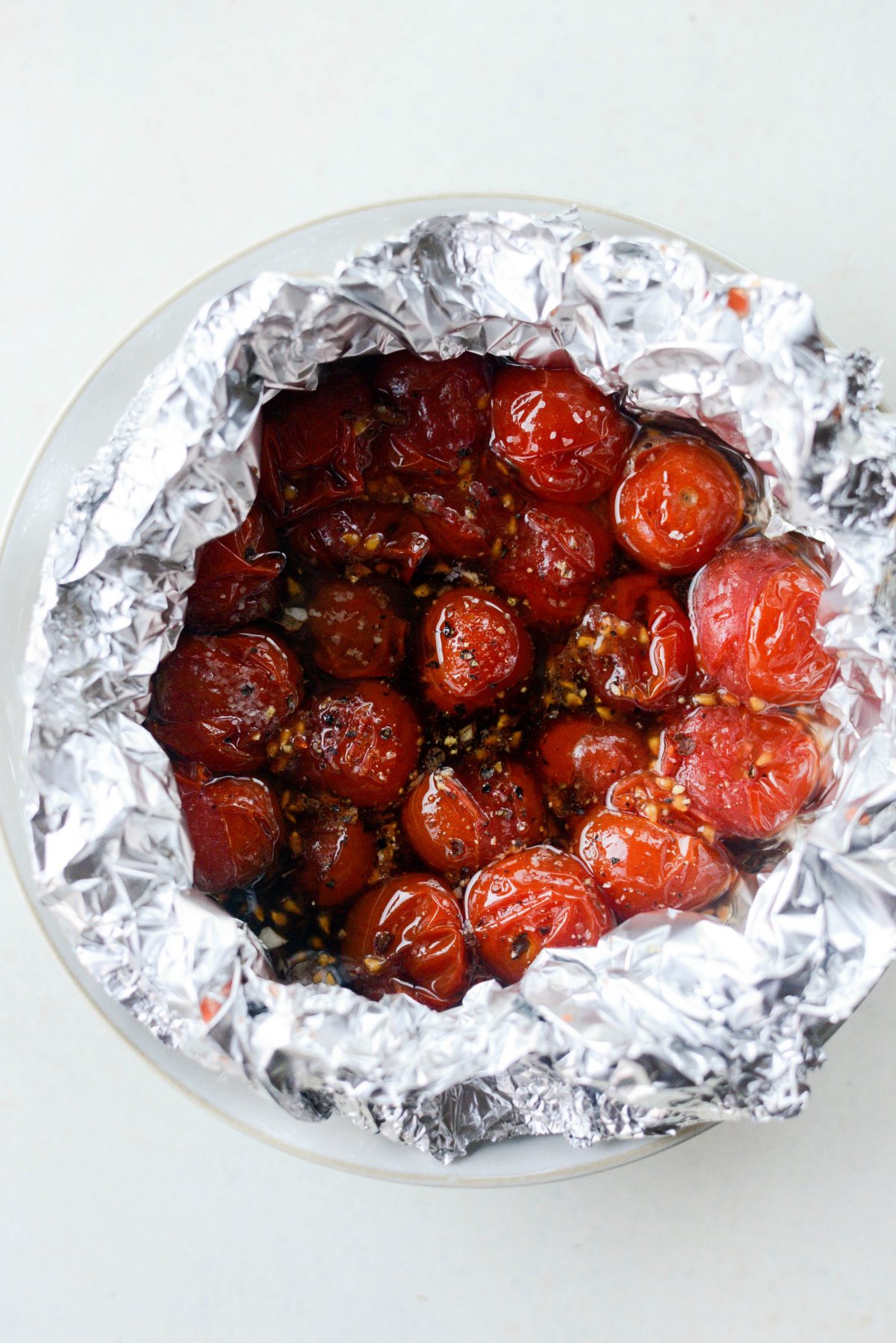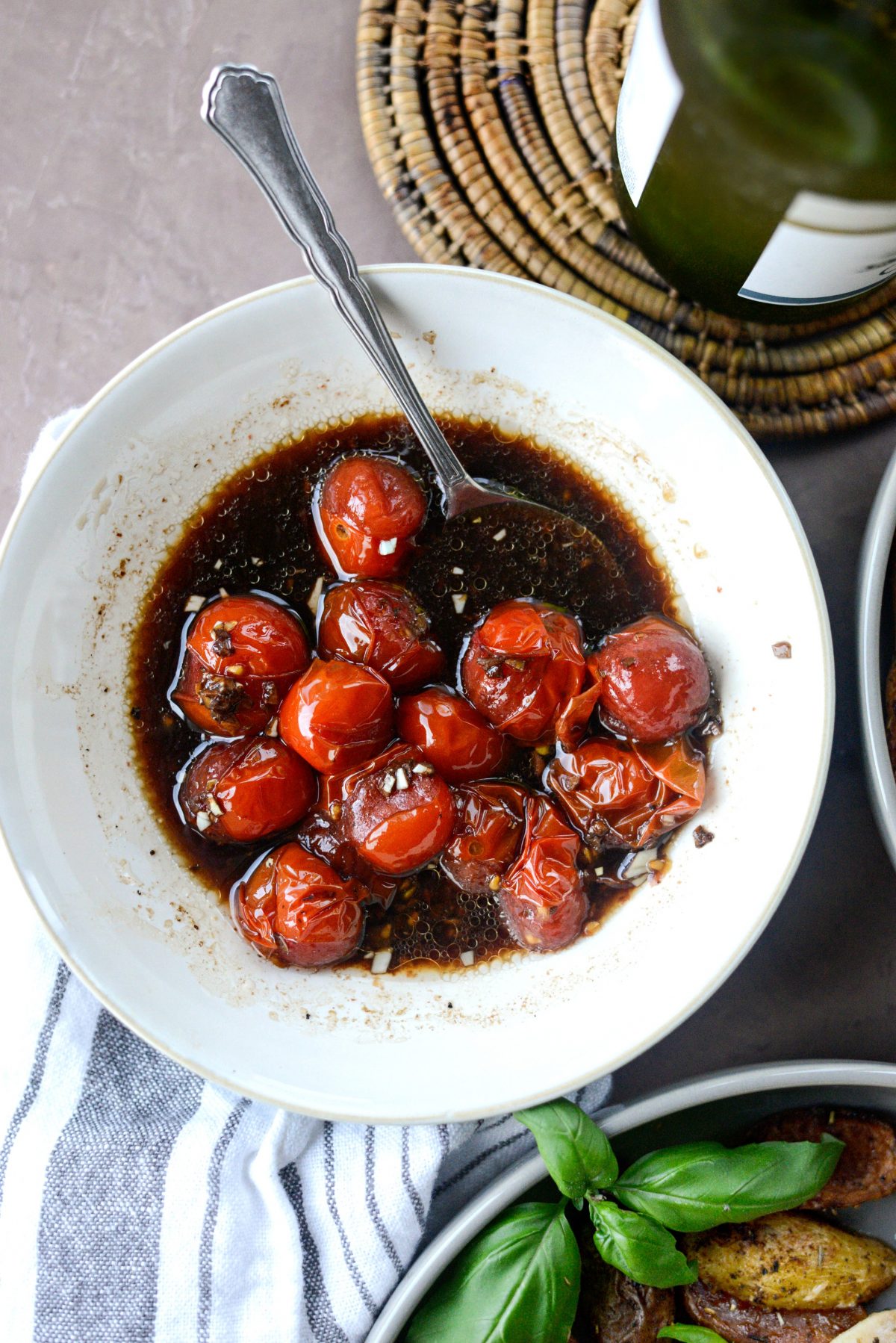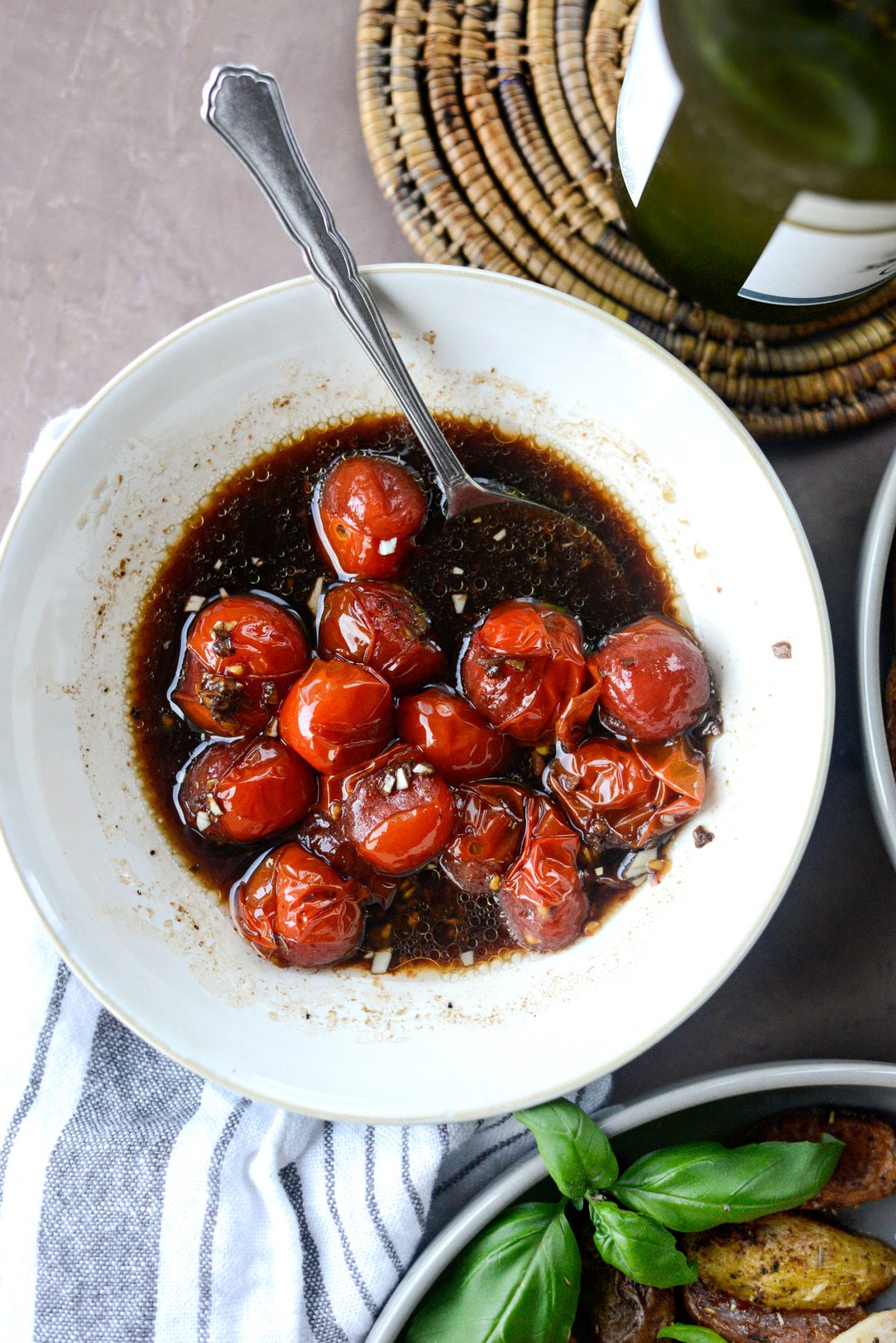 Once the tomatoes have been in the oven for 20 to 25 minutes, take them out of the oven and onto a heat safe surface. Carefully open the parcel and if any of the tomatoes are still plump, use a fork to pop them.
Gorgeous!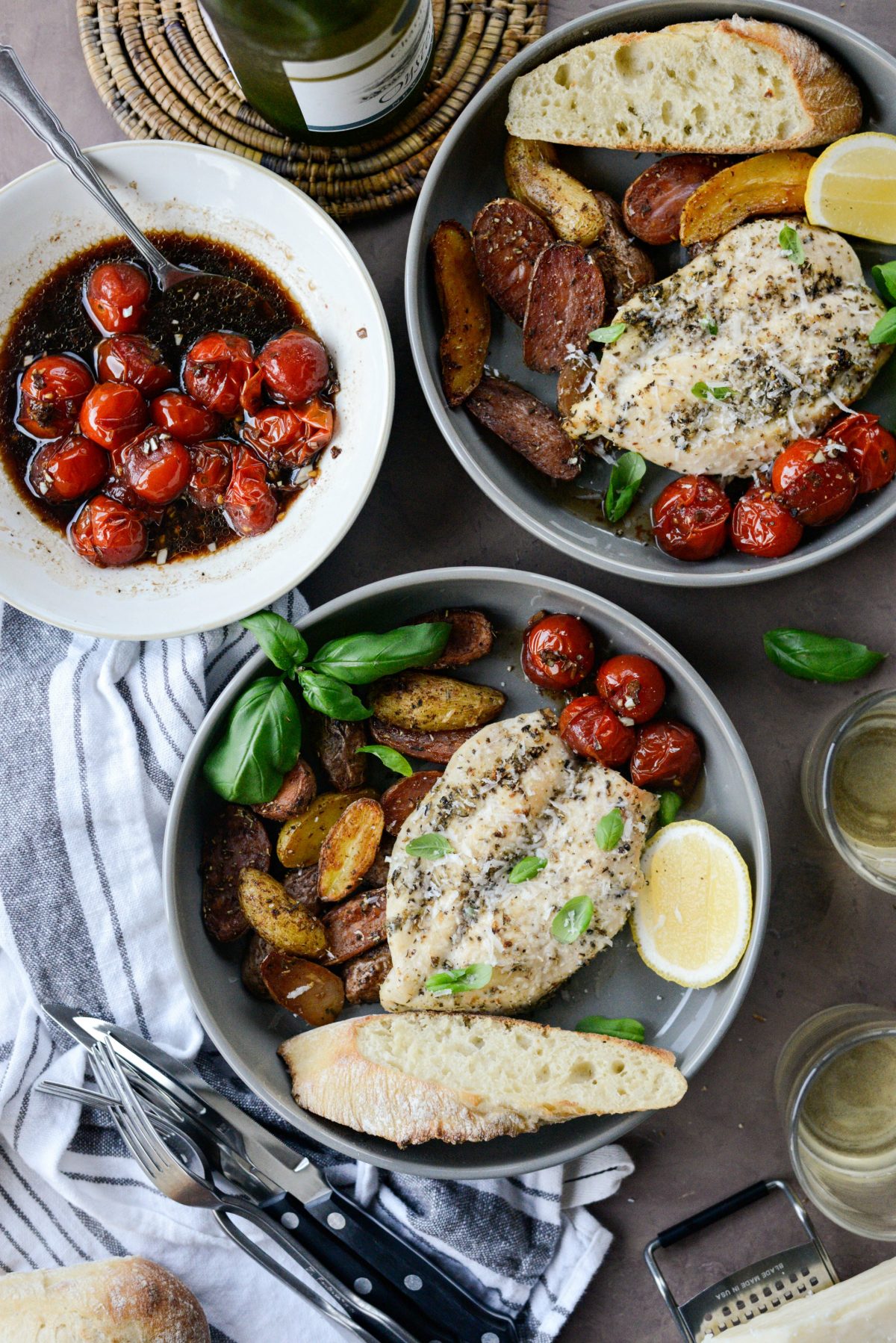 Finally, serve the Tuscan chicken with the roasted potatoes, balsamic burst tomatoes on the side (or on top!) with a squeeze of fresh lemon over the chicken and top with more Pecorino, if desired, and fresh basil leaves.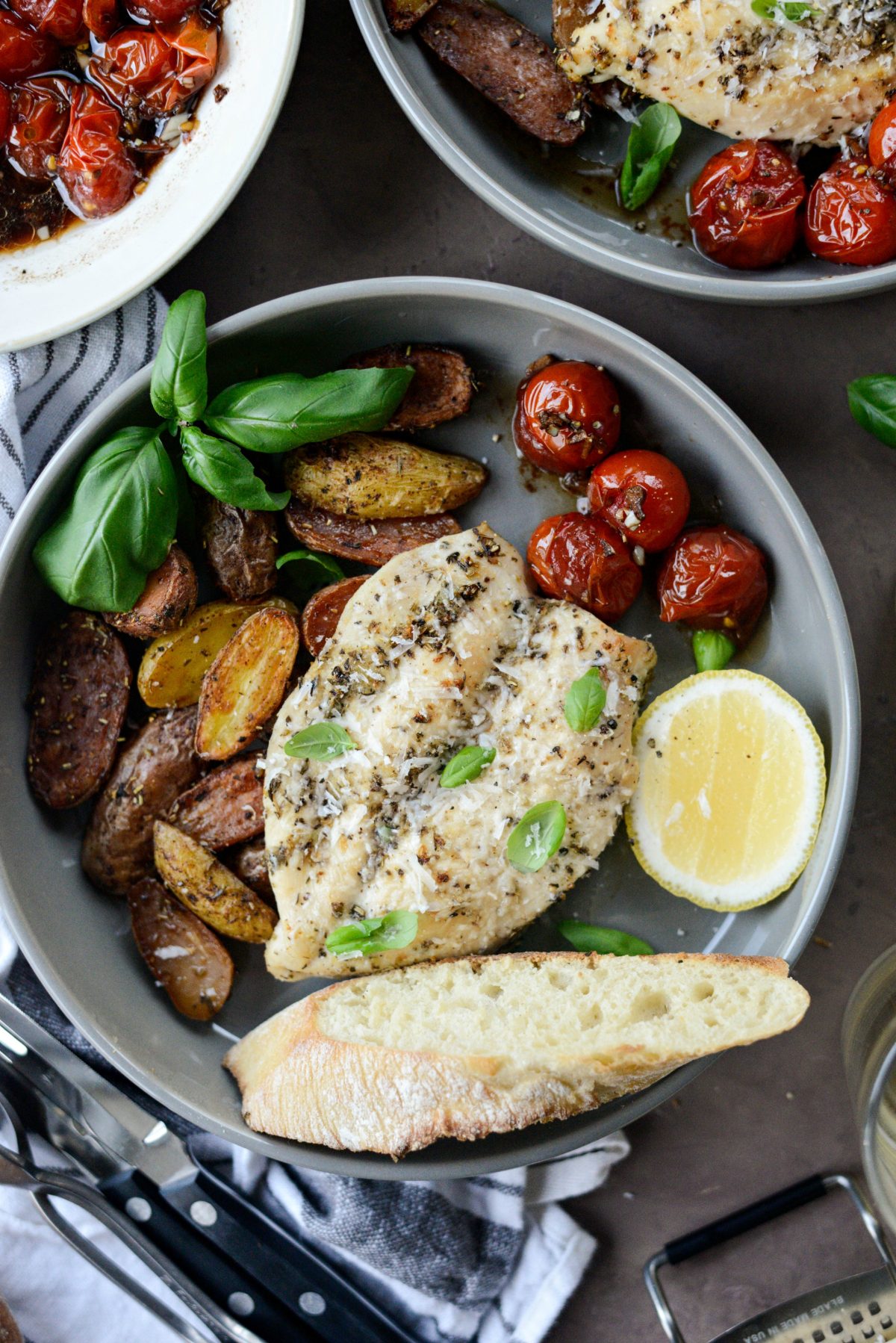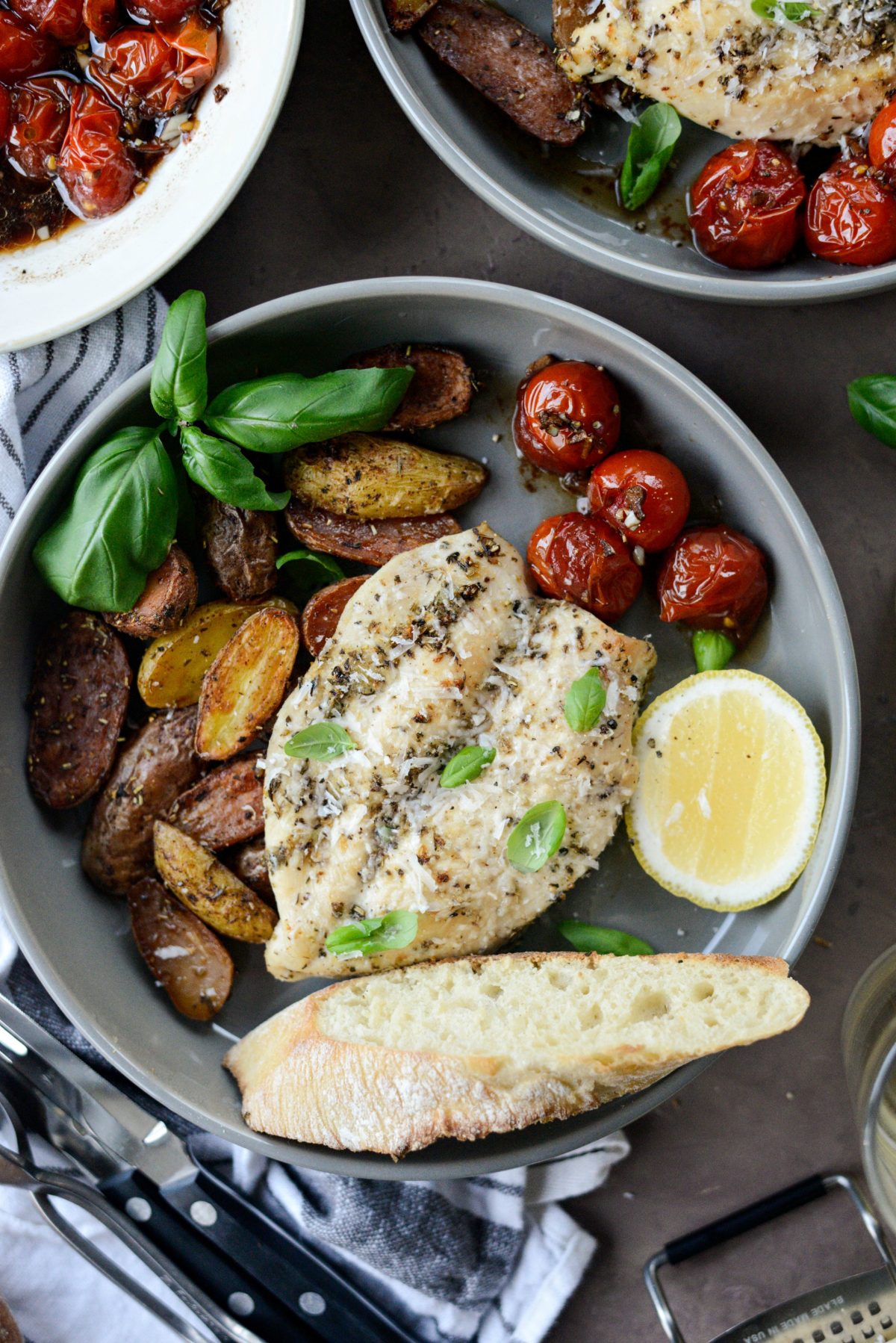 The seasoned potatoes are crispy and the chicken is moist and delicious. The balsamic burst tomatoes are the brightness this meal needs. Not only adding a pop of color to the plate and delicious with bread. I'm just saying.
This is a Tuscan Chicken and Potato Sheet Pan Dinner is a gourmet meal that is effortlessly made using a sheet pan and foil.
The flavors are out of this world, I just know you are going to love this one!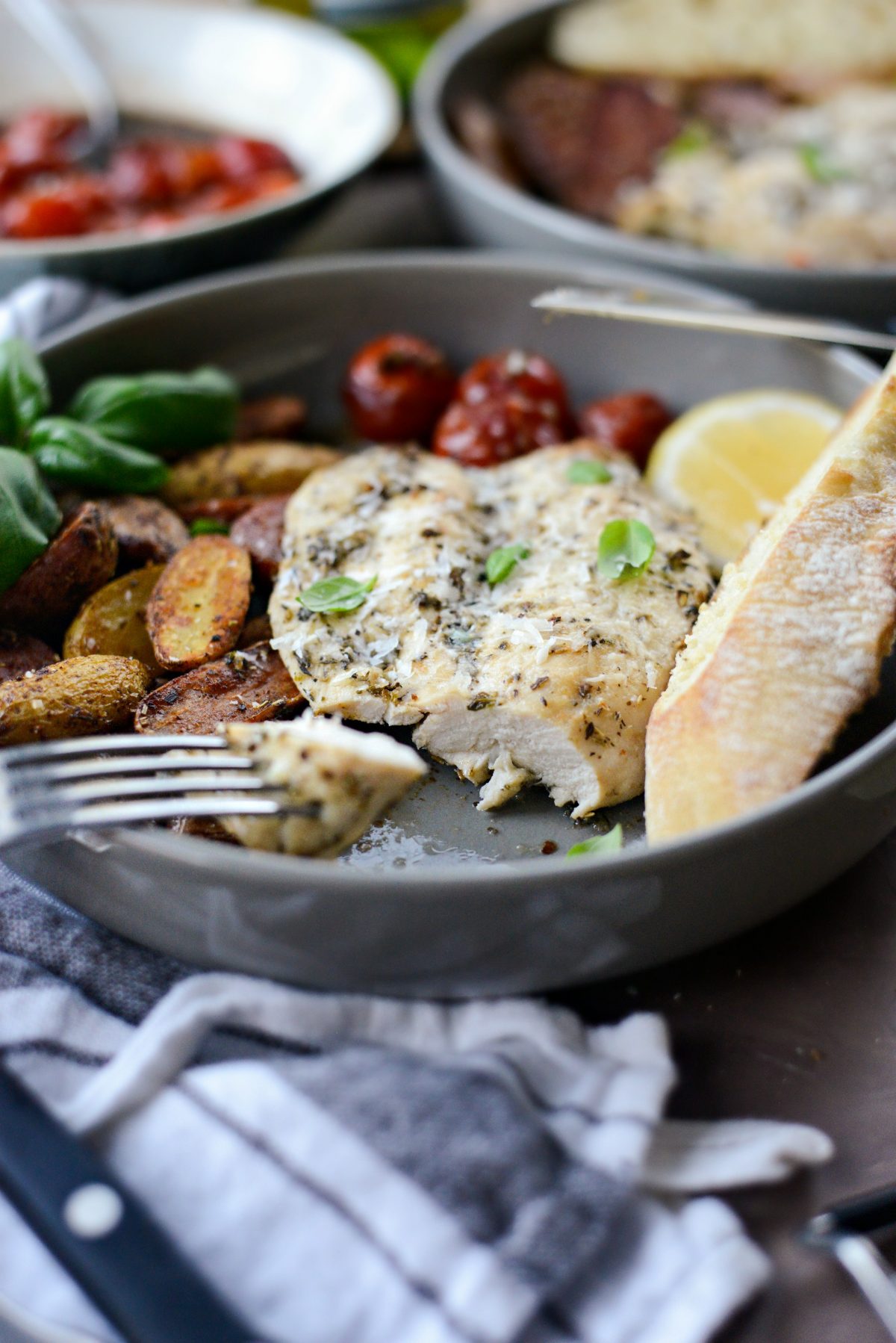 Enjoy! And if you give this Tuscan Chicken and Potato Sheet Pan Dinner recipe a try, let me know! Snap a photo and tag me on twitter or instagram!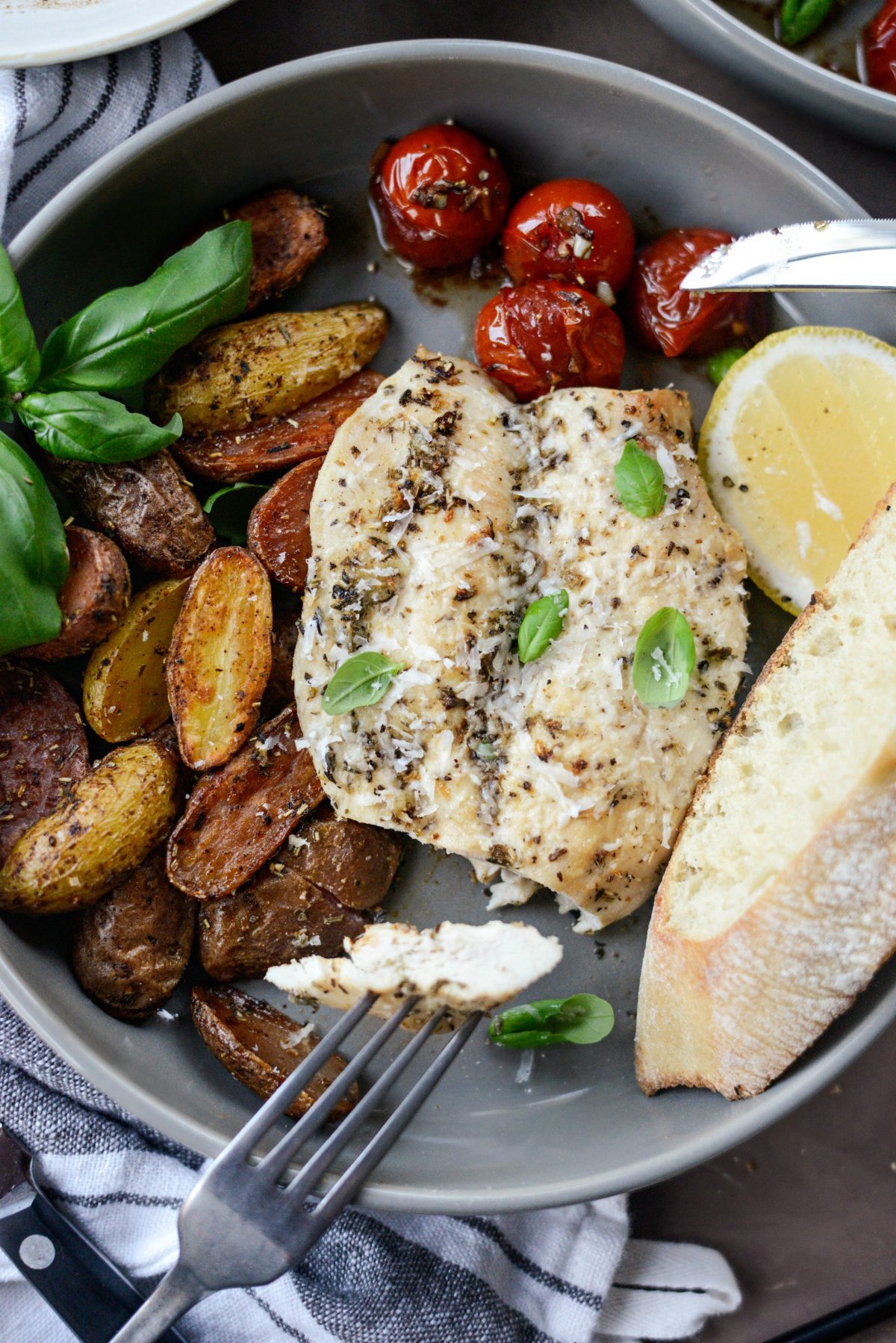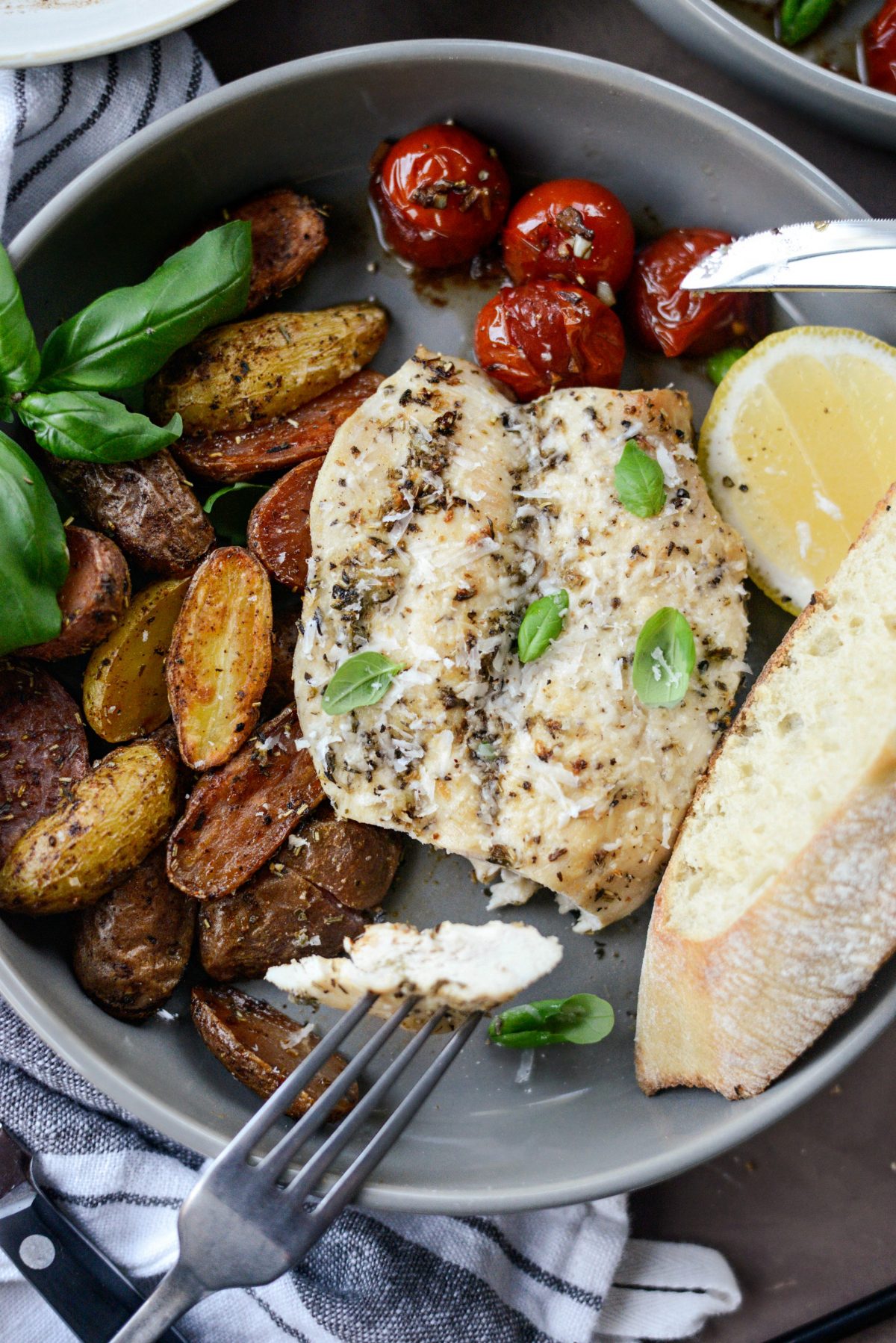 This post may contain affiliate links.
Buy the Cookbook: Simply Scratch : 120 Wholesome Homemade Recipes Made Easy Now available on Amazon »
THANK YOU in advance for your support!