These turmeric roasted carrots are delicious! Drizzle with a lemon tahini dressing, topped with cilantro and chopped pistachios, SO good!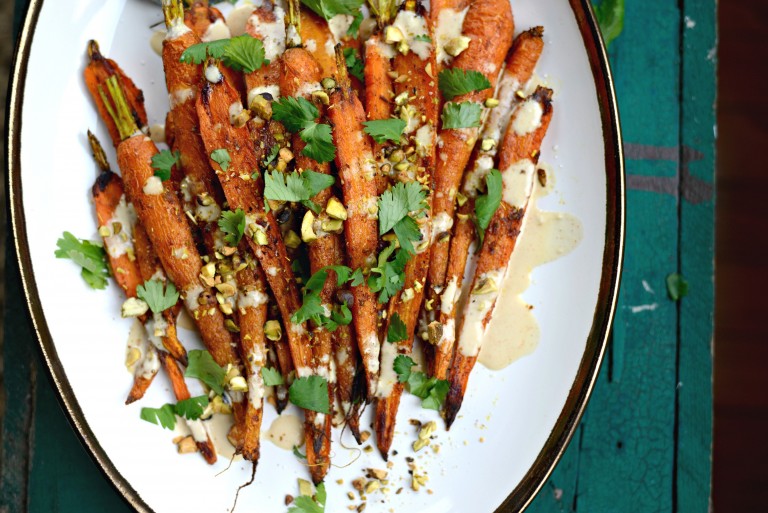 Sick of serving boring side dishes? I so feel you.
Most nights I will just make roasted broccoli because it's effortless . That and I know my entire family will eat it. But then I started to realize that I really needed to up my side-dish game. The cool thing about this recipe is that, yes it's technically a side BUT it could also be a light lunch or meatless dinner option too. It's definitely special enough to be the main dish, that's for sure.
Remember when I had purchased some 5 pounds of carrots last fall? This is when I first made this recipe. It was sort of on a whim and sort of not, I mean I've seen roasted carrots with a tahini sauce before, but I never actually tasted it. When I did, I did not expect the flavors- well, once I got the spices down right, it was touch and go for a few times there but when I did… ohmylord.
Carrots are quickly tossed in a simple turmeric spice blend, roasted until caramelized and then drizzled in the most addicting lemon tahini sauce-slash-dressing everrr and then sprinkled with chopped pistachios (for crunch) and fresh cilantro (for a pop of green). When the spice that's crusting the roasted carrots melts into the tahini sauce- it creates an out-of-this-world flavor combination you will instantly become addicted to. Promise.
To Make This Turmeric Roasted Carrots Recipe You Will Need:
carrots
light olive oil, safflower or sunflower oil
garlic
tahini
lemon juice
olive oil
salt
pistachios
fresh cilantro
Trim the leafy green tops off of the carrots, leaving a little nub of green. This is strictly for presentation purposes, so cutting the top off completely is totally fine too- just obviously not as pretty. 😉 I find carrots with their tops on in the organic vegetable section at my local grocery store or at the specialty market around the corner.
Slice each carrot in half length-wise.
So pretty.
Drizzle 2 tablespoons of oil over top…
Add 1 teaspoon of both turmeric and smoked paprika, 3/4 teaspoon oregano (that I ground in my palm) and 1/2 teaspoon of garlic powder. This is the turmeric vegetable seasoning I like to use.
Oh and plus 1/2 teaspoon kosher salt (don't forget that!), then toss the carrots to coat. You may want to use a metal tongs or dark colored spatula or else the turmeric will stain your fingers <— take my word for it.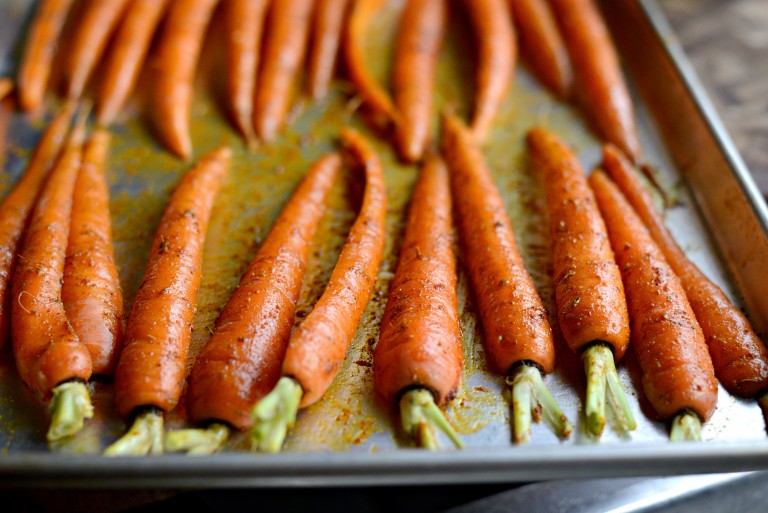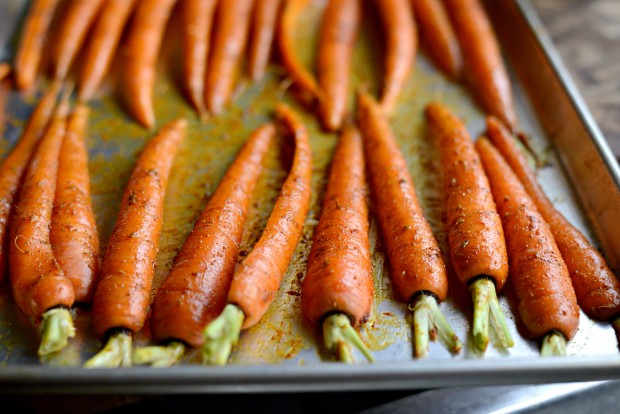 Place the carrots cut-side-down onto a rimmed, metal baking sheet.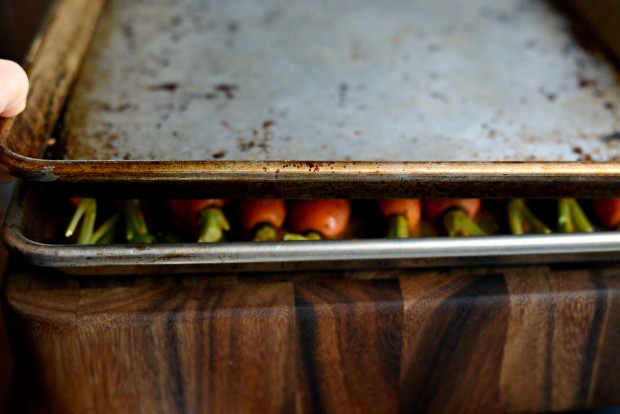 If the carrots bend or curl onto their side, press flat with your fingers and then replace your fingers by sliding another baking sheet on top to keep them flat. Slide the carrots into a preheated 450 degree oven and roast for 10 minutes, then remove the top pan and continue to roast for 10 to 15 more minutes.

While the carrots are roasting, make the lemon-tahini dressing. In a small bowl, add a 1/2 teaspoon of grated garlic (about 1/2 a clove) into a small bowl along with 2-1/2 tablespoons tahini and 2 tablespoons fresh lemon juice.
Whisk to combine.
Next pour in 1 tablespoon olive oil, 1 to 2 tablespoons warm water, depending on how thick or thin you want it to be. Then season with 1/4 teaspoon of both smoked paprika and kosher salt.
Whisk until blended.
Then roughly chop up the pistachios and cilantro.
When the carrots are done, the edges will be golden and crispy and the carrots are fork tender.
Immediately transfer them to a platter.
Drizzle with the tahini dressing and then sprinkle with the chopped pistachios for crunch and cilantro because it adds a burst of herbaceous freshness.
Done and done.
These taste as good as they look. Maybe even better?
When serving drizzle a little more of the lemon tahini dressing over top, because it's so good.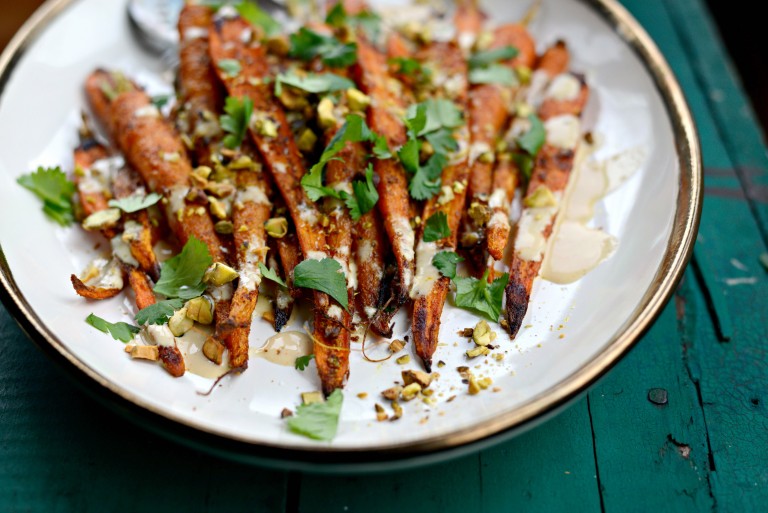 The extra crispy tips are my absolute favorite because flavor. Oh and the dressing and the pistachios and cilantro and the… everything.
For More Side Dish Recipes Click Here.
Enjoy! And if you give this Turmeric Roasted Carrots recipe a try, let me know! Snap a photo and tag me on twitter or instagram!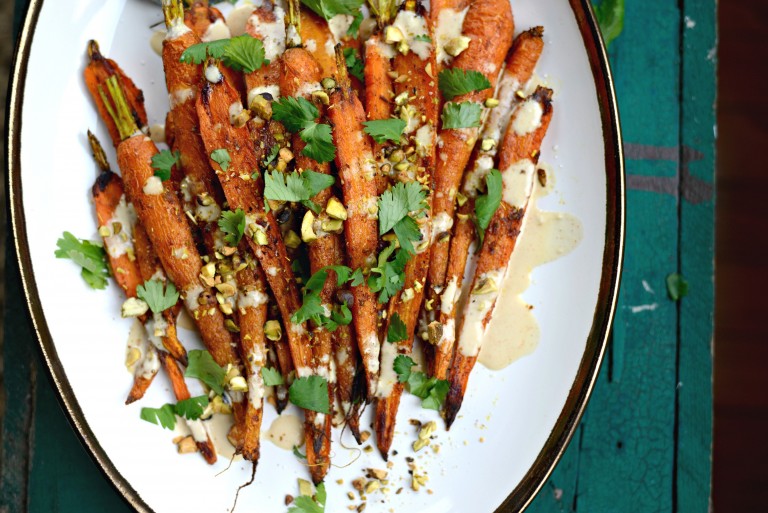 Yield: 6 servings
Turmeric Roasted Carrots + Lemon Tahini Dressing
Carrots roasted in a turmeric spice blend and drizzle in the most addicting tahini sauce-slash-dressing and topped with chopped pistachios (for crunch) and chopped cilantro for a pop of flavor and green.
Ingredients
8 medium carrots, with leafy tops attached
2 tablespoons extra light olive oil, or avocado oil
1 teaspoon turmeric
1 teaspoon smoked paprika
3/4 teaspoon dried oregano
1/2 teaspoon garlic powder
1/2 teaspoon kosher salt
LEMON TAHINI DRESSING:
1/2 teaspoon grated garlic
2½ tablespoons tahini
2 tablespoons fresh lemon juice, strained to catch seeds
1 tablespoon olive oil
warm water, for thinning dressing
1/4 teaspoon smoked paprika
1/4 cup chopped pistachios, for garnish
1/4 cup chopped fresh cilantro, for garnish
Instructions
Position the rack in the middle of your oven and then preheat to 450 degrees.

Scrub the carrots well but do NOT peel. Trim off the leafy green tops, leaving an inch or so. Cut the carrots in half lengthwise and place onto a rimmed, metal baking sheet.

Use metal tongs or a dark colored spatula to toss them in sunflower oil, turmeric, smoked paprika, oregano, garlic powder and kosher salt. Place the carrots cut-side facing down onto a rimmed metal baking sheet. If you're having trouble with them laying flat, I press them down with my fingers while sliding another baking sheet over top.

Roast in your preheated oven for 10 minutes then remove the top sheet pan (if using), rotating the pan with the carrots and roasting for an additional 10 to 15 minutes more.

Meanwhile, whisk together the garlic, tahini, lemon juice, olive oil and warm water until smooth. Season with 1/4 teaspoon both smoked paprika and kosher salt. (makes 1/2 cup)

Once the carrots are roasted, immediately transfer them to a platter. Drizzle a desired amount of the lemon tahini sauce over top and sprinkle with chopped pistachios and cilantro.

Serve immediately with the extra lemon-tahini dressing on the side.
Calories: 167kcal, Carbohydrates: 12g, Protein: 3g, Fat: 13g, Saturated Fat: 2g, Polyunsaturated Fat: 3g, Monounsaturated Fat: 8g, Sodium: 253mg, Potassium: 376mg, Fiber: 3g, Sugar: 4g, Vitamin A: 13868IU, Vitamin C: 8mg, Calcium: 48mg, Iron: 1mg
This post may contain affiliate links.
Buy the Cookbook: Simply Scratch : 120 Wholesome Homemade Recipes Made Easy Now available on Amazon »
THANK YOU in advance for your support!