Turkey, Broccoli and Cheddar Mini Frittatas are the perfect breakfast for busy mornings or lazy breakfasters, like myself.
If there's one meal during the week that I slack at, it's breakfast. Four out of seven mornings it's just me at home (Pat's off on Fridays) and knowing that a majority of those days I have a whole day (literally) of cooking and dish washing ahead of me, I would tend to reach for a bagel instead of something wholesome and nutritious. Until recently.
A few weeks ago I decided to start weekly meal prepping. I'd spend an afternoon, either Sunday or Monday, making a weeks worth of breakfast and lunches that I can just reach into the fridge and reheat or eat straight away — hello salads. And I'm absolutely addicted to mini frittatas. It's this my new BFF (breakfast friend forever)!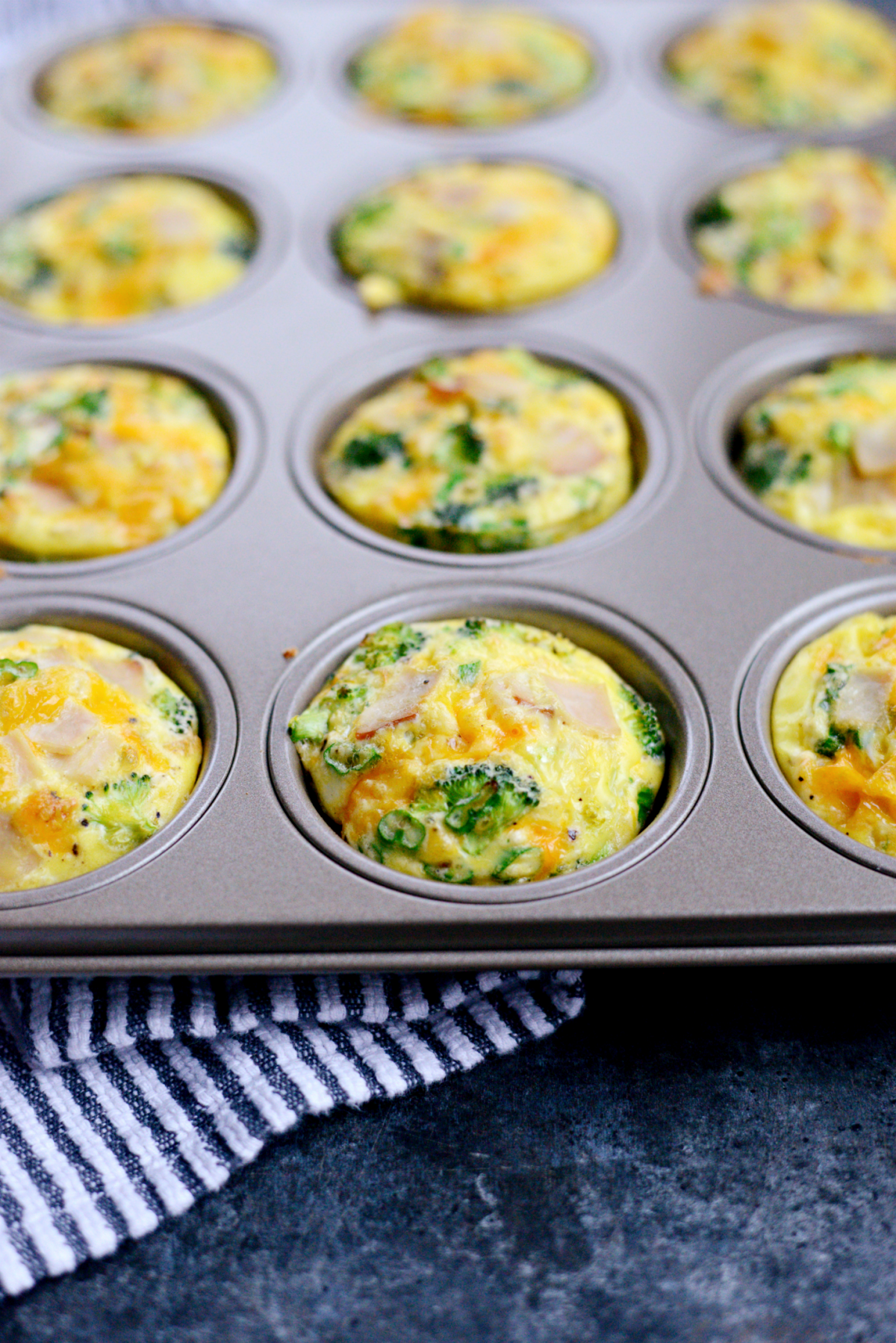 Making these turkey, broccoli and cheddar mini frittatas in advance is a snap. They only taking 10 minutes to whip up and 20 minutes to bake in the oven! And besides being utterly delicious, two frittatas is one serving and under 200 calories. They're a great source of protein keeping you full for longer and can be reheated in 40 seconds!
For these mini frittatas you'll need: a dozen eggs, 1-1/2 cup small broccoli florets, 4 ounces diced turkey, 2 ounces sharp cheddar cheese, 1/3 cup sliced green onions and of course, salt and pepper.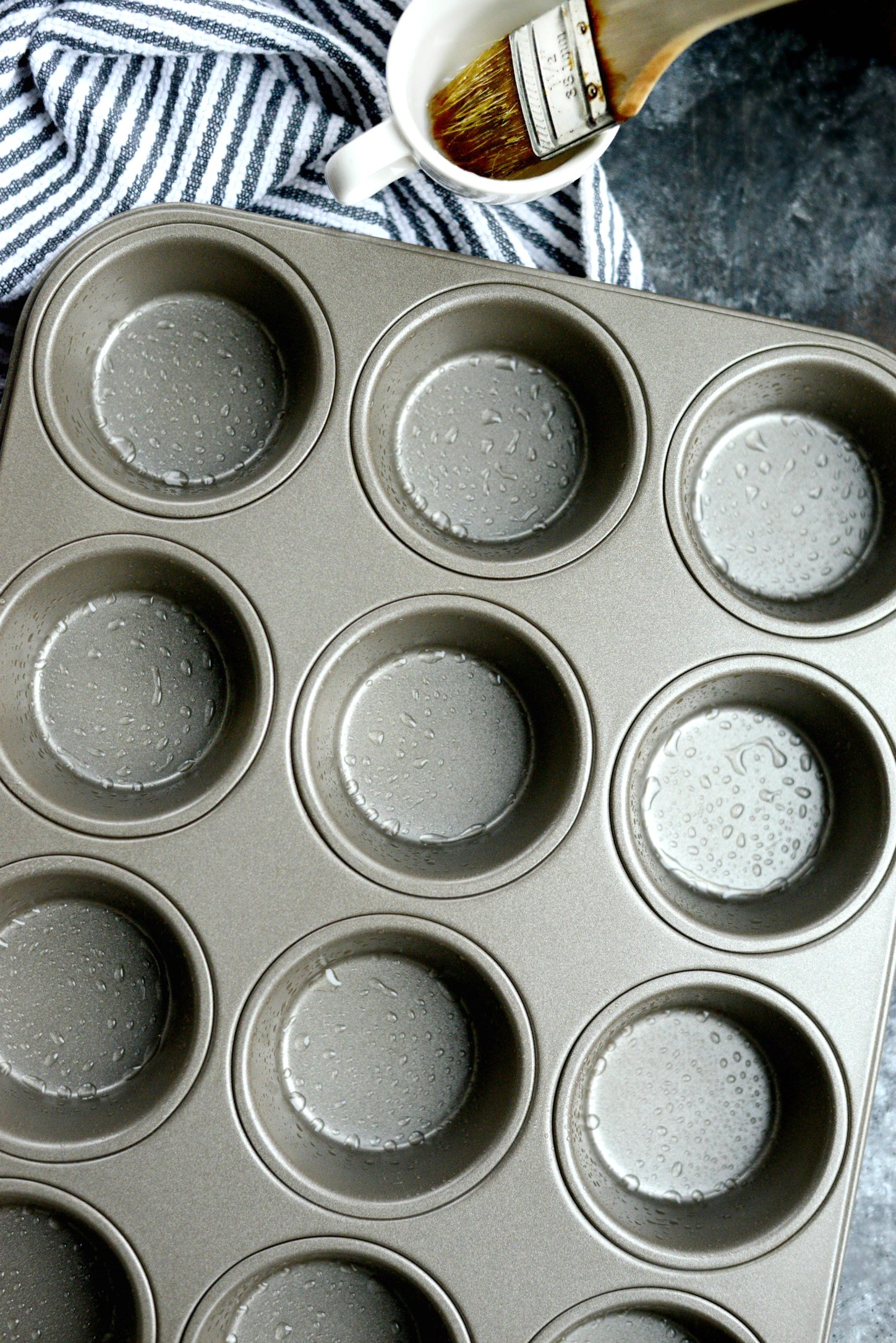 Brush the inside of a standard sized muffin tin with olive oil — about 2 teaspoons total. This will help ensure that the mini frittatas won't stick.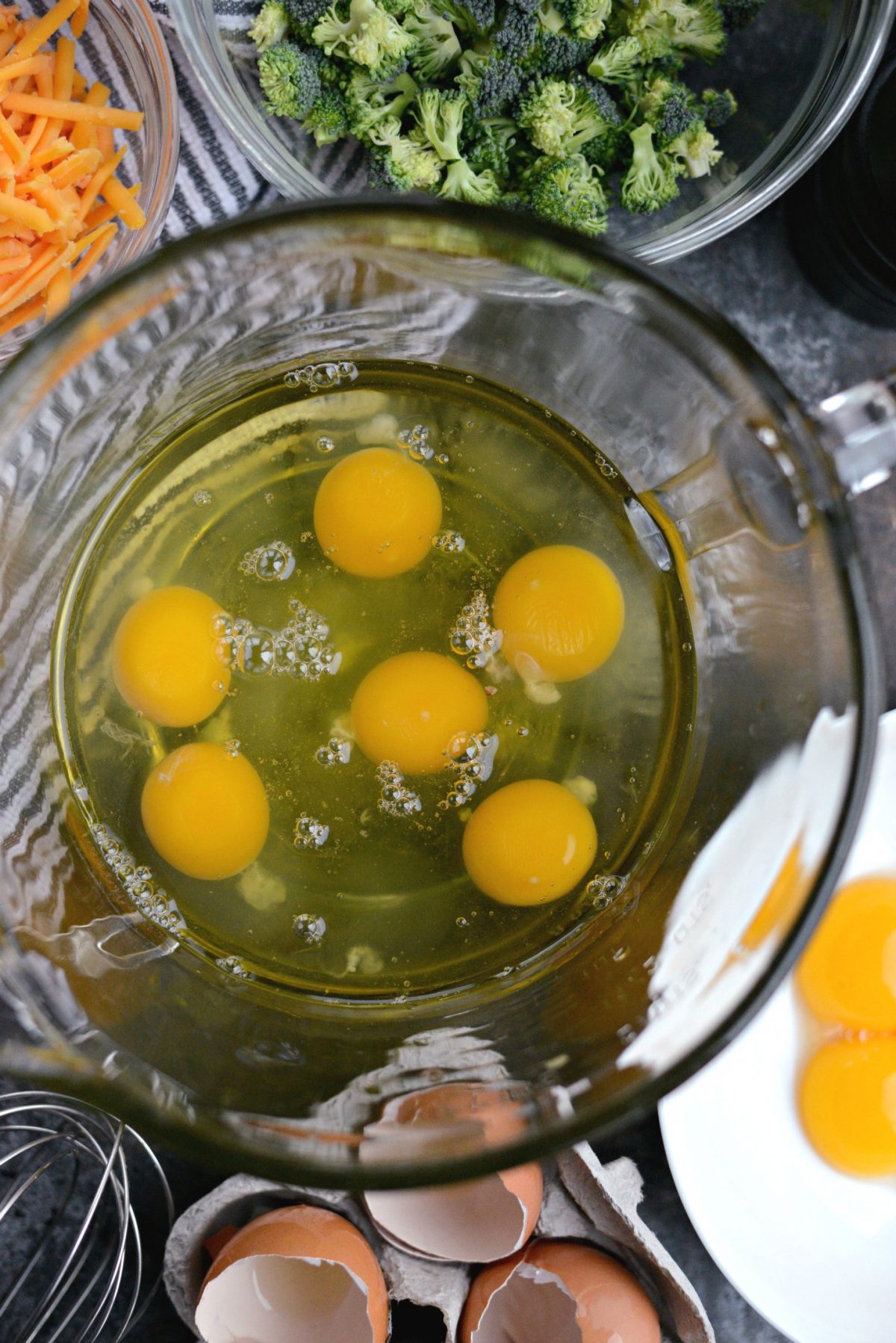 Crack and add in 6 large eggs to a large mixing bowl. Then, with the remaining 6 eggs, separate the whites form the yolks adding only the egg whites to the bowl. Save the yolks to make mayo or crème brûlée?!
Now just whisk the egg and egg whites together until combined well.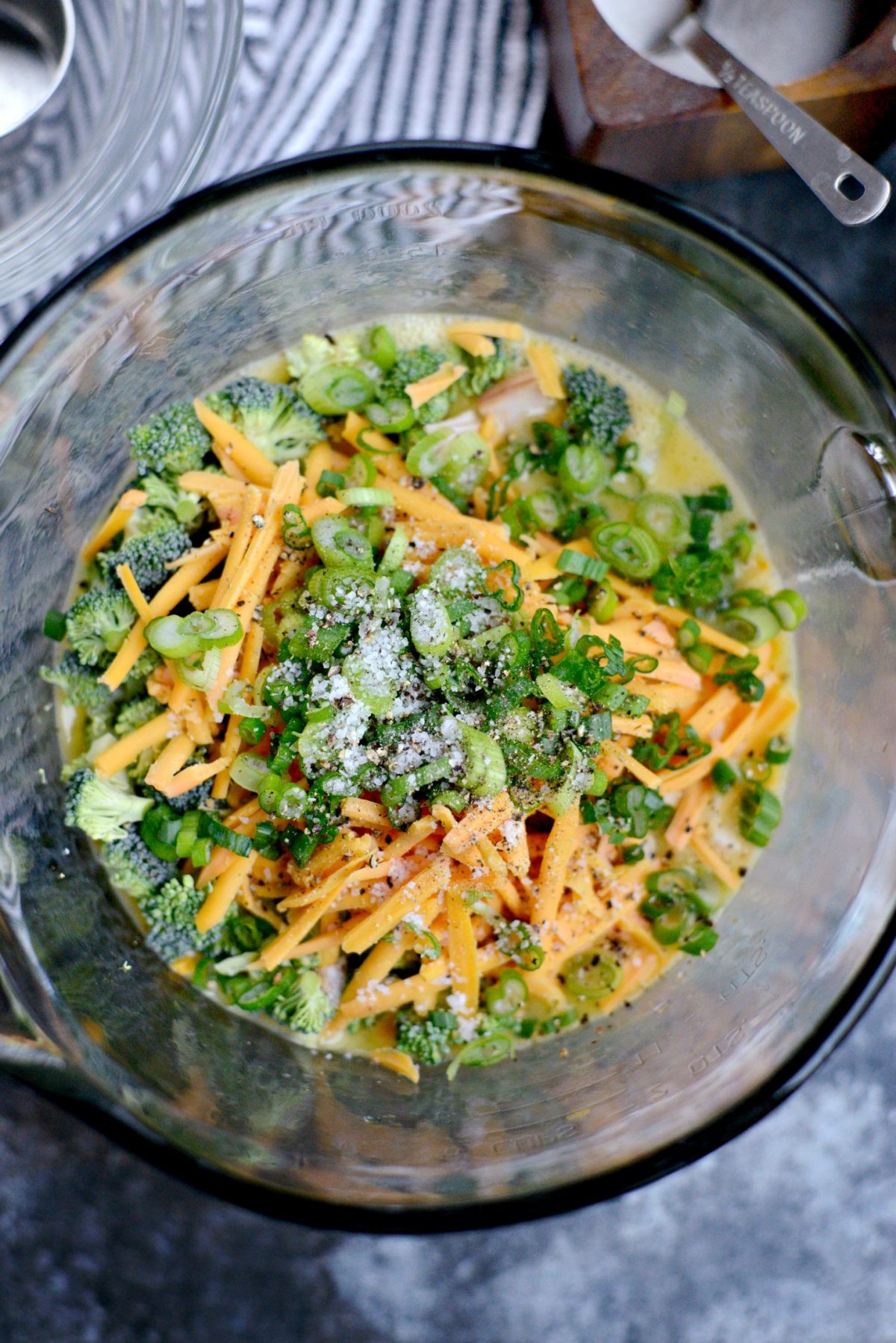 Next add in the broccoli, cheddar, turkey, green onions and 1/2 teaspoon kosher salt and 1/4 teaspoon freshly ground black pepper.
And then stir to combine.
Fill the prepared muffin pan with about 1/4 cup of the mixture per slot and bake in your preheated 350° oven for 20 minutes.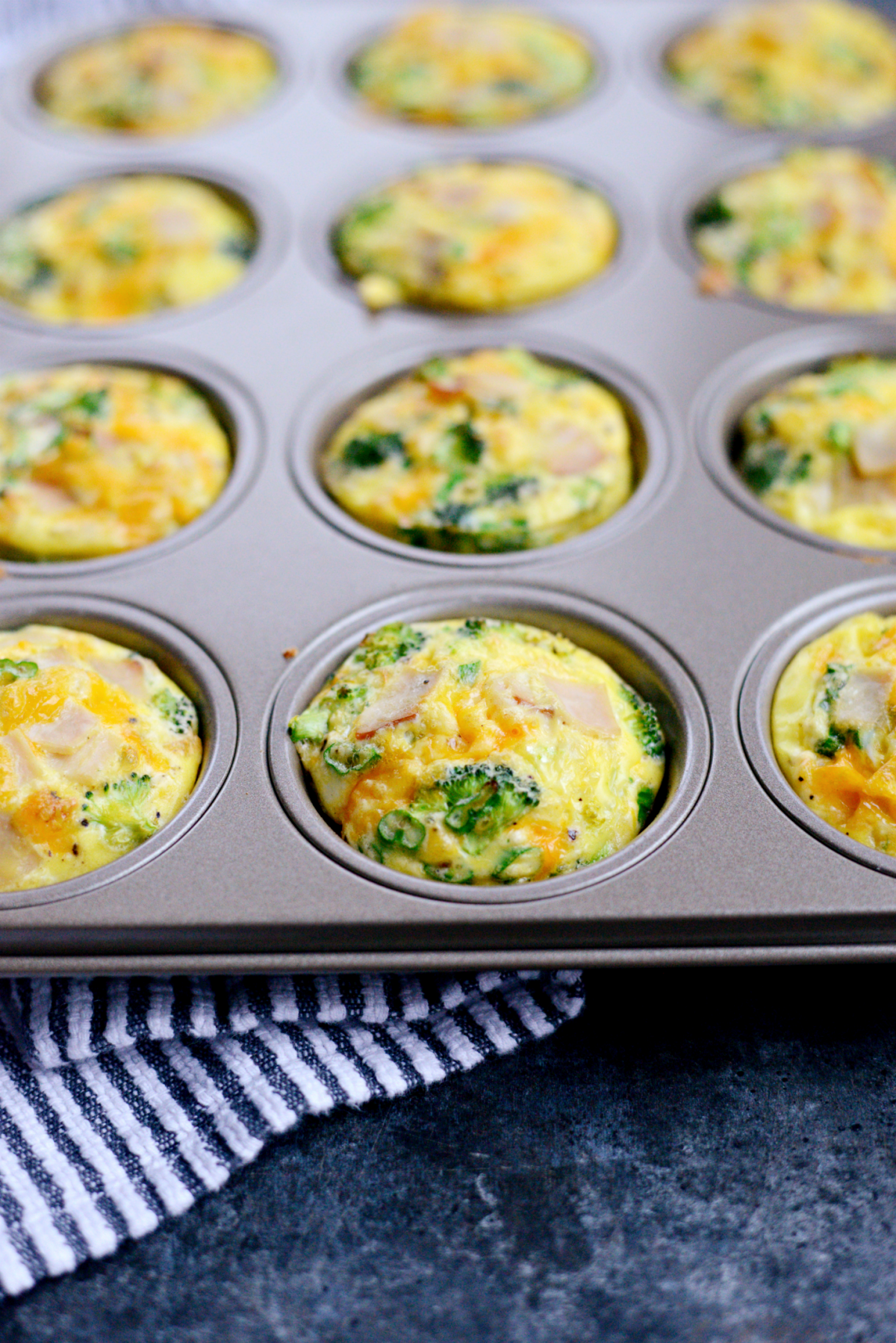 These smell amazing!! The turkey, broccoli and cheddar mini frittatas should be fluffy and soufflé-like but will deflate as they cool.
You'll be so glad to have these on hand in the morning. The perfect grab-and-go breakfast.
Enjoy!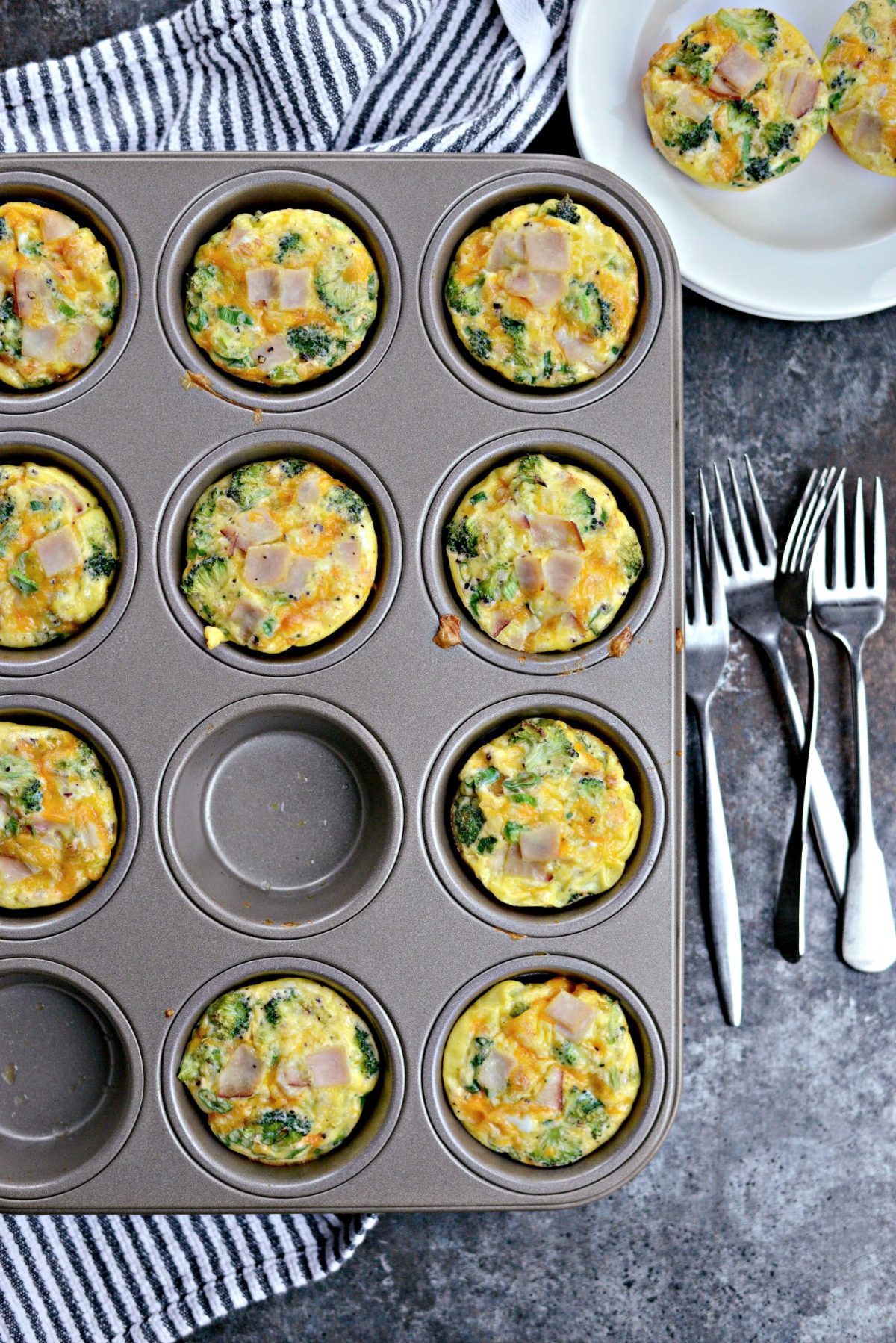 My cookbook Simply Scratch : 120 Wholesome Homemade Recipes Made Easy is now available! CLICK HERE for details and THANK YOU in advance! 
[this post contains affiliate links.]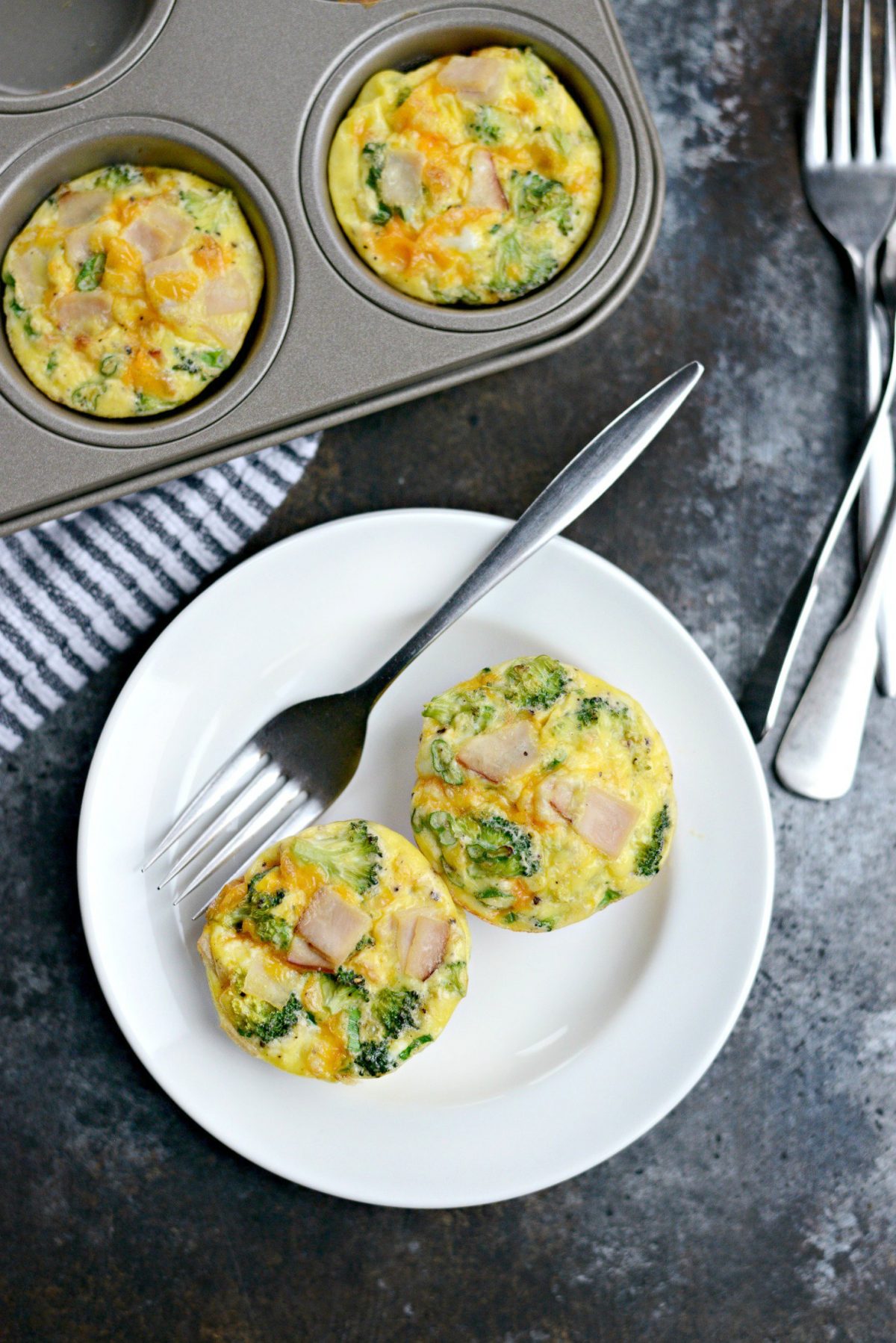 This post may contain affiliate links.
Buy the Cookbook: Simply Scratch : 120 Wholesome Homemade Recipes Made Easy Now available on Amazon »
THANK YOU in advance for your support!