In my No-mato (tomato-less) roasted vegetable pizza sauce, I ditch the tomatoes and build this sauce from roasted carrots, onions and bell peppers.
Yup, it's true. A pizza sauce without a single tomato. Zip, zilch, ZERO to-mah-toes.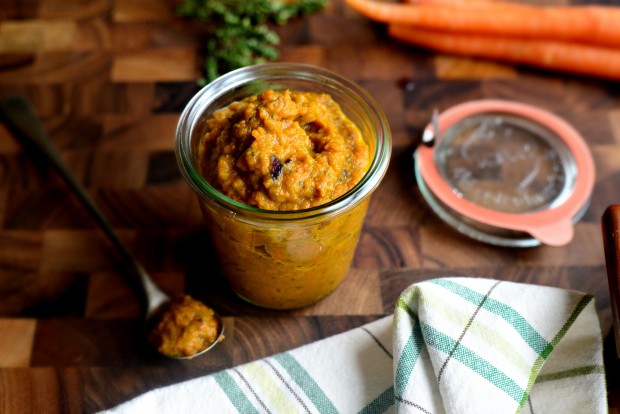 I'm a big fan of traditional pizza sauce, homemade is always preferred. BUT it has crossed my mind that there's most likely some folks out there who may not like tomatoes OR are allergic to them. What happens if you fall into one of those catergories. WHAT IF you're allergic to tomatoes and your favorite food on earth is pizza? (GAH! THE HORROR!!!)
Well you make this sauce, of course.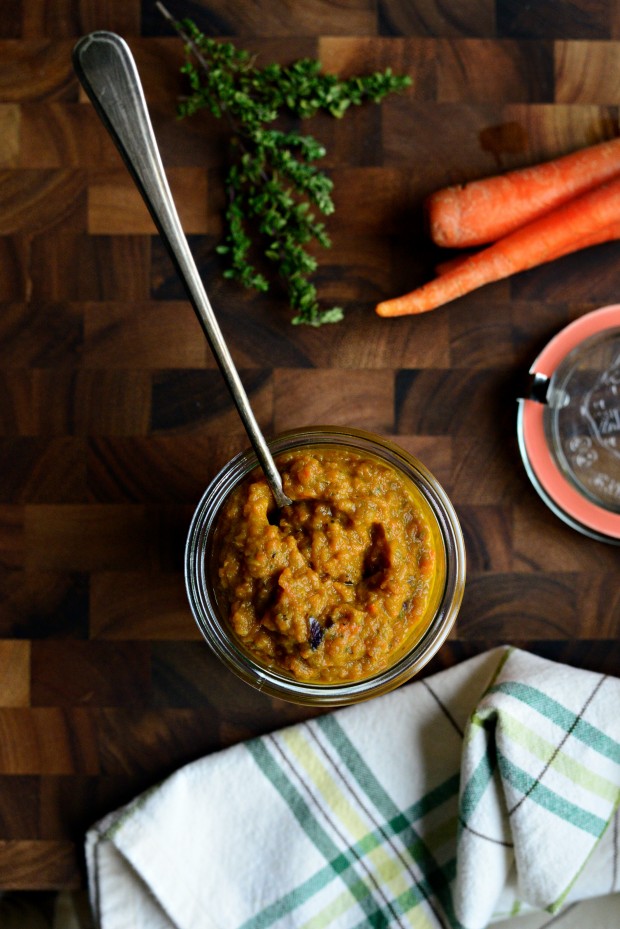 This sauce is a thick puree of roasted carrots, red onion and green pepper with a mixture of fresh and dried herbs and garlic. Gotta have the garlic. It's basically, chop-chop, roast, sauté and puree. Wait. I just made it sound way more involved than it truly is.
It really is a ridiculously simple sauce, and look at that gorgeous color, so vibrant. This tomato-free sauce can be whipped up in 4o minutes and will be a pleasant surprise on your next 'za. (which could be this weekend if you stay tuned *wink-wink)
Grab a pound of carrots and give them a good scrub, don't even waste your time peeling them. I never do.
Trim of the rooty tip and cut each carrot in half.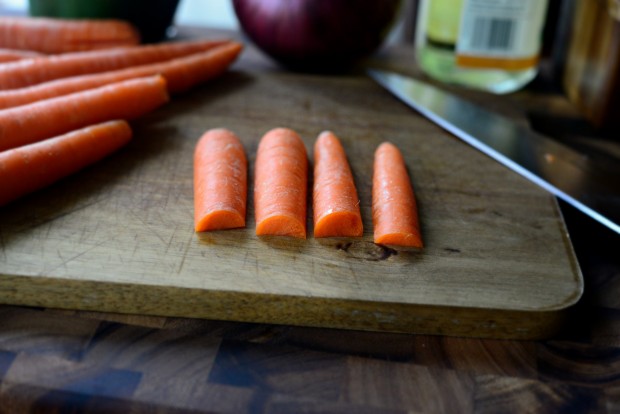 And then in half lengthwise.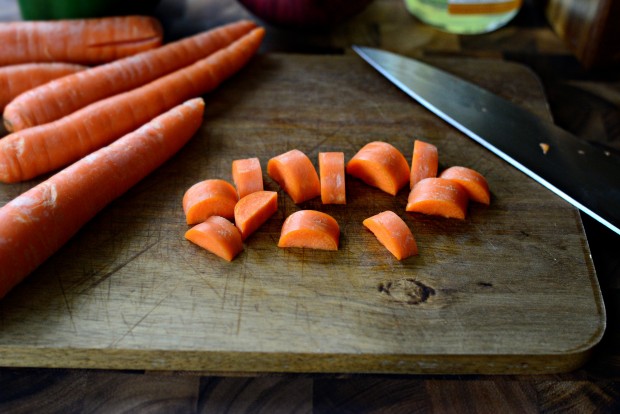 Then, into 1/2 to 1-inch half moons.
Toss the carrots in 1 tablespoon of oil (I used safflower) and a generous pinch of kosher salt.
Coarsely chop up one green pepper and one red onion. Toss them in 1 to 1-1/2 tablespoons of oil and season with a generous pinch of kosher salt. Slide both pans-o-veg into a preheated 450 degree oven for 25 to 30 minutes or until tender and caramelized.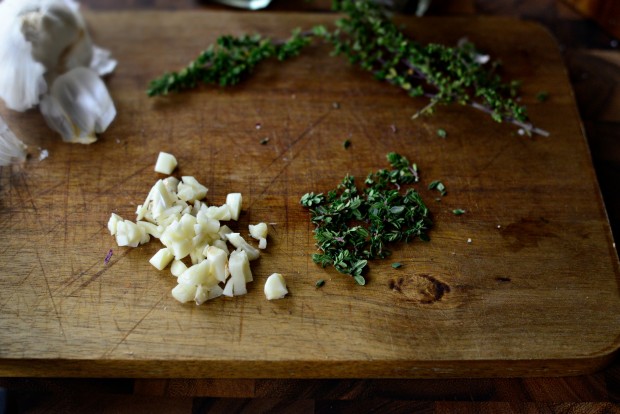 While the veggies are roasting, chop up 3 to 4 cloves of garlic and strip the leaves off a few thyme sprigs or about 1 teaspoon.
Add a teaspoon of oil (again, I use safflower but olive oil here is fine too) into a small skillet and heat over medium-low.
Add in the (whole) fresh thyme leaves and 3/4 teaspoon of both dried basil and oregano.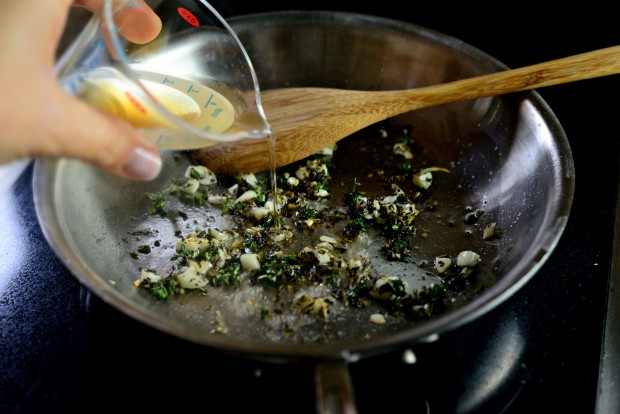 Cook for about a minute or two before pouring in 1 to 2 tablespoons dry sherry wine.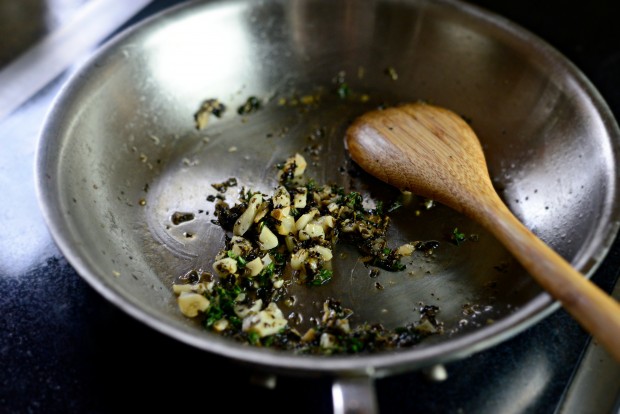 Cook, stirring often, until the wine has reduced by 90%. Remove the pan off of the heat and set off to the side.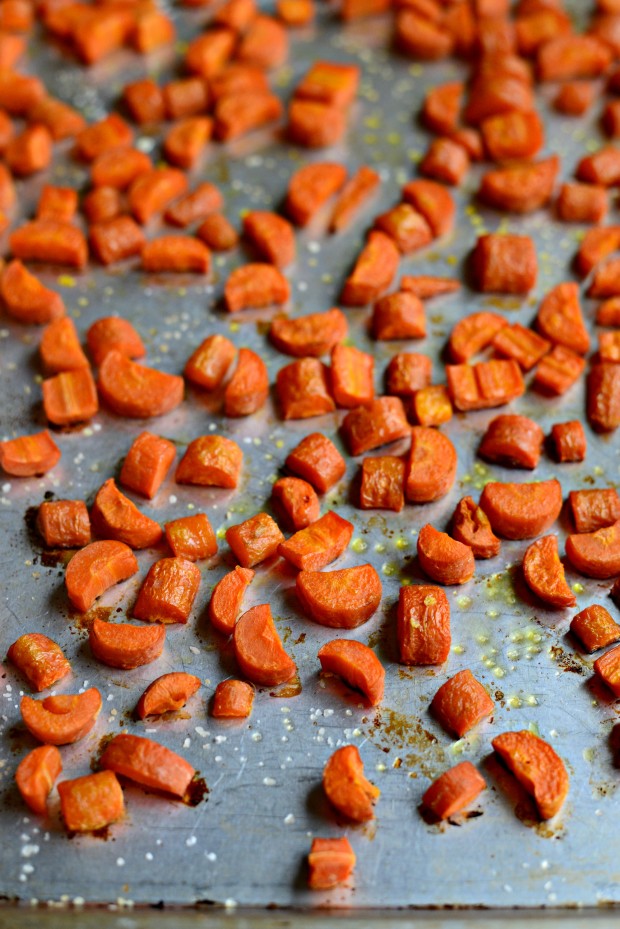 After thirty or so minutes, the carrots should be tender and caramelized on the bottom.
Same goes for the red onion and green pepper.
Throw the roasted vegetables into a food processor…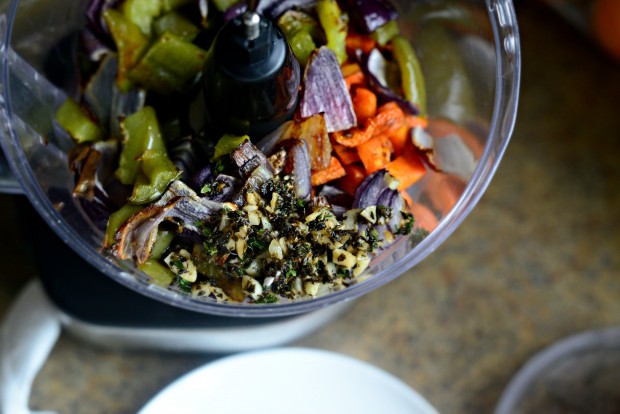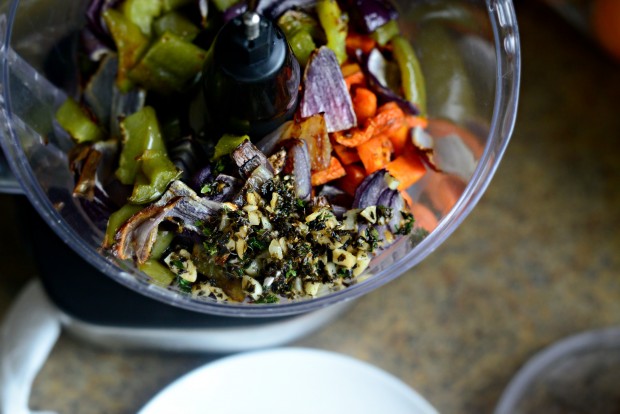 To that, add in the garlic and herbs.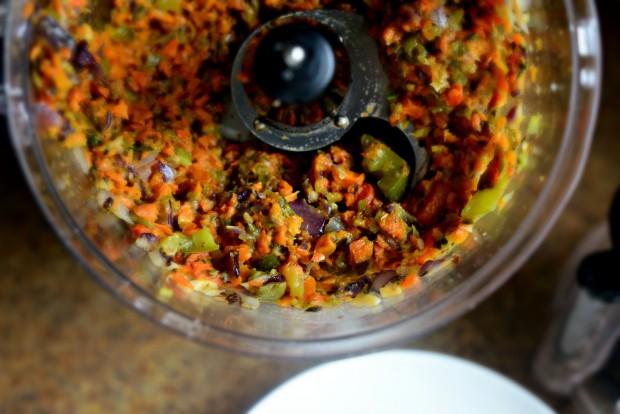 Pulse until the vegetables are finely chopped and look like confetti.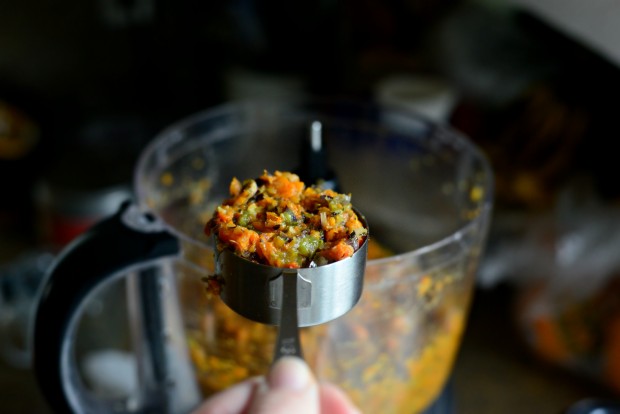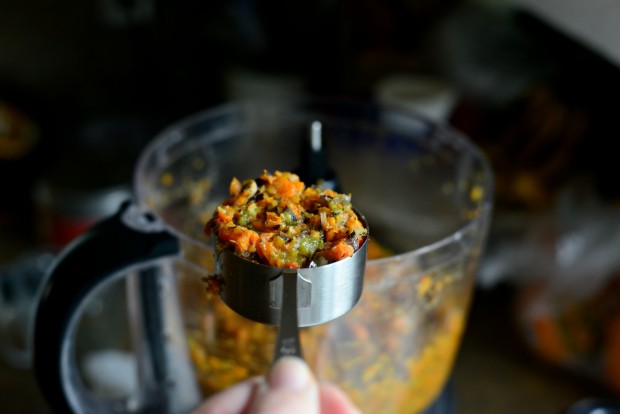 I like my pizza sauce to have a bit of texture. So I remove about 1/3 cup and set it off to the side.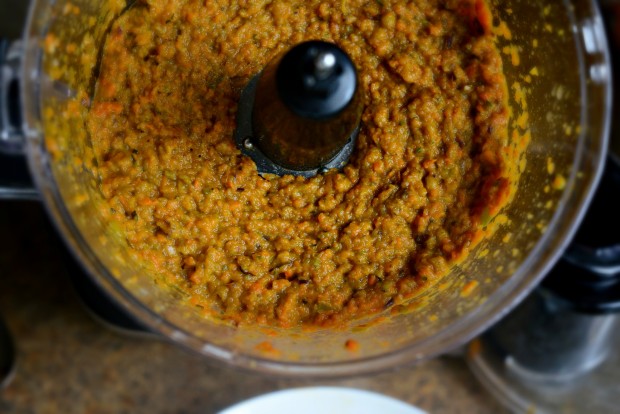 Adding a teaspoon of salt and about 3/4 to 1 cup water, blend until thick and luscious.
Stir in the reserved vegetable confetti and that's it!
A veggie loaded yet tomato-less pizza sauce!
AH! I really like this roasted vegetable pizza sauce. So good on a pizza… or on a spoon. But definitely on a pizza.
Enjoy! And if you give this Roasted Vegetable Pizza Sauce recipe a try, let me know! Snap a photo and tag me on twitter or instagram!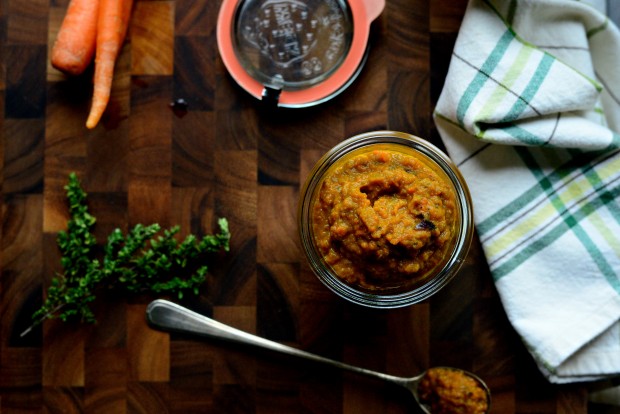 My cookbook Simply Scratch : 120 Wholesome Homemade Recipes Made Easy is now available! CLICK HERE for details and THANK YOU in advance!
Yield: 3 pizzas
(Tomato-less) Roasted Vegetable Pizza Sauce
A tomato-less pizza sauce. Use where ever tomato sauce is needed. This recipe yields 3 cups of sauce.
Ingredients
1 pound carrots, scrubbed well
1 medium green pepper, seeded and chopped
1 medium red onion, chopped
extra light olive oil, or avocado oil
kosher salt
4 cloves garlic, chopped
1 teaspoon fresh thyme leaves
3/4 teaspoon dried basil
3/4 teaspoon dried oregano
1 tablespoon sherry wine
water, 3/4 to 1 or as needed to thin sauce
Instructions
Preheat your oven to 450°. Place carrots and 1-1/2 tablespoon oil on one rimmed, sheet pan and the peppers and onions plus 2 tablespoons of oil on a second pan. Season both pans with a generous pinch or two of salt.

Roast both sheet pans of vegetables for 30 minutes, rotating the pans halfway until tender and caramelized.

Meanwhile, add 1 teaspoon of oil to a small skillet and heat over medium-low. Add garlic and herbs, cooking for 1-2 minutes. Pour in 1 tablespoon Sherry wine and cook until reduced by 90%. Remove the skillet off of the heat and set to the side.

Place roasted vegetables and garlic and herb mixture into food processor. Pulse until the vegetables are finely chopped. Reserve 1/3 cup of chopped vegetables before adding 1 teaspoon salt and 3/4 to 1 cup water and processing until smooth.

Transfer pureed vegetables to a bowl and mix in the reserved chopped vegetables.

Use immediately on your favorite pizza or let cool and store in an airtight container for 1 to 2 weeks or freeze for 2 - 3 months.
Serving: 1cup, Calories: 97kcal, Carbohydrates: 22g, Protein: 3g, Fat: 1g, Saturated Fat: 1g, Polyunsaturated Fat: 1g, Monounsaturated Fat: 1g, Sodium: 108mg, Potassium: 643mg, Fiber: 6g, Sugar: 10g, Vitamin A: 25449IU, Vitamin C: 46mg, Calcium: 86mg, Iron: 1mg
[this post contains affiliate links.]
This post may contain affiliate links.
Buy the Cookbook: Simply Scratch : 120 Wholesome Homemade Recipes Made Easy Now available on Amazon »
THANK YOU in advance for your support!