This Tomato Bruschetta Panzanella is that it can be whipped up in just under 30 minutes. Toasted pieces of bread are tossed with locally grown tomatoes that have quickly marinated in basil, garlic, olive oil and balsamic vinegar. Serve as is or with just about anything.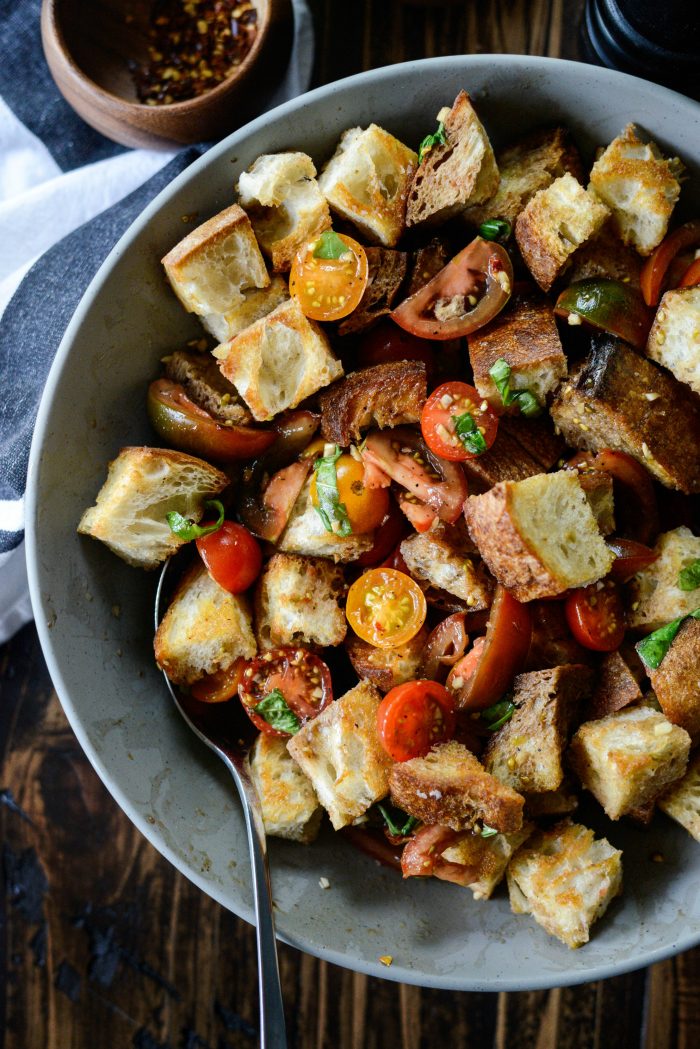 This has been a big year in the McNamara household. For one, Haileigh has her drivers permit. Gah! It feels weird to even type that let alone imagine her getting in a car and driving to school, her friends houses or a job –which she will be getting asap! But we've been working hard getting her supervised hours in and she's halfway there with over 15 of her 30 hours. She is extremely determined to knock out these hours, she'll even wake up with me when I need to run to the store. Yesterday she woke up at 8 am with me and we headed to my favorite market for the ingredients to make this tomato bruschetta panzanella.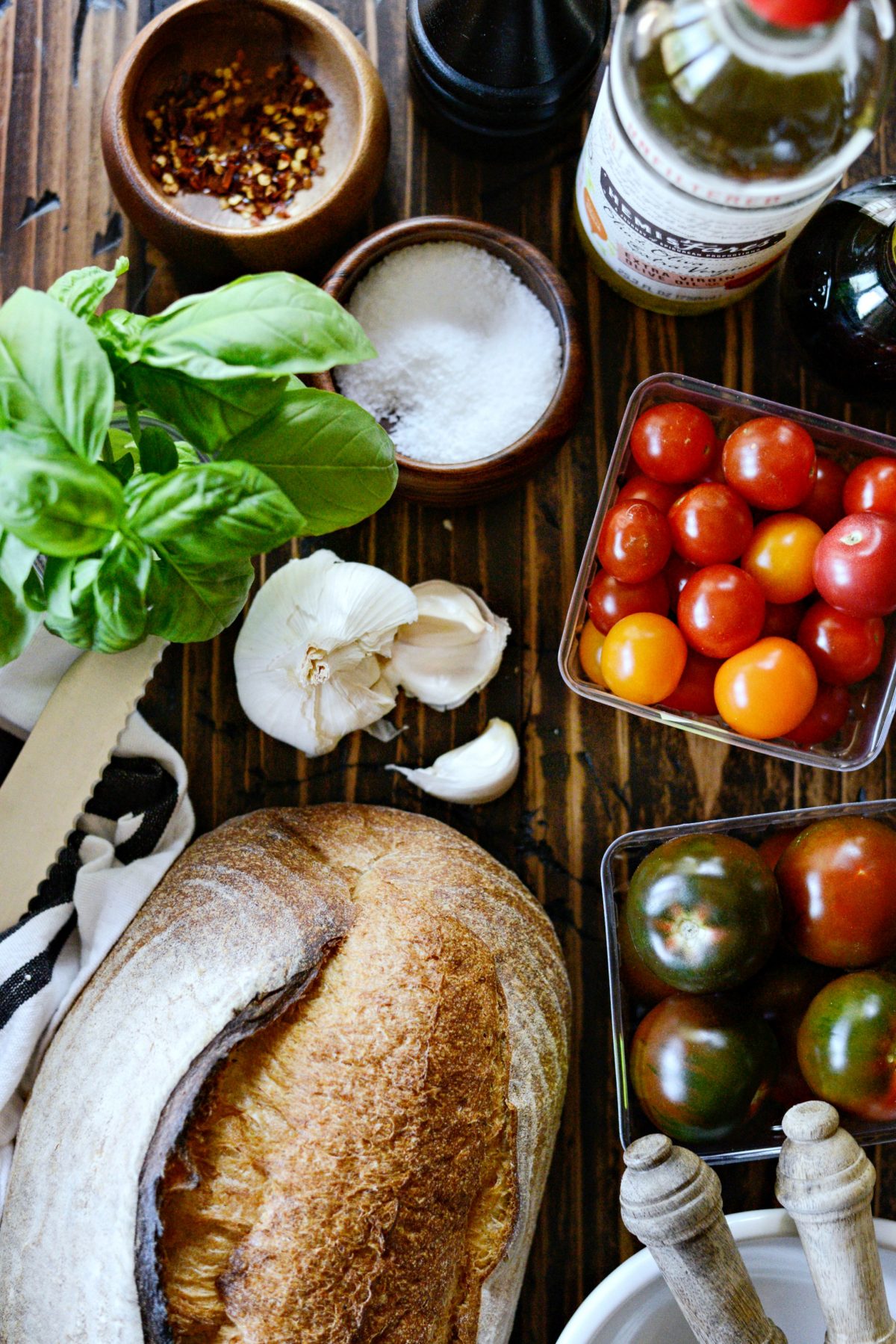 To Make This Tomato Bruschetta Panzanella You Will Need:
tomatoes (choose your favorite: cherry, grape, heirloom, Campari or Roma)
fresh basil
garlic
kosher salt
freshly ground black pepper
red pepper flakes
olive oil
balsamic vinegar
a loaf of crusty bread
A lot of the stuff most of us already on hand; olive oil, balsamic vinegar, basil and garlic. So we only stopped in for tomatoes and a crusty loaf of locally baked bread. This time of year the market I go to always has produce from local farms in Michigan. So I picked up a couple pints of tomatoes; one pint of some kind of heirloom and a pint that had a mix of both cherry and sungolds.
If there's a way I can bruschetta something, believe me I will do it. Bruschetta Chicken — did it. Dessert Bruschetta — done. Bruschetta Pizza — did that too. The other day I was laying awake in bed thinking about, you guessed it, bruschetta and how delicious it would be as a panzanella salad. I keep a notebook by my bed for these sort of moments, so I can quickly jot it down and try to fall asleep. And that is how this tomato bruschetta panzanella recipe was born.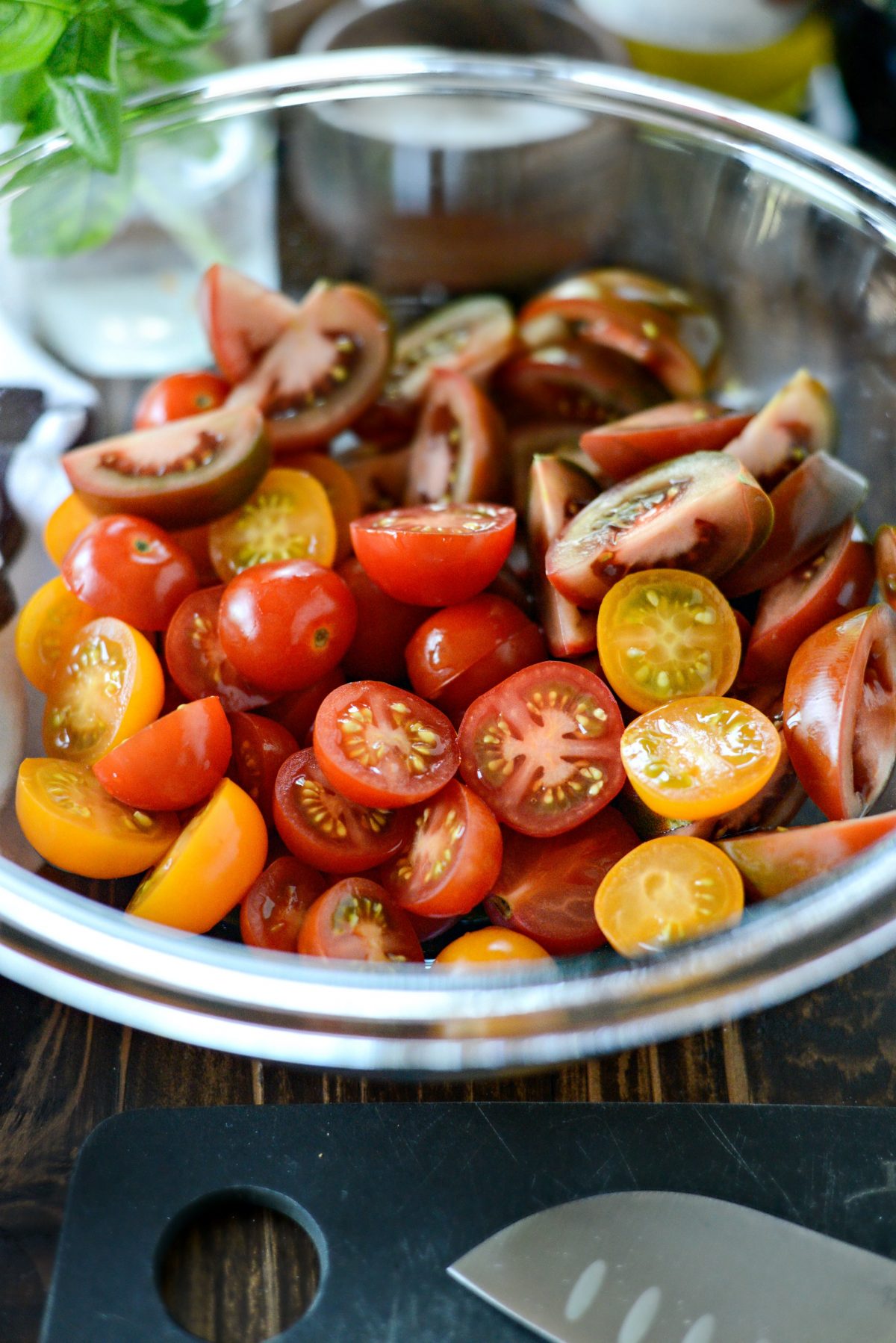 Start by halving or quartering, depending on the tomatoes you're using, and add them to a bowl.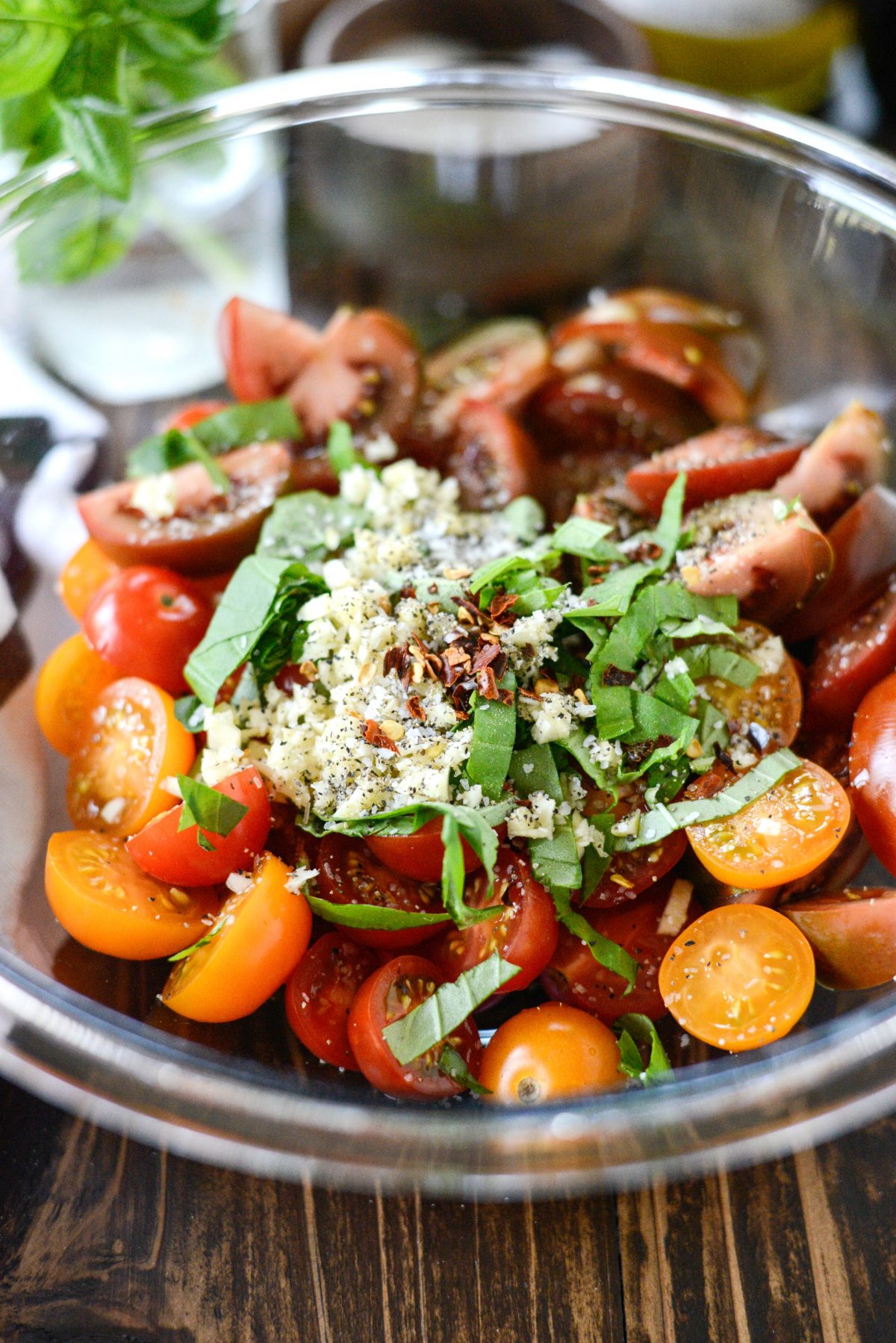 Next add in 2 medium cloves of minced garlic, a heaping tablespoon thinly sliced fresh basil (eyeball it, more is never a bad thing here) and a 1/2 teaspoon of kosher salt and 1/4 to 1/2 teaspoon of ground black pepper. Then add a few pinches of crushed red pepper flakes, but that's totally optional.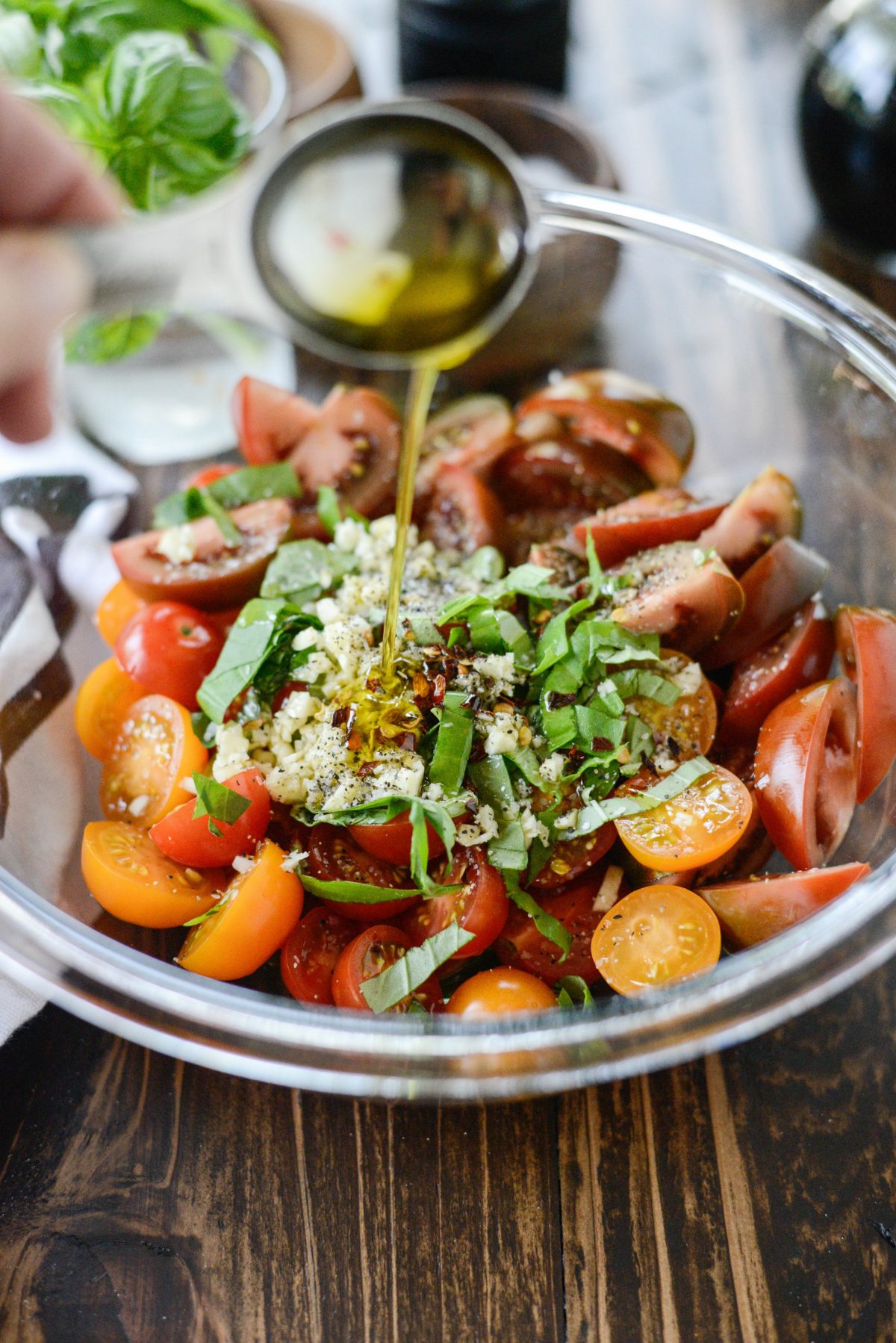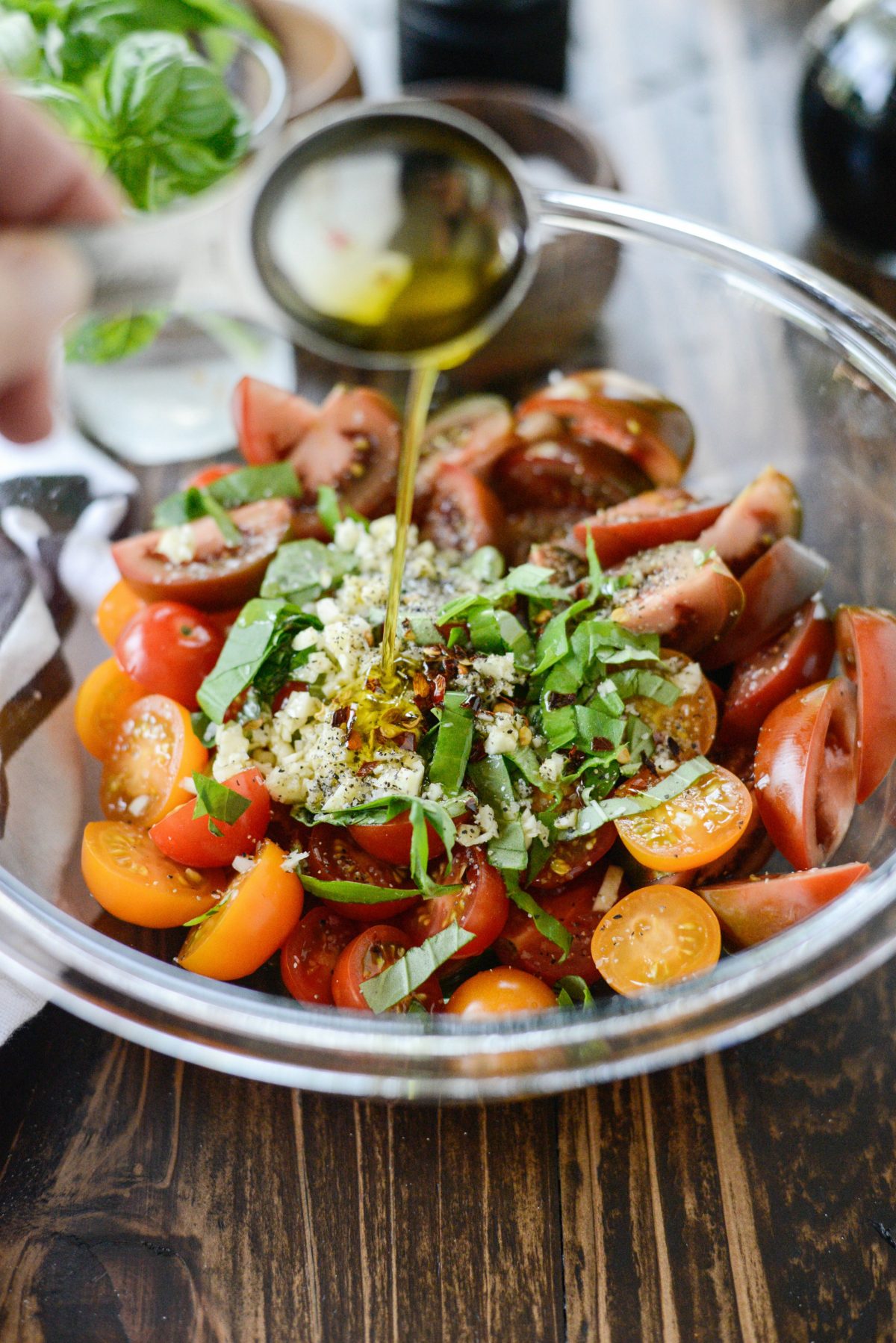 Lastly, measure in 3 tablespoons really good olive oil…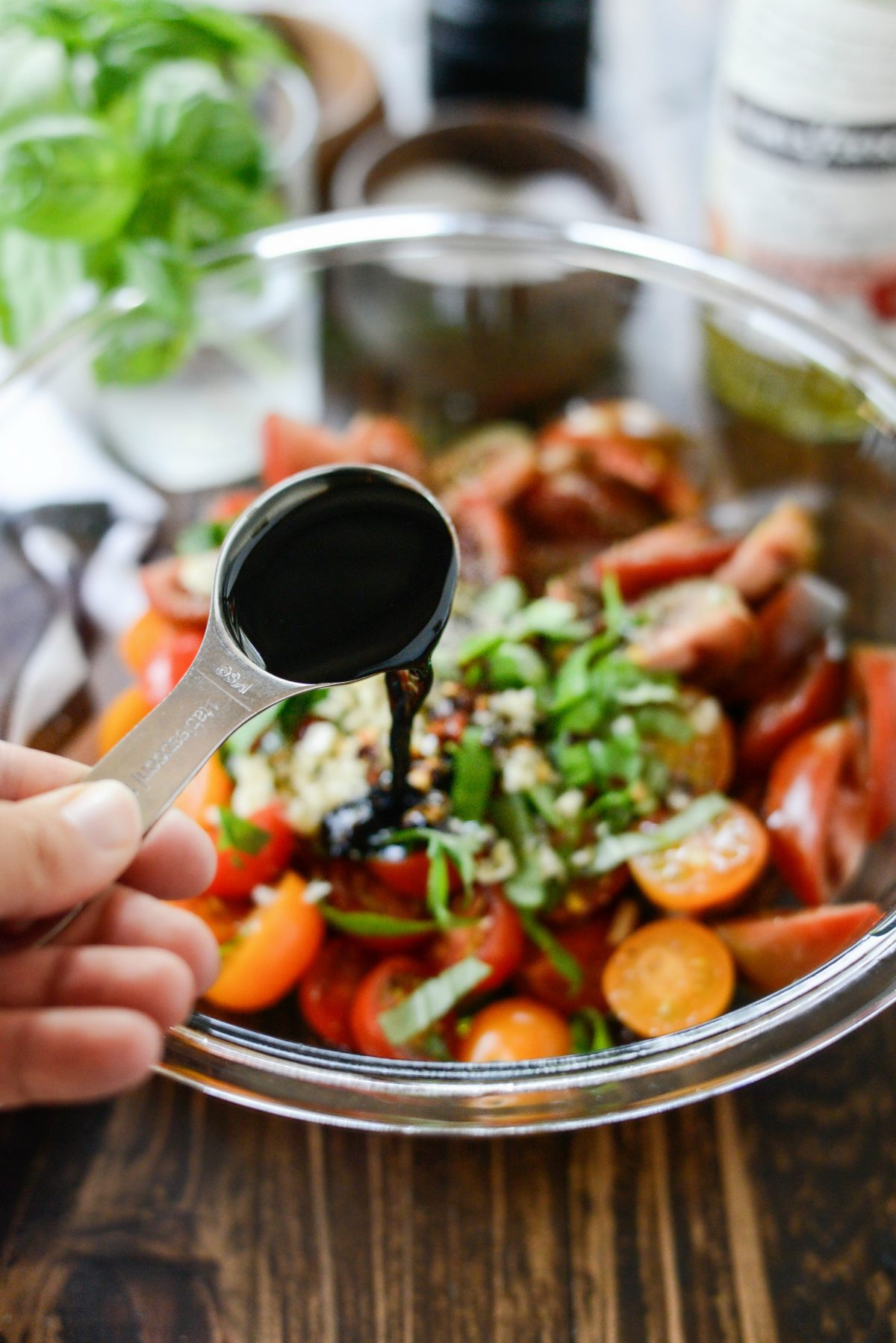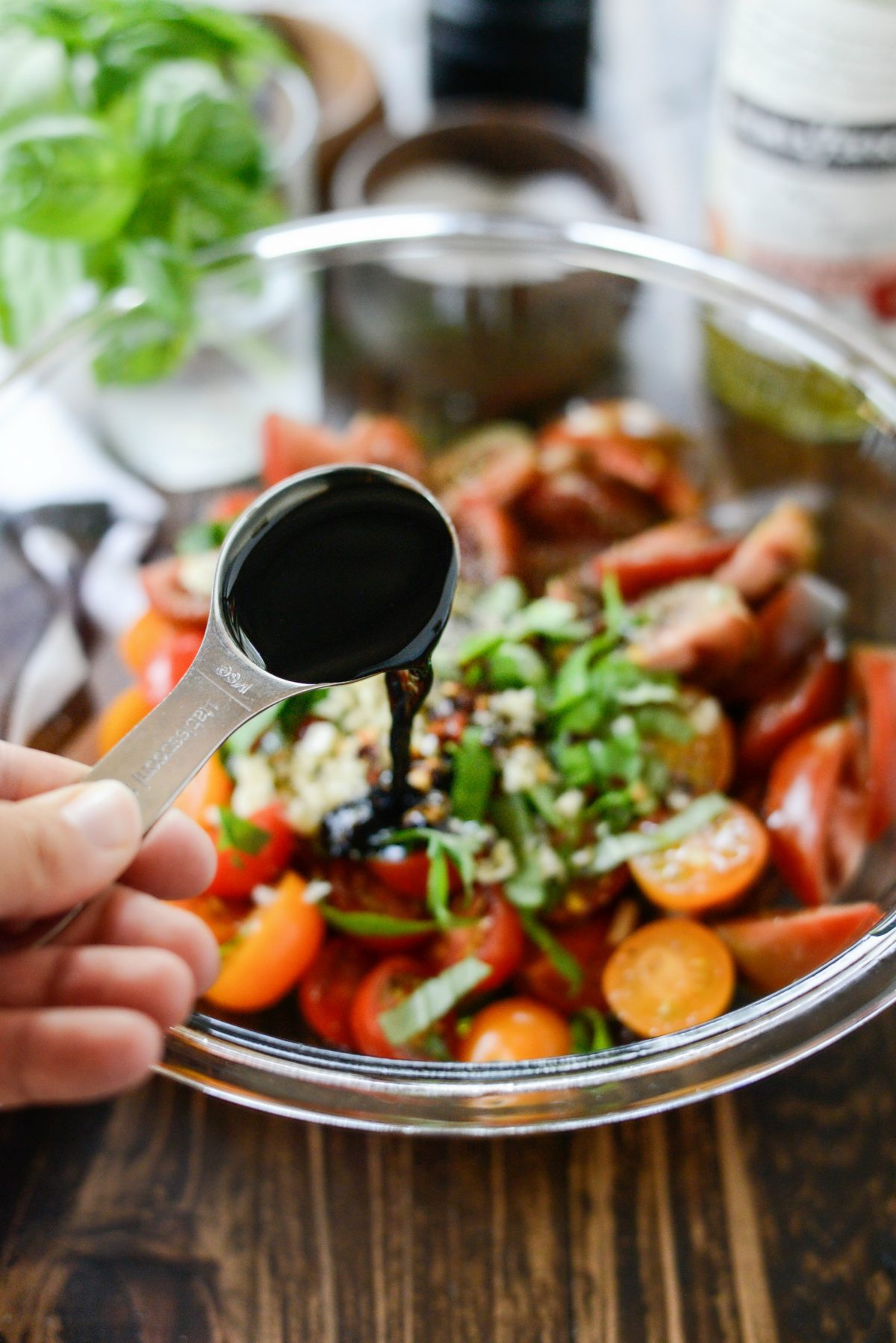 …and then two tablespoons balsamic vinegar.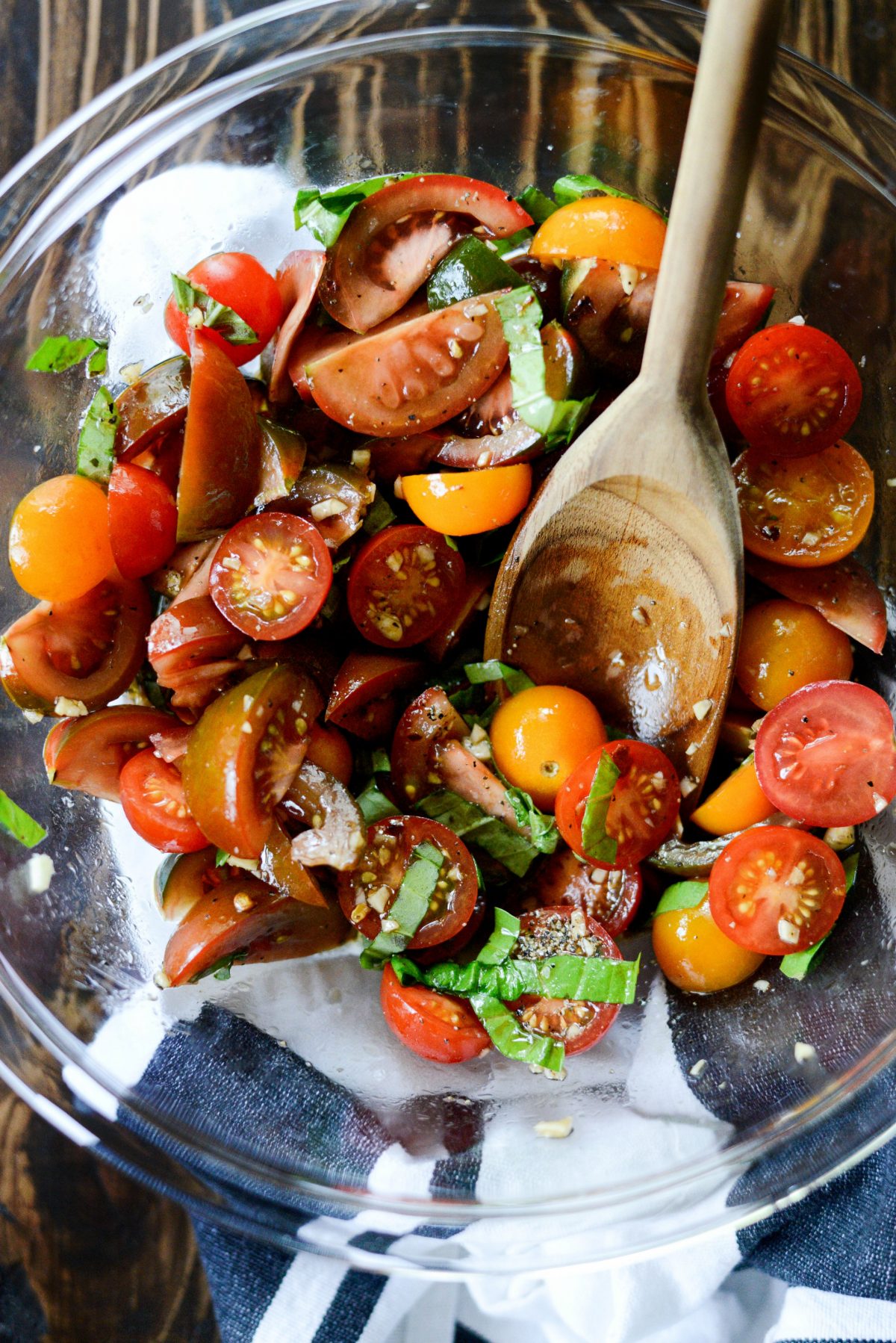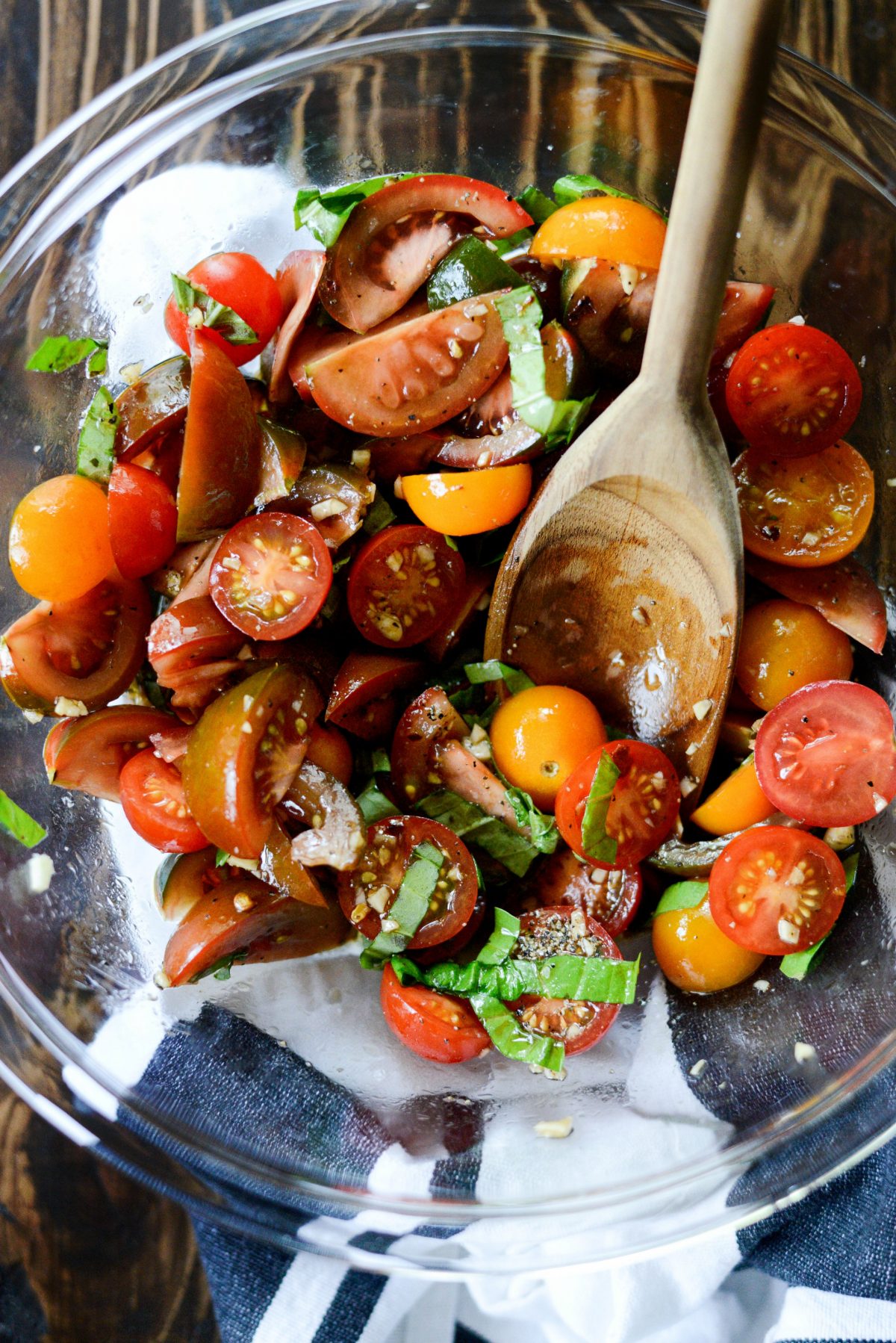 Give that a toss and let the tomatoes marinate for a moment.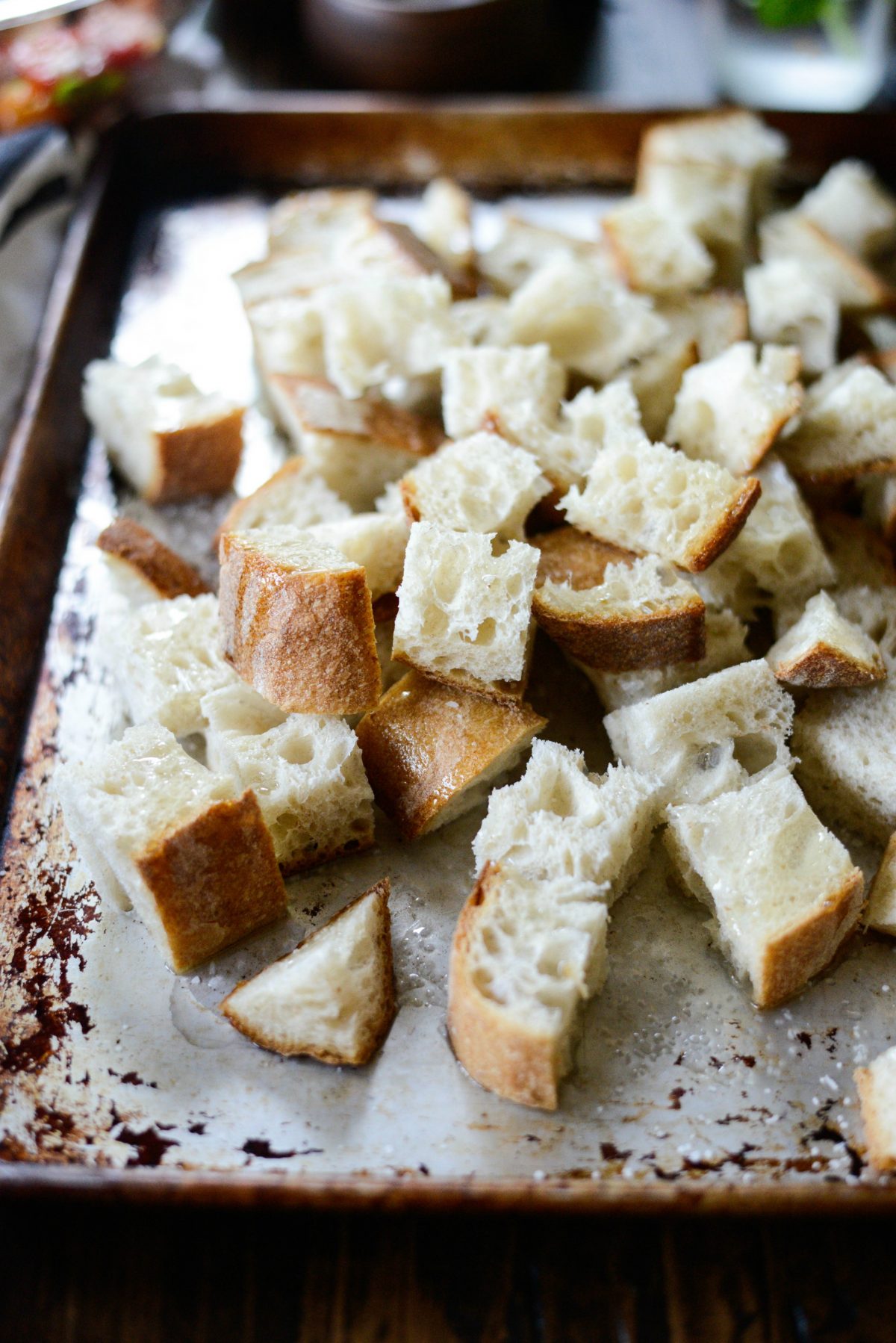 Meanwhile, cut the bread into bite-size or in my case, larger than bite-size cubes. Place the bread on a rimmed metal sheet pan. Then drizzle generously with olive oil and sprinkle with a few pinches of kosher salt before spreading in an even layer.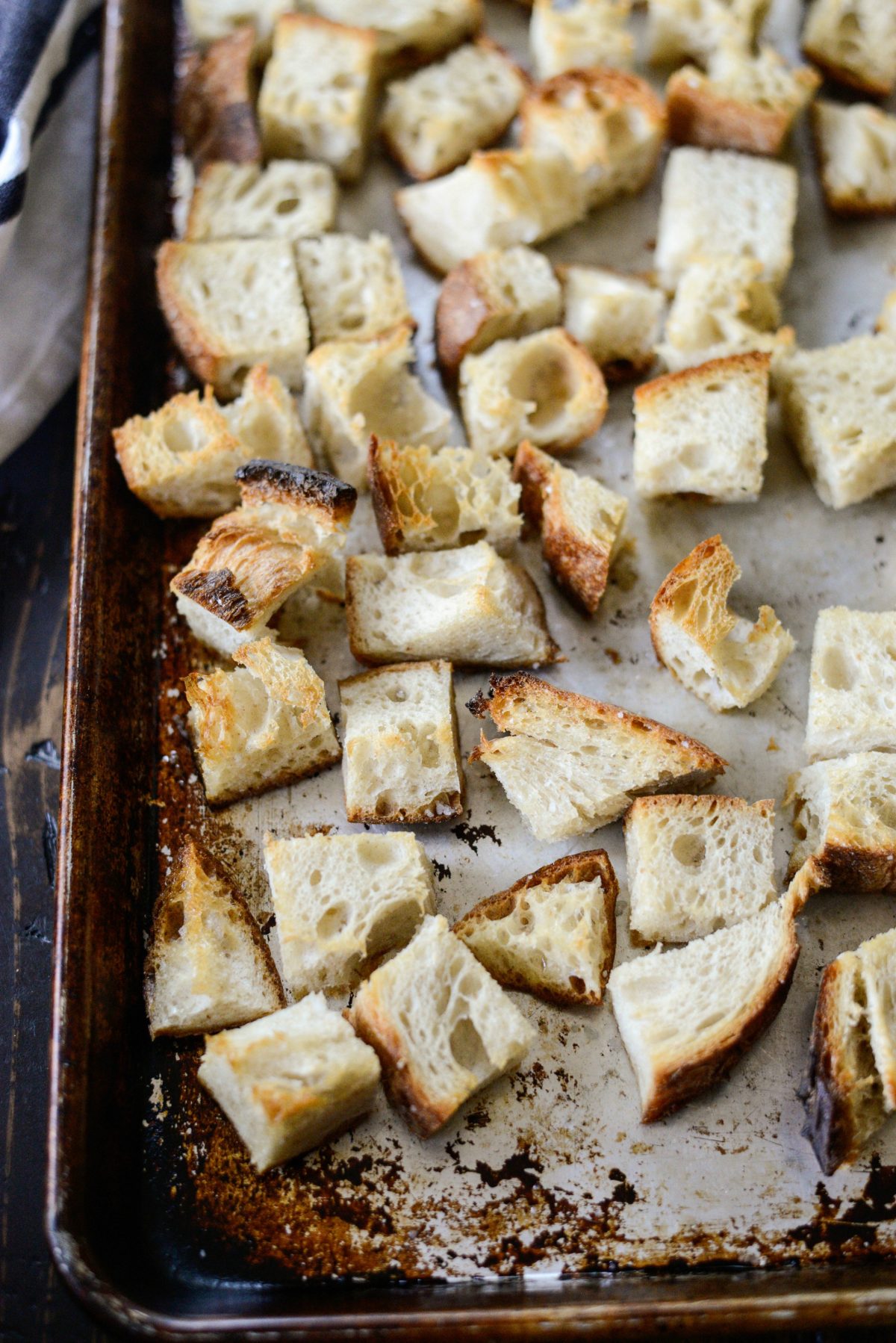 Then slide the sheet pan on to the middle rack of your preheated 400° oven and bake for 10 minutes. Rotating the pan halfway during baking.
Once toasty and golden brown, allow the bread to cool for about 5 minutes. Then throw the warm bread cubes into a large serving bowl.
Now here comes my favorite part! Pour all of those tomatoes and those marinating liquids over top of all that bread.
Next you'll want to give it a good toss. Making sure all that balsamic goodness get's soaked into those toasty bread cubes. There should be a nice balance of crispy pieces and dressed pieces.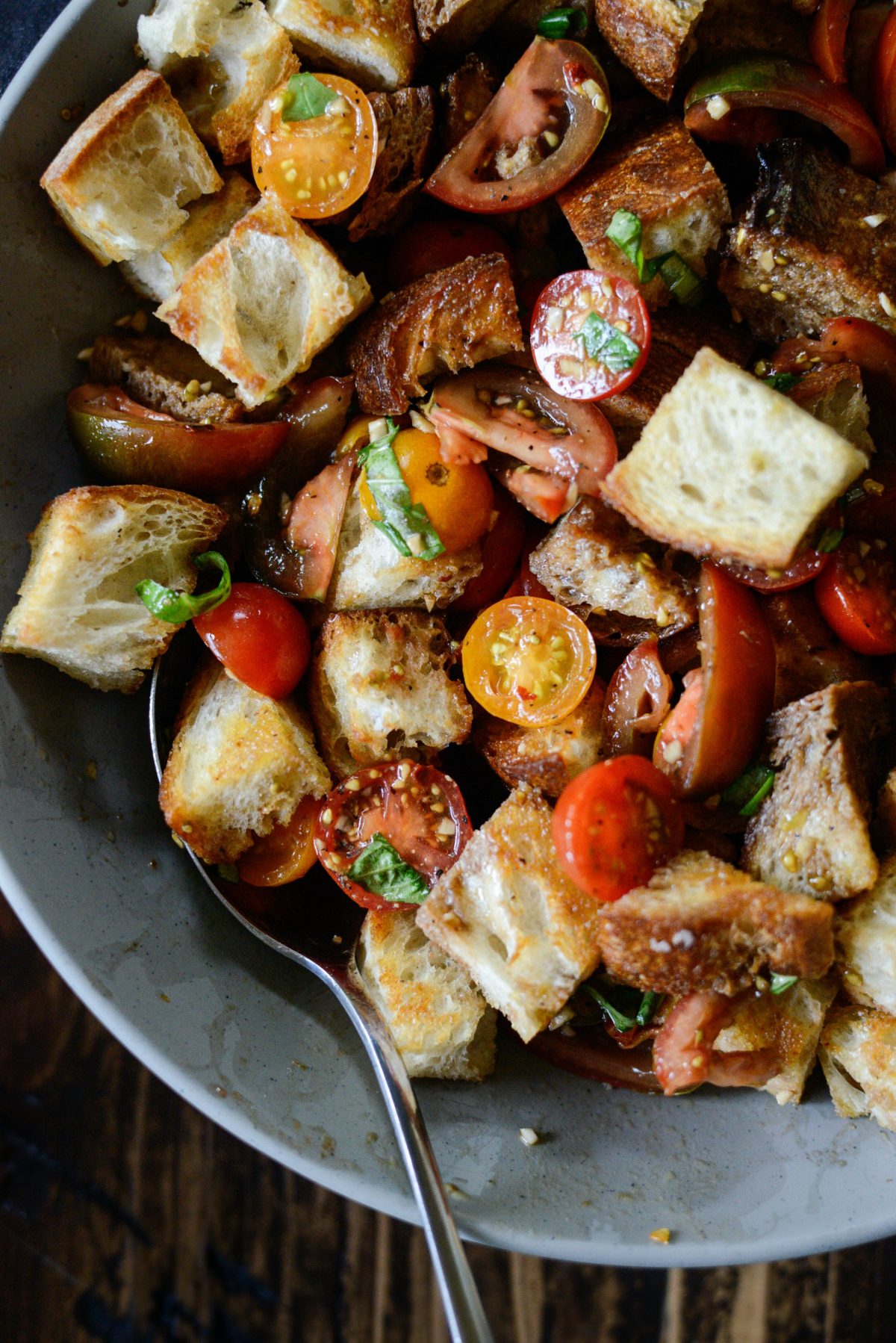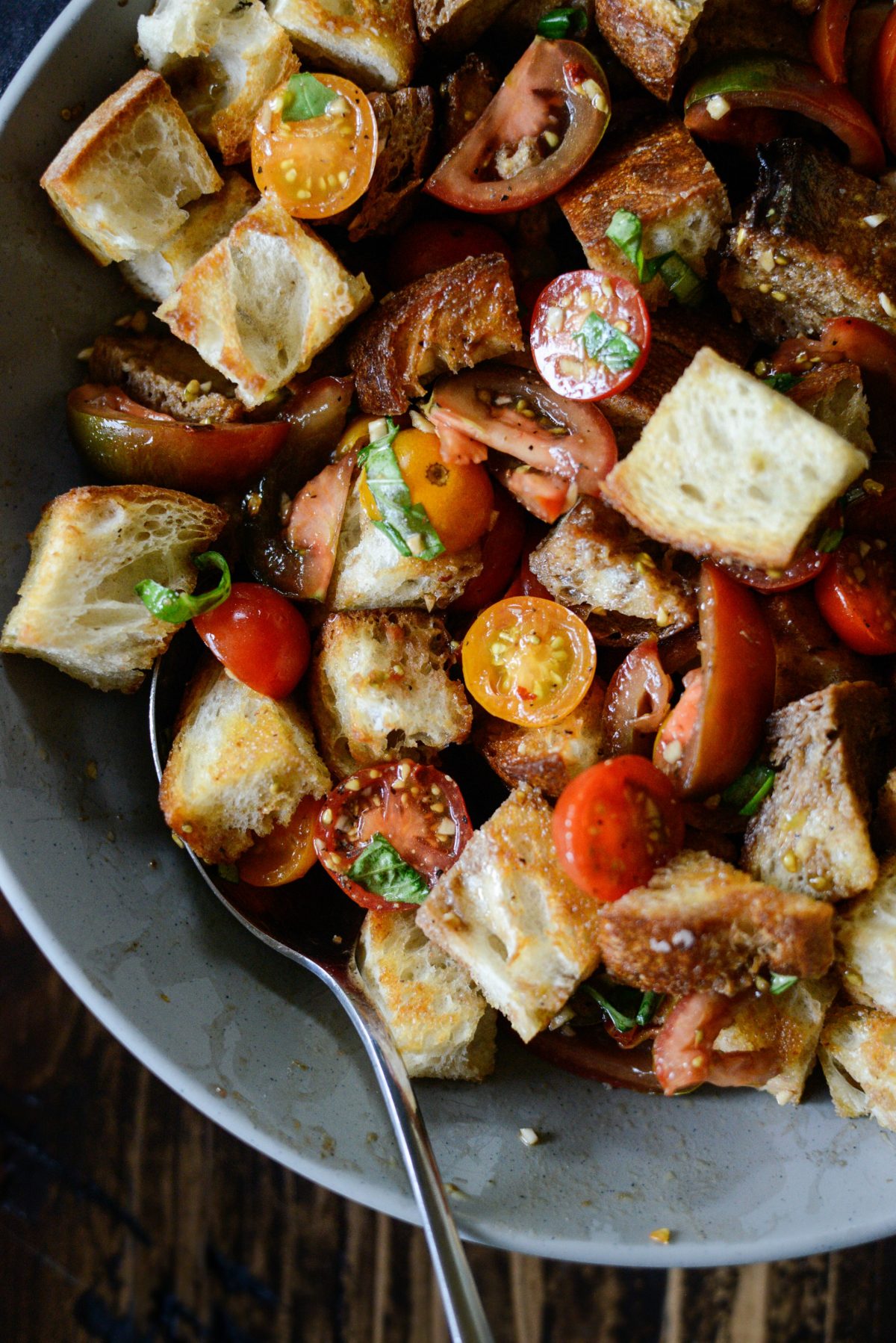 My friends, this tomato bruschetta panzanella is not just a pretty face, it's also incredibly delicious. The tomatoes, the basil and the balsamic and garlic together is utterly mouthwatering. Don't even get me started on the bread. I serve this as is (just pour me a glass of wine!) or with just about anything like grilled chicken or steak.
Enjoy! And if you give this Tomato Bruschetta Panzanella recipe a try, let me know! Snap a photo and tag me on twitter or instagram!
This post may contain affiliate links.
Buy the Cookbook: Simply Scratch : 120 Wholesome Homemade Recipes Made Easy Now available on Amazon »
THANK YOU in advance for your support!