This Mediterranean sandwich is filled with seasoned grilled turkey, roasted red pepper, cucumber, artichokes and hummus and then toasted to perfection!
Summertime has always been crazy for us.
This summer being no different because we *insert drum-roll* bought a new house and WE ARE MOVING! 🙂 So in the next few weeks I'll have to find time to blog, work, pack and move… oh yeah… then there is the girls baseball games four, yes FOUR nights a week! Lord-have-mercy how is this all going to be possible?? Sandwiches.
Okay so it won't be ALL sandwiches ALL the time… but I'll need easy and filling dinners that don't require too much of me and my precious time.
Sandwich numero uno was inspired from a Potbelly's sandwich. I usually hit up Potbelly's on my lunch break at work, and although it's super delicious, why the heck should I buy the sandwich when I could make it myself? And with the money I save… buy a few pairs of shoes??
It's a win-win.
Here's how I did it.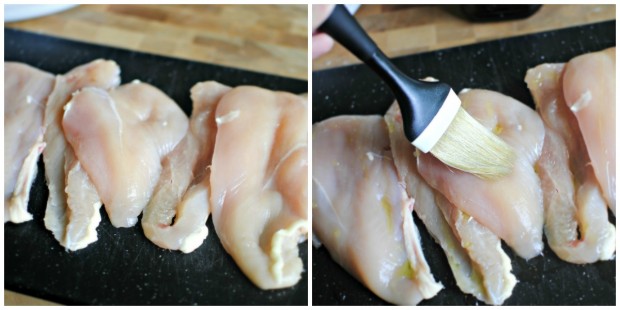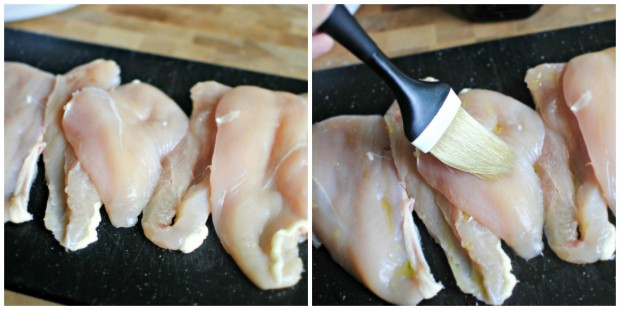 First, spray or brush the chicken lightly with olive oil.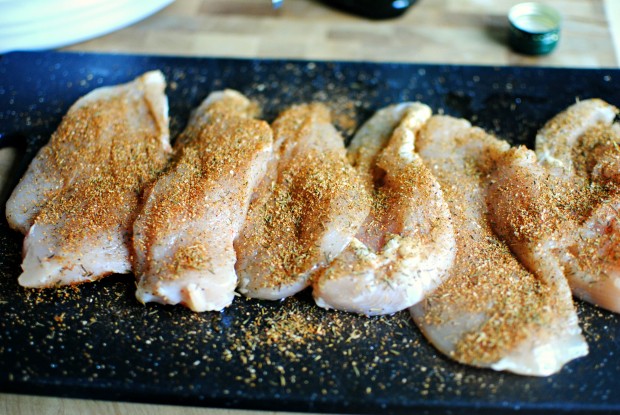 And then season both sides with an all-purpose seasoning.
Next, give it a good grilling until cooked all the way through.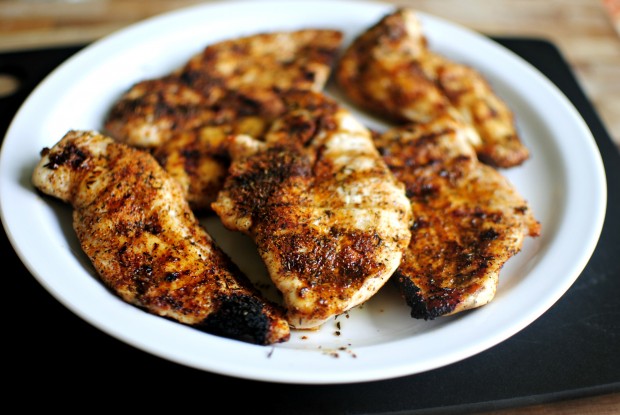 Next let it cool before slicing it into small strips.
Here are the possible topping options.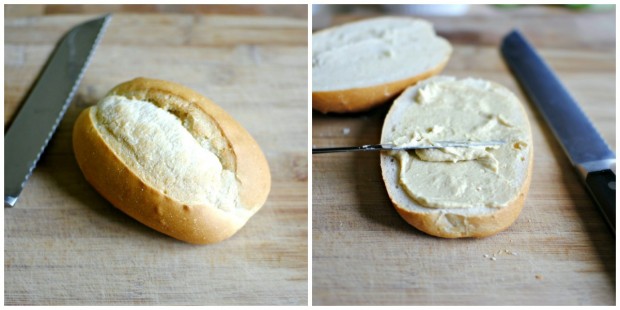 Then slice your bread in half and slather it with a generous amount of hummus. Want a zippier hummus? Add some Franks red hot to and give a stir!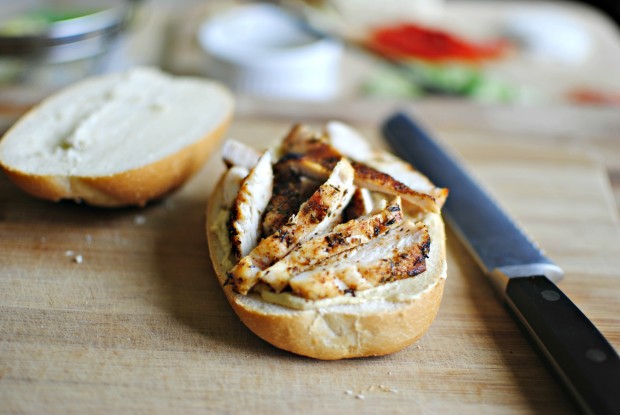 Next top with a little sliced grilled chicken.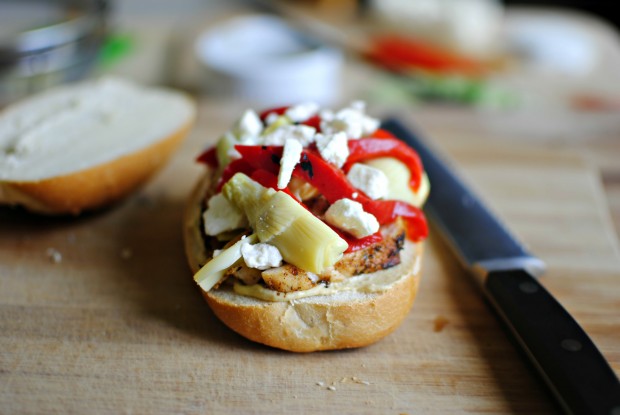 Then the quartered artichoke hearts, sliced roasted red peppers and a sprinkle of feta… Oh it gets even better!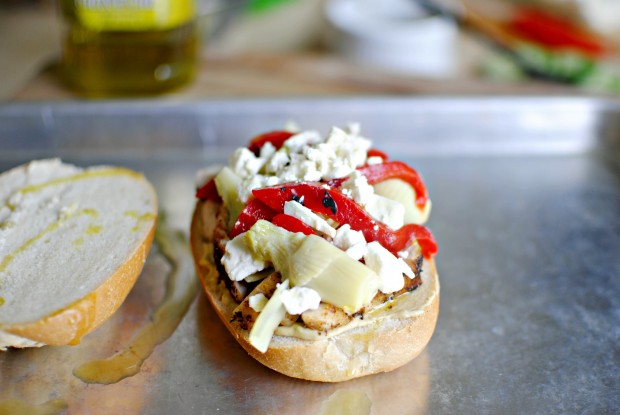 Next move the sandwich over to a sheet pan, drizzle or spritz with a little olive oil and slide this into a preheated 450° oven and toast for about 10 minutes.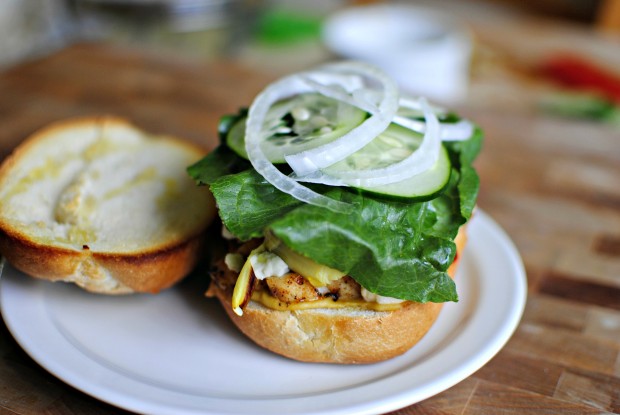 Lastly, top with crisp romaine leaves, sliced cucumber and a little onion if that's your thing. It's most definitely my thing.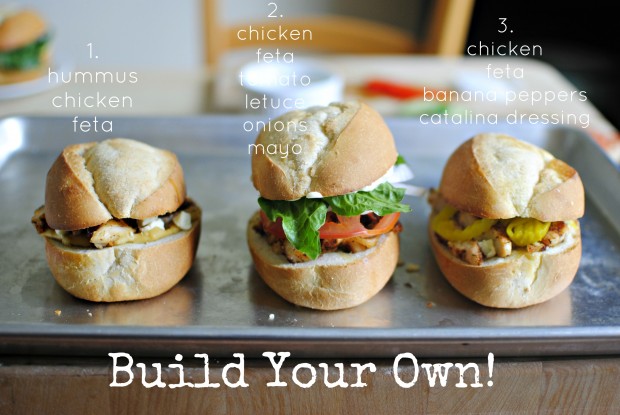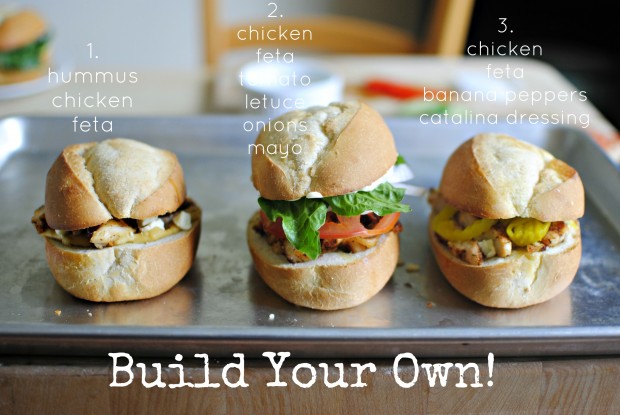 The rest of the fam built their own version of the sandwich.
Next time I'm thinking about adding the banana peppers and maybe some kalamata olives to this already amazing Mediterranean sandwich.
I did have to unhinge my jaw in order to stuff my face with this monstrous beast…
So. Good.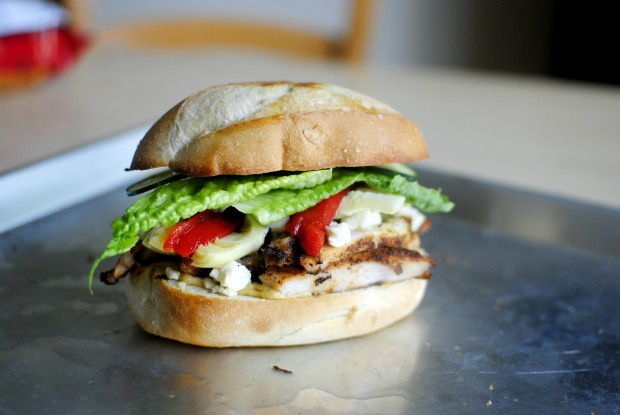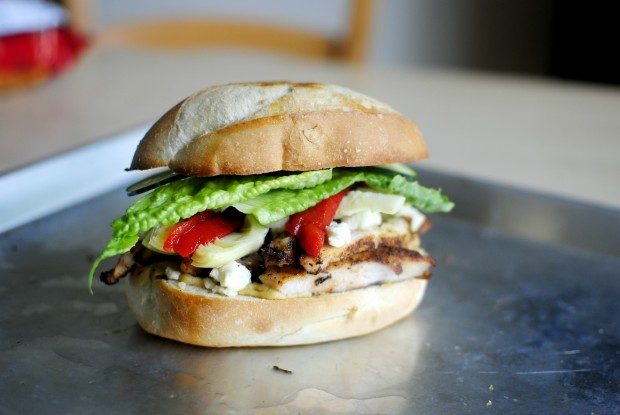 This one I wrapped up for lunch the next day. I recommend removing the lettuce, onions and cukes before reheating! I'm definitely a self proclaimed grilled cheese lover, but I'm a little partial to the toasted kind too. I'd love them a little more if they didn't tear the heck out of the roof of my mouth!
So here's to summertime, moving and raw-roofed-mouths! Thank you! Now go make this Mediterranean sandwich!
Enjoy! And if you give this Mediterranean Sandwich recipe a try, let me know! Snap a photo and tag me on twitter or instagram!
Yield: 6 sandwiches
Toasted Mediterranean Sandwich
This Mediterranean sandwich is filled with seasoned grilled turkey, roasted red pepper, cucumber, artichokes and hummus and then toasted to perfection!
Ingredients
6 sandwich rolls
3 boneless skinless chicken breast halves
1 to 2 tablespoons all-purpose season salt, or use your favorite]
extra light olive oil spray
1 small can artichoke hearts, quartered (about 6-8 whole)
2 roasted [red peppers, sliced]
2 ounces feta cheese, crumbled
1/4 cup hummus
lettuce, torn
cucumber, sliced thin
onion, sliced thin
Instructions
Preheat your oven to 450° and your grill to medium-high.

Lightly brush both sides of the chicken halves with olive oil and sprinkle with seasoning.

Grill the chicken halves for 6 minutes on one side. Flip and continue to cook for 4-5 minutes more or until the chicken is fully cooked. Remove and let cool. Once chicken is cool enough to handle slice into strips.

Slice sandwich rolls in half and spread with desired amount of hummus and top with chicken, artichokes and red peppers. Sprinkle with feta.

Place sandwiches on a rimmed baking sheet and spray with olive oil. Slide into your preheated oven for 10 minutes.

Remove and top with lettuce, cucumber and onions.

Top with the remaining roll and enjoy!
Serving: 1g, Calories: 285kcal, Carbohydrates: 34g, Protein: 20g, Fat: 7g, Saturated Fat: 2g, Polyunsaturated Fat: 2g, Monounsaturated Fat: 2g, Trans Fat: 1g, Cholesterol: 45mg, Sodium: 994mg, Potassium: 319mg, Fiber: 3g, Sugar: 2g, Vitamin A: 124IU, Vitamin C: 7mg, Calcium: 113mg, Iron: 2mg
This post may contain affiliate links.
Buy the Cookbook: Simply Scratch : 120 Wholesome Homemade Recipes Made Easy Now available on Amazon »
THANK YOU in advance for your support!