Celebrate spring with a slice of homemade Toasted Coconut Chai Carrot Cake! In this recipe, traditional carrot cake is given a mini makeover by adding chai spice and mixing in toasted coconut. The cake is then topped with a simple, fluffy mascarpone frosting.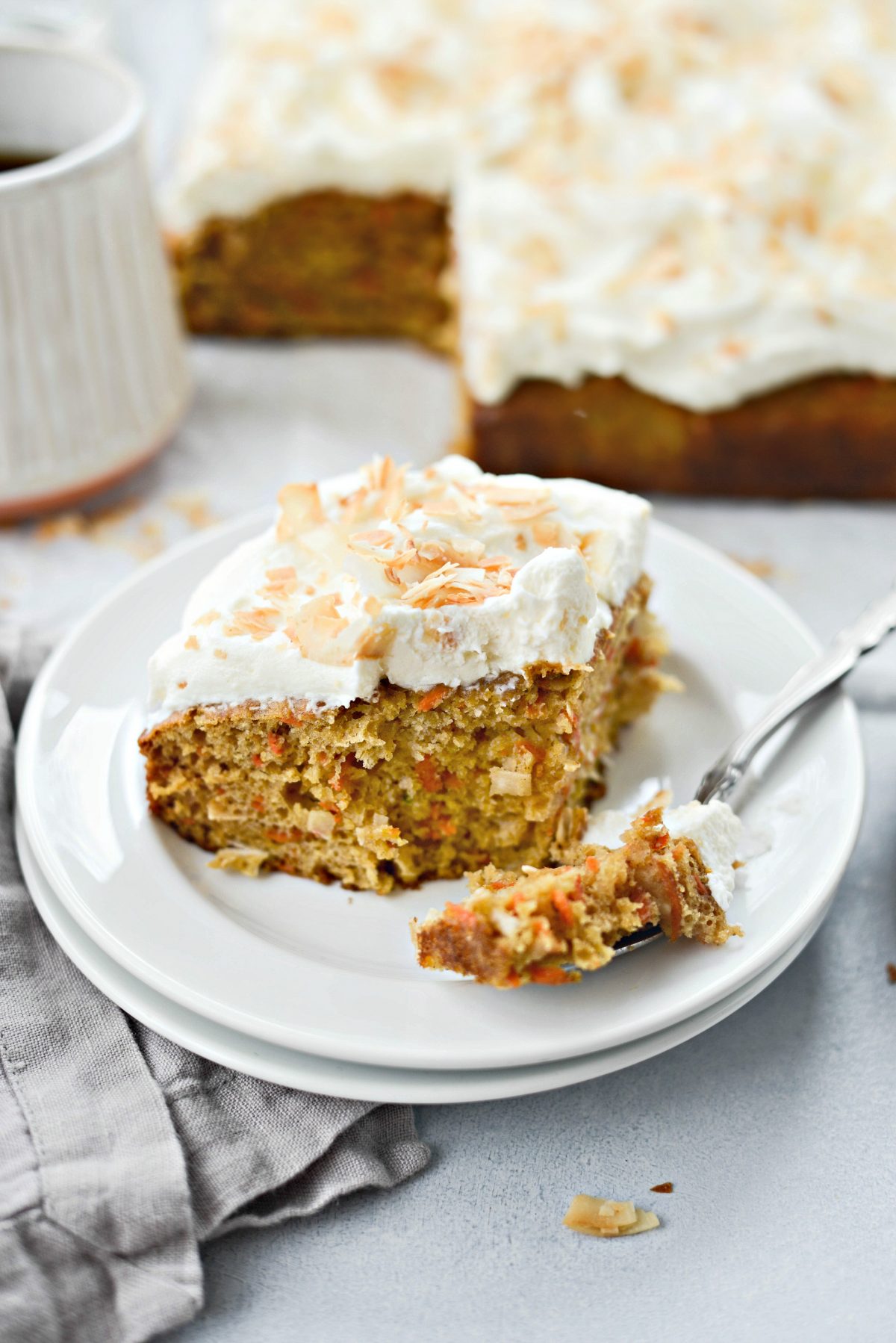 It feels like I've blinked and April is just about half over. Like Easter is a week from Sunday, how is this possible? 2019 needs to slow itself down because we are 1/4 of the way through it and I'm in no hurry to rush through spring and summer, let a lone think about sending Haileigh to college. Nope! Time needs to slow the heck down.
This Easter we're laying low. It's been kind of hectic over here; I was out of town last weekend, starting the process for a blog redesign (eek!) and I also have plans to for a mini-makeover of Malloree's bedroom. I've already ordered a new bed, dresser and a few accessories, but the painting might just begin Easter weekend (side note: I love painting.) Every spring I get the itch to do more home remodeling/decorating and less cooking. 😬
However I did make us a pretty fantastic toasted coconut chai carrot cake so I feel like this should count for something Easter-y? Maybe? I love carrot cake but this one is a little extra by adding tropical texture in the form of toasted coconut and warmth, thanks to chai spice. This cake is a flavor overload for your senses but an overload you'll happily enjoy. Oh and did I mention it's topped with the fluffiest dreamiest mascarpone frosting?
To. Die. For.
To Make This Toasted Coconut Chai Carrot Cake You Will Need:
coconut oil spray and parchment paper (for the cake pan)
unbleached all-purpose flour
baking soda
homemade chai spice
kosher salt
eggs
granulated sugar
dark brown sugar
unsweetened applesauce
low-fat buttermilk
pure vanilla extract
carrots
toasted coconut (plus more for garnish).
To toast coconut, place coconut in a skillet and heat on medium-low. Stir occasionally until the coconut starts to turn golden, then stir more frequently until it is a deeper golden brown
For the mascarpone frosting, you will need; 8 ounces mascarpone, 1/4 to 1/3 cup powdered sugar, 1-1/2 teaspoon pure vanilla extract and 1 cup heaving whipping cream.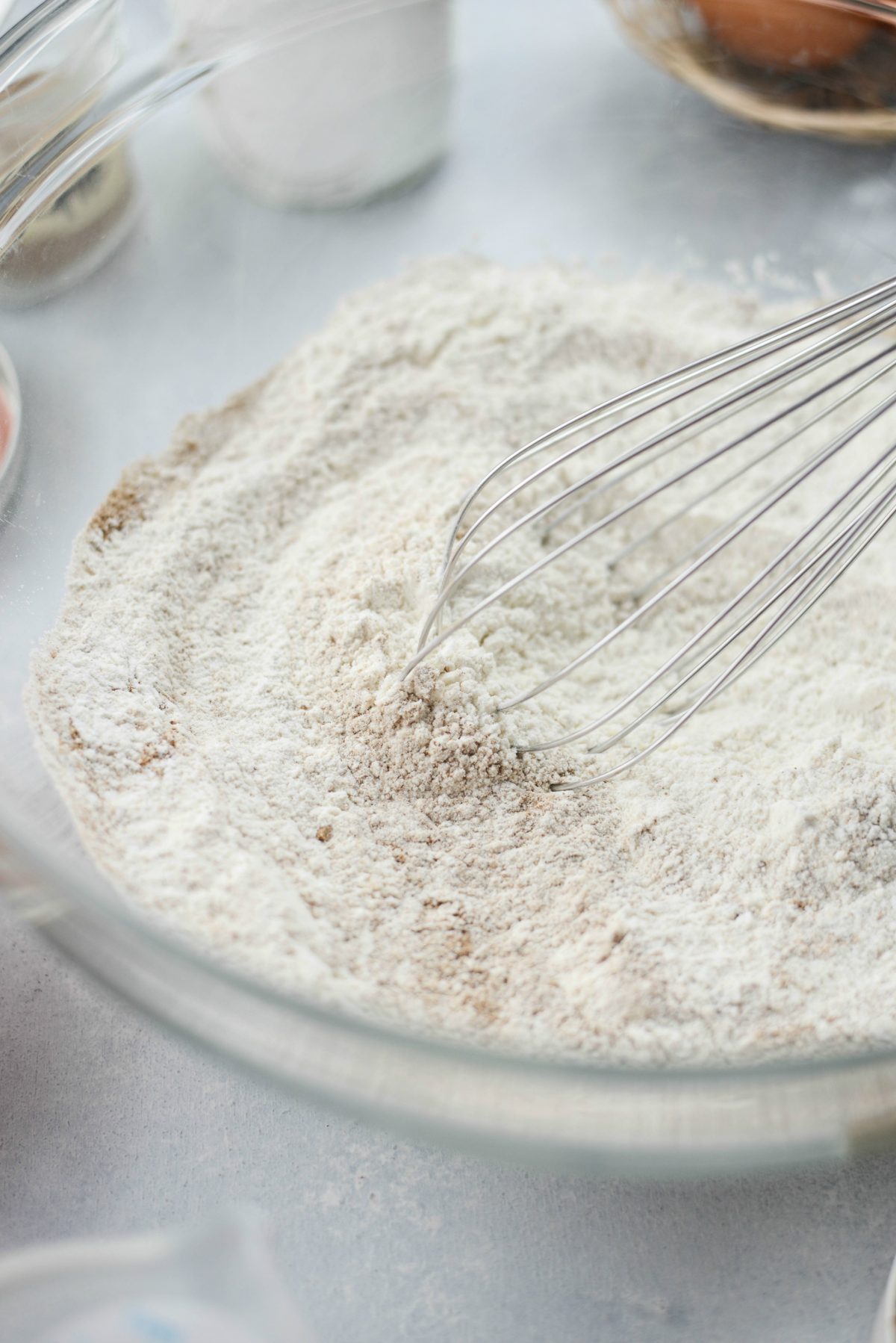 Preheat your oven to 350° and spray a 10x10x2 or 9x13x2 baking pan with coconut spray and line with parchment paper. Then in a large mixing bowl, combine the 2 cups unbleached all-purpose flour, 2 teaspoons baking soda, 1-1/2 teaspoons homemade chai spice, 1/2 teaspoon kosher salt. Whisk to combine and then set off to the side.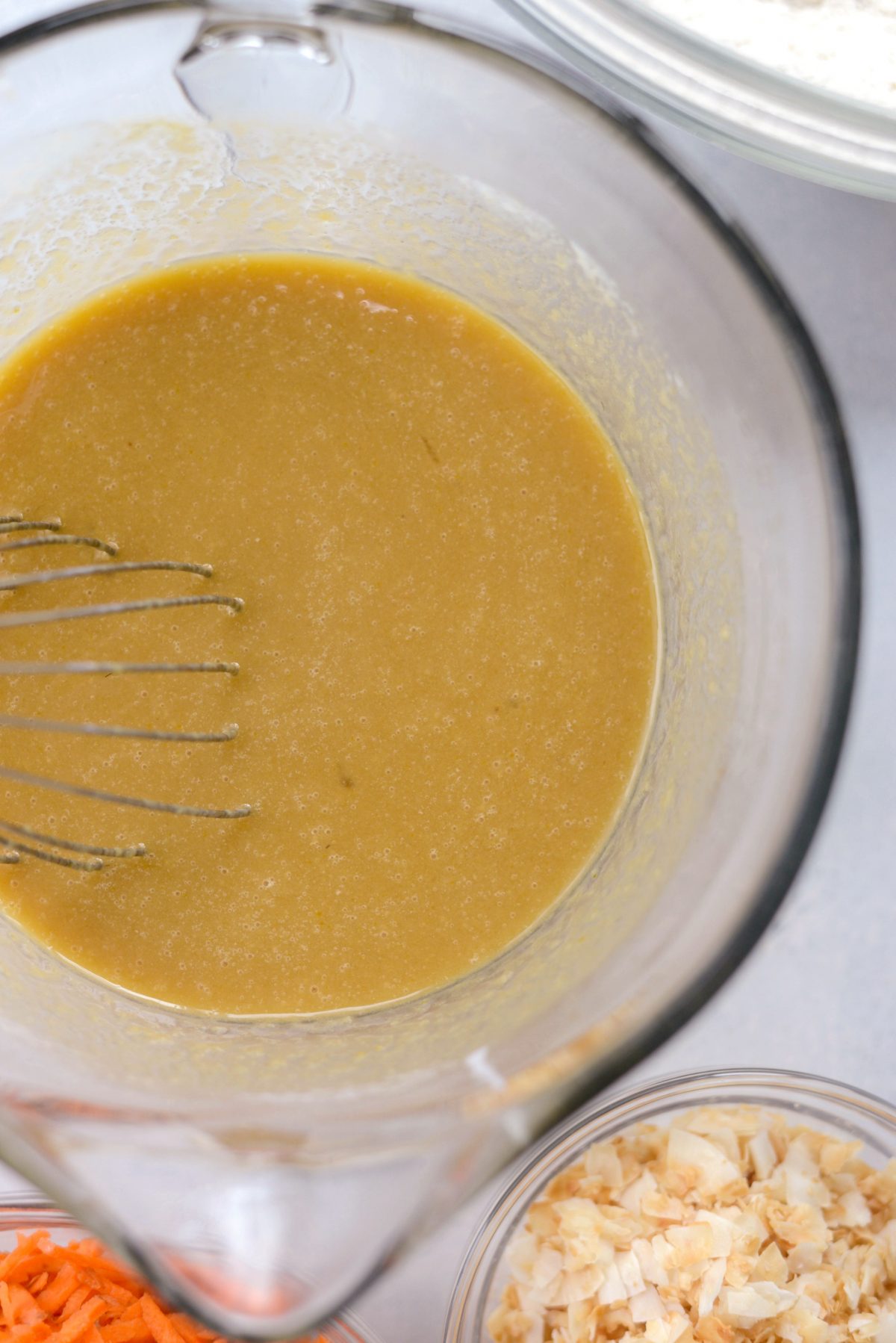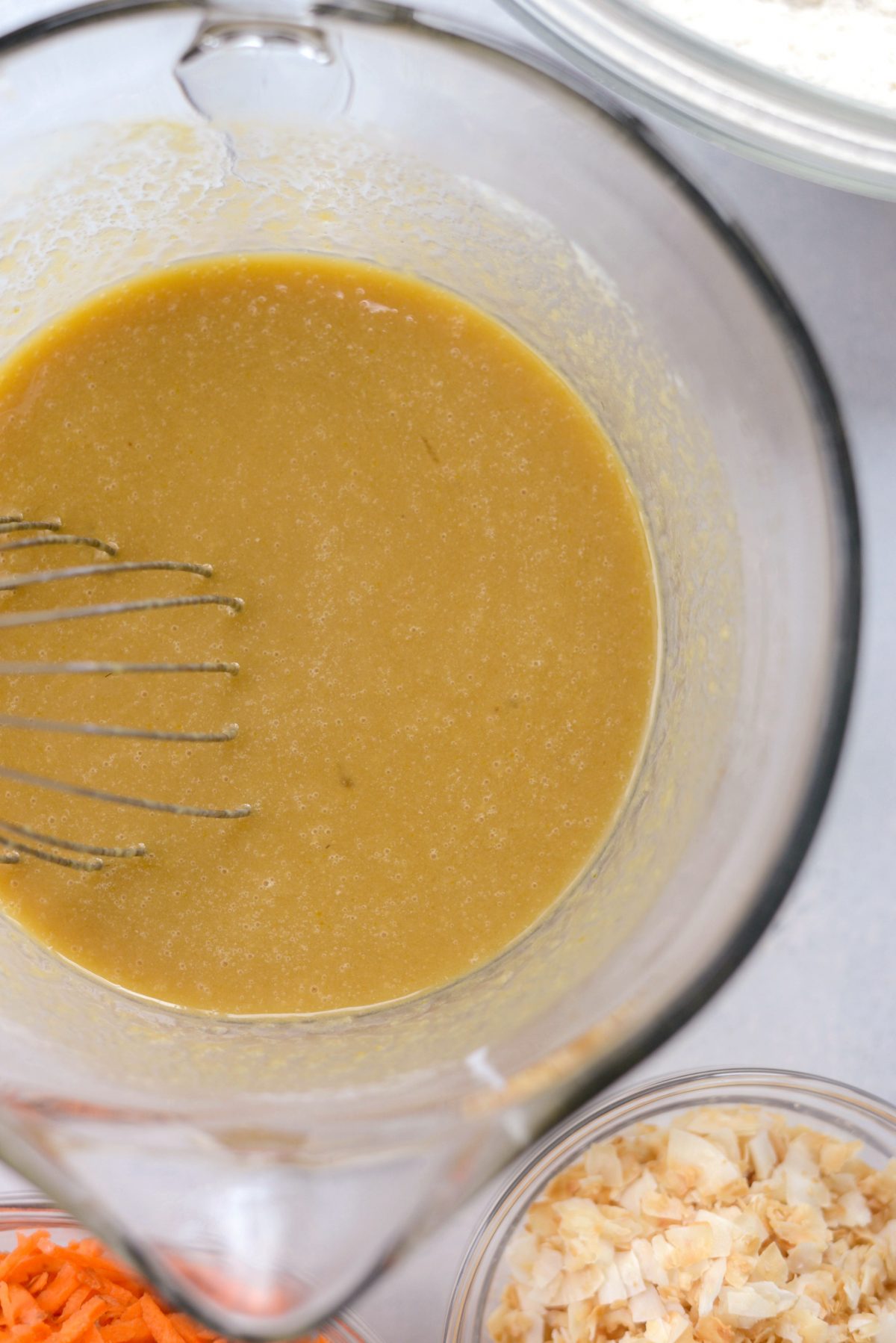 Next, in a medium mixing bowl, add the 3 eggs, 1 cup granulated sugar and 1/2 cup dark brown sugar, 1/2 cup unsweetened applesauce, 3/4 cup buttermilk and 1-1/4 teaspoon vanilla.
Whisk until thoroughly combined.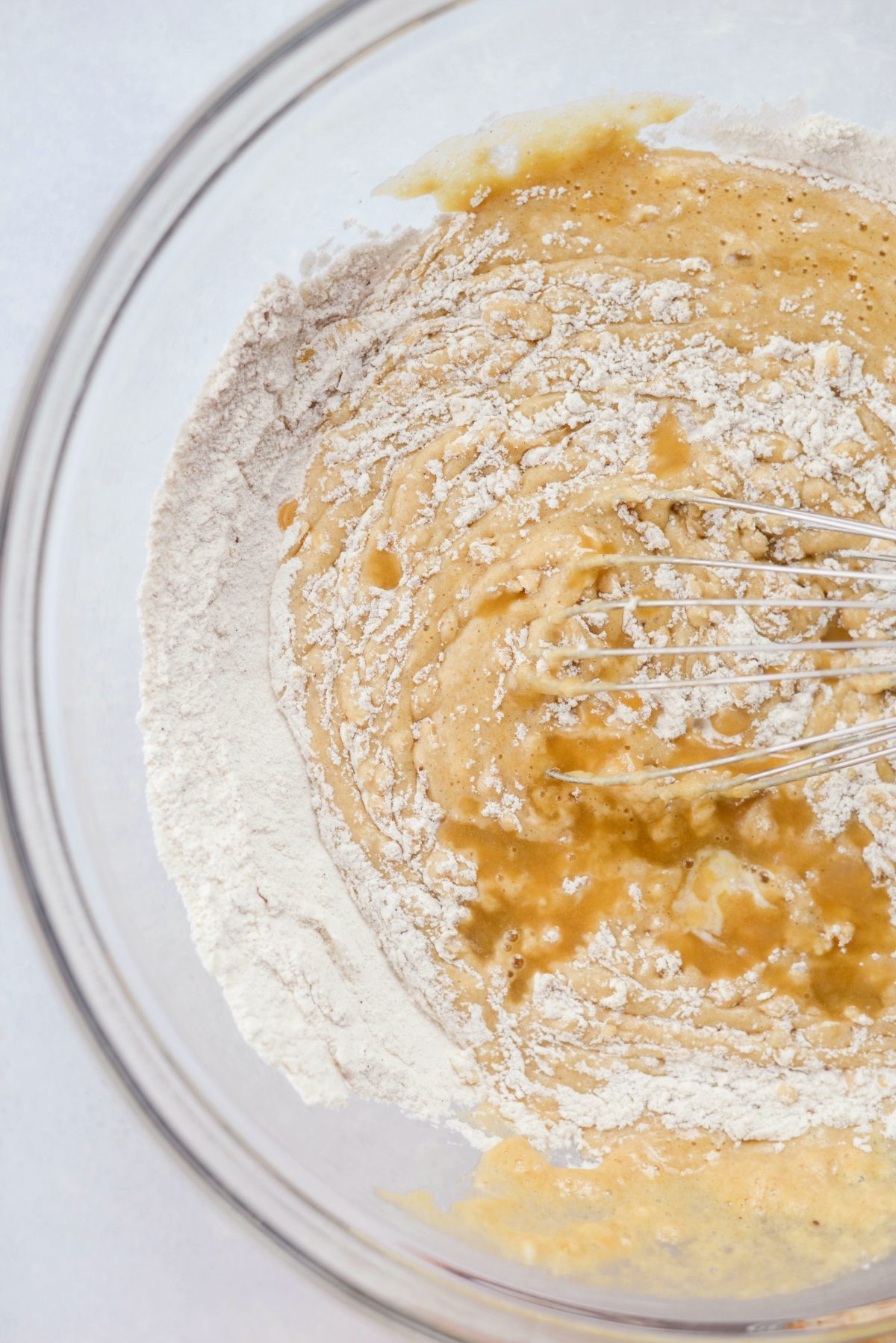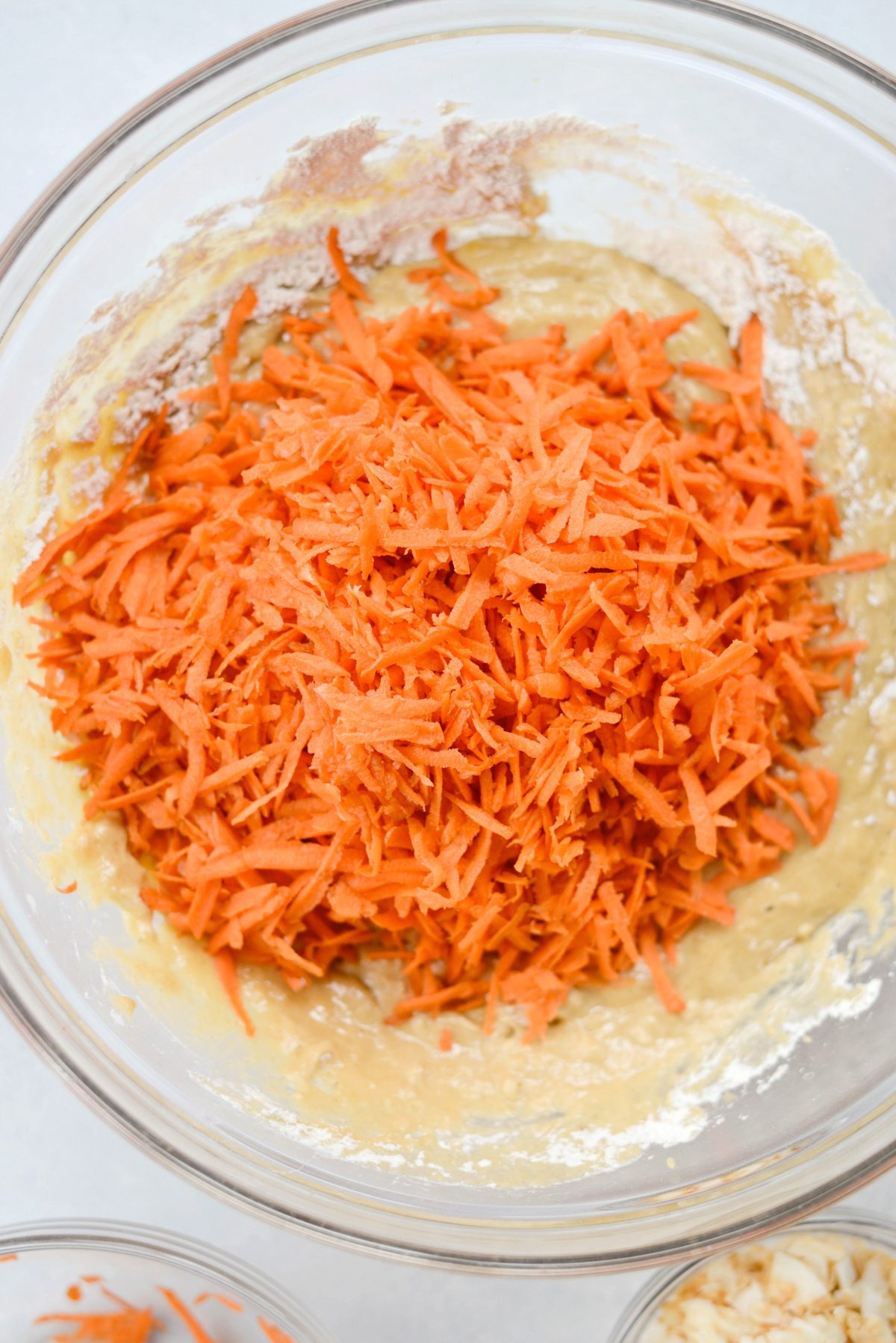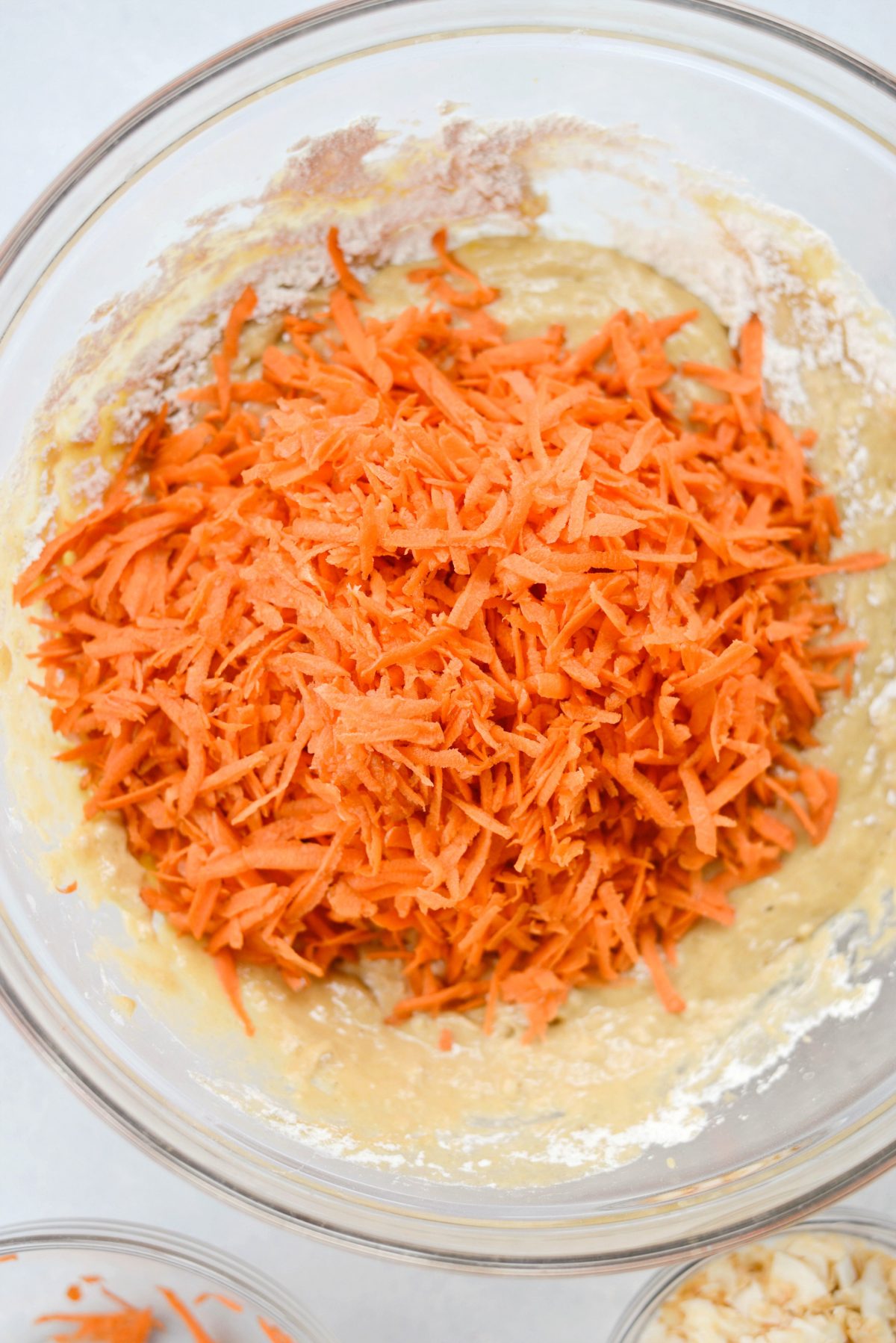 Then pour the wet ingredients into the dry and mix until just combined (there should still be some visible flour). Next, switch over to a rubber spatula and stir in the 2 to 2-1/2 cups grated carrot.
Fun Fact: don't you just love these? If you're eating this cake and notice flecks of green in it, don't fret! It's just a chemical reaction when the carrot comes in contact with the baking soda.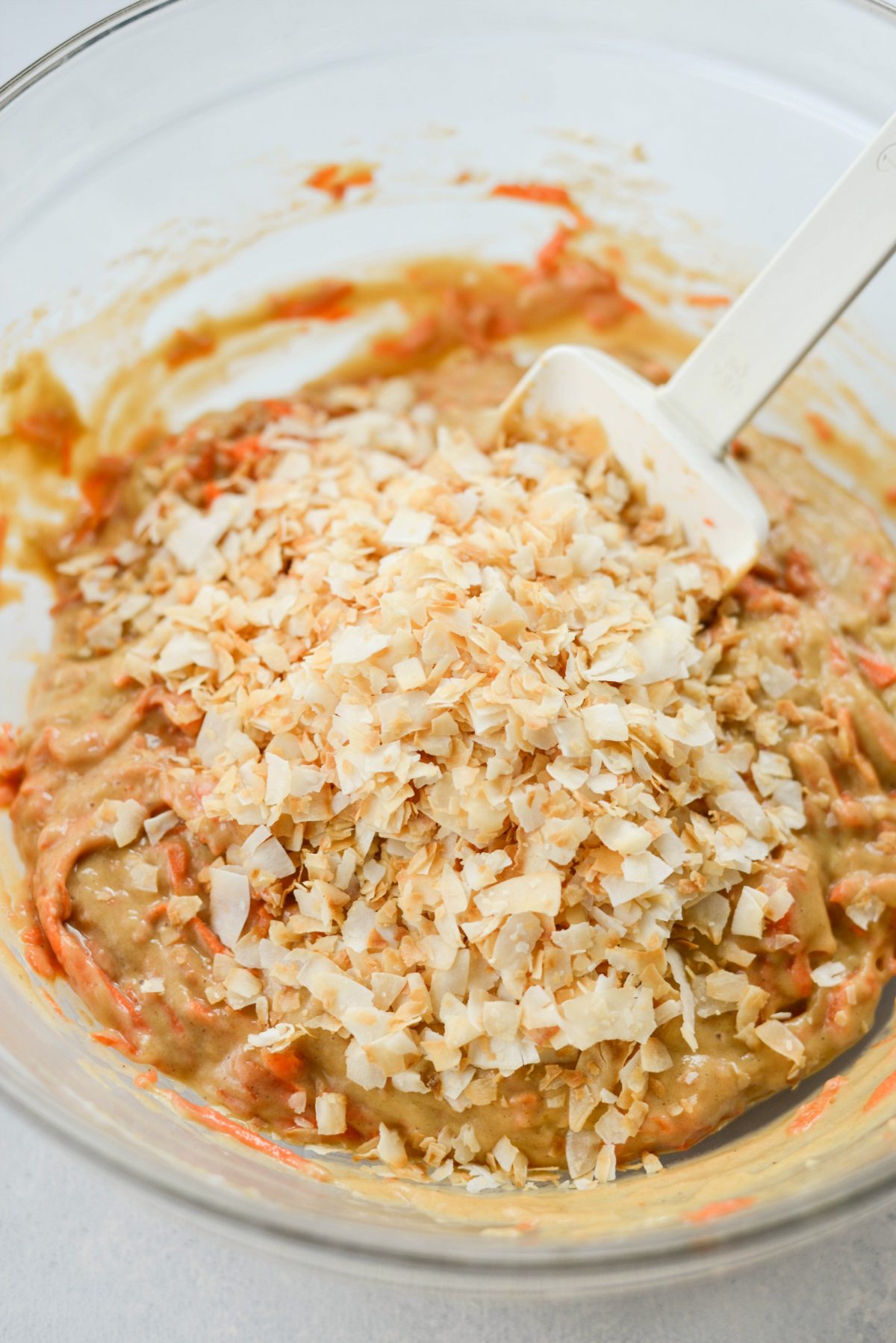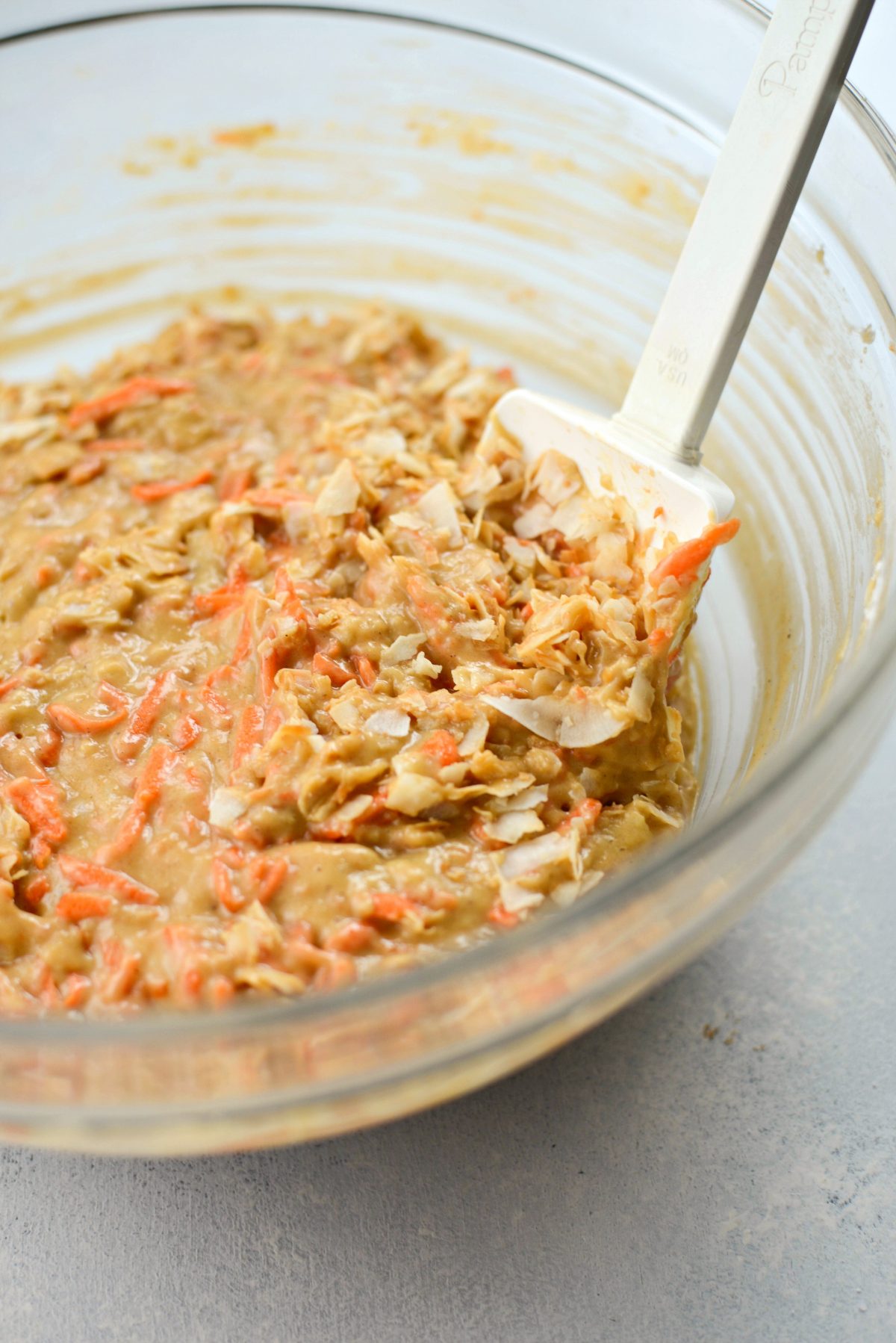 Lastly add in the 3/4 cup of toasted coconut and gently fold it into until combined. SO stunning.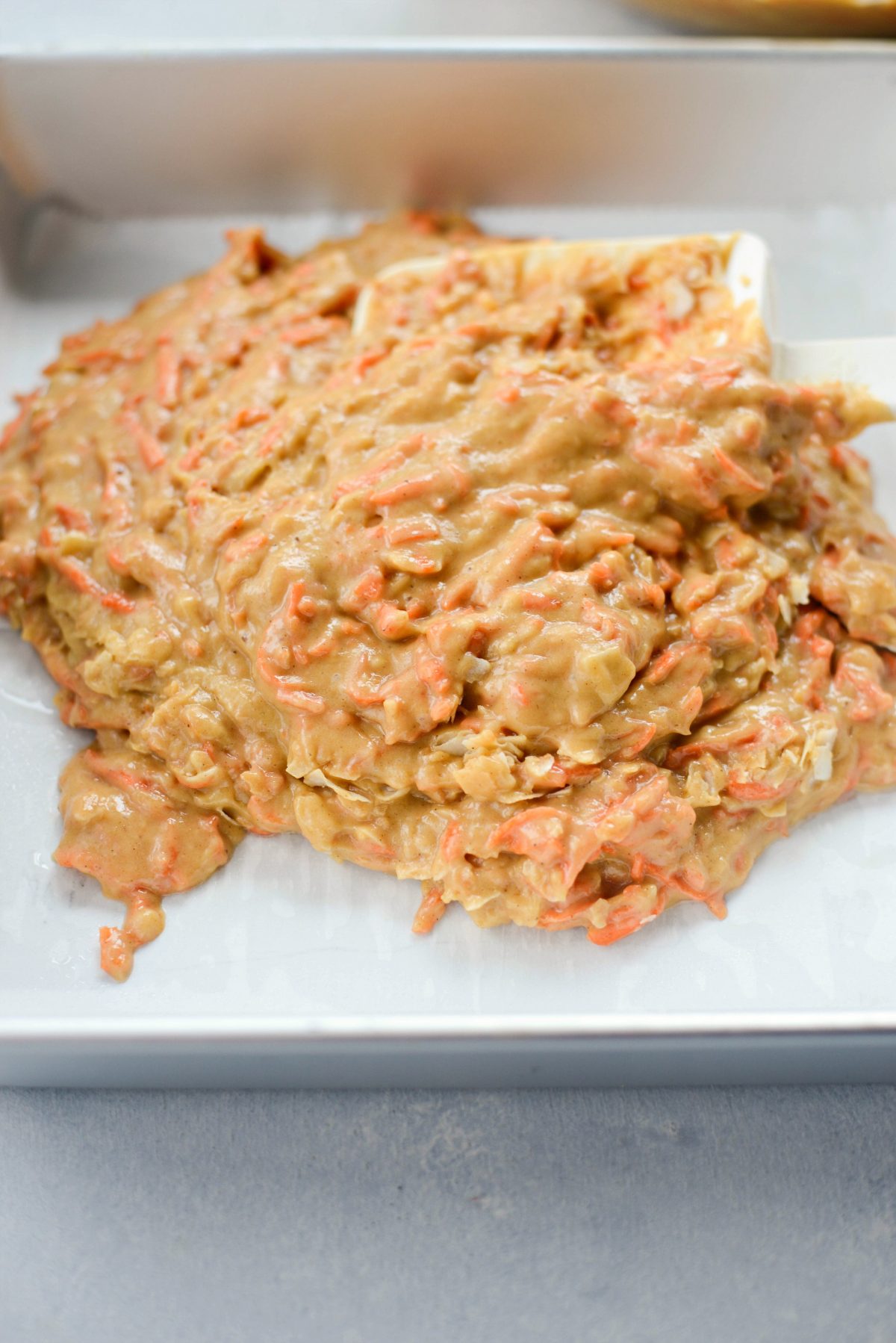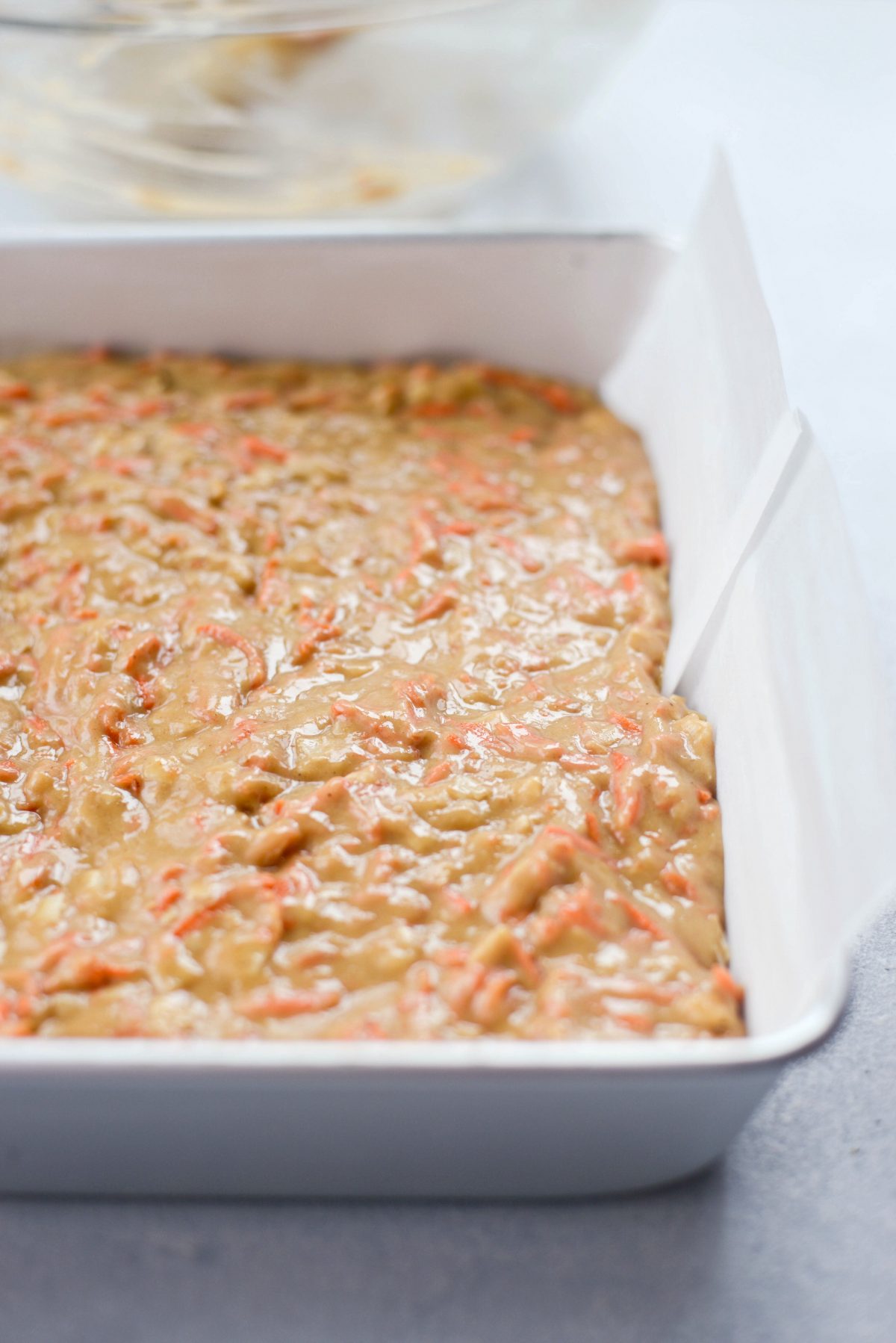 Finally, pour the cake batter into your prepared pan and bake on the middle or lower third of your oven (lower third, if you're oven is small like mine is) for 28 to 30 minutes or until a cake tester comes out with only a few crumbs (not batter) attached.
Allow the cake to cool for 20 minutes before using the parchment paper as handles and carefully lifting the cake out of the pan and onto a wire cooling rack. Cool completely.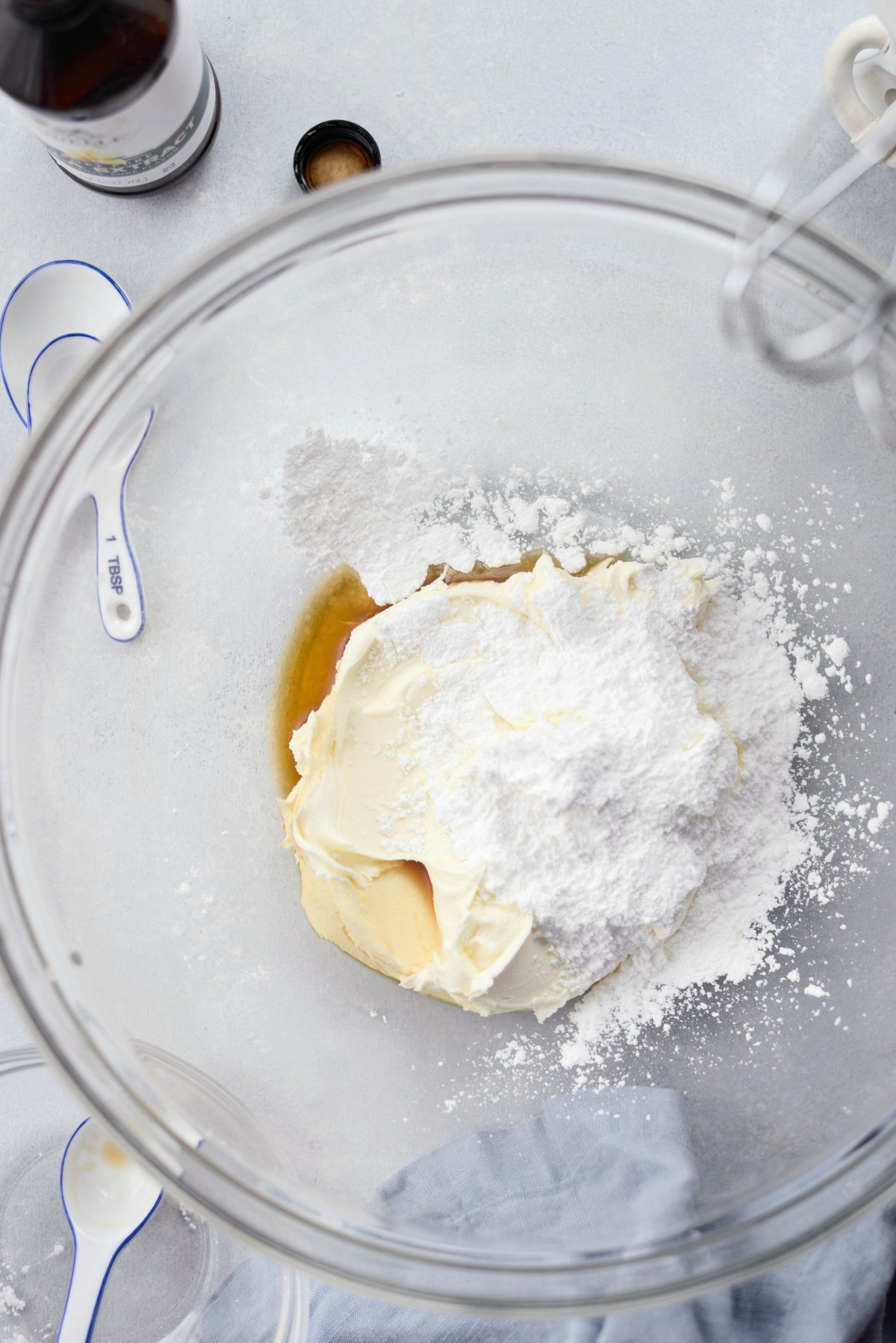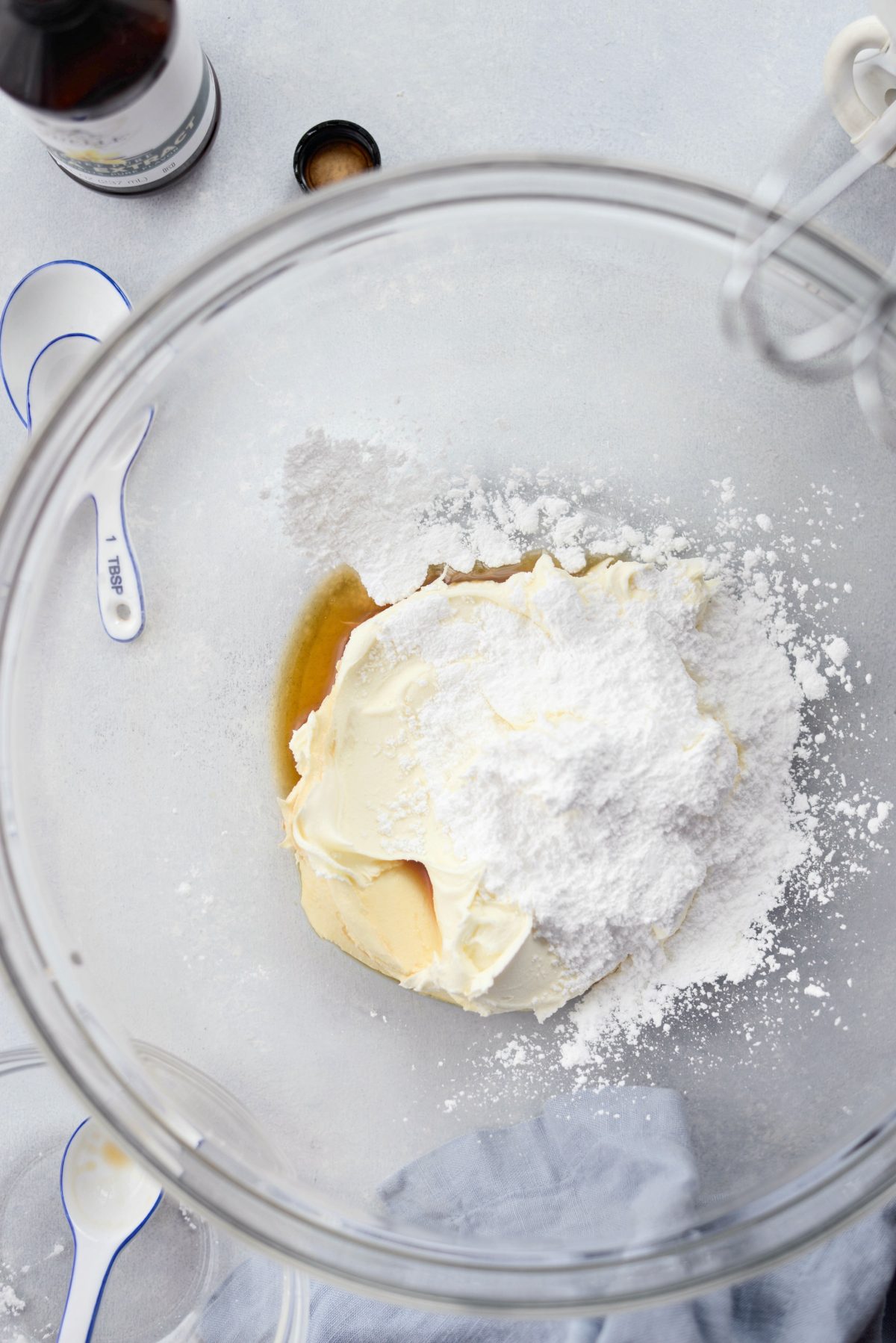 While the cake finishes cooling, make the frosting.
For The Mascarpone Frosting You Will Need:
mascarpone cheese
powdered sugar
vanilla
heavy whipping cream
In a large mixing bowl, combine 8 ounces mascarpone cheese with 1/4 cup to 1/3 cup (1/3 cup if you want it more on the sweeter side) of sifted powdered sugar and 1-1/2 teaspoons vanilla extract. Mix until combined and creamy smooth.
Next in a chilled bowl – I popped a bowl into the freezer when the cake came out of the oven- pour in 1 cup heavy whipping cream. With a hand mixer on low-speed whip the cream, you should start seeing lots of bubbles forming.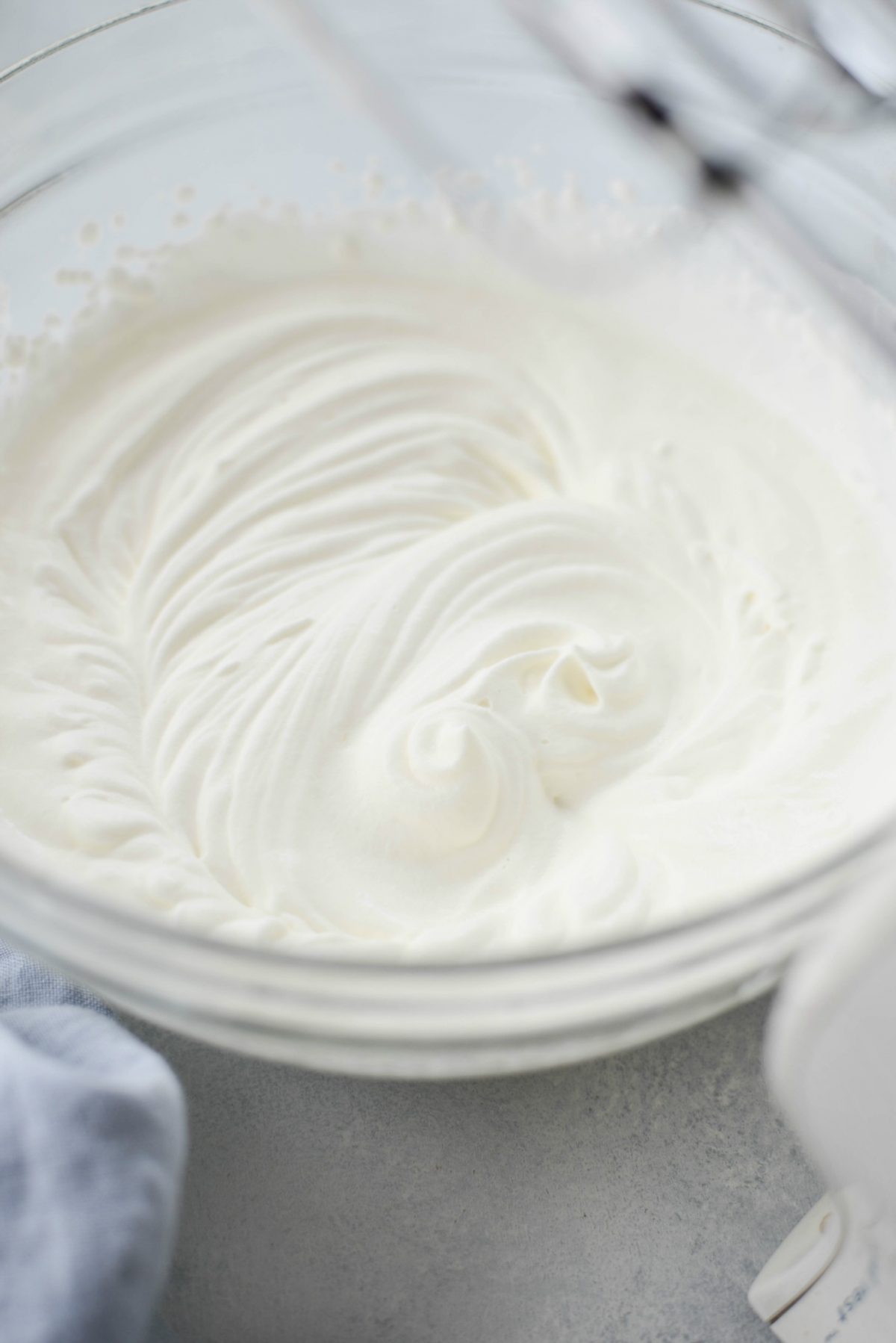 Next, slowly increasing the speed until you see soft peaks start to form.
Keep going, you're almost there!
Continue whipping the cream until you've reached ultimate stiff peak status.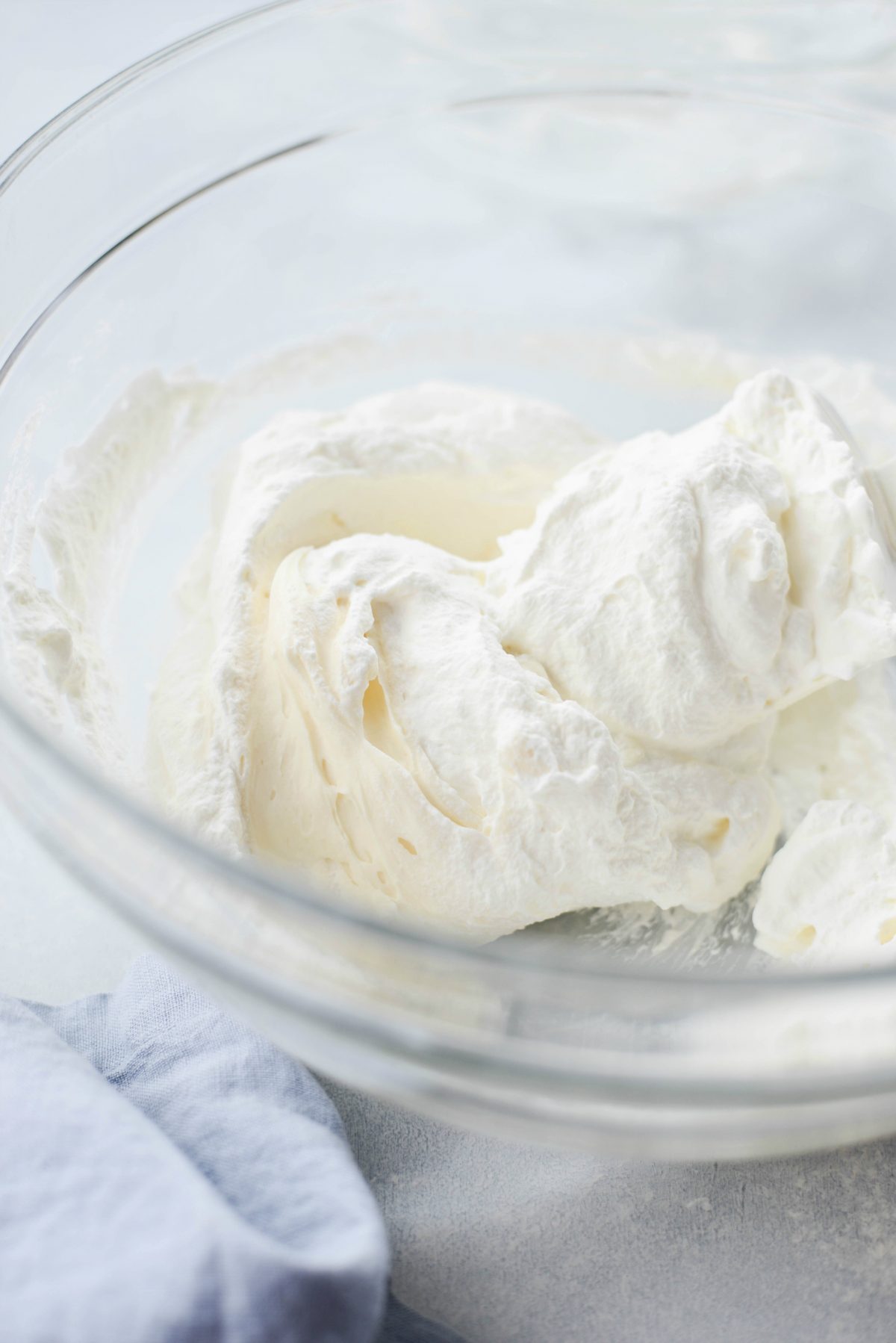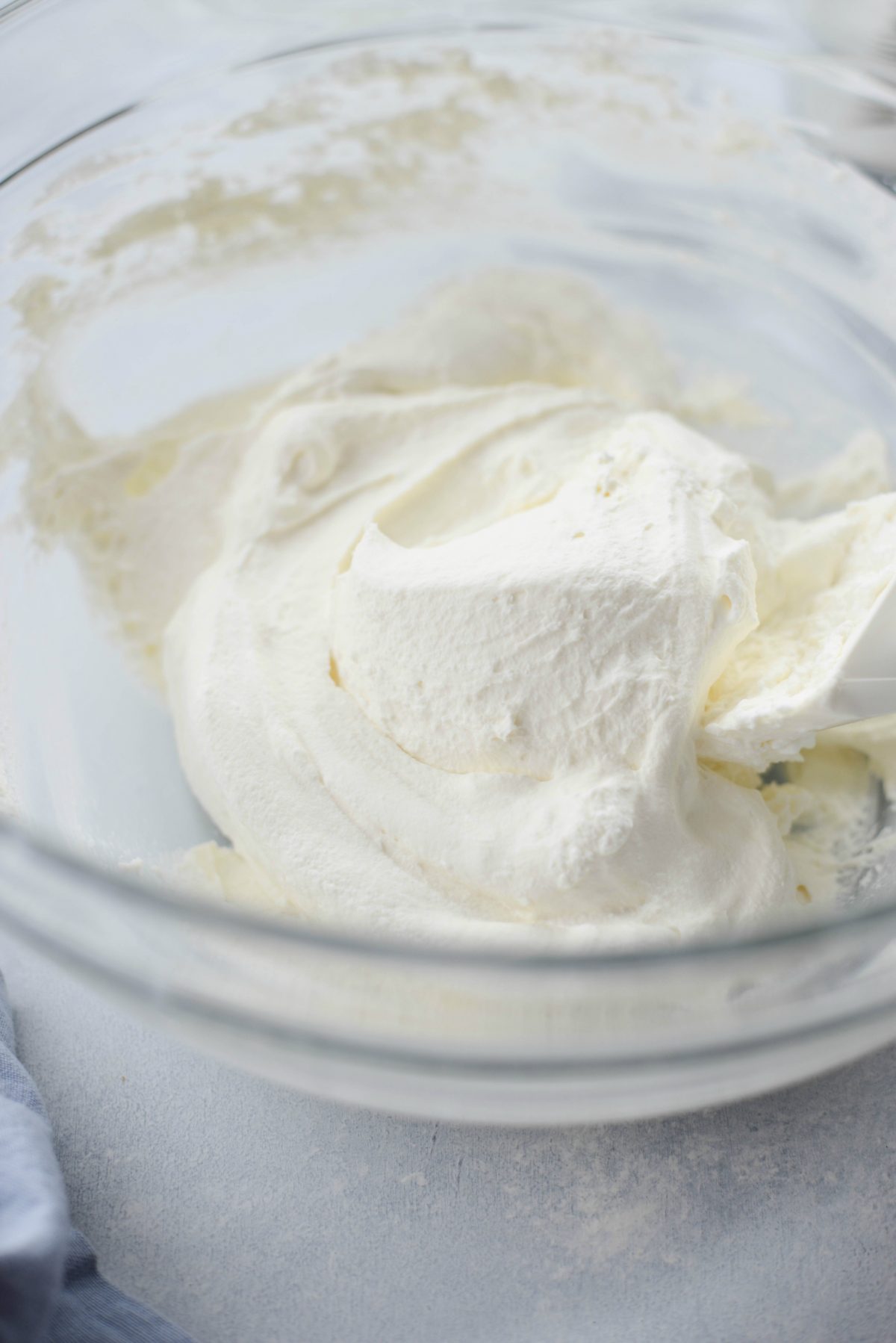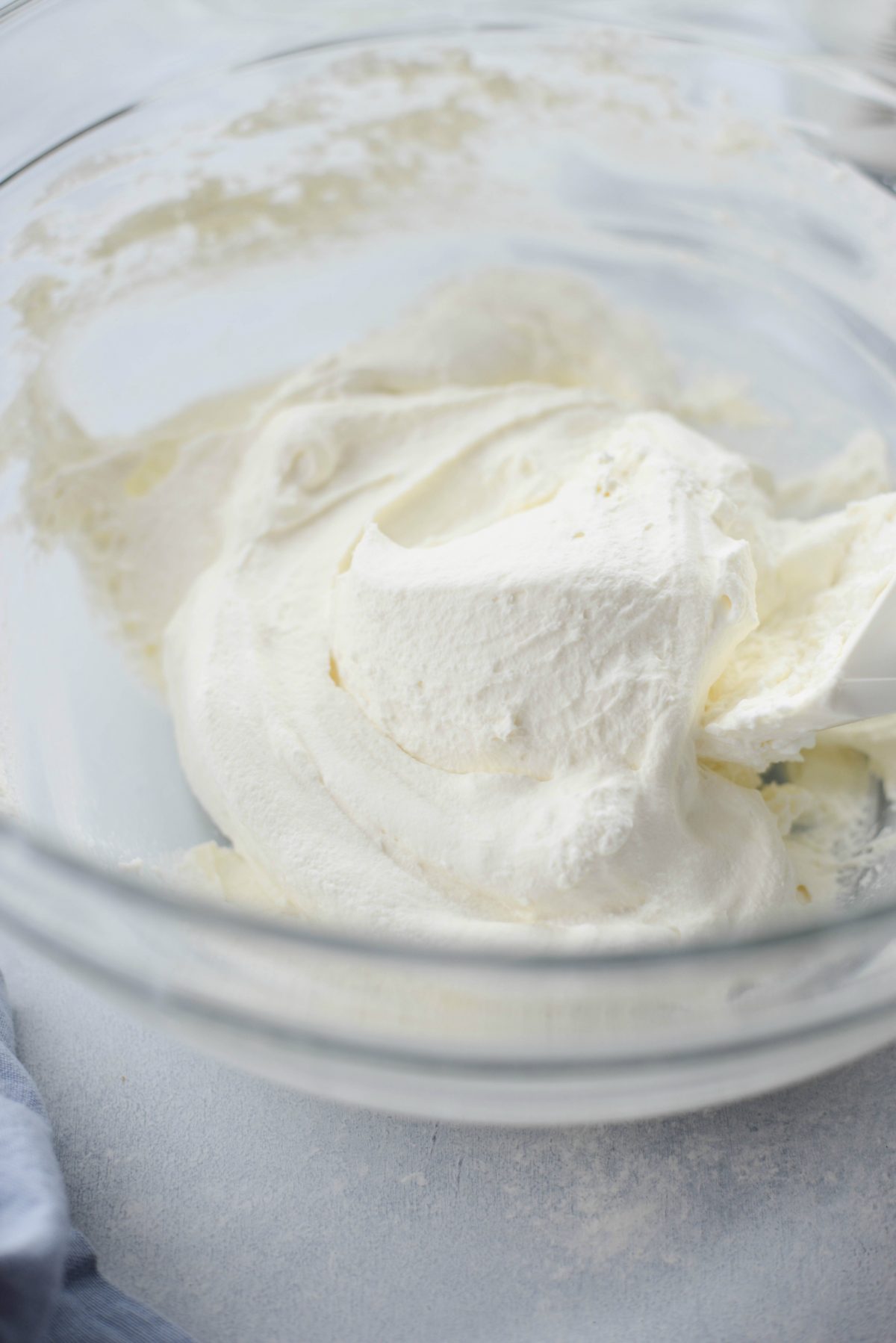 Lastly, add the whipped cream to the bowl with the sweetened mascarpone. Then using a rubber spatula, gently fold the cream into the mascarpone. Go slow, you don't want to deflate that fluffy cream!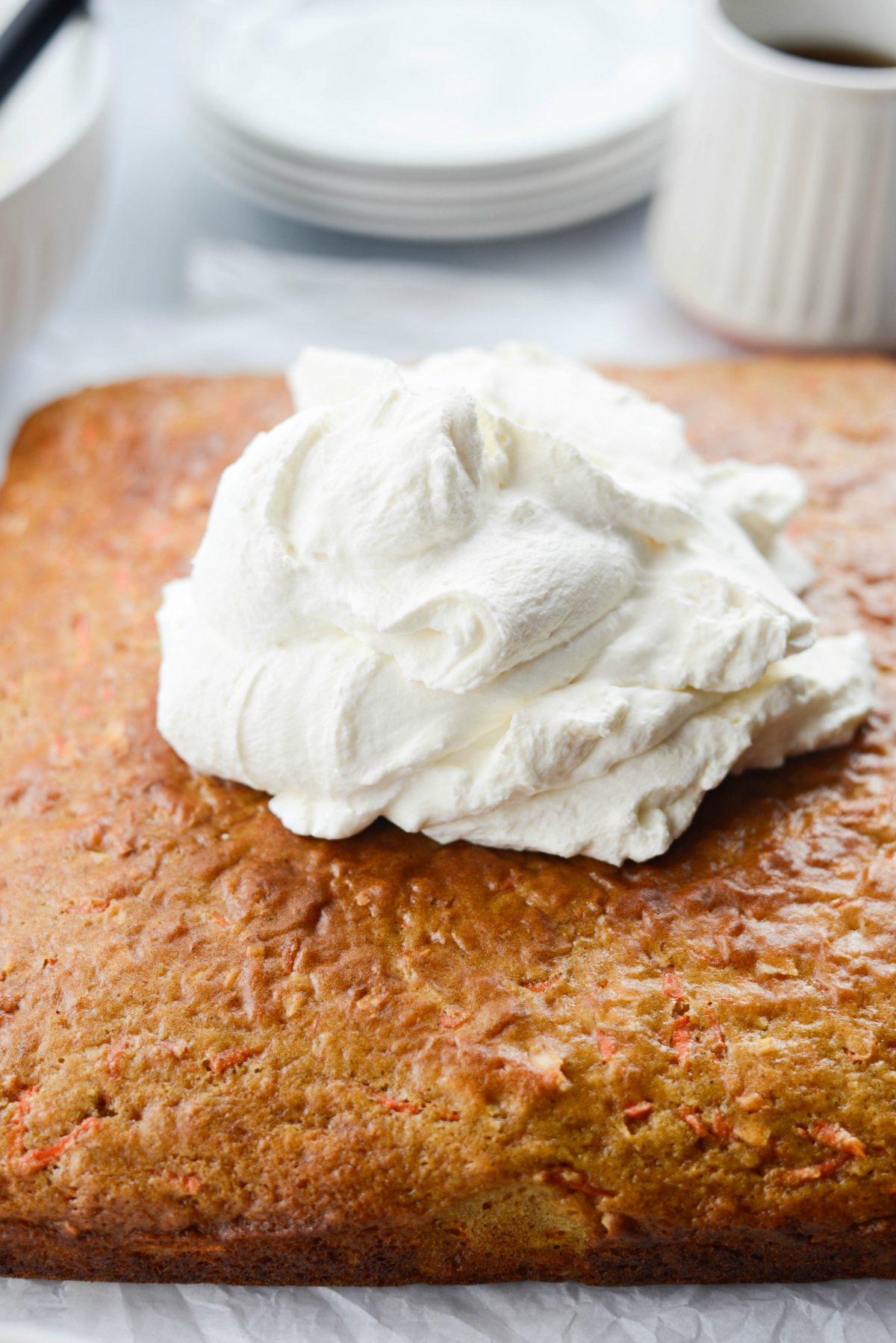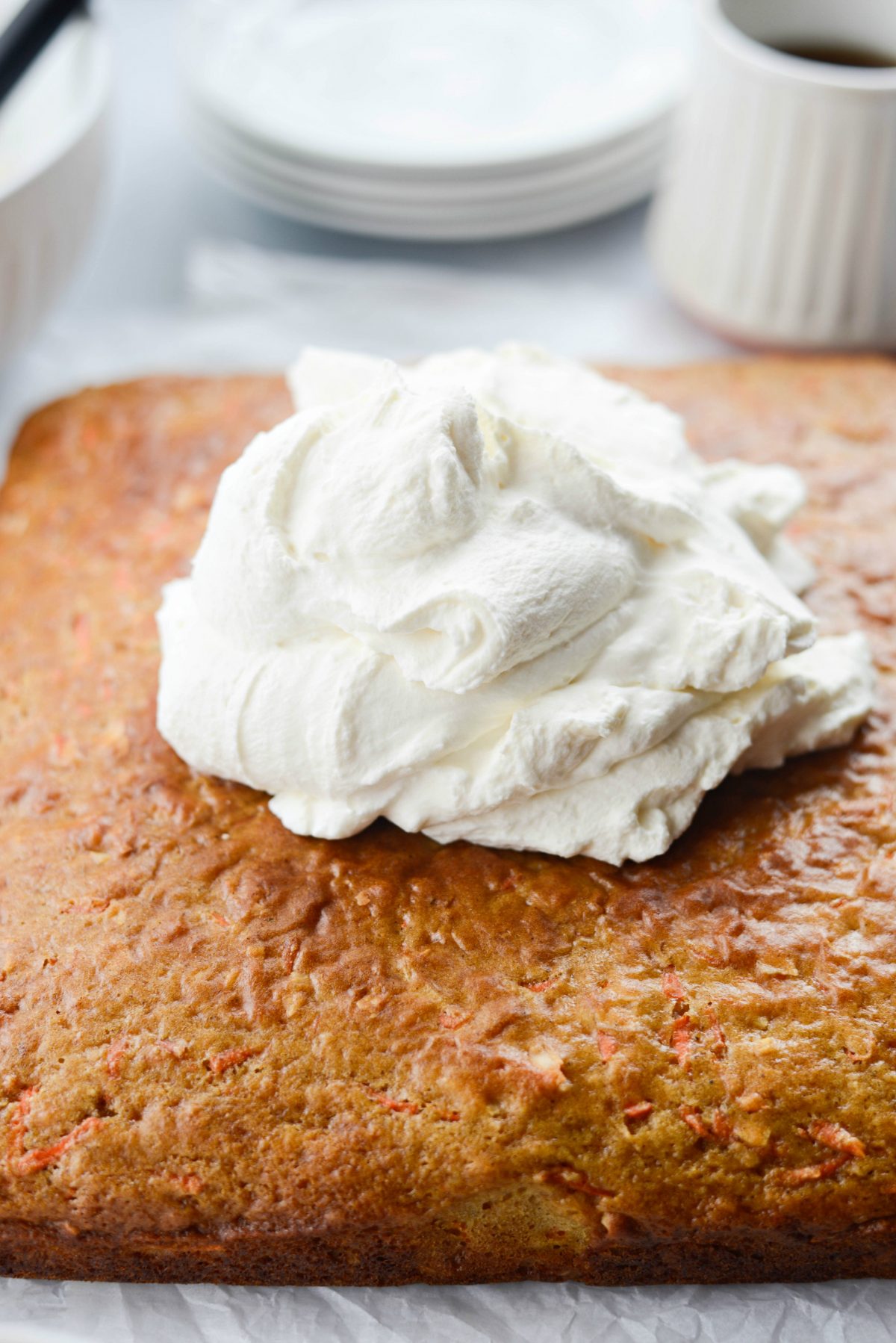 Finally, frost the cake and sprinkle with remaining toasted coconut.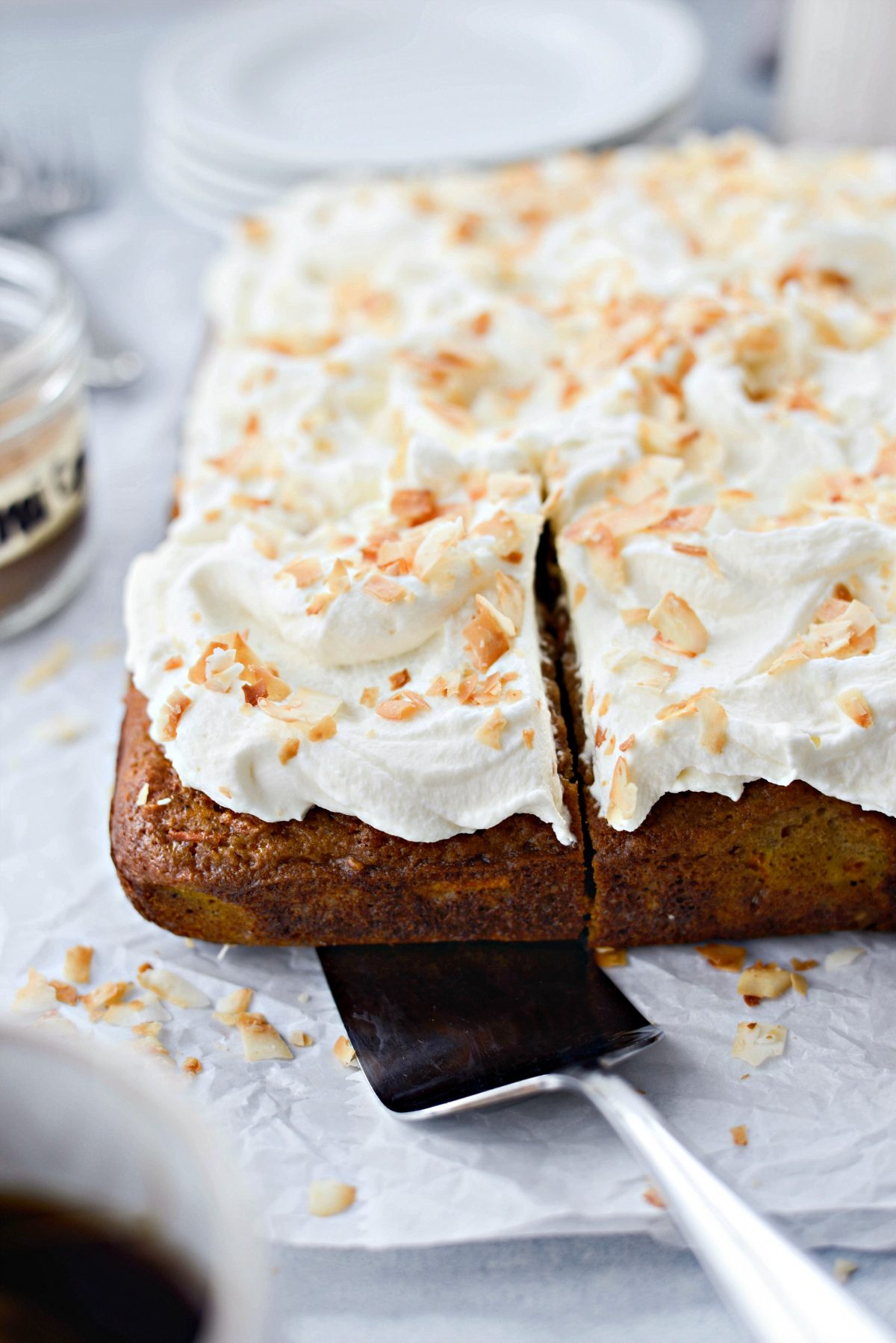 Cut, serve and devour!
My family LOVED the chai and toasted coconut combo! And the frosting added the perfect touch of creamy goodness.
This cake is delicious at room temperature but is even better chilled and with a hot cup of tea or coffee. Best dessert ever!
Now if you'll excuse me, the leftovers are calling my name. 🙂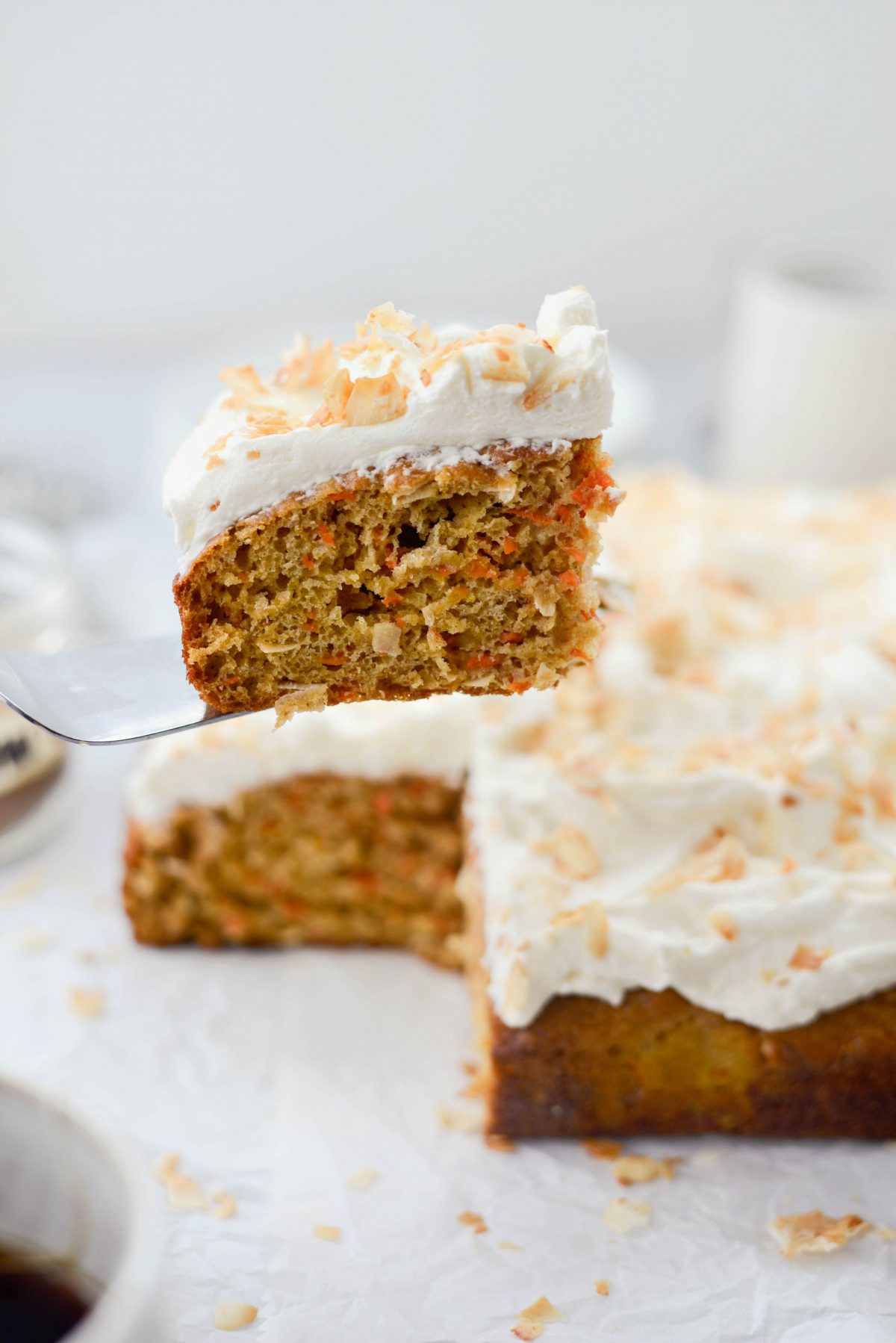 Enjoy! And if you give this Coconut Chai Carrot Cake recipe a try, let me know! Snap a photo and tag me on twitter or instagram!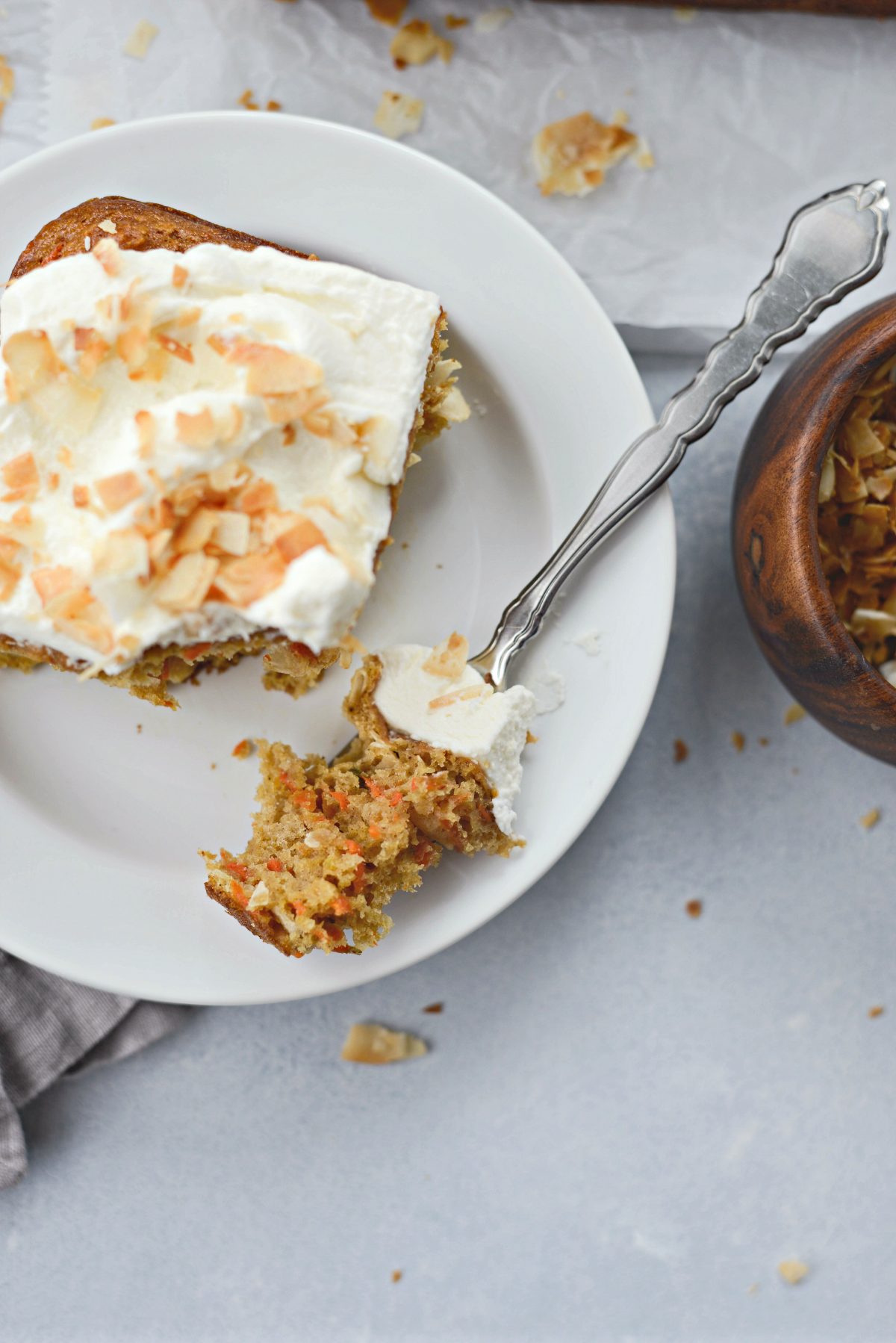 This post may contain affiliate links.
Buy the Cookbook: Simply Scratch : 120 Wholesome Homemade Recipes Made Easy Now available on Amazon »
THANK YOU in advance for your support!