Taqueria Style Pickled Jalapeños are perfect for your nachos, tacos or fajitas and more! Onion and garlic are sautéed with Mexican oregano and whole spices, then mixed with fresh jalapeños and carrots in a simple vinegar brine.
Taqueria roughly translates to a Mexican restaurant and if you've ever set foot into a Mexican restaurant and ordered anything that comes with a plate of toppings, there's a good chance you've experienced these taqueria pickled jalapeños with carrots and onions.
I love them.
When we go out for Mexican, I either order the fish tacos or the steak fajitas. Every time. The fajitas always come with a plate of beans and rice, and a small plate with lettuce, Monterey Jack cheese, pico de gallo, and a pile of their taqueria pickled jalapeños. And I never have enough on my toppings plate. My girls happily let me pick them off their plates and add them to mine. They're spicy and pickled and add so much flavor to my fajitas.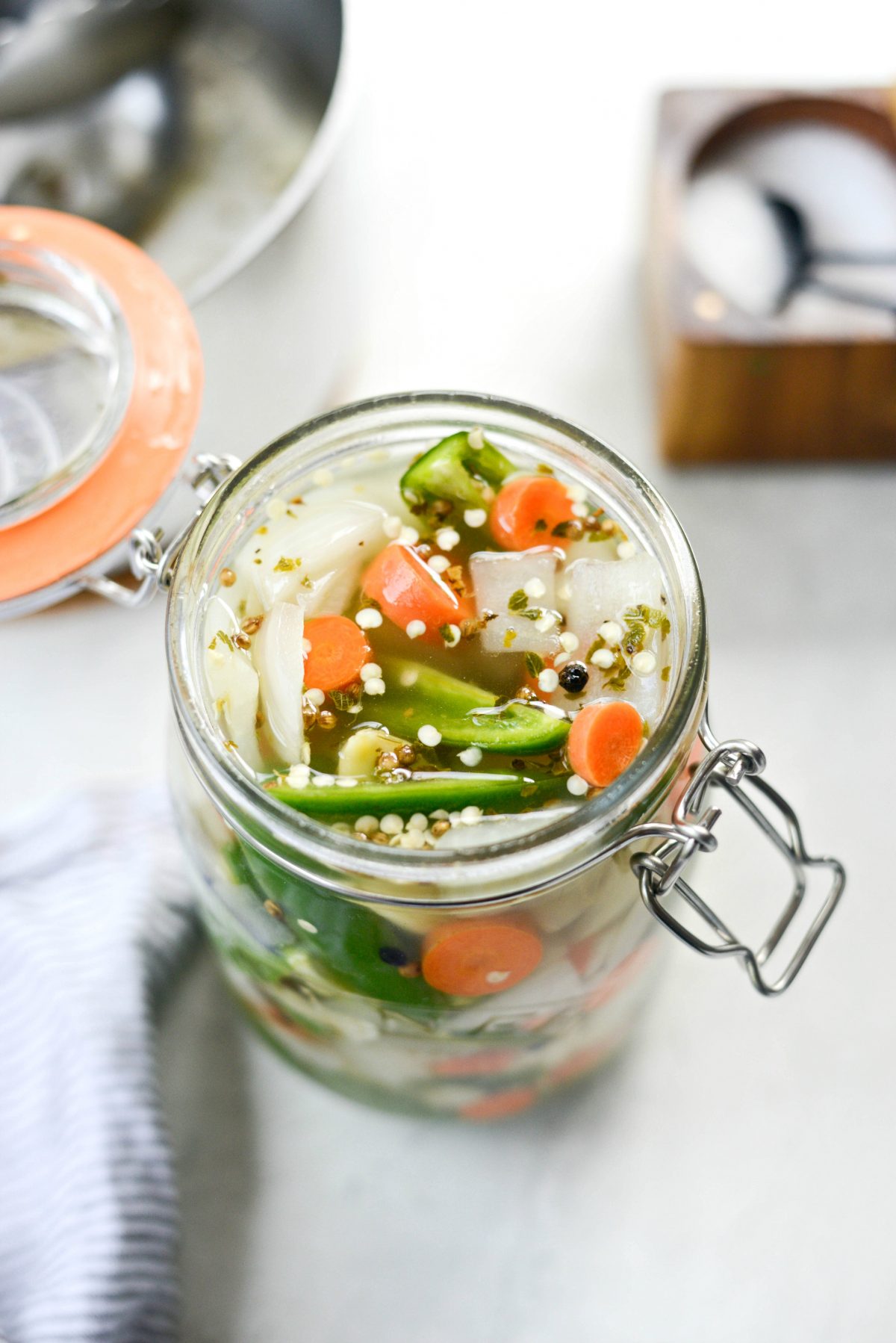 It's summer and by now your garden may be bursting with jalapeños. If you've made my pickled jalapeños and maybe want to try something new, give these a go!
To Make These Taqueria Style Pickled Jalapeños You will need:
jalapeños
carrots
olive oil
onion
garlic
whole black peppercorns
Mexican oregano
whole cumin seed
whole coriander seeds
bay leaves
kosher salt
distilled white vinegar
water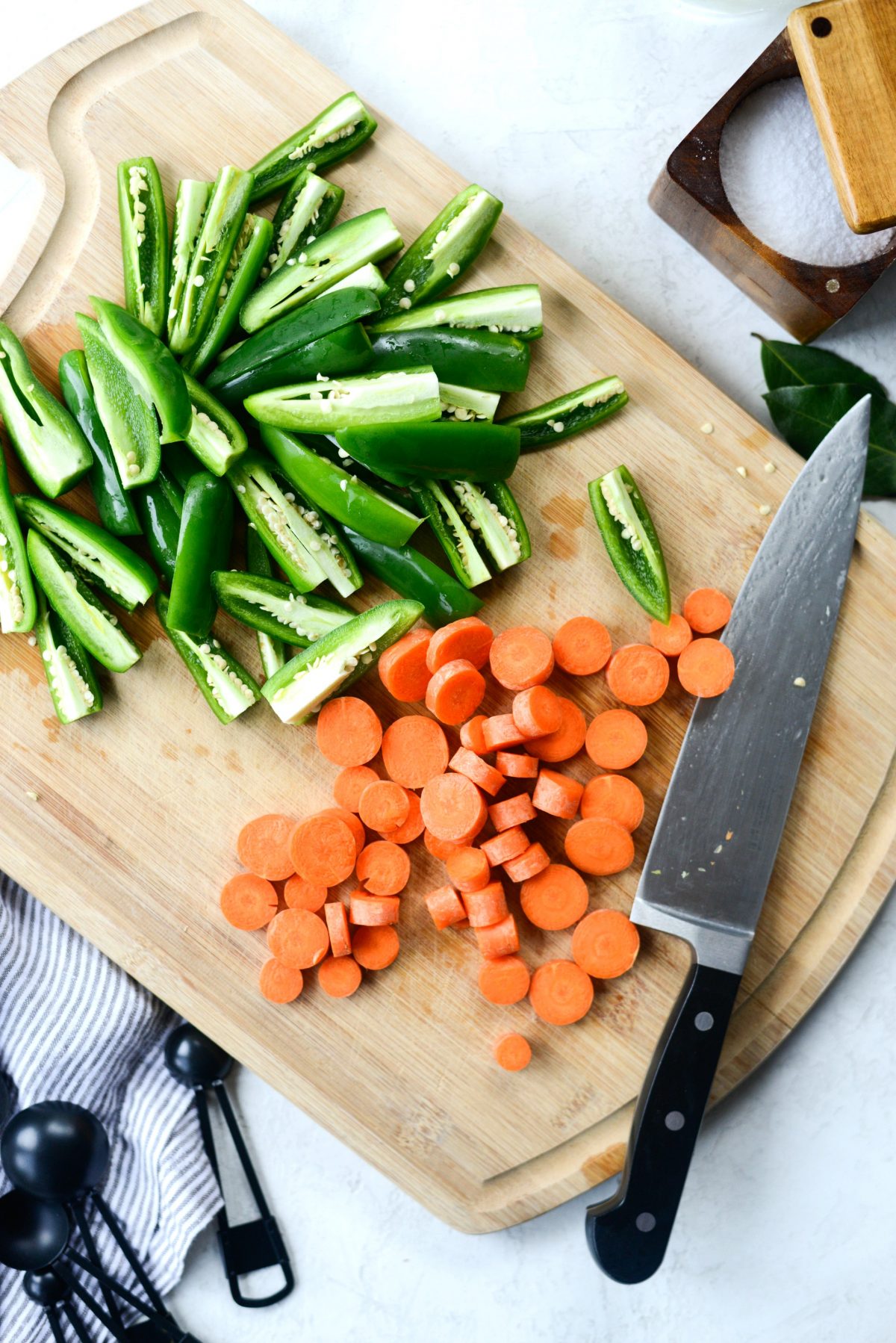 Start by trimming off the stems of 12 to 14 jalapeños and quarter them lengthwise and slice both of the carrots into coins.
Heat 2 teaspoons of olive oil in a medium sauce pan on medium to medium-low heat. Add in one diced onion, 6 cloves smashed garlic, 1 teaspoon peppercorns, 3/4 teaspoon Mexican oregano, 1/2 teaspoon each whole cumin seed and coriander seed. Stir and sauté for 8 to 10 minutes or until the onions are soft and the spices aromatic. This is important because this is where the flavor begins!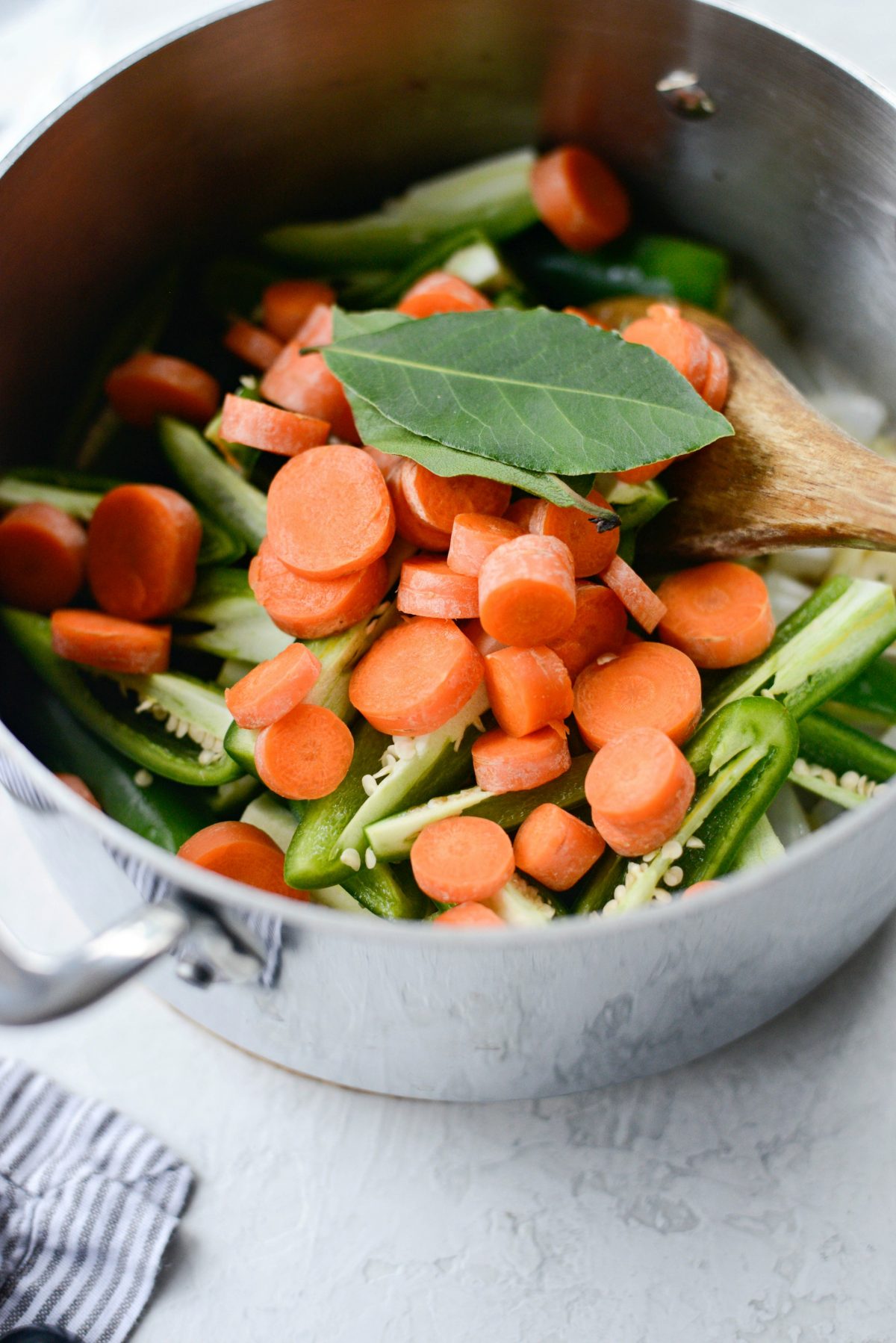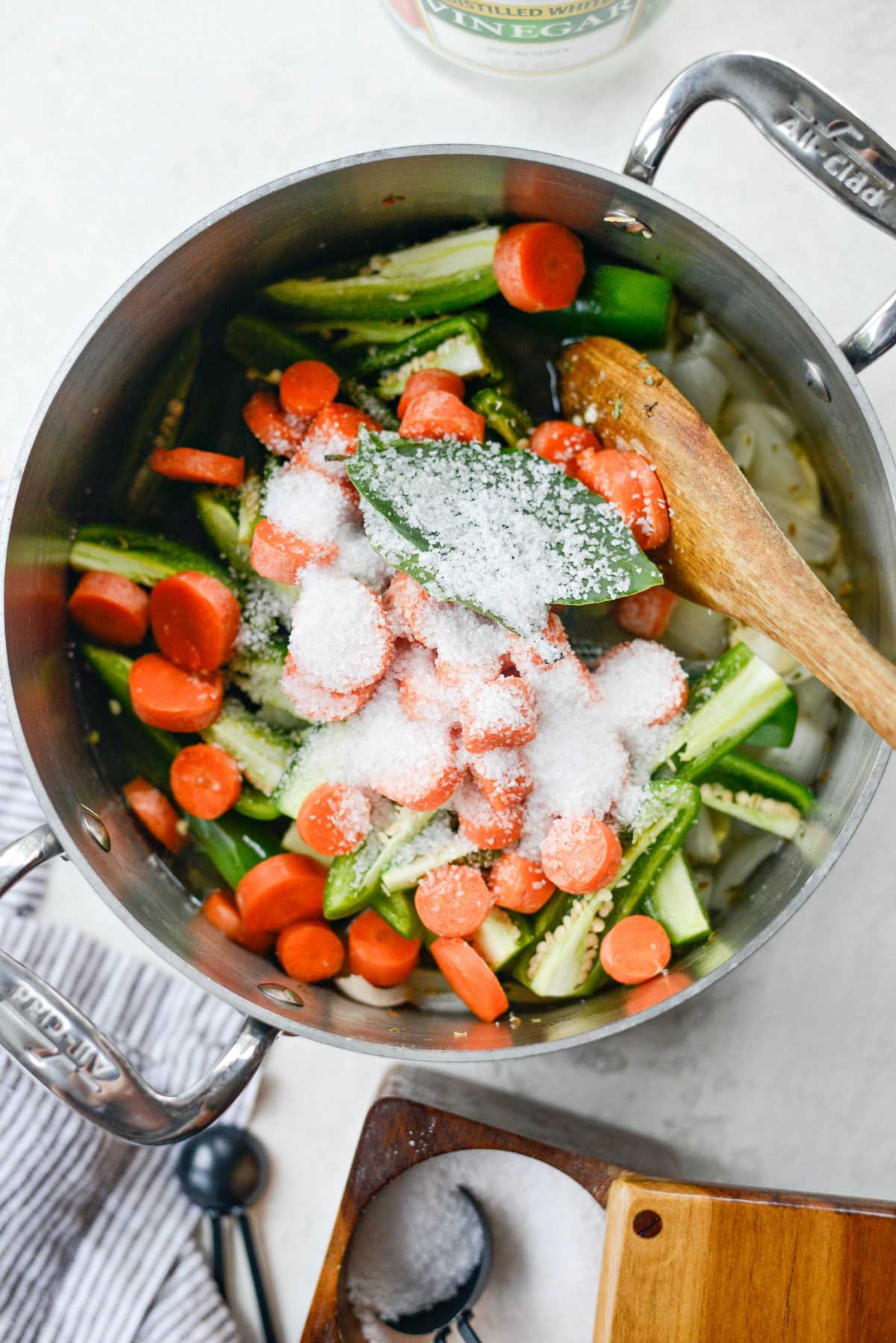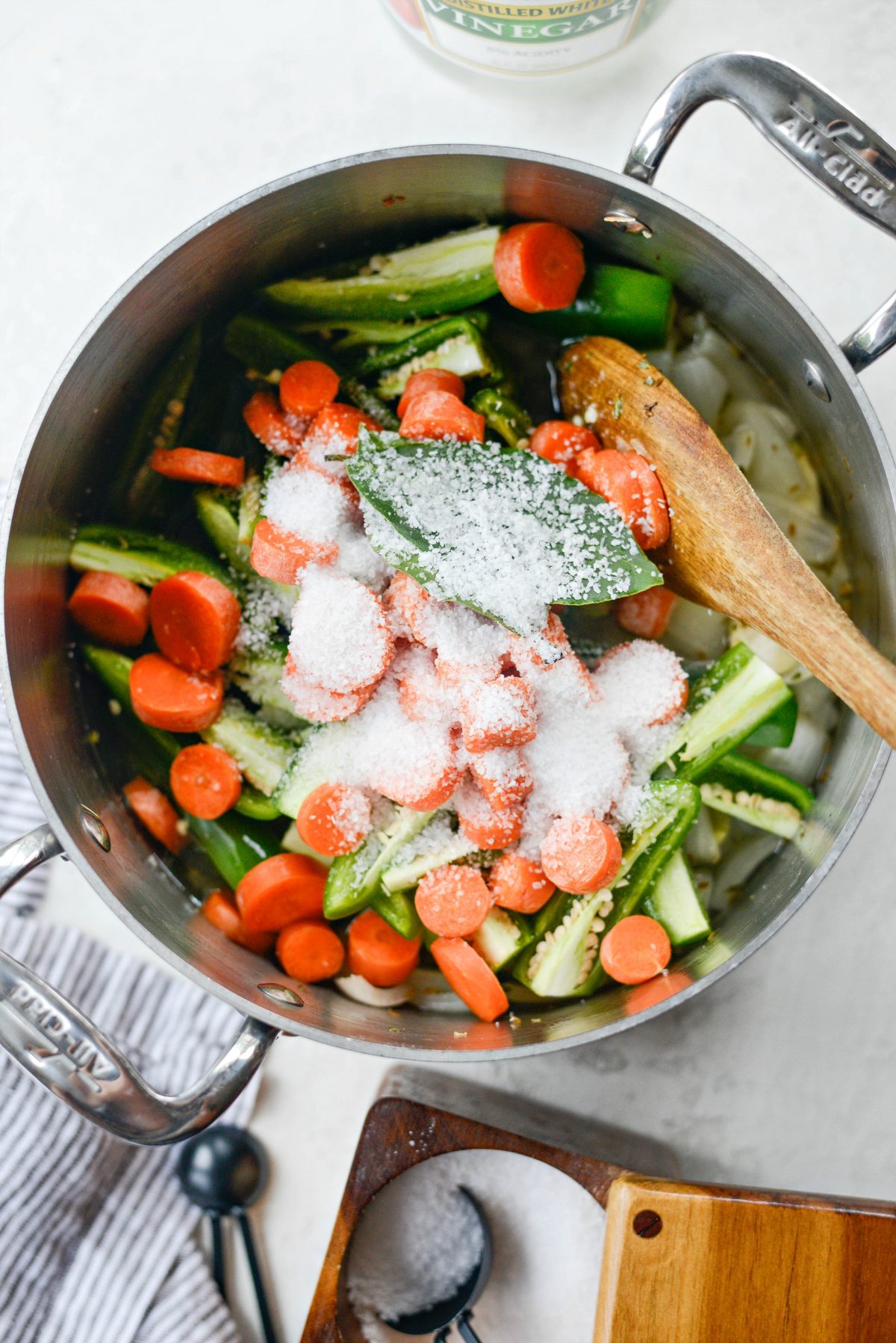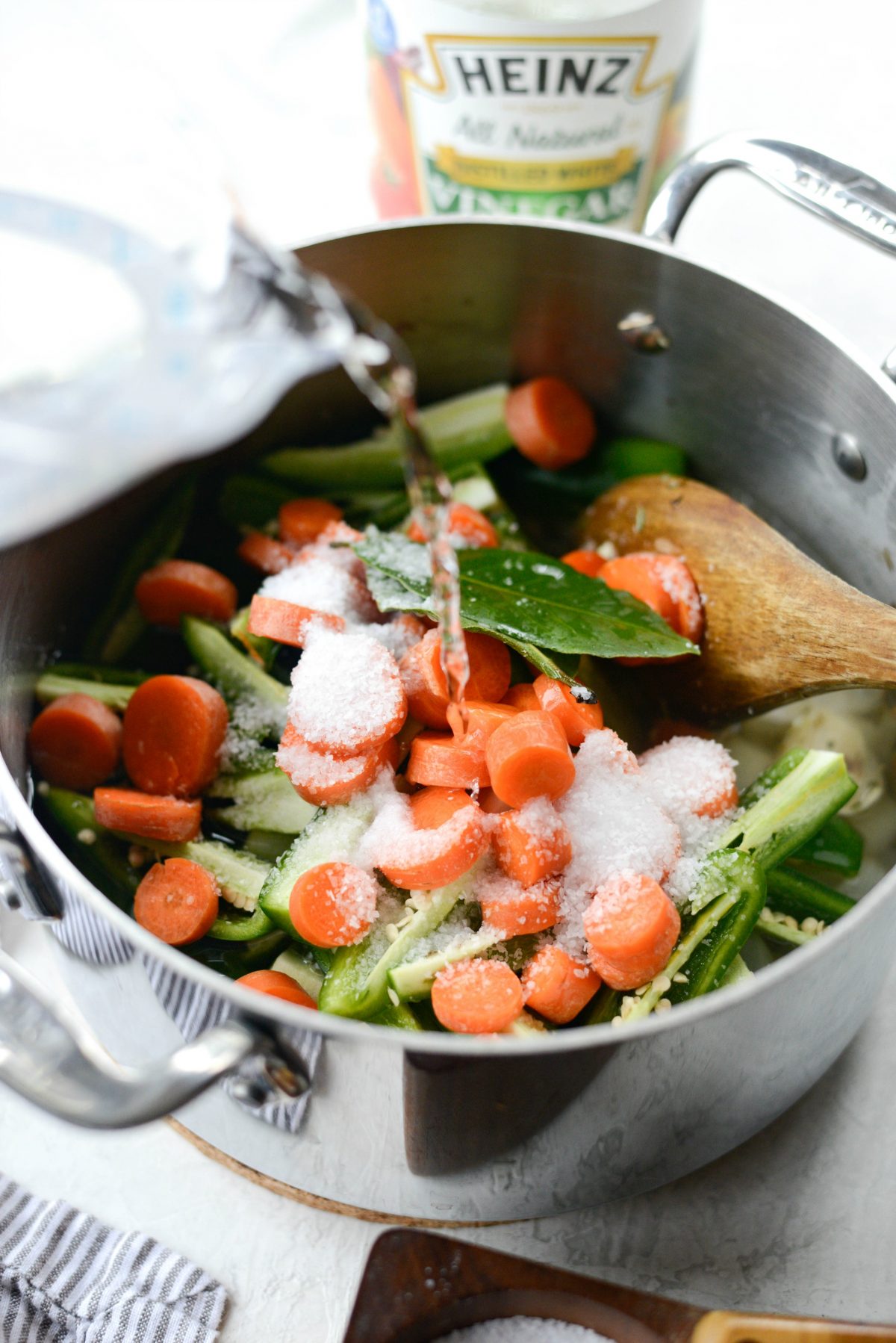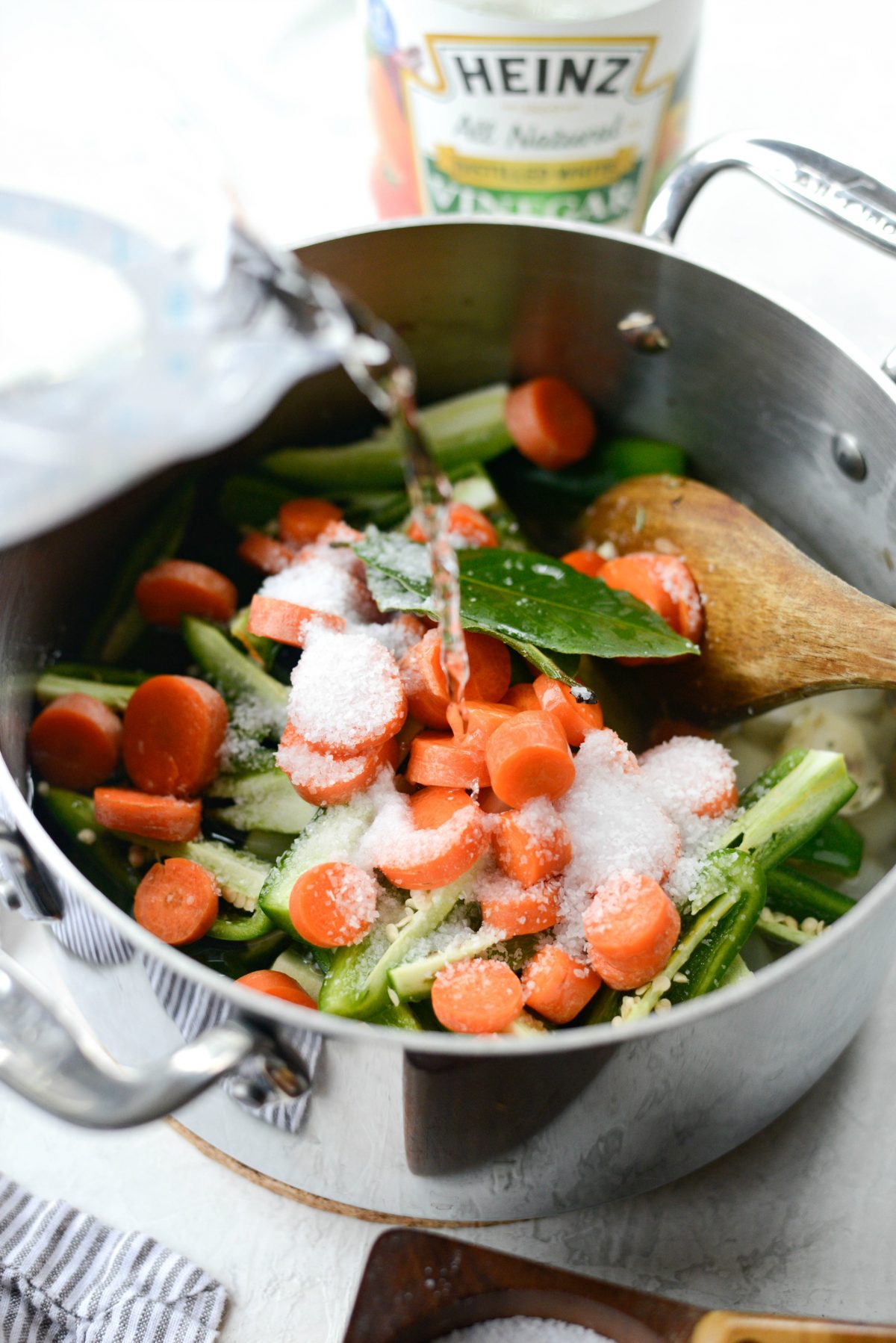 Once the onions are soft, add in the jalapeños, carrots, 2 bay leaves and 2 tablespoons kosher salt. Next pour in 1-1/2 cups vinegar and 1 cup water.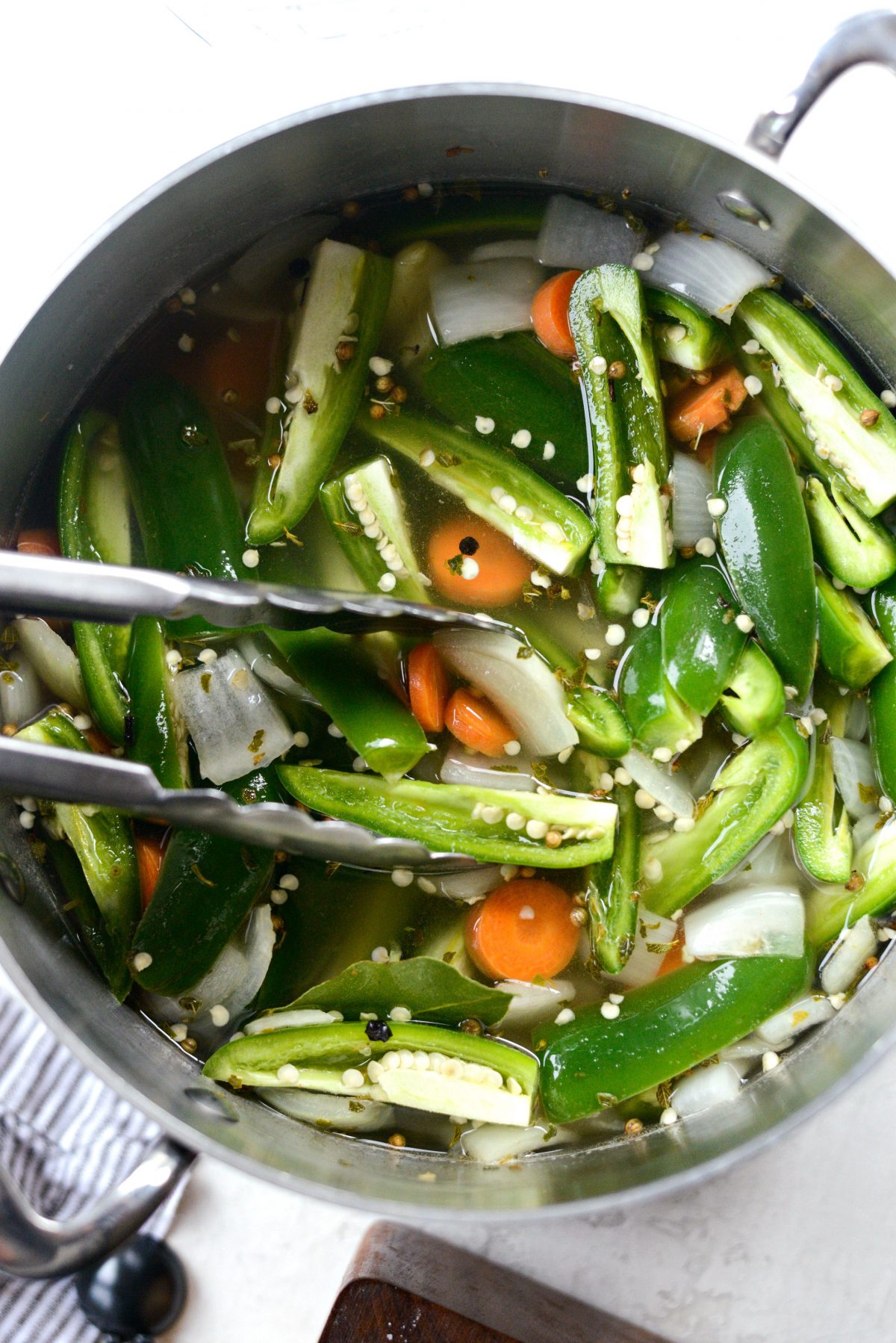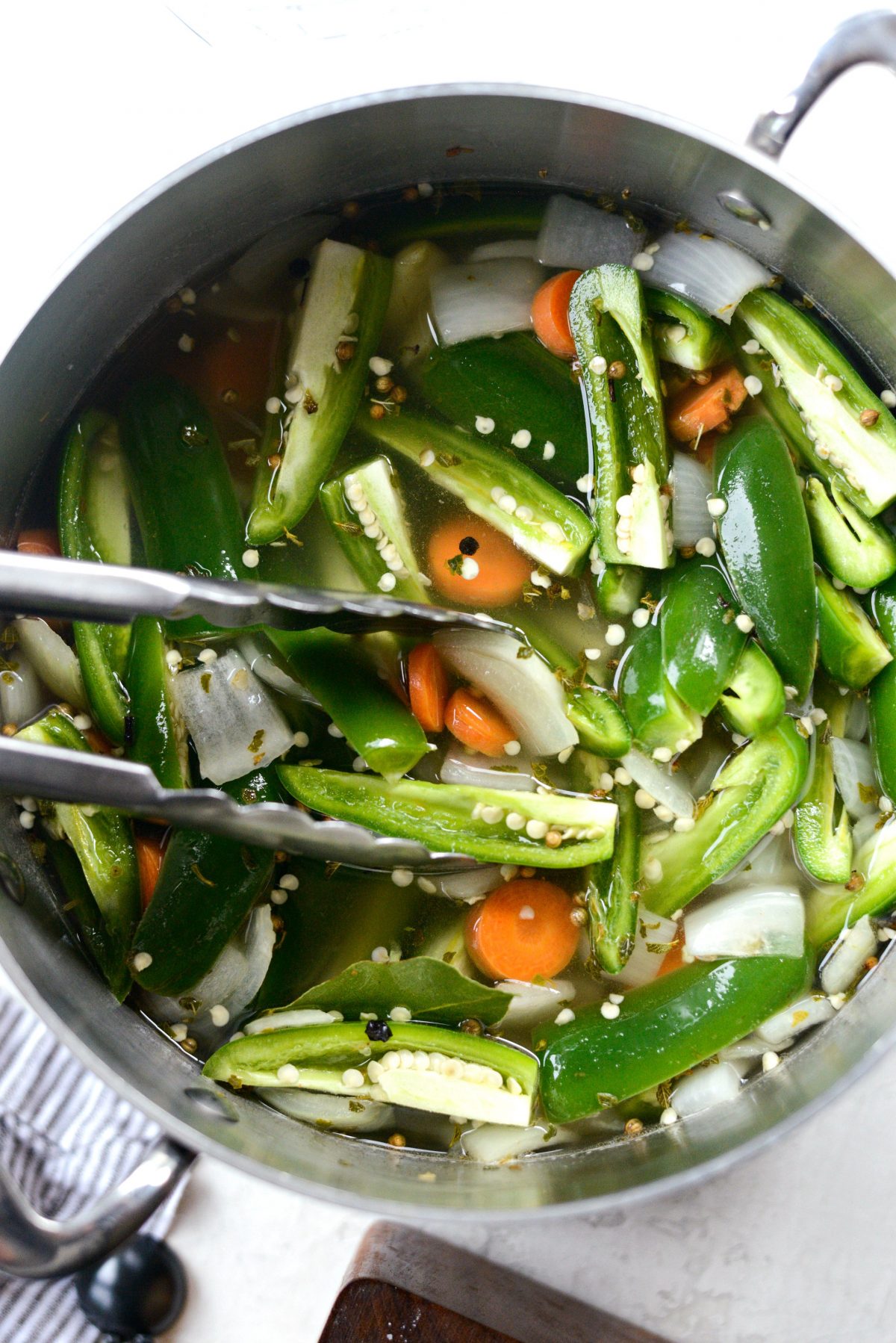 You can now do one of two things.
For softer or "cooked" pickled jalapeños and carrots, return the pan back to the heat and simmer for 10 to 15 minutes. Once the jalapeños are a dull green, use tongs and and transfer the veggies to a jar, before pouring the brine overtop. Allow to cool before storing in your fridge.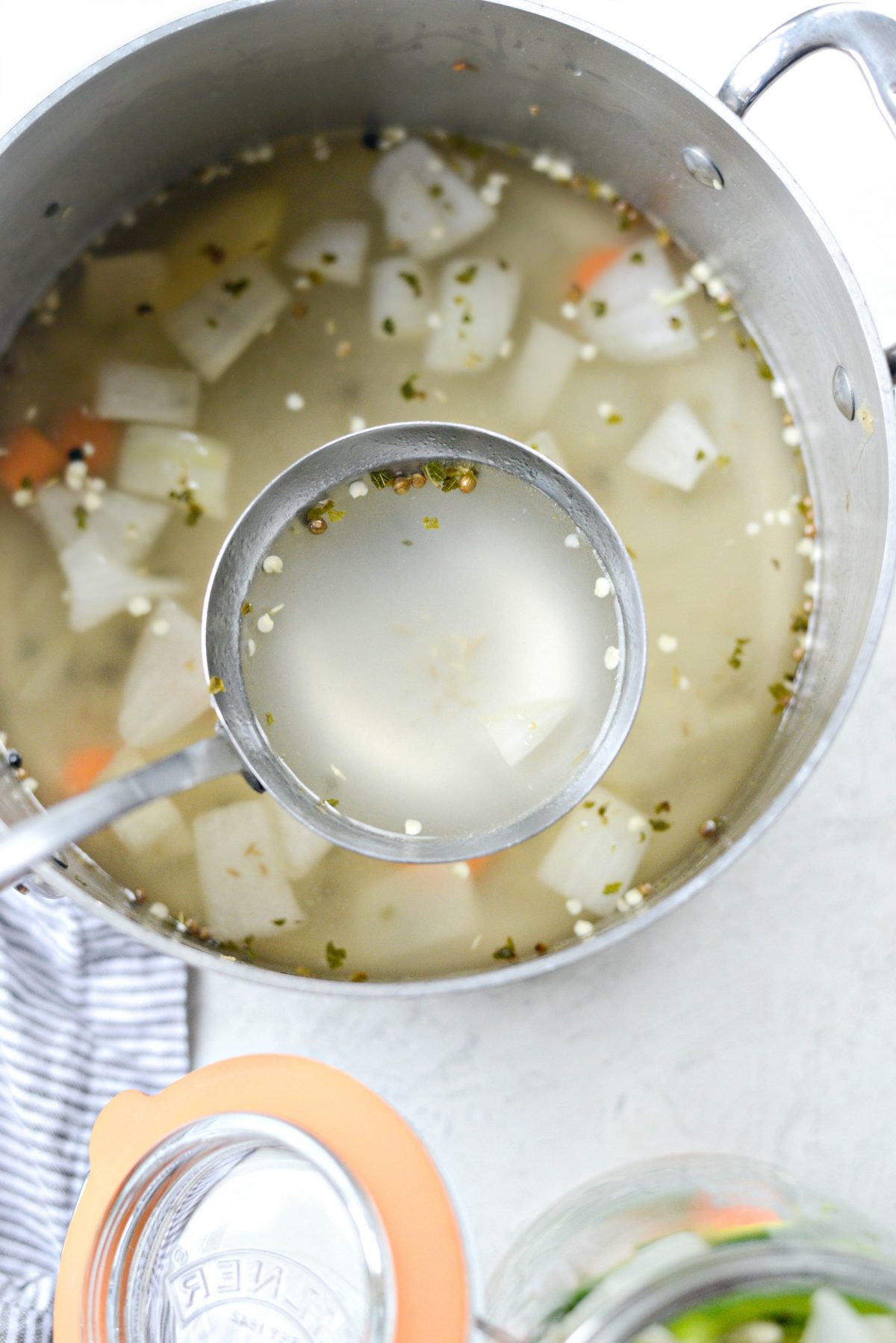 Or for crunchy or more "raw" pickled jalapeños (this is what I did for mine), follow all of the steps above but remove the pot off of the heat before adding the jalapeños, carrots, bay leaf and salt. Then pour the vinegar and water over top, stir and soak the jalapeños and carrots in the cool liquids for 10 minutes (off of the heat). Use tongs and and transfer the veggies to a large jar, before pouring the brine overtop.
Allow to cool before storing in your fridge.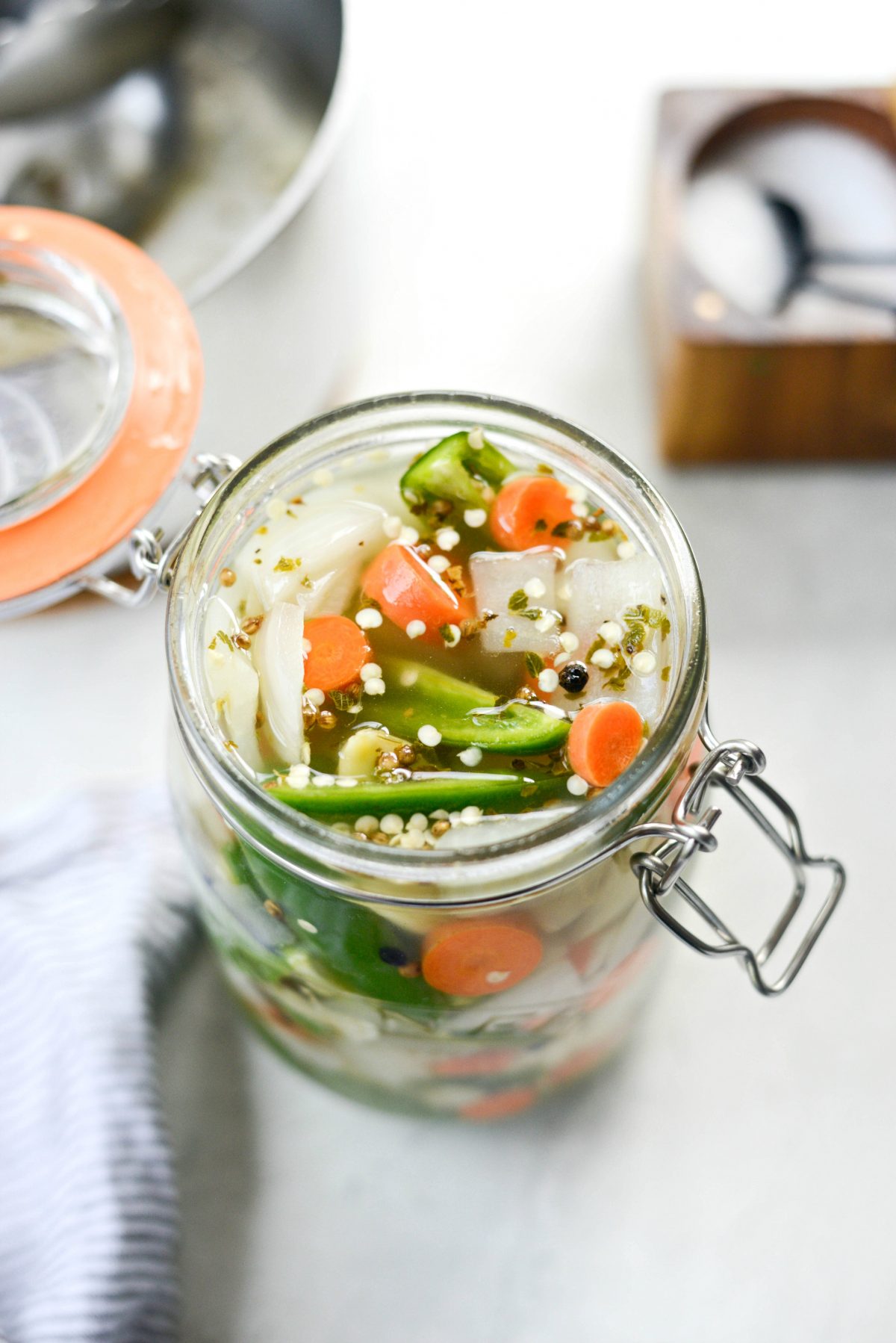 Lastly, close the jar and refrigerate until ready to use. For this recipe, I use a 34 ounce jar.
This is not a canning recipe. I still, after 8 years of blogging, have not learned to can. With that said, I personally would treat these taqueria style pickled jalapeños as I would any opened jar of jalapeños. They should last a long while if kept refrigerated in the airtight jar.
Now about these jalapeños, carrots and onions. First of all, these babies are deliciously spicy! Pat and I may or may not sit around and eat them straight out of the jar. The dried herbs and spices MAKE this recipe what it is. The flavor is simply out of this world! But just know, if your peppers are crazy hot, the heat will mellow out the longer they are in your fridge. If they last long, that is.
Enjoy! And if you give this Taqueria Style Pickled Jalapeños recipe a try, let me know! Snap a photo and tag me on twitter or instagram!
This post may contain affiliate links.
Buy the Cookbook: Simply Scratch : 120 Wholesome Homemade Recipes Made Easy Now available on Amazon »
THANK YOU in advance for your support!