Can we please talk about the beauty that is this strawberry goat cheese salad?
The color! That texture! And most importantly the goat cheese!!!!!
This is the simplest of salads. With ingredients like romaine lettuce, strawberries, marcona almonds (my favorite!! and I find them at Costco), goat cheese and fried quinoa. Even the dressing is crazy easy and only 4 (yes 4!) ingredients. There's not a whole lot of fuss, which I like. The most involved this recipe gets is with the quinoa. Using leftovers from dinner the night before does take out a step, but really it doesn't take all that long.
The whole thing looks like spring in a bowl. I love salads like this! And the strawberry-almond-goat cheese combo is one of my new favorites. My husband and kids? Not so much. But I'm still working with them on the whole strawberries-can-be-in-savory-salads campaign. In the meantime, more for me.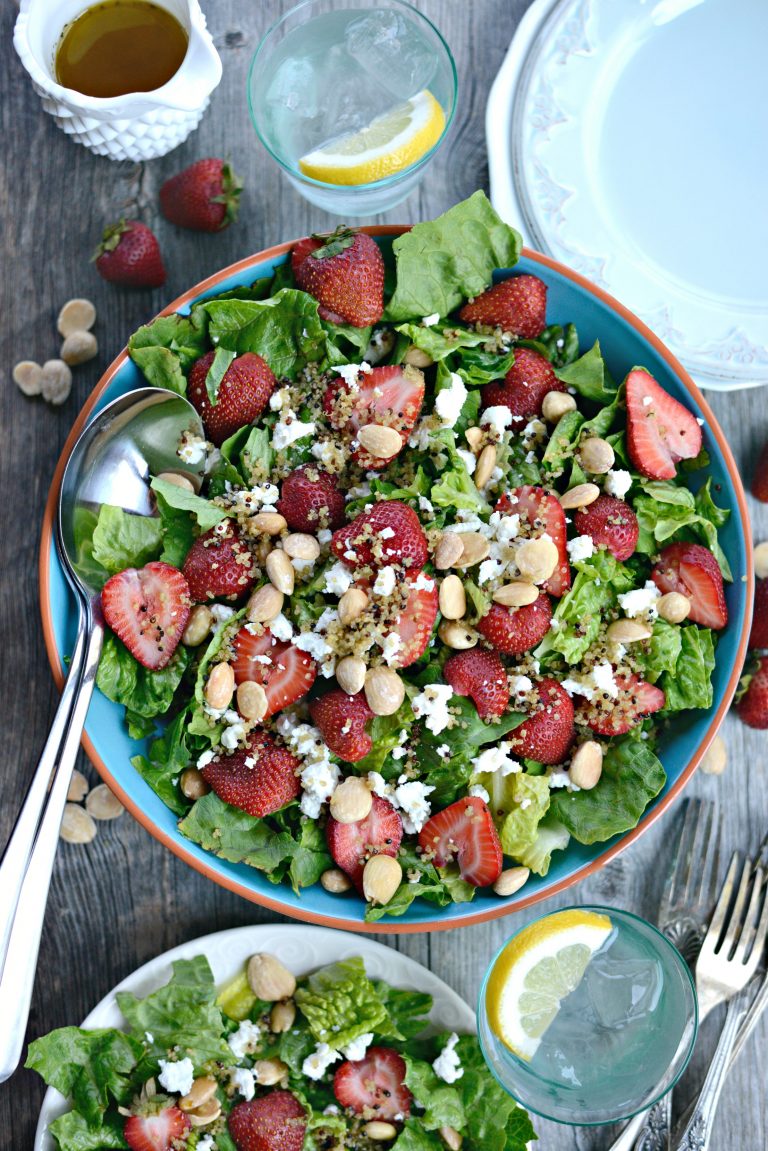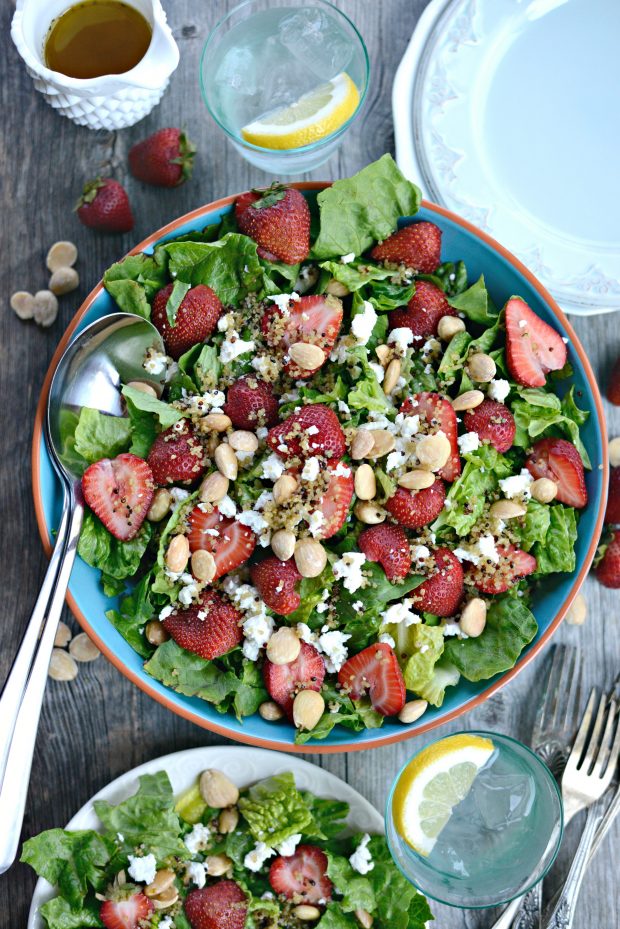 With no further ado, I'd like to introduce to you the springiest salad that ever was.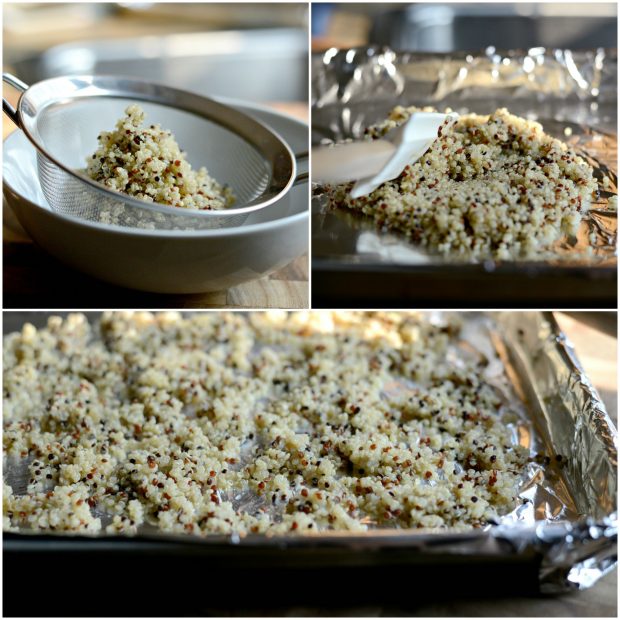 To make the fried quinoa, I just stirred in 1/4 cup of quinoa medley (white, red and black- but any color quinoa works just fine) to about a 1/2 cup of boiling water. Covered, killed the heat and set the timer for 15 minutes. Once the quinoa was cooked, I drained off any water and spread it out onto a pan to cool for about 30 minutes.
I lined my pan with foil, to avoid any chance of it sticking as it cooled and dried. Plus it's easy cleanup.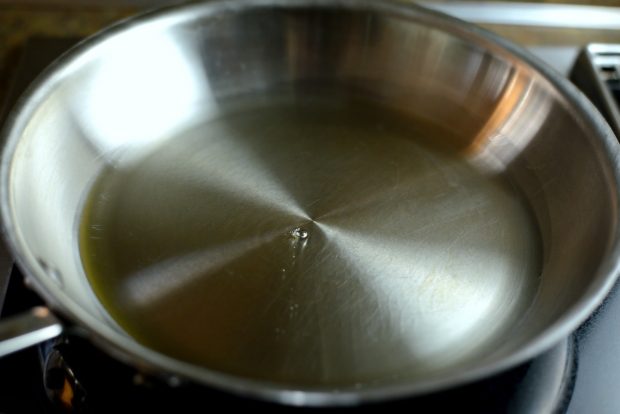 Then I heated 1/4 of an inch of sunflower oil (or use any oil that's safe for high heat pan frying) over medium to medium-high heat. I test it by adding a one (cooked) quinoa granule to the oil, if it starts to bubble and his a bit, then the oil is hot.
Add the quinoa and stir often. Once the bubbles and noise has subsided a bit and the quinoa is crispy, it's done. Usually about 3 to 4 minutes, depending.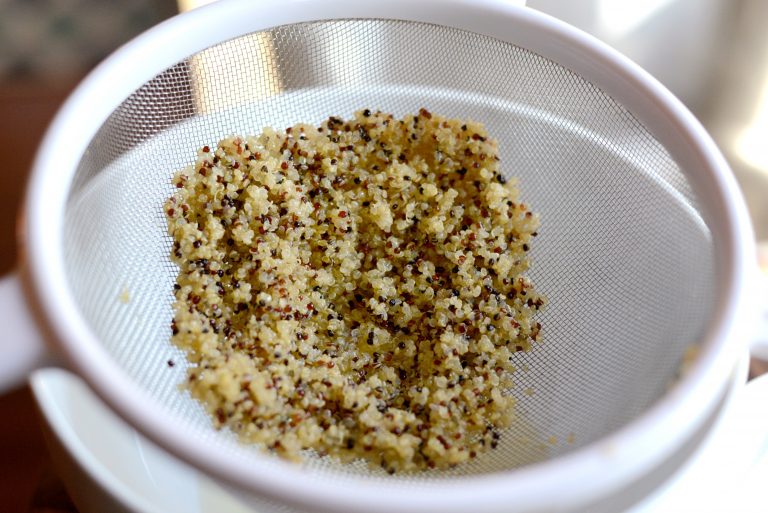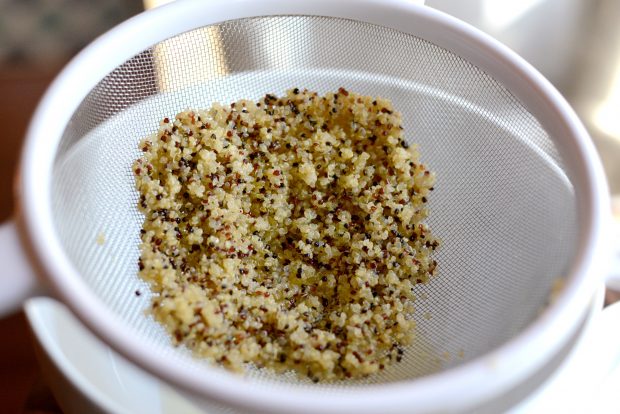 Pour the quinoa and oil through a fine mesh strainer that is set into a heat safe bowl to drain away the oil.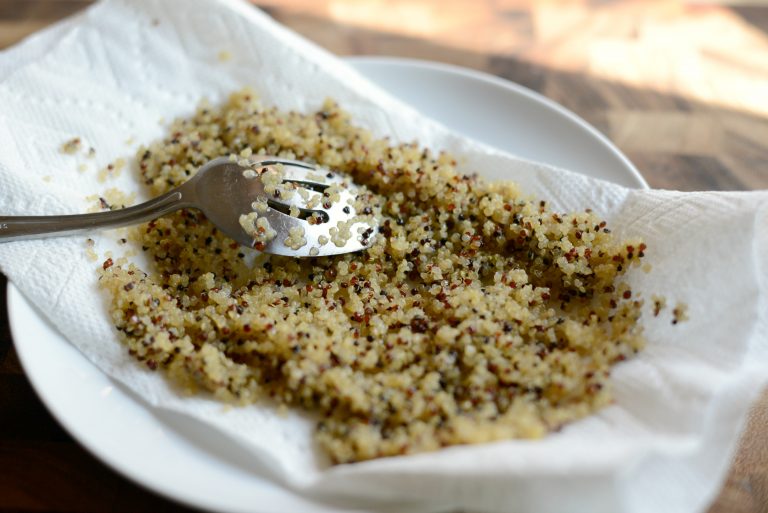 Then transfer the fried quinoa to a paper towel lined plate to further absorb any oil and to cool. Sprinkle with a little pinch or two of kosher salt.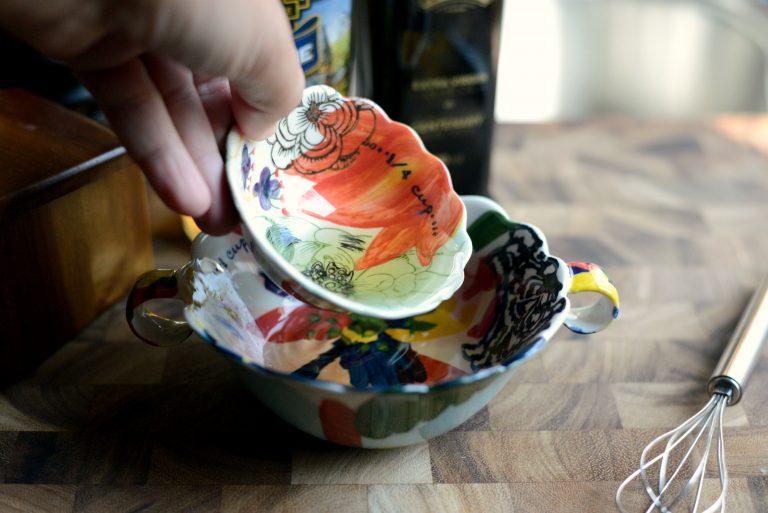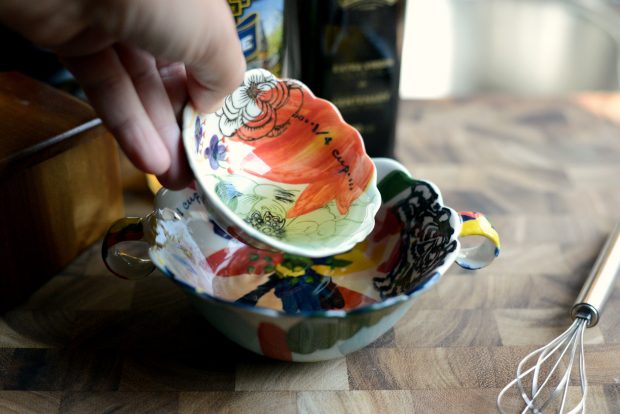 Next, make the dressing. This is my go-to dressing. I use it when in a pinch and just want a mild vinaigrette.
Add 1/4 cup of champagne vinaigrette to a bowl…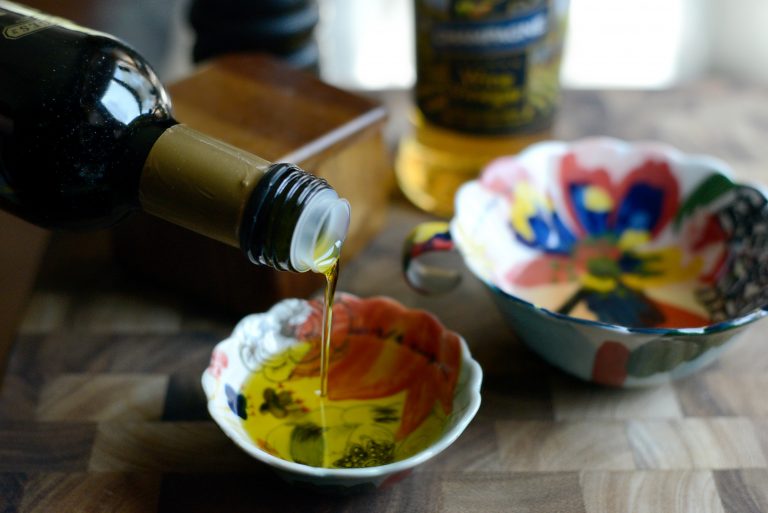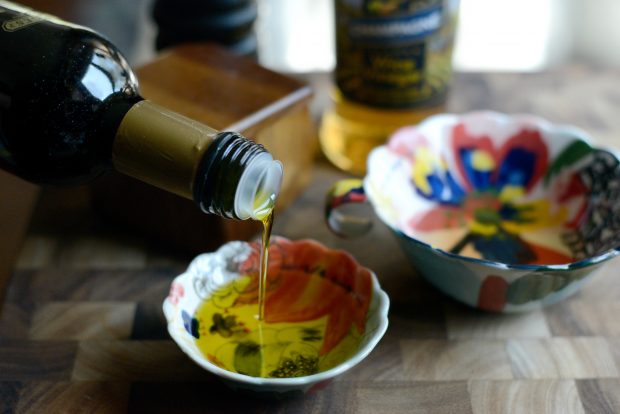 Measure out 1/4 cup of olive oil and whisk while ever so slowly pouring the oil into the vinegar.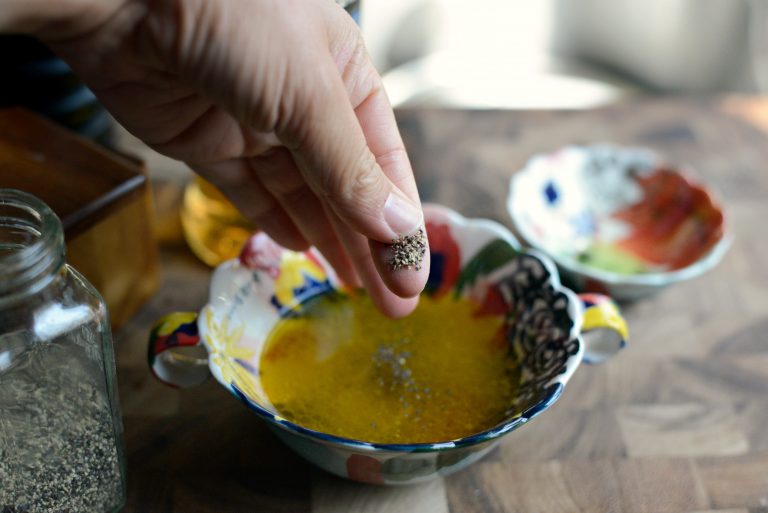 Season with a pinch of black pepper…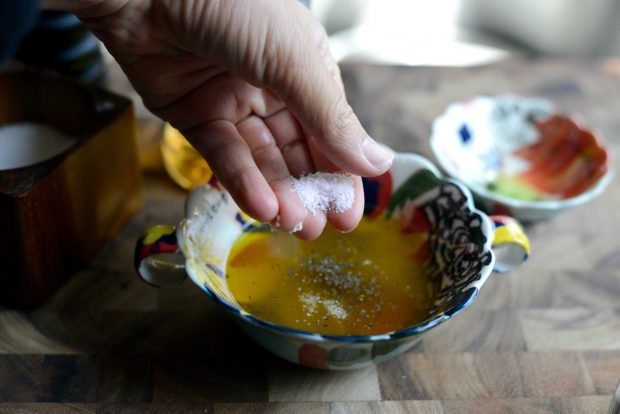 …and kosher salt to taste.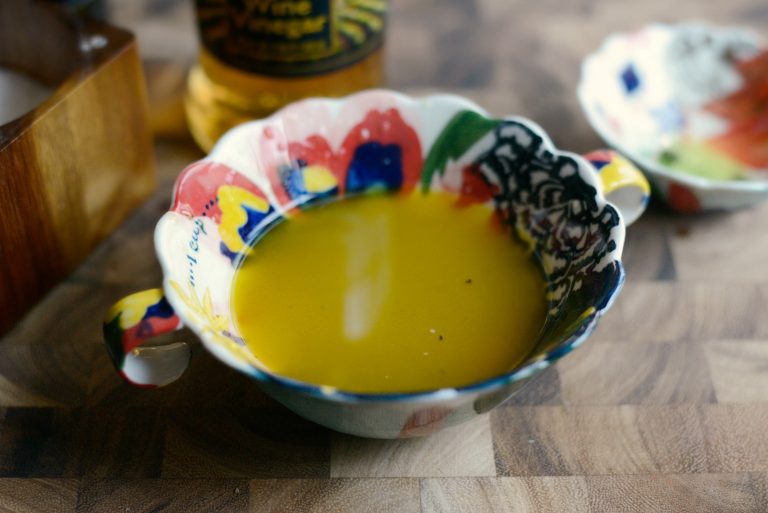 That's it!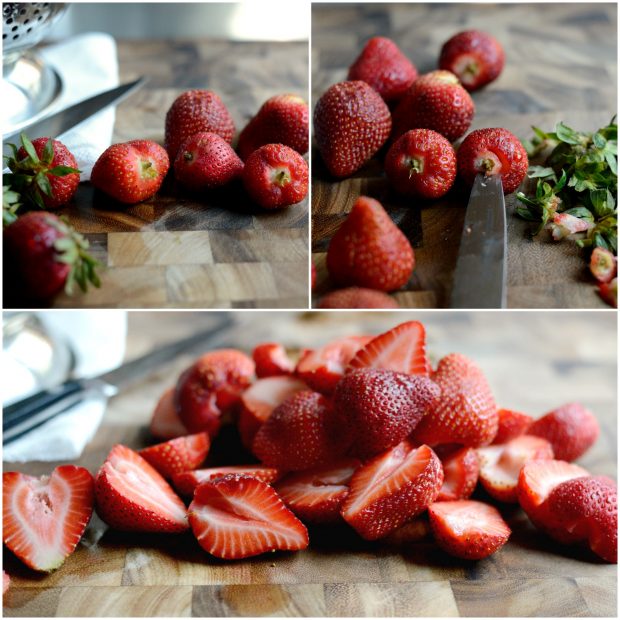 Next, prep the strawberries. I remove all leaves and use a paring knife to remove the stem, then slice in half.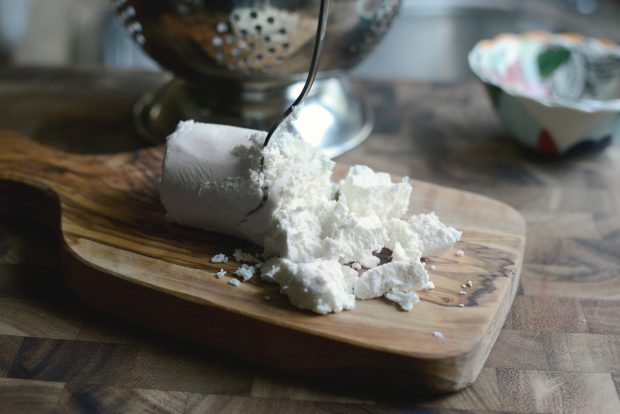 Lastly, use a fork to crumble up about 2 ounces or so of goat cheese. Which is my trick to (finally) loving goat cheese. I always buy a log of goat cheese and not the pre crumbled stuff. The crumbles (to me) have some funky coating on them that my taste buds perceive as fuzzy-sock-like and are not a fan of. A log of goat cheese (that you crumble yourself) however, is creamy and delicious!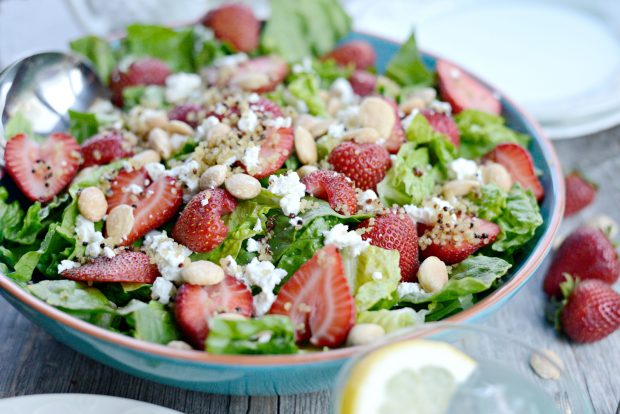 Then I just layer chopped romaine, strawberries, marcona almonds (although sliced regular almonds would be just fine here too), goat cheese crumbles and the fried quinoa.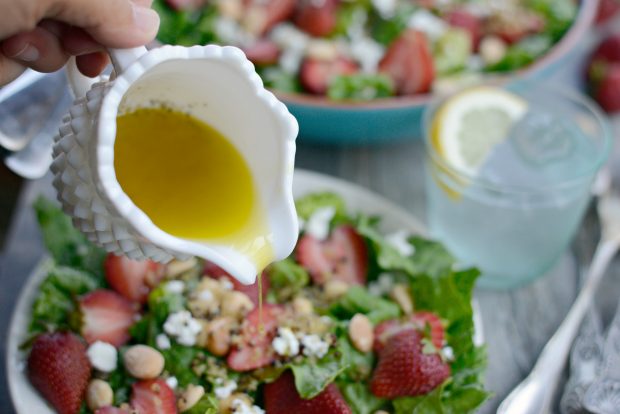 Plate it up, drizzle with that 5-minute champagne vinaigrette and poof! You have yourself a gorgeous masterpiece of a salad.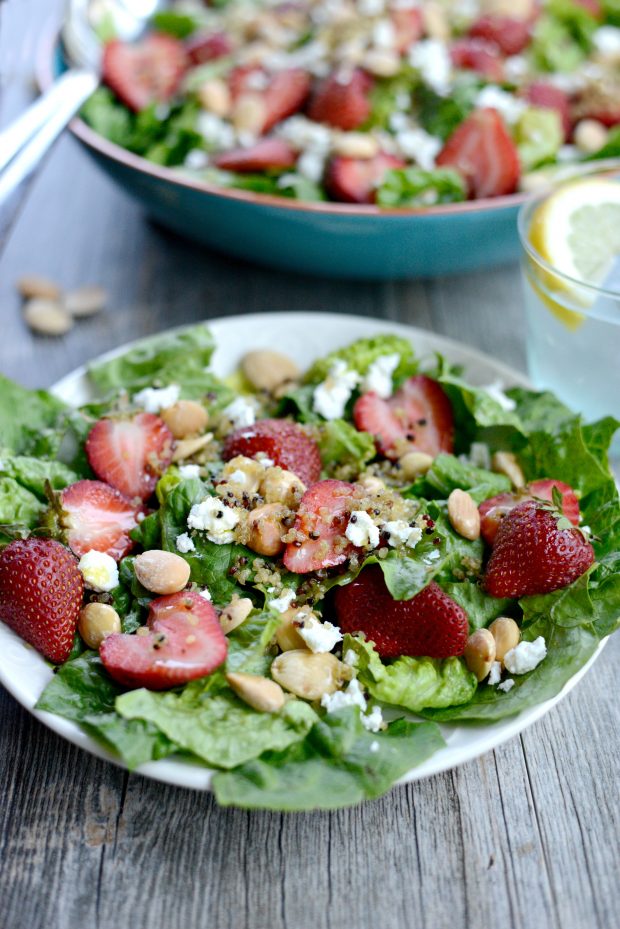 This was my lunch all weekend. I seasoned my salad with a little bit of extra s & p. You can make this more of a substantial meal, this strawberry goat cheese salad is exceptionally lovely with thin strips of grilled chicken on top and with a crisp, refreshing glass(es? ;)) of white wine. Oh and who am I kidding, grilled bread too! #justsayin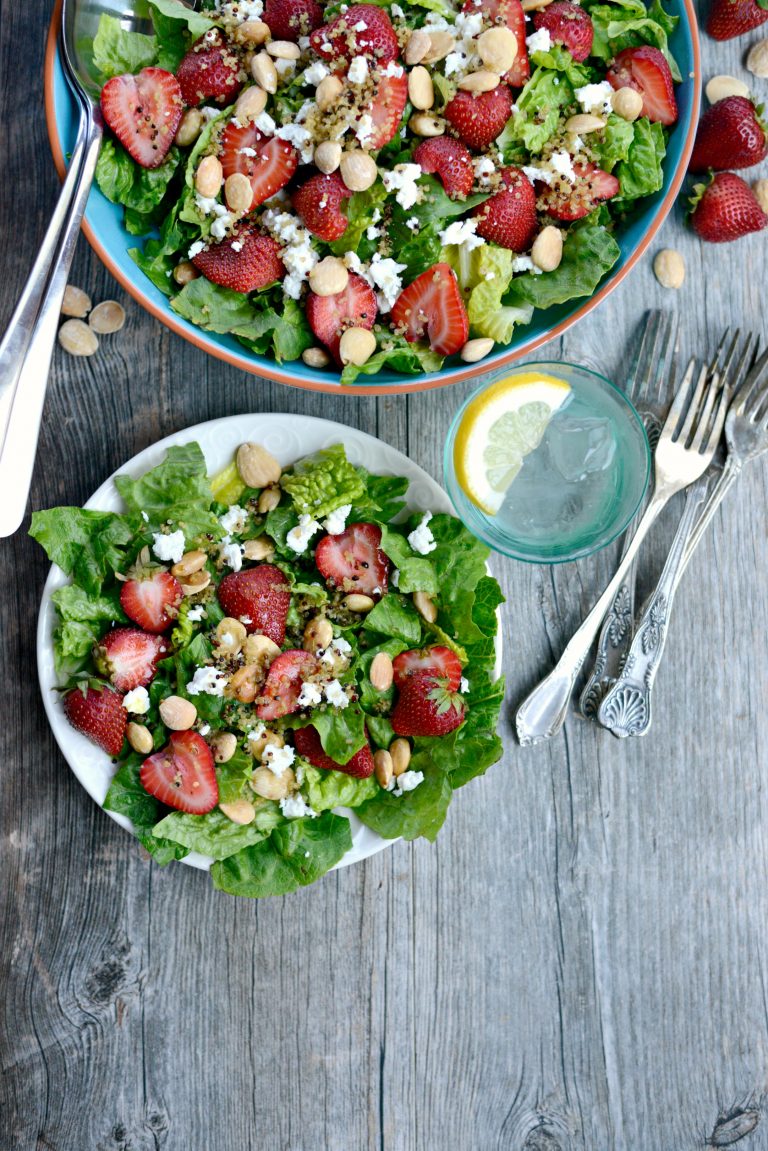 Enjoy! And if you give this strawberry goat cheese salad recipe a try, let me know! Snap a photo and tag me on twitter or instagram!
Yield: 4 generous entree portions
Strawberry and Goat Cheese Salad with Crispy Fried Quinoa
A gorgeous spring salad! Strawberries, goat cheese, marcona almonds and crispy pan-fried quinoa is drizzled by a not even, 5-minute champagne vinaigrette!
Ingredients
FOR THE QUINOA:
1/4 cup quinoa
1/2 cup water
avocado oil, or oil for high-temperature pan frying
1 pinch kosher salt
FOR THE DRESSING:
1/4 cup champagne vinegar
1/4 cup olive oil
kosher salt, to taste
freshly ground black pepper
FOR THE SALAD:
1 large head romaine lettuce, chopped
3/4 pound strawberries, hulled and cut in half
1/2 cup marcona almonds
2 ounces goat cheese, (from a log), crumbled with a fork
Instructions
Cook the quinoa as directed on the package. Drain any excess water and spread out onto a plate or foil-lined pan to cool for 25 to 30 minutes.

Heat a pan with a 1/4 inch of oil on medium to medium-heat. Test the oil by adding a quinoa granule, if it bubbles immediately then the oil is ready. Add all of the quinoa to the hot oil, stir often and cook until the quinoa quiets down and is crispy. About 3 to 4 minutes.

Pour the quinoa through a fine mesh strainer that is set into a heat safe bowl. Then transfer the fried quinoa to a paper towel lined plate to absorb more of the oil and to cool. Season the quinoa with a couple small pinches of kosher salt while hot.
FOR THE DRESSING:
Whisk the vinegar while slowly pouring in the olive oil. Season with salt and pepper to taste.
FOR THE SALAD:
In a large bowl, layer the chopped romaine, strawberries almonds, and sprinkle the fried quinoa over the top.

Divide the salad onto serving plates and drizzle with the champagne vinaigrette.

Enjoy!
Calories: 345kcal, Carbohydrates: 21g, Protein: 10g, Fat: 26g, Saturated Fat: 5g, Polyunsaturated Fat: 4g, Monounsaturated Fat: 16g, Trans Fat: 1g, Cholesterol: 7mg, Sodium: 82mg, Potassium: 689mg, Fiber: 7g, Sugar: 7g, Vitamin A: 13790IU, Vitamin C: 56mg, Calcium: 129mg, Iron: 3mg
This post may contain affiliate links.
Buy the Cookbook: Simply Scratch : 120 Wholesome Homemade Recipes Made Easy Now available on Amazon »
THANK YOU in advance for your support!