Strawberry Bruschetta is a fun appetizer for any occasion! Strawberries top whipped honey goat cheese slathered toast and drizzled with balsamic glaze.
How deliriously delicious does this strawberry bruschetta look?
Now I think you need to experience how amazing they taste! They're impressive and also the perfect combination of sweet, savory, tangy and fresh. Annnd did I mention they are smeared with honeyed goat cheese? Oh. My. Word.
Is it weird that I've been craving whipped goat cheese? I mean, that's normal right? Salads and whipped goat cheese, I could basically live on these few things all summer long. Oh and wine. Always wine. And coffee! Maybe I think it's strange because normal people crave things like chocolate, ice cream and potato chips. And I'm over here climbing the walls for some whipped goat cheese.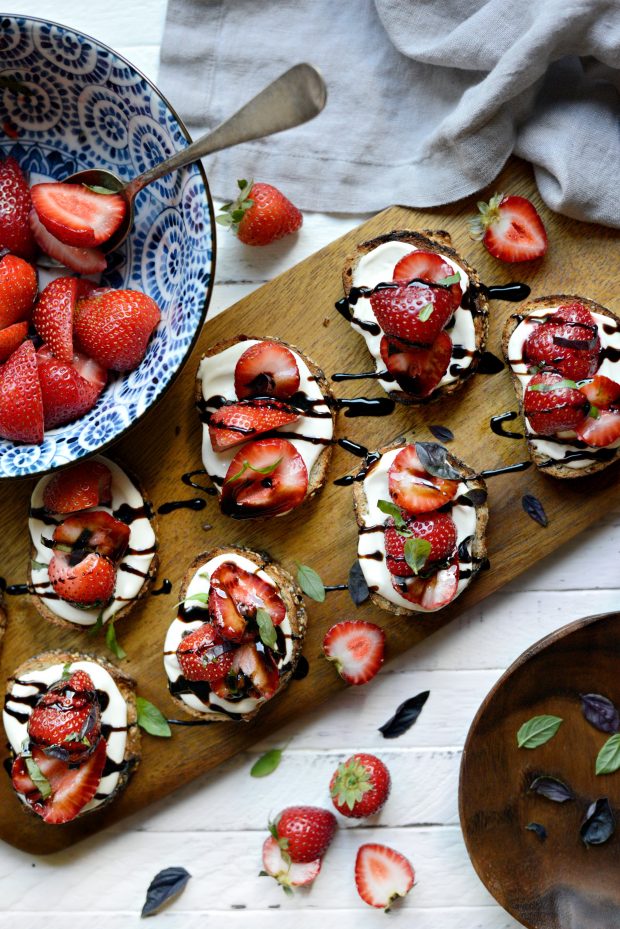 I woke up Saturday morning with a grocery list in mind, made up of all things goat cheese, strawberries and crusty bread. The balsamic, I had. That afternoon I grabbed Pat's hand, leaving the girls at home, and we headed to the grocery store to satisfy my obsessive craving.
It's not secret that I love to grocery shop. I'm so used to going shopping by myself that when he comes with me, it's actually a lot of fun. We take our time, looking at everything. He grabs the goat cheese while I wait at the deli counter. It's fun! Pat keeps me company, makes me laugh as I work my way through my list and he's good for talking me out of impulse buys, like buying boxes (and boxes) of snickers ice cream bars. Now that is love.
As you know, this time of year I'm totally obsessed with my herb garden. More specifically my basil plants. I usually grow two, green Genovese basil plants, but this year, I planted purple basil. And you guys, purple basil is gorgeous! Stunning purple-y green leaves and it still tastes like regular basil… but adds a little somethin-somethin when mixed into pasta salad or sprinkled on strawberry bruschetta. *wink-wink
So when devising this snacky app I thought about sweetening up the whipped goat cheese with a little honey. I first added a tablespoon and that was good, but the honey flavor was subtle. So I added in another 1/2 tablespoon and that was perfection!
After pureeing it, it tends to soften up quite a bit. So I removed the bowl of my food processor (I used my mini), covered it with plastic wrap and popped it into the fridge while I prepped my strawberries and grilled the bread.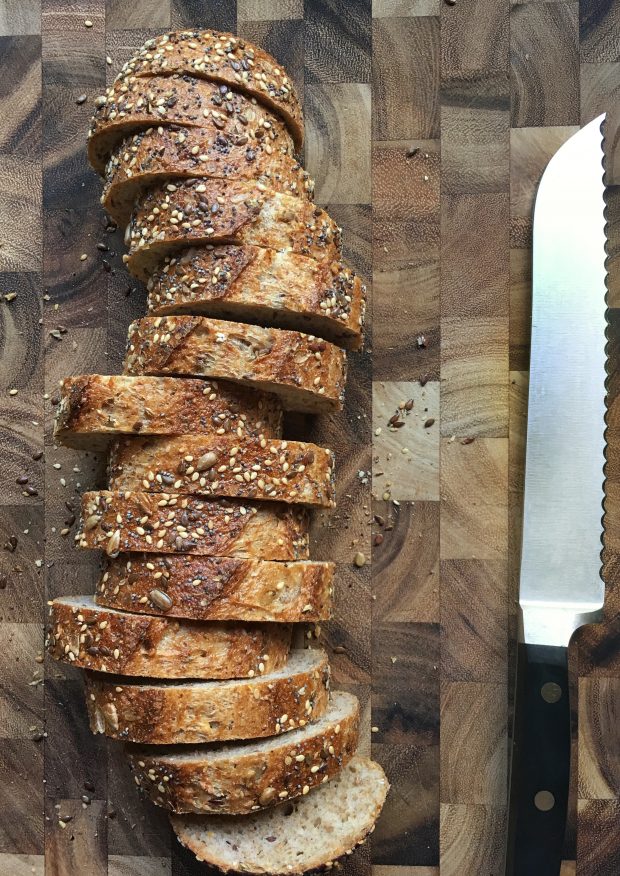 As you can see I went with a whole grain, seedy-type of bread. You can use what ever bread you want but I like the texture and wholesome flavor it offers. I just sliced the entire 12-ounce loaf, brushed both sides with olive oil and grilled until toasty and the edges golden.
I'm already a bread addict, but grilled bread? Forget it, I'm a goner.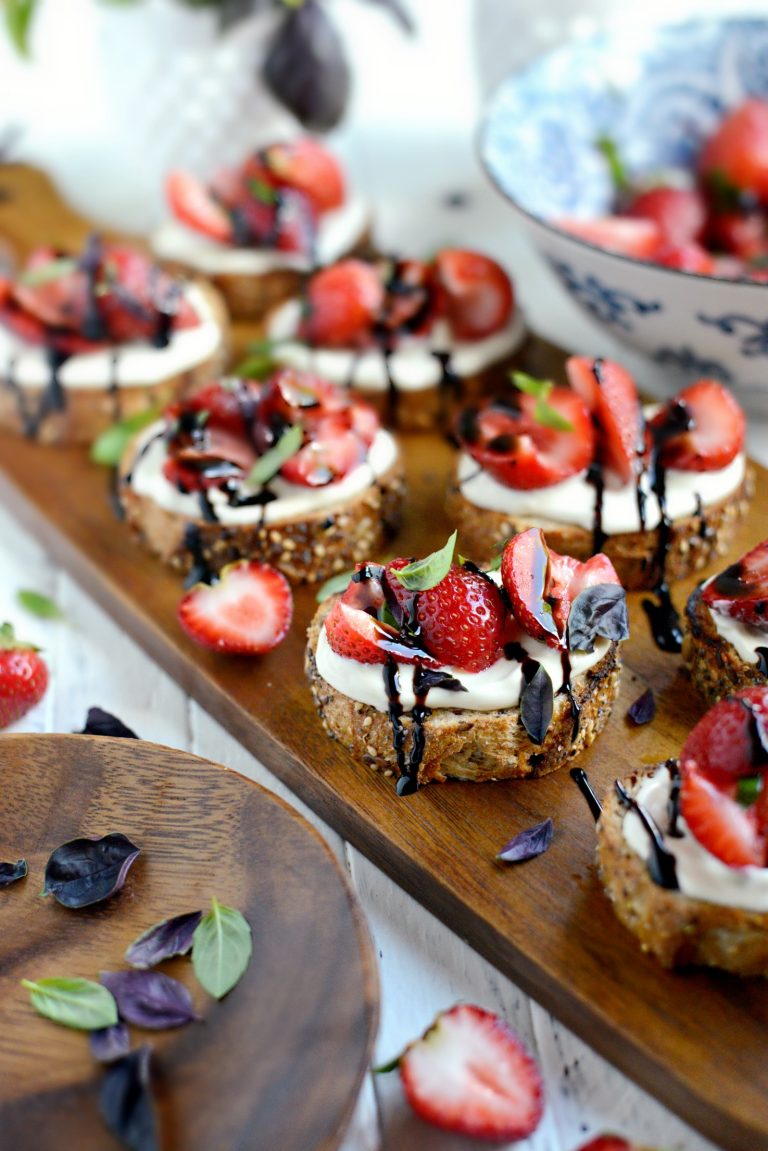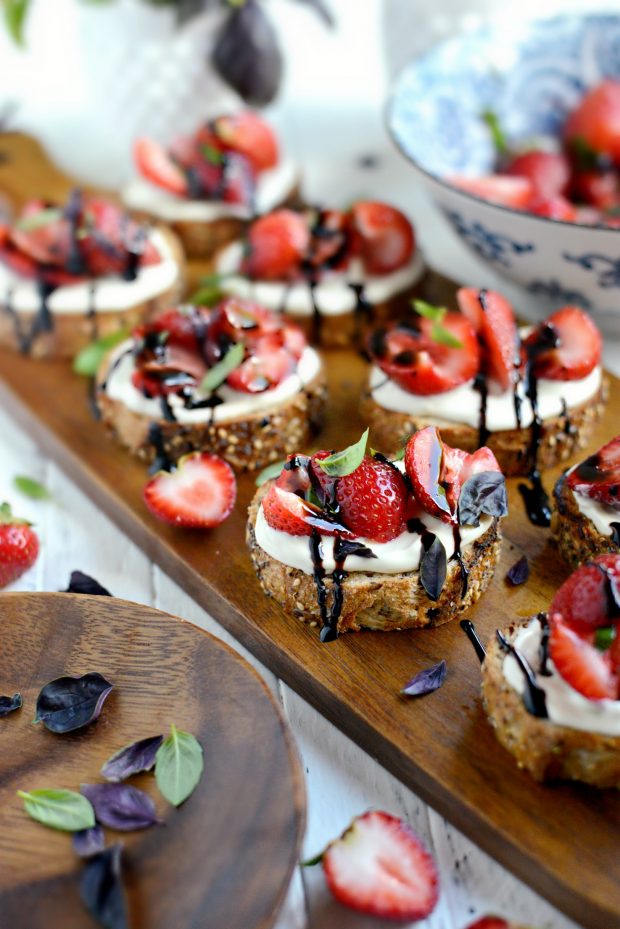 Once the bread has cooled some, just smear some of the honeyed goat cheese and top with the basil strawberries and drizzle with reduced balsamic vinegar (glaze). You can see my method here – just omit the honey for this recipe.
I made a few of these my lunch but I have plans on making these again real soon for some friends. So call over your best of friends or family members, grab a few bottles of wine and enjoy!
Whipped goat cheese craving = satisfied. For now.
*want something peachy? Try this crostini!
My cookbook Simply Scratch : 120 Wholesome Homemade Recipes Made Easy is now available! CLICK HERE for details and THANK YOU in advance!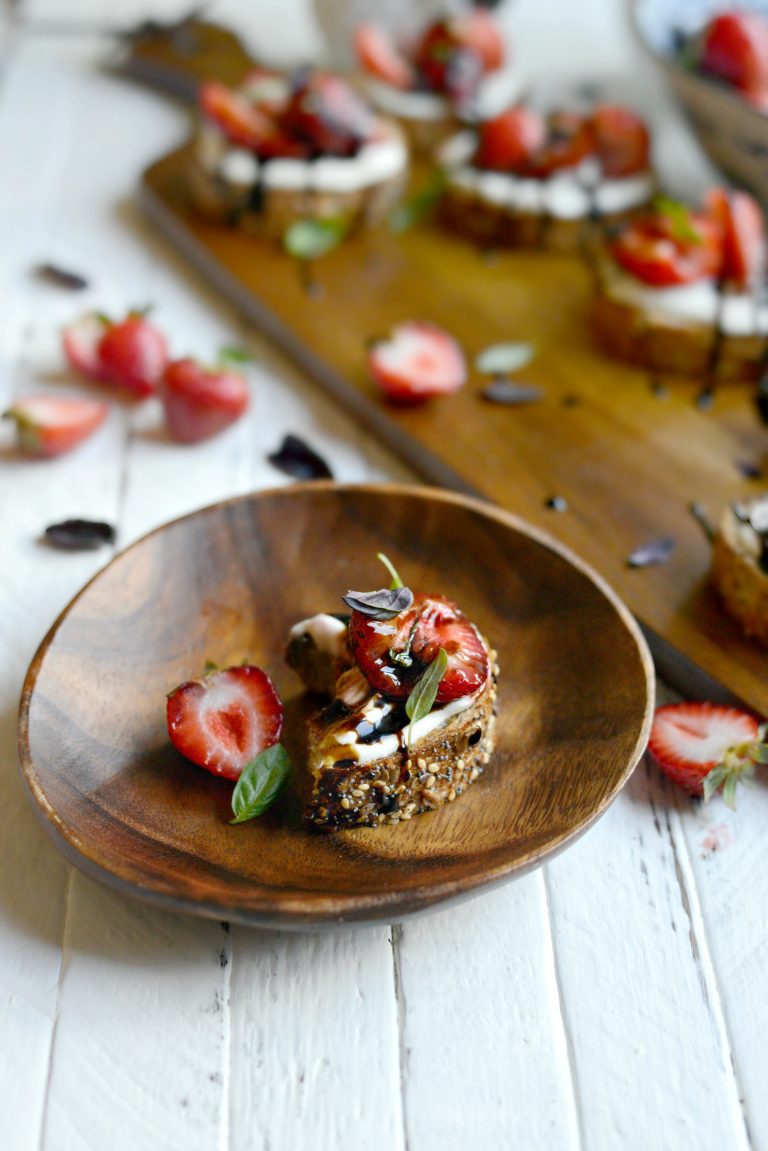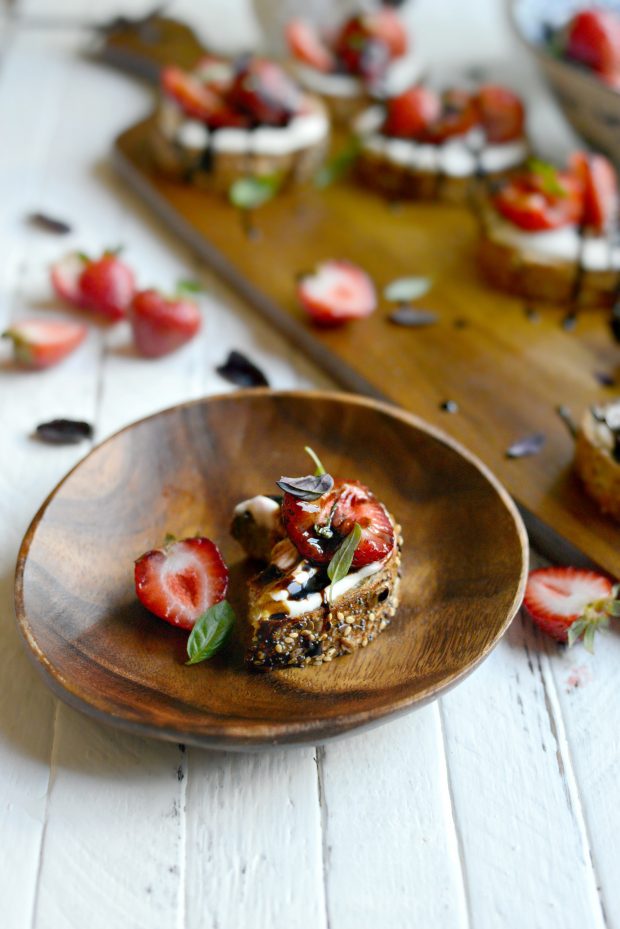 This post may contain affiliate links.
Buy the Cookbook: Simply Scratch : 120 Wholesome Homemade Recipes Made Easy Now available on Amazon »
THANK YOU in advance for your support!