Spicy Citrus Wings are not your tradition chicken wings. These are spicy and citrusy and dipped in a mouthwatering scallion dip.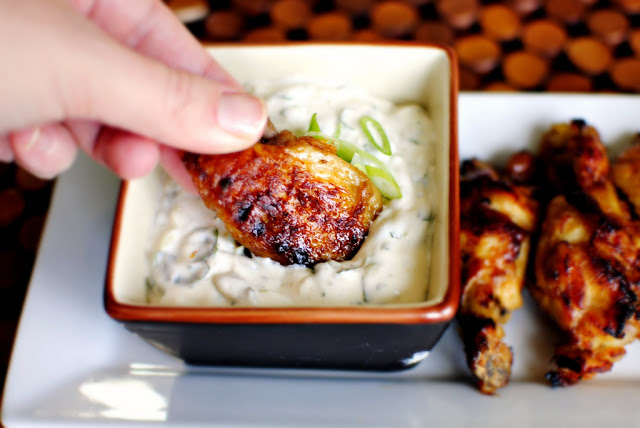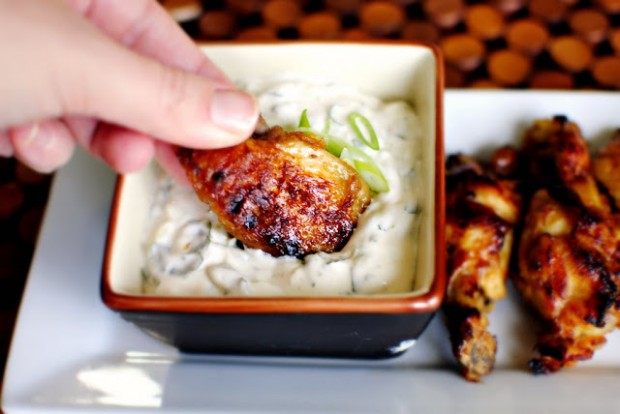 I have a small teensy-weensy confession. I've never made wings before.
Never. Ever. I am however no stranger to chicken or sriracha as you can see by the amount left in the bottle. These recipe instructions were so straight forward, and it didn't require any deep- frying on my part, which gave me total confidence that I could rock these wings out, and I did.
I originally saw this recipe on Tasty Kitchen. What caught my attention first was combination of spicy and citrus which then triggered a salivary response in my mouth forcing me to click over to her website to read more about them. Doing so led me to find her cilantro scallion dip. Honestly I've never been so excited about a single dip in my entire life. These wings and this dip is where it's at! So make them for your next football party or get together, I promise you won't regret it.
To Make The Spicy Citrus Wings with Cilantro Scallion Dip You Will Need:
for the dipping sauce:
green onions
cilantro
garlic powder
plain nonfat greek yogurt
mayonnaise
kosher salt
freshly ground black pepper
for the wings:
chicken drummettes and wings
orange zest and juice
fresh ginger
soy sauce
rice vinegar
honey
sriracha
red pepper flakes
Throw the 2 sliced green onions and 1/4 cup cilantro into a small bowl and add 1/2 teaspoon of garlic powder.
Measure out the 1/2 cup each mayonnaise and Greek yogurt, then season with kosher salt and black pepper. If you have sour cream on hand (in replace of Greek yogurt), that would work too.
Stir and taste (to check the seasoning of course), then wrap with plastic wrap and stick it in your fridge to get those flavors developing.
You will need 2-1/2 pounds whole chicken wings. You'll need to break them down into three parts; the wingtip (which you'll discard), the wing or "wingette", and the classic drumette.
With your index finger find each of the joints.
With your sharpest knife, firmly cut into the center of each joint. It should only take a little pressure and your knife should do majority of the work to cut right through. I promise it's actually not as hard as it looks.
Discard the wing tips or save them for stock, nestle the rest of the wing pieces into a steamer basket, and place the basket into a good size pot.
Fill the pot with water just until it reaches the bottom of the steamer basket.
Place a tight fitting lid or a heavy plate on top, bring to a simmer and steam for 18-20 minutes.
While the wings are steaming; warm up your biceps and grate 2 tablespoons of ginger and the zest of an entire orange into a large bowl.
Over the same bowl, squeeze both orange halves to extract all that juice, then measure and pour in 1/3 cup soy sauce, 2 tablespoons rice vinegar, 1 tablespoon honey and 2 teaspoons sriracha.
Lastly, for extra heat, add in 1 teaspoon red pepper flakes and whisk to combine.
The wings by now should be done steaming and fully cooked. All you have to do now is crisp that glorious chicken skin. First though! We must glaze!
Add in all the fully cooked chicken wings into the spicy orange glaze and toss gently to coat. Being careful not to tear or remove any of that skin.
Place on a baking sheet (I lined mine with aluminum foil that has been sprayed with nonstick spray just to make sure things didn't stick), and place the pan of wings on the second notch under your preheated broiler and time it for 3-4 minutes.
The skin should start to color and begin to crisp up.
Remove, turn the wings and brush again with the spicy citrus glaze.
Place back under the broiler for another 3 to 4 minutes and repeat 2 more times, on each side, with the glaze and under the broiler.
Keep going until the skin is golden and brown. Feel free to toss these back in the reserved glaze if you like them "wet", but I enjoyed them just the way they were, sticky and scrumptious!
Serve it up with that fabulous cilantro dip and call it a day. I highly recommend making a double batch of the wings; you probably won't want to share these!
I made these wings just before my girls hopped off the bus. They ran in the house and immediately went to town on these wings. They weren't too spicy for them to enjoy, but every-now-and-again I got a little heat, but thanks to that fantastic dip it wasn't too hard to handle.
Yield: 6 servings
Spicy Citrus Wings with Cilantro Scallion Dip
Spicy Citrus Wings are not your tradition chicken wings. These are spicy and citrusy and dipped in a mouthwatering scallion dip.
Ingredients
FOR THE DIPPING SAUCE:
2 green onions, chopped
1/4 cup cilantro
1/2 cup mayonnaise
1/2 cup plain nonfat greek yogurt
1/2 teaspoon garlic powder
kosher salt, to taste
freshly ground black pepper, to taste
FOR THE WINGS:
2½ pounds chicken drummettes and wings
1 whole orange, zest and juice
2 tablespoons grated fresh ginger
1/3 cup soy sauce
2 tablespoons rice wine vinegar
1 tablespoon honey
2 teaspoons sriracha sauce
1 teaspoon red pepper flakes
1 tablespoon cilantro, chopped
1 whole green onion, chopped
Instructions
MAKE THE DIP:
In a medium bowl, measure and add the yogurt, mayonnaise, cilantro, green onions, garic powder and stir to combine.

Season with salt and pepper to taste.
MAKE THE CHICKEN:
In a large soup pot that has a steamer, place water in the bottom until it hits the steamer basket.

Add all the chicken pieces to the steamer and place over high heat and cover with a lid. Bring to a boil, then lower the heat to a gentle simmer to steam the wings. Steam for 15-18 minutes.

While the wings are steaming, add orange zest and juice, soy sauce, ginger, red pepper, honey, rice wine vinegar and Sriracha sauce into a large bowl and stir.

Remove the fully cooked wings from the steamer and place into the large bowl with the sauce and stir to coat.

Heat the oven to broil at around 425ºF or high heat and place the rack the second notch down.

Place the fully cooked wings evenly on a baking sheet and place under the broiler. After 3-4 minutes, remove from the oven, flip over and brush more sauce over the top.

Broil again and continue this process off flipping and brushing on sauce until the skin is crisp. Usually 2 times on each side does the trick.

Place the wings back into the bowl of sauce and coat them before placing them on the serving tray.

Sprinkle with chopped cilantro and scallions to garnish.
Serving: 1g, Calories: 389kcal, Carbohydrates: 5g, Protein: 22g, Fat: 30g, Saturated Fat: 7g, Polyunsaturated Fat: 12g, Monounsaturated Fat: 10g, Trans Fat: 1g, Cholesterol: 87mg, Sodium: 963mg, Potassium: 243mg, Fiber: 1g, Sugar: 4g, Vitamin A: 355IU, Vitamin C: 3mg, Calcium: 40mg, Iron: 1mg
This post may contain affiliate links.
Buy the Cookbook: Simply Scratch : 120 Wholesome Homemade Recipes Made Easy Now available on Amazon »
THANK YOU in advance for your support!