The most deliciously, spicy, saucy, cheesy epic chimichurri burgers. Ever. Ground beef seasoned to perfection, grilled and topped with cheese and homemade chimichurri sauce.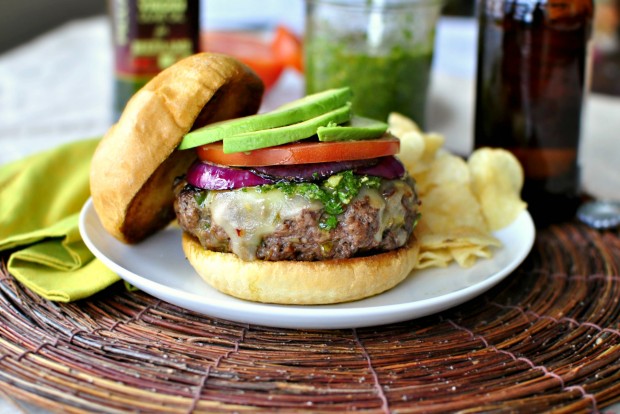 Truth number 1: My mind always on food, recipes and well, coffee. Pat could be telling me about work and I'll put my mug down to say… "Soooo what do you think about doughnuts that are like brownies?" I know! How incredibly annoying! Luckily he's use to it by now and loves me anyways, but you get the point: Food on the brain should be a legit medical condition.
Truth number 2: I love me a big, juicy, beefy burger.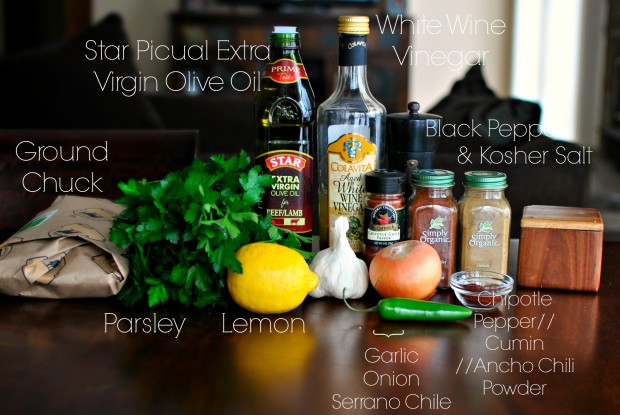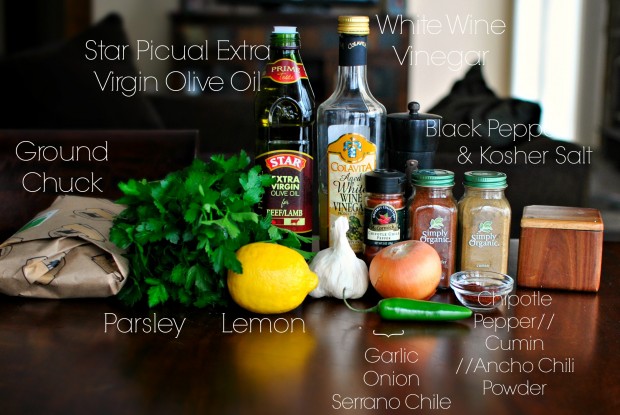 To Make These Chimichurri Burgers You Will Need:
garlic
parsley
vinegar
lemon
kosher salt
freshly ground black pepper
ground chipotle pepper
olive oil
onion
garlic
Serrano chile
cumin
chili powder
ground beef 80/20 ratio
pepper jack cheese slices
sturdy hamburger buns
These are big-o-burgers that are so flavorful and juicy and cheesy and a little on the spicy side, you'll just die from flavor overload. Pretty basic ingredient, pretty darn delicious burger.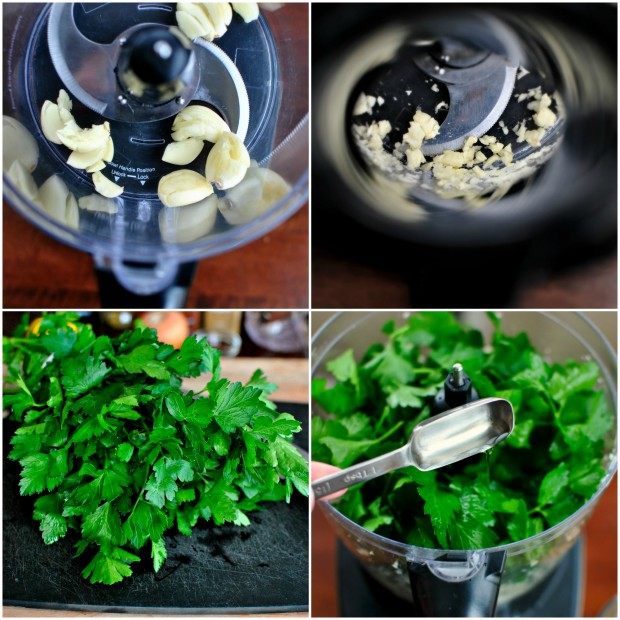 Place 6 clove of peeled garlic into your food processor and pulse until coarsely chopped. Add in 1 bunch fresh parsley and 3 tablespoons white wine vinegar.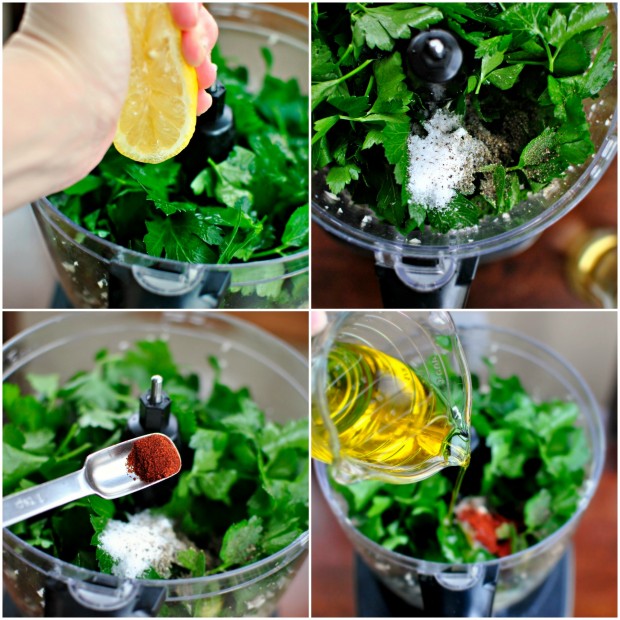 Next add in the juice from 1 medium lemon juice, kosher salt and pepper – to taste, 1/4 teaspoon ground chipotle powder and 3/4 cup olive oil.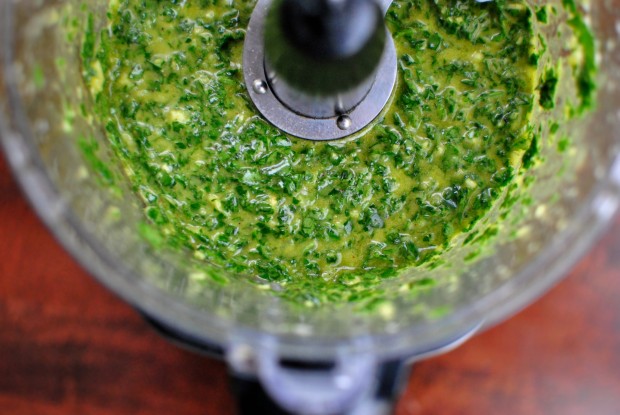 Turn it on and blend until combined. Taste and add more salt and pepper as desired.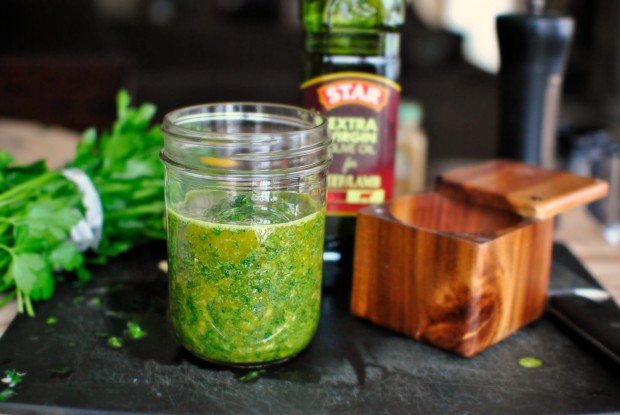 Store it in an airtight container and pop it into the fridge until you're ready to serve. You might want to take it out about 30 minutes before your ready so it can warm up to room temperature.
If you have leftover chimichurri sauce, you totally have to make these steak fajitas! SO GOOD!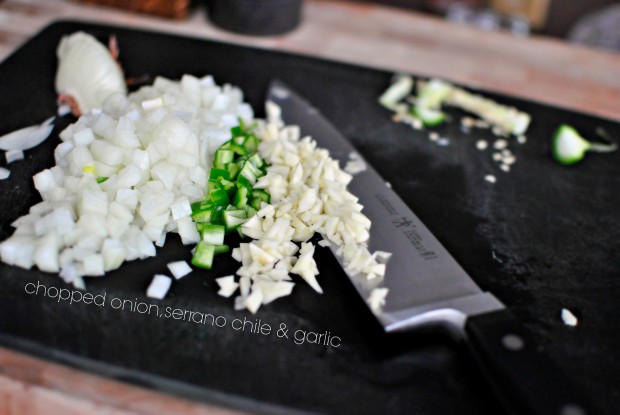 Moving on to the burgers. Finely dice up an 1/2 a large onion, 1 serrano pepper (discarding the ribs and seeds for less heat), and 4 cloves garlic.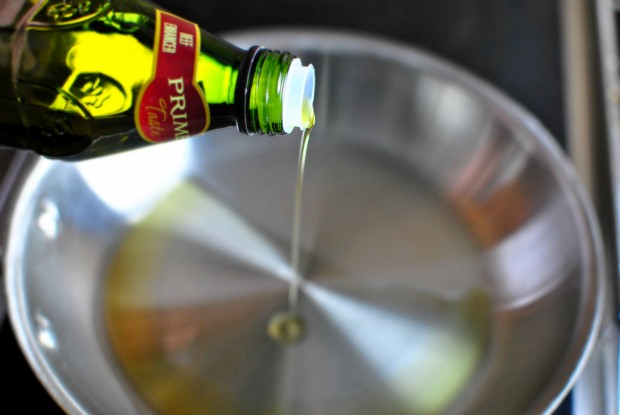 Drizzle olive oil in the pan and heat over medium-low temperature.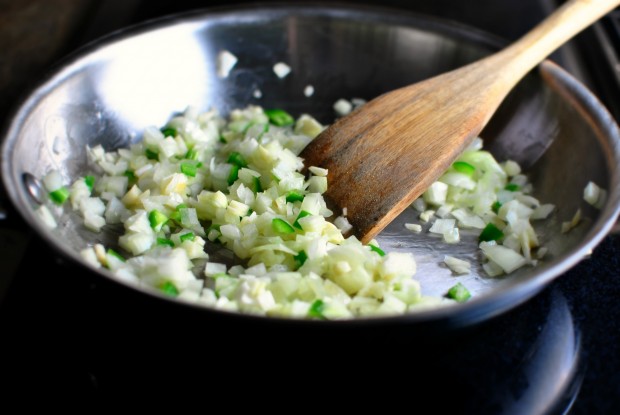 Sauté until the vegetables start to soften.
Add in 1 tablespoon cumin and 1/2 tablespoon ancho chile powder and stir.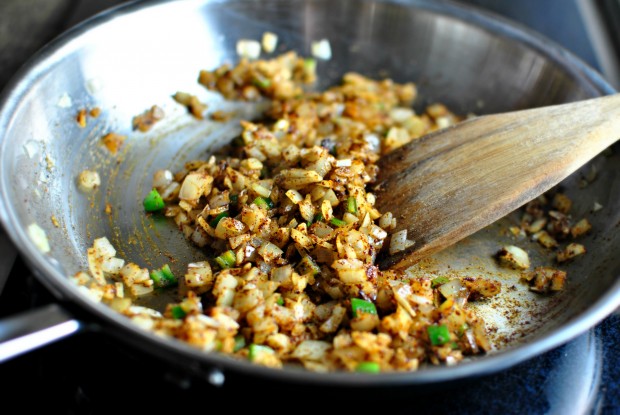 Heat for a minute or two on the stove.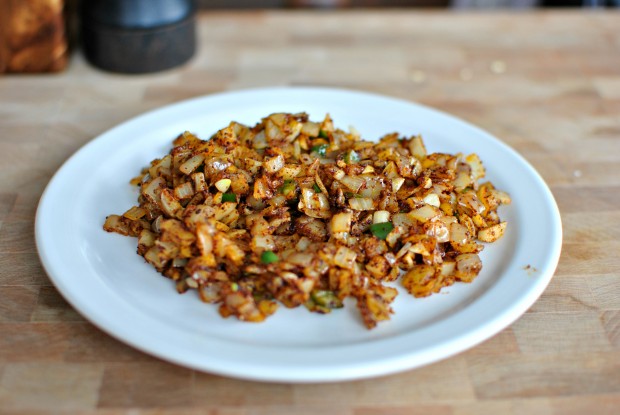 Remove the peppers and onions to a plate to cool down, like completely.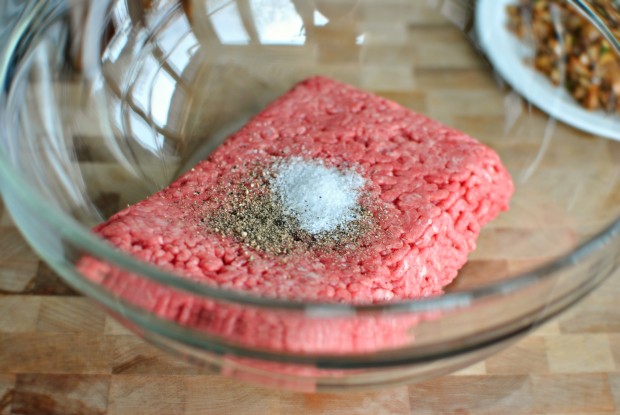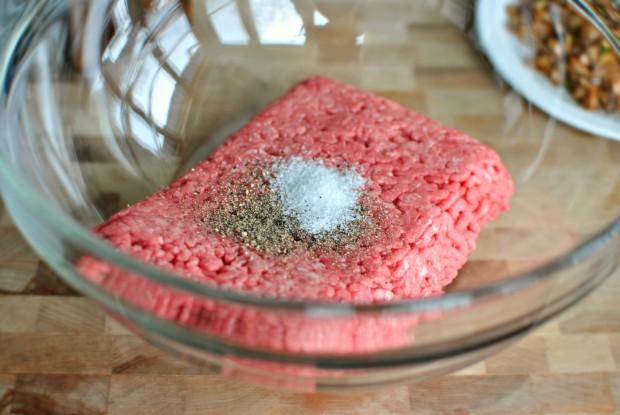 Season 2 pounds 80/20 ground beef with a little salt and pepper because that's how we do.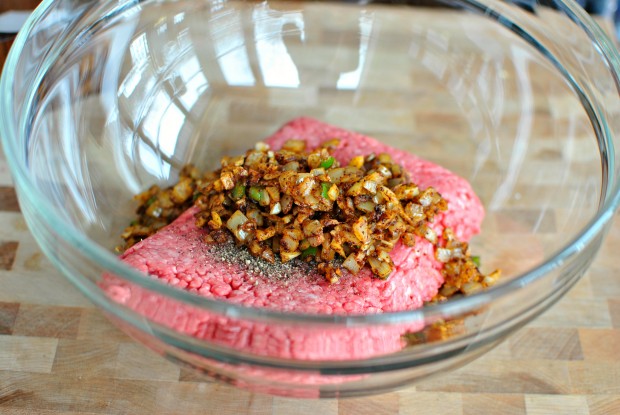 Once cooled, add those veggies into the bowl with the ground chuck.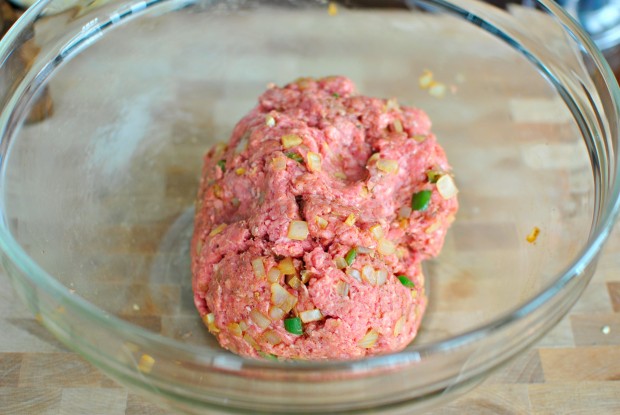 Mix by hand until it all comes together.
Be careful not to over-mix.
Form the hamburger mixture into patties. I did 4 big burgers, but you could scale them down to 6 if you wanted to.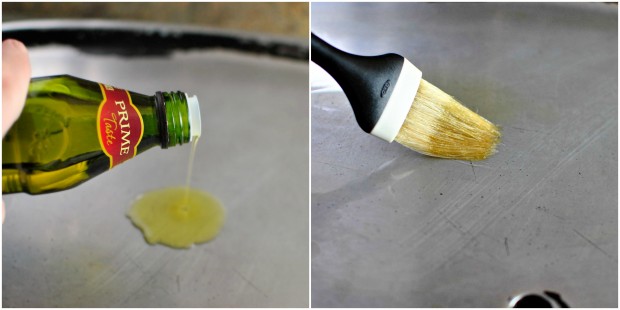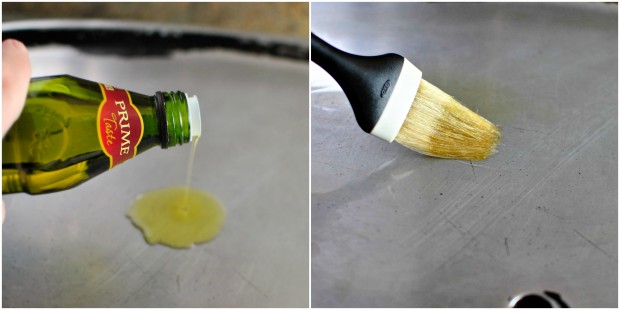 Brush a little bit of oil over the top of your griddle. I made these in March so here in the mitten it was COLD, however you can totally grill these on the grill, just omit this step.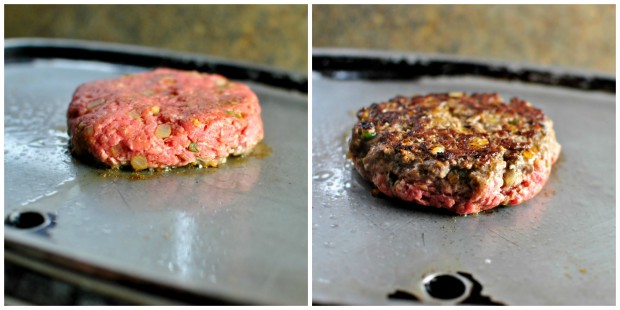 Lay the burgers down and griddle for 5-6 minutes and then flip.
Once flipped, lay down a slice of pepper jack cheese. Oh I love this cheese on burgers, it melts perfectly and it's spicy. Love!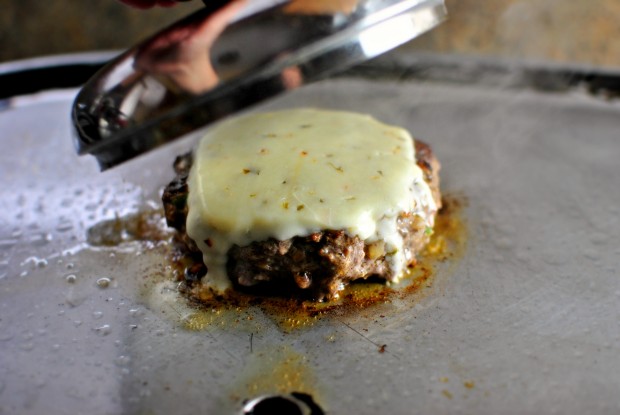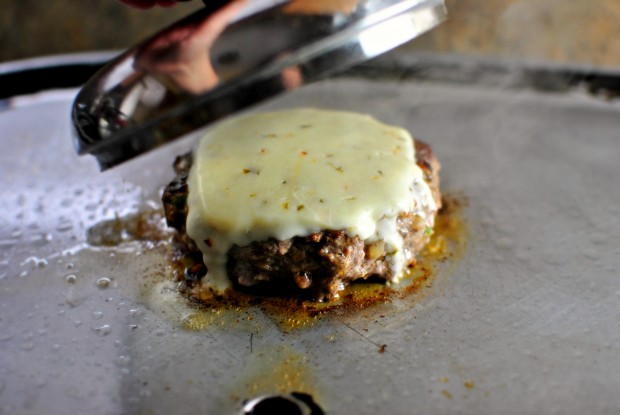 I cover the burger with a pan lid; the steam will expedite the whole oooey-gooey cheese thing.
Toasting the bun is totally optional, but I love a good toasted bun. I even leave mine on a little longer so it chars a bit… I'm weird like that though. I also like fresh tomato, burnt onions and fresh avocado and then I smother the thing in that chimichurri sauce.
Poof! These deliciously spicy, saucy, cheesy chimichurri burgers.
So good you won't believe your taste buds.
Now I'm not telling you what to do or anything but let's just say you might want to wear a bib.
Enjoy! And if you give this Chimichurri Burgers a try, let me know! Snap a photo and tag me on twitter or instagram!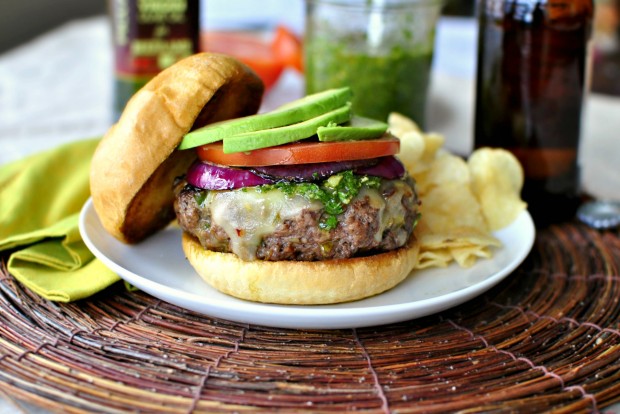 This post may contain affiliate links.
Buy the Cookbook: Simply Scratch : 120 Wholesome Homemade Recipes Made Easy Now available on Amazon »
THANK YOU in advance for your support!