These spiced molasses cookies aren't your typical molasses cookie. I've added a little bit of cayenne and cardamom to my traditional recipe. It adds the perfect back-of-the-throat warmth that you won't expect.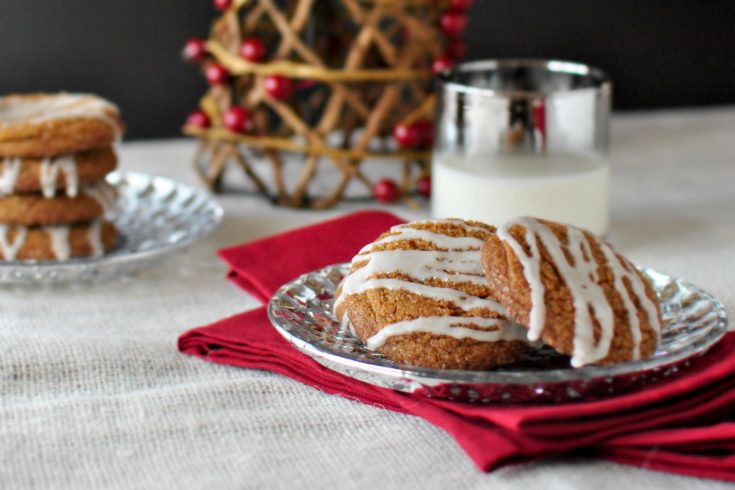 For me baking this time of year is my favorite.
I put on some Christmas music, wear my favorite apron and wrangle my girls into the kitchen to help me turn out several batches of cookies. It's also a little ritual of ours that we dust our noses with flour. But I'll spare you the picture of our goofy faces. You are welcome 🙂
So what's your baking ritual? Do you bake at midnight? Listen to Michael Buble on repeat (me too!) use margarine instead of butter *gasp*!?!
This year I wanted to turn up the notch on my traditional molasses cookie recipe. I thought adding a smidgen of cayenne would be just the ticket. I didn't tell my girls what exactly that quarter teaspoon of "red spice" (ie cayenne) was until they took a bite. My youngest said "Oooh Mom, these are spicy… I like it!" coming from the child who isn't a fan of spice was music to my ears. The cayenne adds a touch of heat that will warm the back of your throat ever-so-subtly and takes these regular, chewy molasses cookies to a whole new level.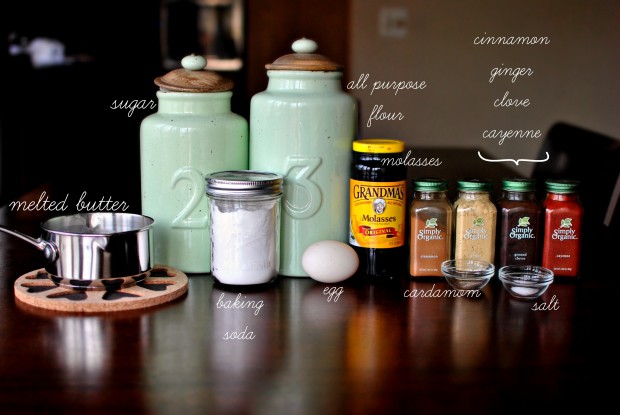 To Make These Spiced Molasses Cookies You Will Need:
unsalted butter, melted and cooled
granulated sugar
unsulphured molasses
egg
unbleached all-purpose flour
baking soda
cinnamon
kosher salt
ground clove
ground ginger
cayenne pepper
ground cardamom
turbinado sugar
for the vanilla glaze:
powdered sugar
kosher salt
light corn syrup
melted butter
whole milk, as needed
pure vanilla extract
Start by melting 1-1/2 sticks ( or 3/4 cup) of unsalted butter.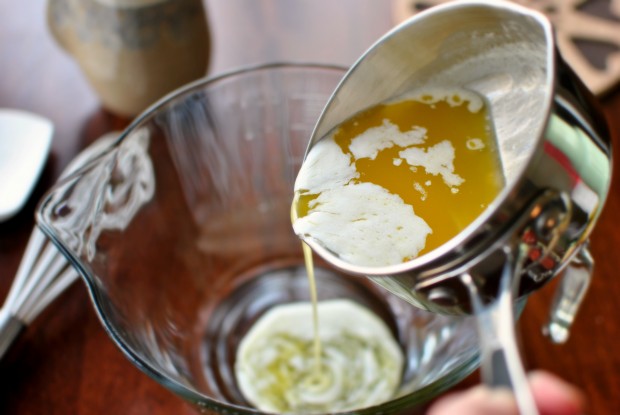 Next, pour it into a large bowl or into an 8-cup liquid measuring cup.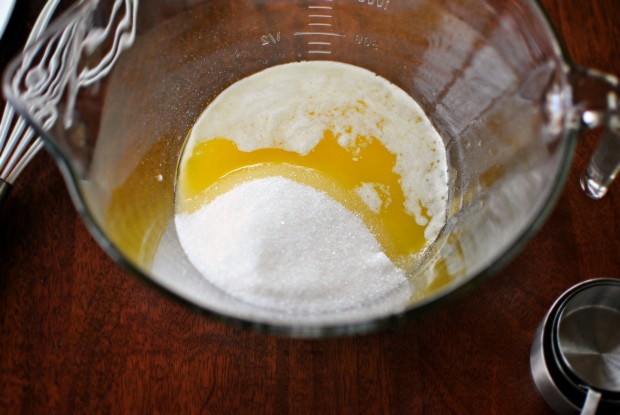 Then, to the melted butter, add in 1 cup of granulated sugar.
Next pour in 1/4 cup unsulfured molasses. I like to lightly spray my measuring cup with a little olive oil or coconut oil spray to keep the molasses from sticking to the measuring cup.
Give those a quick whisk to combine.
Crack in 1 egg.
And whisk some more so the egg is thoroughly combined.
In a small bowl, combine 2 cups of unbleached all-purpose flour, 2 teaspoons of baking soda, 1 teaspoon of ground cinnamon, 1/2 teaspoon each of ground clove, ginger and kosher salt, 1/4 teaspoon of cayenne pepper and 1/8 teaspoon of ground cardamom.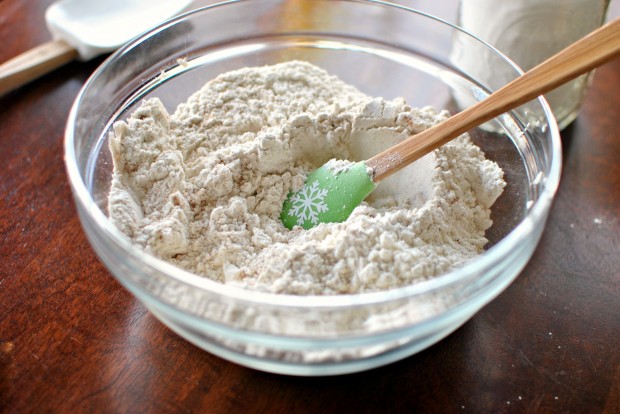 Mix those together.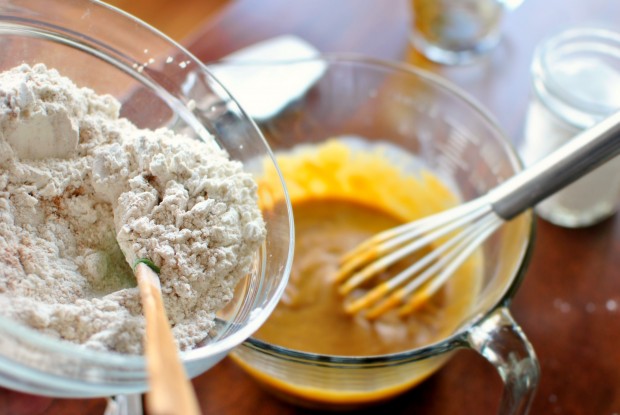 Gradually add them into the molasses mixture.
Use a spatula and mix until just combined.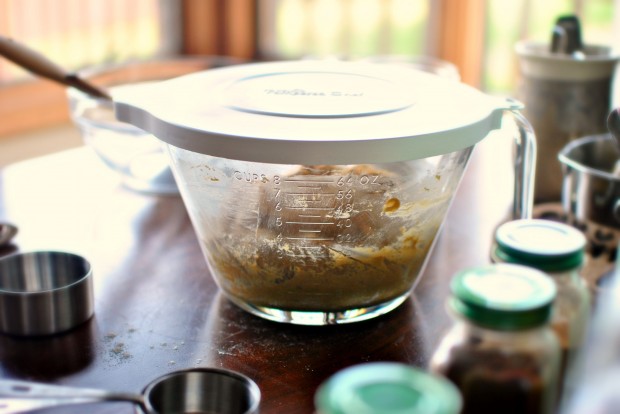 Cover and refrigerate the dough for 1 hour.
Once the dough has chilled use a 1-1/2 tablespoon scoop to measure out the cookie dough.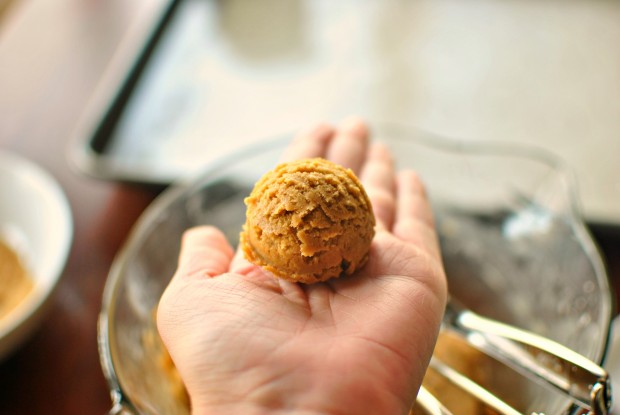 Just look at that perfect cookie dough ball!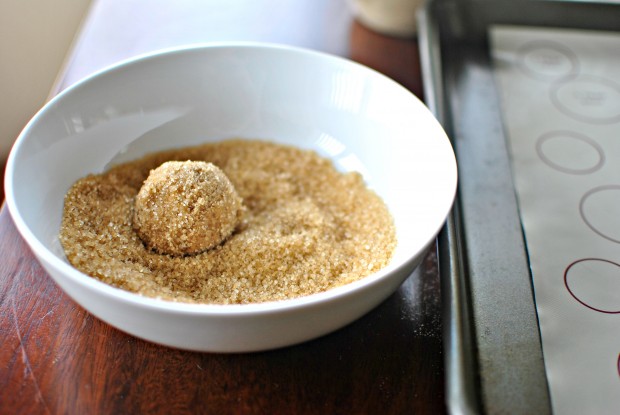 Measure 1/2 cup of turbinado sugar into a bowl. Place the dough ball into the sugar and roll it around to coat.
Next, place the each of the cookies two-inches apart and bake in a preheated 375° oven for 7-8 minutes or until the edges are lightly golden.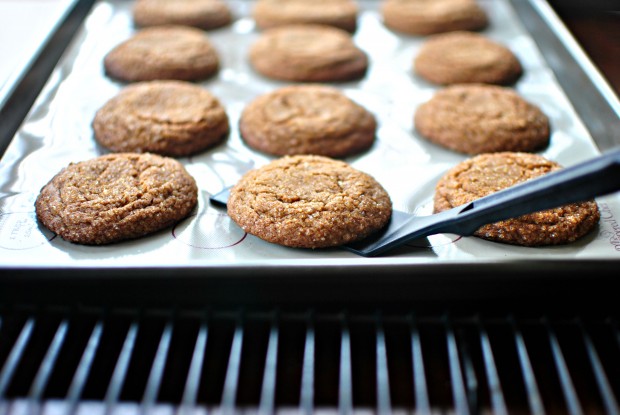 Then, let the spiced molasses cookies rest on the baking pan for 5 minutes before transferring them to a rack to cool.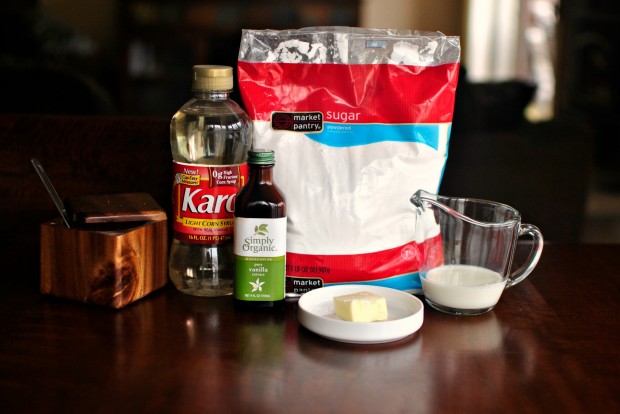 While my cookies cooled, I quickly whipped up a vanilla glaze.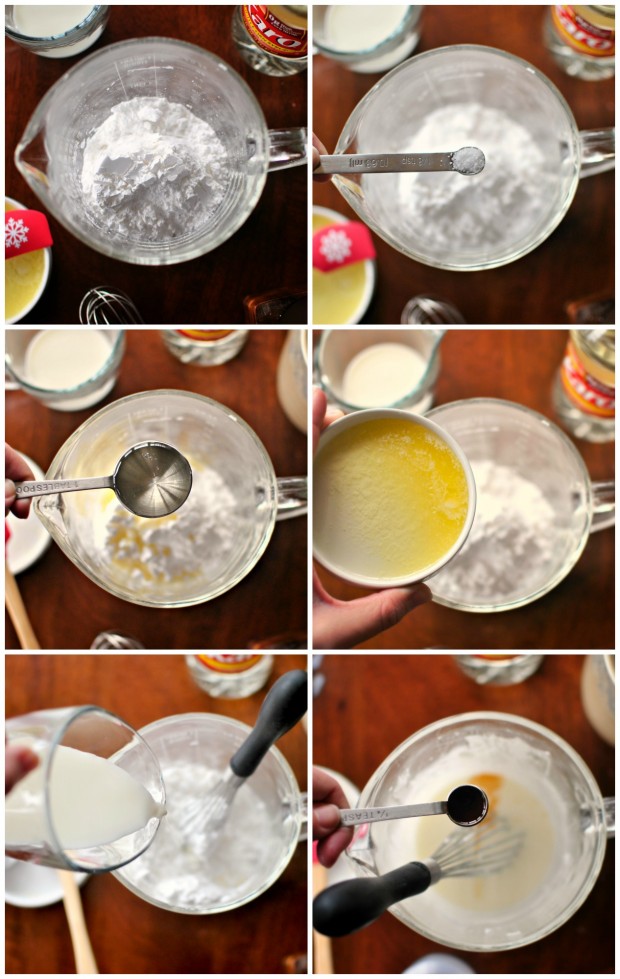 In a bowl combine; 1-1/2 cups powdered sugar, 1/8 teaspoon kosher salt, 1 tablespoon corn syrup and 1 tablespoon melted butter. Stir in enough whole milk until it is the desired consistency you want. Lastly, add in 1/4 teaspoon vanilla extract.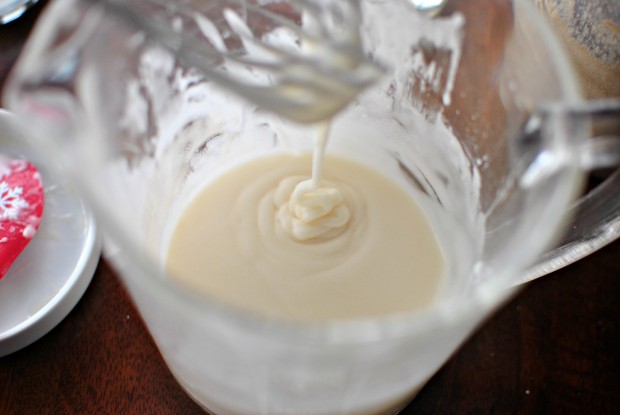 I like doing a drizzle test to check and make sure it's not too thick or too thin.
Then pour it into these nifty squeeze bottles.
Selected the tip with the tiny hole…
Then I squeezed the icing over top of the cooled spiced molasses cookies.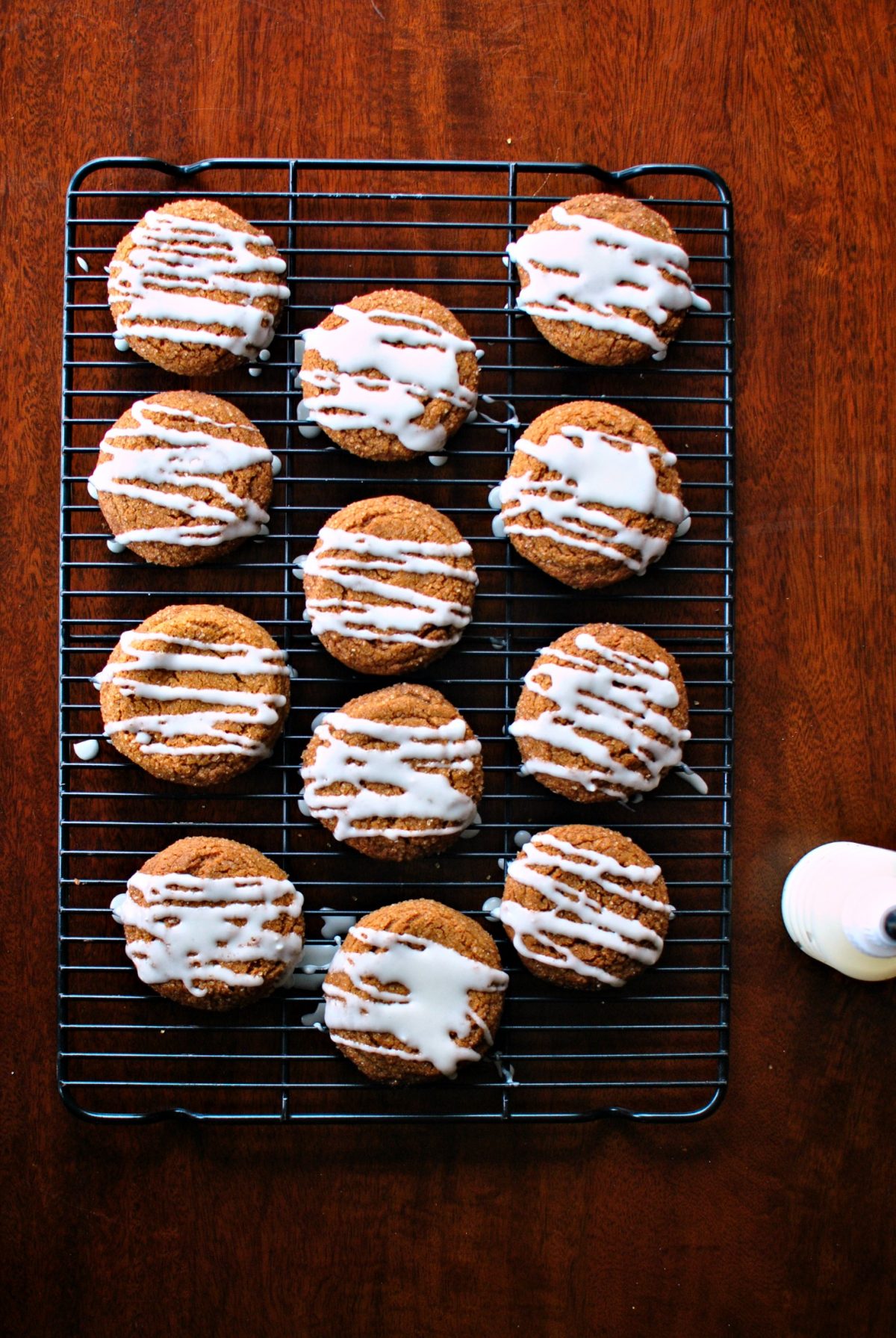 Perfection.
These cookies aren't the kind of "spicy" that would set your mouth on fire. More like, the cayenne works perfectly with the cinnamon and spices to create a warm cinnamon-red-hot-candy sensation. It's just enough heat to warm the back of your mouth.
So you won't need to chug a glass of milk, although dunking these spiced molasses cookies in a glass of milk isn't too shabby of an idea.
After eating these, I'm pretty sure I will always add a little spice to my molasses cookies.
Enjoy! And if you give this Spiced Molasses Cookies recipe a try, let me know! Snap a photo and tag me on twitter or instagram!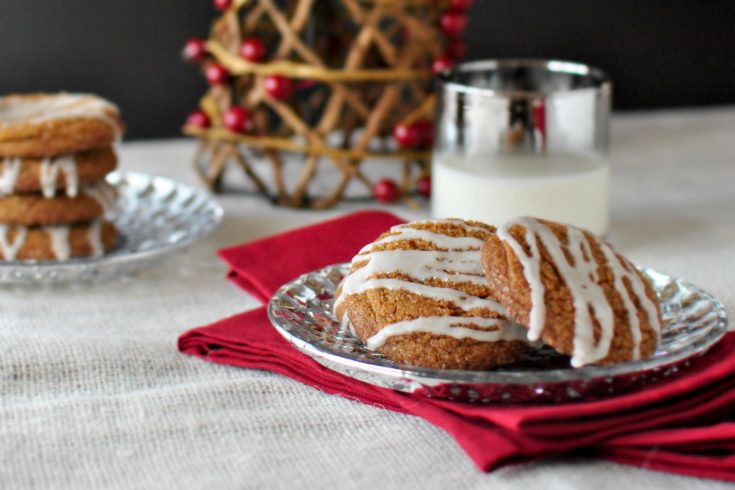 Yield: 24 cookies
Spiced Molasses Cookies
Cayenne adds a surprising warm touch of heat to these deliciously spiced molasses cookies.
Ingredients
3/4 cup unsalted butter, melted and cooled
1 cup granulated sugar
1/4 cup unsulphured molasses
1 large egg
2 cups unbleached all-purpose flour
2 teaspoons baking soda
1 teaspoon cinnamon
1/2 teaspoon salt
1/2 teaspoon ground clove
1/2 teaspoon ground ginger
1/4 teaspoon cayenne pepper
1/8 teaspoon ground cardamom
1/2 cup turbinado sugar
FOR THE VANILLA GLAZE
1½ cups powdered sugar
1/8 teaspoon kosher salt
1 tablespoon light corn syrup
1 tablespoon melted butter
whole milk, as needed
1/4 teaspoon pure vanilla extract
Instructions
MAKE THE COOKIES:
In a small saucepan melt the 3/4 stick of unsalted butter over low. Let cool.

Pour the cooled, melted butter into a medium bowl. Add the sugar, molasses and one egg. Stir until smooth.

In a separate bowl combine the flour, baking soda, cinnamon, salt, ground cloves, ginger, cayenne and ground cardamom. Stir and then add it to the molasses mixture in thirds. Stir until combined.

Cover and refrigerate dough for 1 hour.

Preheat your oven to 375°.

Remove and use a 2 tablespoon scoop and roll into the turbinado sugar and place two inches apart on a lined, rimmed baking sheet.

Bake in your preheated oven for 7 to 8 minutes until the edges of the cookies are golden and the tops have crackled.

Let the baked cookies cool on the baking sheet for 5 minutes before transferring them to a wire rack to cool completely.

Make glaze and drizzle over cooled cookies.
MAKE THE VANILLA GLAZE:
Combine the powdered sugar, salt, corn syrup and butter into a medium bowl or liquid measuring cup. Thin out with a little milk until it reaches the desired consistency. Add in the vanilla extract and whisk until smooth.
Serving: 1cookie, Calories: 187kcal, Carbohydrates: 31g, Protein: 1g, Fat: 7g, Saturated Fat: 4g, Polyunsaturated Fat: 1g, Monounsaturated Fat: 2g, Trans Fat: 1g, Cholesterol: 23mg, Sodium: 158mg, Potassium: 70mg, Fiber: 1g, Sugar: 23g, Vitamin A: 211IU, Vitamin C: 1mg, Calcium: 14mg, Iron: 1mg
This recipe was created for Pampered Chef featuring a few of my favorite Pampered Chef products. As always, my thoughts are my own and I love Pampered Chef.
This post may contain affiliate links.
Buy the Cookbook: Simply Scratch : 120 Wholesome Homemade Recipes Made Easy Now available on Amazon »
THANK YOU in advance for your support!