In this spice crusted chicken recipe, I use an combo of toasted cumin and coriander. Then drizzle it with a blood orange, maple and rosemary glaze.
It's Monday so I'm thinking I should start the week by bringing some major flavors to the table.
Flavor is good, right? I mean especially for Mondays. Mondays were never my favorite… but now things are looking up and are majorly delicious.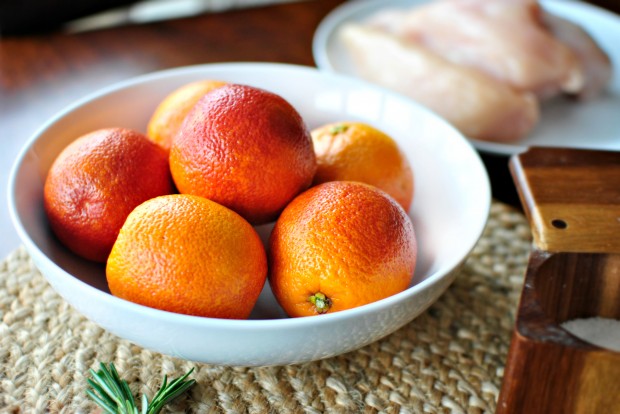 Remember when I toasted my own spices? Well it was to coat and crust chicken breasts. Something about those two spices along with a glaze of blood orange, maple syrup and rosemary turns ordinary chicken into an extraordinary recipe.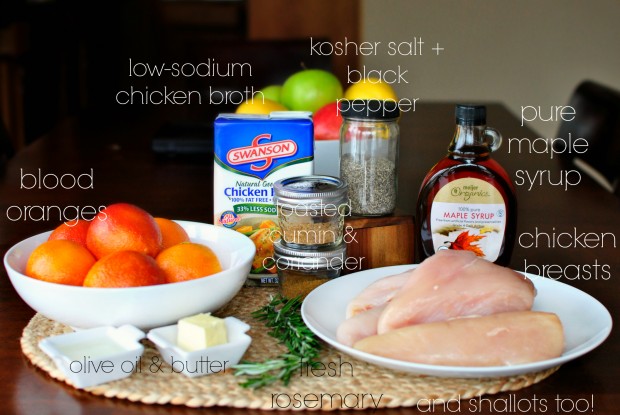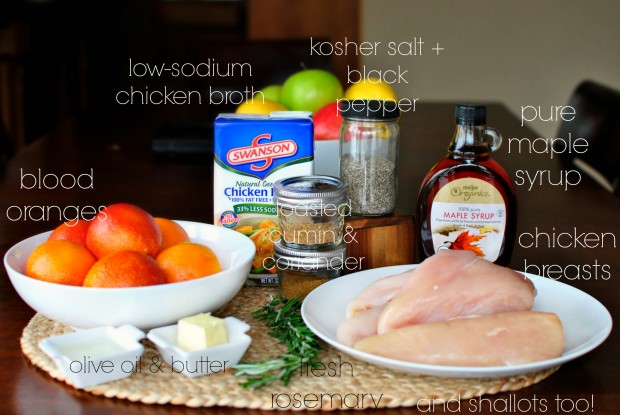 A lot of people ask me how I come up with my recipes. Well sometimes it takes a year. Like this recipe, I've been thinking about this babe for a little over a year now. I made something similar this time last year, but the flavor was lacking and I used pork chops… which I really didn't care for too much to be honest. Then I tried it with chicken, chicken just seemed more natural of a fit but the spices were still a bit off. So now since it's blood orange season yet again, I went all out in round three by toasting and freshly grinding my own spices and upping them so they could really stand out… which did the trick and now I can finally share it with you on this here bloggy-blog.
So that we're clear, that's three attempts, three sets of photos and finally a spice-filled, sweet and savory chicken recipe that will rock your socks.
Lessssroll.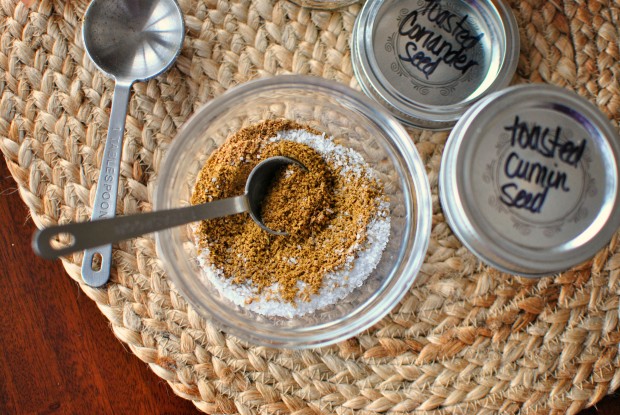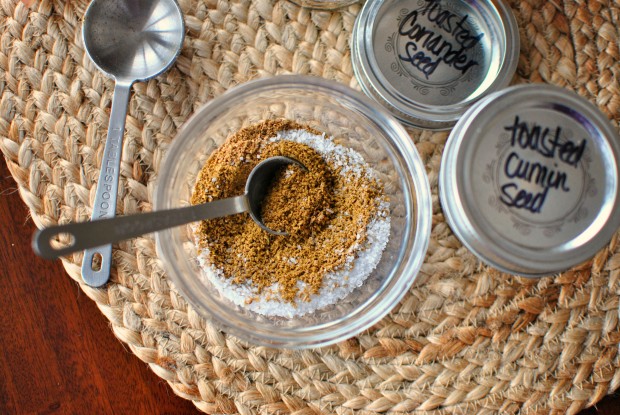 Start by combining 1 tablespoon each of ground coriander and cumin along with a teaspoon of kosher salt.
Grab four chicken breasts and coat in the spice mixture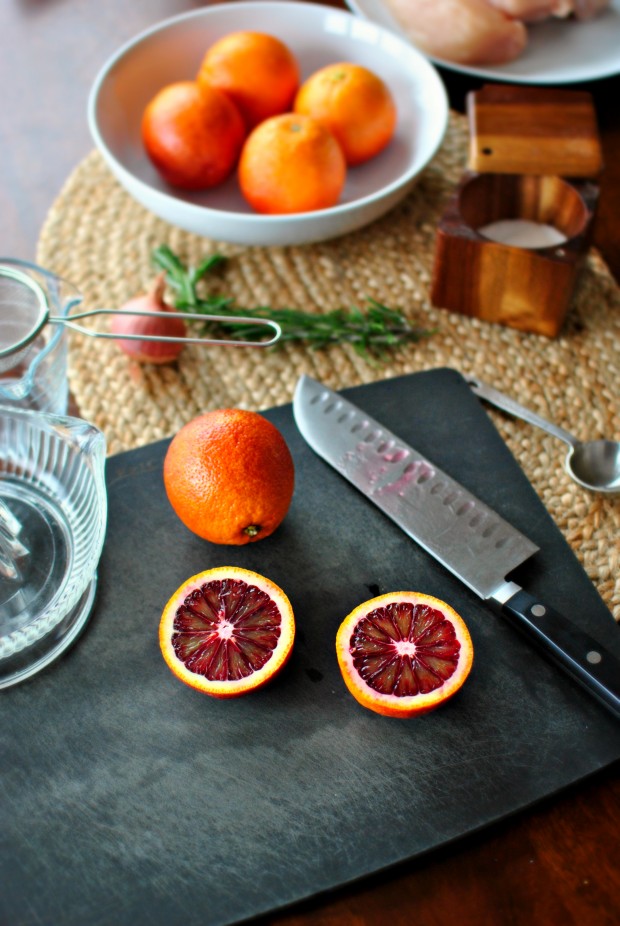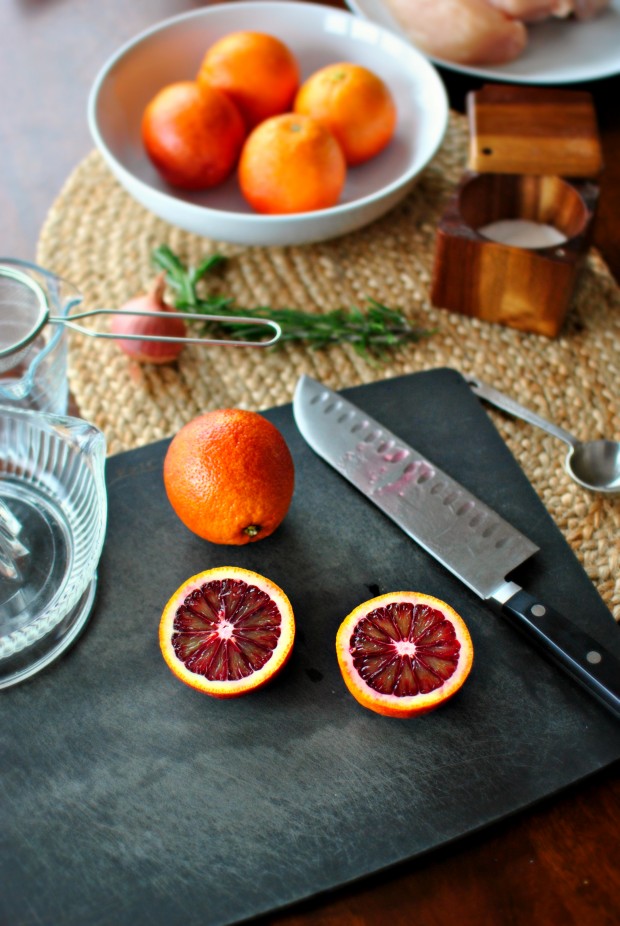 Slice some blood oranges in half. Just look at that color?! I could just stare at them forever.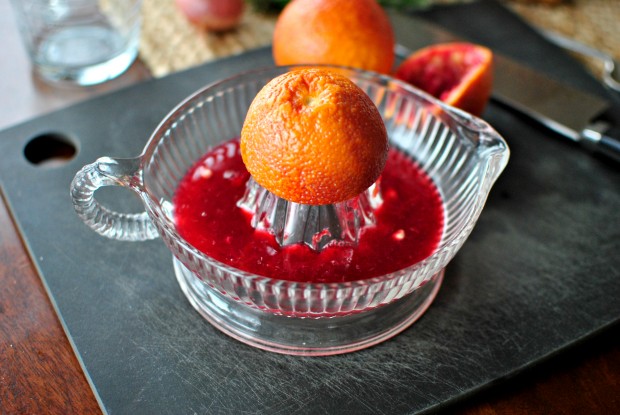 Juice them…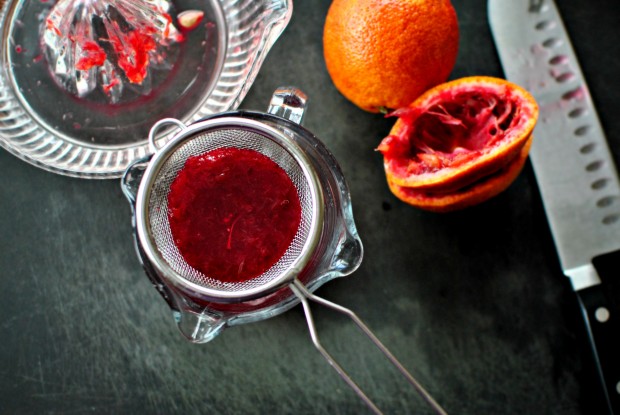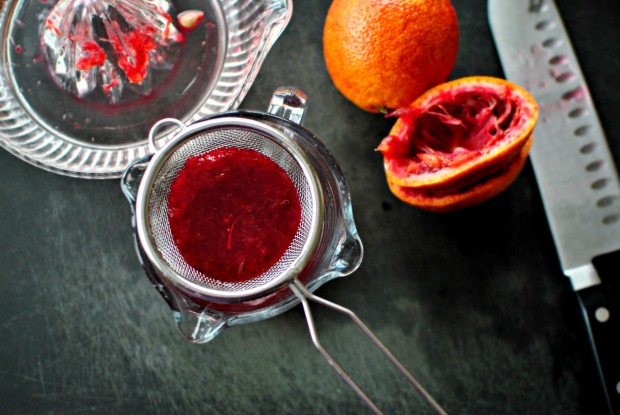 Strain the pulp…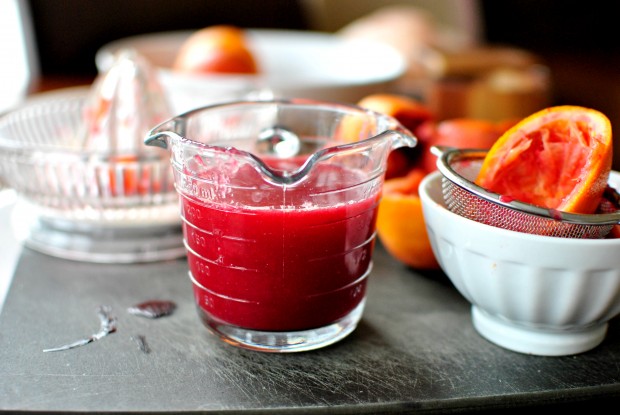 Until you have 3/4 of a cup. That's about 4 oranges.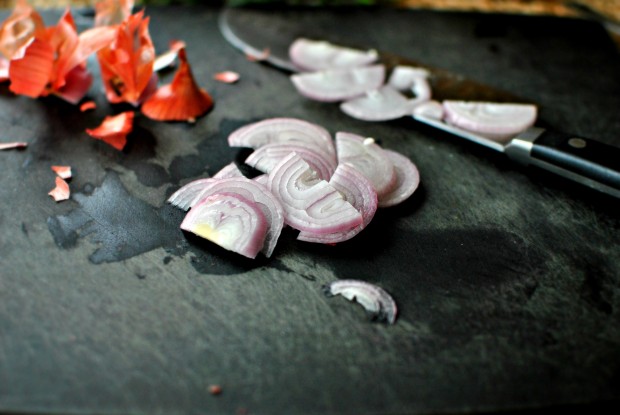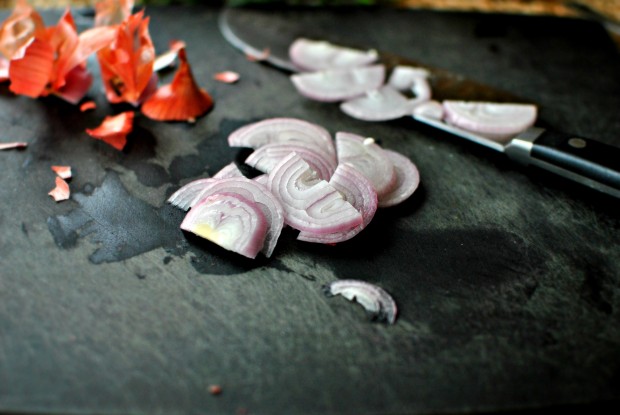 Slice up a couple shallots…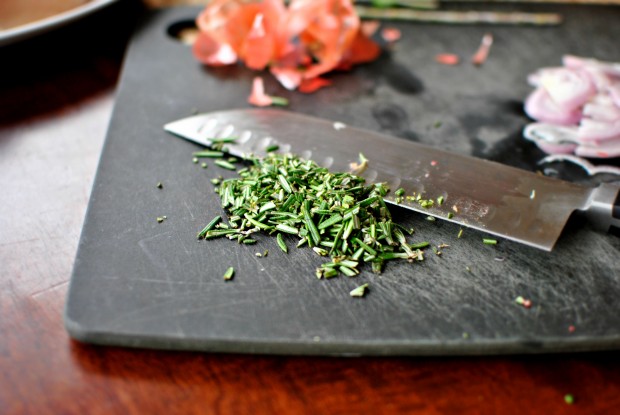 And mince up about two teaspoons of fresh rosemary.
Melt two tablespoons of butter in with two tablespoons of light olive oil over medium to medium-high heat.
Lay the chicken breasts into the hot pan and cook for 4-5 minutes or until a crust forms and they can flip easily. If they are sticking, they need more time… so only flip when the pan has released them.
Then, turn and pop into a preheated 400 degree oven for 20 minutes.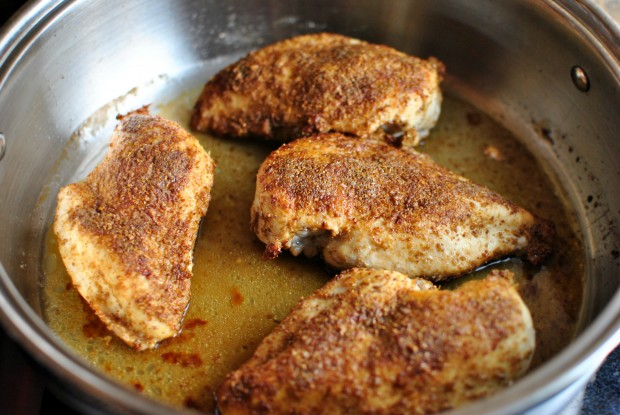 The chicken should come out a little darker, and oh-so-fragrant!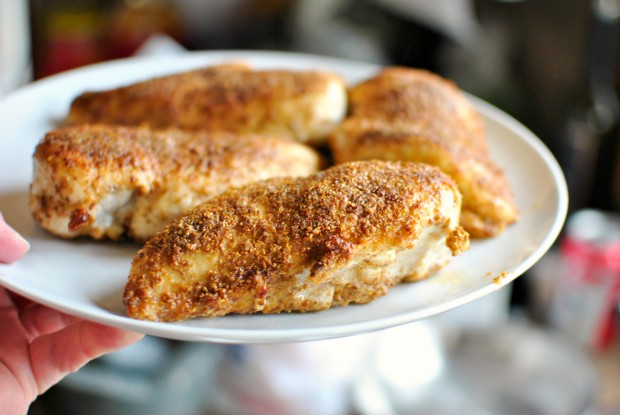 Next, remove them to a clean plate and tent with foil to keep warm.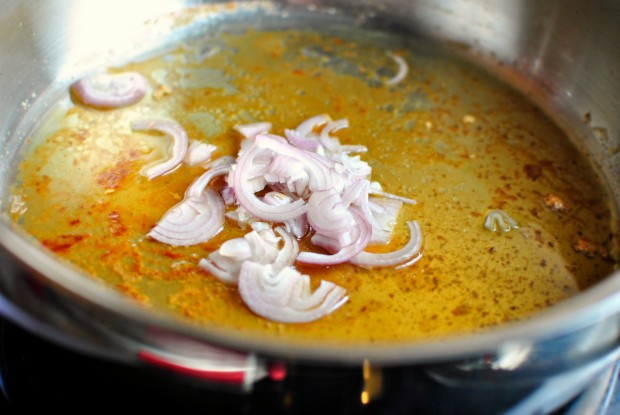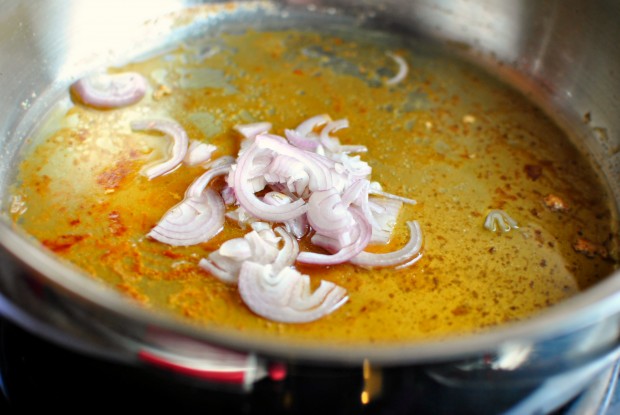 Into the pan with the juices add the sliced shallots.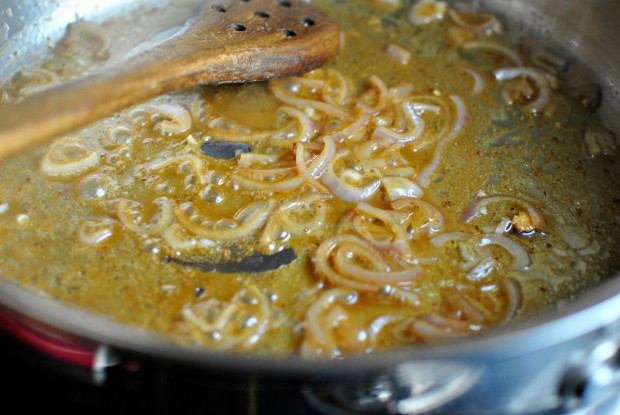 Then, cook until soft and translucent.
Next, pour in the 3/4 cup of blood orange juice, 1/2 cup of chicken and a 1/2 cup of maple syrup.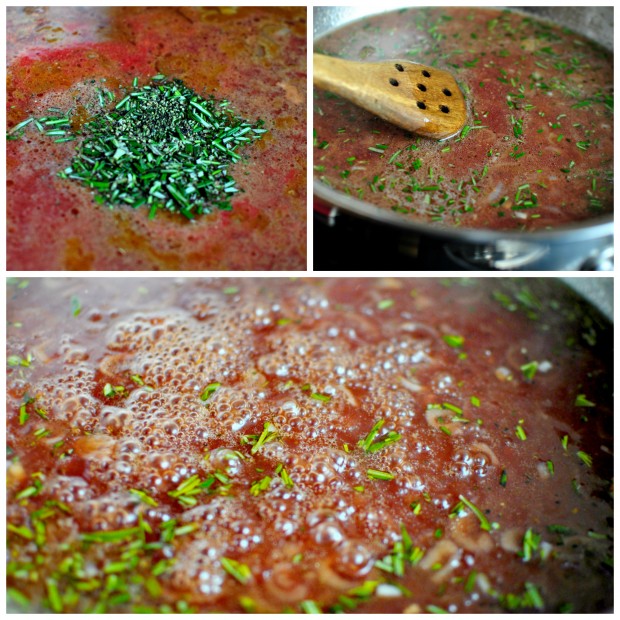 Then, throw in the two teaspoons of chopped rosemary, stir and reduce until a thick glaze remains… about 8-10 minutes.
Next, return the chicken back to the pan and spoon the glaze over the top.
That's it! So much flavor and so seemingly simple.
The chicken light, bright and exceptionally moist and uh, duh… flavorful. This spice crusted chicken works with pretty much anything from salad to whipped cauliflower mash to roasted broccoli or all the above. It's a chicken recipe that my whole family loved and was a year in the making. Totally worth the three efforts I put into it. For sure.
Enjoy! And if you give this Spice Crusted Chicken Recipe a try, let me know! Snap a photo and tag me on twitter or instagram!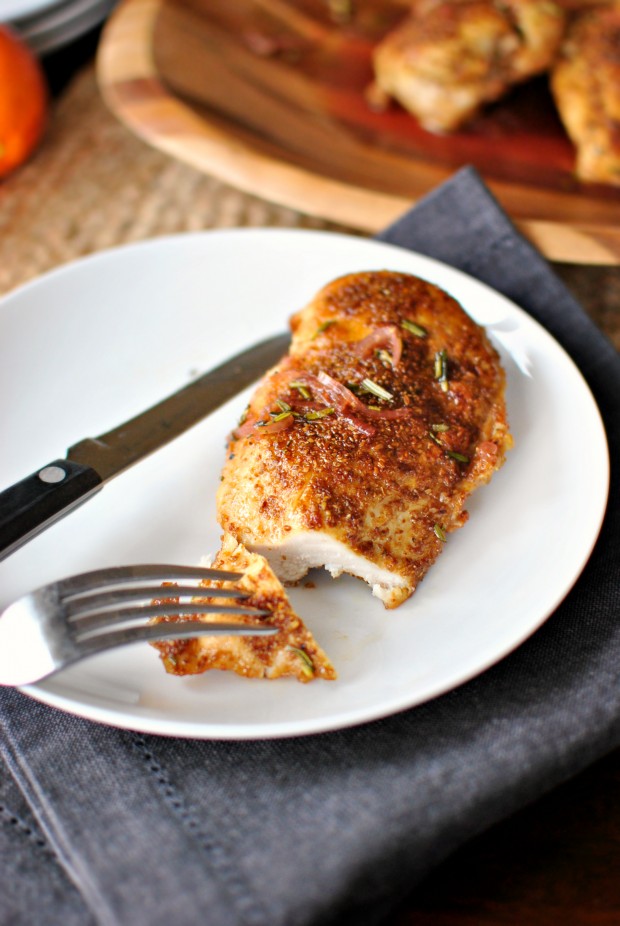 My cookbook Simply Scratch : 120 Wholesome Homemade Recipes Made Easy is now available! CLICK HERE for details and THANK YOU in advance!
[this post contains affiliate links.]
This post may contain affiliate links.
Buy the Cookbook: Simply Scratch : 120 Wholesome Homemade Recipes Made Easy Now available on Amazon »
THANK YOU in advance for your support!