This southwest chicken chili is a one pot masterpiece full of flavor. Shredded chicken, roasted poblano and charred corn, pinto and black beans all in an ancho chili tomato sauce. This Southwest Chicken Chili makes a lot and is excellent reheated the next day.
Papa Joe's is this posh gourmet market here in Southeast Michigan. They only have two locations and they just opened a third mini-market sort-of-thing inside the concourse of our hospital last year. So far I'm loving their soups, salads and I've been especially in love with this chicken chili of theirs for the past month. I can't get enough of it, I swear to you, I eat it every single day I'm working and dream about it at night.
I even cry a little if they're not serving it on a day I'm there. Totally not kidding.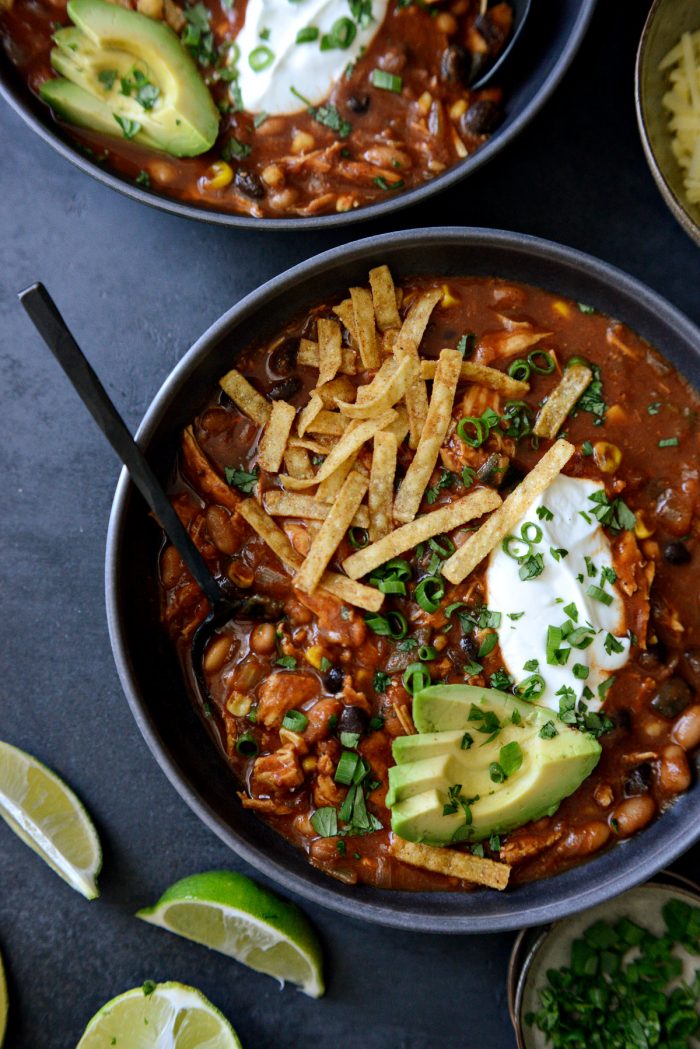 Since I only work three days a week, and I was off for a long weekend, it got me thinking. I want that chili. I wasn't about to drive 30 minutes to the nearest Papa Joe's and I was definitely not driving up to the hospital for a bowl.
So I made my own instead.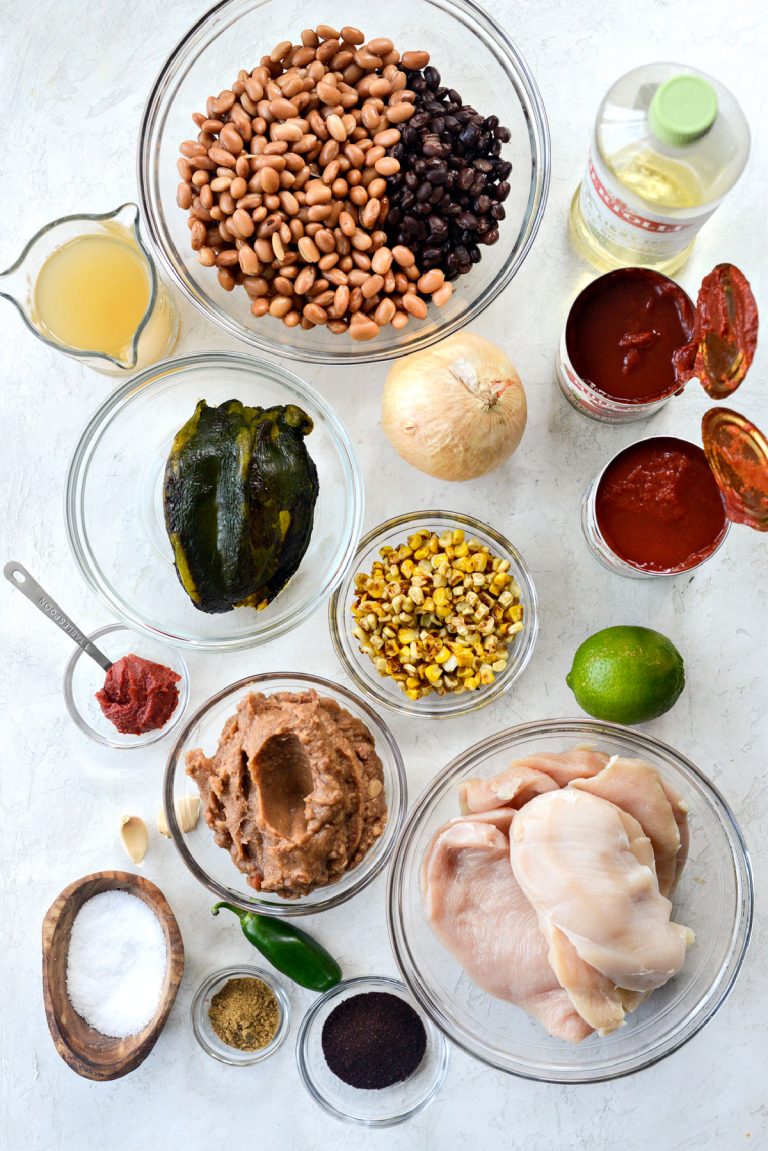 To Make this Southwest Chicken Chili You Will Need:
extra light olive oil
yellow onion
jalapeño
garlic cloves
kosher salt
tomato paste
ancho chili powder
cumin
thin-cut chicken breasts
tomato sauce
low-sodium chicken broth
pinto beans
black beans
poblano pepper (charred with stem, skin and seeds removed)
charred sweet corn
fat-free refried beans
lime juice
kosher salt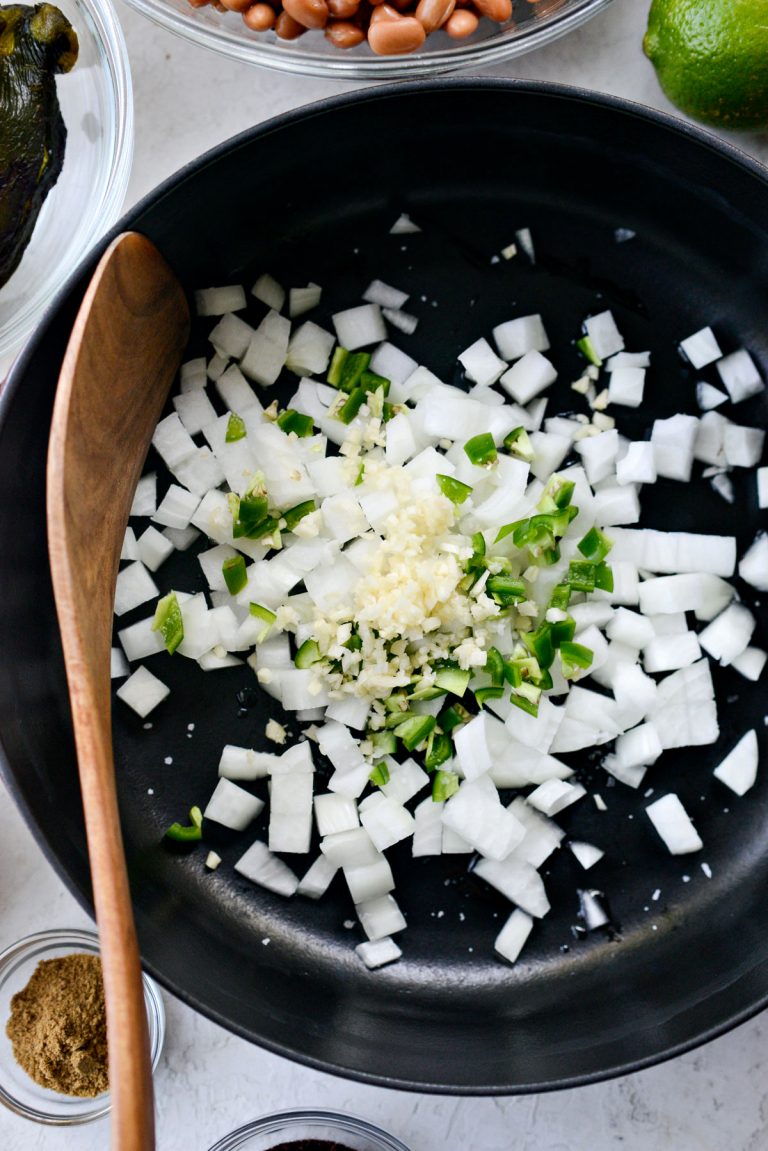 In a large pot or dutch oven add 2 teaspoons olive oil, 1 large (chopped) onion, 1 jalapeño and 3 cloves minced garlic plus a pinch of kosher salt and heat over medium-low heat. Cook until the peppers and onions are just beginning to soften.
Measure and add 1 tablespoon tomato paste, 4 teaspoons ancho chili pepper and 2 teaspoons cumin.
Add 2 (15 ounce) cans tomato sauce.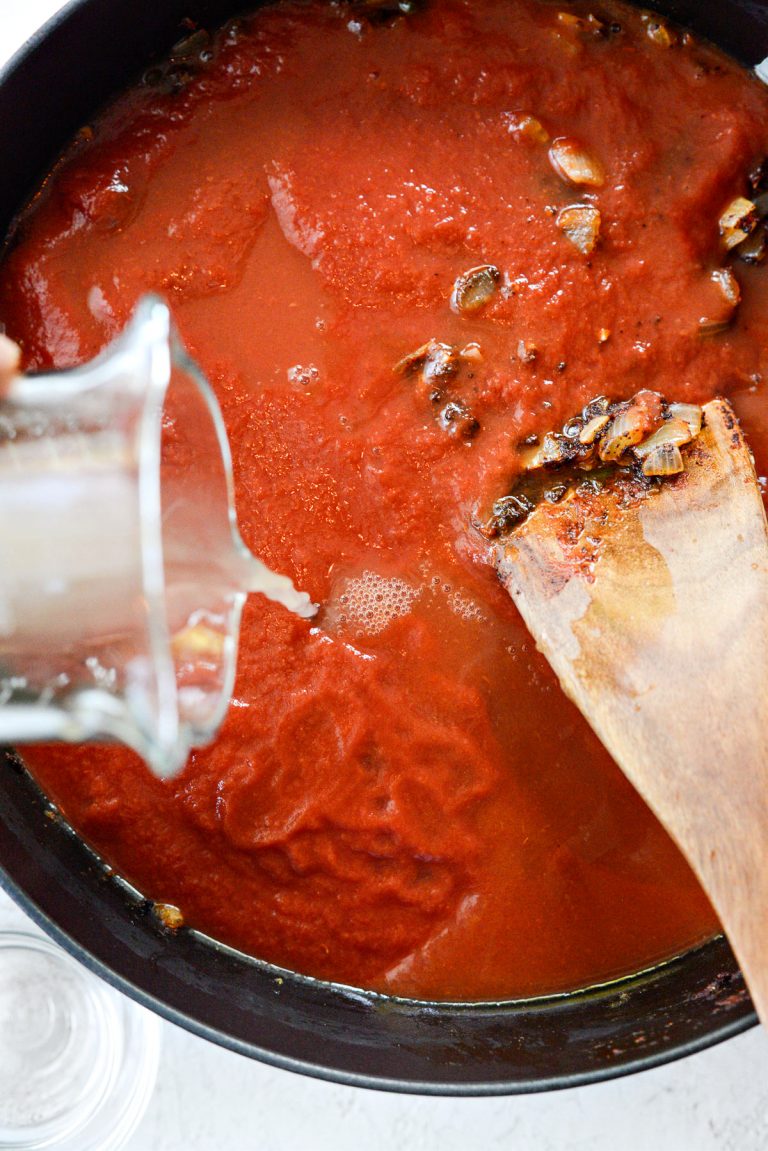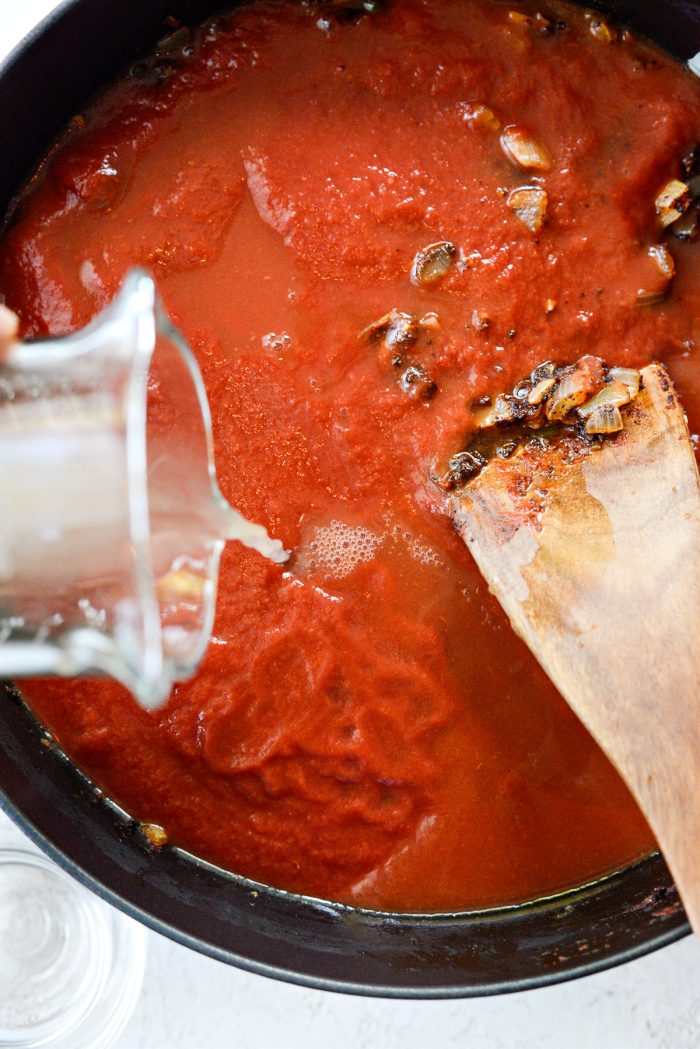 Then pour in 2 cups chicken broth.
Next add 1-3/4 pounds thin-cut boneless skinless chicken breasts.
Cover and bring to a low boil, reduce to low and simmer 35 minutes or until chicken is fully cooked.
Remove the chicken and shred with 2 forks.
Return the chicken to the pot along with 2 cans (drained and rinsed) pinto beans and 1 can black beans. Stir to combine.
Next add in 1 (15 ounce) can fat free refried beans, 1 cup charred sweet corn and 1 poblano that has been charred (skin, stem and seeds removed) and diced.
Season with kosher salt, to taste. For me it was 2 teaspoons. Also, squeeze in the juice from 1 large lime.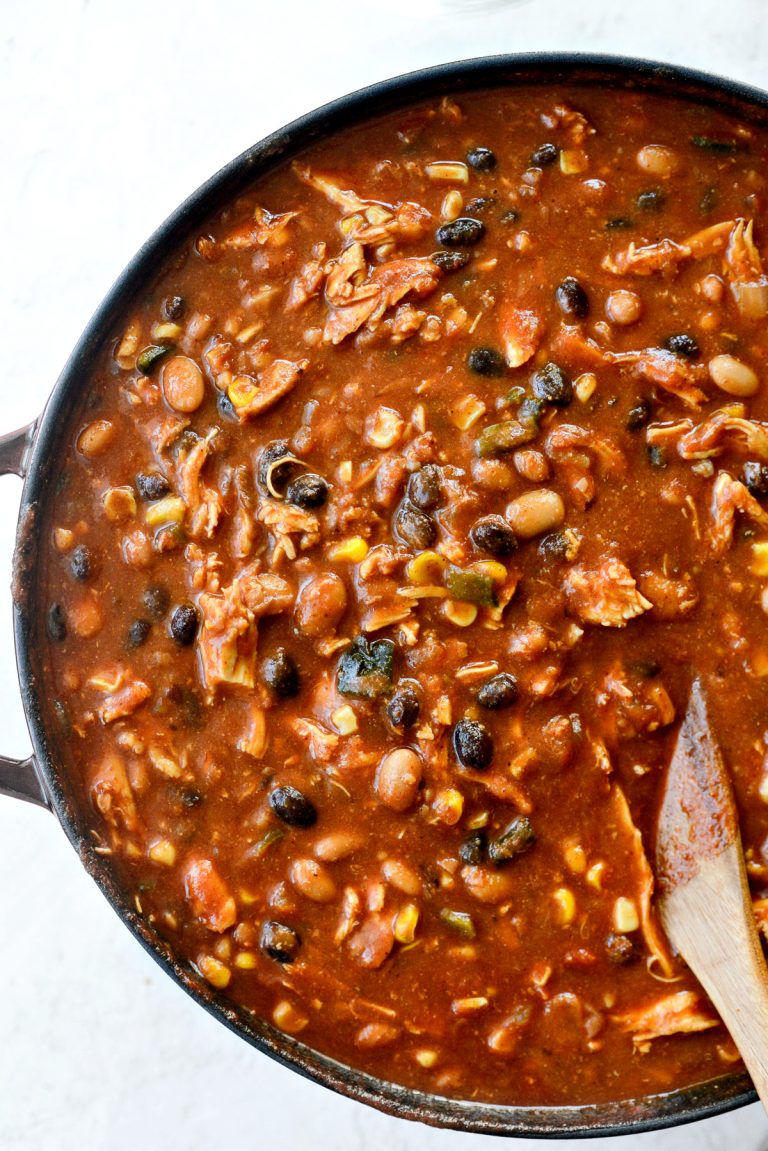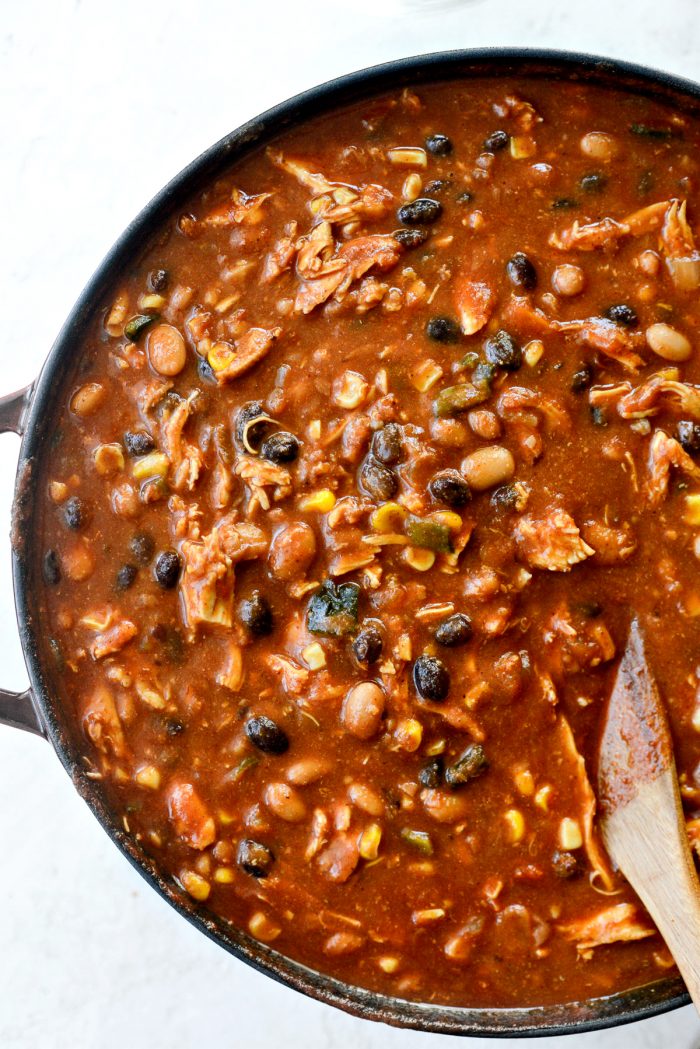 Give it a good stir and heat through.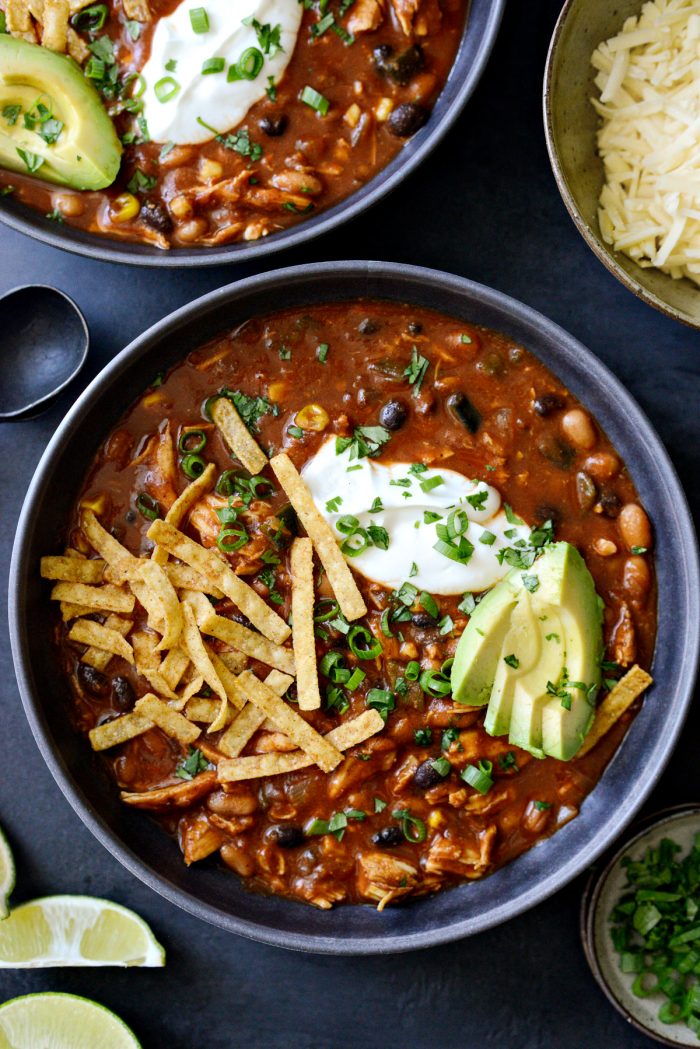 Ladle into bowls and top with desired toppings.
I highly, HIGHLY recommend a large dollop of sour cream or plain non-fat Greek yogurt to your bowl of Southwest Chicken Chili. We ended up adding thin corn tortilla strips and also sprinkled them in while we ate! Oh my lord. My daughters sprinkled white cheddar cheese in their bowls, and my husband put Cholula in his.
The sky is the limit.
How To Freeze Chili And Reheat Later:
COOL: make sure the chili is completely cool before freezing. Never place hot or very warm items in the freezer (or fridge!) as it can thaw and negatively affect the nearby food.
PORTION: when cool, divide chili into portions. Whether it's a single serving, two or four, portion the cooled chili into either freezer safe bags or air-tight containers. I prefer using freezer safe bags and removing as much air as possible, this helps with storing.
FLATTEN: once portioned, lay flat on a rimmed baking sheet and freeze for a few hours. Like in this post.
STORE: stack the flat frozen chili portions vertically or horizontally saving so much freezer space. Store chili in the freezer for up to 6 months.
REHEAT: I prefer to thaw frozen chili overnight in the fridge. However you can soak in a sink of lukewarm water for 20 to 30 minutes – flip every so often and change out the water at least once or twice. You can also defrost in the microwave until thawed. Lastly, add thawed chili to saucepan or dutch oven and heat until thoroughly heated throughout.
For More Chili Recipes Click Here!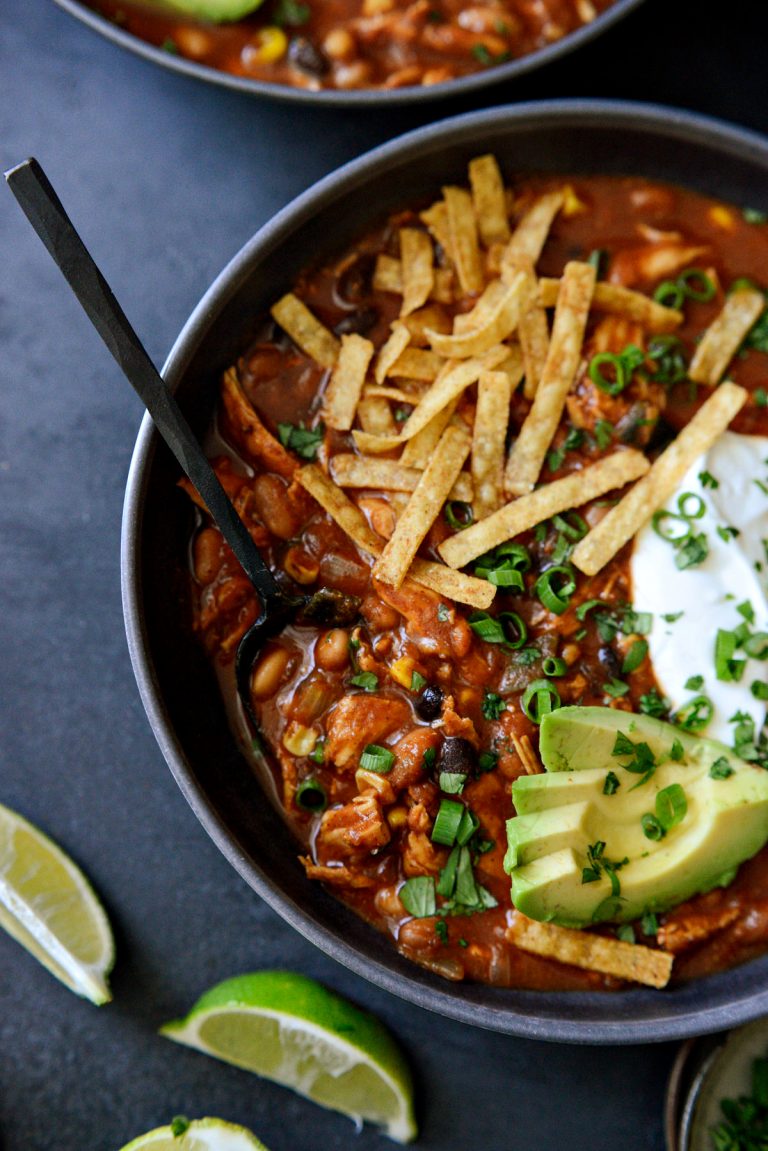 Enjoy! And if you give this Southwest Chicken Chili recipe a try, let me know! Snap a photo and tag me on twitter or instagram!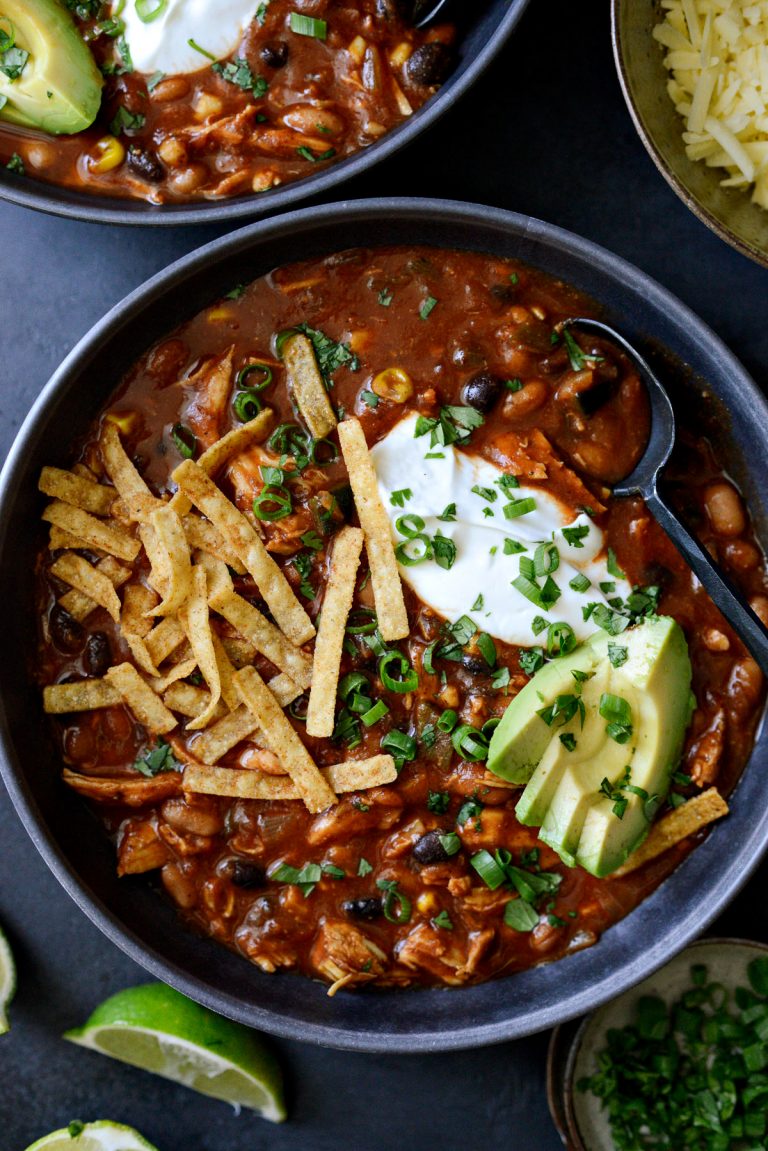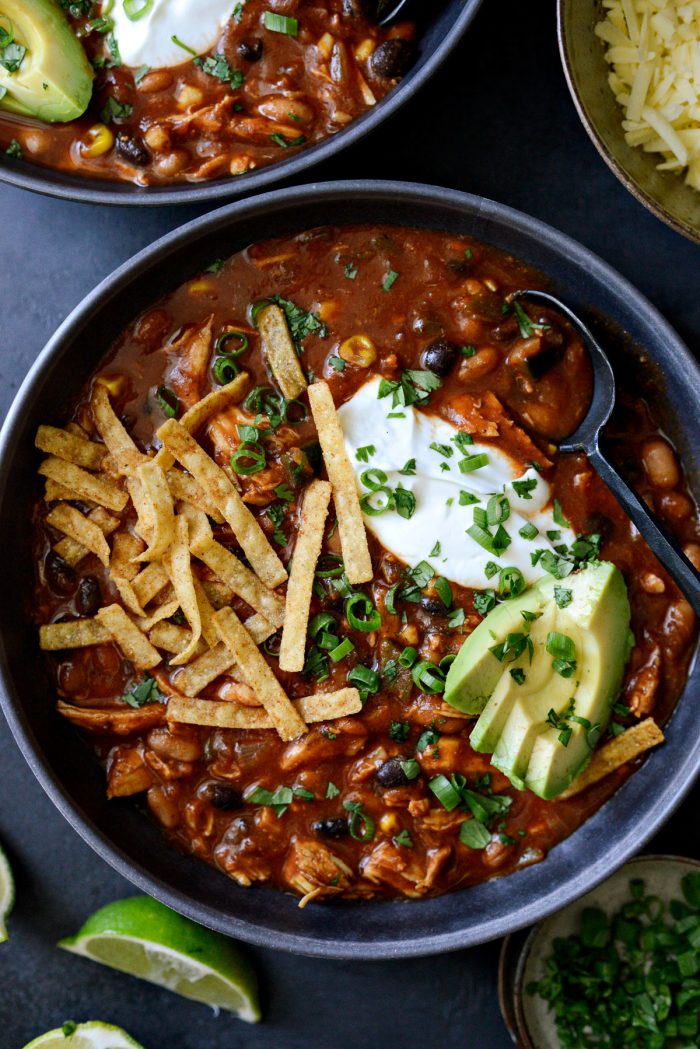 Yield: 12 servings
Southwest Chicken Chili
This southwest chicken chili is a one pot masterpiece full of flavor. Shredded chicken, roasted poblano and charred corn, pinto and black beans all in an ancho chili tomato sauce.
Ingredients
2 teaspoons extra light olive oil
1 large yellow onion
1 jalapeño, diced (seeded for less heat)
3 cloves garlic, minced
1 tablespoon tomato paste
4 teaspoons ground ancho chili powder
2 teaspoons ground cumin
2 (15 ounce) can tomato sauce
2 cup low-sodium chicken broth
1¾ pound boneless skinless chicken breast halves
2 (15 ounce) cans pinto beans, rinsed and drained
1 (15 ounce) can black beans, rinsed and drained
1 cup charred corn
1 poblano pepper, charred with seeds and stem removed, then chopped
1 (15 ounce) can fat-free refried beans, homemade or store-bought
1 lime, juiced
2 teaspoons kosher salt, more or less to taste
FOR SERVING:
plain nonfat greek yogurt or sour cream
avocado
minced cilantro
sliced green onion
grated white cheddar cheese
tortilla strips, I like the Fresh Gourmet Sante Fe strips
Instructions
In a dutch oven add olive oil, onion, jalapeño and garlic with a small pinch of kosher salt. Stir and cook over medium to medium-low until the onion are soft and translucent. About 10 minutes.

Once soft, add in tomato paste, ancho chili powder and cumin. Stir and cook 1 minute.

Pour in both cans of tomato sauce, use a little of the broth to clean out the sauce left behind in the can. Pour the remaing broth into to pot. Stir to combine.

Add the chicken breast halves and submerge. Cover and bring to a low boil, reduce the heat to low and simmer for 20 minutes or until fully cooked.

Carefully remove fully cooked chicken breasts and shred with 2 forks before adding it back in.

If using rotisserie or previously cooked shredded chicken, add it and still simmer for 20 mintues.

Add in the pinto beans, black beans, refried beans, corn and poblano. Simmer for 5 mintues or until heated through.

Before serving, squeeze in the juice of 1/2 a lime and season with kosher salt to taste.
Serving: 355g, Calories: 240kcal, Carbohydrates: 22g, Protein: 28g, Fat: 5g, Saturated Fat: 1g, Polyunsaturated Fat: 1g, Monounsaturated Fat: 2g, Trans Fat: 1g, Cholesterol: 64mg, Sodium: 751mg, Potassium: 766mg, Fiber: 6g, Sugar: 3g, Vitamin A: 494IU, Vitamin C: 20mg, Calcium: 40mg, Iron: 2mg
This post may contain affiliate links.
Buy the Cookbook: Simply Scratch : 120 Wholesome Homemade Recipes Made Easy Now available on Amazon »
THANK YOU in advance for your support!