This Slow Cooker Balsamic Dijon Pot Roast is another recipe from my freezer kit repertoire, and it couldn't be any easier. A beef chuck roast slowly simmers with potatoes and carrots with fresh rosemary and thyme in a balsamic, Dijon broth. And BONUS it's freezer friendly and 95% can be made in advance, frozen and saved to be whipped up on a chilly day or when you're just not in the mood to cook. I adore recipes just like this! Feeds 4 to 6 in about 8 hours.
Monday my girls had the day off from school. Yet I still woke up at 6:45 to put this Balsamic Dijon Pot Roast in my slow cooker. Yes, willingly. While it sat on my counter doing it's thing, I went and picked up my groceries and put gas in my car. I was home from shopping and gas getting by 9:30 in the morning and my girls never knew. Until I woke them up with promises of pancakes.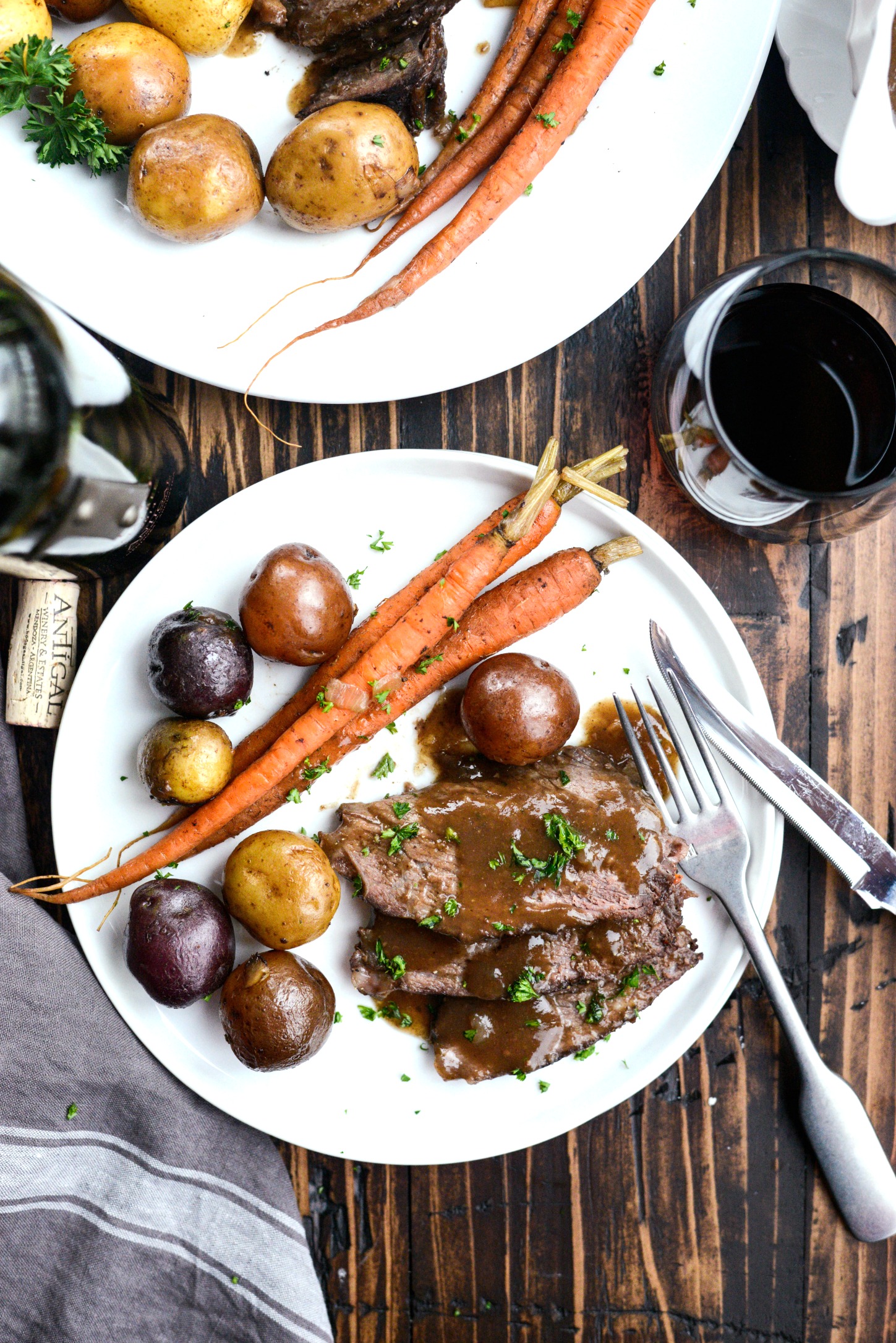 Their eyes pinged open like they were on springs.
There's something about having dinner in the slow cooker and my kitchen cupboards and fridge stocked that make me feel accomplished. This slow cooking is really growing on me and I'm starting to finally get why everyone loves it. Now I just need to get on board and buy an Instant Pot.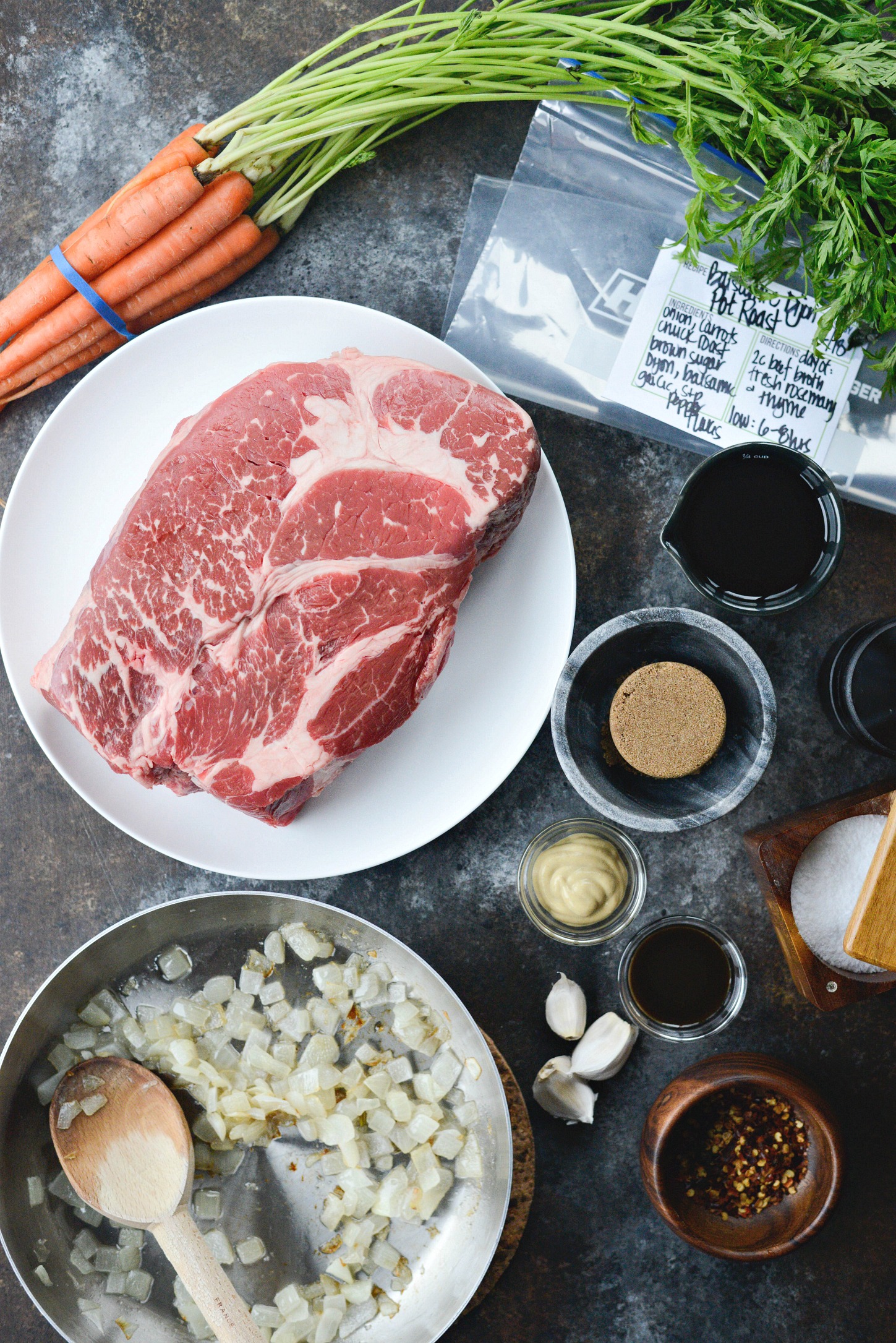 To Prep This Slow Cooker Balsamic Dijon Pot Roast You Will Need:
1 ( 3 to 4 pound) chuck roast
a bunch of (6 to 8) baby carrots
large yellow onion (sautéed in 1 to 2 teaspoons olive oil)
garlic
dark brown sugar
Dijon mustard
balsamic vinegar
Worcestershire
red pepper flakes [<— totally optional]
kosher salt
freshly ground black pepper
The day you prepare this recipe you will use the freezer kit plus 2 cups beef broth, baby potatoes, fresh rosemary and thyme.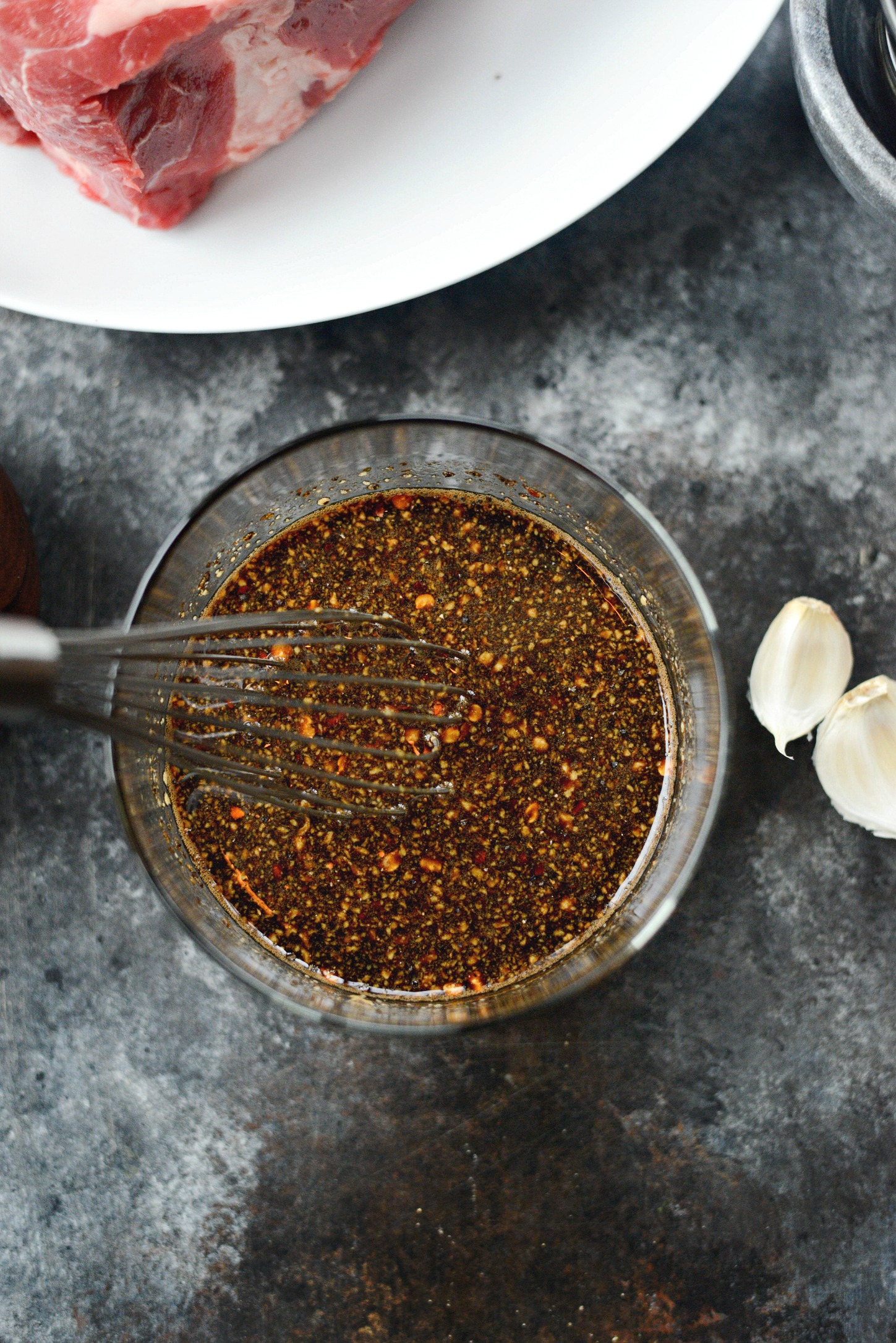 To make The Sauce:
Start by whisking together 1/4 cup dark brown sugar, 2 heaping tablespoons of Dijon mustard and then 1/4 cup of balsamic vinegar. Then add 1 tablespoon Worcestershire, 1 teaspoon kosher salt and 1/2 teaspoon freshly ground black pepper and 1/4 teaspoon of red pepper flakes into a medium bowl and set aside.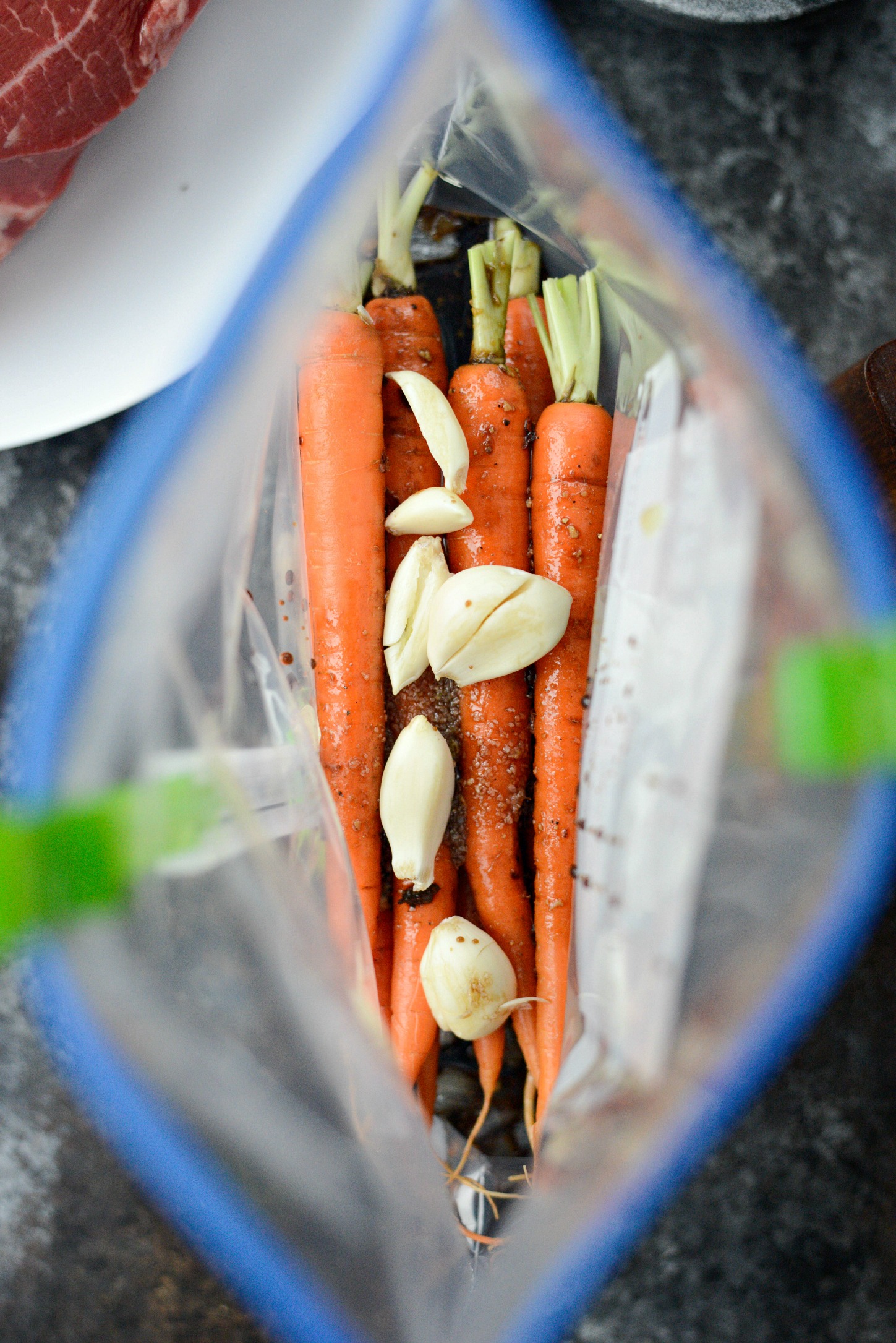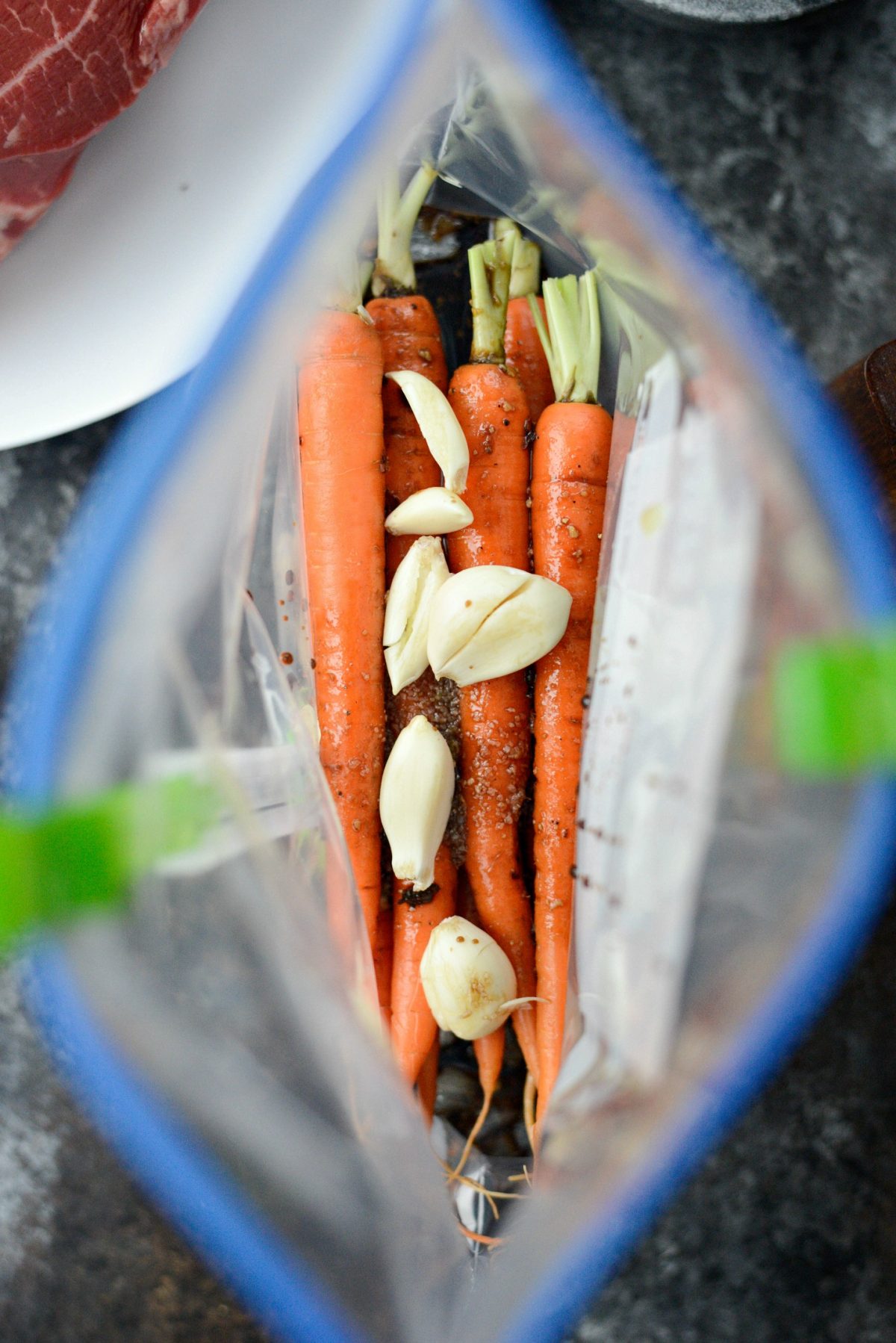 Next, place 1 onion that's been sautéed, 1 bunch [washed and trimmed] carrots, the smashed and peeled garlic cloves and the balsamic dijon sauce into a gallon size re-sealable bag. Then add in the roast, squeeze out as much air as humanly possible before sealing.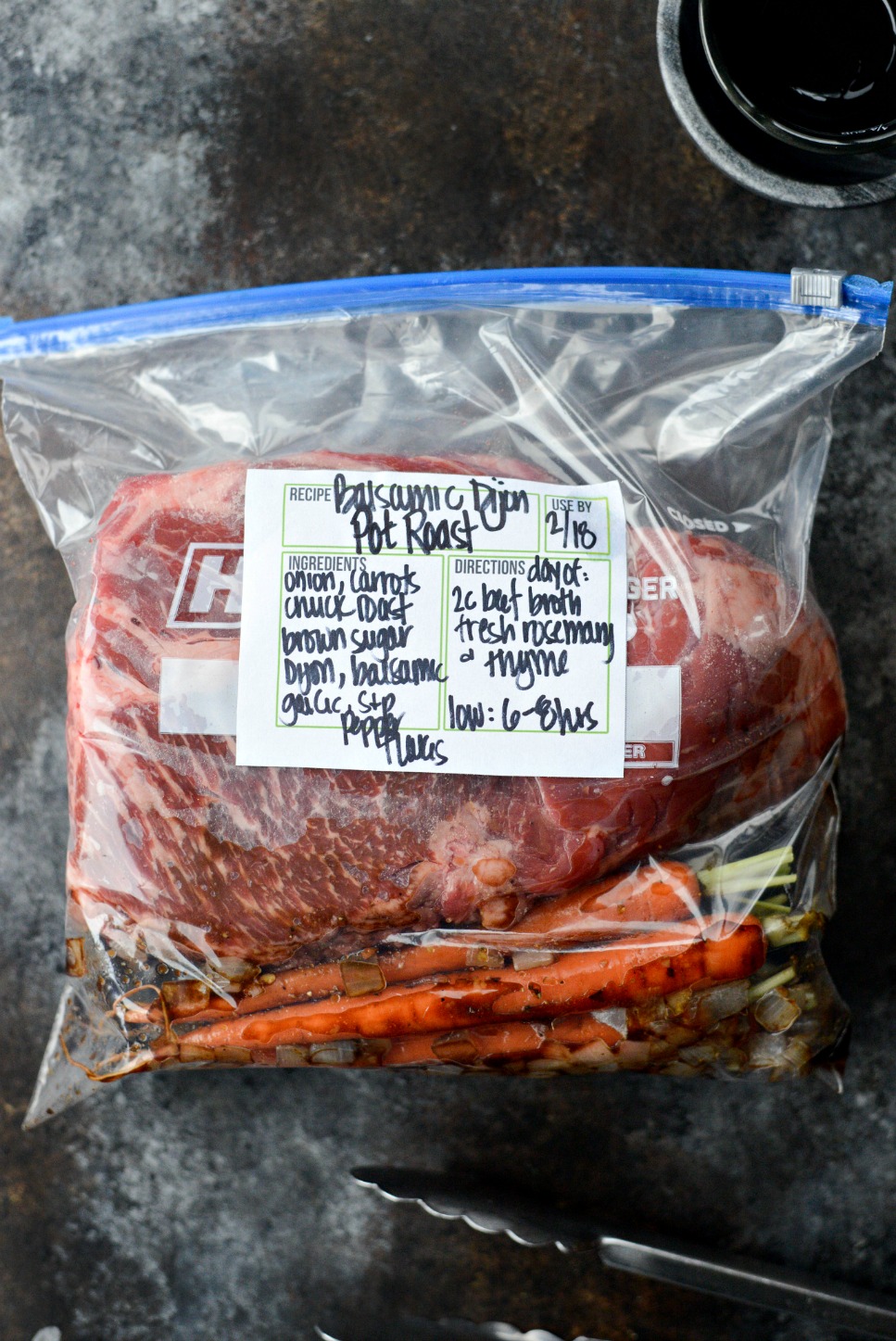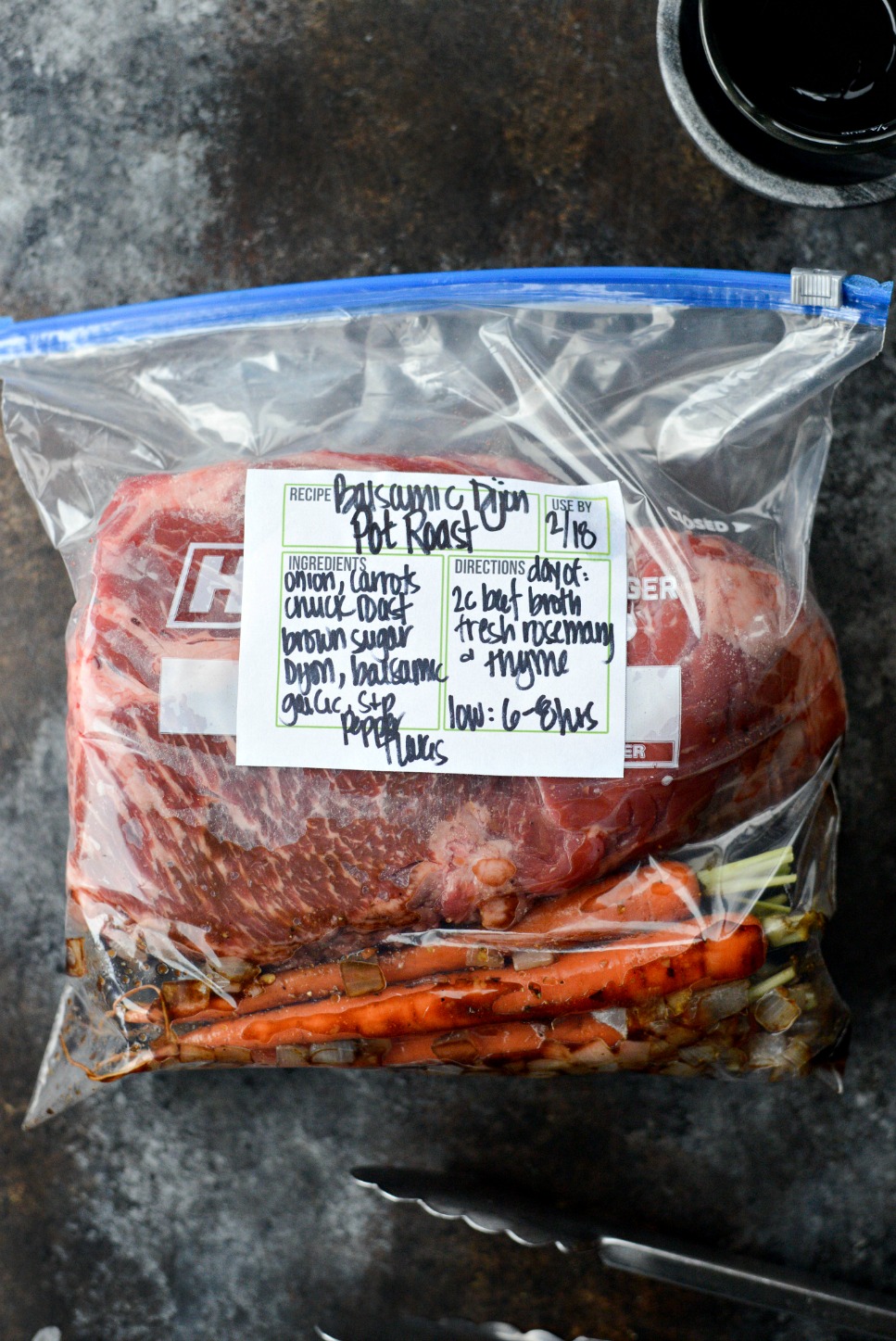 Boom. Prep is done.
I also recommend writing out the labels (if using them) in advance and placing them on the baggies before adding the ingredients. Write down ingredients that are in the bag, the ingredients you will need day of in order to make the recipe and then any garnishes or ideas for serving. This is helpful, so when you pull out the bag to thaw, you can purchase any ingredients that you don't have on hand. When I made this freezer kit, I wasn't sure if I was going to add potatoes to the slow cooker or make mashed potatoes – hence why it's not on the "day of" section. 🙂
Next lay the slow cooker balsamic dijon pot roast freezer kit flat to freeze. This way you will be able to stack more slow cooker freezer meals on top and maximize my freezer space.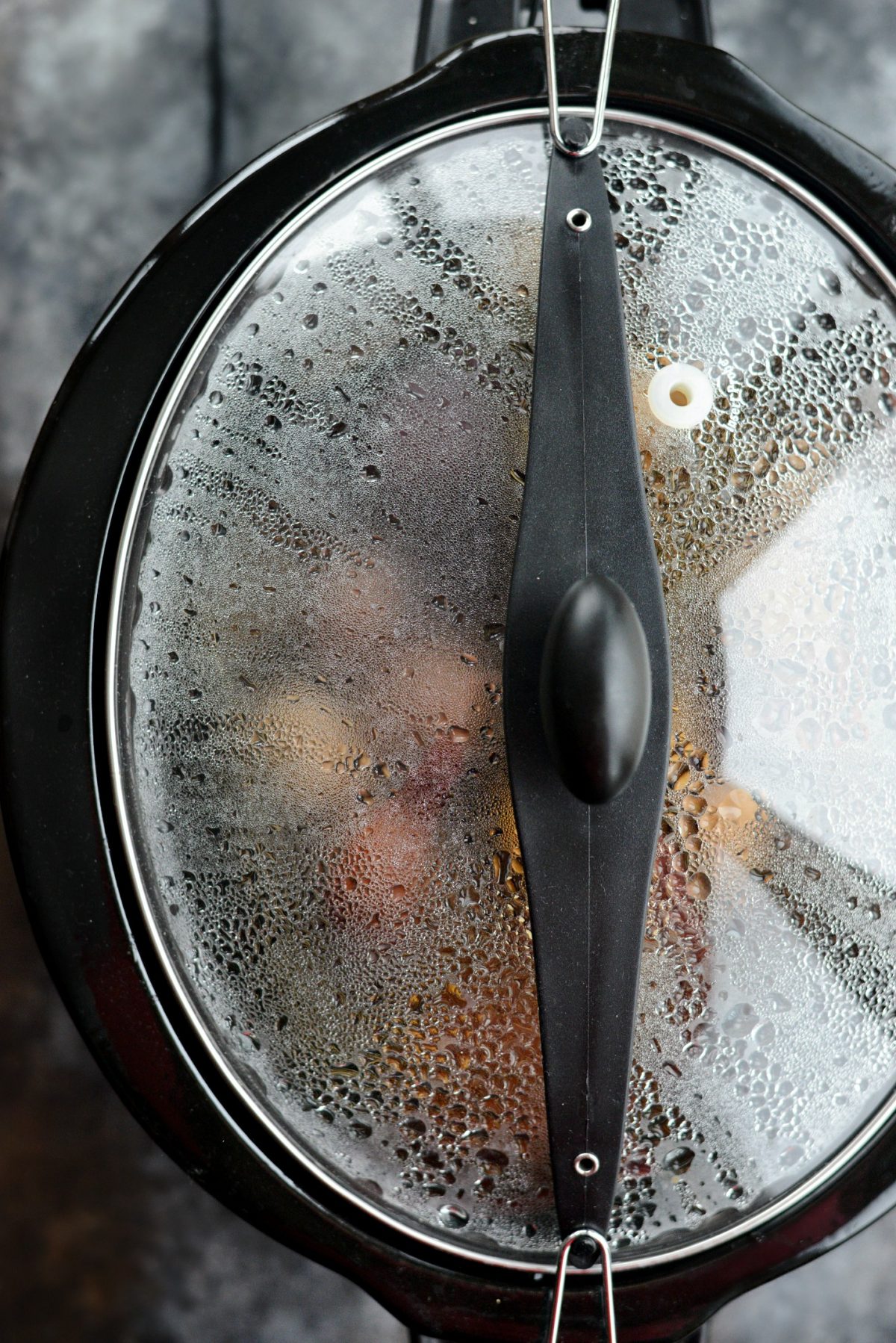 The morning before the day you plan to make the pot roast, pull it out of the freezer and place it into the fridge to thaw. I DO NOT recommend adding the completely frozen kit ingredients in to your slow cooker, doing so may affect cooking times and the outcome of the recipe. I also read a few opinions on putting food into the slow cooker from the freezer, that the contents might not reach a safe temperature to consume.
However, partially thawed is absolutely fine. In fact, after my pot roast thawed in my fridge for 24 hours, the roast was still quite solid, but still not as rock hard as it was when it came out of the freezer. After 8 hours in the slow cooker it was perfect.
Day Of:
First, place the entire thawed contents from the slow cooker balsamic dijon pot roast kit into your slow cooker. Then add in the potatoes, 3 to 4 sprigs of both rosemary and thyme. Next, pour in 2 cups of beef stock or broth. Then push the potatoes down to submerge them into the liquids. Cover and cook on low for 6 to 8 hours — the internal temperature of the roast should be 160° F. Obviously if you were making this with all fresh ingredients, you would just add everything in at once, set it and forget it.
Once the pot roast is cooked, remove and discard the herbs. Transfer the potatoes and carrots to a serving dish and cover tightly with foil. Place the pot roast onto a large carving board (snagging a piece or two – shhh! I won't tell) and covered it with aluminum foil as well to keep warm.
Now you have two choices:
1) Pour the slow cooker liquids into a fat separator and wait for the fat to rise to the top. Then pour the juices (leaving the fat in the separator) into a sauce pan. Bring to a boil – this will happen quickly. Once boiling, whisk in a cornstarch slurry. For this mx together 1-1/2 tablespoons cornstarch mixed with 1-1/2 tablespoons cold water. Stir until the broth thickens into a glossy gravy. Season to taste with kosher salt and black pepper.
Alternatively, you could just pour the (fat separated) juices into a gravy boat and serve it au jus style.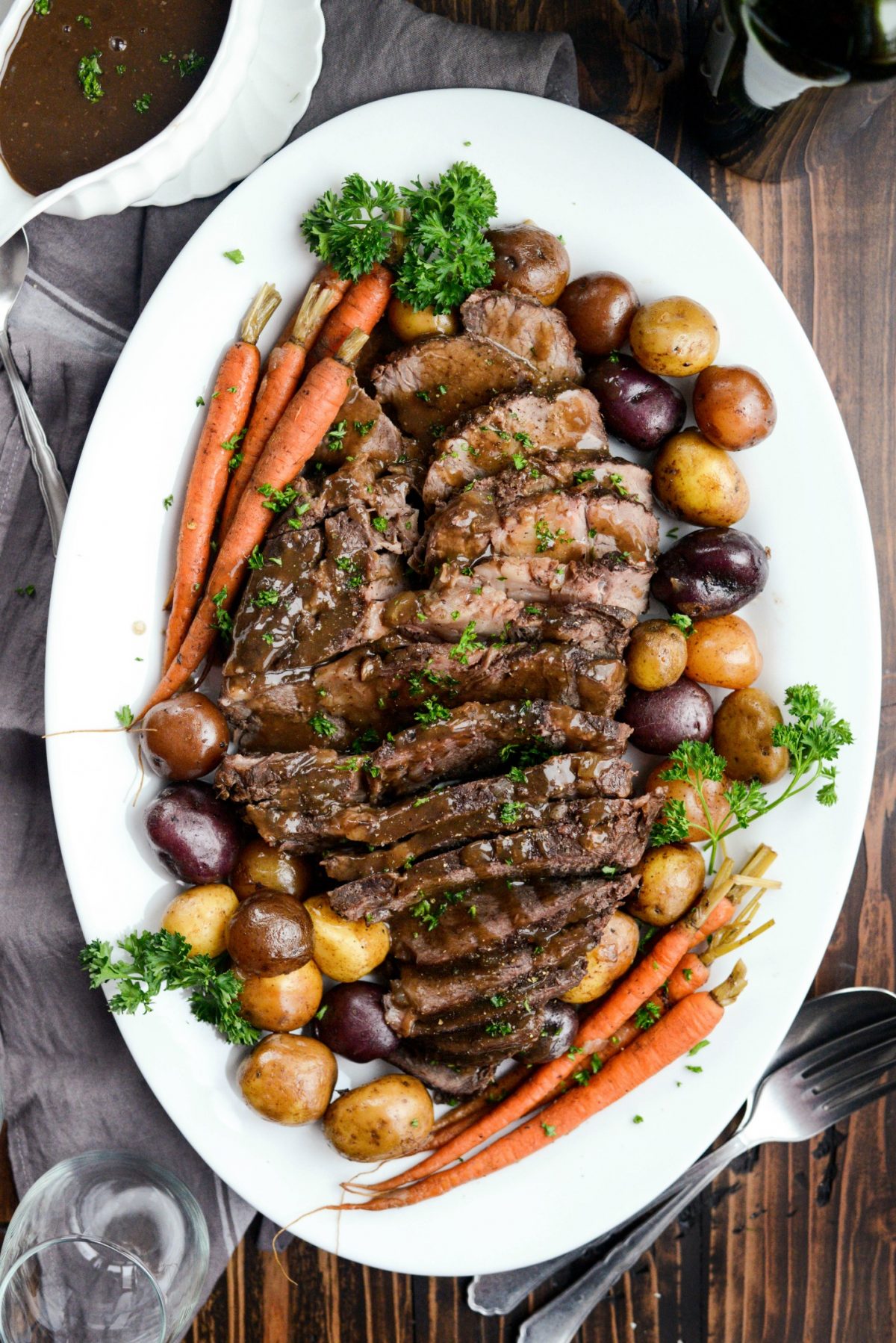 I'm a gravy fuhreak, so I always go the gravy route. Slice the pot roast and serve with carrots and potatoes with a drizzle of the piping hot gravy. Add chopped fresh parsley for a pop of green and some freshness.
You guys, this slow cooker balsamic dijon pot roast is so dang delicious! It is comfort food at it's absolute best. If recipes could be a expression, this pot roast meal would be a hug for your soul! And who doesn't love a hug??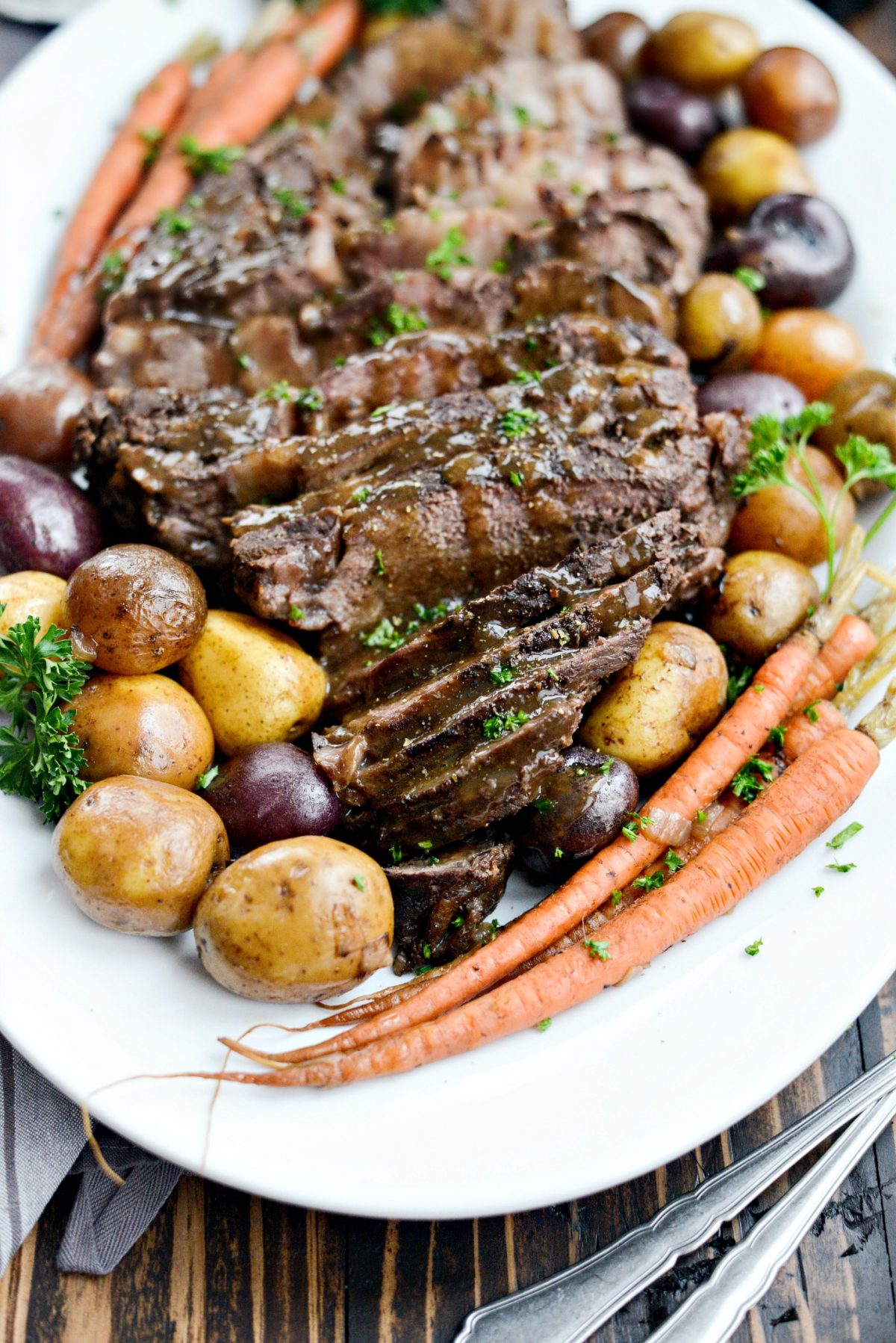 While I'm on a roll with these slow cooker recipes, what are some other slow cooker recipe ideas? I've got a few more still to share. However I'm always looking for more meals that I can make in advance. Especially ones I can prep and then pull from my freezer later.
More Slow Cooker Freezer Kits:
Slow Cooker Italian Meatball Vegetable Soup
Slow Cooker Mushroom Barley Soup
Enjoy! And if you give this Slow Cooker Balsamic Dijon Pot Roast recipe a try, let me know! Snap a photo and tag me on twitter or instagram!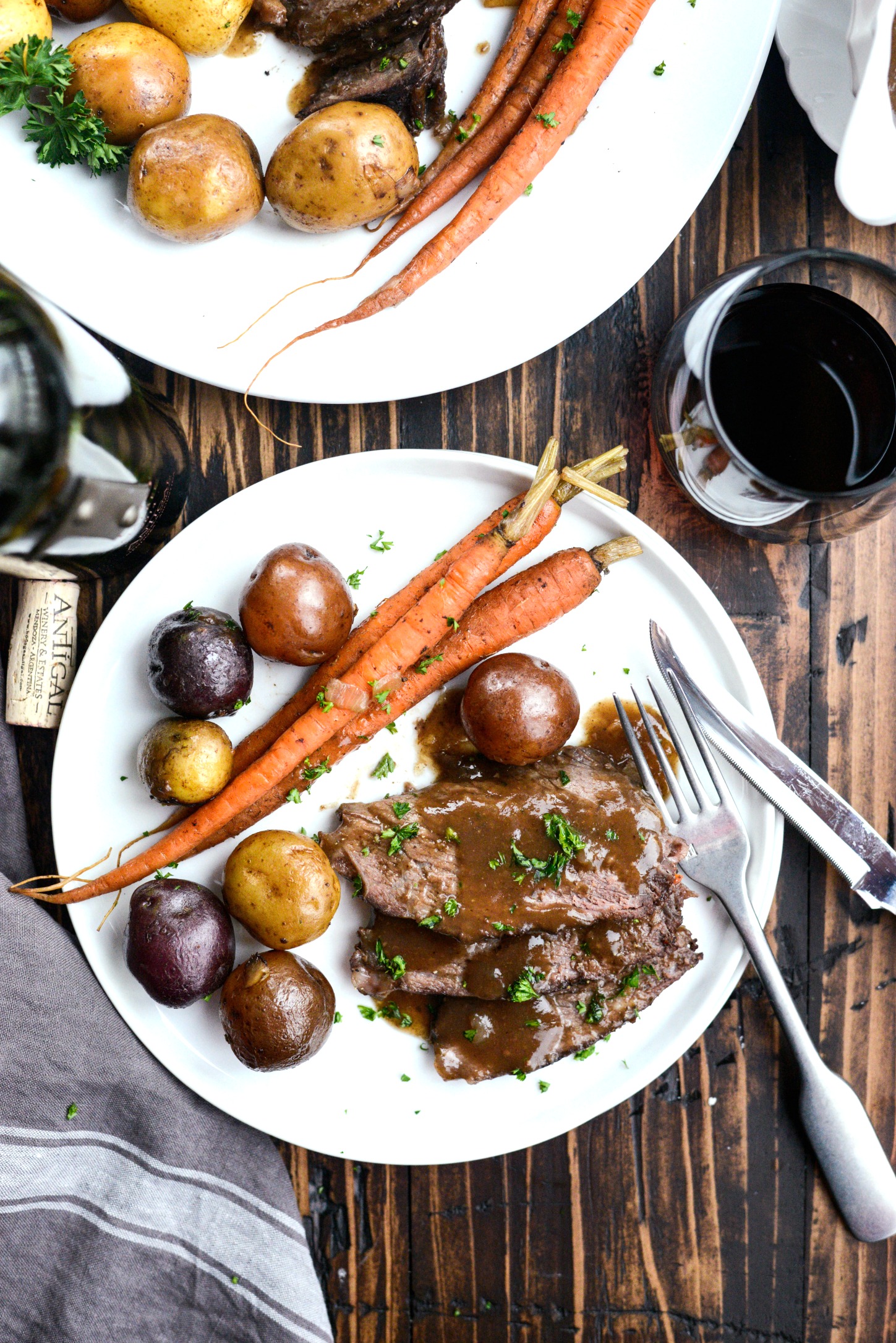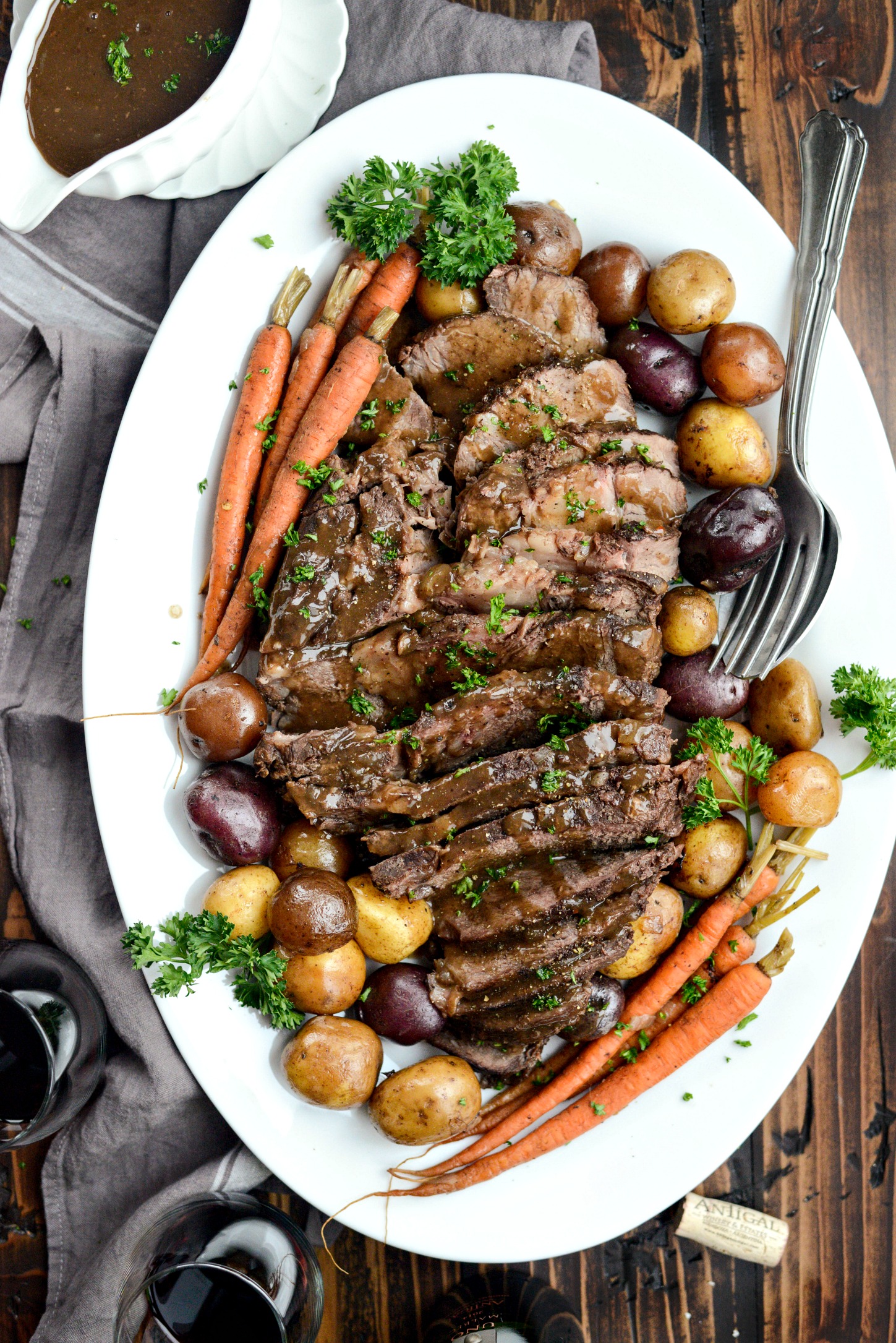 This post may contain affiliate links.
Buy the Cookbook: Simply Scratch : 120 Wholesome Homemade Recipes Made Easy Now available on Amazon »
THANK YOU in advance for your support!