The best fruits of summer in one dessert skillet! This Skillet Peach Rhubarb Crisp is phenomenal! Peaches and rhubarb are topped with an almond and oatmeal topping for texture and delicious flavor. Serves 6 in under an hour.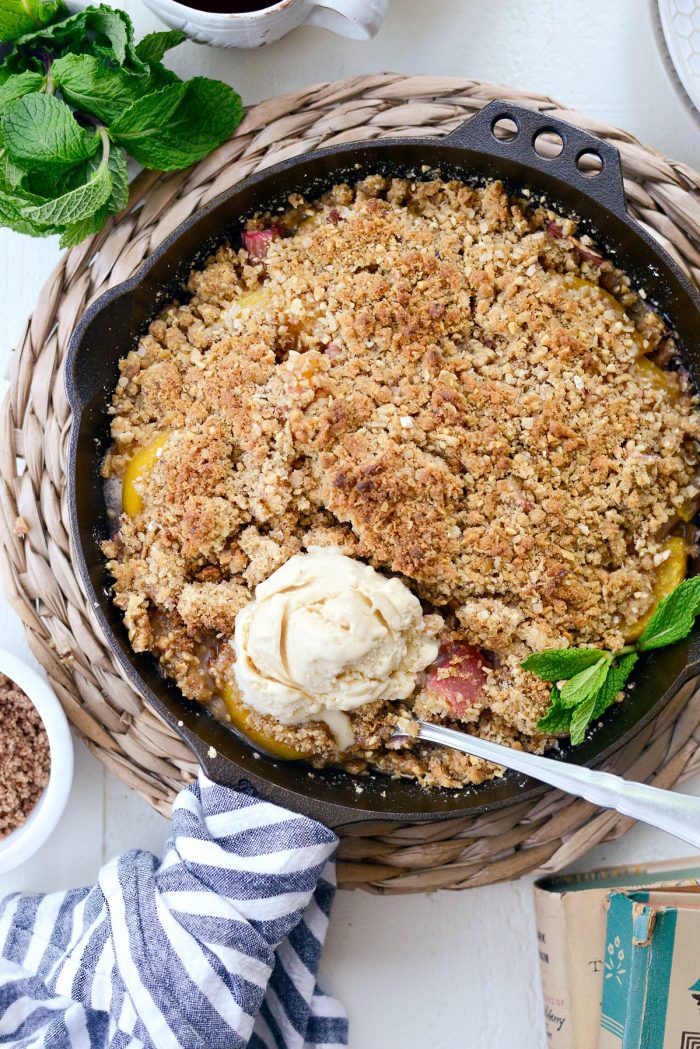 Crisps aren't just for apples! Peaches and rhubarb want in on the fun as well – and topped with homemade brown butter ice cream? How can you not love this?
By the time this post goes live, we will have dropped Haileigh off at college. I think we were/are still in a little bit of disbelief. It's hard thing to grasp, letting go of a child and sending them off to college. Someone who we've raised, sacrificed for and that has lived safely under our roof for the last 18 years of her life. However we are so beyond excited for her to exercise her freedom, spread her wings and start the new chapter of her life that is simply trumps any sadness. I'm sure I'll delve deep into this when I write my year in review. Stay tuned.😂
As of now, I'll be consoling myself in the form of desserts. Skillet peach rhubarb crisp to be precise.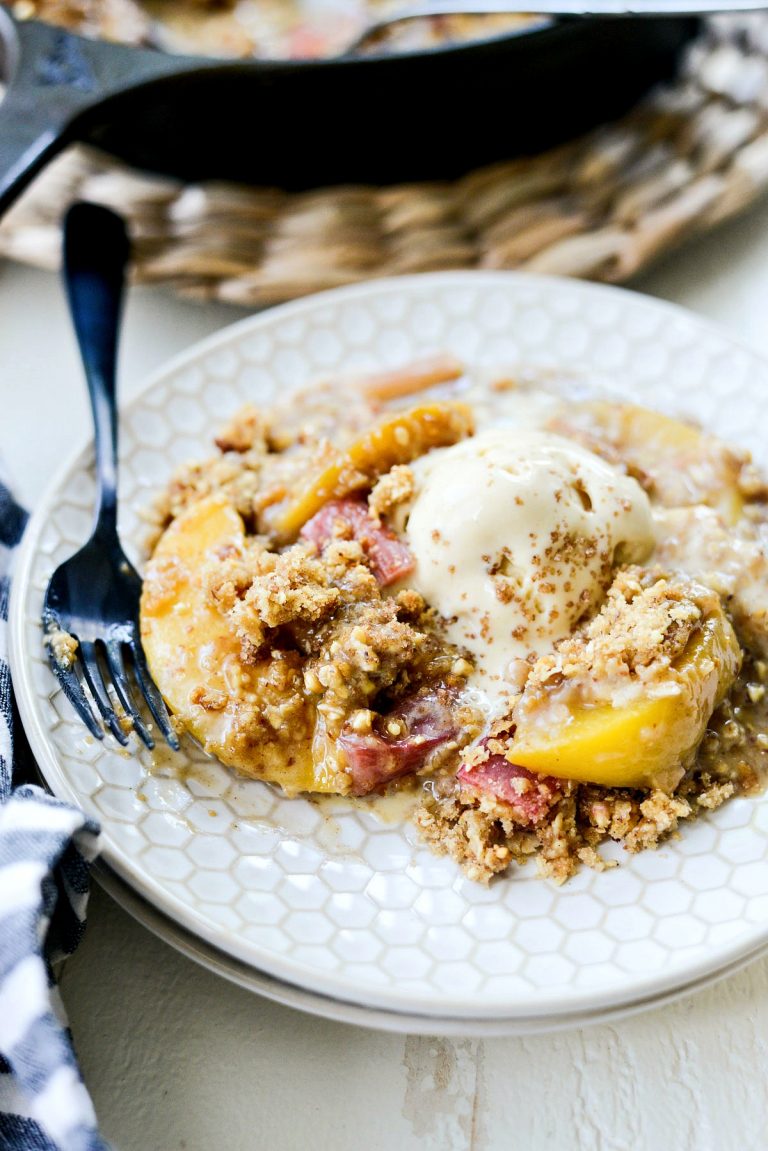 Because at this point, it's all that I know.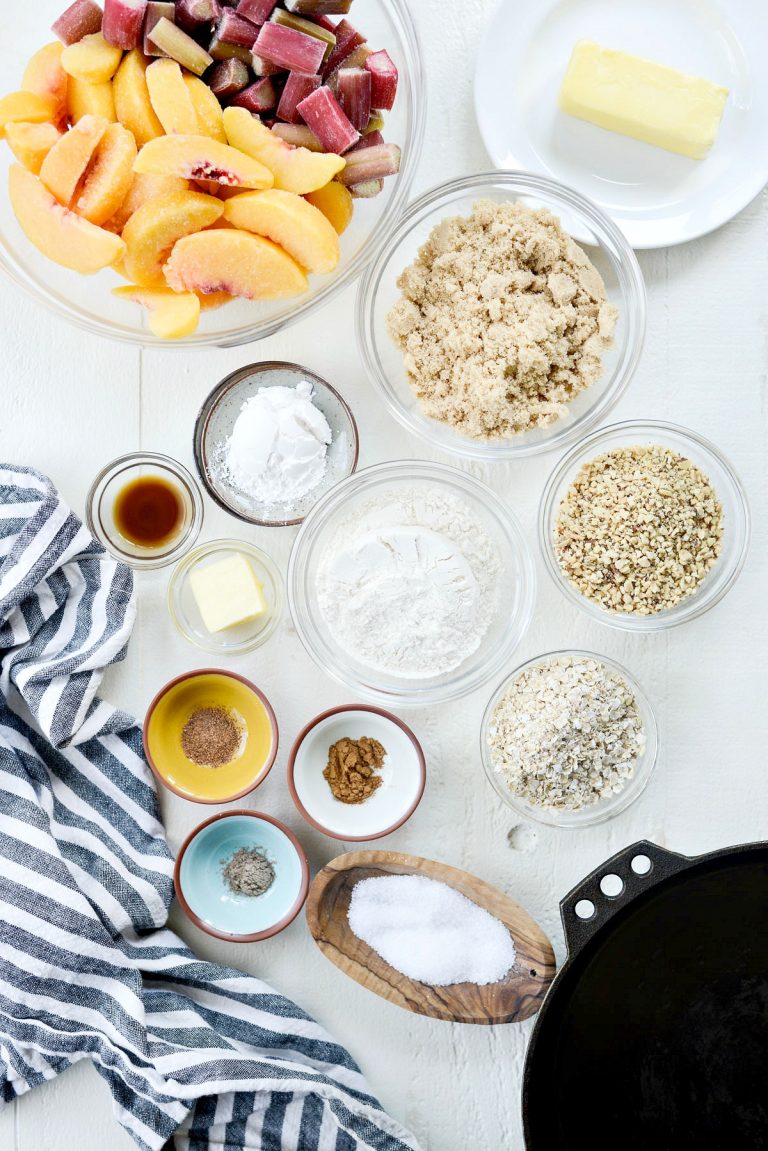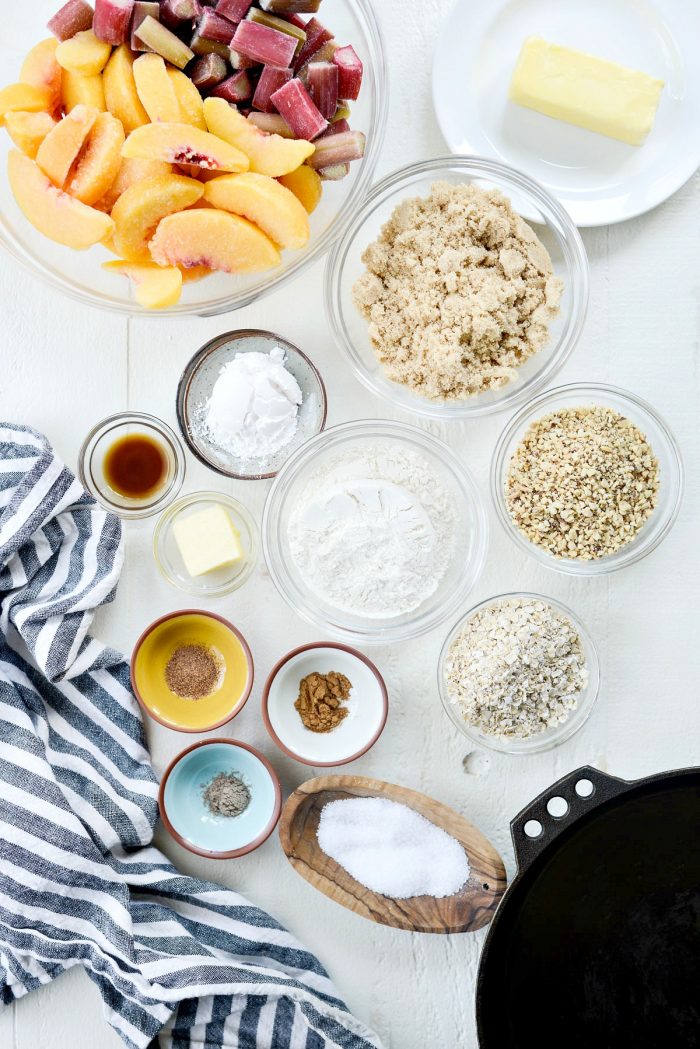 To Make This Skillet Peach Rhubarb Crisp You Will Need:
light brown sugar
quick cooking oats
unbleached all-purpose flour
ground toasted almonds (see recipe notes)
cinnamon
cardamom
nutmeg
salt
unsalted butter
frozen unthawed peaches
fresh or frozen unthawed rhubarb
vanilla extract
tapioca
Start with a bowl (much larger than the one I used 😂) and measure and add 3/4 cup light brown sugar, 1/2 cup each of flour, quick oats and ground almonds, 1/2 teaspoon ground cinnamon and 1/4 teaspoon each of ground cardamom, nutmeg and kosher salt.
With a spoon, stir to combine.
Drop in 1/3 cup (or 5-1/3 tablespoons) of softened unsalted butter.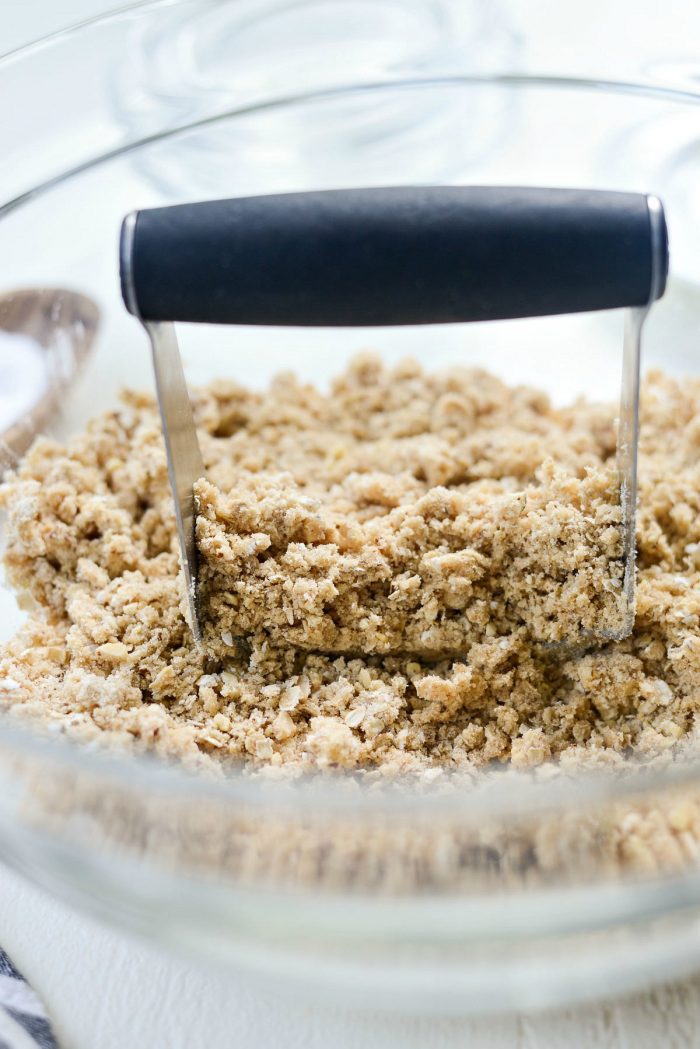 Use a pastry blender to cut the butter into the oat topping, until it resembles coarse wet sand. Set this off to the side for a moment.
Heat a 10-inch skillet on low and add 1 tablespoon unsalted butter. When melted, remove the skillet off the heat and use a pastry brush to spread it 2/3 up the sides of the skillet.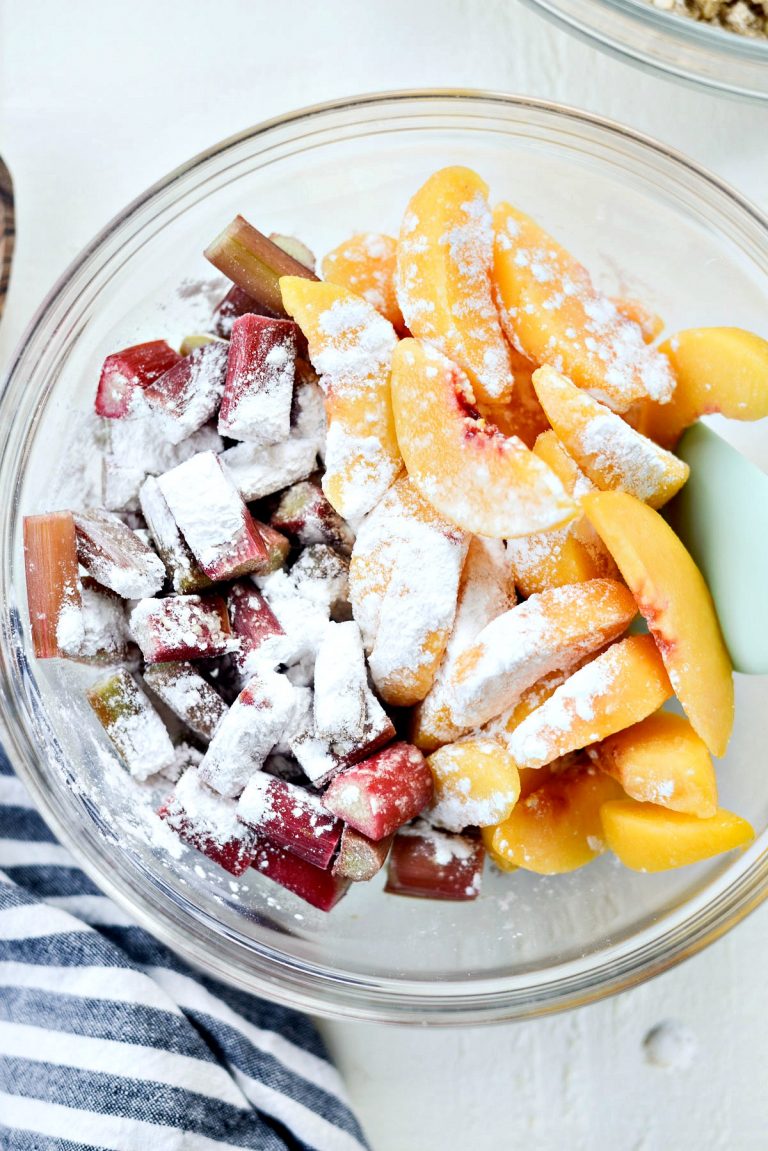 In a large bowl, combine 3 cups frozen sliced peaches with 2-1/2 cups frozen rhubarb. Add in 1-1/2 teaspoons vanilla and 1 tablespoon tapioca.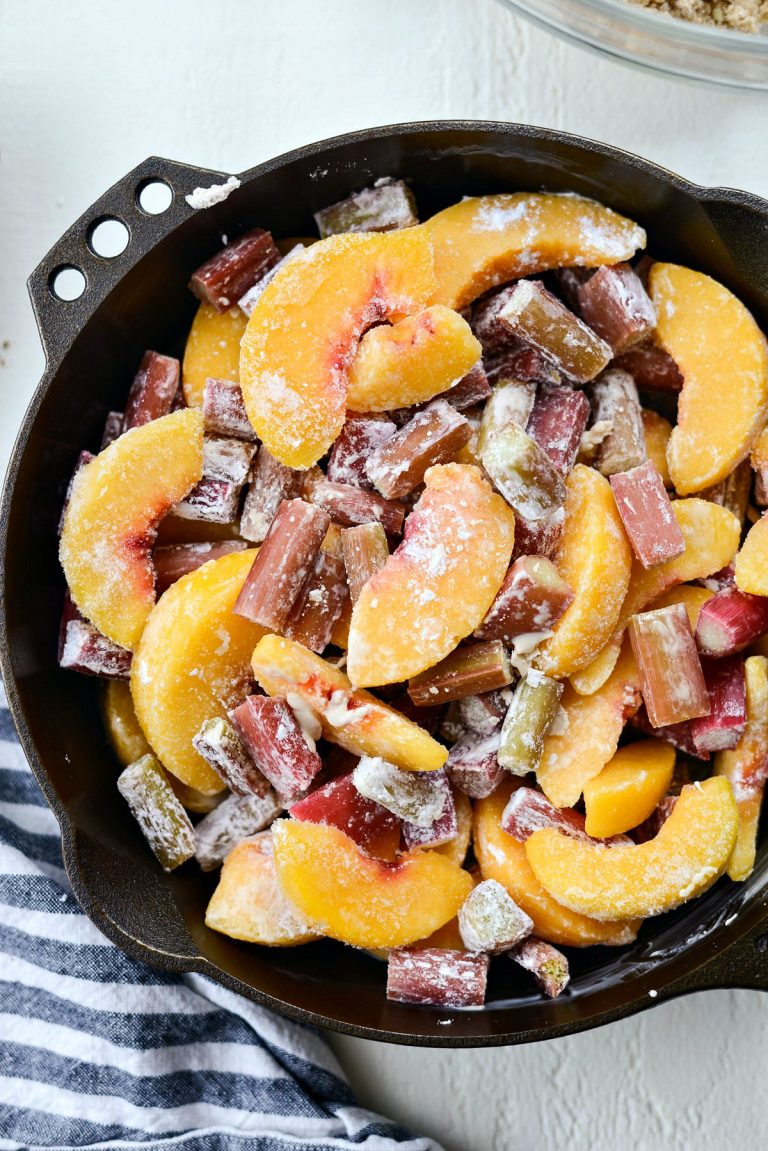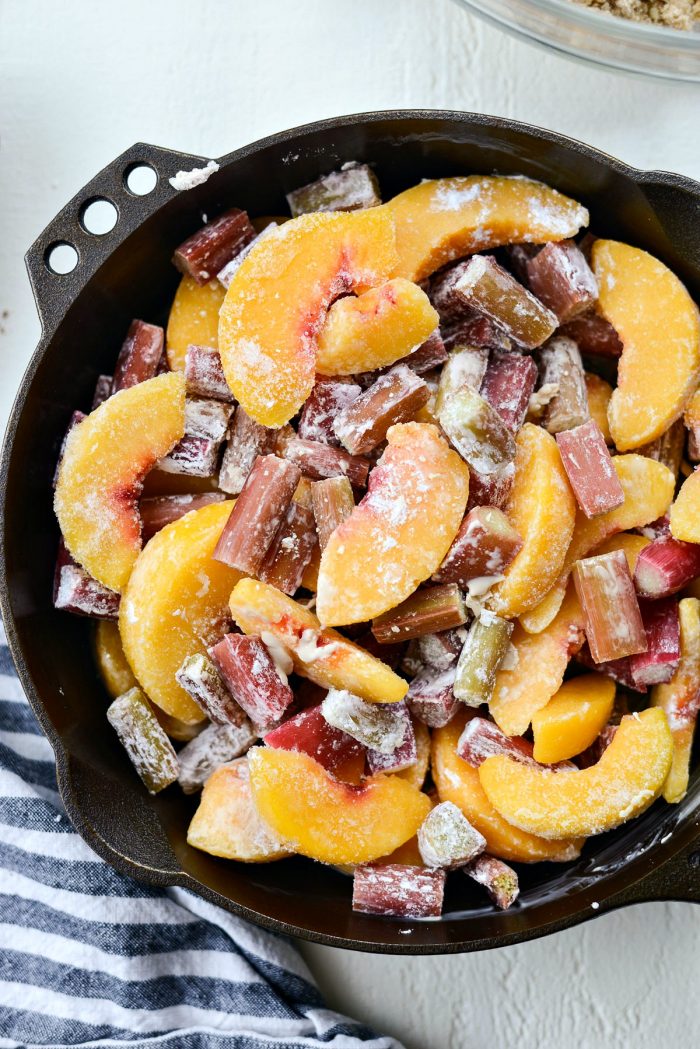 Transfer the fruit to the skillet a spread it evenly and then give the skillet a shake to get everything settled into place.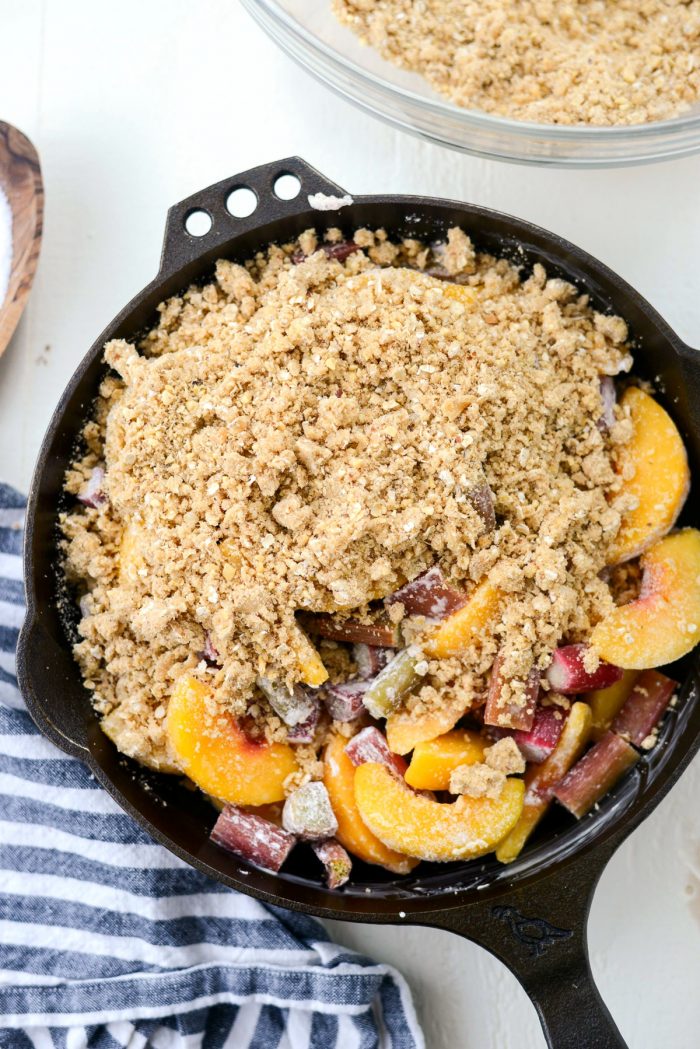 Lastly, sprinkle the almond oat crisp topping over top of the fruit before sliding it onto the lower third rack in your preheated 375° oven.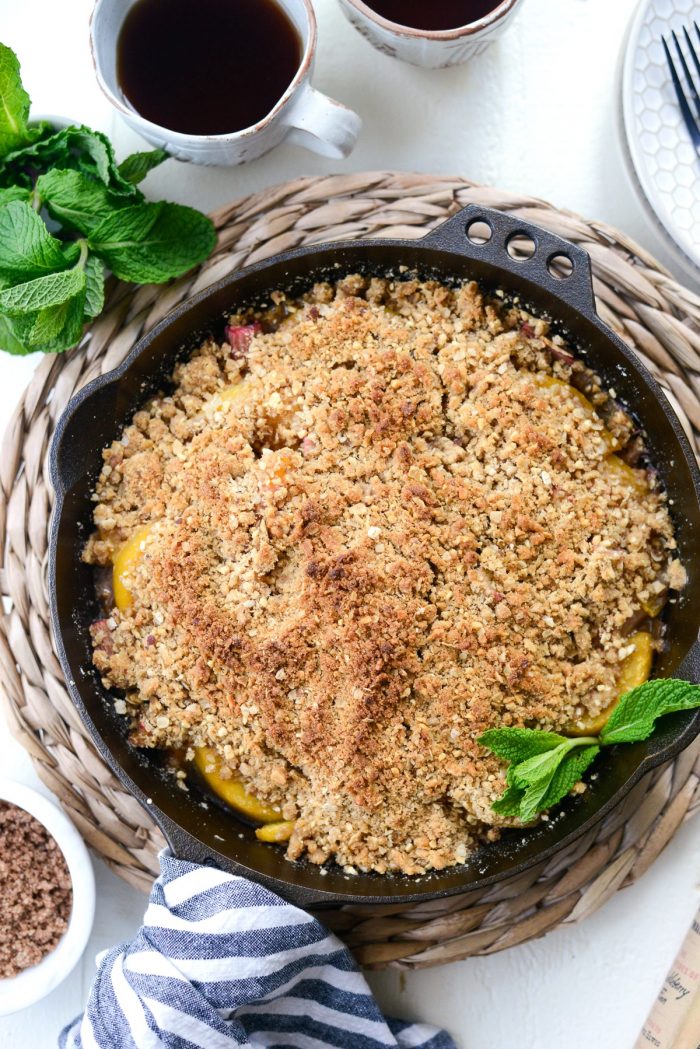 Bake the Skillet Peach Rhubarb Crisp for 30 minutes, or until the top is golden and the fruit filling is bubbling.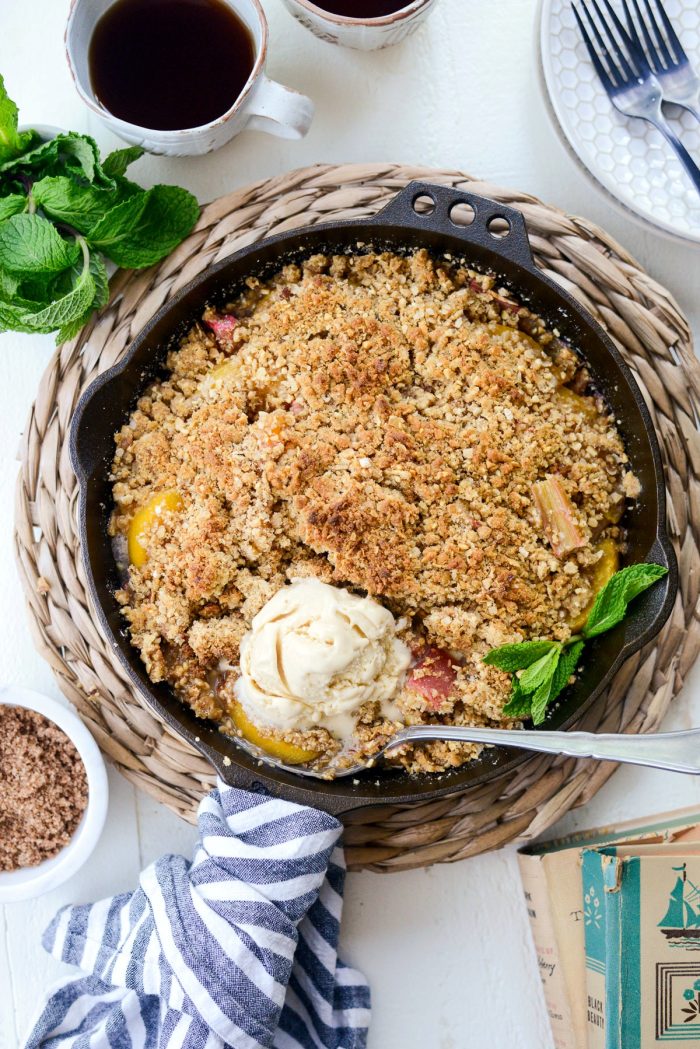 Serve with spoonfuls of ice cream (like brown butter ice cream!) and prepare to fall in love!
Or simple devour until your heart is whole again.
Enjoy! And if you give this Skillet Peach Rhubarb Crisp recipe a try, let me know! Snap a photo and tag me on twitter or instagram!
This post may contain affiliate links.
Buy the Cookbook: Simply Scratch : 120 Wholesome Homemade Recipes Made Easy Now available on Amazon »
THANK YOU in advance for your support!