I know what you're thinking, you're thinking that I missed spelled fajitas. Right? Nope. Skillet Frajitas are a real thing. Sort of.
However, if you Google it "frajitas" I can honestly say there is no other recipe for it on the entire world wide web.
I'm completely serious. I'm aware that the chances of anyone Google searching "frajitas" will be, well, nil– so those of you luckies that subscribe or click over via any social media site are seeing it here first! This is an original recipe, my friends.
You've all heard me go on about the three-ring binder my mom put together for all us girls. Whenever I'm struggling with what to make for dinner or looking for desserts to make and post for the blog, I turn to that book and flip through the pages.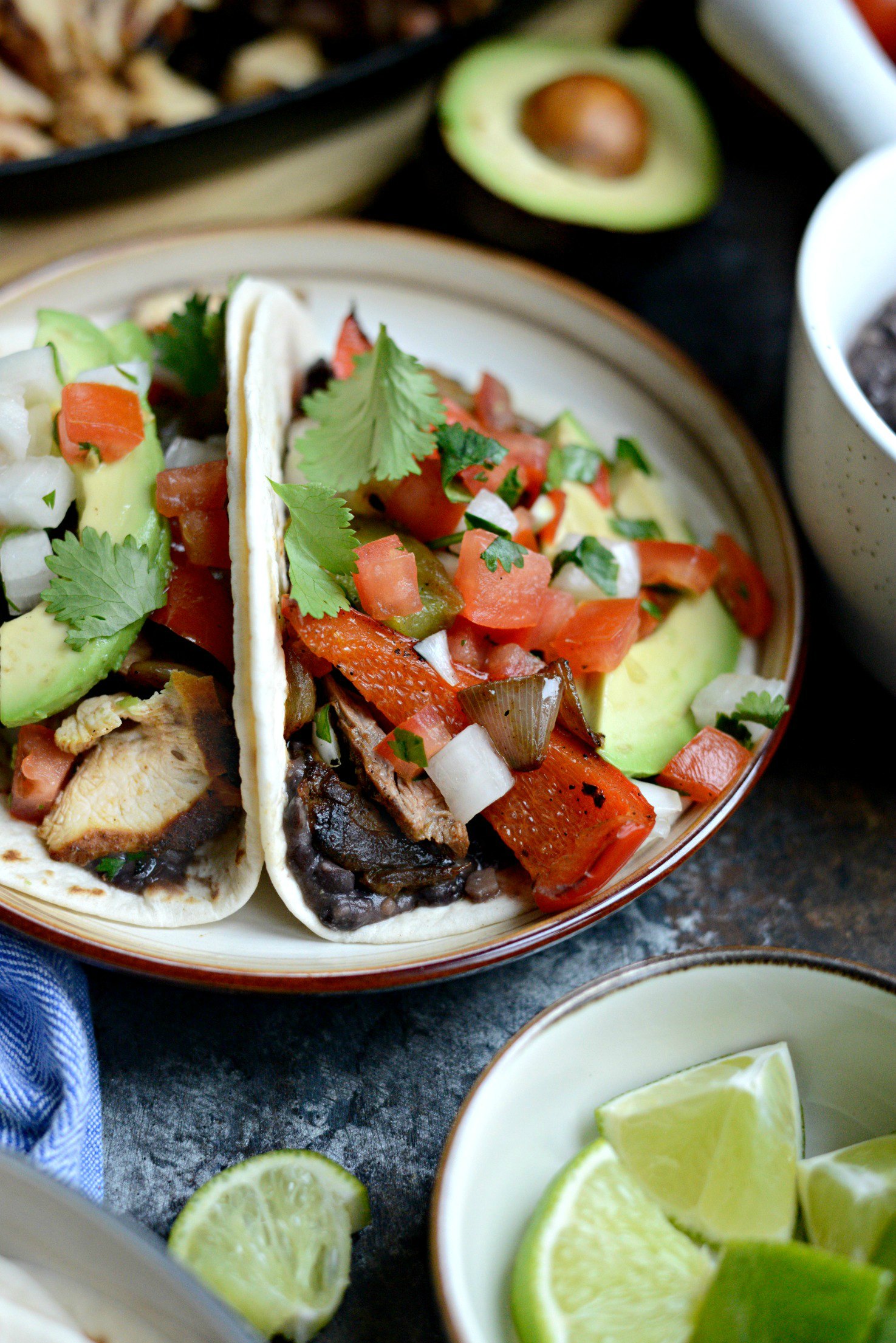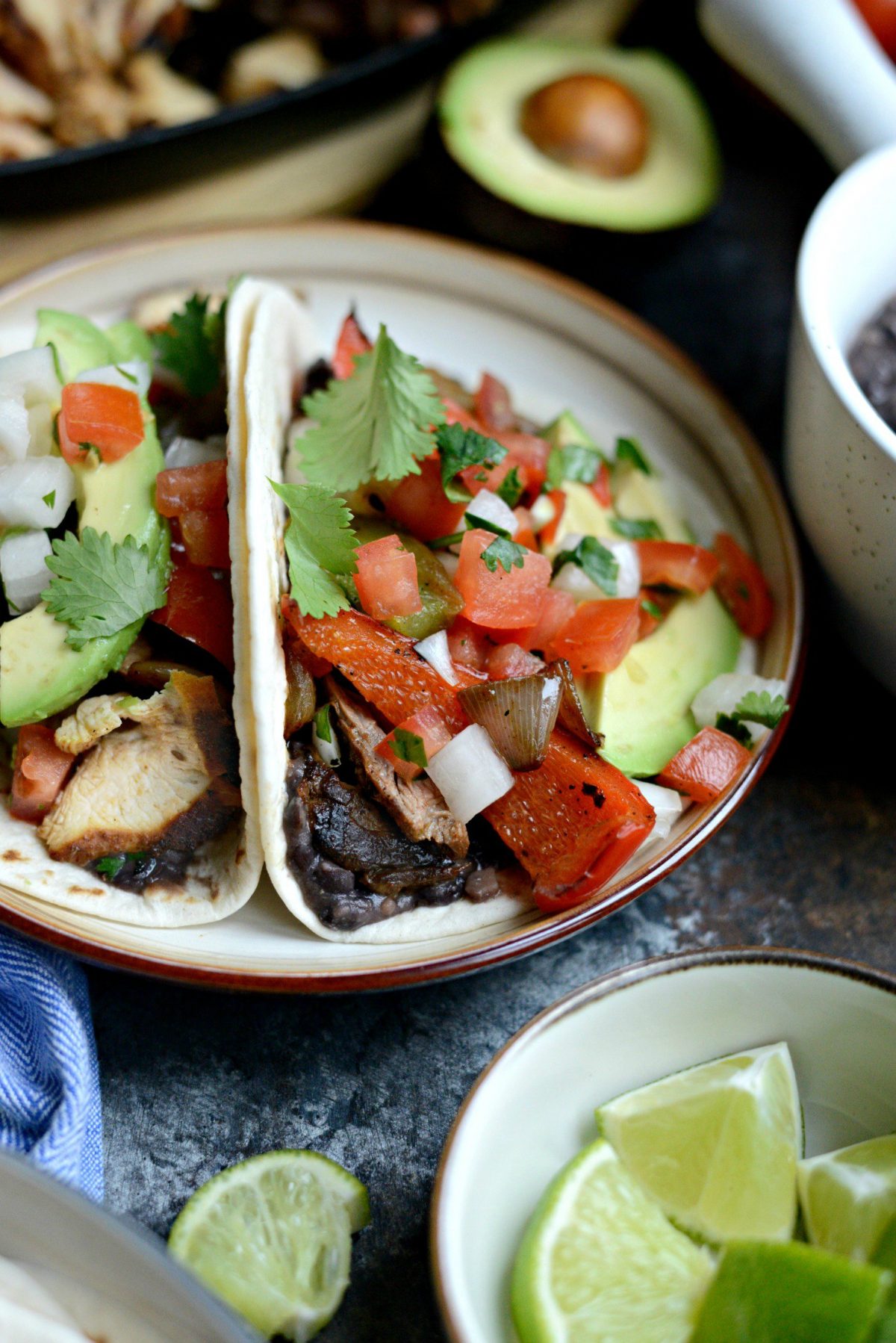 The other day my eyes landed on the recipe for frajitas. I instantly was teleported to the kitchen in my childhood home, I was like 8 or 9 and my uncle came to visit us in the "country". That night for dinner he whipped up these delicious steak frajitas in a giant skillet on our stove. I believe that was my first taste of a tex-mex-fajita-esque recipe and the moment when I fell in love with all things tex-mex(ish).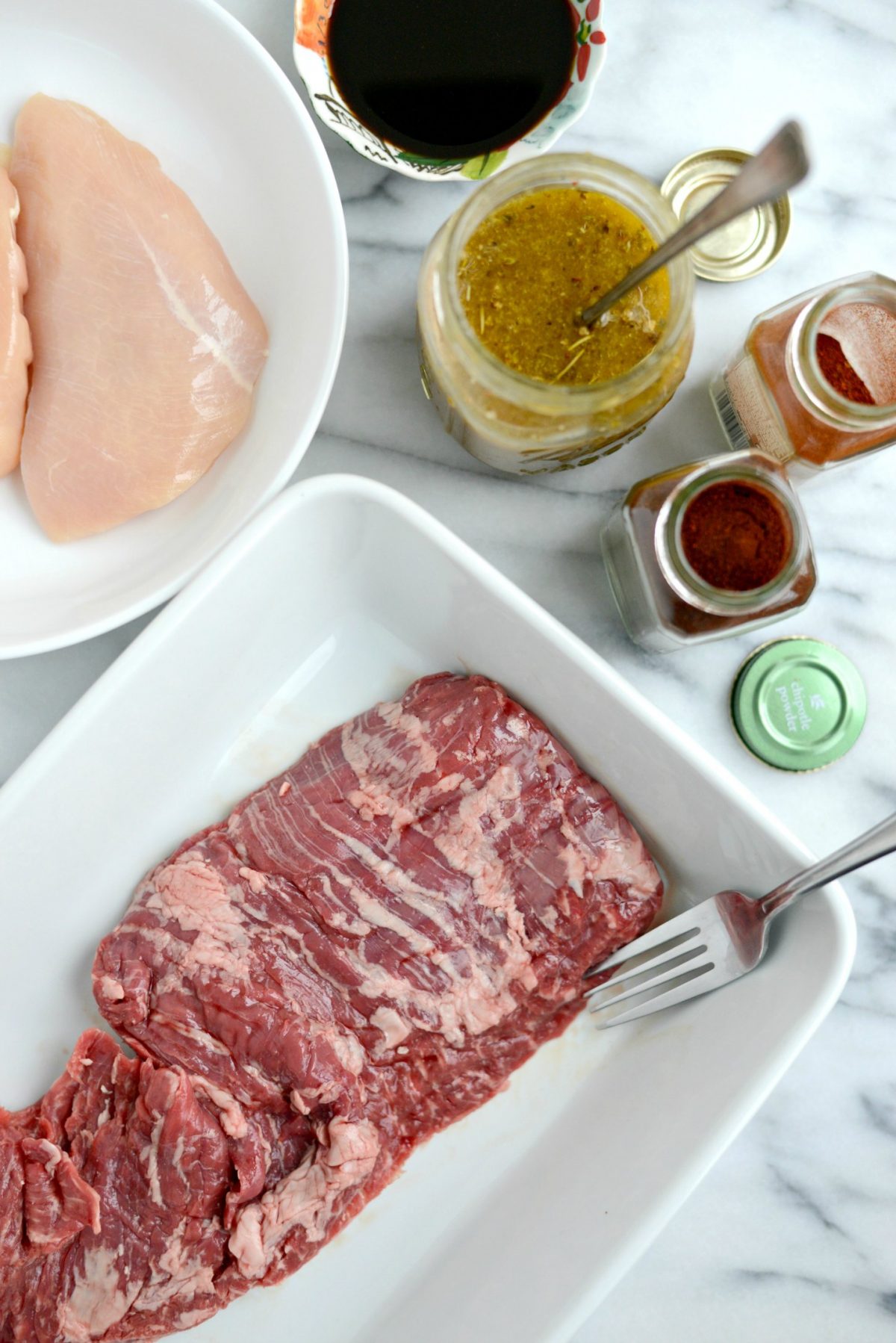 To Make These Skillet Frajitas You Will Need:
flank or skirt steak
boneless, skinless chicken breasts
chipotle chili powder
ground cumin
chili powder
cayenne pepper
extra light olive oil
sweet onions, sliced
bell peppers (red, orange, yellow or green), seeded and sliced
flour or corn tortillas
I say tex-mex-ish because, once you scroll through the steps and ingredients, you'll quickly see they are not authentic by any means. However, you will see just how easy these are to throw together. When you make them, you'll find out they're so darn good and frajitas may just be a staple in your house too!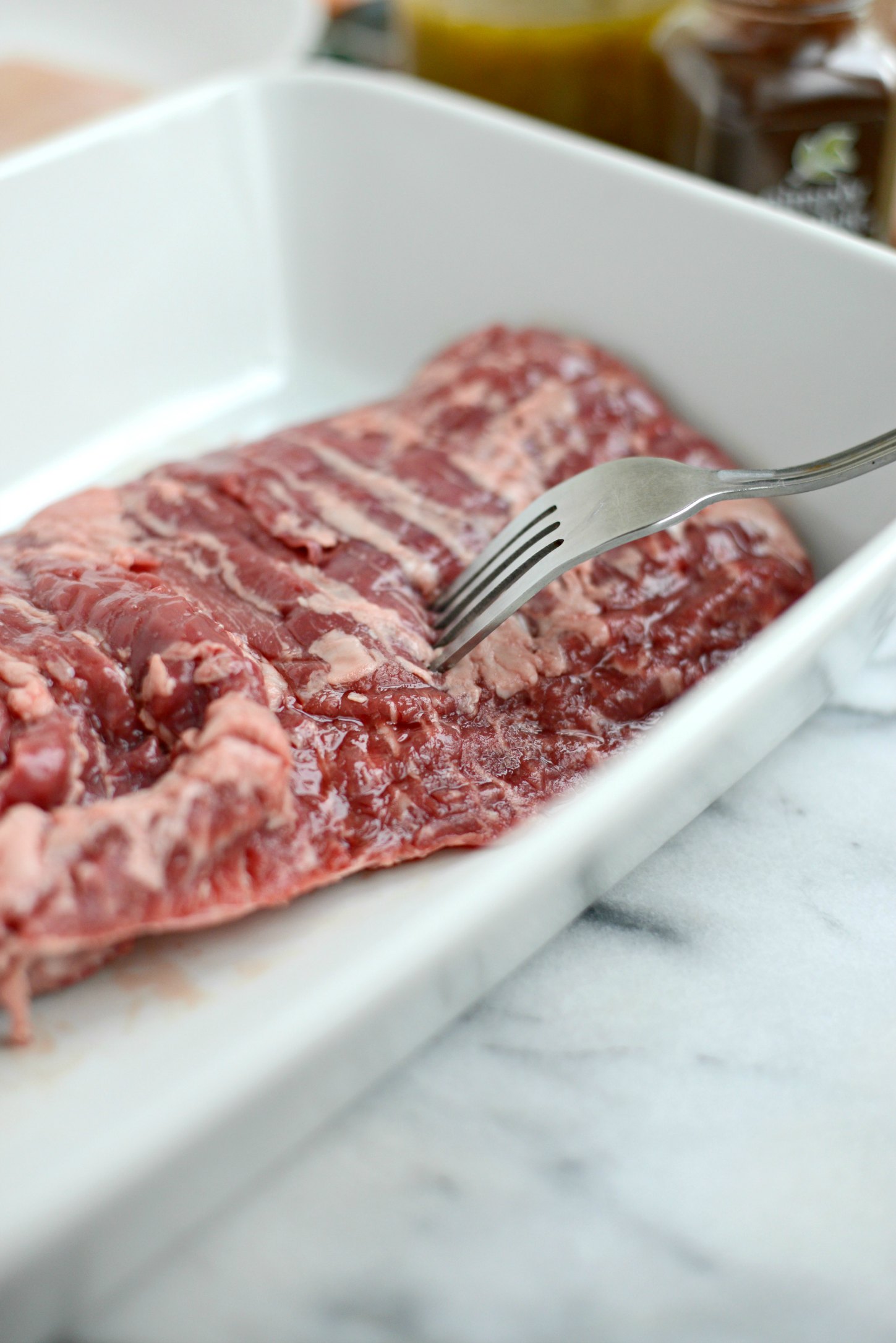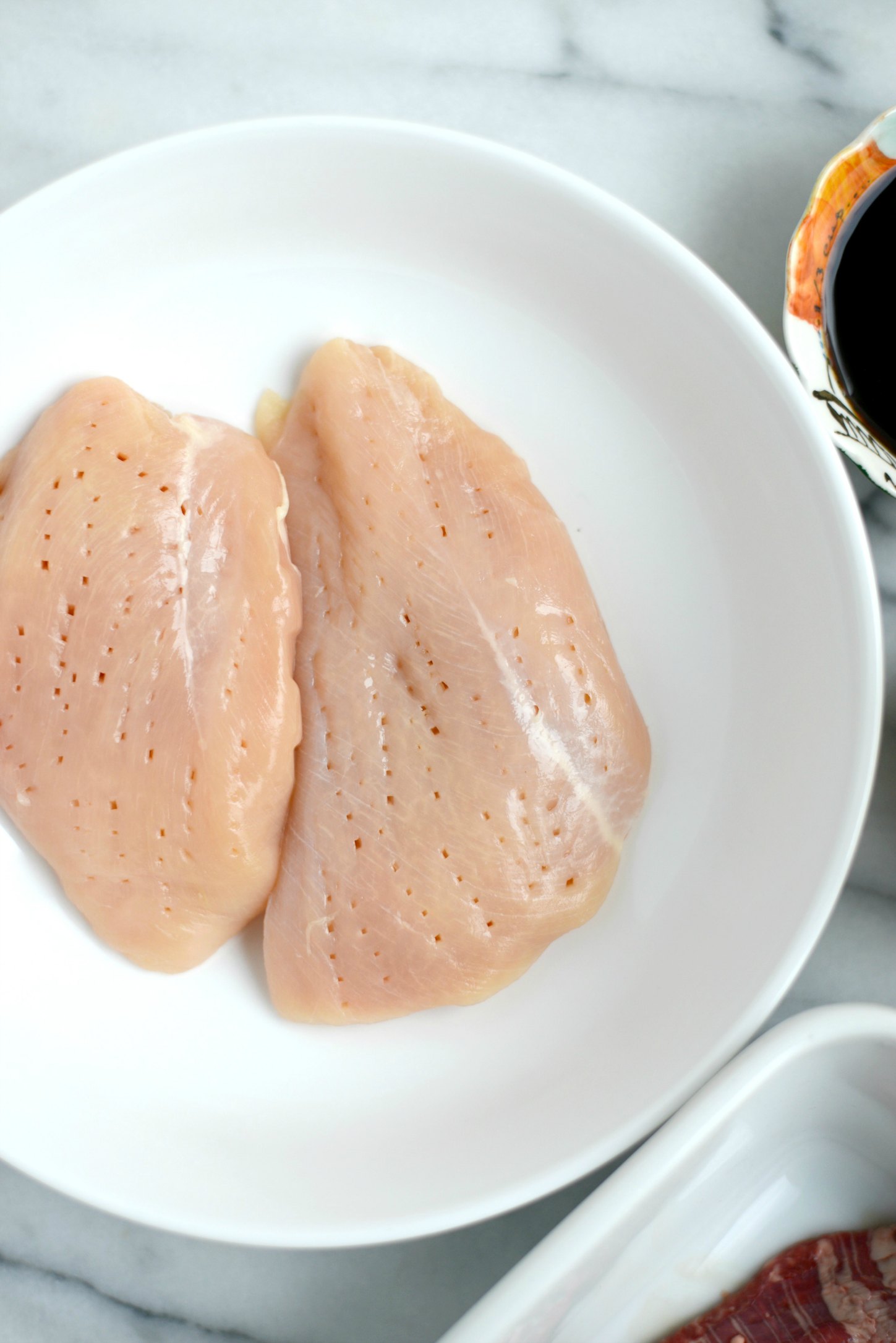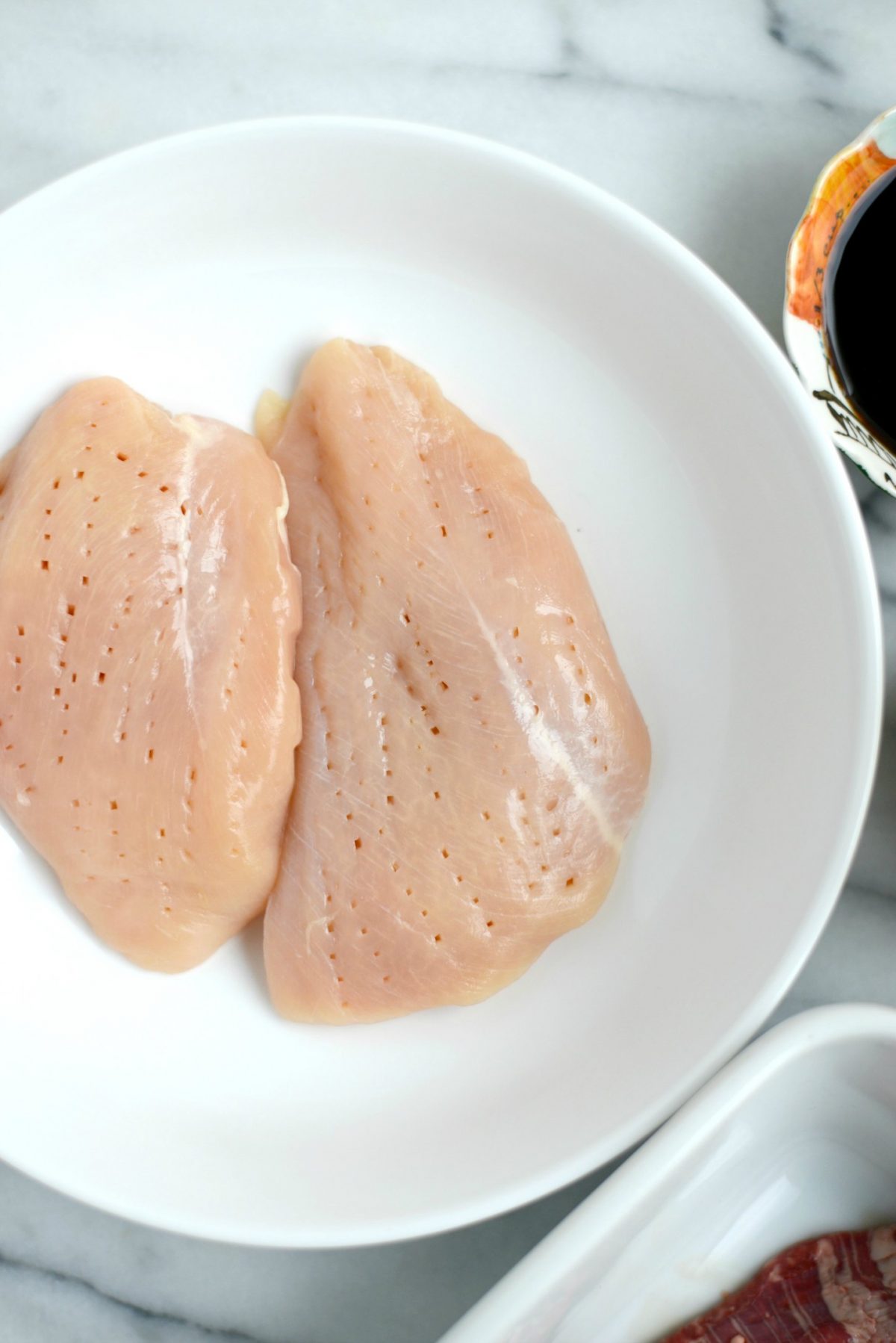 This time I'm making both chicken and steak, and instead of store bought dressing, I used my from scratch version of zesty Italian dressinade. See, totally not authentic. 😉
These frajitas need to be made somewhat in advance. So the day before, I place my skirt steak and chicken into two separate shallow dishes. Then grab a dinner fork and prick them all over the place.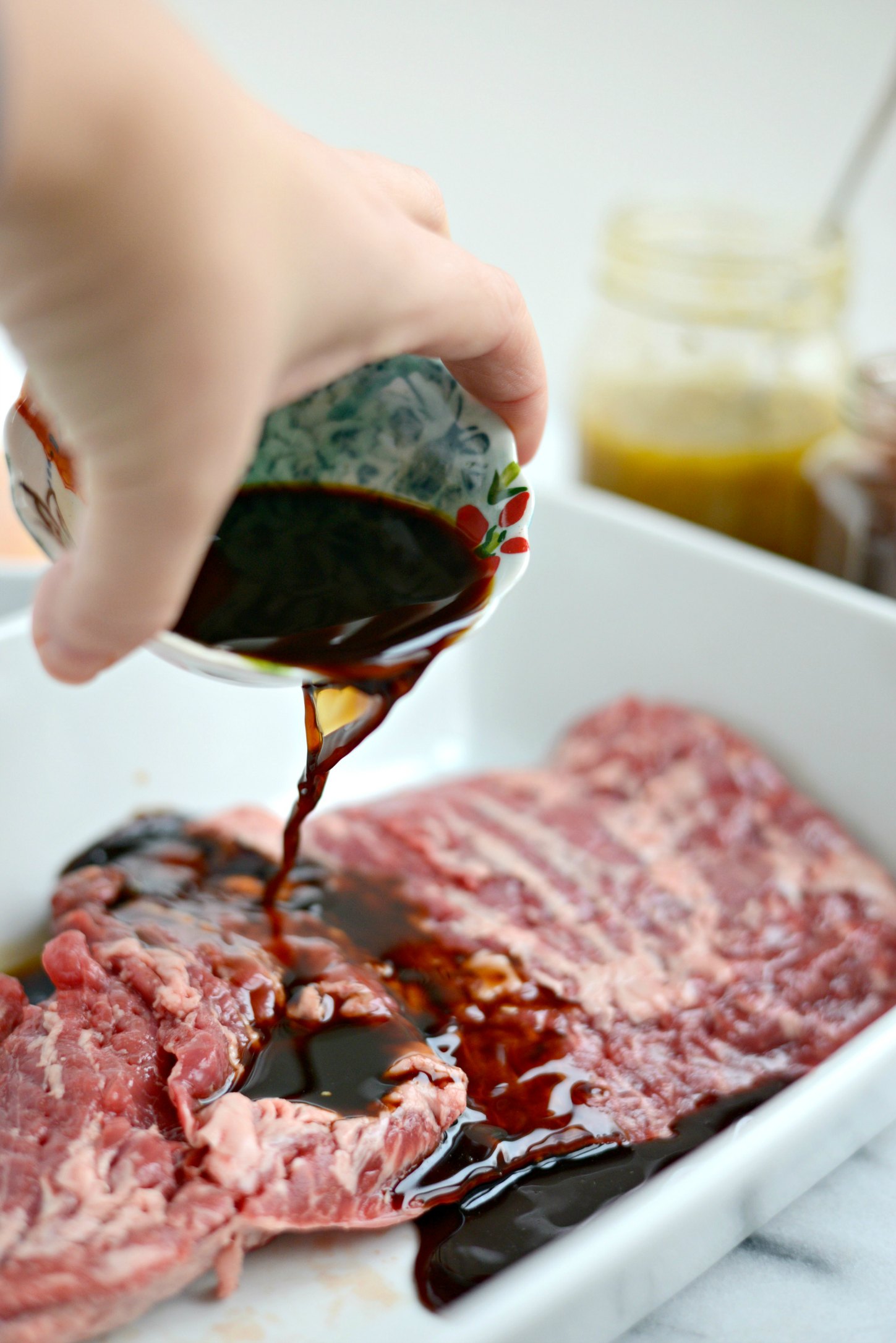 Pour about a 1/4 cup (of the 1/3) Worcestershire sauce (again, not an authentic ingredient) and the whatever is remaining, pour over the chicken. If doing more chicken than steak, simply adjust accordingly.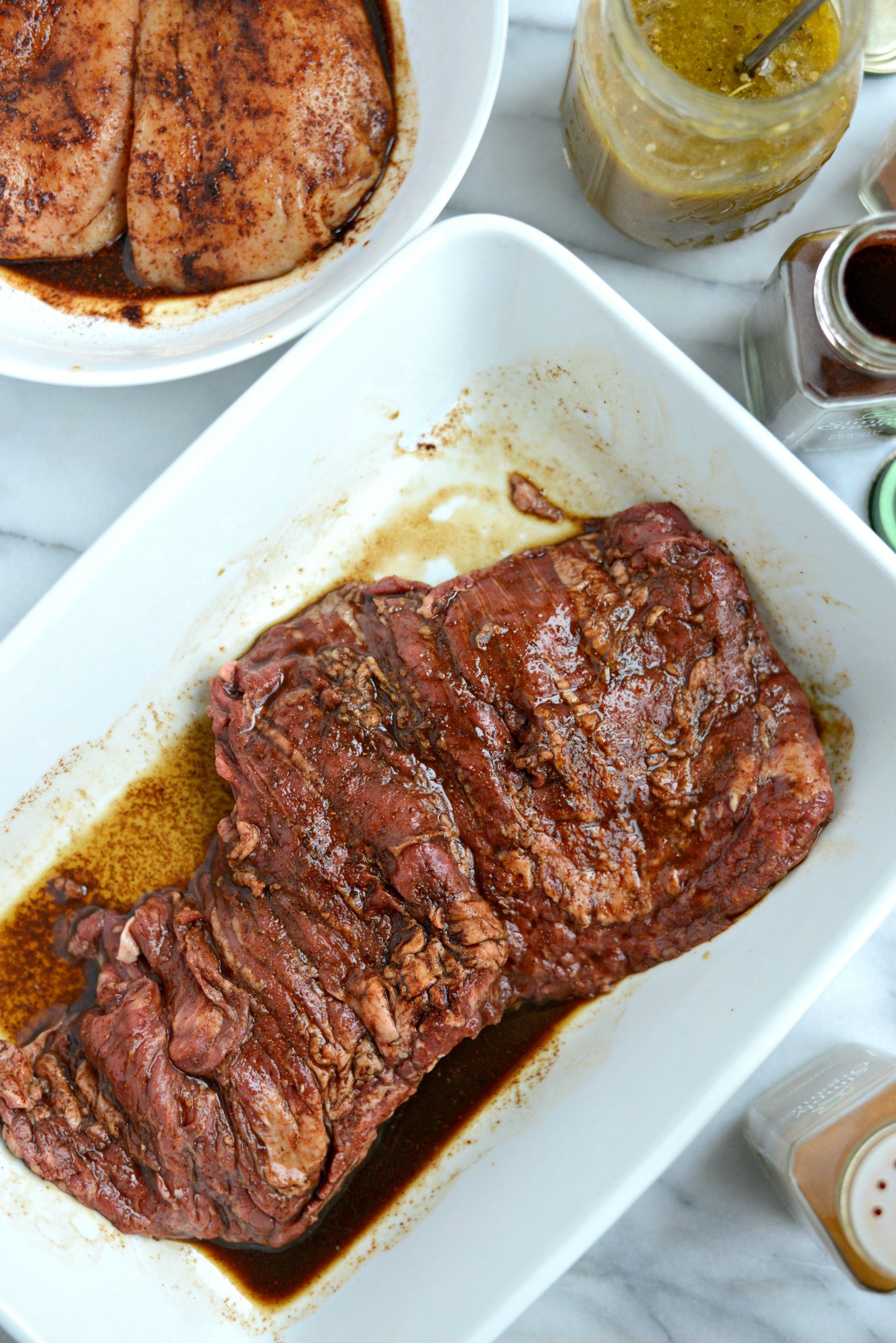 Season the steak and the chicken with 3/4 teaspoon of chipotle powder and cumin (each), 1/2 teaspoon regular chili powder and 1/8 to 1/4 teaspoon cayenne pepper– the cayenne is optional.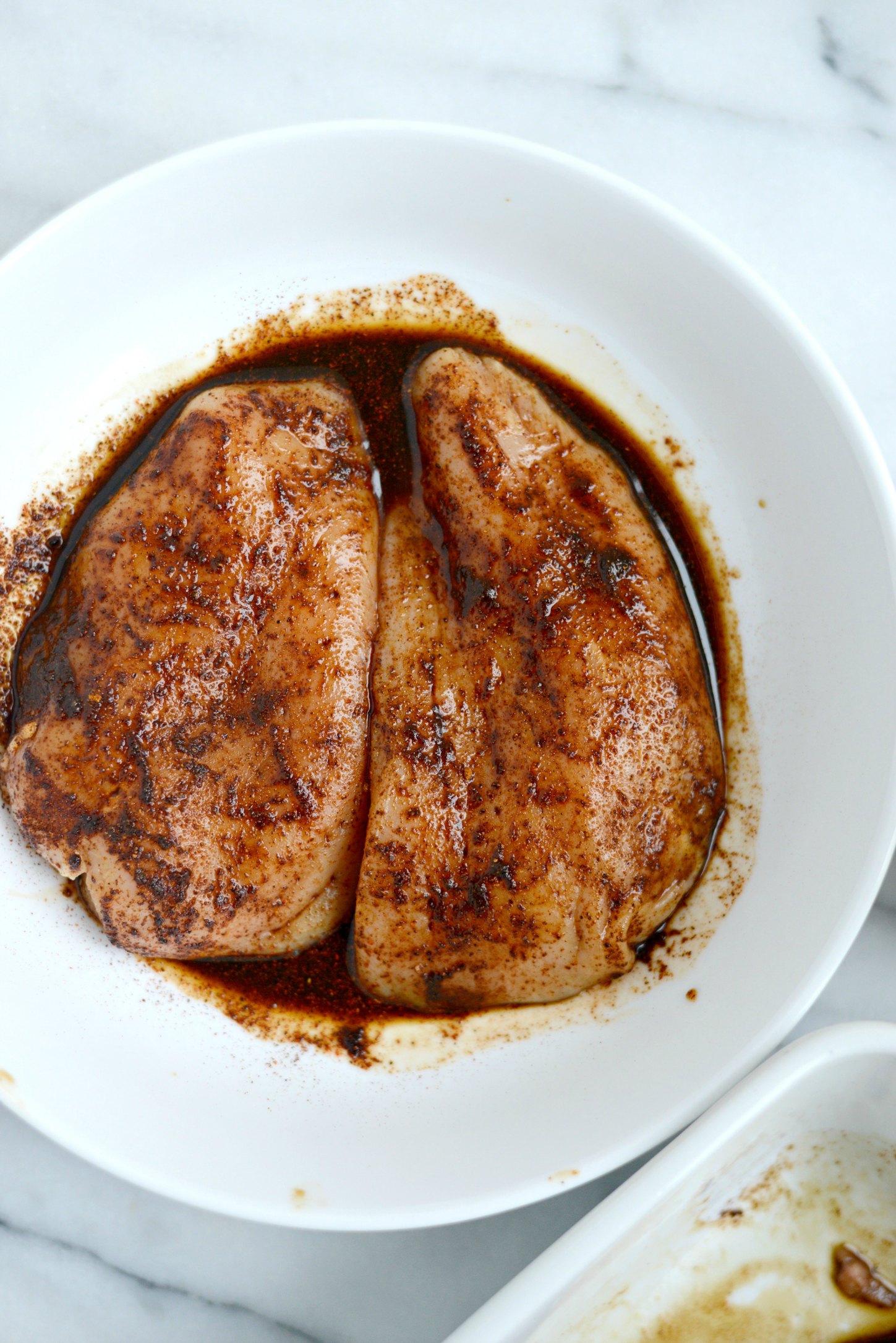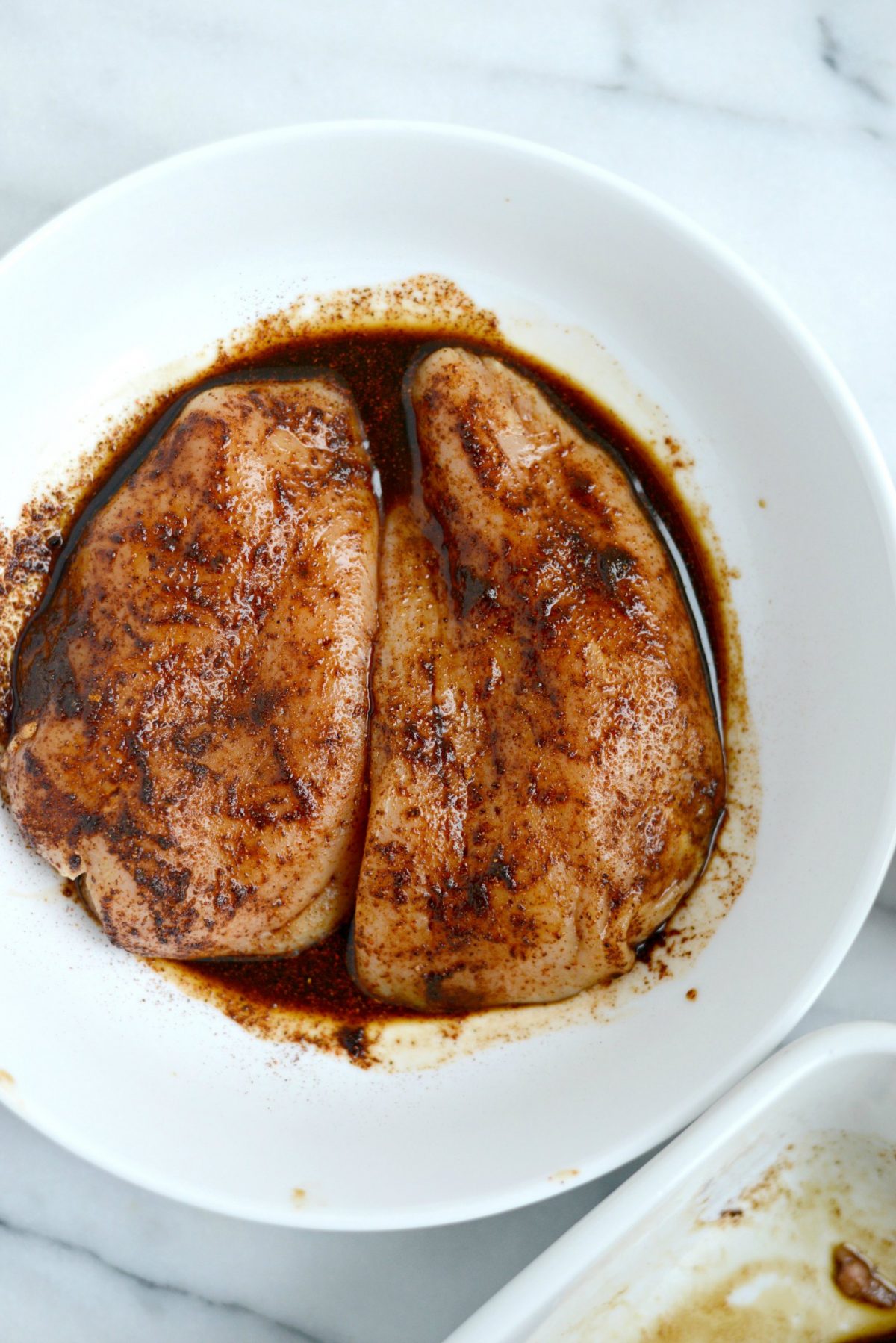 This is the fun part! With your impeccably clean hands, massage the spices and Worcestershire into the meat, making sure it gets into those stab wounds. Don't forget to do the chicken too!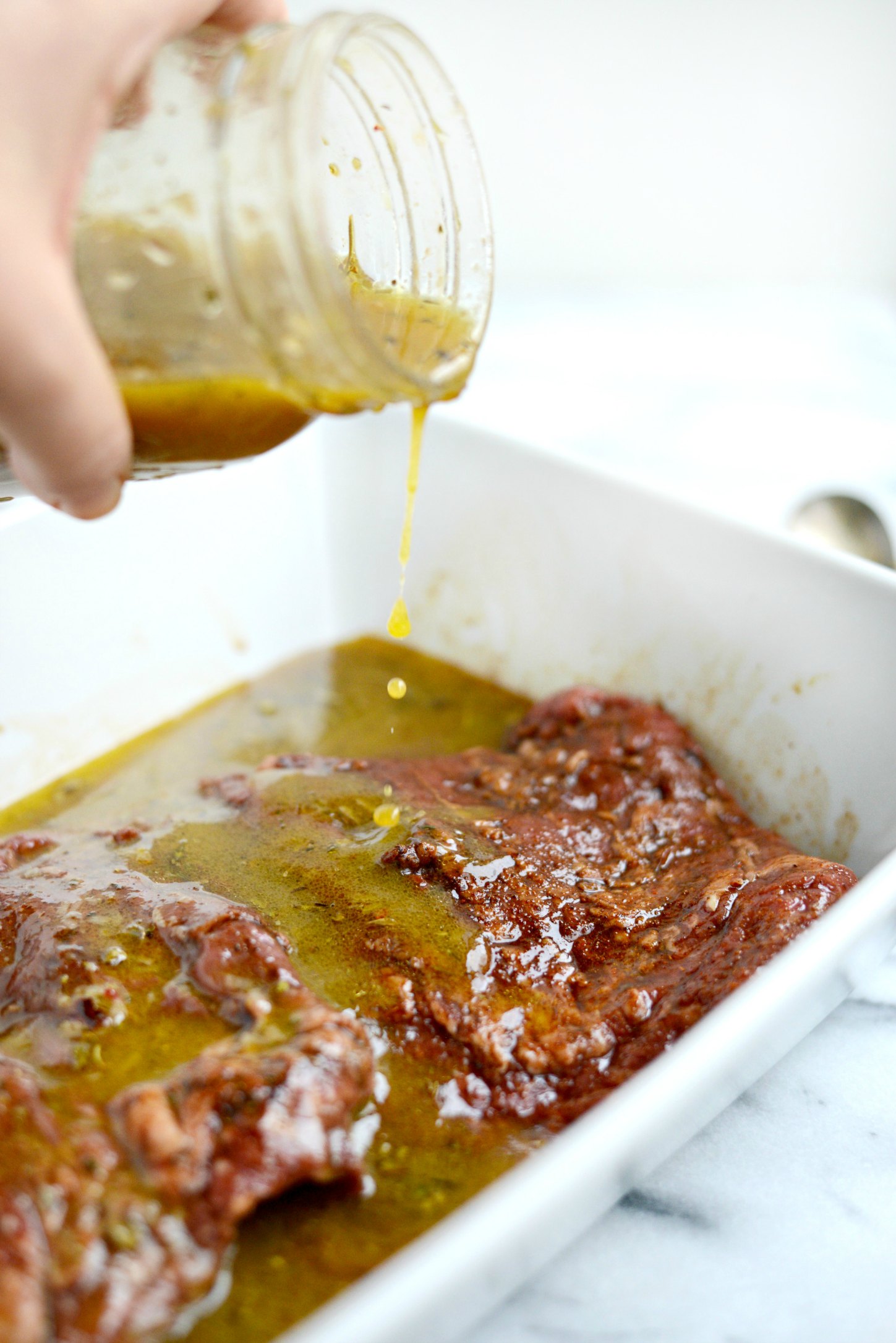 Then, divide the homemade zesty Italian dressing among the steak and chicken.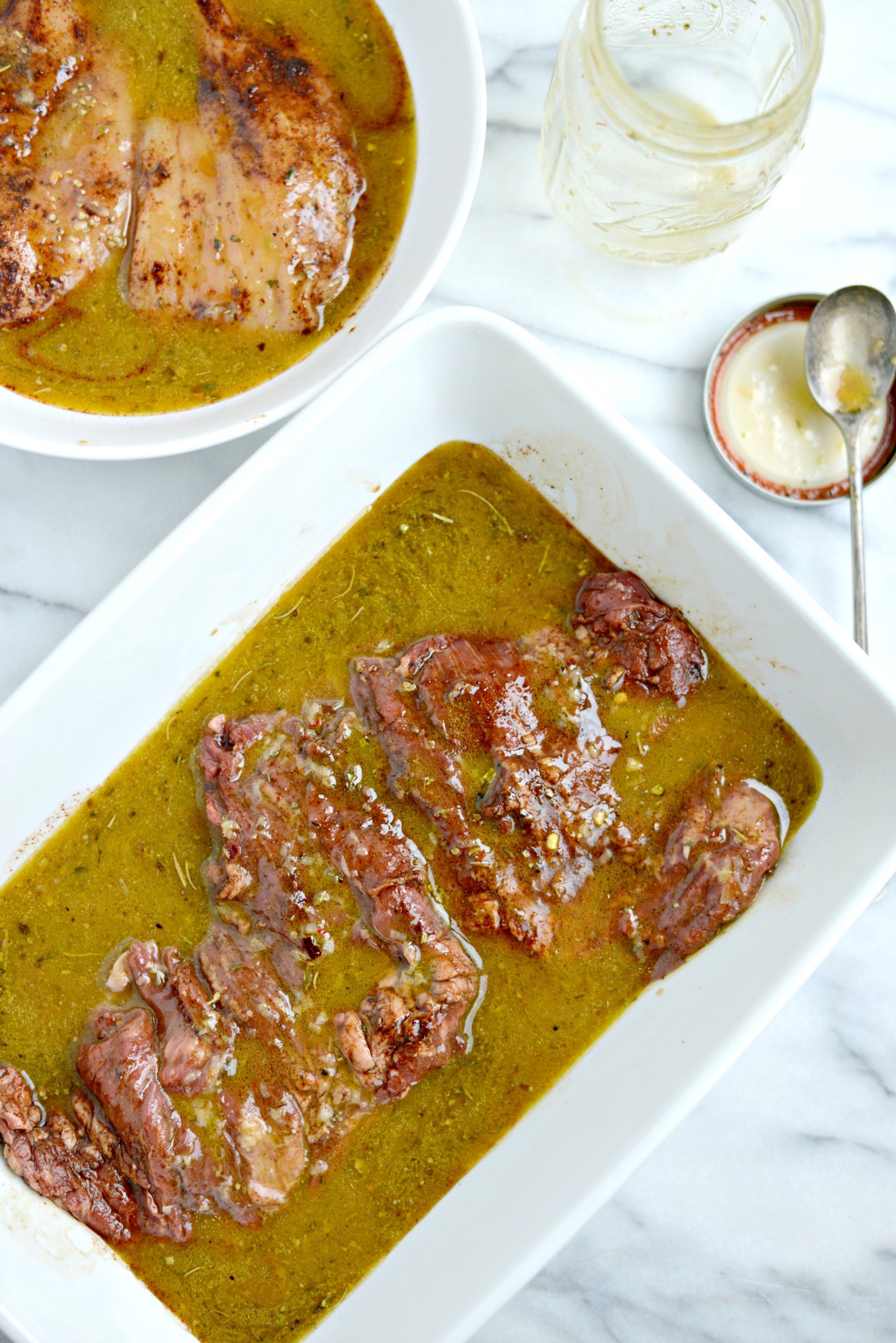 Cover and refrigerate for 4 hours to overnight. Pssst… overnight is best!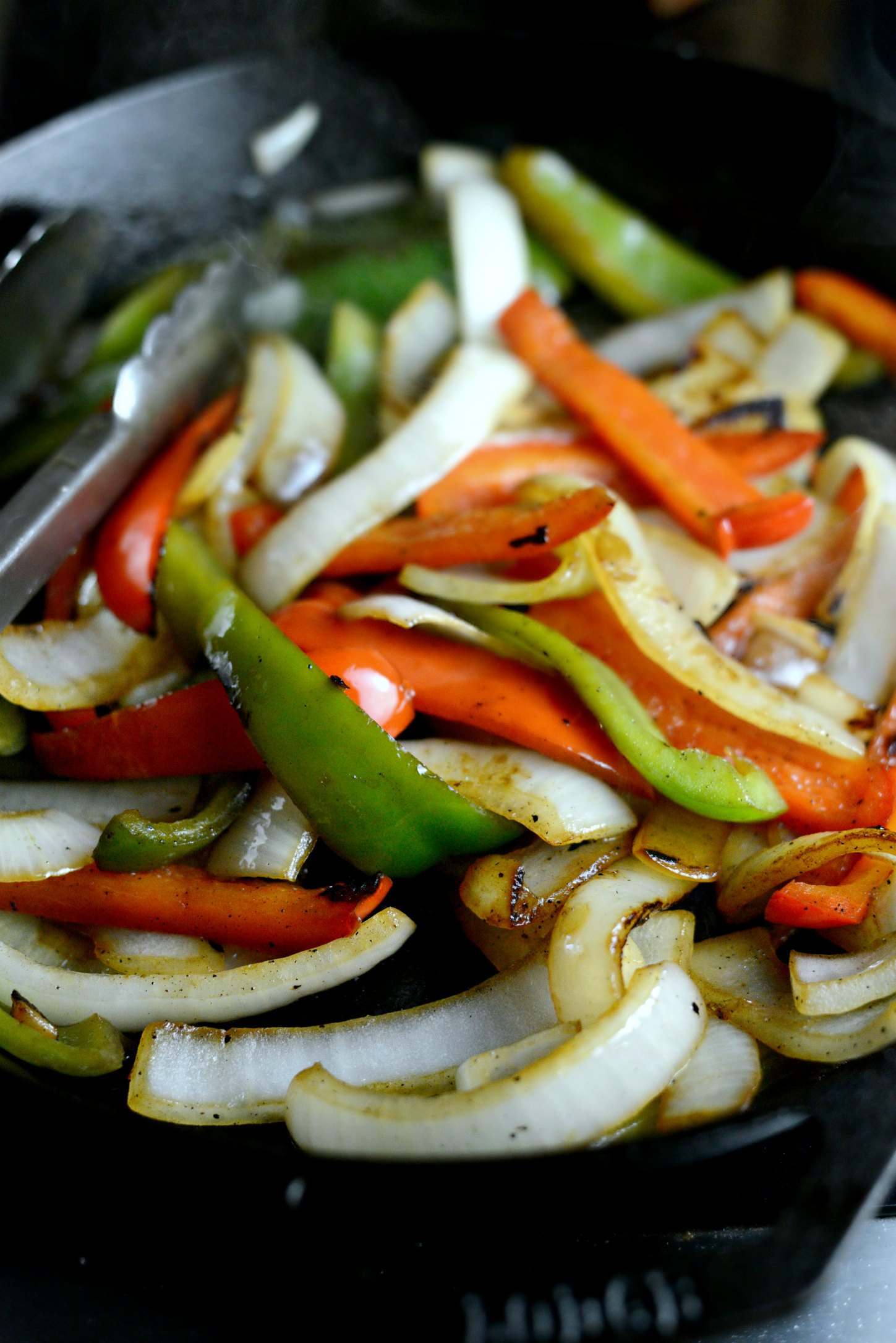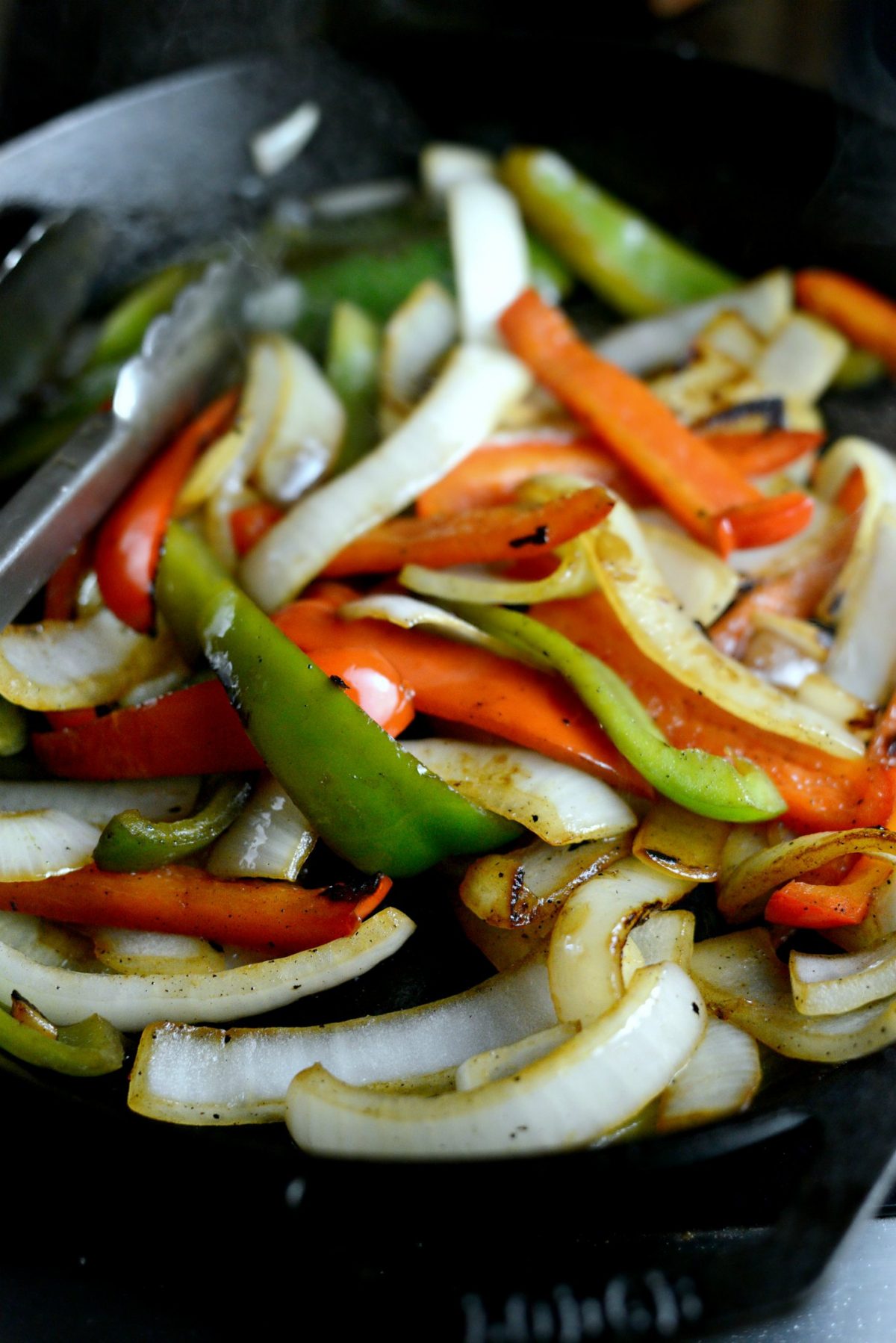 Once your ready to start cooking, preheat a large 12-inch cast iron skillet on medium-high heat.
Once hot, add in 2 teaspoons light olive oil, swirl to coat the bottom of the pan before dropping in the peppers and onions. Cook, stirring occasionally until they're soft and the edges have caramelized. Transfer the onions and peppers to a clean bowl, cover with foil and set aside.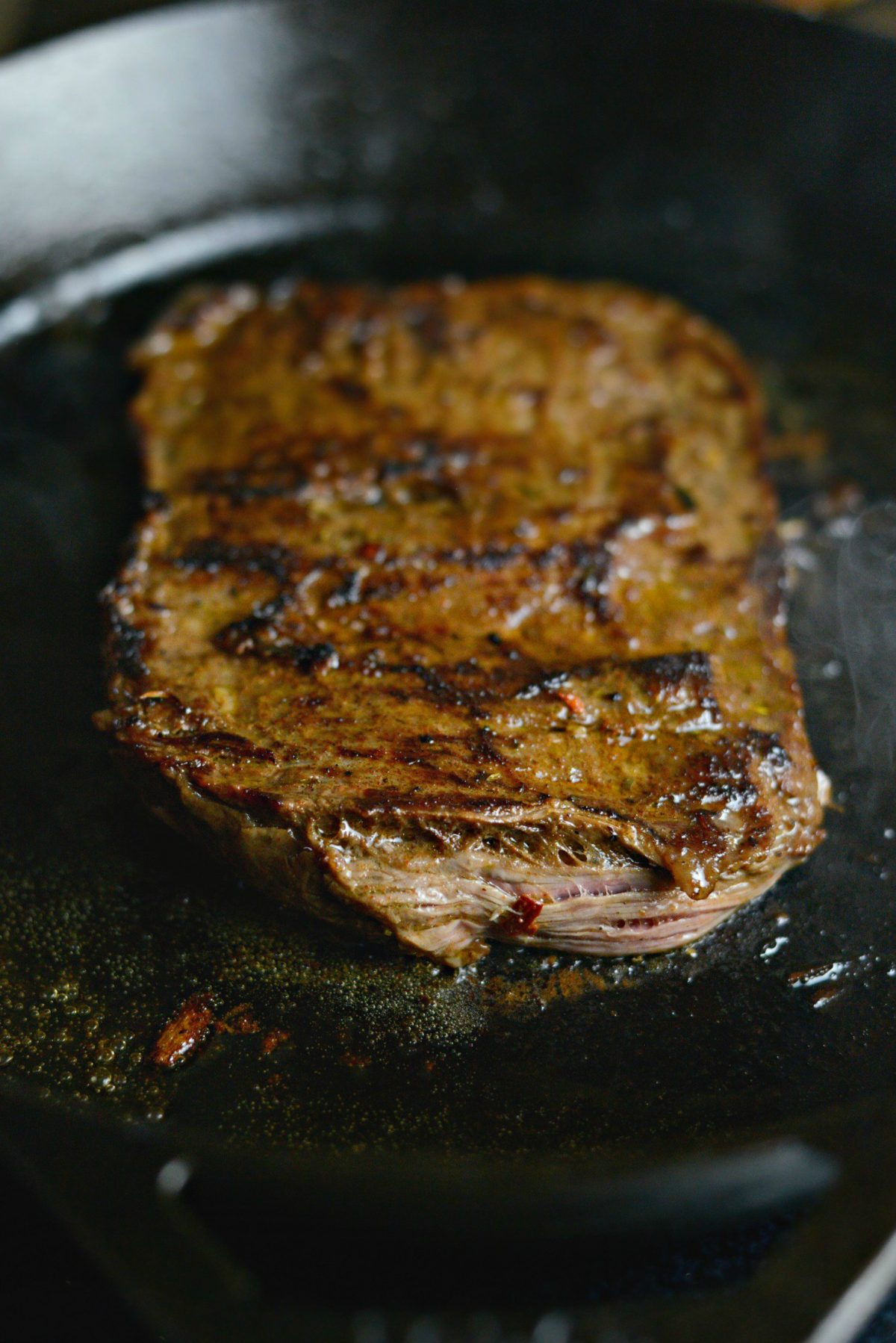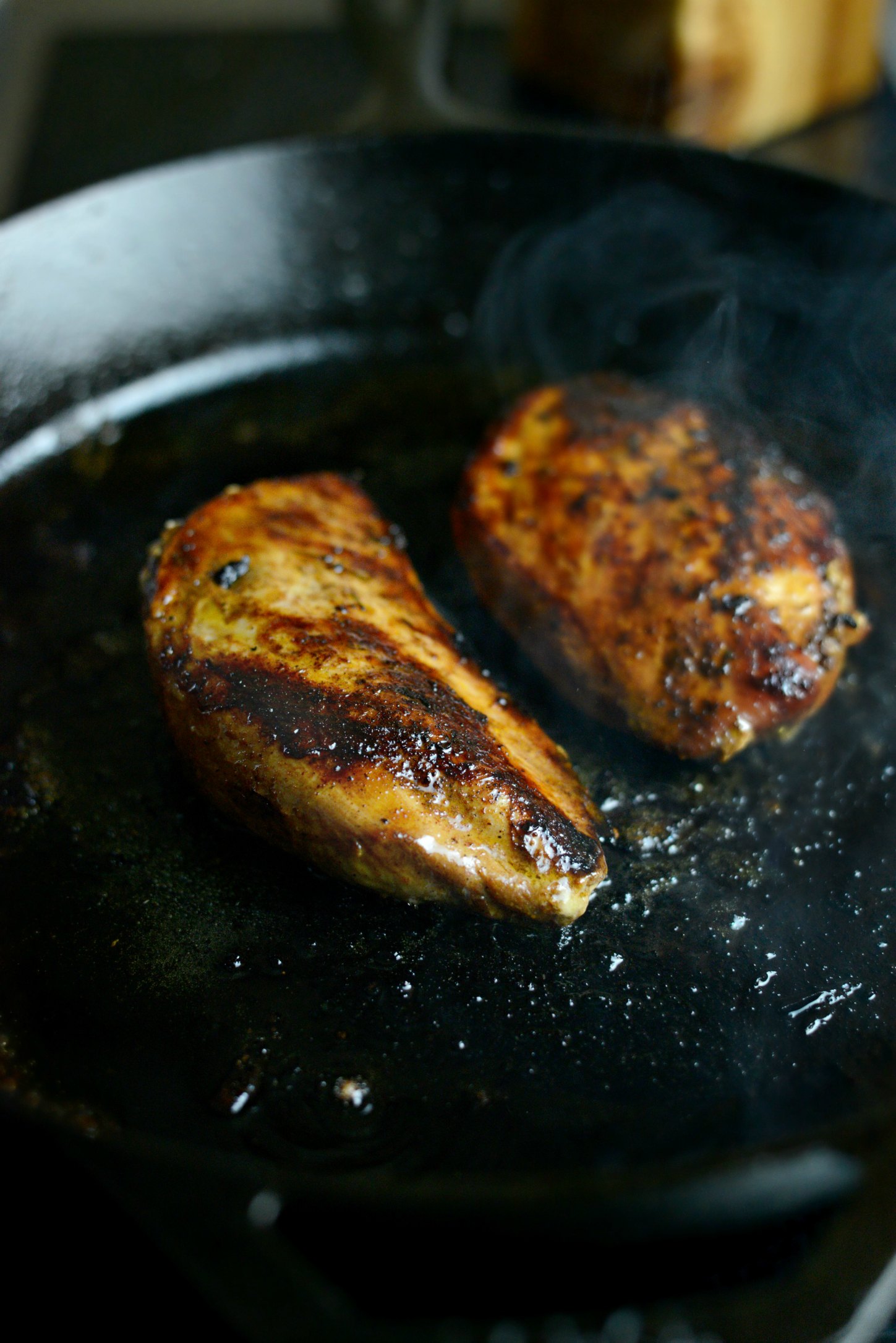 Add more oil to the skillet if needed, then cook the steak for about 5 to 6 minutes a side before transferring it off to a cutting board to rest. Cook the chicken the same way, only about 6 to 8 minutes a side or until fully cooked. Allow the meat to rest under tented foil for about 5 to 8 minutes.
Before slicing and serving.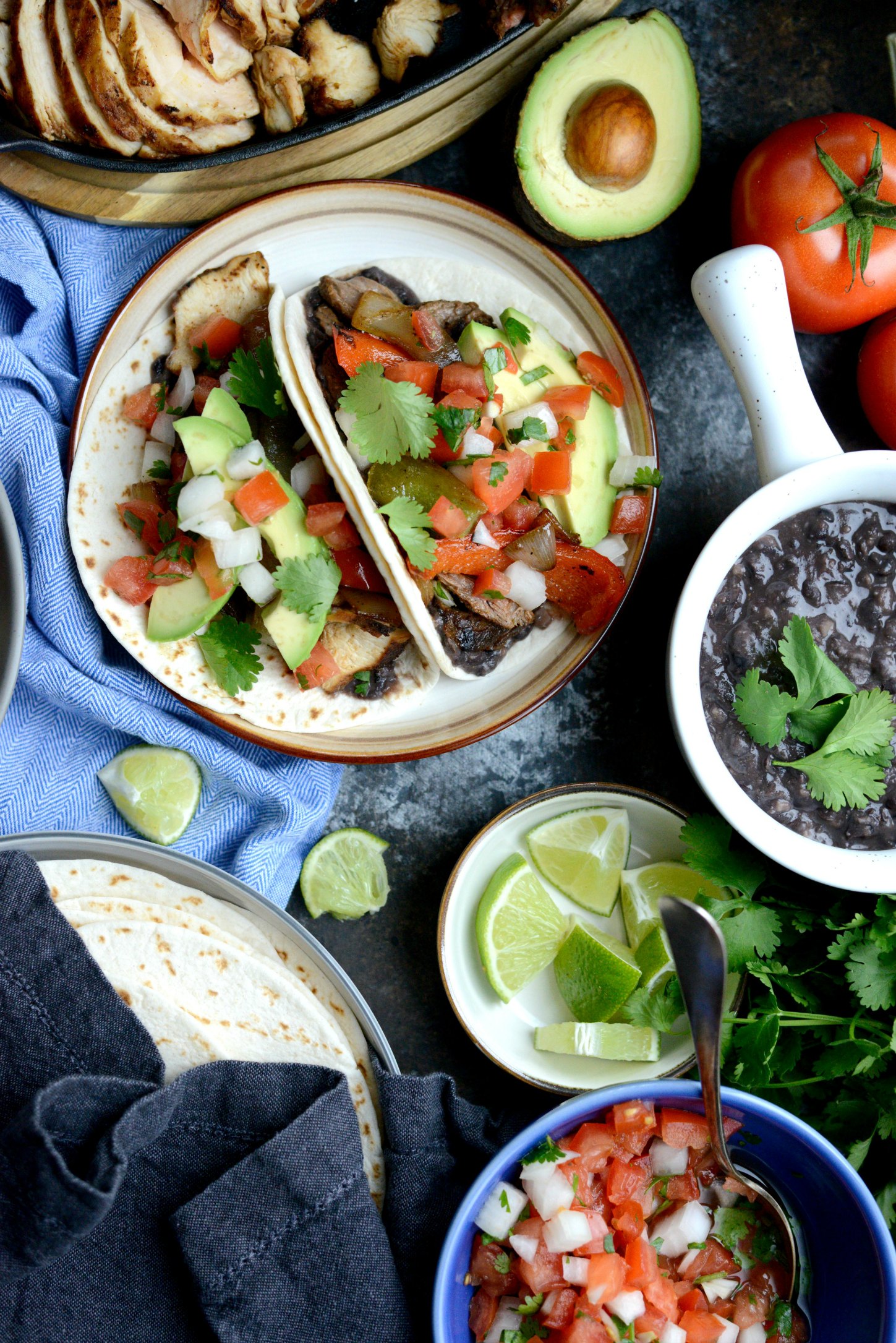 Top the frajitas with re-fried black beans, the caramelized peppers and onions. Sometimes I add fresh pico de gallo, avocado and cilantro. Sometimes we fill them with finely shredded lettuce, cheddar cheese and red onions. Whatever floats your boat.
Enjoy! And if you give this Skillet Frajitas recipe a try, let me know! Snap a photo and tag me on twitter or instagram!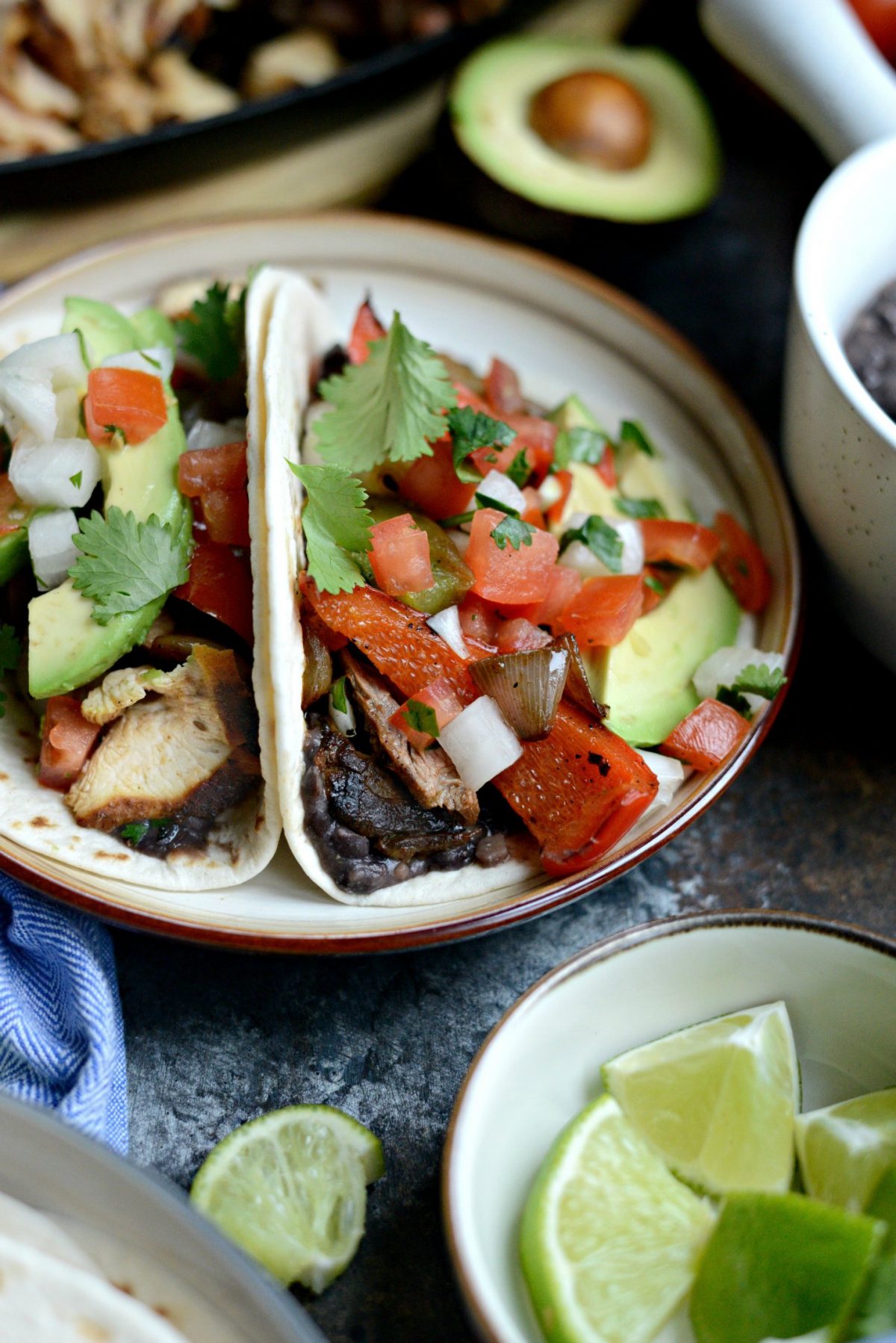 Yield: 10 servings
Skillet Frajitas
Frajitas are a non-traditional, totally inauthentic yet totally delicious take on fajitas. Steak or chicken is marinated and cooked in a cast iron skillet. Slice, stuff into soft tortillas and pile them high with all the fixings then enjoy!
Ingredients
1½ pound flank or skirt steak
1½ pounds boneless, skinless chicken breasts
1½ teaspoons chipotle chili powder
1½ teaspoons ground cumin
1 teaspoon chili powder
1/2 teaspoon cayenne pepper
1/3 cup Worcestershire sauce
2 teaspoons extra light olive oil
2 medium sweet onions, sliced
2 bell peppers, red, orange, yellow or green, seeded and sliced
flour or corn tortillas
OPTIONAL TOPPINGS:
refried black beans
shredded lettuce
cheddar cheese
avocado or guacamole
cilantro
Instructions
Place the steak and the chicken in separate, shallow bowls. With a fork, prink holes in both meats.

Pour 2 tablespoons of the Worcestershire sauce over over both the chicken and the steak, then divide the seasonings among the chicken and steak and use your hands and rub the Worcestershire and seasoning in.

Pour half of the dressinade over top of both the chicken and steak. Cover both dishes with plastic wrap and refrigerate for 4 hours to overnight.

When you're ready to cook, pull the meats out of the fridge to take the chill off while heating a large 12-inch skillet over medium-high heat.

Once hot, add in 2 teaspoons of olive oil along with the peppers and onions, toss to coat and sprinkle with a few pinches of kosher salt.

Cook until the vegetables reach your desired doneness, I like it when they're soft and the edges have caramelized. Remove to a clean bowl, cover with foil and set off to the side.

Add a little more oil the skillet if needed, then remove the steak from the marinade and cook in the hot skillet for 5 to 6 minutes a side.

Transfer to a cutting board and tent with foil. Cook the chicken the same way, only for 6 to 8 minutes a side. Allow the steak and chicken to rest for 5 to 10 minutes before slicing.

Serve the sliced steak or chicken in warm tortillas with your favorite toppings and enjoy!
Serving: 2frajitas, Calories: 240kcal, Carbohydrates: 9g, Protein: 31g, Fat: 9g, Saturated Fat: 3g, Polyunsaturated Fat: 1g, Monounsaturated Fat: 4g, Trans Fat: 1g, Cholesterol: 86mg, Sodium: 184mg, Potassium: 673mg, Fiber: 1g, Sugar: 5g, Vitamin A: 952IU, Vitamin C: 35mg, Calcium: 37mg, Iron: 3mg
This post may contain affiliate links.
Buy the Cookbook: Simply Scratch : 120 Wholesome Homemade Recipes Made Easy Now available on Amazon »
THANK YOU in advance for your support!