Seared chicken breast with lemon herb pan sauce sounds pretty fancy doesn't it? Well, it's really not.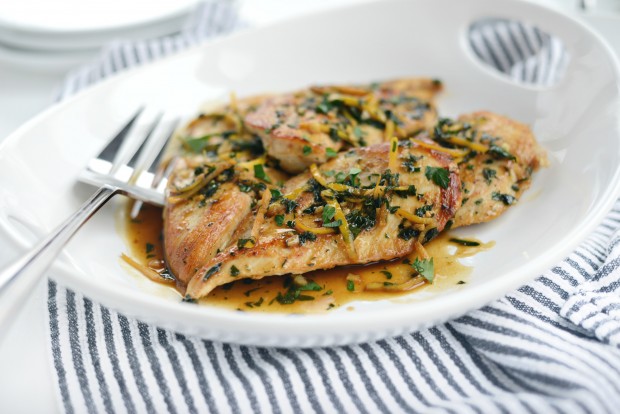 I mean, don't get me wrong… it tastes super-duper extra fancy… but it's truly not hard to make at all.
All the magic happens in one pan.
Which translates to making this easy chicken dish any night of the week.
Want a light meal on a Wednesday? BOOM! This is it. Having company over and not sure what to serve? I've got you covered. Because this dish is all that and a bag. It's humble, yet impressive… but most importantly, it's deeelicious.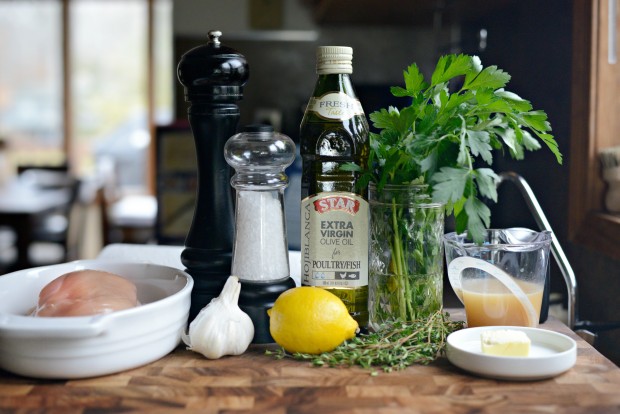 To Make This seared chicken breast with lemon herb pan sauce You will Need:
parsley
thyme leaves
lemon peel
garlic
butter
olive oil
chicken breast halves
low-sodium chicken stock
Using fresh herbs in this dish is key. The combination of fresh herbs and lemon rind pack so much bright flavor that dried herbs just can't achieve.
I promise you will love it!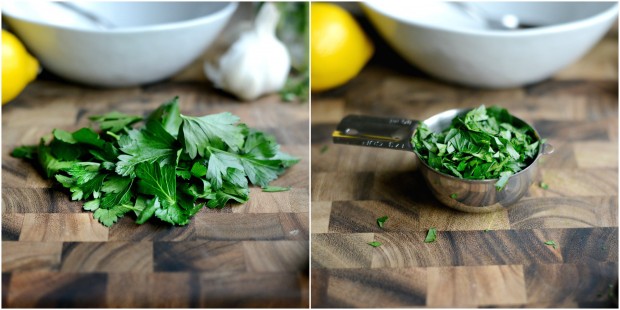 Rinse off a handful of fresh parsley, pat it dry, give it a good chop and then measure out 1/3 of a cup.
Run your fingers along the length of each thyme stem (you'll need quite a few), peeling off the leaves… then just give those a quick chop, you'll want 1 tablespoon.
Slice the ends off of a small lemon. Use a paring knife and cut the rind off, then slice into thin strips.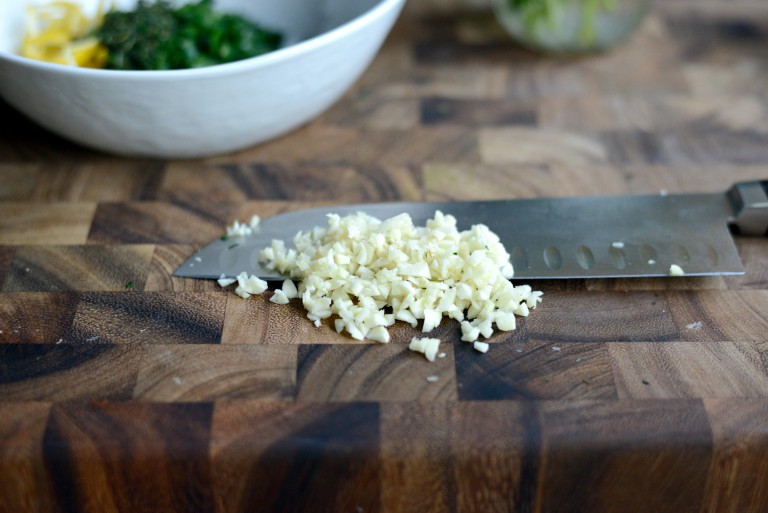 Smash, peel and finely mince 2 cloves of fresh garlic.
Add the herbs, lemon rind and garlic into a bowl.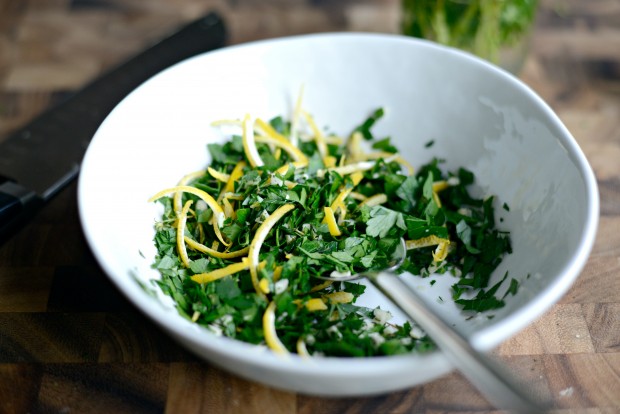 Toss everything together and set aside.
Heat 1 tablespoon of both butter and olive oil in a large 10 to 12-inch skillet over medium-high.

Cut 2 large chicken breasts (about 1-1/4 to 1/2 pounds total) in half by butterflying it the whole way through.
Season the chicken with a few pinches of kosher salt and freshly ground black pepper.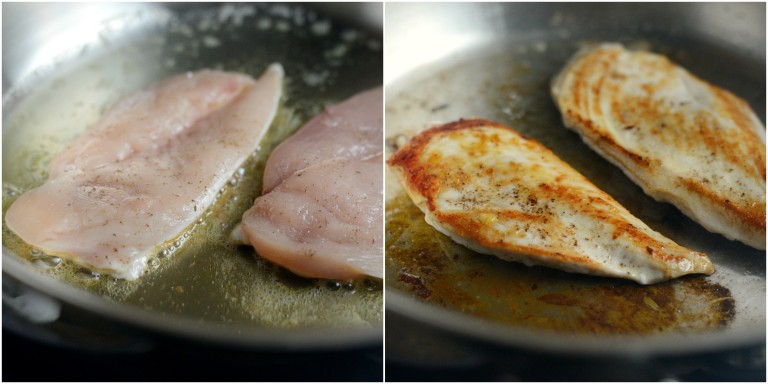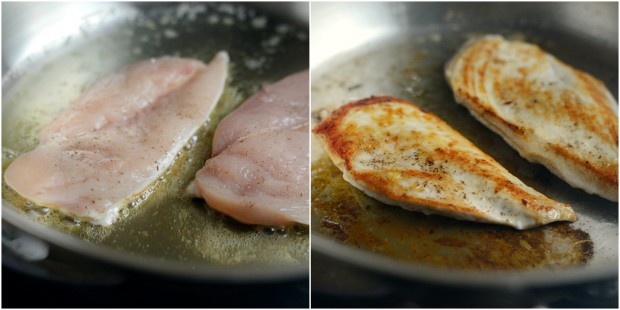 Once the oil is hot, place the chicken into the hot pan and season the second side with salt and pepper. Sear the chicken for 3 to 4 minutes before flipping and cooking for an additional 3 minutes. The chicken should be 90% cooked through.
Transfer the chicken to a plate… but only for a second.
Reduce the heat under the pan to medium-low. Pour 1/2 cup chicken stock into the pan, it's going to hiss and spit at you, but push through it and use a wooden spatula to scrape the bits off of the bottom of the pan. Because as you know, that's where the delicious flavor is at!
Bring the liquids to a simmer and stir in all of the herb and lemon mixture.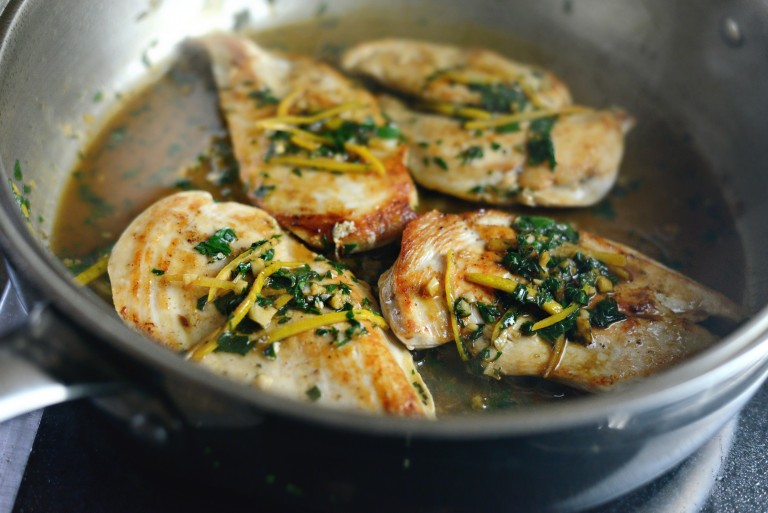 Place the chicken breast halves back into the sauce and turn to coat, spooning the sauce over top. Cover and simmer for 4 to 6 minutes more or until chicken is fully cooked.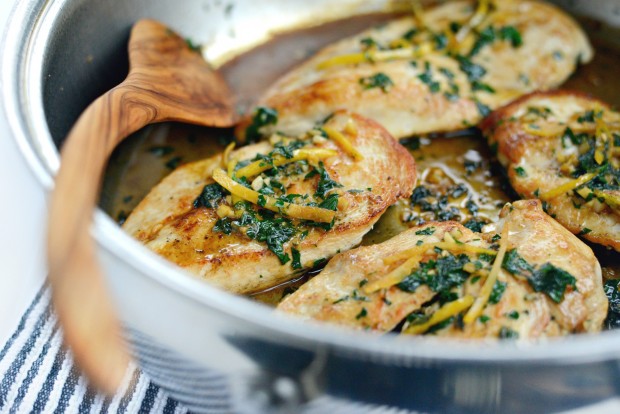 If the sauce reduces too quickly, no problem just pour a little more chicken stock into the pan. Bingo-bango.
Serve the chicken with a spoonful or two of the lemon herb pan sauce over top and you're good to go!
My family (including my children) absolutely love this seared chicken breast with lemon herb pan sauce recipe.
Most nights I serve it with roasted broccoli, these potatoes and if I'm really feeling it- then these rolls.
Enjoy! And if you give this Seared Chicken Breast with Lemon Herb Pan Sauce recipe a try, let me know! Snap a photo and tag me on twitter or instagram!
This post may contain affiliate links.
Buy the Cookbook: Simply Scratch : 120 Wholesome Homemade Recipes Made Easy Now available on Amazon »
THANK YOU in advance for your support!