In these delicious Sausage and Arugula Stuffed Shells; italian sausage, garlic and wilted arugula is mixed with creamy ricotta and fresh mozzarella and stuffed into shells. If that wasn't already incredible, the whole this is then topped with a homemade chunky tomato sauce and cheese.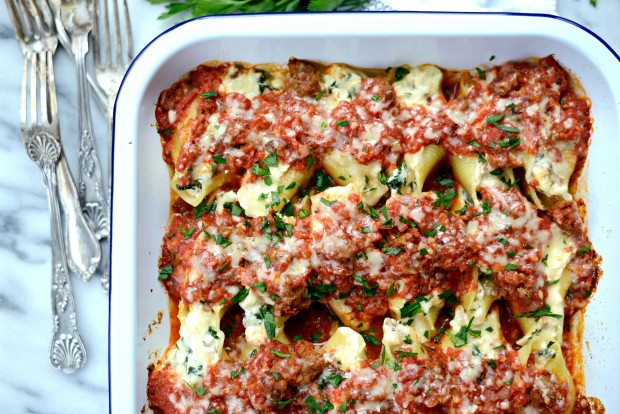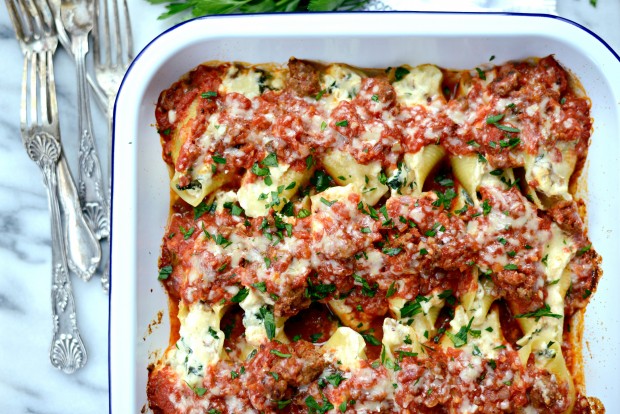 I hate saying goodbye to a fantastic weekend.
They always go by way to fast, yet Monday through Friday just sort of drags. Why is that? Saturday, Pat and I along with 3 other couples (and also our closest friends) went to Michigan Escape Games. We were locked in a room and had to find clues, solve puzzles and get out of the room in under 1 hour. Since we were in the CSI room, where a horriffic murder happened, we also had to solve the crime.
It was the most fun I've had in quite a while. We've all been friends for EVER, so working together was easy with a lot of laughs. We did end up getting out of the room with 4.58 minutes on the clock but we did not solve the crime. Womp-womp.
Call me gumshoe because I love those kinds of things, puzzle-solving is in my DNA. Sort of like cheesy stuffed shells.
I love cheese stuffed pasta anything. Remember these Lemon-Basil Ricotta stuffed shells in a Champagne Cream Sauce?? So in today's recipe, I'm switching things up from traditional spinach and using arugula. I spied this pretty bunch of peppery arugula at my local market and decided to give it a whirl. I wilted it in a pan with garlic and mixed it with crumbled hot Italian sausage, ricotta, fresh Mozzarella and Parmesan cheese. Have mercy.
I also made a easy homemade chunky tomato sauce too. Not to brag or anything. #totallybragging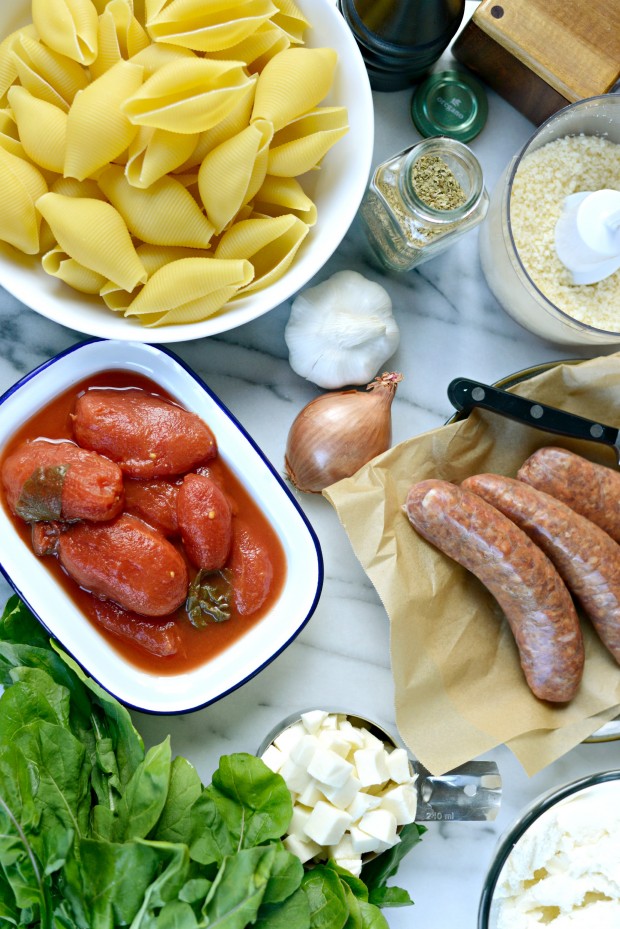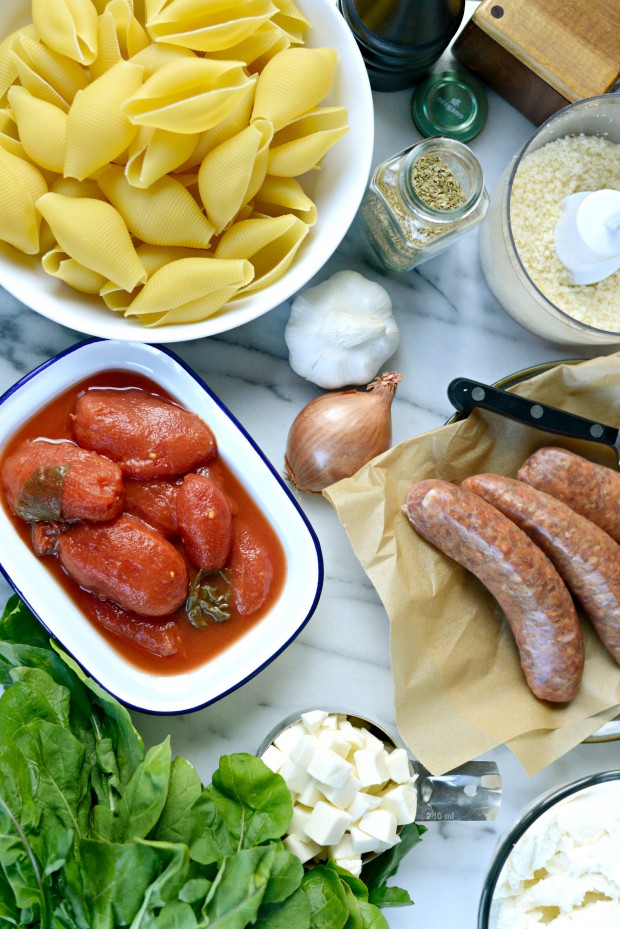 To Make These Sausage and Arugula Stuffed Shells You Will Need:
TO MAKE THE SAUCE:
canned whole tomatoes with basil
shallot
garlic
dried oregano
sugar
kosher salt
ground black pepper
TO MAKE THE PASTA DISH:
jumbo shell pasta
1 tablespoon sea salt
olive oil
hot italian sausage
the above chunky tomato sauce
fresh arugula
garlic
whole milk ricotta
fresh mozzarella
parmesan cheese
egg
parsley (for garnish)
Add a 28-ounce can of whole tomatoes with basil into a food processor.
Pulse until chunky and set aside.
Fill a large pot with water, season with a tablespoon of sea salt, cover and bring it to a rolling boil. Add in the pasta, decrease the heat to medium-high and cook the shells for 2 minutes less as directed on the packaging.
You won't use the entire box of pasta, but sometimes shells tear and break. You'll have extras just in case this happens.
Meanwhile, drizzle some olive oil onto a rimmed baking sheet and smear it all over. After the pasta has par-cooked you'll place the shells onto the greased pan.
Grab around 6 ounces of arugula tops, discarding any tough stems. Prep it by rinsing any sandy dirt off and pat (or spin in a salad spinner) dry.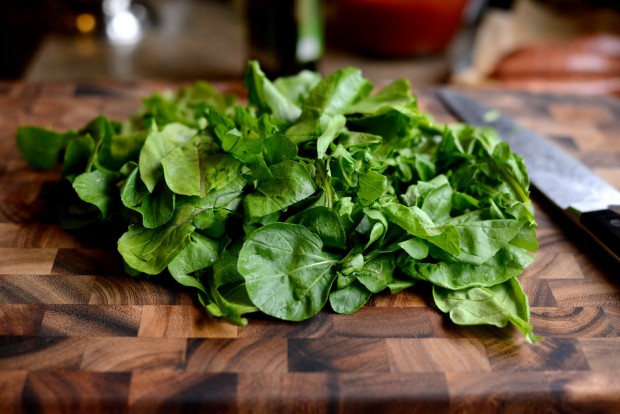 Give it a rough chop and set off to the side.
Drain the pasta.
Transfer the shells to the greased pan.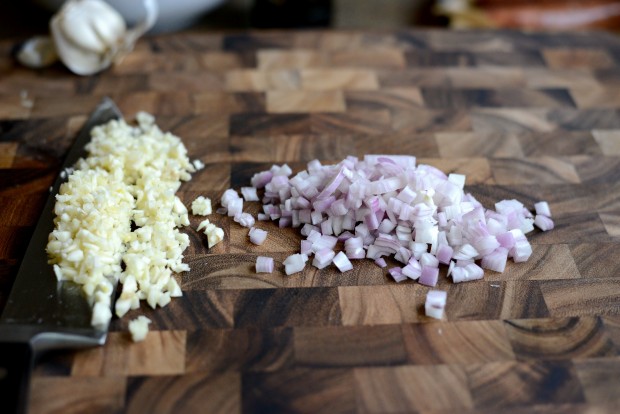 Finely mince 5 cloves of garlic and dice a large shallot.
Crumble and cook 3 links of hot Italian sausage over medium heat until browned and cooked through. Use a slotted spoon to transfer the cooked sausage to a medium bowl.
Add the shallot and 2/3 of the garlic (reserving the rest for the arugula) into the sausage grease.
Cook for 2 to 4 minutes or until soft and tender, then add in 1/2 teaspoon of oregano. I crush the oregano in the palm of my hand before adding.
Continue cooking for 1 minute.
Pour in the crushed tomatoes.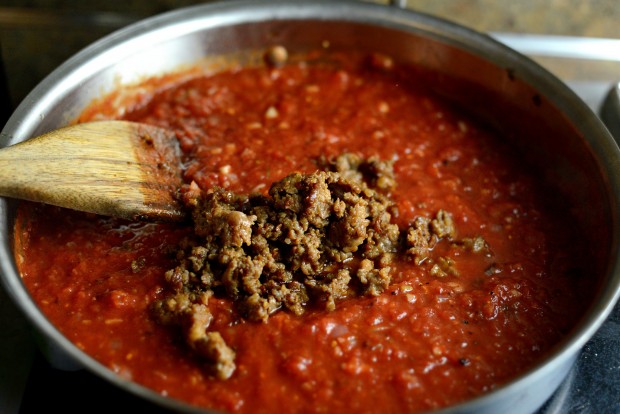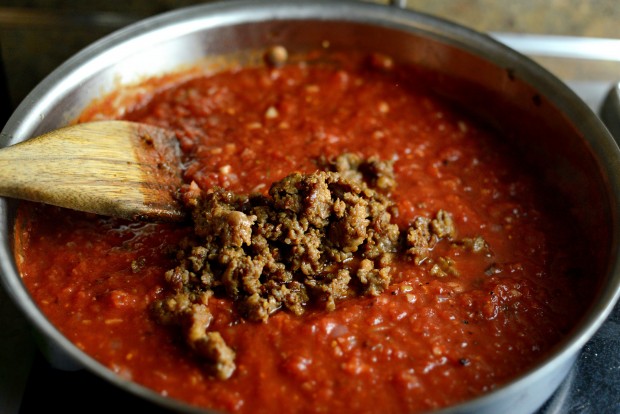 And add in 1/4 of the browned sausage.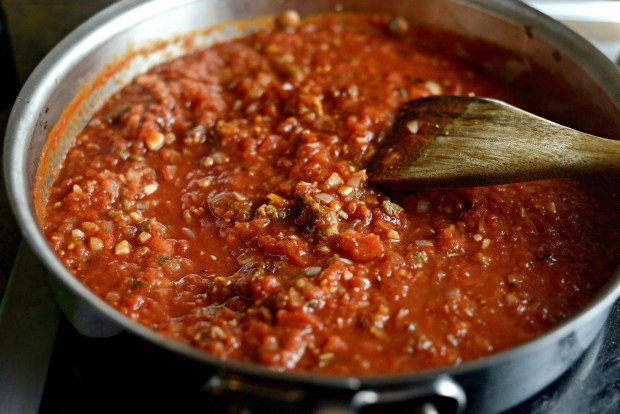 Add in a pinch of sugar, 3/4 teaspoon of kosher salt and a few grinds of black pepper. Reduce the heat to medium-low and simmer for 10 minutes before transferring it to a clean 4 cup liquid measuring cup or medium bowl.
Wipe the pan out with paper towel, drizzle in 1 teaspoon of olive oil and add in the remaining garlic. Cook for 1-2 minutes.
Next add in the arugula.
Season with a pinch of kosher salt.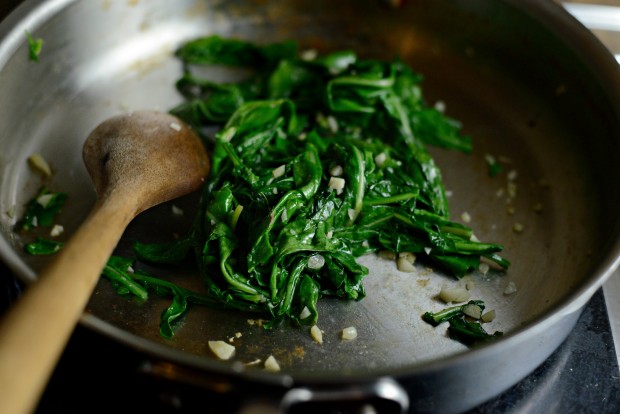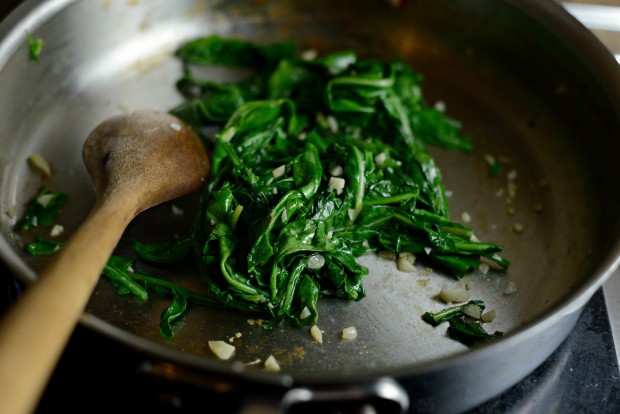 …and cook until wilted, about 2 to 4 minutes.
Transfer the wilted arugula and garlic too the bowl with the Italian sausage. Allow these to cool down for a few minutes.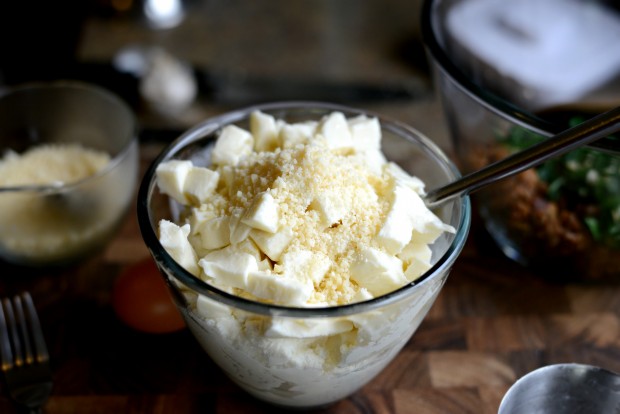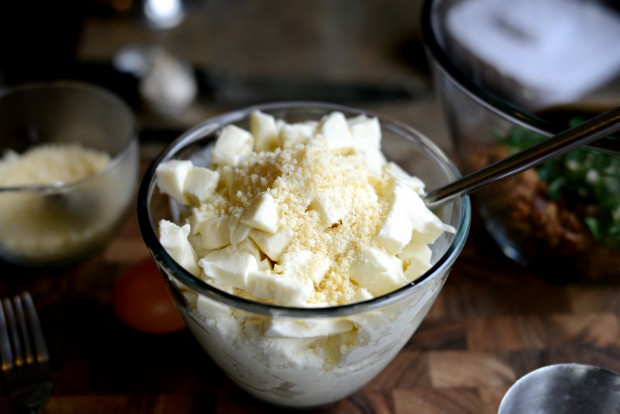 Once again I chose a bowl to small to combine the ricotta, mozzarella and Parmesan, but I managed to get it done. Alternatively, you could add these to the bowl with the sausage and arugula once they have cooled.
Lightly beat a large egg.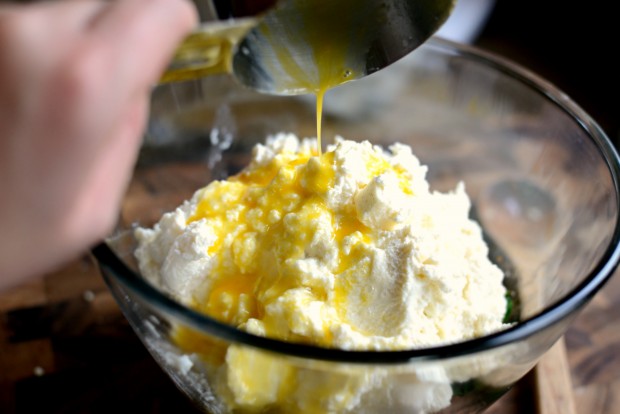 Add it to the bowl with the ricotta, sausage and arugula.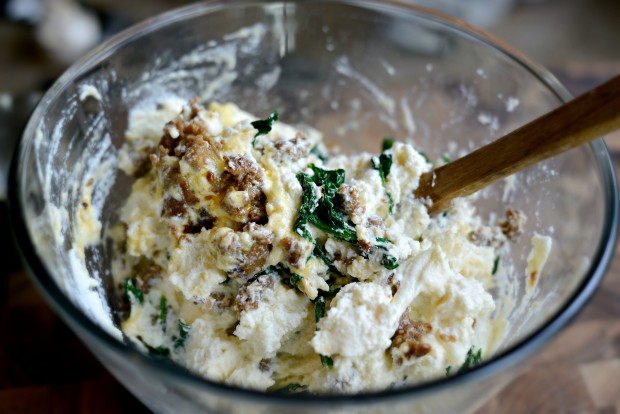 Mix until completely combined.
Pour 2/3 cup of sauce into the bottom of a 9×13 baking dish.
Smear that goodness all around.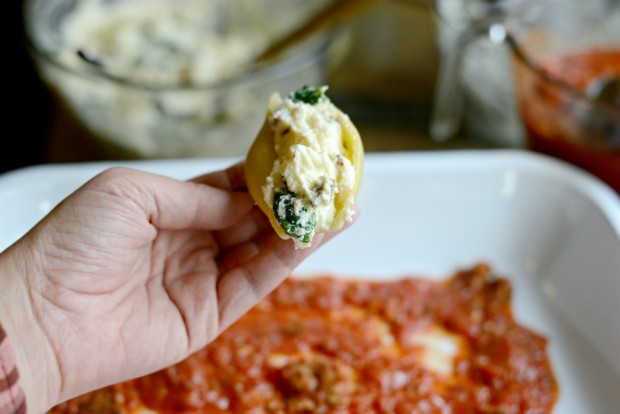 Now use a teaspoon to spoon the ricotta-sausage-arugula mixture into the shells.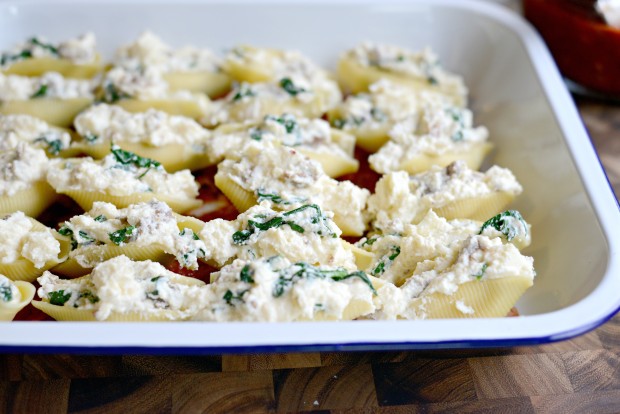 …and arrange them, side-by-side in the baking pan.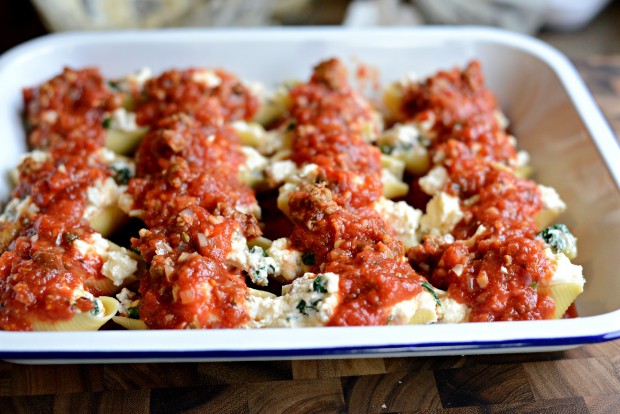 Spoon the remaining sauce over top.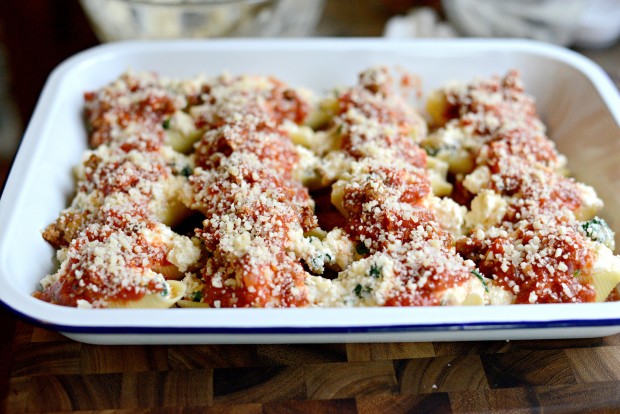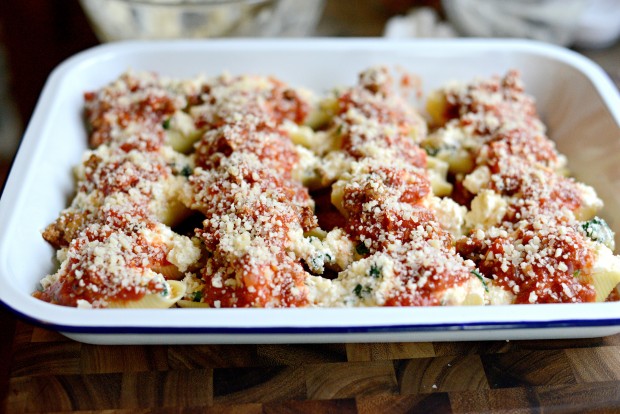 Sprinkle with 1/4 cup of Parmesan cheese over top.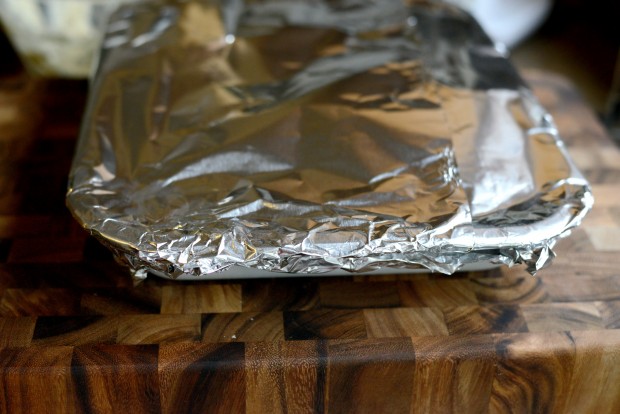 Cover with aluminum foil and bake in a pre-heated 375° oven for 30 minutes.
Yes and YES! I thought the sauce to cheese filled pasta was perfect, however Pat wanted more sauce because it was SO good. I'm just not the biggest fan of overdoing things in sauce. I like seeing the shells, the edges get a little crispy during baking- but feel free to double the sauce if you desire your stuffed shells to be fully submerged.
I also was smitten with the sausage and arugula combo. And the melty cubes of mozz.
This will feed a small army but you could most definitely divide the recipe among two pans and freeze one half to bake later.
You will love these.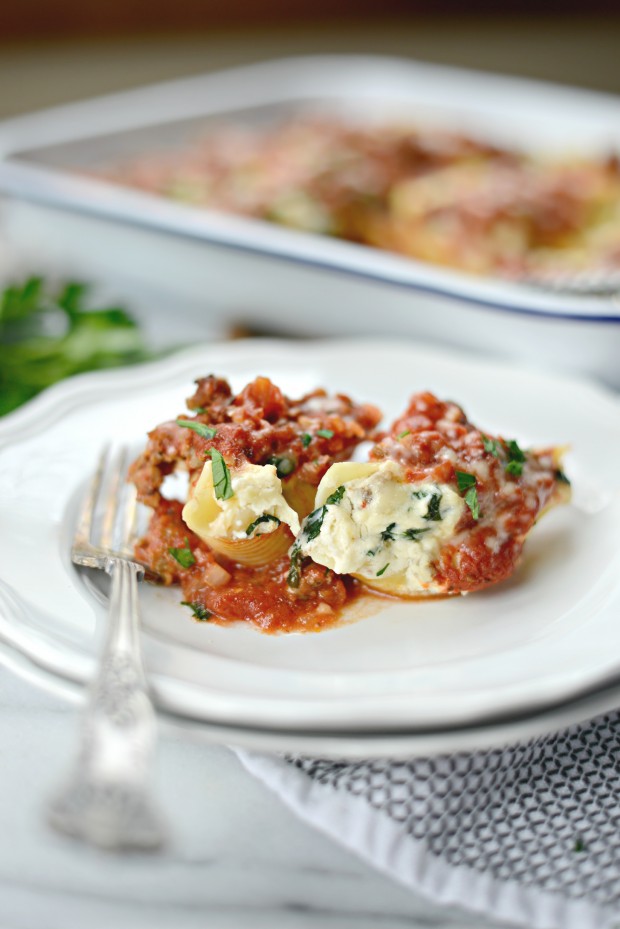 Enjoy! And if you give this Sausage and Arugula Stuffed Shells recipe a try, let me know! Snap a photo and tag me on twitter or instagram!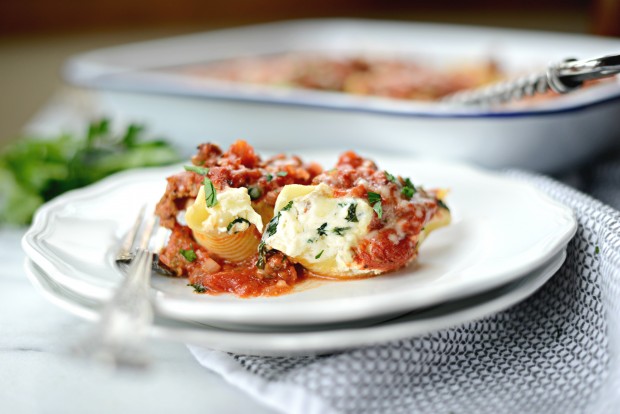 This post may contain affiliate links.
Buy the Cookbook: Simply Scratch : 120 Wholesome Homemade Recipes Made Easy Now available on Amazon »
THANK YOU in advance for your support!