This peppermint icebox cake whipped cream layered between chocolate cookies and then lined up and frosted with more whipped cream. It's so incredibly easy.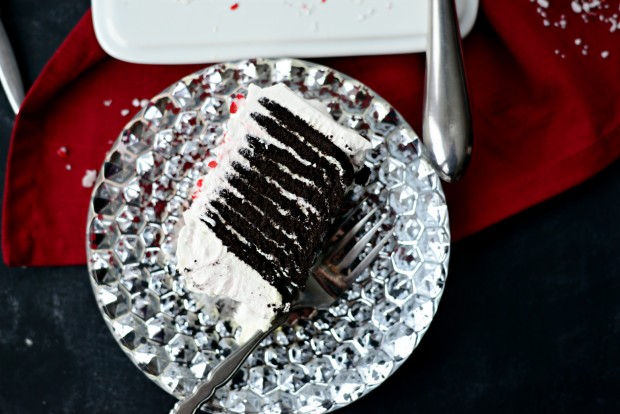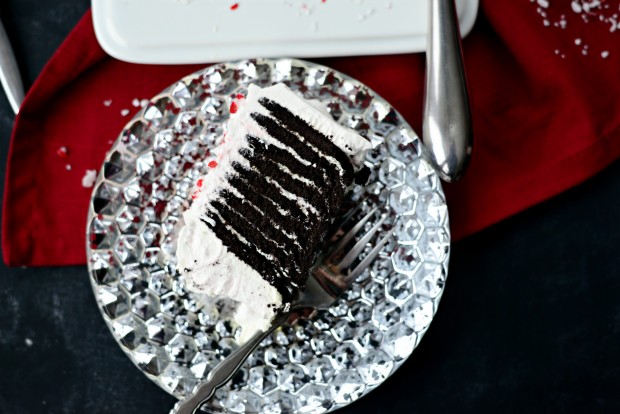 This dessert will be the death of me.
A deliciously sweet, chocolatey death covered with peppermint whipped cream and candy pieces.
Truth: I'm more of a mint chocolate chip person, I always order that or a chocolate and vanilla twist with sprinkles- depending. My husband is the cookies and cream freak fan and this cake did it for him. My whole family (myself included) ate this entire dessert in two days. Extra-thick slices thank you very much! It's a cookies and cream lovers dream come true and will even turn the lesser fan into one as well (that'd be me).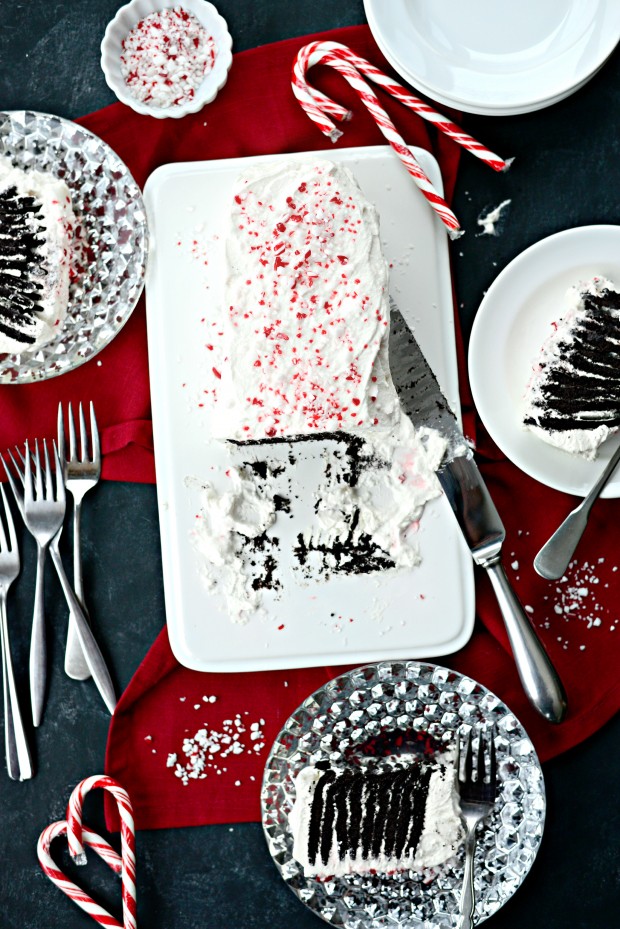 What I'm telling you is that this is the dessert to make for the holidays. I think Santa would appreciate the switch up from cookies and milk to cake. Just sayin'.
First of all, I did not make these chocolate wafers.
But I did make the whipped cream! Does that count? Icebox cakes are supposed to be easy, so if I made my own wafer cookies that would be contradictory, right?? (go with it, this is what I'm telling myself)
Add a teaspoon-size dollop of homemade peppermint whipped cream onto the underneath side of each cookie.
Smear…
…and stack. Creating 4 stacks of 8 to 10 cookies works best for a loaf-shaped cake.
I did have a few cookies break on me due to my super human strength, so go easy. 😉
Top with the remaining peppermint whipped cream…
…and use an offset spatula to spread it as evenly as possible.
Ta-da!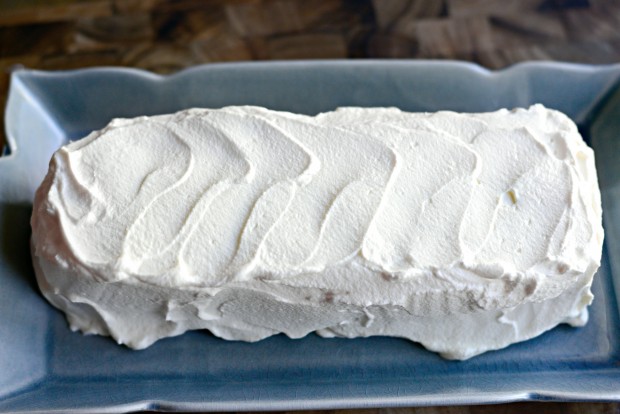 I slid it in the freezer for 2 hours before draping plastic wrap over the top and freezing it overnight. 4 to 6 hours would be fine, but I was making this for Pat and he was up north at the time, so we all had to wait.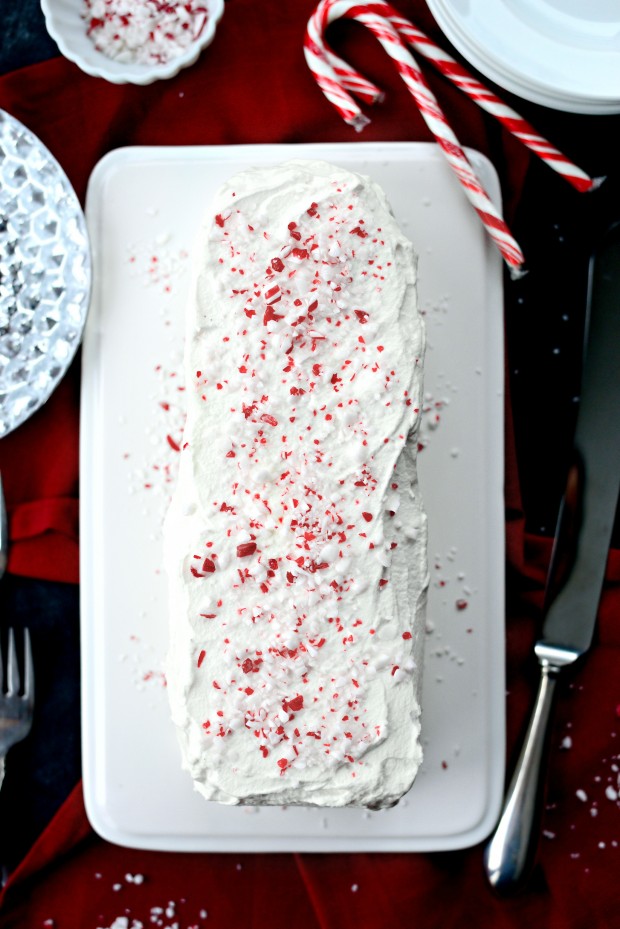 Right before serving, sprinkle with broken pieces of peppermint candies. The moisture from the whipped cream will slowly melt the candies so waiting until right before slicing it is best.
Also, I don't like to wait for it to thaw a bit before cutting into it. I just use a serrated (bread knife) and cut straight down. My whole family prefers it this way, but you could let it sit on the counter for 30-40 minutes and then slice it.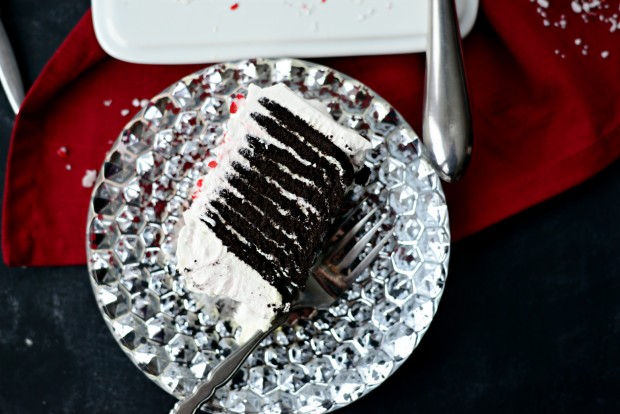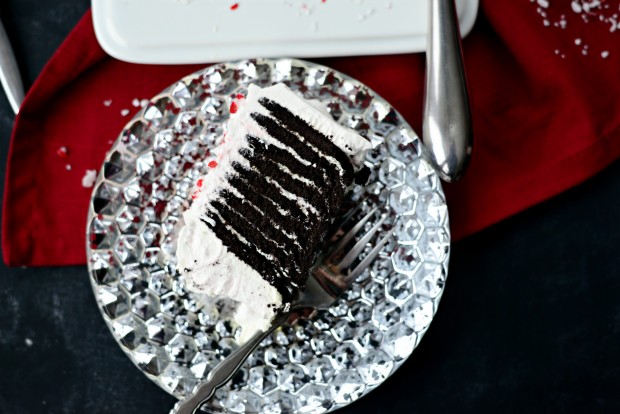 Oh my gosh, just looking at this makes me want to make another one, hide it and eat it all by myself. Hellooo peppermint whipped cream layered between chocolate cookies!
The whipped cream softens the cookies a smidge and the peppermint candies add a nice textural crunch, this may be my favorite kind cake AND it's SOOOO pretty and festive. Bonus: it's so incredibly easy and when served with a steamy cup of cocoa… is the ultimate.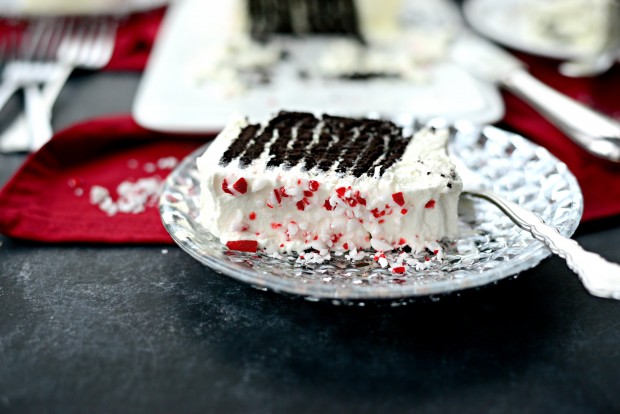 I wasn't kidding about the extra thick slices.
It's the only way to do it.
Enjoy! And if you give this Peppermint Icebox Cake recipe a try, let me know! Snap a photo and tag me on twitter or instagram!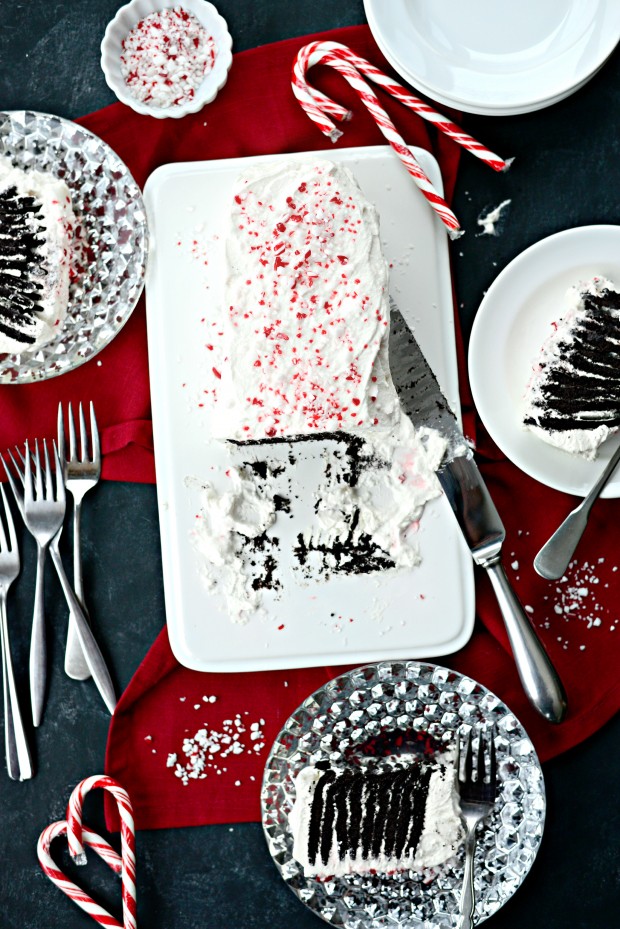 Yield: 8 servings
Peppermint Icebox Cake
This is the dessert to bring on the holidays. Peppermint whipped cream layered between chocolate cookies and then lined up and frosted with more whipped cream and frozen until set. It's so incredibly easy and serve with a steamy cup of cocoa... it's perfection.
Ingredients
9 ounces chocolate wafer cookies, (about 40 cookies)
1 recipe peppermint whipped cream
3 tablespoons crushed peppermint candy pieces
Instructions
Dollop a heaping teaspoon of the whipped cream in the center on the backside of a cookie, repeat with the next cookie and stack until you have the 4 stacks of 10.

Lay each stack lengthwise, side-by-side onto a platter and frost with the remaining whipped cream.

Slide the cake into the freezer for 2 hours. Drape with plastic wrap and continue to freeze until set.

Right before serving, sprinkle with crushed candy pieces, slice and serve.

For a softer slice of cake, pull it out and let it sit on the counter for 30-40 minutes before slicing.
Serving: 1slice, Calories: 387kcal, Carbohydrates: 31g, Protein: 4g, Fat: 28g, Saturated Fat: 17g, Polyunsaturated Fat: 2g, Monounsaturated Fat: 8g, Cholesterol: 82mg, Sodium: 246mg, Potassium: 112mg, Fiber: 1g, Sugar: 16g, Vitamin A: 878IU, Vitamin C: 1mg, Calcium: 57mg, Iron: 1mg
This post may contain affiliate links.
Buy the Cookbook: Simply Scratch : 120 Wholesome Homemade Recipes Made Easy Now available on Amazon »
THANK YOU in advance for your support!