This Thanksgiving, serve this epic Sausage Apple Cranberry Stuffing! Cubed sourdough and whole grain bread is tossed with browned turkey sausage, crisp apples and dried cranberries is the just the start for this delicious stuffing with lots of flavor. Serves 8+ in about an hour.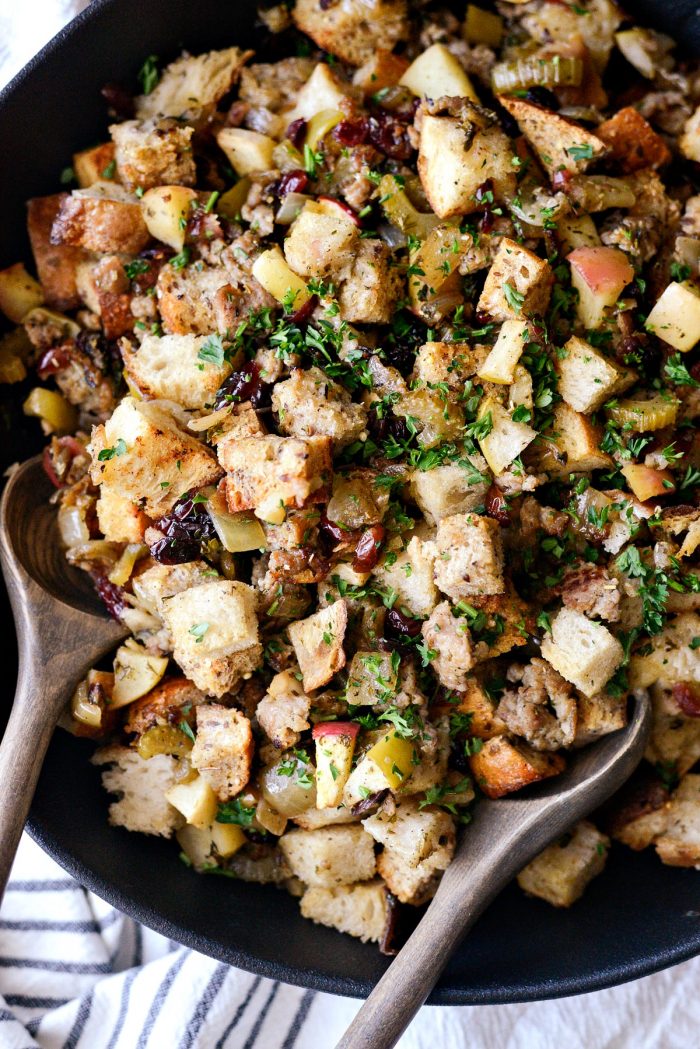 Recently Malloree asked if I had favorite Thanksgiving food. I pondered this for .02 seconds because uh-duh, it's stuffing!
All. The. Stuffing.
A double scoop of stuffing pleaseandthankyou. And any stuffing will do, I'm not picky. My mom's homemade version where she uses bread, herbs and incorporates the gizzards will always be at the top because I grew up with it at every Thanksgiving. And Stove Top stuffing is delicious too. However a stuffing that combines dried fruit, apples and sausage with 2 different breads might just be my new favorite.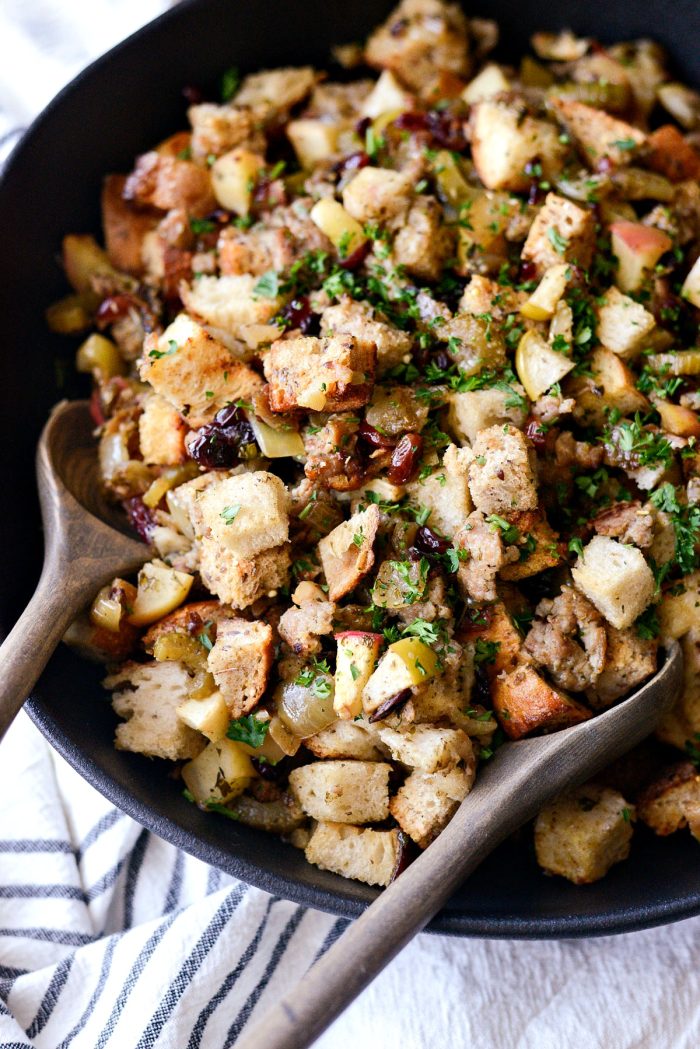 Reason 465 as to why I love this stuffing?
The underneath layer soaks up the buttery broth while the top layer gets crispy in the oven. It's the perfect textural combination.
To Make This Sausage Apple Cranberry Stuffing You Will Need:
loaf of both sourdough bread and whole grain bread
bulk turkey sausage
honeycrisp apple
granny smith apple
dried cranberries (reduced sugar)
fresh parsley
yellow onion
celery
kosher salt
rubbed sage
crushed rosemary
dried thyme
turkey stock
melted salted butter
Start by preheating your oven to 350° and spray a deep-sided half sheet cake pan with olive oil. I found this pan at Target. Arrange the bread cubes out evenly before baking for 10 minutes on the middle rack of your preheated oven. Doing this will dry the bread out a smidge without browning it.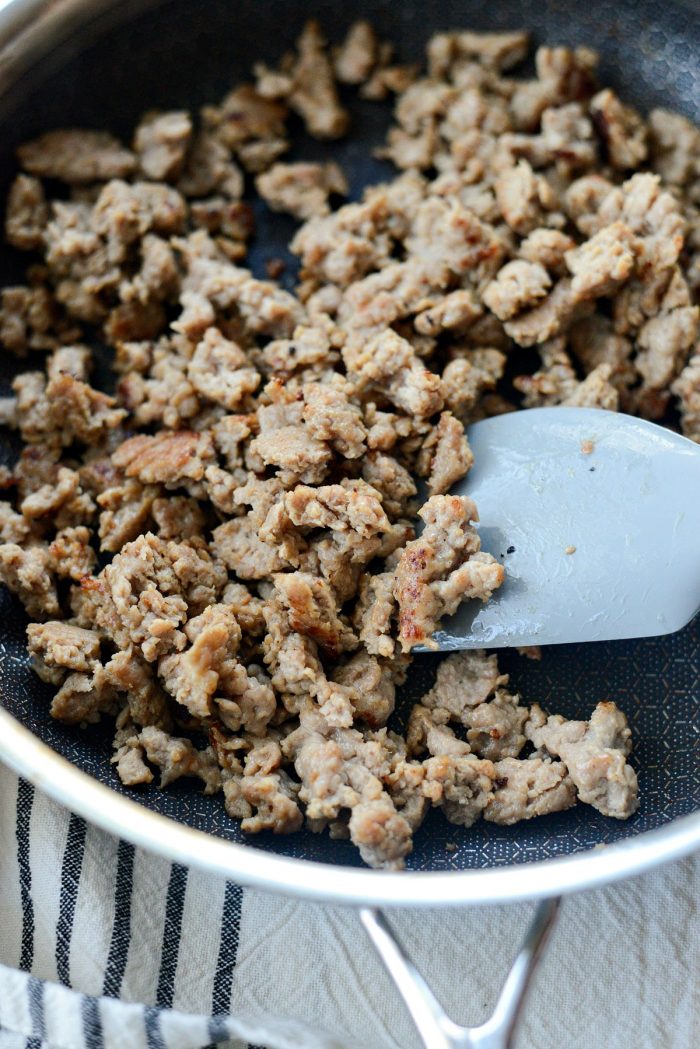 Meanwhile, lightly spray a nonstick skillet with olive oil and cook 1 pound of turkey sausage until fully cooked and golden brown in spots. Because turkey sausage is so lean, there won't be much fat in the pan, so no need to drain. win-win.
So go on and just add the browned sausage directly to the pan with the toasted bread.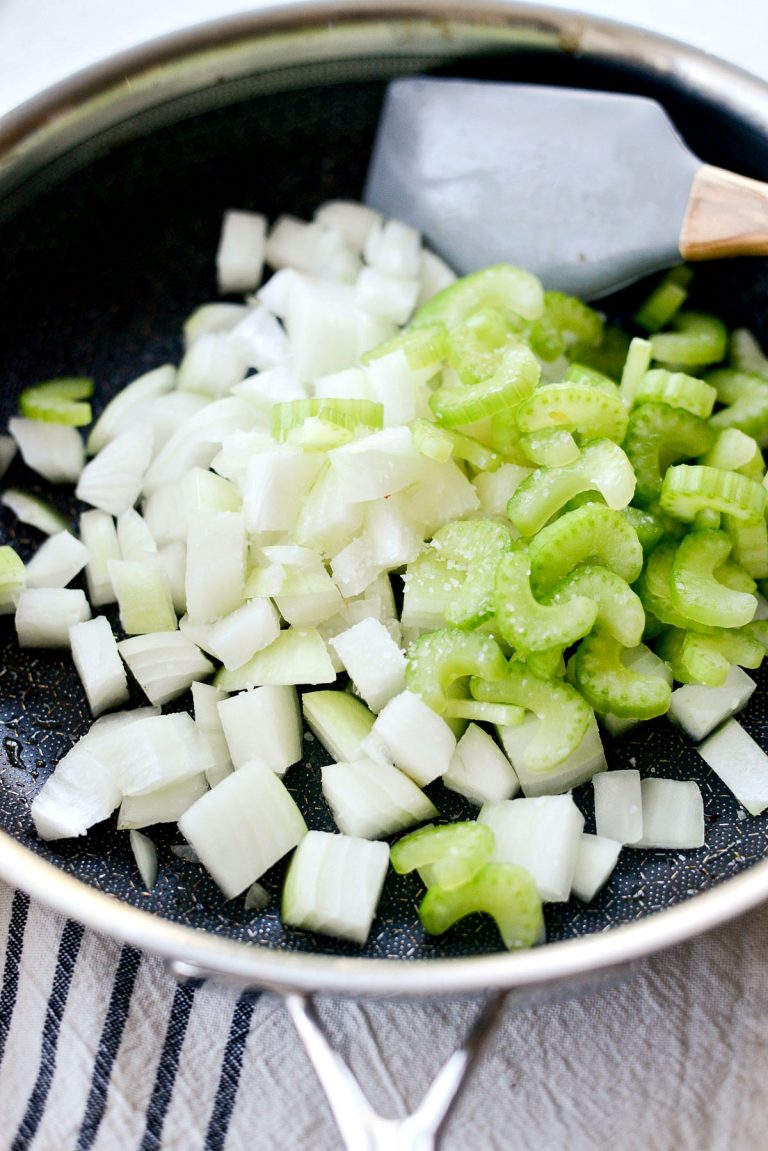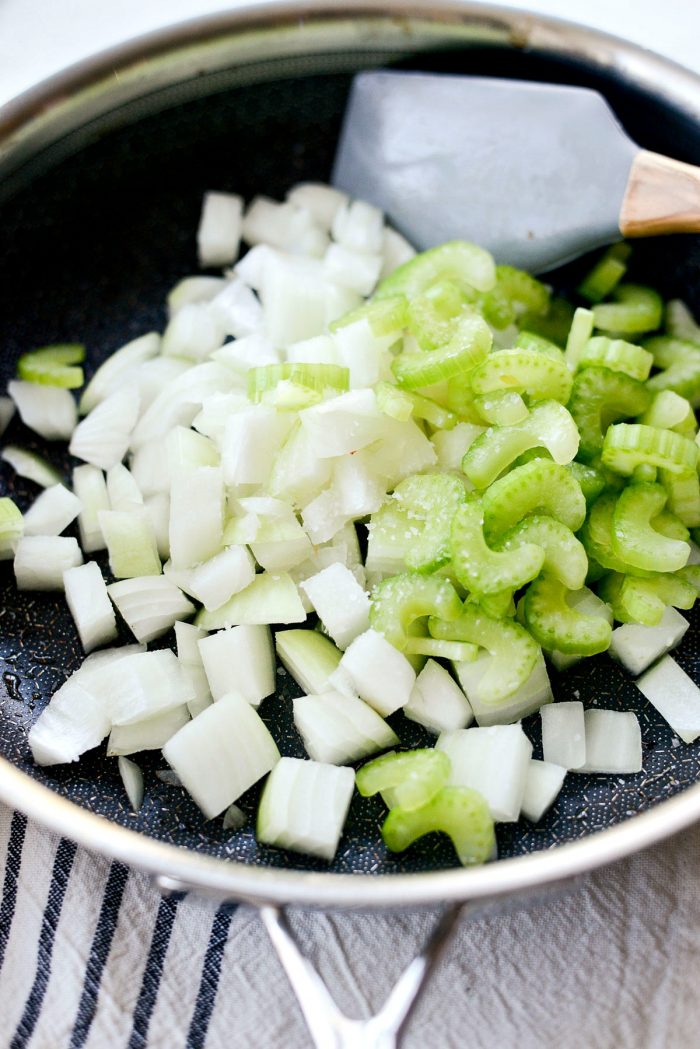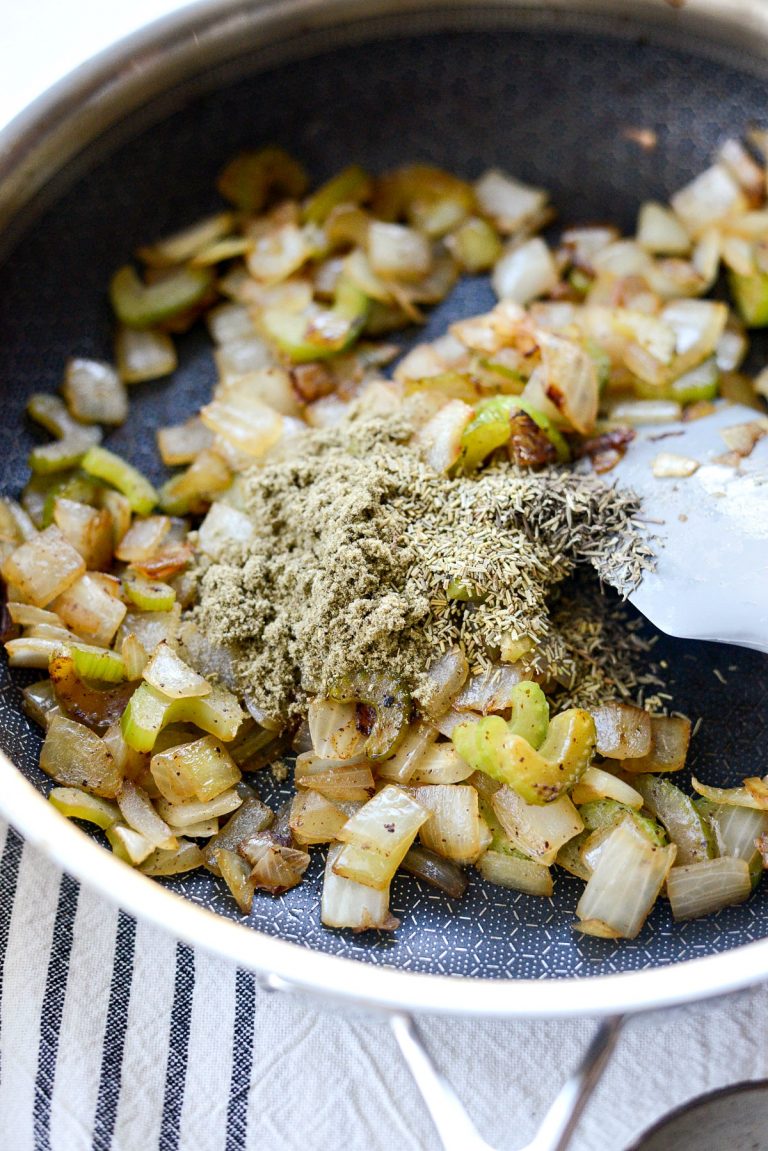 Lightly spray the same skillet that you just cooked the sausage with olive oil and add in 1 diced yellow onion and 3/4 cup sliced celery (about 3 short stalks) with a pinch of kosher salt. Stir and cook until the celery is soft and the onions are soft and translucent.
About 8 to 10 minutes.
In the last minute or so, measure and add in 1 tablespoon of rubbed sage, 1-1/2 teaspoons crushed rosemary and 1/2 teaspoon dried thyme. Stir and cook for the final minute.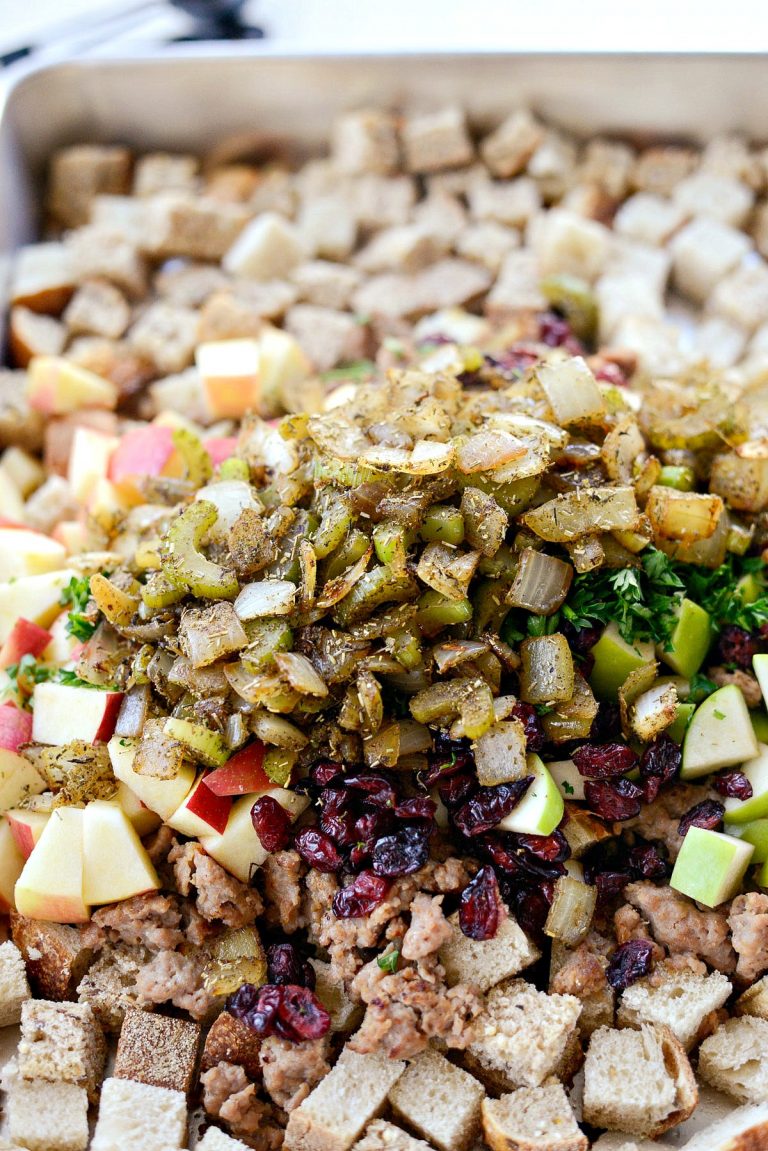 To the pan with the bread and sausage, add in 1 diced honeycrisp apple and 1 diced granny smith, 3/4 cup dried cranberries, 1/4 cup minced fresh and the sautéed onions and celery.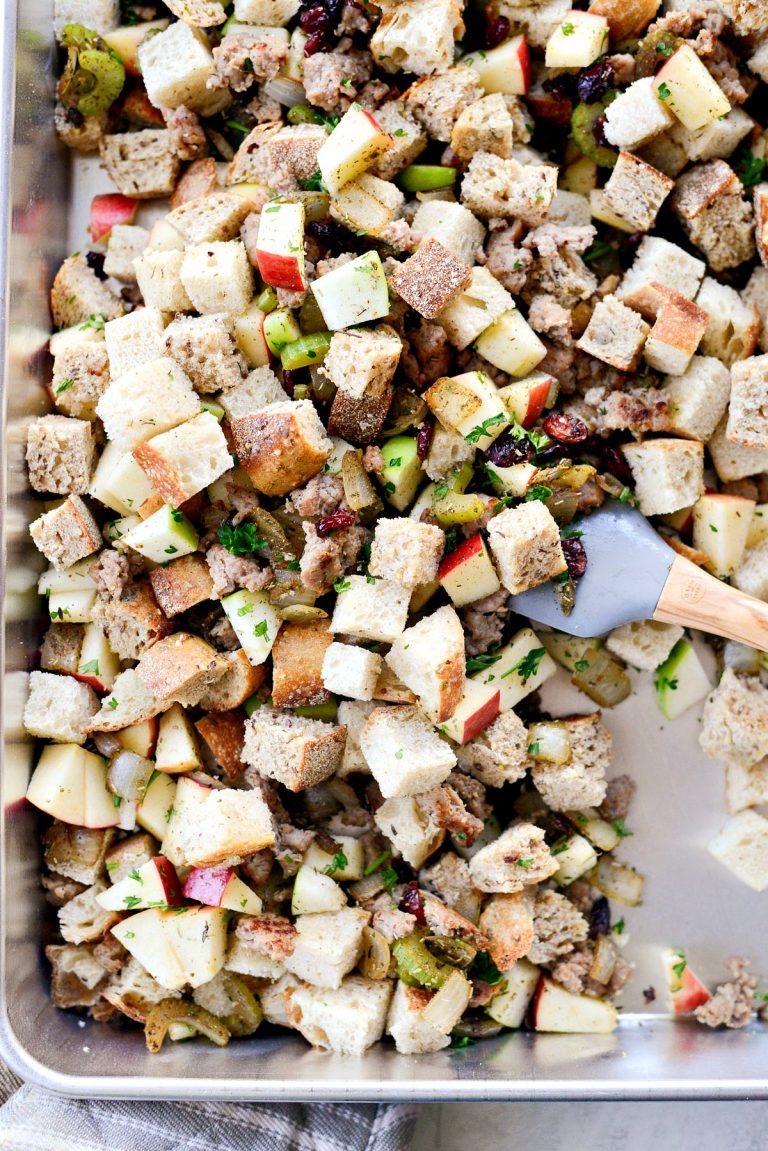 With your spatula, toss well to combine.
So Colorful!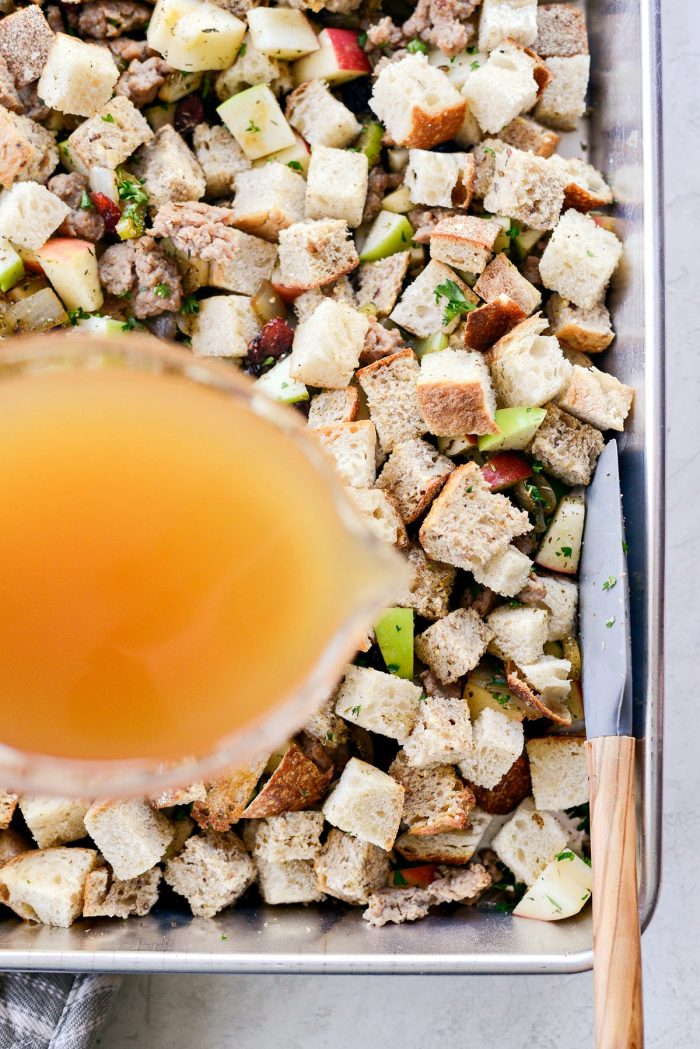 Lastly, pour 2 cups turkey stock and 1/4 cup melted salted butter over top. Season with a few pinches kosher salt, toss to combine and spread out evenly.
Bake uncovered on the middle rack of your 350° oven for 40 minutes, rotating the pan halfway through baking. If using to stuff a turkey, allow the stuffing to cool completely beforehand.
Smells incredible!
I prefer my stuffing baked outside of the bird, because the top layer gets crispy and while underneath is tender and moist. But again, I'm not picky.
Transfer the stuffing to a large serving bowl and sprinkle with a little fresh minced parsley and freshly ground black pepper.
This stuffing has it all. Sweetness from the apples, while the cranberries add a burst of tartness and the bread and sausage give it balance.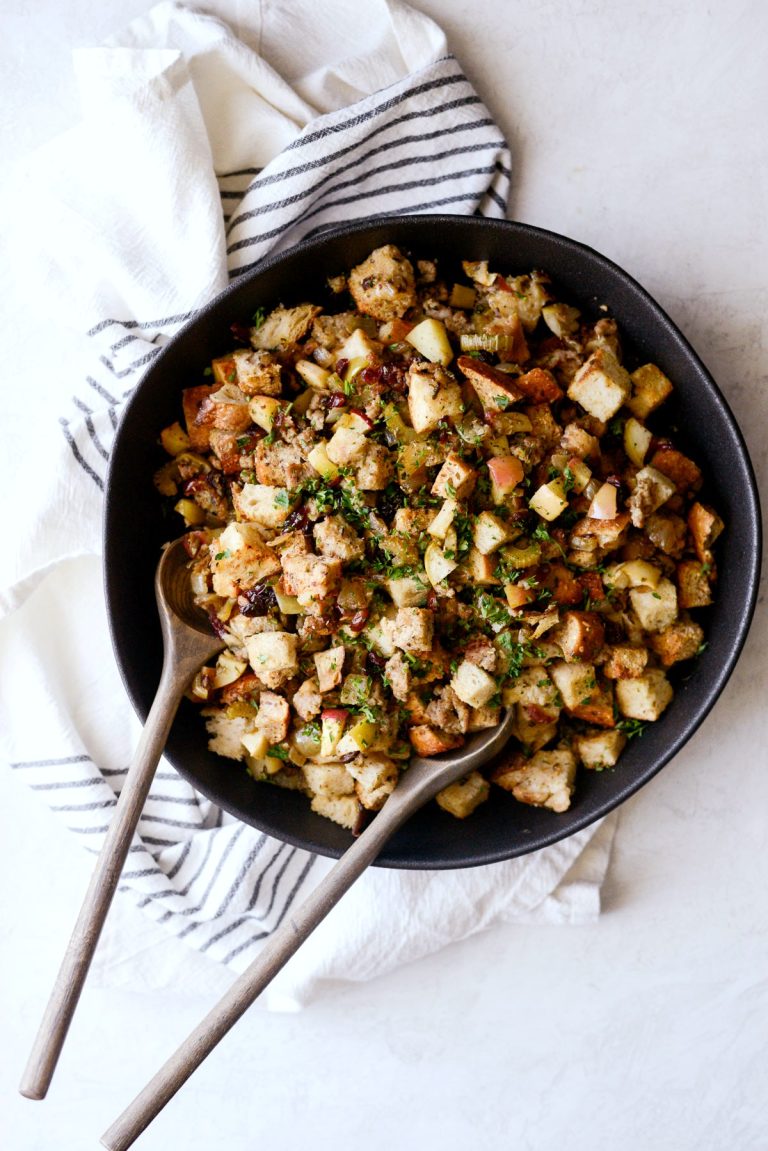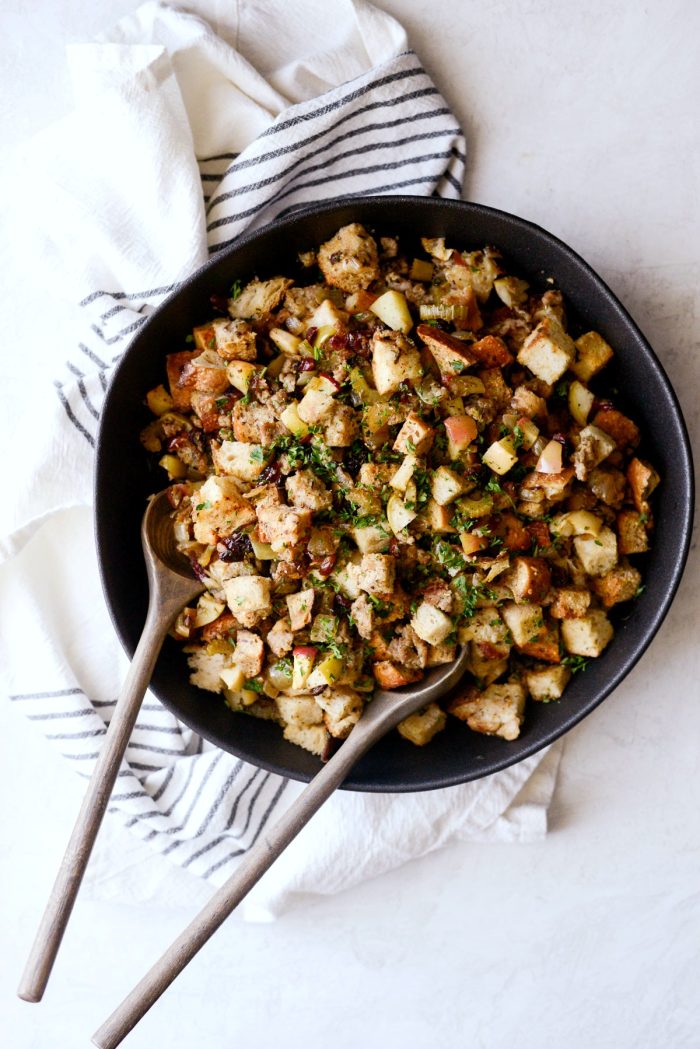 For more stuffing recipes click here.
Enjoy! And if you give this Sausage Apple Cranberry Stuffing recipe a try, let me know! Snap a photo and tag me on twitter or instagram!
This post may contain affiliate links.
Buy the Cookbook: Simply Scratch : 120 Wholesome Homemade Recipes Made Easy Now available on Amazon »
THANK YOU in advance for your support!