In this rustic Brown Sugar Apple Pie, a mixture of golden delicious and honeycrisp apples are tossed in butter, brown sugar and cinnamon and baked in a pie with a oatmeal thyme crumble. Because the apples pre-cook your pie won't cave or shrink. Makes one 9-inch deep dish pie.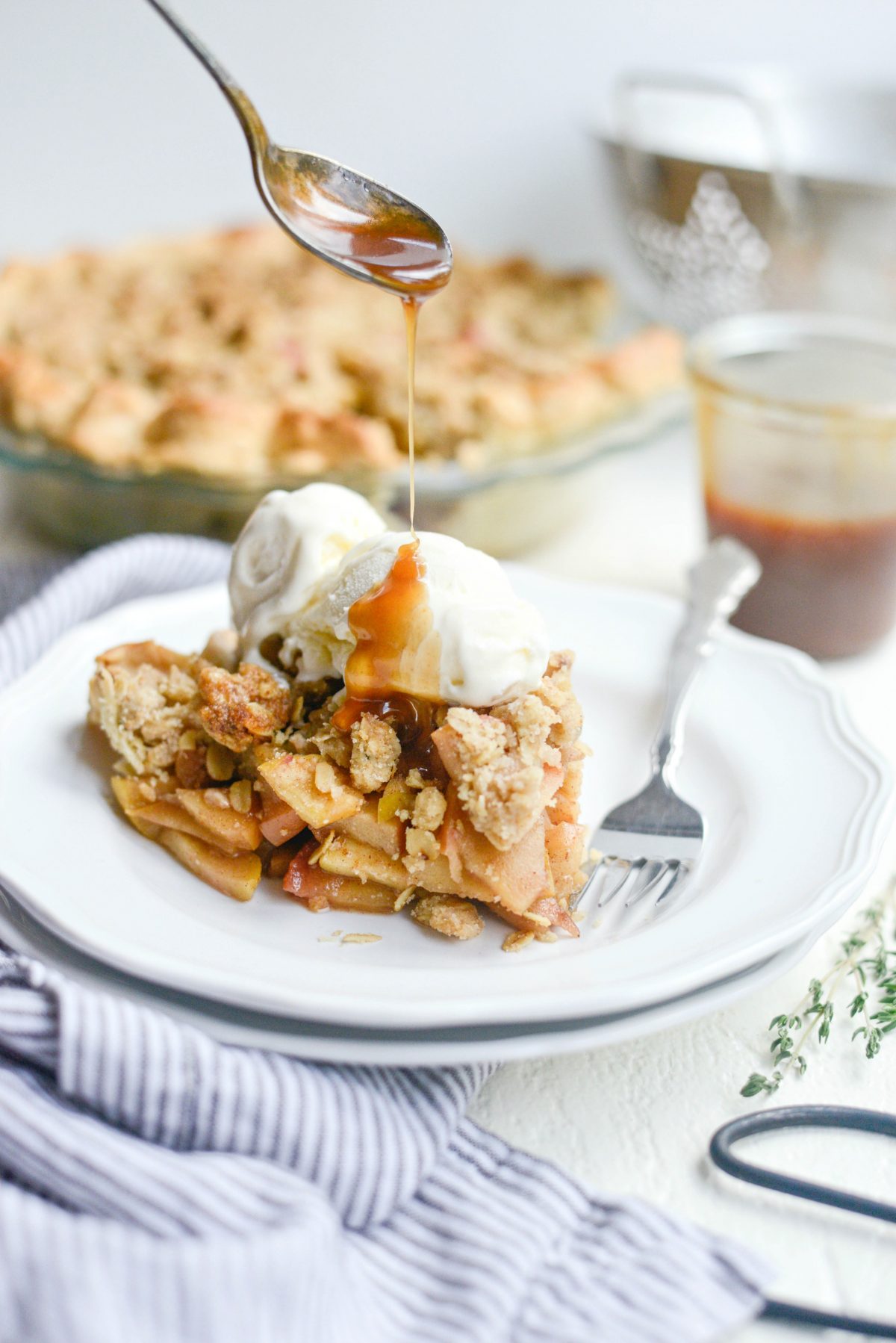 Last Wednesday was my birthday. We celebrated by Pat picking up Chinese food from our favorite restaurant (at my request) and for dessert I made this brown sugar apple pie. The two don't really make a cohesive meal, but when it's your birthday you can have your dumplings and cake, er pie, too.
I decided to put a rustic spin on my traditional pie recipe by using a couple different types of apples and leaving their skin on. I'm such a rebel. My goal was to make this pie as simple as possible, aka no double crust. I instead made a single pie crust and pulled together a quick oatmeal thyme crumble.
Apple crisp meets apple pie.
To Make This Brown Sugar Apple Pie You Will Need:
1 bottom crust (1/2 of this recipe)
apples -I use golden delicious and honeycrisp
unsalted butter
lemon juice
dark brown sugar
ground cinnamon
nutmeg
kosher salt
For the crumble you will need:
unbleached all-purpose flour
whole wheat flour
old fashioned oats
granulated sugar
fresh thyme leaves
kosher salt
unsalted butter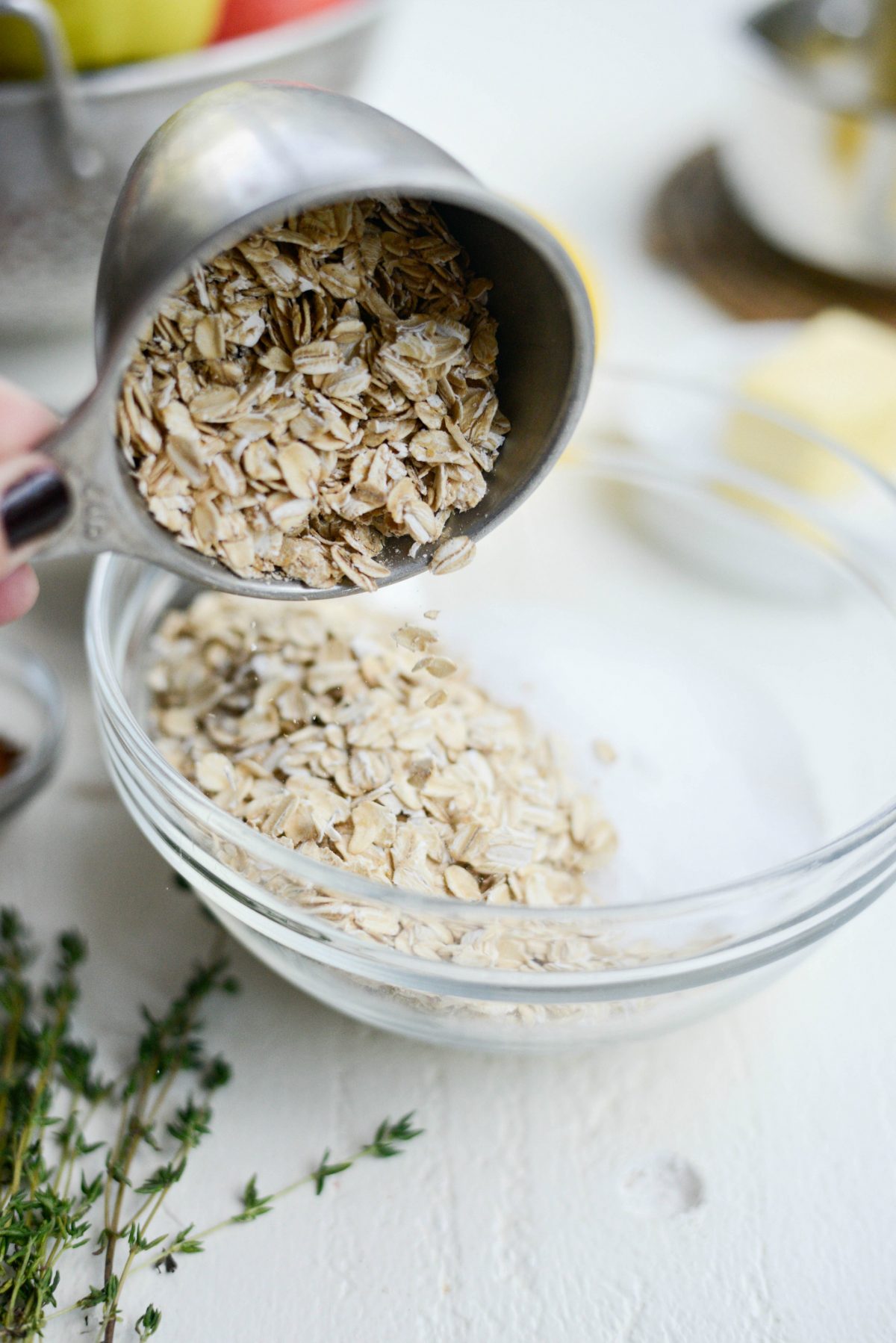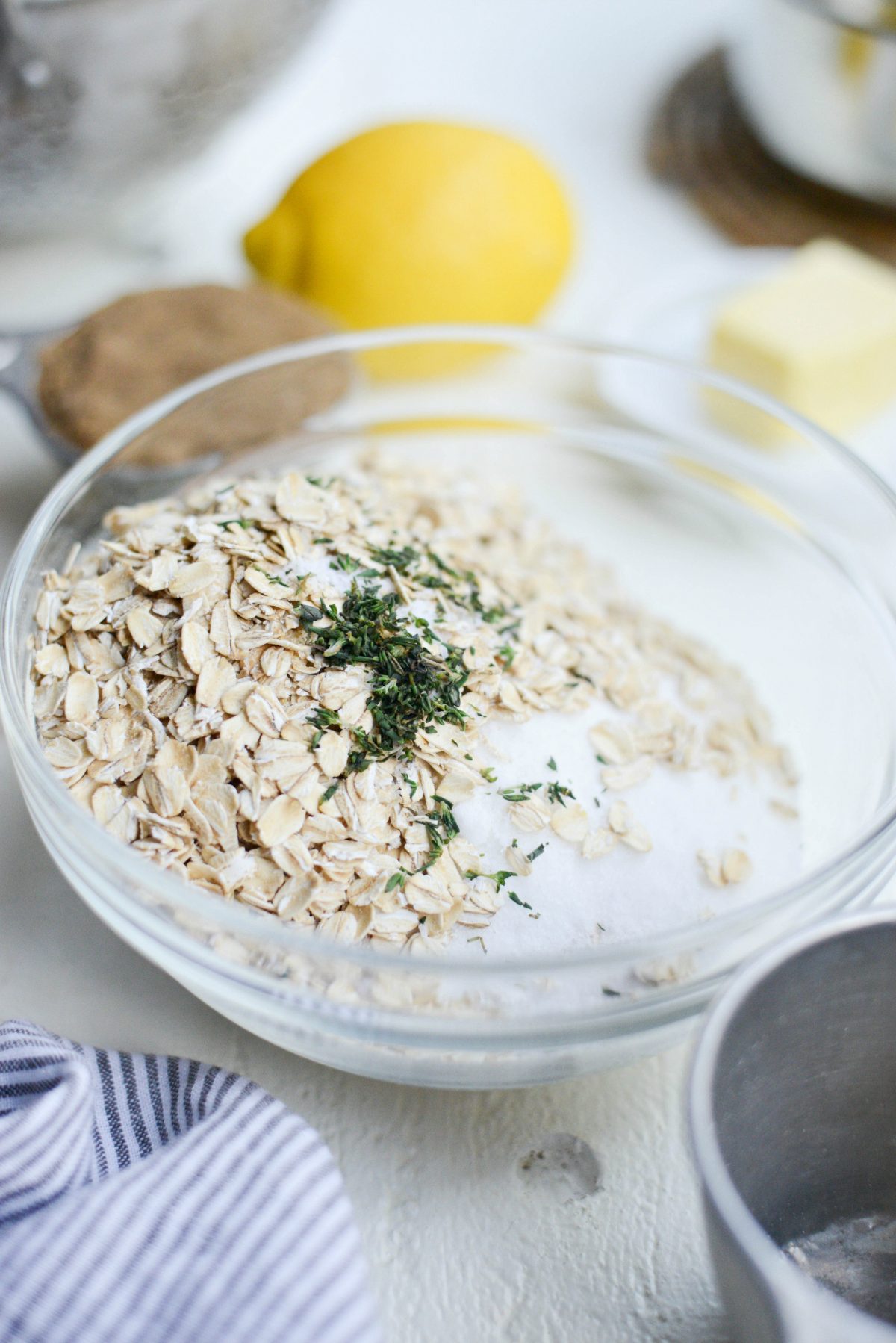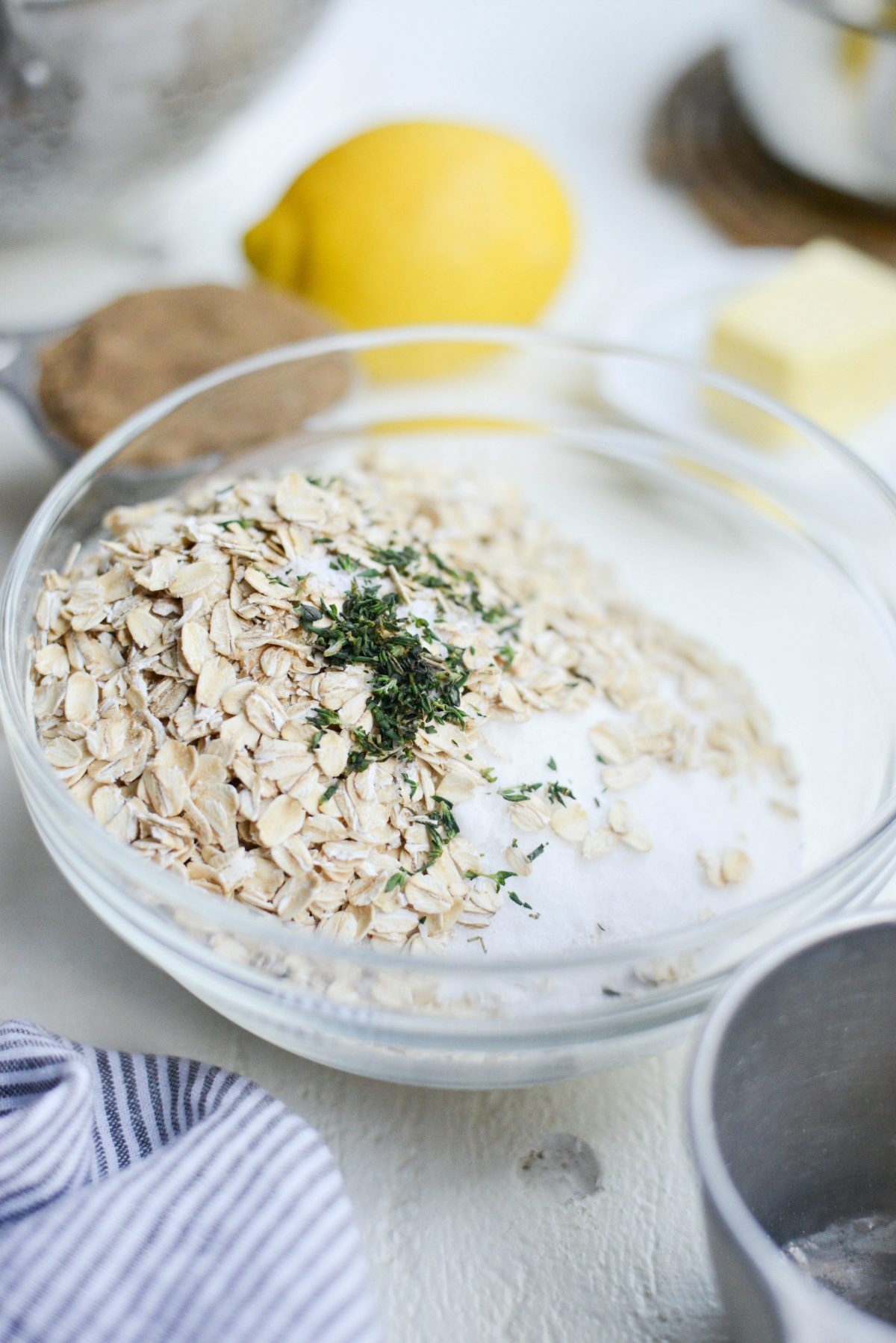 In a medium bowl, measure and combine 1/2 cup unbleached flour, 1/4 cup whole wheat flour, 1 cup old fashioned oats, 1/2 cup granulated sugar, 1/2 teaspoon of minced fresh thyme leaves and 1/4 teaspoon kosher salt. Stir to combine.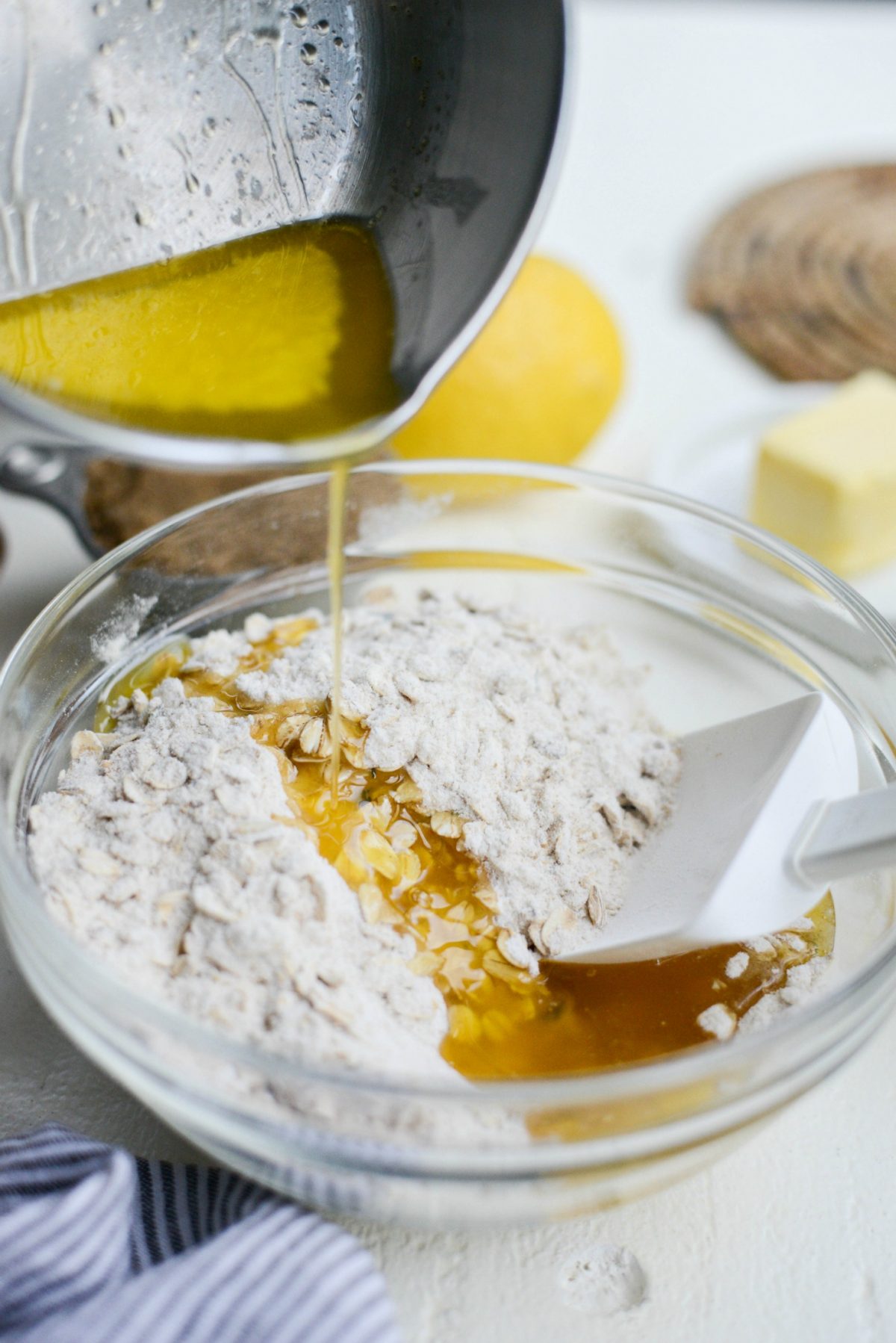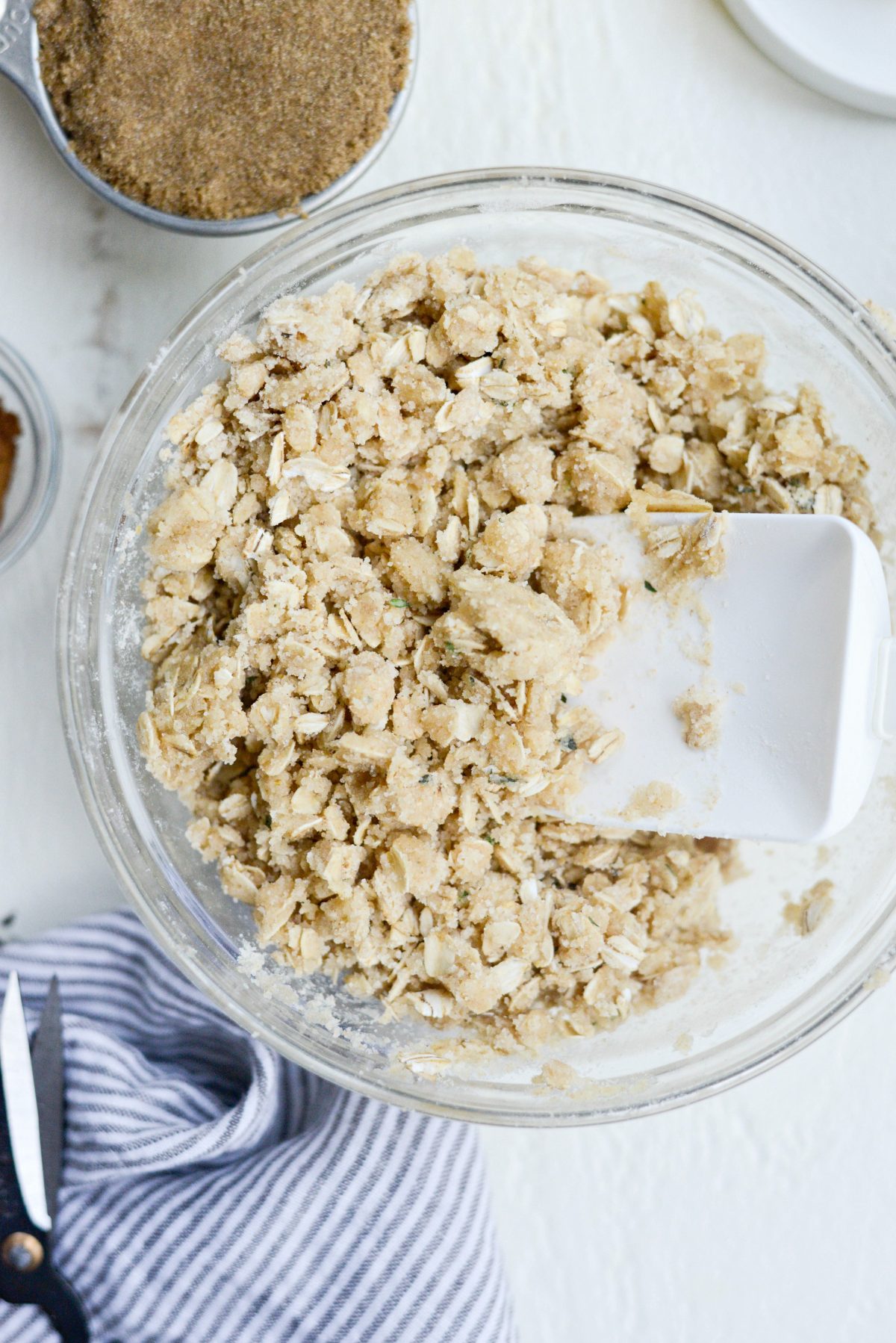 Next, pour in 6 tablespoons melted butter and stir until it is absorbed into the oatmeal mixture. Set this bowl off to the side for a moment.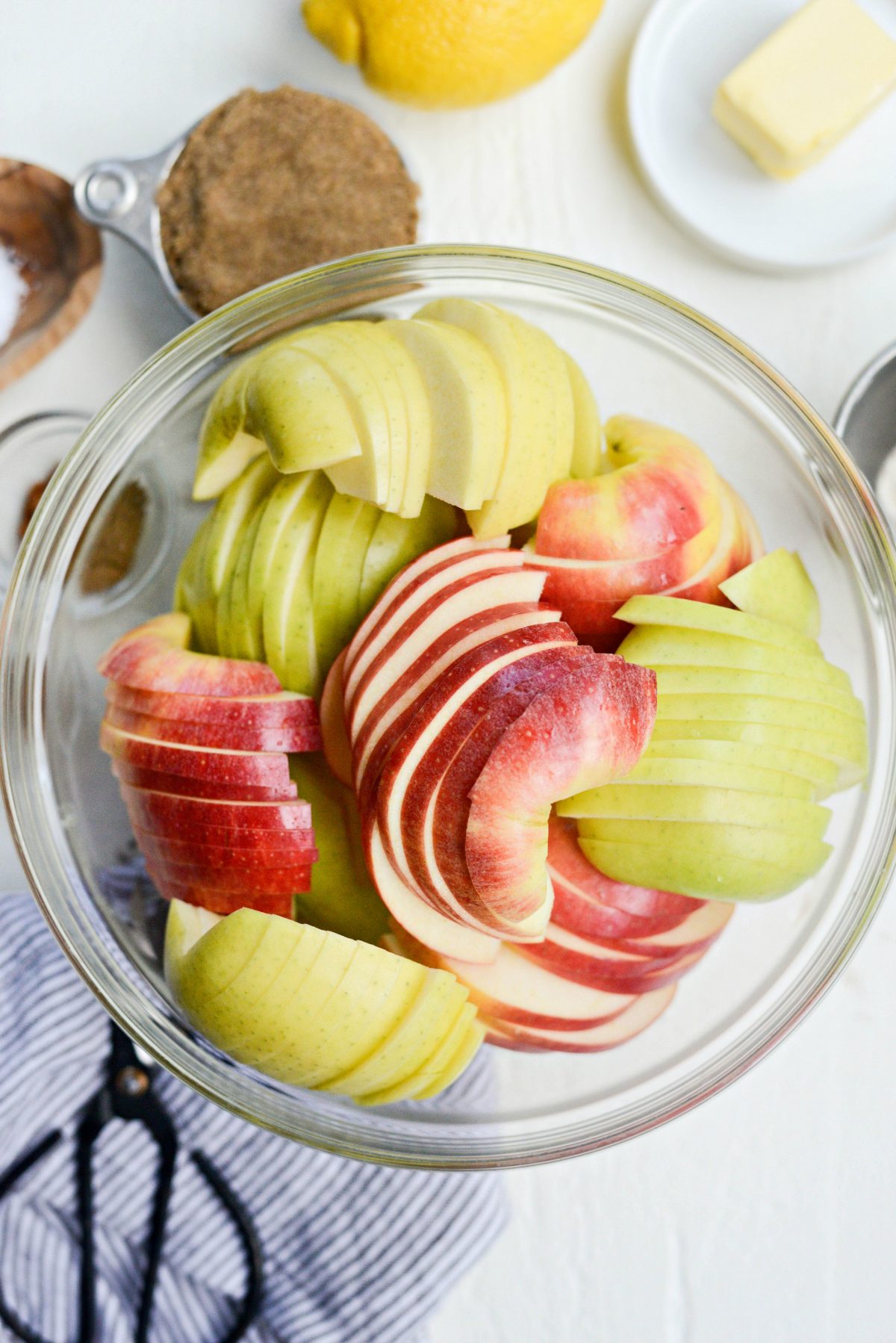 Next cut the 3 pounds apples in half, remove the core and slice about 1/4 of an inch thick.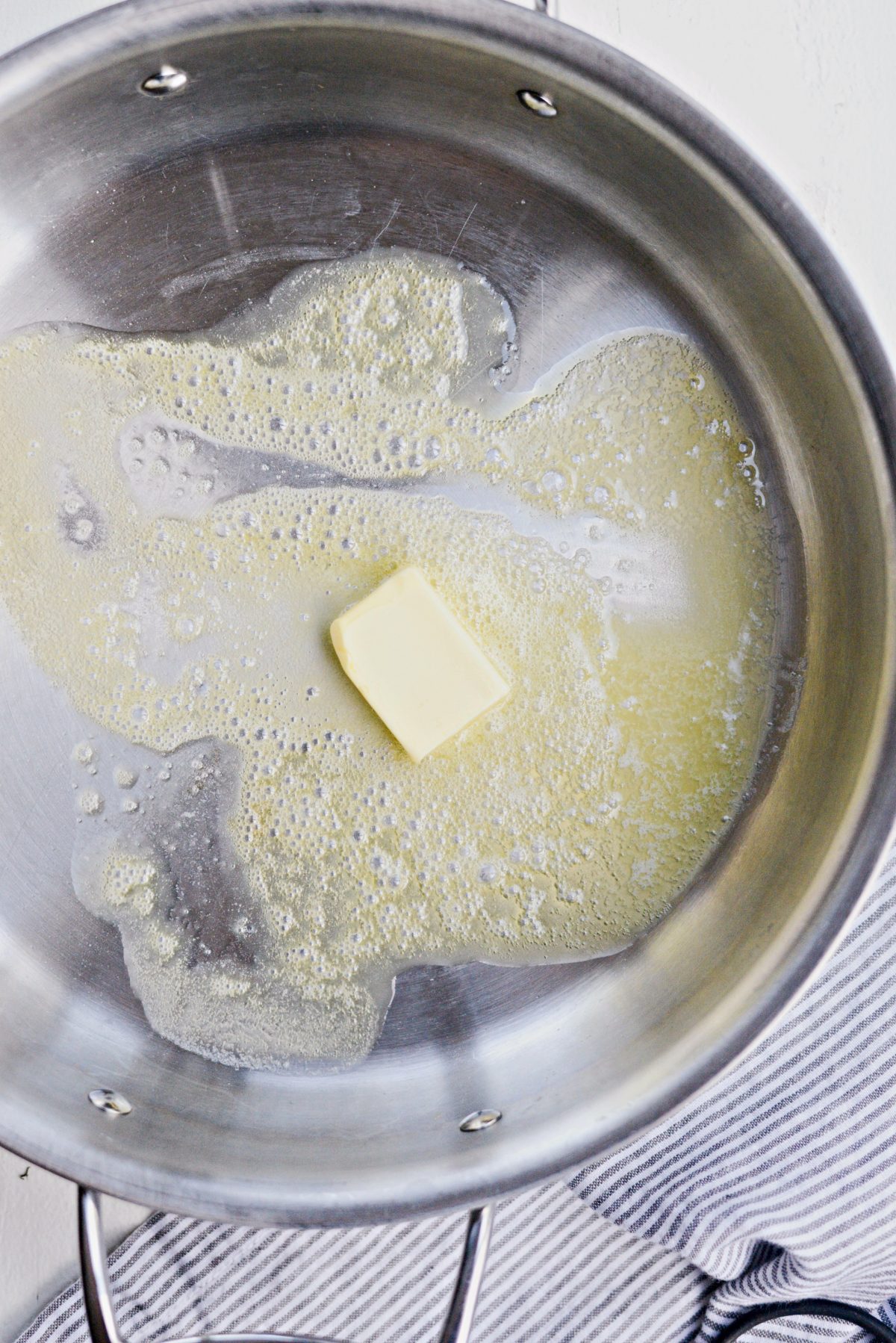 Heat a 12-inch, deep sided skillet over medium-high heat. Once hot, add in the 3 tablespoons of unsalted butter, it should sizzle but not instantly brown.
Then add in all the apple slices, toss them in the butter and cover to cook for 5 minutes.
The apples should have softened but still are a bit firm.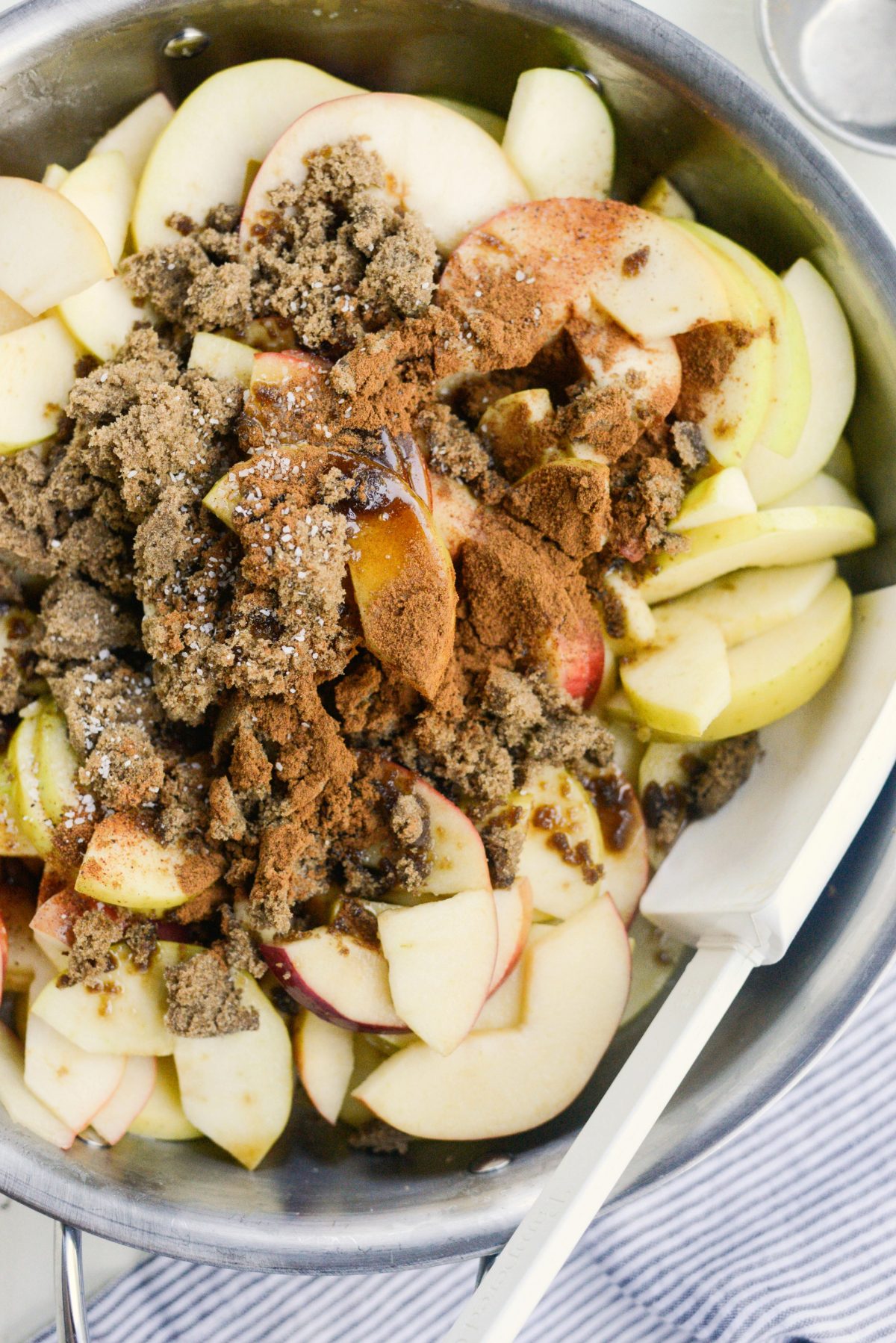 Next squeeze in 1 tablespoon of lemon juice and measure in 1/2 cup of dark brown sugar, 1 teaspoon ground cinnamon, 1/8 teaspoon ground nutmeg and 1/8 teaspoon kosher salt.
Next turn the heat up to high and cook until the liquids release from the apples has thickened. About 2 to 3 minutes. Transfer the apples to a rimmed metal baking sheet. Spread them out evenly and allow them to cool.
Why Partially Cook Your Apples?
The apples still hold their shape well because you par-cooked them earlier. Most importantly, par-cooking also "pre-shrinks" the apples so they fill the pie nicely and keep the crumb topping from sinking in.
Remove the prepared pie crust form the fridge and add in the cooled apples. My apples released a lot of liquids so I only added half of the juice from the pan. Side note: when I was washing the apples, I noticed a sticker on one that suggest that I must have picked up Rave apple which aren't recommended for baking because they're super juicy. So let this be a PSA on double checking the apples you pick and also, do your research on apples. Not all apples are meant for pies.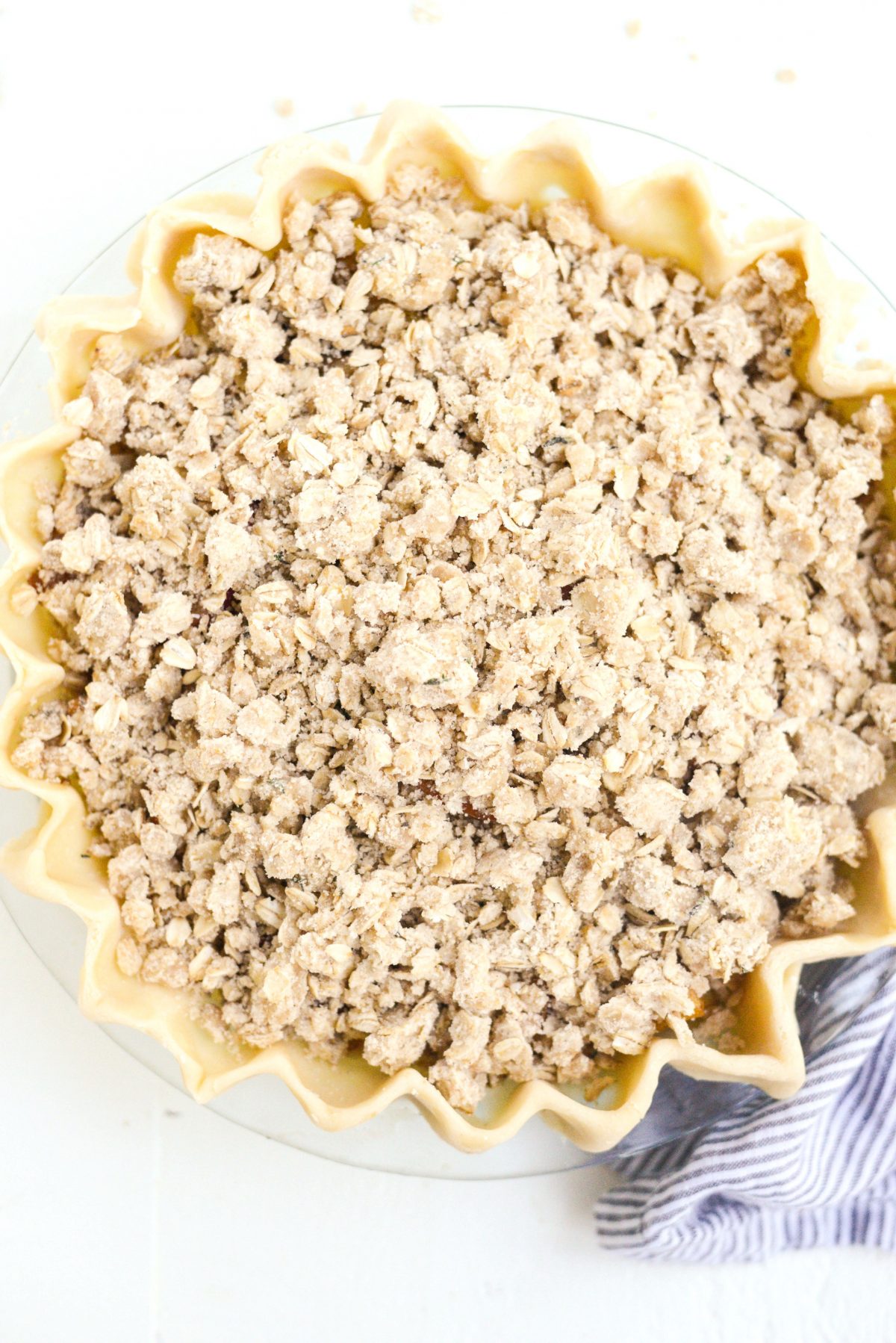 Next sprinkle the oatmeal thyme crumble over top. Place your pie onto a rimmed metal baking sheet (to catch any juices if they should bubble over) and bake in the lower third of your oven for 20 minutes. Rotate the pan and reduce your oven temperature to 375° for 20 to 25 more minutes.
Finally we've reached the last stage. Allow your brown sugar apple pie to cool for at least 3 hours before slicing and serving.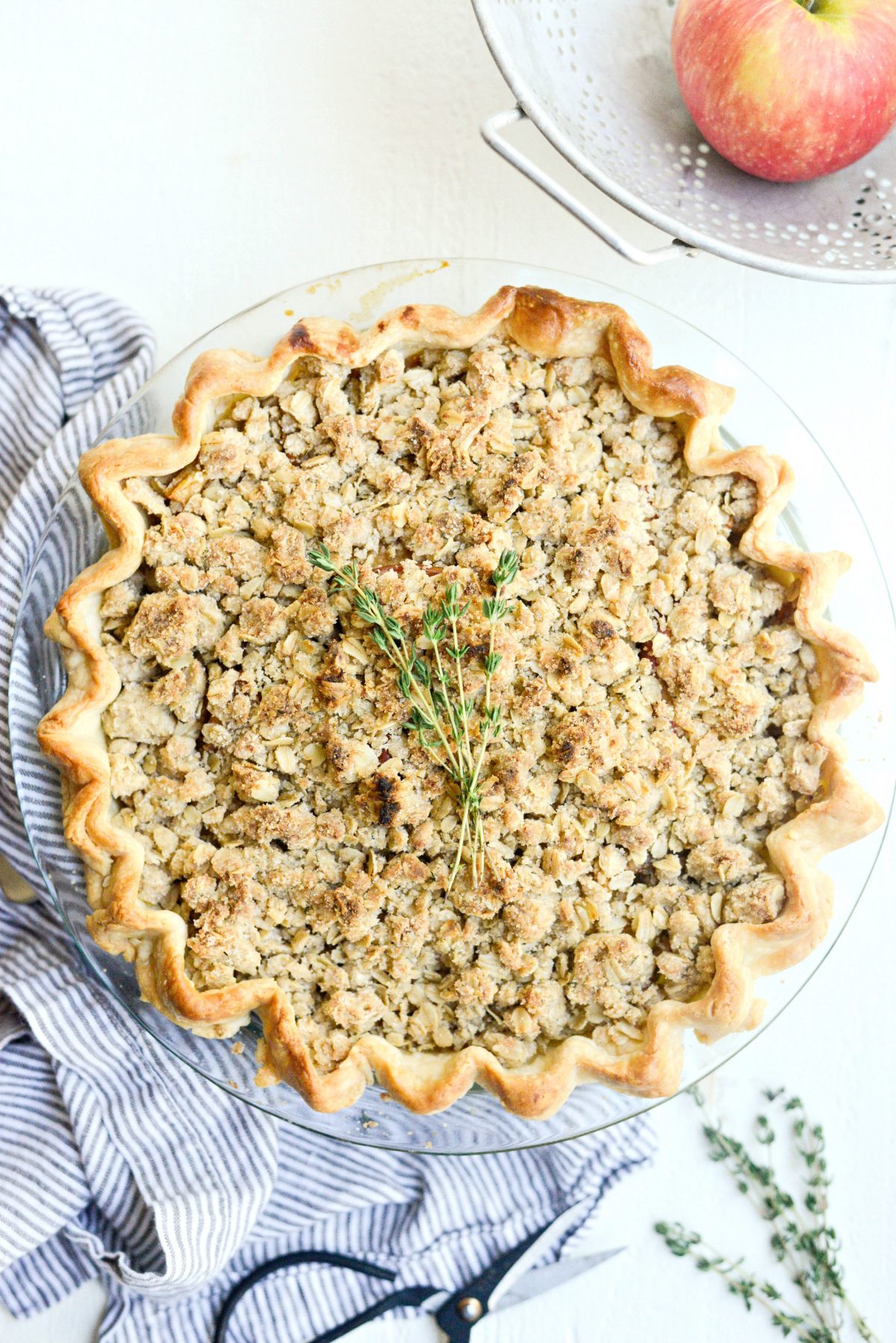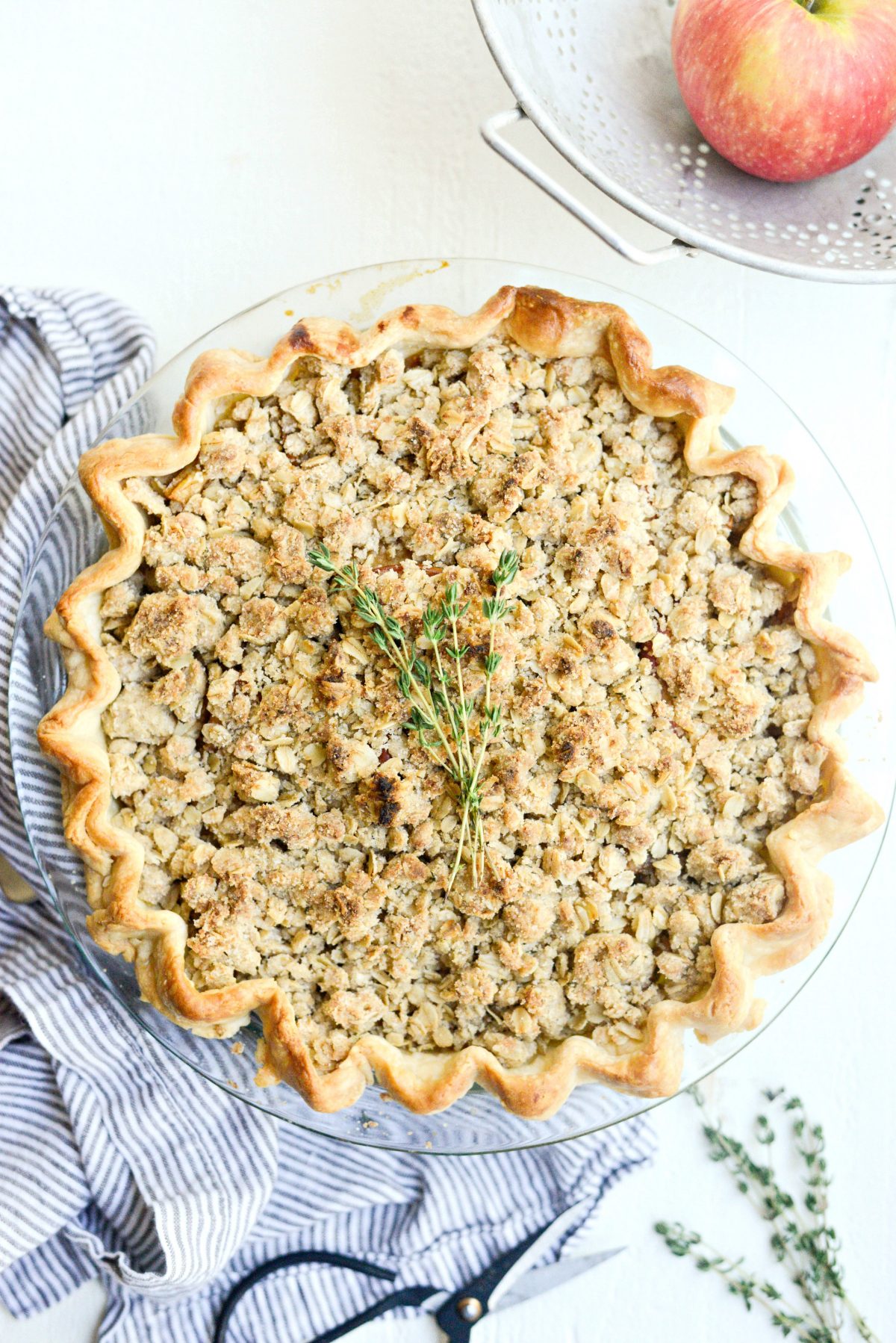 It's just that simple. And rustic.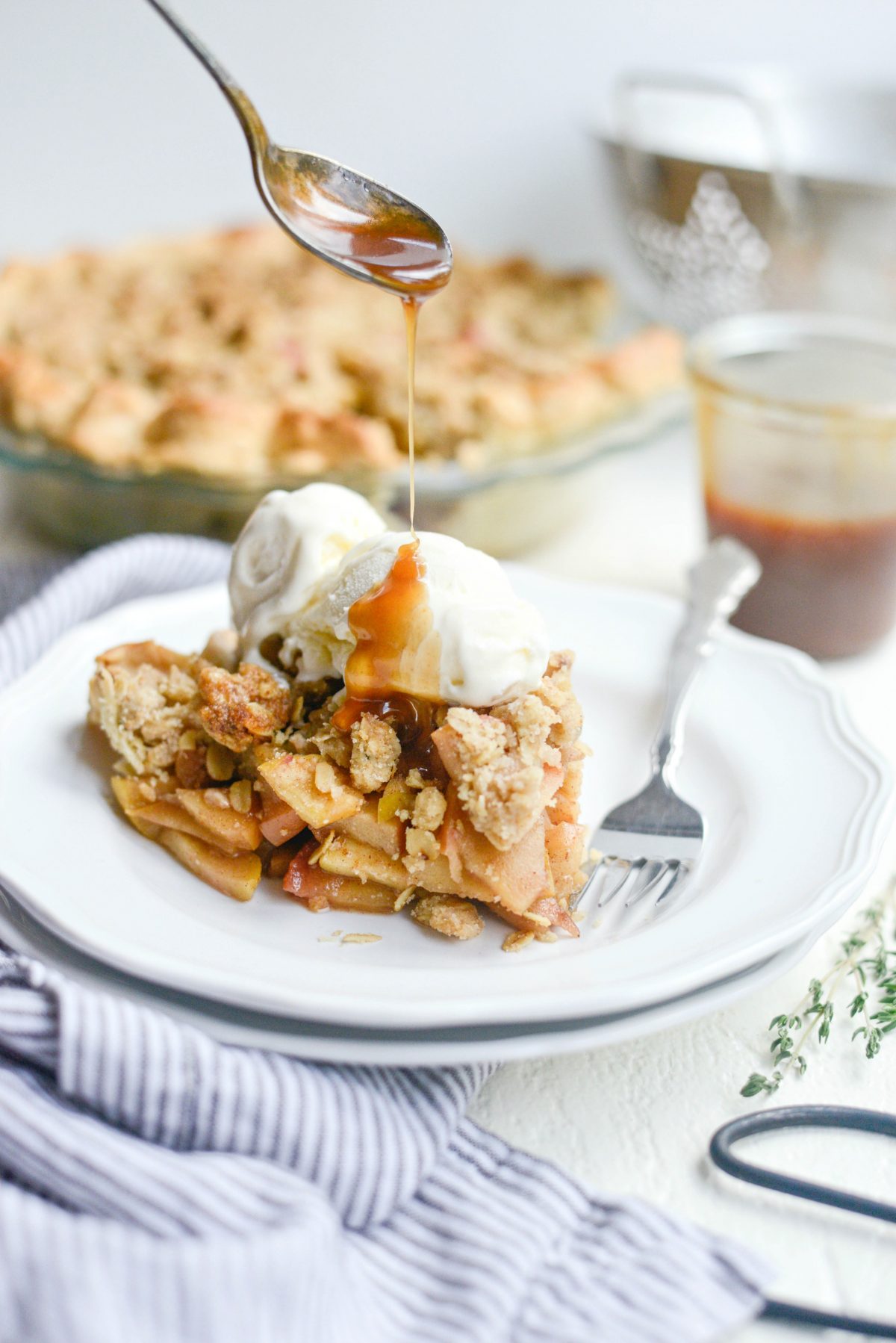 Lastly, slice yourself a piece and top it with a scoop of vanilla ice cream.
Maybe a drizzle or three of caramel sauce too.
Lastly, before I go, let's talk about the oatmeal thyme crumble topping.
You might be thinking, "thyme in crumble?" Well, to be honest, I've made this exact crumble before, but with a cherry pie. Therefore I figured that thyme and apples would work similarly as it did with cherries. And it does. The thyme is super subtle and adds a delicious herbaceous goodness. The oatmeal in the crumble adds a wholesomeness to this pie. Not to mention delicious texture.
Happy Fall!
Enjoy! And if you give this Brown Sugar Apple Pie recipe a try, let me know! Snap a photo and tag me on twitter or instagram!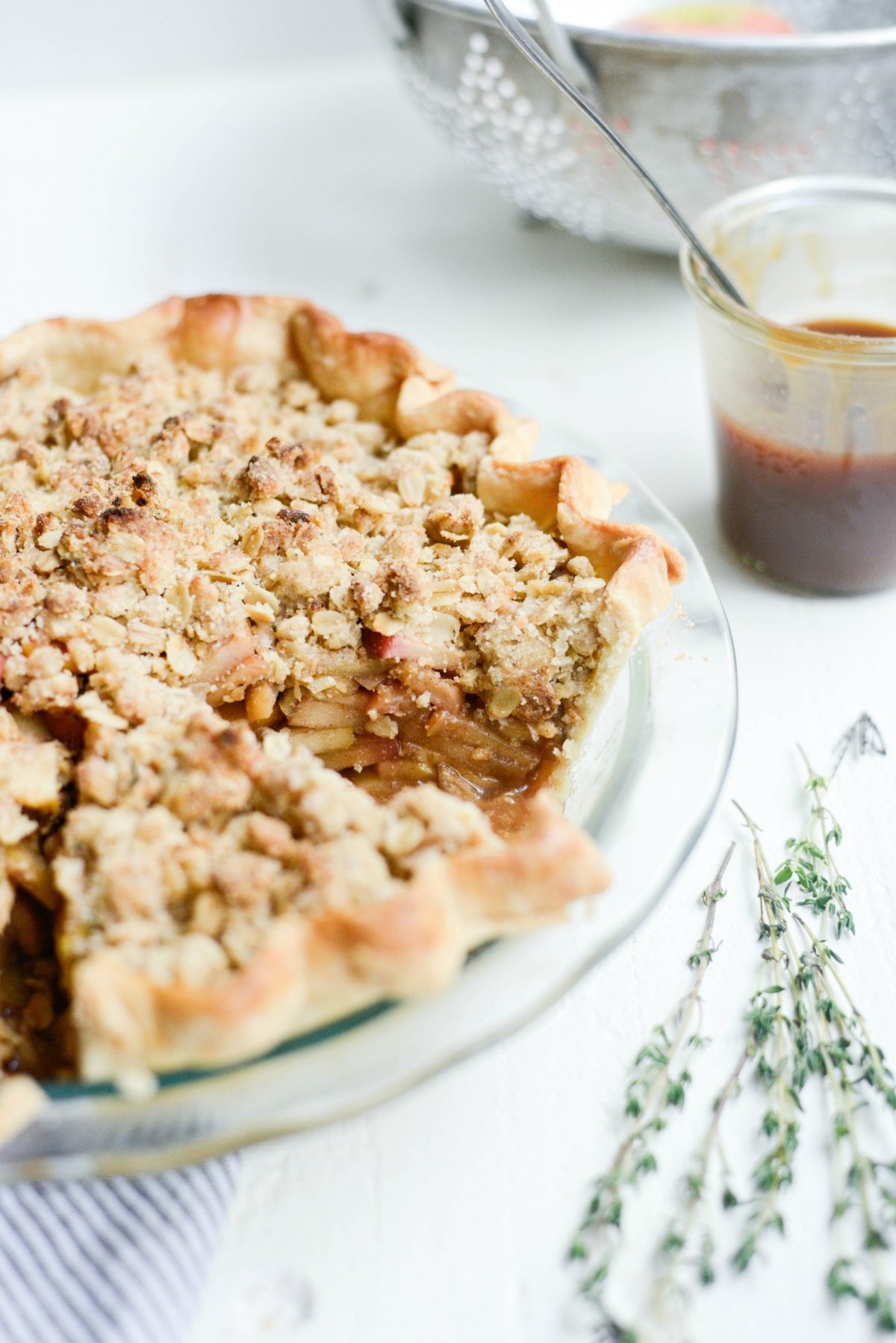 This post may contain affiliate links.
Buy the Cookbook: Simply Scratch : 120 Wholesome Homemade Recipes Made Easy Now available on Amazon »
THANK YOU in advance for your support!