In this Root Vegetable Skillet Hash; beets, parsnips, turnips and sweet potatoes are cooked with garlic and thyme for a deliciously healthy side dish or serve with grilled bread and a smear of goat cheese as an appetizer.
Raise your hands if you like root vegetables?!
I would be the girl that's raising both arms and giving jazz hands at the same time. Because I'm a total dork that way.
In this simple and rustic hash the root-stars of the show are carrots, parsnips, turnips and beets. All of those are cooked up in a skillet with garlic, red onion, thyme, some s & p and a little olive oil until everything is nice and buttery soft and tender. It's all so ridiculously simple.
I would personally like mine on a toasted baguette and if I have it on hand, I'll spread it with goat cheese.
Here is what you will need: beets, turnips, parsnips, red onion, sweet potato, fresh thyme, salt, pepper and olive oil.
Prep the Vegetables:
First, start by cubing up a sweet potato. I personally like to leave the skin on because there is so much vitamins and minerals in the skin. For the turnips, these I peel and cube as well.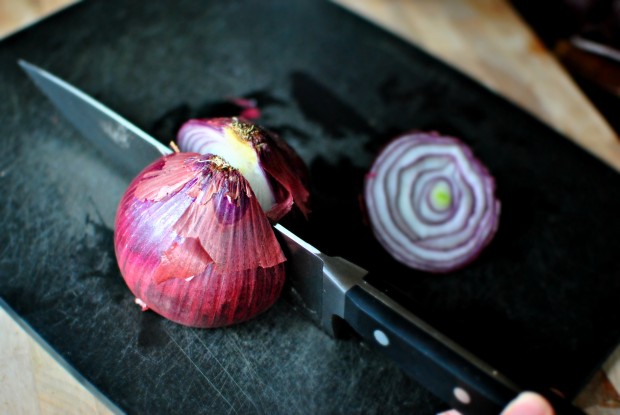 Next, grab a red onion and cut in half.
Then peel, slice and dice into large pieces.
Next, peel two parsnips and dice.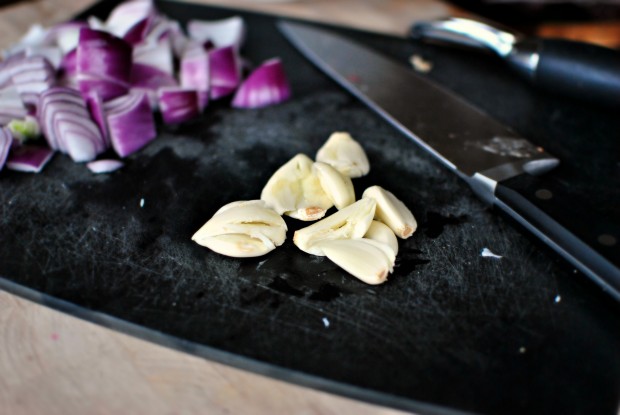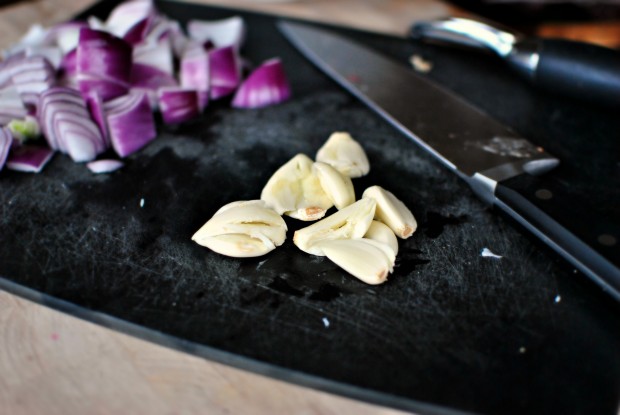 Then, smash and peel 6 cloves of garlic. No need to mince, they'll sort of melt away in the pan.
I love love love love beets. Not only are they super photogenic but healthy too. My hubs would say they taste like dirt. I disagree. They are the gems go the earth! I picked up these lovely beets at the grocery store because they are on the small side, which I love.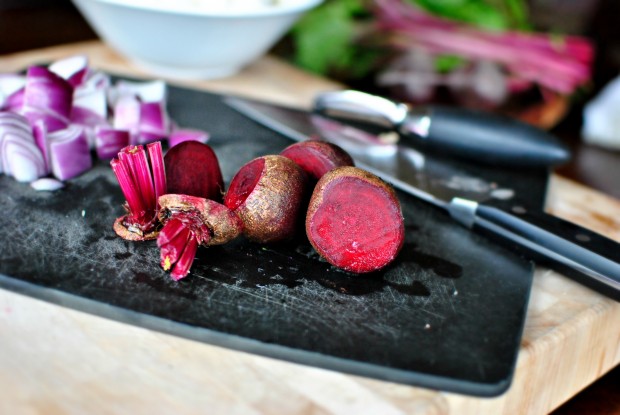 Trim off the roots but keep the leafy green tops, just off to the side because we'll be using those a little later.
Now, back to those beets, quarter and dice into bite-size chunks. This skillet hash is a little on the chunky side can ya tell? Now look at your fingers… AH! PINK… don't worry it'll wash out in a few days. 😉
Make The Hash:
Next, heat up two tablespoons of the olive oil in a cast iron skillet over medium high heat.
Then add in all the root vegetables along with the garlic.
Next, give them a toss to coat in oil and leave them be to form a nice crust on the bottom, about 6-7 minutes.
Then, throw in the fresh thyme leaves.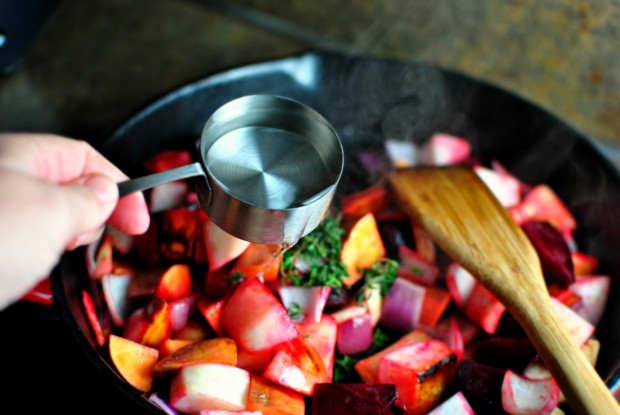 Next, pour in 1/4 cup of water.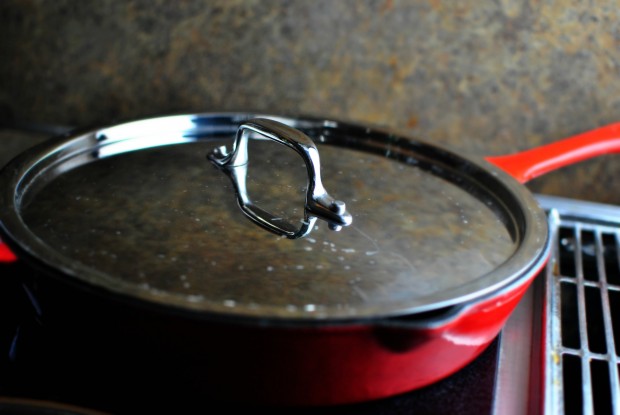 Finally, cover with a lid and let the the water slowly evaporate and steam the vegetables until tender, 5-7 more minutes.
Meanwhile, remember those beet greens? Give those a rinse and pat dry. Then roughly chop, doesn't have to be perfect.
Then, once the vegetables are fork tender, throw in the beet greens. Stir, cover and let those cook until wilted for 2-3 minutes.
The color is beyond outrageous.
Why yes I'll take a serving (or seven) of vitamins and minerals with a side of DELICIOUS!
Finally just season the whole thing with kosher salt and freshly ground black pepper to taste.
Grab a crusty baguette, slice it up, drizzle with olive oil and toast under your broiler for a few (and then a smear of goat cheese perhaps). Now comes the magical time when you get to then serve that beautiful root vegetable skillet hash on top of that crusty toasty bread with a quick drizzle of the olive oil. Beauteous.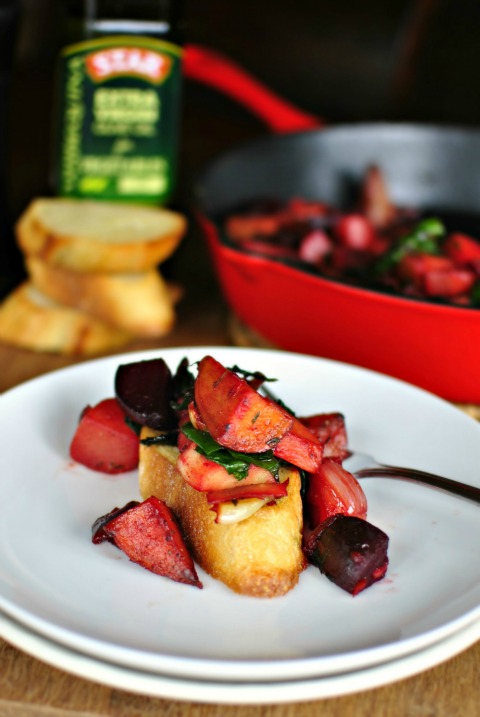 It's so pretty you'd think it was dessert. Actually, it's almost too pretty to eat. Good thing I only eat pretty things yaknowwhatimean?!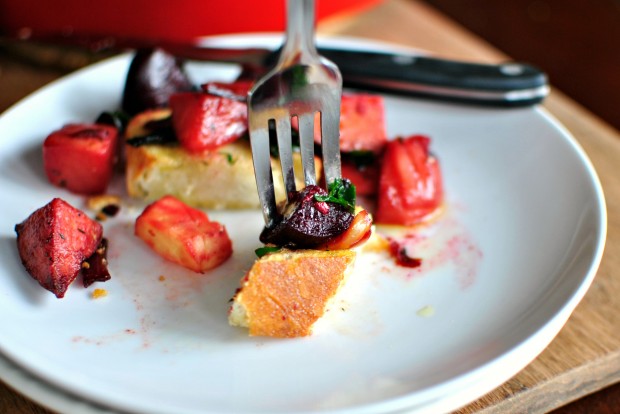 This root vegetable skillet hash is the epitome of fall. And I like it.
Enjoy! And if you give this root vegetable skillet hash recipe a try, let me know! Snap a photo and tag me on twitter or instagram!
Yield: 6 people
Root Vegetable Skillet Hash
Root veggies simply cooked with garlic and thyme. Perfect as a side or piled high on a slice of toasted baguette.
Ingredients
12 ounce baguette
2 tablespoons olive oil, plus more for drizzling
6 cloves garlic, smashed and peeled
4 small small beets, trimmed and quartered, reserve the beet greens
2 medium turnips, peeled and chopped into large pieces
2 parsnips, peeled and chopped into large pieces
1 medium sweet potato, scrubbed and chopped into large pieces
1 medium red onion, peeled and chopped into large pieces
2 sprigs fresh thyme, leaves removed from stem
1/4 cup water
kosher salt
freshly ground black pepper, to taste
Instructions
Slice the baguette on and angle. Arrange slices on a rimmed baking sheet, drizzle with STAR Vegetable Arbequina Olive Oil and bake in a preheated 400° oven until toasted. Remove and set off to the side.

In a large cast iron skillet heat the two tablespoons of STAR Arbequina Olive Oil over medium-high heat. Once hot throw in the smashed garlic, chopped beets, turnips, parsnips, sweet potato and onion. Stir to coat in oil and then leave alone for a few minutes so a good crust forms, about 6-7 minutes.

Reduce heat to medium, stir and then add in the thyme leaves and immediately pour in the 1/4 cup of water, cover and let steam for 5-7 more minutes. Remove the lid and add in the chopped beet greens, stir and cover for 2 minutes. Remove the lid, season with a generous pinch of kosher salt and fresh ground black pepper, stir and continue to cook until the vegetables are fork tender and most of the water has evaporated.

Serve on toasted slices of baguette and drizzle with a little bit more olive oil over top.
Serving: 1serving, Calories: 301kcal, Carbohydrates: 53g, Protein: 7g, Fat: 7g, Saturated Fat: 1g, Polyunsaturated Fat: 1g, Monounsaturated Fat: 4g, Sodium: 424mg, Potassium: 590mg, Fiber: 7g, Sugar: 9g, Vitamin A: 5369IU, Vitamin C: 22mg, Calcium: 102mg, Iron: 3mg
This post may contain affiliate links.
Buy the Cookbook: Simply Scratch : 120 Wholesome Homemade Recipes Made Easy Now available on Amazon »
THANK YOU in advance for your support!