These Roasted Jalapeño Poppers have three cheeses, fresh cilantro, minced green onions stuffed in jalapeños and are roasted in your oven instead of deep fried. So deliciously spicy, these will go fast at any party or gathering!
Since I was feeling snacky, I hauled my oldest daughter to the grocery store the minute she got off of the bus. I only went to grab "a few things" and all of a sudden my cart was filled. And in it? A bag of 20 jalapeños and cheese(s).
So here is the roasted jalapeno popper breakdown:
It's a gluten free, non-fried version of the bar/bowling alley/pool hall classic. There's not one but THREE kinds of cheese – does cream cheese count?? – mixed along with fresh cilantro and green onions which are then stuffed into hollowed out jalapeños to then be roasted until bubbly and brown. If you can wait the few minutes so you don't remove tastebuds, you then get to consume, and I quote "these spicy cradles of cheese love" – thank you Haileigh.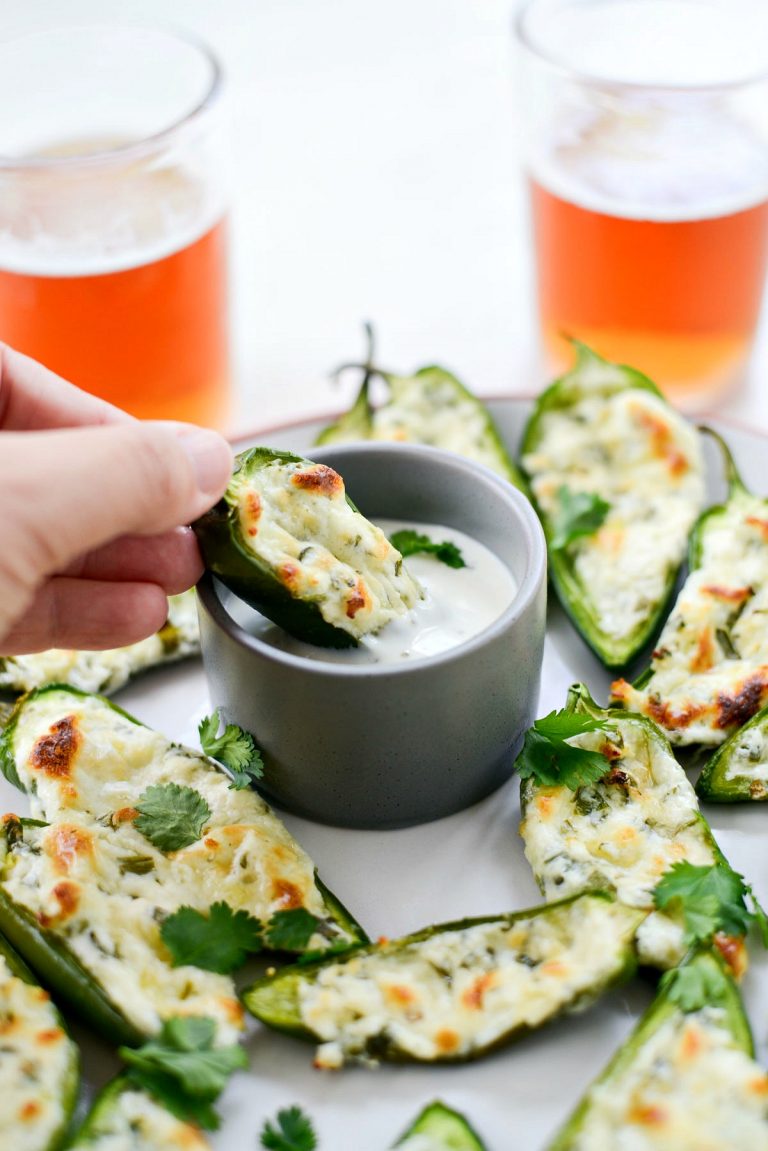 It literally took me longer to make these than it did to inhale them.
If you were to pluck off the roof to our house and peer into the kitchen at the very moment these cooled down enough to eat, it would have looked like a shark feeding frenzy. We even fought over the crispy browned bits of cheese that spilled over onto the pan. We ate those with crackers.😍
It got ugly. It was delicious.
To Make These Roasted Jalapeño Poppers You Will Need:
cream cheese
jalapeño cheddar cheese (or pepper jack will do)
cojita or feta
green onions
cilantro
jalapeño peppers
Basically you'll need is cheese, cheese and more cheese and some jalapeños.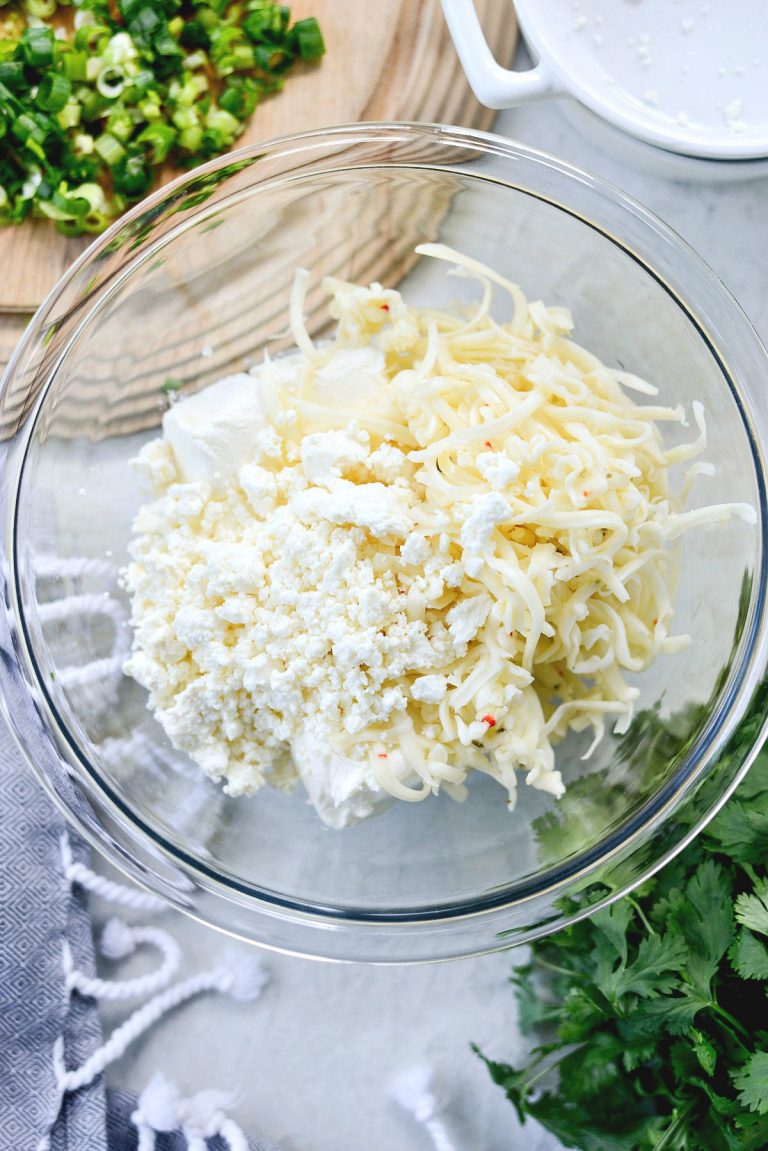 In a mixing bowl, add 8 ounces softened cream cheese with 1-1/4 cup freshly grated jalapeño cheddar cheese and 1/2 cup Cotija. If you can't find Cotija, you can substitute with feta.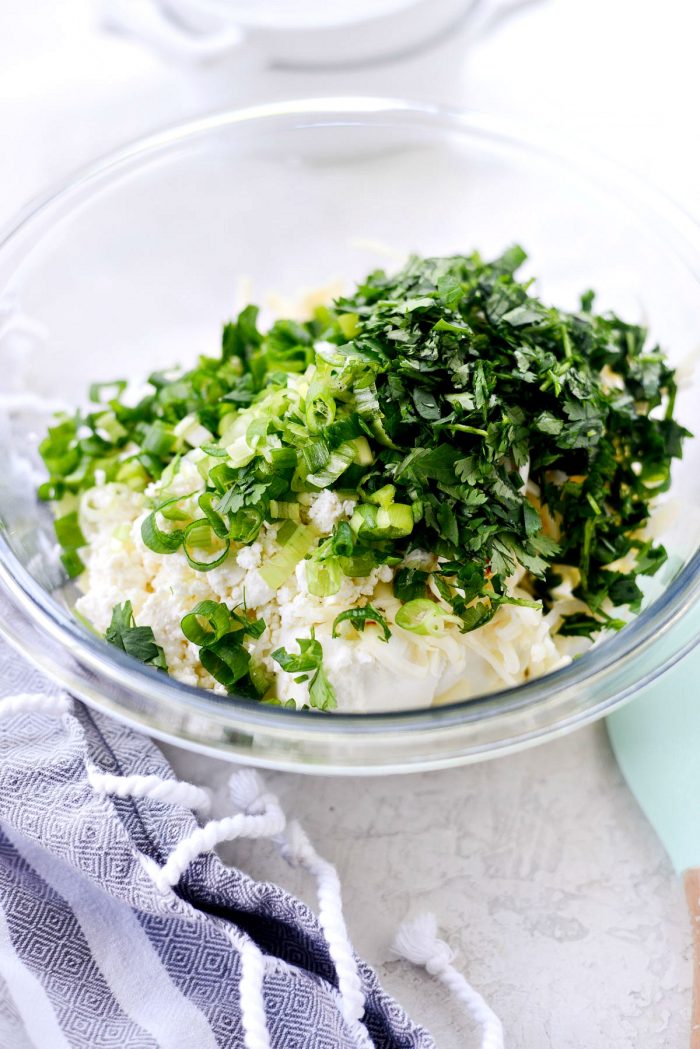 Next add in 2 chopped green onions and 2 tablespoon minced fresh cilantro.
Use a rubber spatula to mix it all together. It will take a few to get the mixture going, but eventually it will be spreadable.
Now here comes the fun part. I'm lying.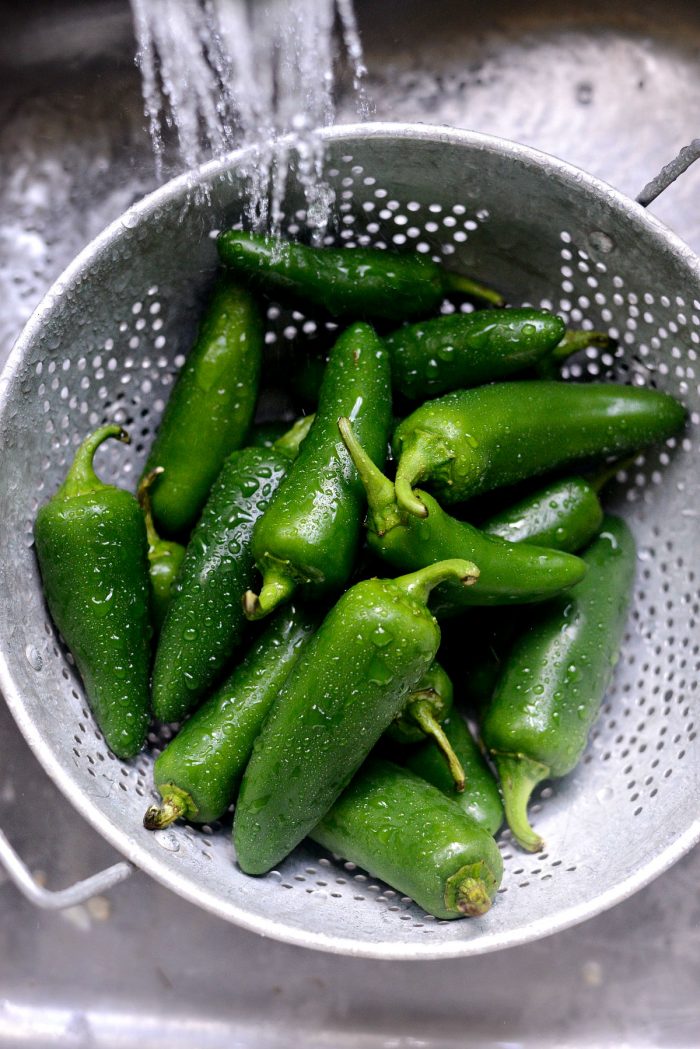 Rinse and pat dry 20 medium jalapeños.
Slip on a pair of nitrile gloves or any type of food-safe glove to protect your hands. Maybe even wear goggles or some form protective eye wear too. Slice the jalapeños in half lengthwise, keeping the stem intact if at all possible, for the only reason is that they look cool once roasted.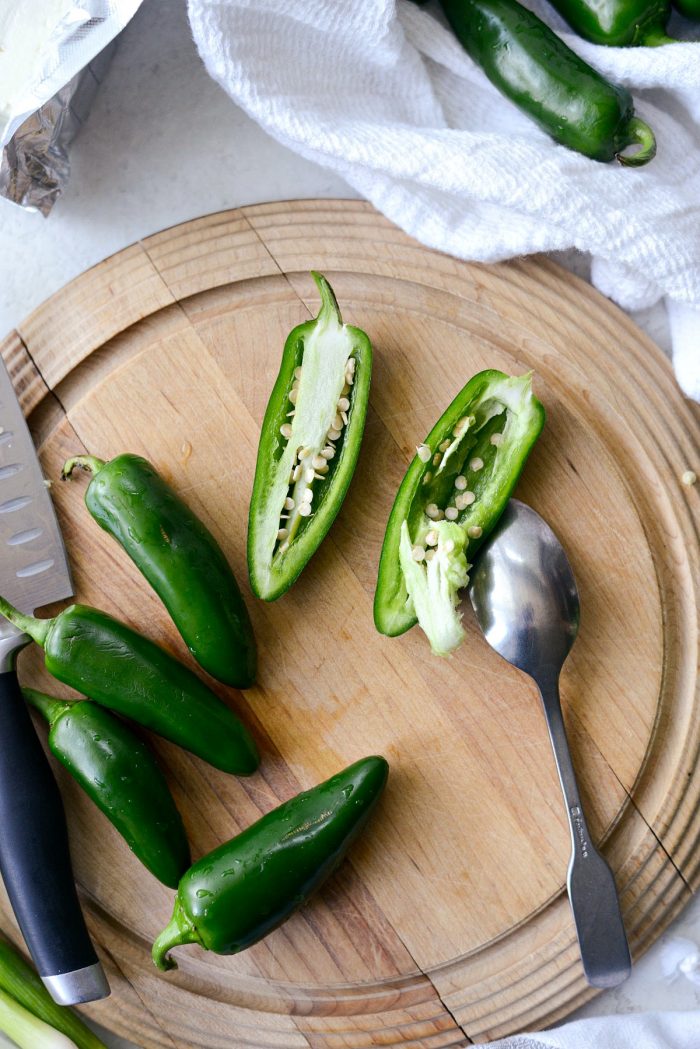 Then use a spoon to scrape out the seeds and ribs. This is where protective eyewear comes in handy.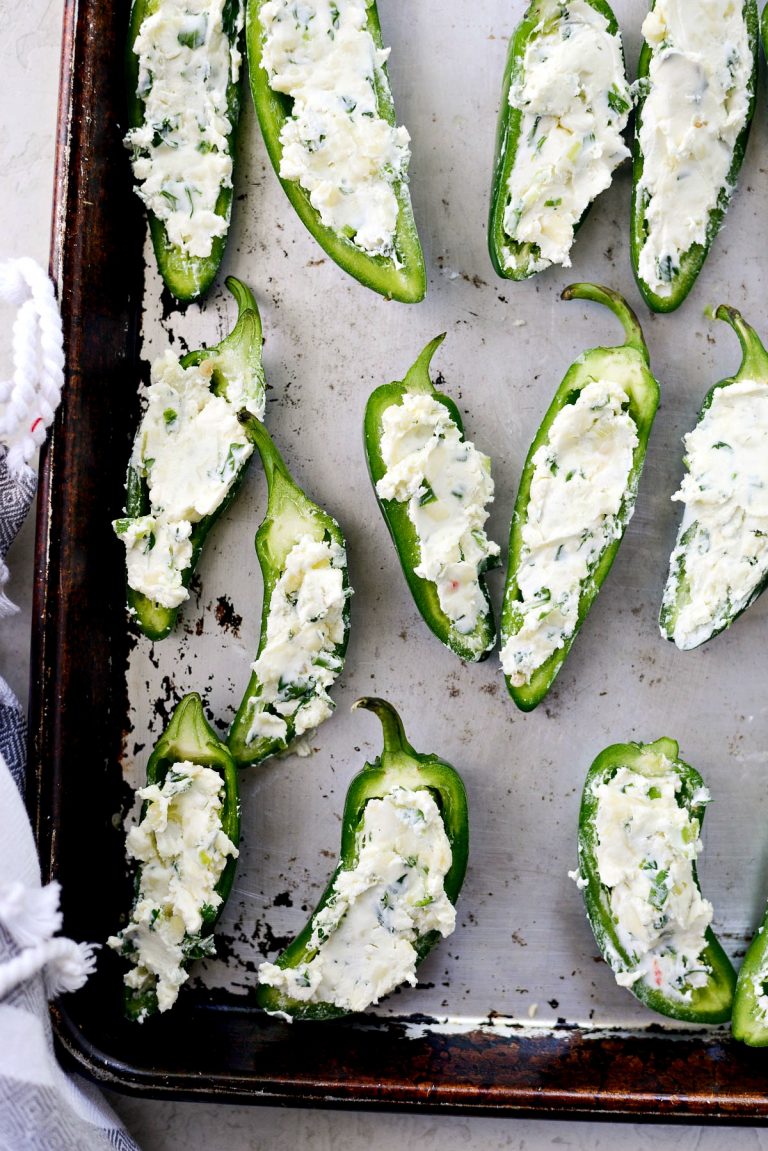 Next use an offset spatula to fill the peppers with about a teaspoon-ish of the cheese mixture and place on a couple of rimmed metal baking sheets. Try to avoid over filling the jalapeños.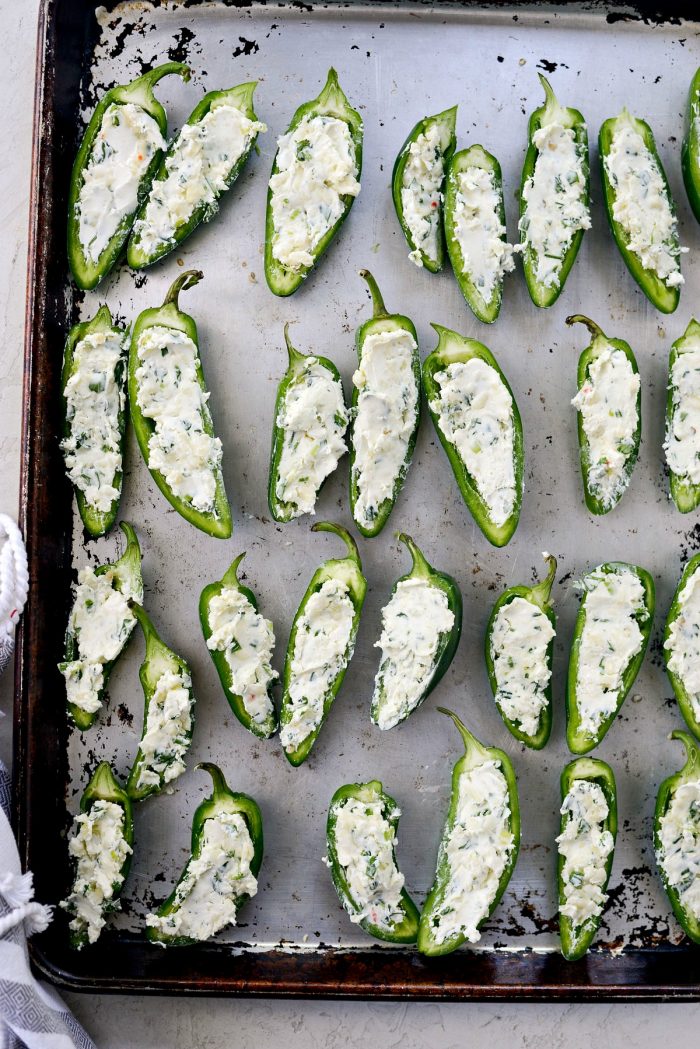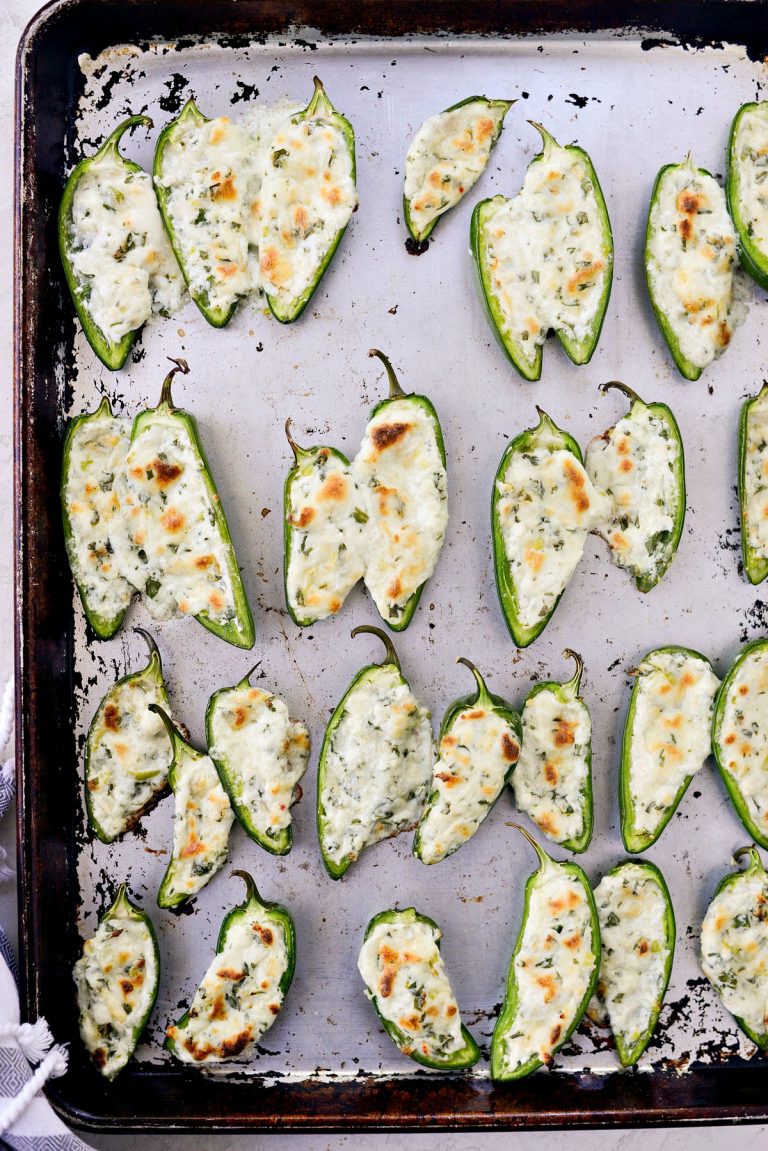 Lastly, slide the pan on to the middle rack of your preheated 450° oven to roast for 10-12 minutes or until the tops of the cheese are a golden brown.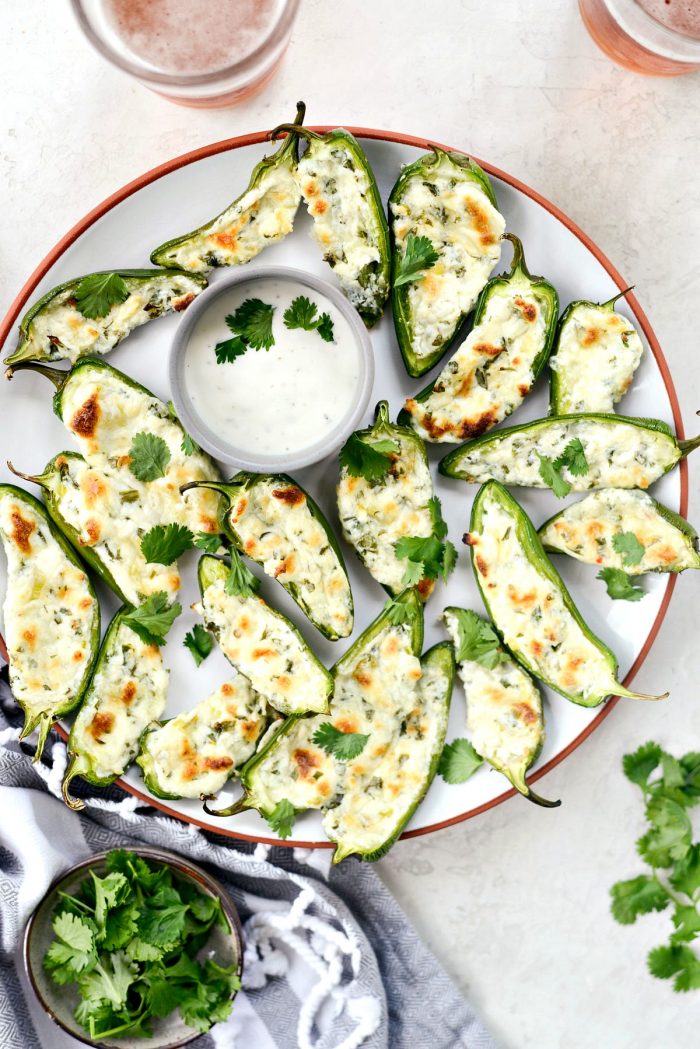 Before you let loose and start inhaling these roasted jalapeño poppers, transfer them to a platter with a little dish of ranch dressing for dipping, and sprinkle it all with fresh cilantro leaves.
The ranch helps diffuse the heat a little. But only a little. These babes are spicy!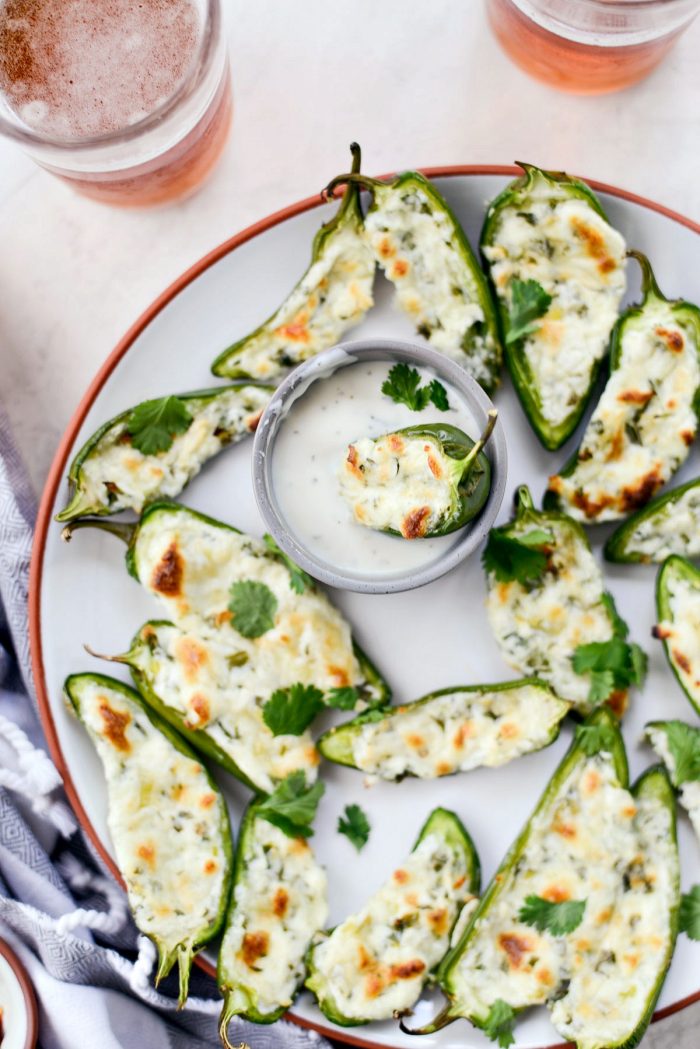 The weekend is here so I say we celebrate with these mega-three-cheese-stuffed-roasted jalapeños. Doesn't this sound like the most delicious plan?
Spicy? check!
Cheesy? check!
The perfect finger food for parties, small gatherings or midday snackaging. Which is the BEST kind of snacking there is.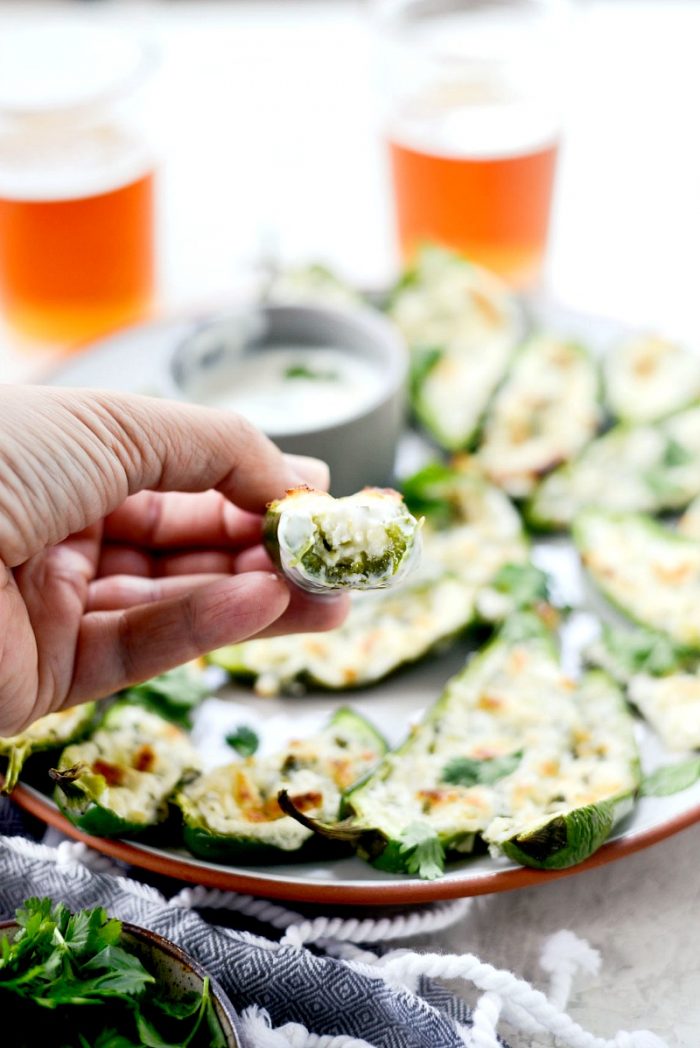 Enjoy! And if you give this Roasted Jalapeño Poppers recipe a try, let me know! Snap a photo and tag me on twitter or instagram!
Yield: 10 servings
Roasted Jalapeño Poppers
These Roasted Jalapeño Poppers have three cheeses, fresh cilantro, minced green onions stuffed in jalapeños and are roasted in your oven instead of deep fried. So deliciously spicy, these will go fast at any party or gathering!
Ingredients
8 ounces softened cream cheese
1¼ cup freshly grated jalapeño white cheddar, or substitute with either Monterey jack, pepper jack or white cheddar
1/2 cup Cotija cheese, or use feta
2 sliced green onions, light and dark green parts only
2 tablespoons minced fresh cilantro
20 fresh jalapeños, halved with seeds and ribs removed
cilantro leaves, for serving
ranch dressing, for serving
Instructions
Preheat oven to 450°.

Place the softened cream cheese, jalapeño cheddar, cotija, green onions and cilantro into a medium bowl. Use a spatula to mix until combined.

Wearing nitrile gloves, cut the jalapenos in half and use a spoon to remove the seeds and ribs.

Arrange the jalapeno halves on a rimmed metal baking pan and fill with about a teaspoon or so of the cheese mixture.

Slide into the oven to roast for 10 minutes or until the tops are golden.

Cool slightly for a few minutes before serving.
Notes
*For non-vegetarians, sprinkle with finely chopped cooked bacon before baking!
Serving: 4peppers, Calories: 163kcal, Carbohydrates: 3g, Protein: 6g, Fat: 14g, Saturated Fat: 9g, Polyunsaturated Fat: 1g, Monounsaturated Fat: 4g, Cholesterol: 46mg, Sodium: 245mg, Potassium: 126mg, Fiber: 1g, Sugar: 2g, Vitamin A: 809IU, Vitamin C: 34mg, Calcium: 166mg, Iron: 1mg
This post may contain affiliate links.
Buy the Cookbook: Simply Scratch : 120 Wholesome Homemade Recipes Made Easy Now available on Amazon »
THANK YOU in advance for your support!