Bright and fresh, these Raspberry Lemon Scones are simple perfection, especially when drizzled with a lemony glaze! Yields 16 scones.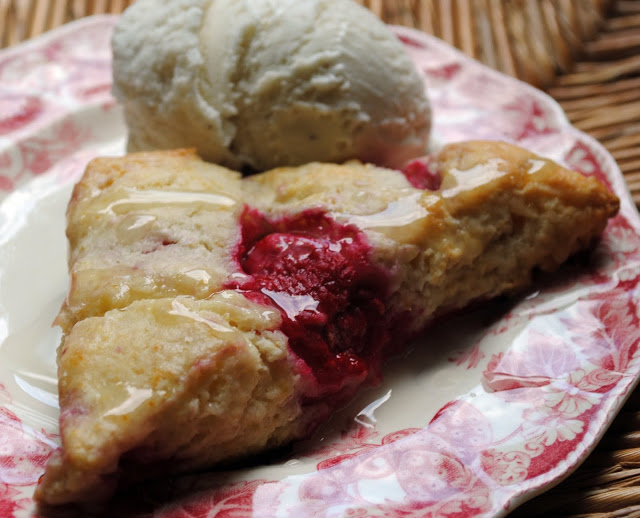 I can honestly say I have never had a scone before today. My best friend emailed me saying she was craving scones and I was like really? Why? I've always thought scones = stones. It was set in my mind that they were hard, tough bland British treats. Why was she craving those? I told her I would make her some and with intentions of giving her the entire batch to her. Obviously, because there was NO WAY I would like them. How wrong was I! As soon as I could smell the raspberries baking in the oven I felt my stomach growl. It was the most delicious aroma and I couldn't wait to eat them. I kept checking the oven hoping they would be done early, but to my disappointment they were baking on schedule. Darn.
I found this recipe Google-ing scones, it was blueberry scones with a lemon glaze that I stumbled upon by Tyler Florence. Since I just had lemon-blueberry pancakes not too long ago, I thought, what about raspberries? So this is a slightly altered recipe.
Lemon and raspberries taste like summer to me and it was a perfect sunny day to make these raspberry scones.
TO Make These Raspberry Lemon Scones You Will Need:
all-purpose flour
granulated sugar
baking powder
kosher salt
cold unsalted butter
heavy cream
lemon zest and juice
cup of frozen raspberries
First, preheat your oven to 400° and sift together all of the dry ingredients.
Grab the lemon and start zesting, stopping when you get to the white part. The white pith tastes bitter, so you don't want that part in the scones. After zesting, save the lemon because you will need the juice for the glaze later. Add the zest all to the dry ingredients.
Next, drop in the ice cold butter. Using a pastry cutter or a couple of forks to blend the butter into the flour. Stop once the mixture resembles crumbly wet sand.
Then form a well in the center of the flour mixture.
Pour in the heavy cream and mix just until it's combined, do not over mix.

Lastly, add in the frozen red raspberries.
Gently mix into the dough being careful not to mash the berries.

Then dump the dough onto a lightly floured surface.
Very carefully, form the dough into a rectangle.
Then cut the dough in half and then cut the halves in half.
Cut the dough lengthwise.
Now you will want to cut the dough into the classic traditional scone shape aka triangles.
Place the raspberry scones onto a baking sheet lined with parchment paper, leaving about a half inch between them.
Then brush all the scones with a little heavy cream, and slide the pan onto the middle rack of your preheated oven. Bake for 15-20 minutes.
While I was baking my youngest was giving Barbie a makeover (not that she needs it). Doesn't she look great? Let's face it Barbie, except for a few flyaways, has got it made!
While the scones are in your oven baking you can start on the glaze. You'll need a couple lemons, powdered sugar and butter.
First, sift the powdered sugar into a medium bowl.
Squeeze the juice out of a couple of lemons. I know in the picture earlier I had two but I actually needed 3! WHOOPS! The two I has were not as juicy as I thought.
Next, pour the juice in to a strainer to catch any pulp or seeds that may have slipped past you.
Whisk the juice and the powdered sugar together. I love love love the smell of lemons.
Next add the tablespoon of butter and whisk some more! I know your thinking butter? What the heck for?
*sigh*
Please remove your whisk before you zap it in the microwave for 30 seconds. Then set it aside until the scones are out of the oven! See the butter makes it all smooth and velvety.

After the scones have baked for about 20 minutes the tops should be a light golden and the berries should be soft, with their juices oozing out of the scones. *sigh, again* It was hard for me to pick just one picture so here are my top 4! The raspberries are so bright and pretty! Picture number 2 and 3 are my favorites!
You can do a couple things with the glaze.
You could drizzle it on top of your scone, or you could use a pastry brush and coat the entire thing or you could dunk your scone into the entire bowl bite for bite. I did all three of the above and each option produced wonderful results! You could refrigerate the glaze if you have some left over and use it instead of syrup for waffles or pancakes.
The options are endless!
Enjoy! And if you give this Raspberry Lemon Scone recipe a try, let me know! Snap a photo and tag me on twitter or instagram!
Yield: 16 scones
Raspberry Lemon Scones with a Lemony Glaze
Bright and fresh, these Raspberry Lemon Scones are drizzled with a lemony glaze!
Ingredients
FOR THE SCONES:
2 cups unbleached all-purpose flour
1 tablespoon baking powder
1/2 teaspoon kosher salt
2 tablespoons sugar
5 tablespoons cold unsalted butter
1 cup heavy cream, plus more for brushing the scones.
1 cup frozen fresh raspberries
1 lemon, zested
FOR THE LEMON GLAZE:
1/2 cup lemon juice, freshly squeezed and strained
2 cups powdered sugar, sifted
1 tablespoon unsalted butter, softened
Instructions
MAKE THE SCONES:
Preheat the oven to 400° and line a rimmed metal baking sheet with parchment paper.

Sift together all the dry ingredients and zest of one lemon.

Using a pastry cutter (or 2 forks) blend the butter into the flour until it resembles wet crumbly sand.

Make a well in the center and pour in the heavy cream, mix just until combined making sure not to over work the dough.

Gently fold in the frozen raspberries, be careful not to mash or break the berries.

Press the dough out onto a floured surface forming a rectangle approx: 12x3 by 1 1/4 inches thick.

Cut the rectangle in to half (width wise) then cut those halves into half, forming 4 rectangles. Next cut across the 4 rectangles lengthwise creating 8 squares.

Cut each square in half diagonally, leaving you with 16 triangles.

Brush the tops with a little heavy cream and bake for 15-18 minutes. Let the scones cool a little before applying the glaze.
MAKE THE GLAZE:
Sift the powdered sugar and whisk in the strained lemon juice.

Whisk in the butter and zap it in the microwave for 30 seconds.

Whisk again and set aside until scones are slightly cooled.

Drizzle, brush or dip the scones in the glaze.
Serving: 1scone, Calories: 216kcal, Carbohydrates: 31g, Protein: 2g, Fat: 10g, Saturated Fat: 6g, Polyunsaturated Fat: 1g, Monounsaturated Fat: 3g, Trans Fat: 1g, Cholesterol: 32mg, Sodium: 159mg, Potassium: 51mg, Fiber: 1g, Sugar: 17g, Vitamin A: 353IU, Vitamin C: 6mg, Calcium: 60mg, Iron: 1mg
This post may contain affiliate links.
Buy the Cookbook: Simply Scratch : 120 Wholesome Homemade Recipes Made Easy Now available on Amazon »
THANK YOU in advance for your support!