Celebrate good times with this pomegranate gin and tonic. Like birthdays and such. Birthdays that perhaps land on the 19th.
And today just might be mine. So we're drinking.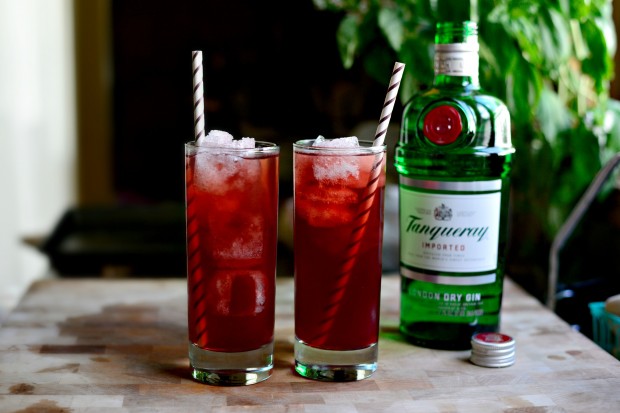 Typically I don't announce "heyyyy it's my birrrrthday!" well not on my blog anyway, and I also don't typically post adult bevys here either. Why is that? Maybe I'd like you to believe that I never age and maybe I prefer to keep my mid-day drinking to myself? JOKING. I really don't know why this blog barely has a page of drinks… I should definitely work on that. Duly noted.
I'd also like to point out it's been over 10 days and my basil plant is thriving in a vase on my counter.
Now let's drink. And try not to laugh at my exploding ice cube tray.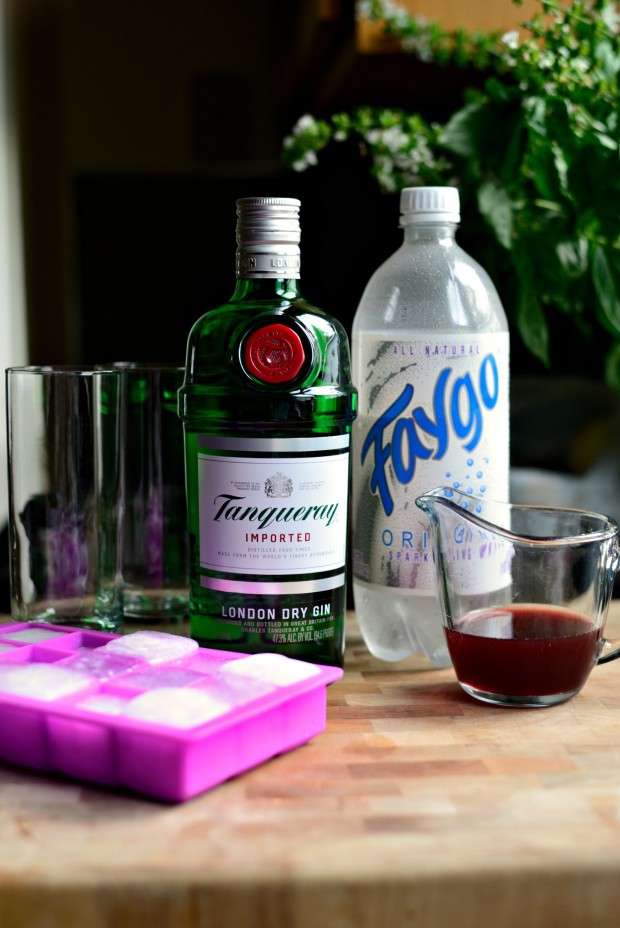 To Make This Pomegranate Gin And Tonic You Will Need:
dry gin
tonic water
pomegranate juice
So there I was meandering down the liquor aisle and out of the corner of my eye I spied this dark green bottle with that wannabe wax stamped on it. So I bought it. I'm a total sucker for good packaging. After seeing the bottle of gin I vividly remember that gin and tonics were/are still my mom's drink of choice next to a glass of red wine. She doesn't drink much but I remember being little seeing her on Thanksgiving or Christmas stirring her gin and tonic with a gold sparkly swizzle stick. Wait, are they still called swizzle sticks? Yup, they sure are… I just Googled it. Anyway, I remember wanting a sip so badly because it looked so refreshing and I loved the sound of the ice cubes clanking around all those the fizzy bubbles.
Suddenly SO thirsty over here.
Memories had me feeling a little nostalgic and because my 34th birthday was looming… I comforted myself and made cocktails.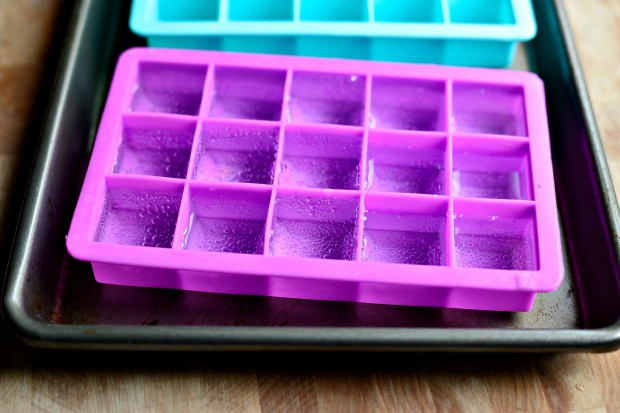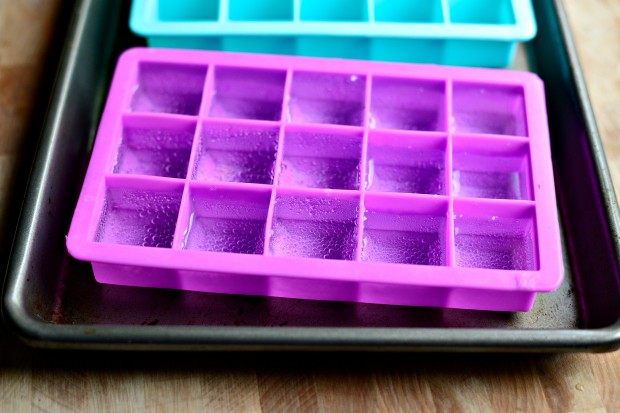 So I got started early in the morning. No, not the drinking part but the ice cube making part. I poured a little tonic (I know, sparkling water is pictured but that's because I thought I had an extra Schwepp's in our fridge downstairs, I was wrong so please forgive) into each slot and froze them on a small sheet pan in the freezer for a few hours… until happy hour approached.
Drop a few of those tonic cubes into each glass.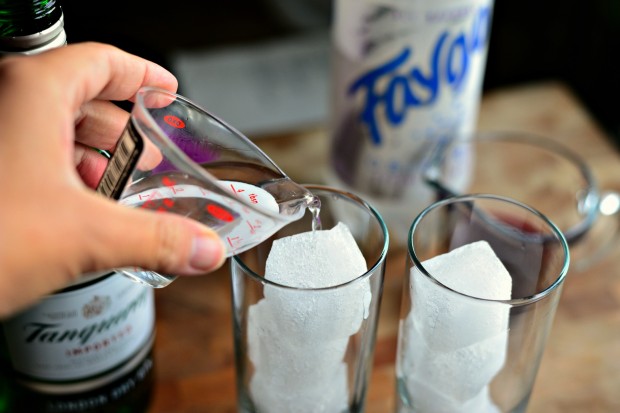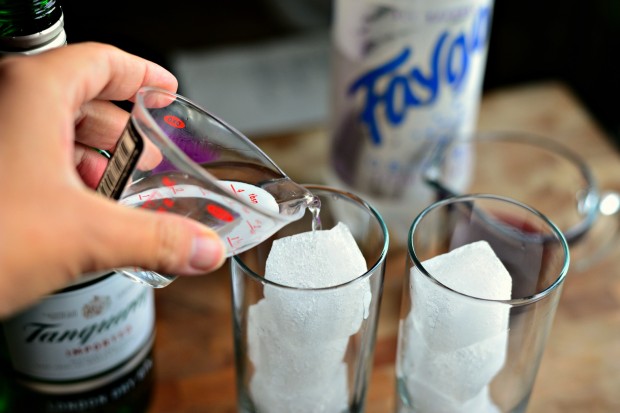 Each glass gets 2 ounces of the dry gin.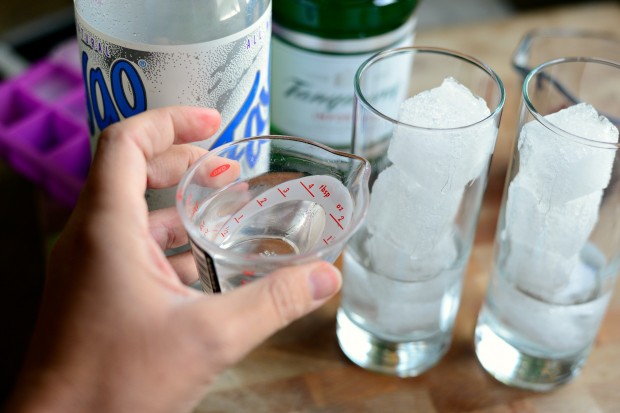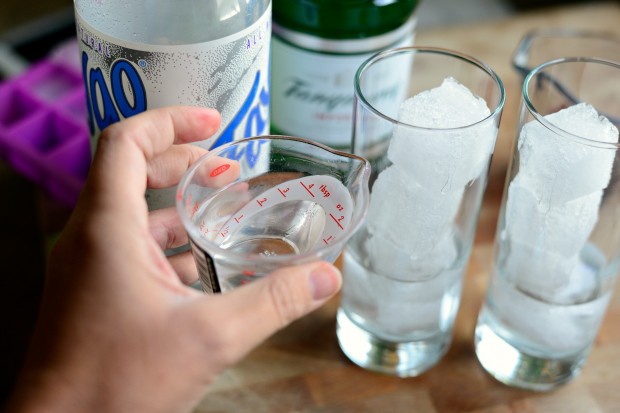 Then pour 4 ounces of tonic into both.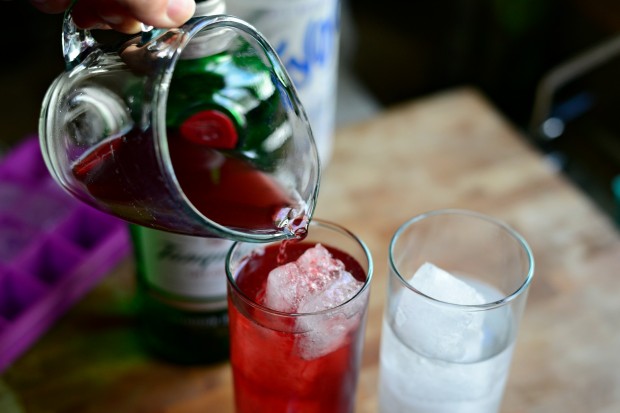 Lastly top each glass off with pomegranate juice.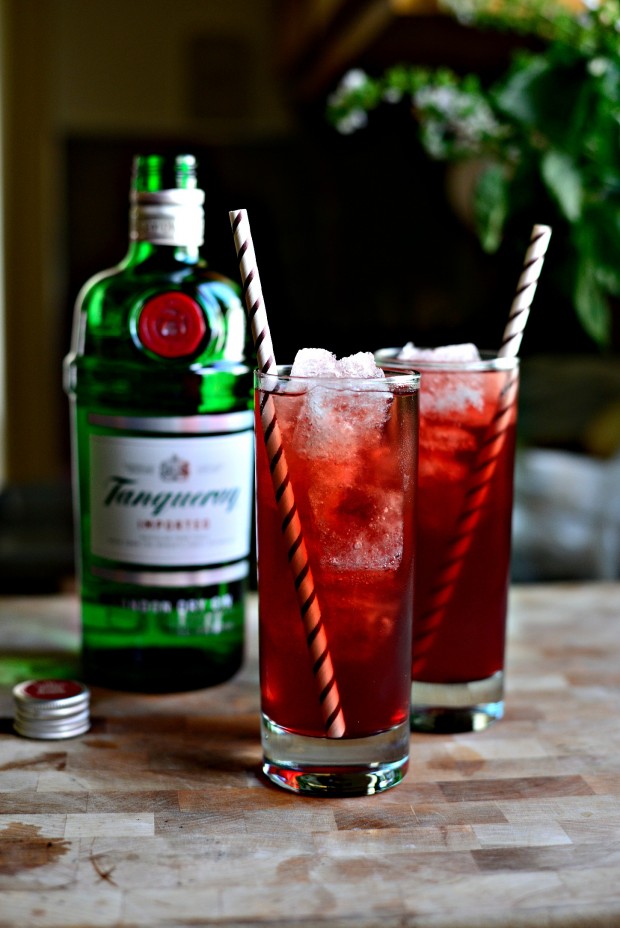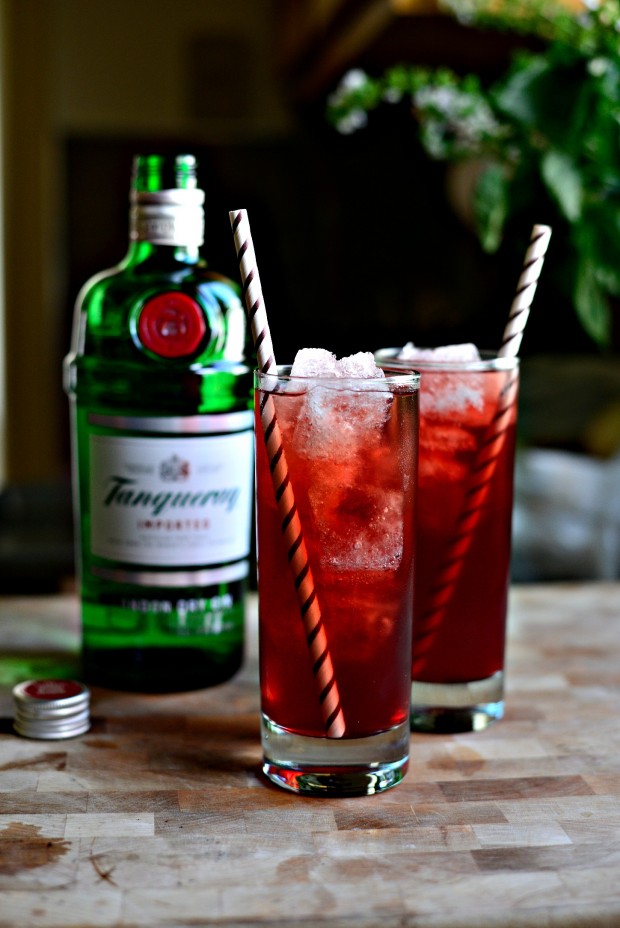 Insert swizzle sticks or in my case paper straws. Note to self: buy swizzle sticks (or swipe them from my mom).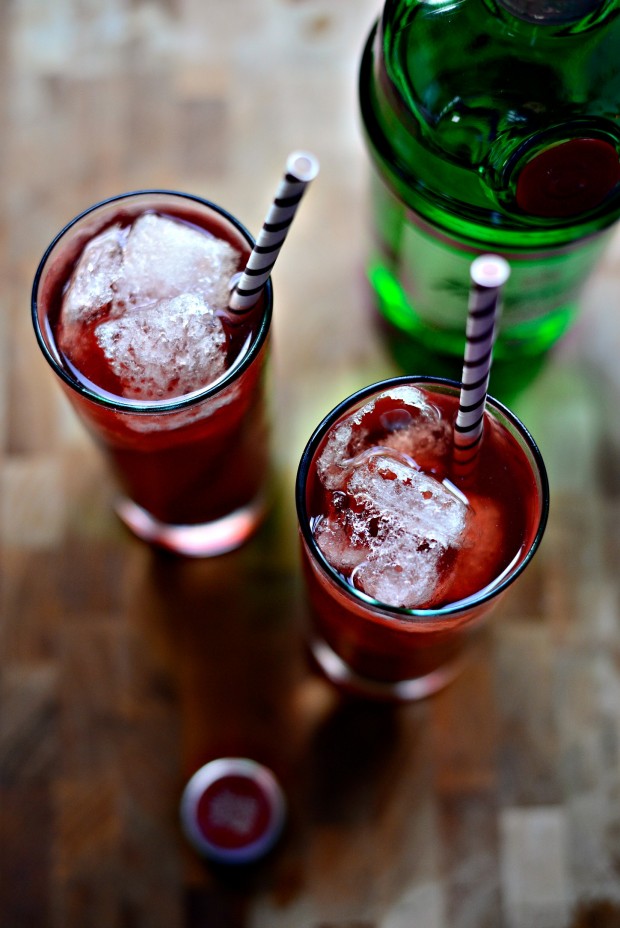 And sip. Awh-wait. I almost forgot one important ingredient.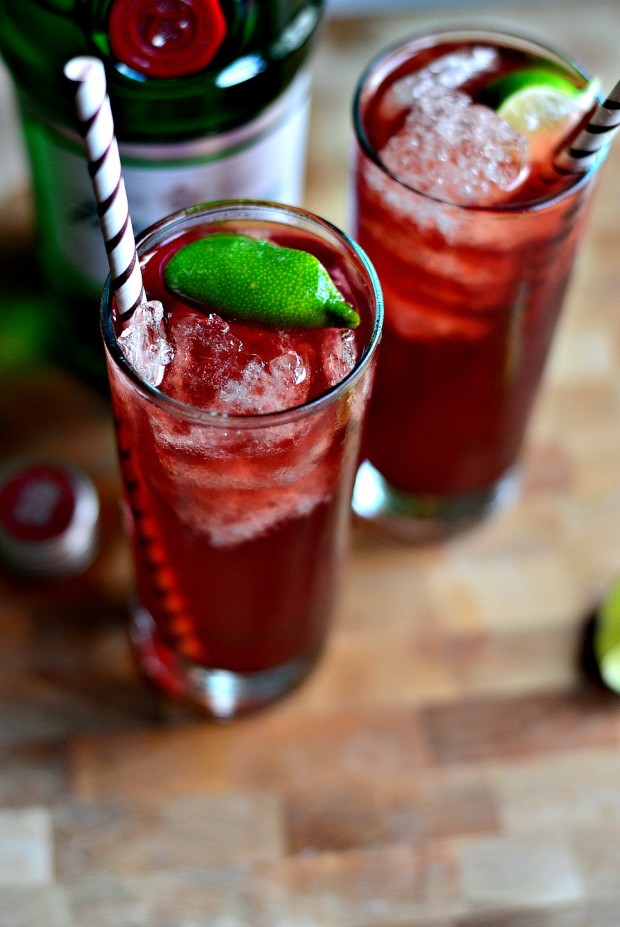 Zee lime. Gin and tonics require a squeeze of fresh lime to be complete, it's an absolute MUST and plus it totally works with the pomegranate.
Cheers! I hope you love this Pomegranate Gin and Tonic as much as I do!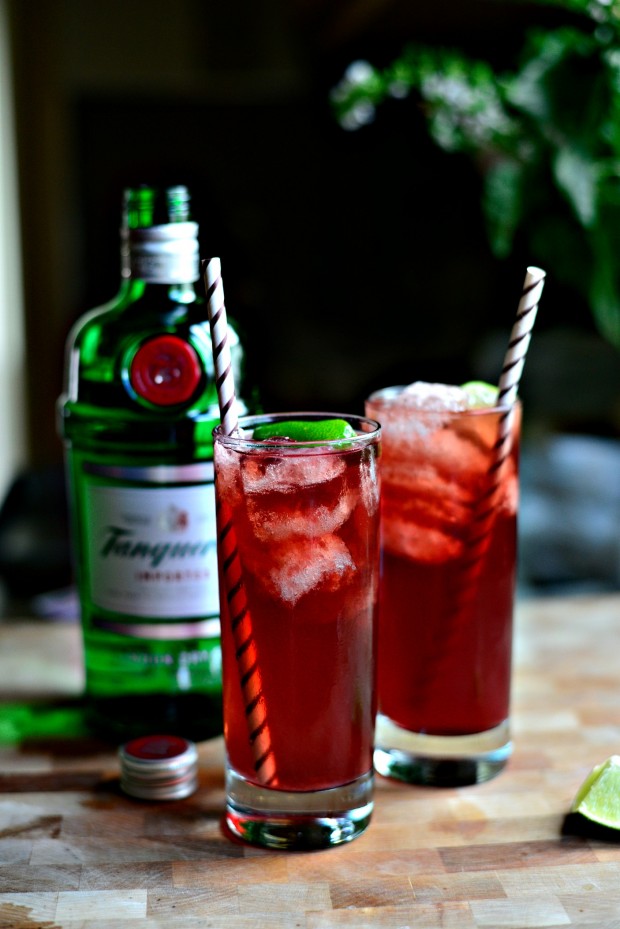 Happy Friday.
Happy Birthday.
Happy Hour.
Enjoy! And if you give this Pomegranate Gin and Tonic recipe a try, let me know! Snap a photo and tag me on twitter or instagram!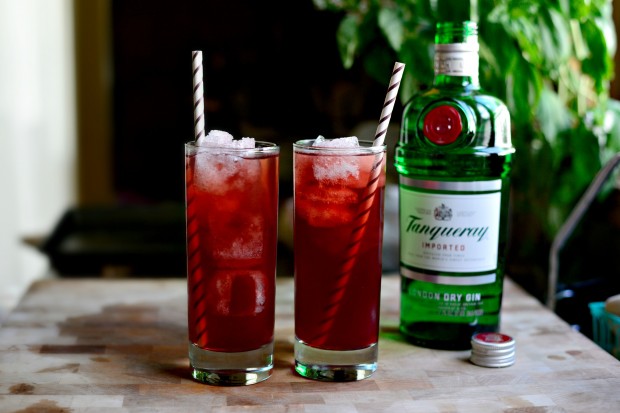 Yield: 2 serving
Pomegranate Gin & Tonic
Classic gin and tonic with a pomegranate splash.
Ingredients
tonic water, for ice cubes
4 ounces gin
8 ounces tonic water
4 ounces cranberry juice
Instructions
Pour tonic water into ice cube trays and freezer for 4 hours. This step is optional, regualr ice cubes may be used.

Drop ice cubes into glasses, top with 2 ounces of gin each, 4 ounces of tonic water and a splash (or two) of Pomegranate juice.

Finish with a squeeze of fresh lime and sip responsibly.
Serving: 1drink, Calories: 180kcal, Carbohydrates: 44g, Protein: 1g, Fat: 1g, Saturated Fat: 1g, Polyunsaturated Fat: 1g, Monounsaturated Fat: 1g, Sodium: 54mg, Potassium: 279mg, Fiber: 1g, Sugar: 35g, Vitamin A: 26IU, Vitamin C: 8mg, Calcium: 14mg, Iron: 1mg
This post may contain affiliate links.
Buy the Cookbook: Simply Scratch : 120 Wholesome Homemade Recipes Made Easy Now available on Amazon »
THANK YOU in advance for your support!