Parmesan Herb Roasted Acorn Squash is a simple and elegant side dish for any menu, holiday or not. Acorn squash is sliced and tossed in butter, olive oil, herbs and spices before being roasted and sprinkled with parmesan cheese. Yields 6 to 8 servings in about 30 minutes.
I bought new knives! I know, kind of random way to start a post of but OH MY GOSH it's the most exciting thing that has happened to me in a while. Which, now that I think about it, is pretty sad. BUT I have new knives!!! It's probably been 8 years since I bought new ones. Actually, Pat bought me a set for Christmas right around when I first started this blog – so maybe it's more like 10 years?
Back then, I only had a chefs knife. That's it. How I managed, I'll never know.
Having a really sharp knife or knives makes cutting things, like squash SO much easier. I didn't realize how dull my old knives were until I got new ones. They sliced through these acorn squash like it was butter.
Speaking of squash and butter. HELLO beautiful side dish! I love love love acorn squash. Especially roasted. This recipe combines butter and olive oil, a few dried herbs and spices and is roasted in a hot oven. A little sprinkle of parmesan at the end of the roasting adds delicious salty texture.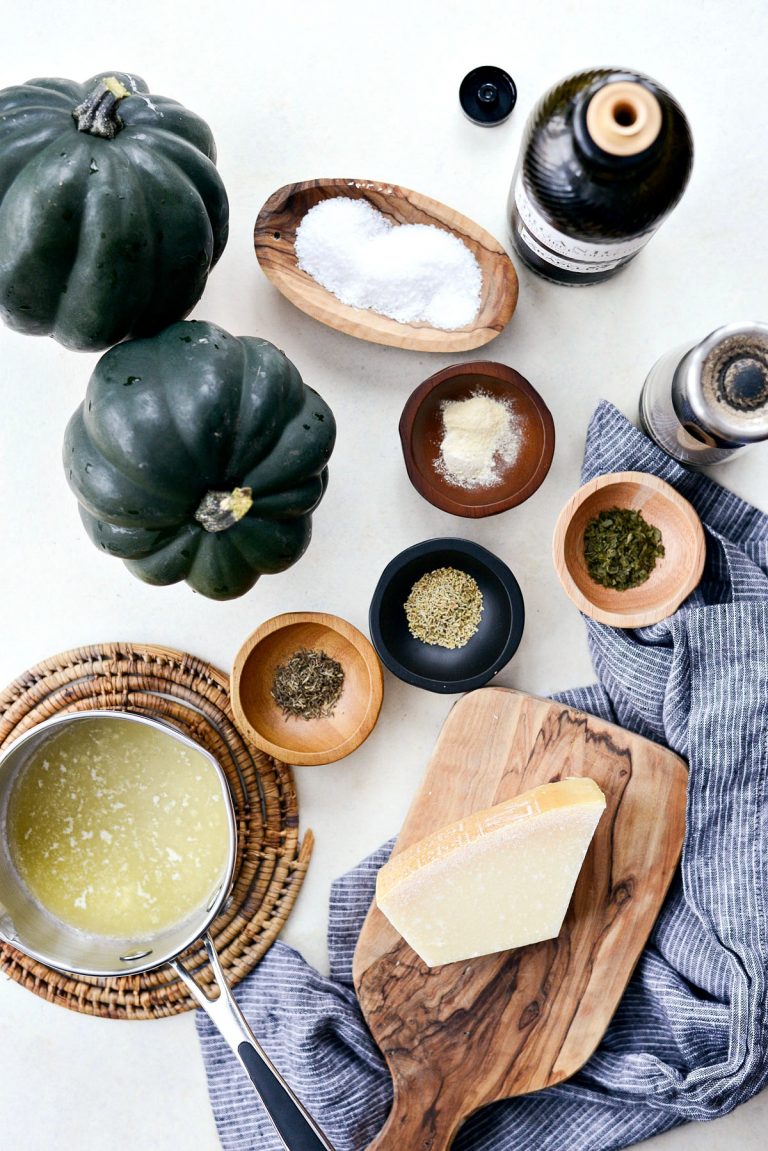 To Make This Parmesan Herb Roasted Acorn Squash You Will Need:
butter
olive oil
rosemary (dried)
thyme (dried)
parsley (dried)
garlic powder
onion powder
kosher salt
black pepper
parmesan cheese
minced fresh parsley, for garnish and is optional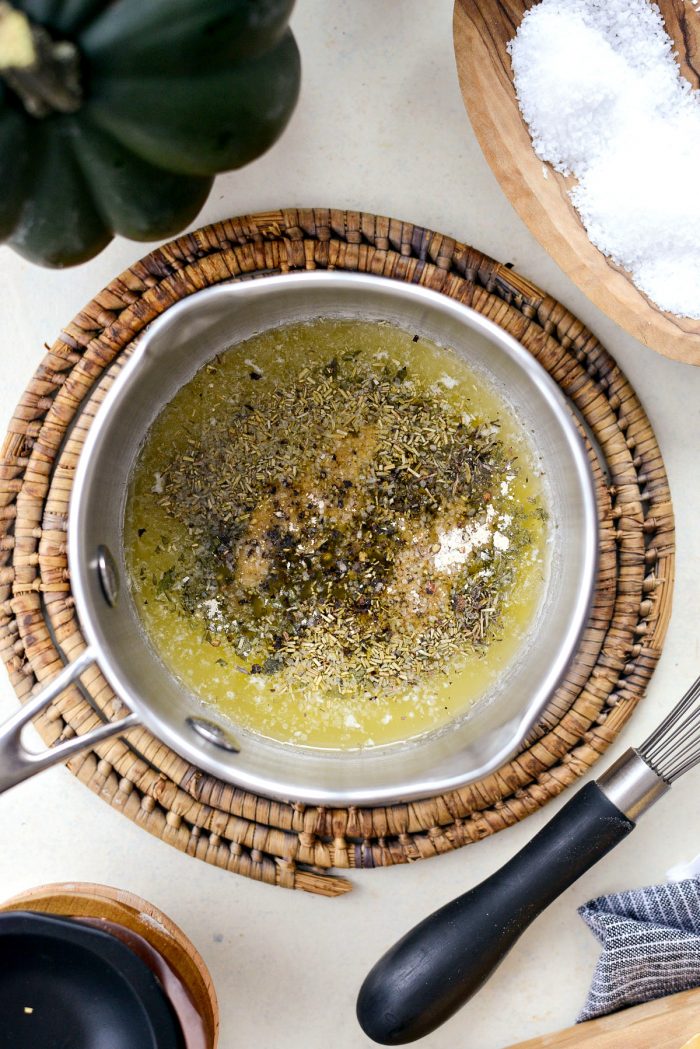 In a small saucepan, melt 2 tablespoons butter. Remove the pan from the heat, measure and add in 3/4 teaspoon crushed rosemary, 1 teaspoon dried parsley, 1/2 teaspoon dried thyme, 1/4 teaspoon each onion and garlic powder, with a pinch of kosher salt and freshly ground black pepper. Whisk to combine.
Trim the stems off 2 acorn squash. Cut in half, scrape out the seed and slice into 1/2-inch thick slices (approximate). Drizzle the herb butter over top and toss to combine.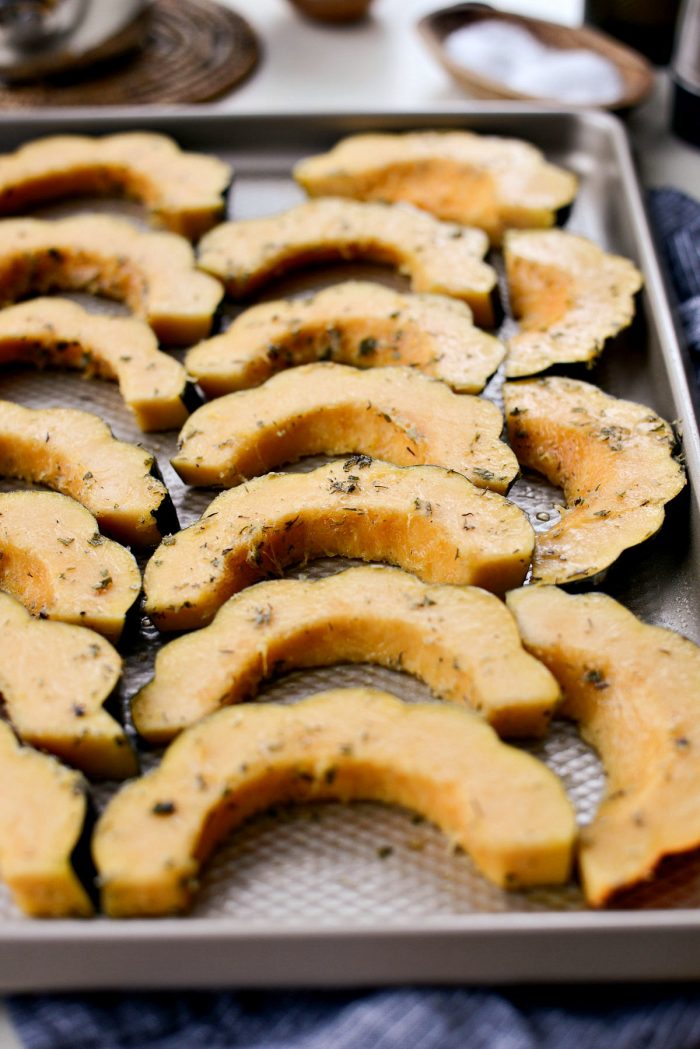 Lightly spray a large, rimmed metal baking sheet with olive oil and arrange the slices of squash. Roast on the middle rack of your preheated 400° oven for 20 minutes, rotating the pan halfway through roasting.
Remove the pan after 20 minutes, use tongs to carefully turn each squash slice. We want that beautiful caramelized side facing up because it's too pretty to hide!
Sprinkle each slice with freshly grated parmesan cheese (see notes in recipe printable) and place back into the oven for 5 minutes.
Remove and top with extra parmesan and minced fresh parsley. Tender and incredibly flavorful and could be any easier.
This recipe is going to look gorgeous on your holiday table!
For more side dish recipes click here.
Enjoy! And if you give this Parmesan Herb Roasted Acorn Squash recipe a try, let me know! Snap a photo and tag me on twitter or instagram!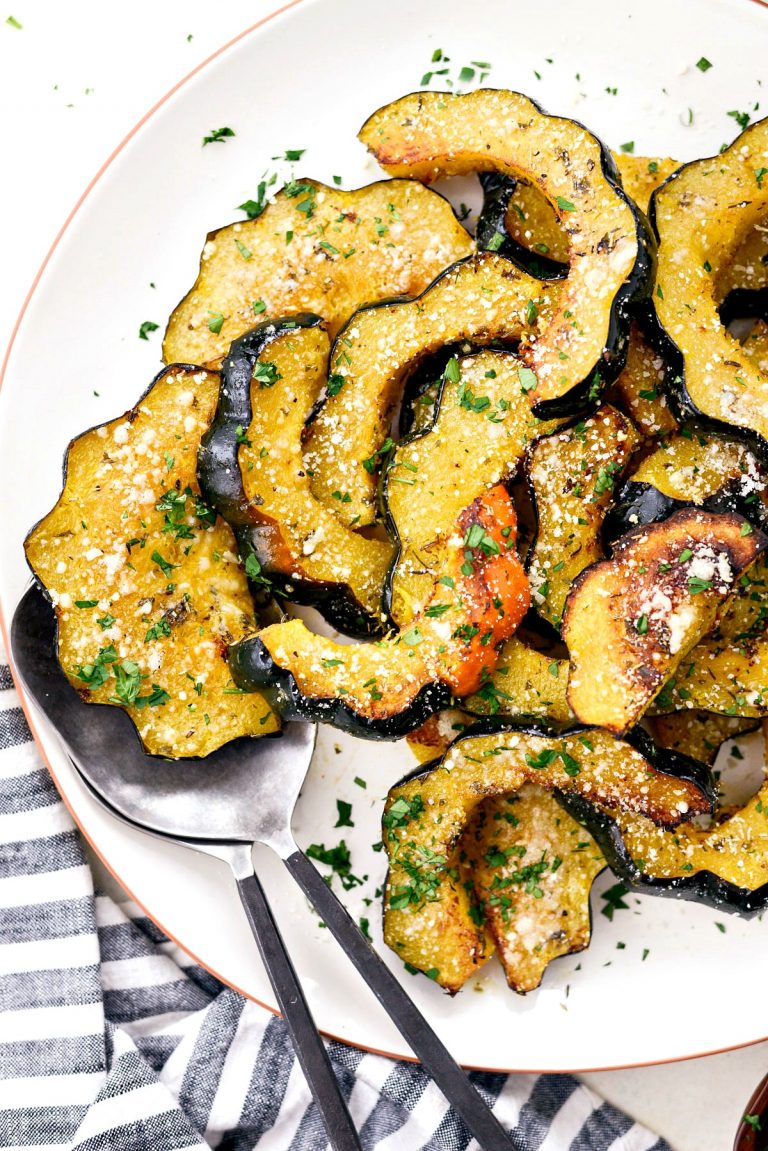 This post may contain affiliate links.
Buy the Cookbook: Simply Scratch : 120 Wholesome Homemade Recipes Made Easy Now available on Amazon »
THANK YOU in advance for your support!