In this Parmesan herb omelet, I collected herbs from my garden and whipped them in to eggs. Topped with more herbs and more Parmesan cheese.
I absolute love summer for so many reasons.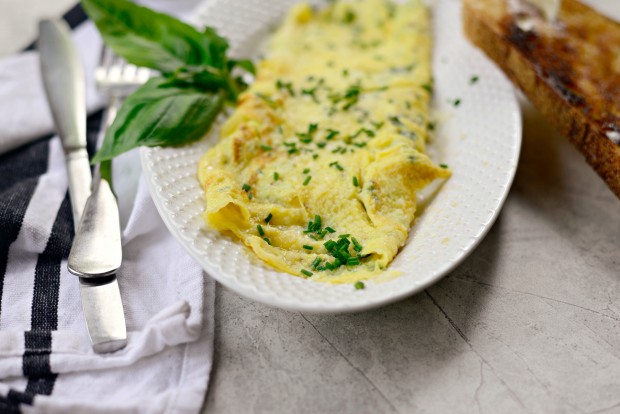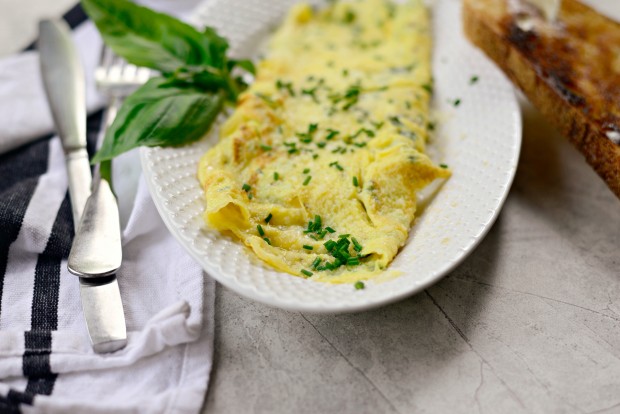 Besides the obvious; suntans, warm weather and the whole not packing lunches thing… my herb garden is growing strong and my girls are sleeping in until noon. Yesterday morning I (while my girls were still sleeping) I did a couple loads of laundry, sipped my coffee and eventually moseyed out my front door to my herb garden. I snipped some fresh basil, chives and thyme and went back in to make a quick omelet– all the while still wearing my pj's.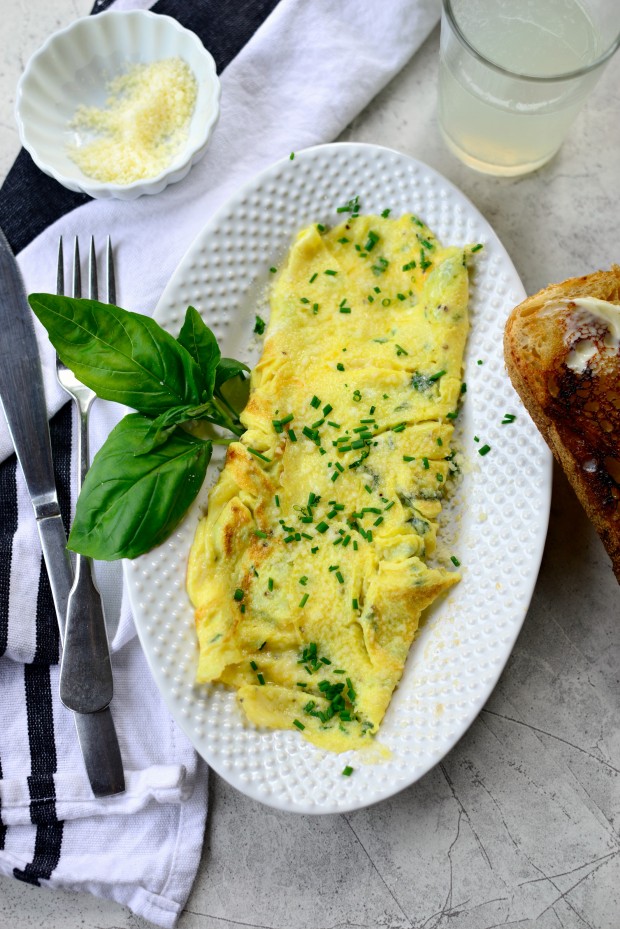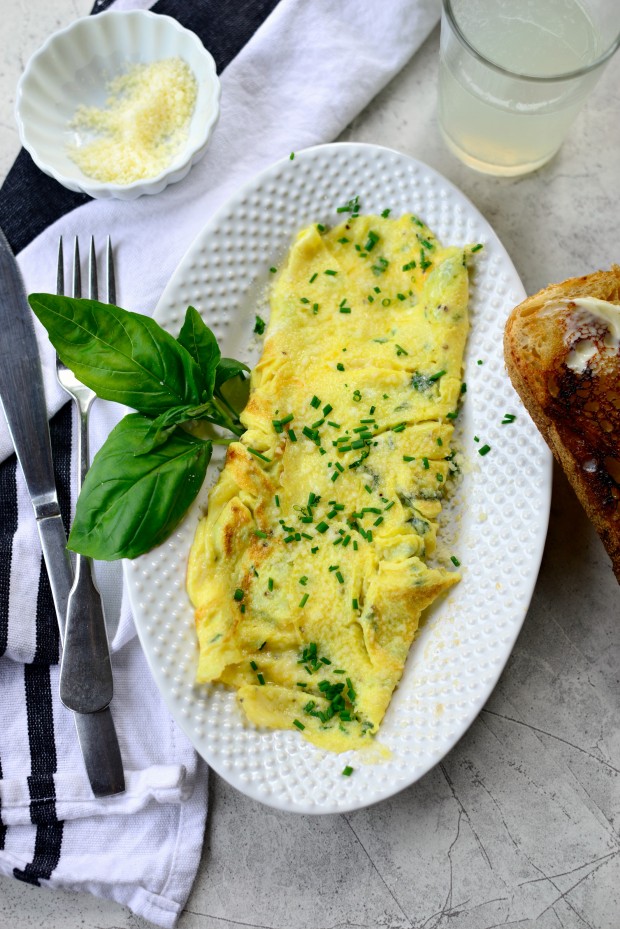 And yes, that speck of chive on the top left and bottom right of the plate is totally messing with my ocd right about now.
As you can imagine, you'll need two eggs, some fresh chives, basil and thyme. The usual: salt and pepper, then a tablespoon of grated Parmesan and a tablespoon of butter.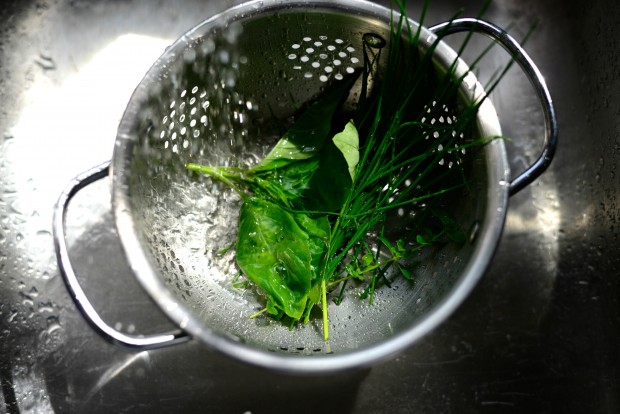 Give the herbs a quick rinse under the tap.
Then give them a pat with paper towel to dry them off.
Beat the eggs until blended.
Season with a pinch of kosher salt…
…black pepper…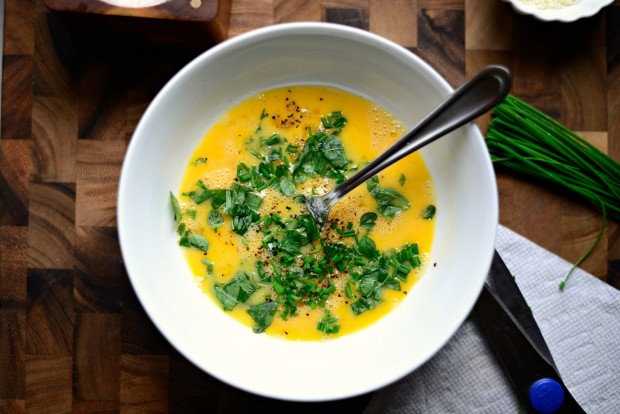 …and then add in about a heaping teaspoon of snipped chives, 1 spring fresh thyme leaves and two large basil leaves, both of which have been torn by hand.
Stir to mix the fresh herbs into the eggs.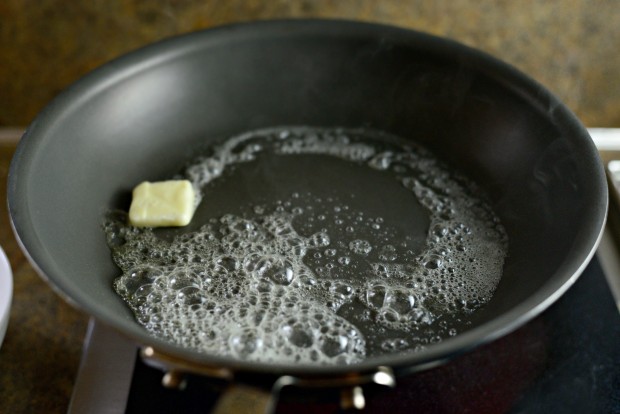 Preheat a 8-inch or smaller non-stick or well seasoned cast iron skillet over medium-high heat.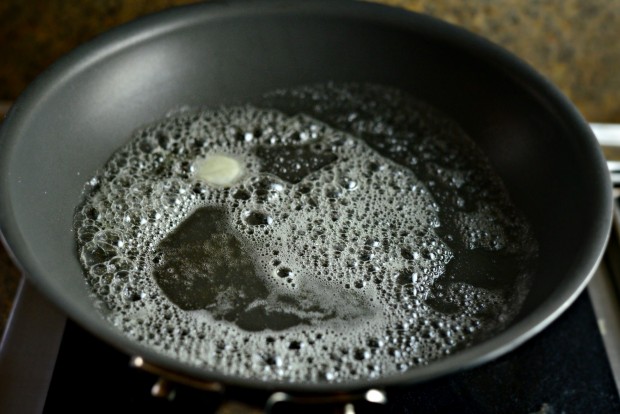 Swirl the pan to coat halfway up the sides and the entire bottom.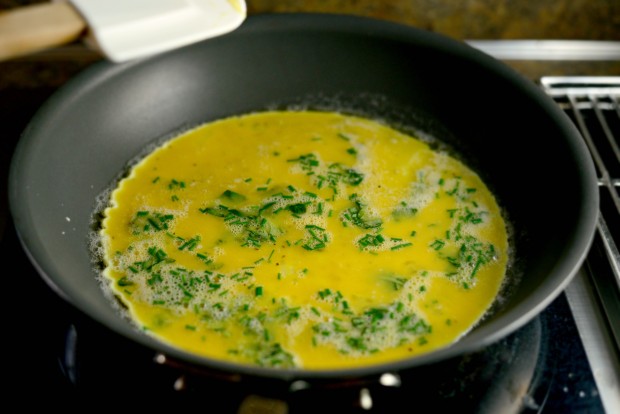 Pour in the egg mixture…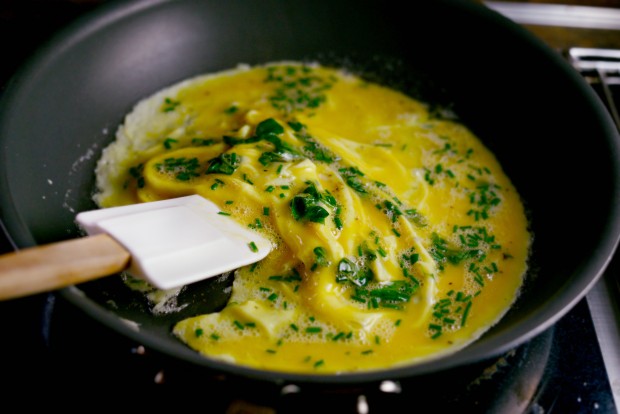 With a spatula, push the eggs from the side to the center of the pan while angling the pan so the uncooked eggs fill in the empty space.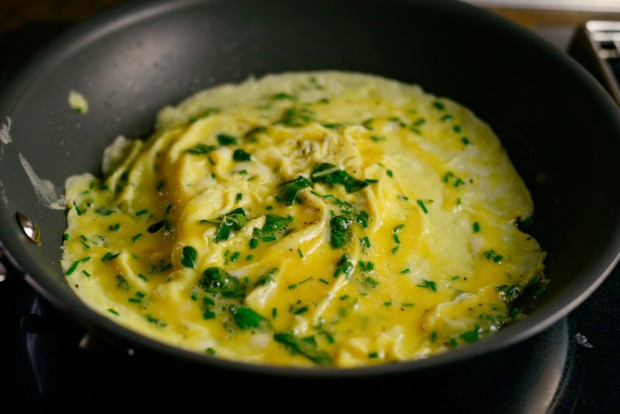 Continue to do this until the eggs are almost set but still just a smidgen wet.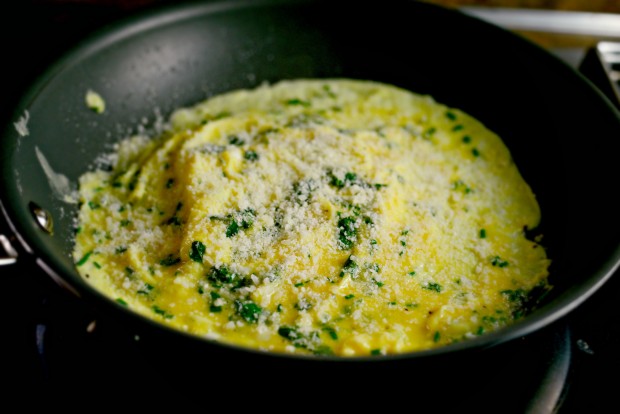 Sprinkle with a tablespoon of grated Parmesan.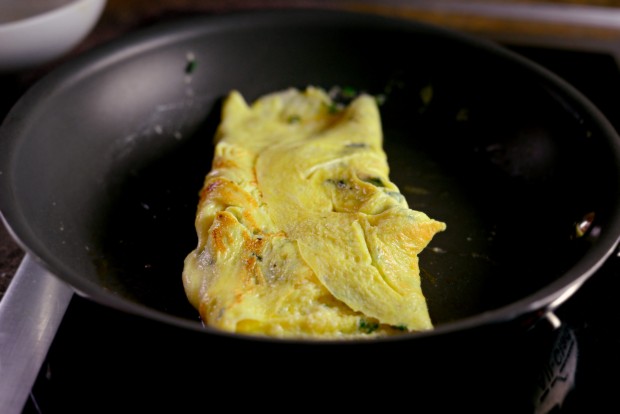 Carefully fold the omelet in half or thirds. The residual heat will cook the remaining uncooked eggs.
Sprinkle the herb Parmesan omelet with more cheese and snipped chives…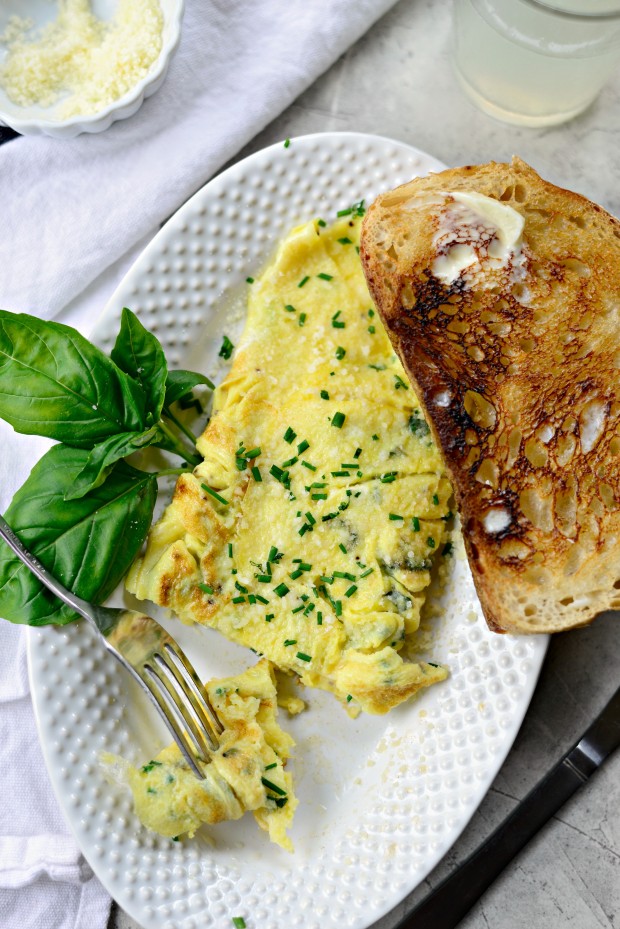 …and a thick slice of buttered sourdough toast.
So simple.
fluffy.
herb-y.
Parmesan-y.
It's omelet perfection.
Enjoy! And if you give this Parmesan Herb Omelet recipe a try, let me know! Snap a photo and tag me on twitter or instagram!
My cookbook Simply Scratch : 120 Wholesome Homemade Recipes Made Easy is now available! CLICK HERE for details and THANK YOU in advance!
Yield: 1 omelet
Parmesan Herb Omelet
Fresh herbs and Parmesan cheese wrapped in a fluffy omelet.
Ingredients
2 large eggs
kosher salt
black pepper
2 large basil leaves, torn
2 teaspoons snipped fresh chives, plus more for serving
1 sprig fresh thyme, leaves removed and torn
1 tablespoon unsalted butter
1 tablespoon grated Parmesan cheese, plus more for serving
Instructions
Crack the eggs into a bowl. With a fork, eat until fluffy. Add in the salt, pepper, basil, chives and thyme. Stir to combine.

Heat an 8-inch skillet over medium-high heat. Once preheated, add the butter and swirl to coat the bottom and halfway up the sides of the pan.

Pour in the egg mixture and use a rubber spatula to push the eggs towards the center of the pan while tilting it so the uncooked eggs can fill in the space. Continue to cook until just about set, sprinkle with Parmesan and then fold in half or thirds.

Transfer the omelet to a plate and sprinkle with more Parmesan and snipped chives.
Serving: 1g, Calories: 267kcal, Carbohydrates: 1g, Protein: 15g, Fat: 22g, Saturated Fat: 11g, Polyunsaturated Fat: 2g, Monounsaturated Fat: 7g, Trans Fat: 1g, Cholesterol: 407mg, Sodium: 220mg, Potassium: 162mg, Fiber: 1g, Sugar: 1g, Vitamin A: 1110IU, Vitamin C: 3mg, Calcium: 122mg, Iron: 2mg
[this post contains affiliate links.]
This post may contain affiliate links.
Buy the Cookbook: Simply Scratch : 120 Wholesome Homemade Recipes Made Easy Now available on Amazon »
THANK YOU in advance for your support!