These homemade Baked Beans are one of my favorite recipes of all time. Beans and bacon in robust sauce of molasses, clove and brown sugar – what's not to love? These beans may be semi-homemade, but they are a fool-proof and taste divine!
My go-to super simple baked beans recipe.
They're simple, yet rich, tangy and perfect in every way and whenever I make them for a party, I always get asked for the recipe. Simply sauté bacon and onion together, add the rest of the ingredients and bake for 1 hour stirring occasionally. And bonus, while they cook you will smell an intoxicating and mouth-watering aroma.
This recipe is semi-homemade, calling for 2 can baked beans however, the real magic is in how they get doctored up. Trust me.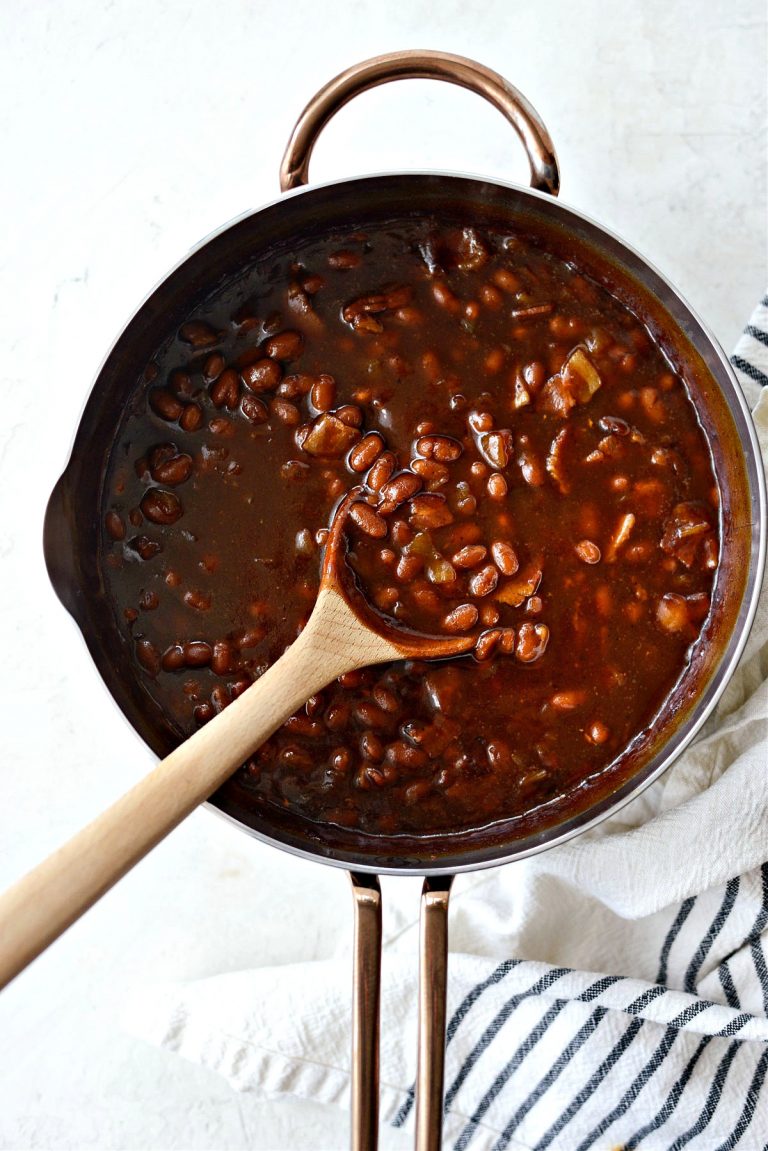 This is a family recipe passed down to me and I wouldn't dare change it. However, you can find a more from scratch version of these beans in my cookbook.
To Make These Homemade Baked Beans Recipe You Will Need:
bacon – Adds smokiness and lends flavor.
yellow onion – The base for most recipes, adds texture and flavor.
baked beans – A great shortcut. I usually buy organic to avoid any unnecessary additives. 
ketchup – Homemade or store-bought. This rounds out all of the flavors in this recipe.
molasses – For sweetness, depth of flavor and will also deepen the color of the beans.
light or dark brown sugar – Used for sweetness. 
ground clove – Adds depth and unique flavor.
dried mustard – For added depth and flavor.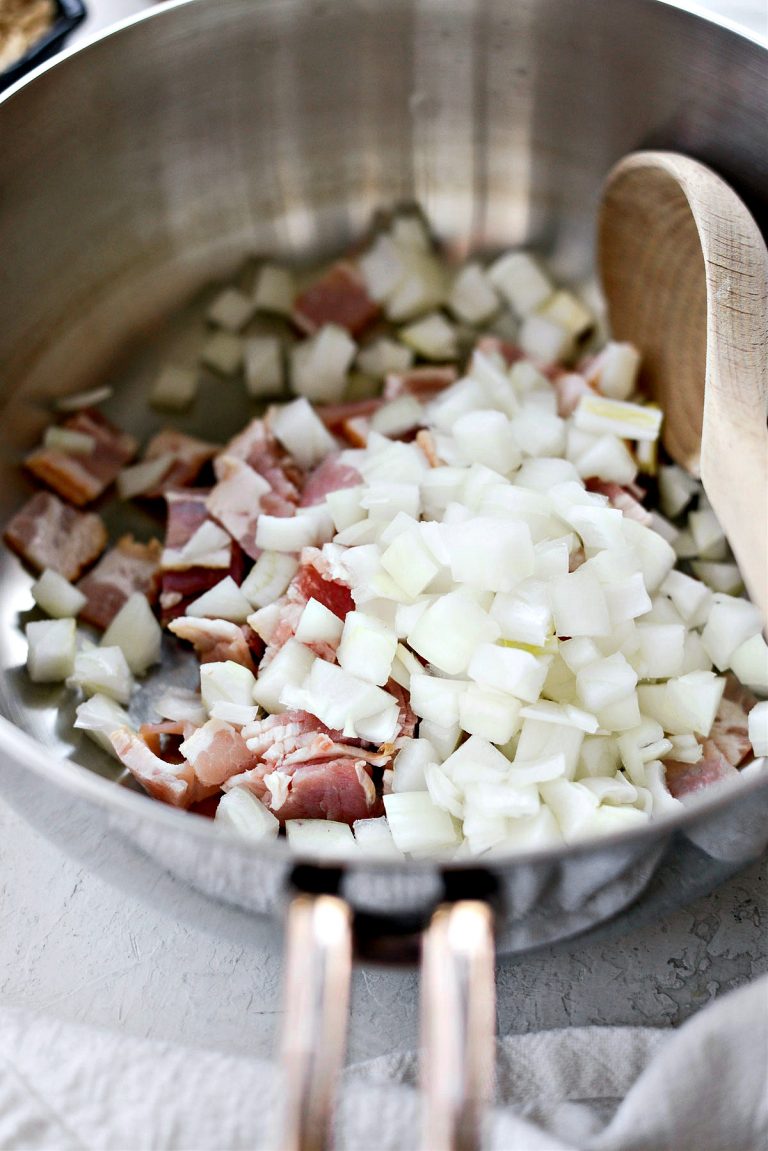 Then in a 3-quart dutch oven or oven-safe pot warmed up over medium heat. Throw in both the onions and bacon at the same time.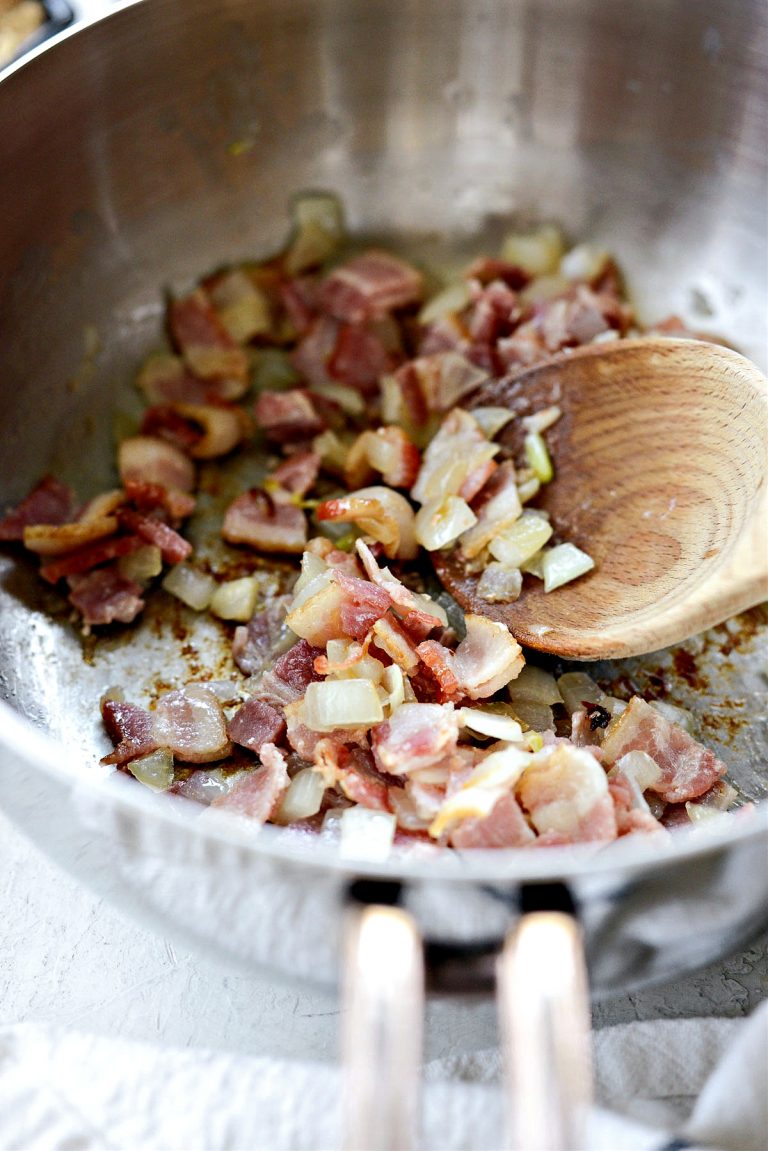 Next, while stirring occasionally, cook them until the onions are soft and translucent and the bacon is cooked. Once the onions are soft, remove the pot of the heat.
Then, to the bacon and onions add; 2 (15 ounce) cans of (organic) baked beans, 1/2 cup of ketchup, 1/4 cup of un-sulphured molasses, 1/4 cup of brown sugar, and 1/2 teaspoon each ground mustard and ground clove.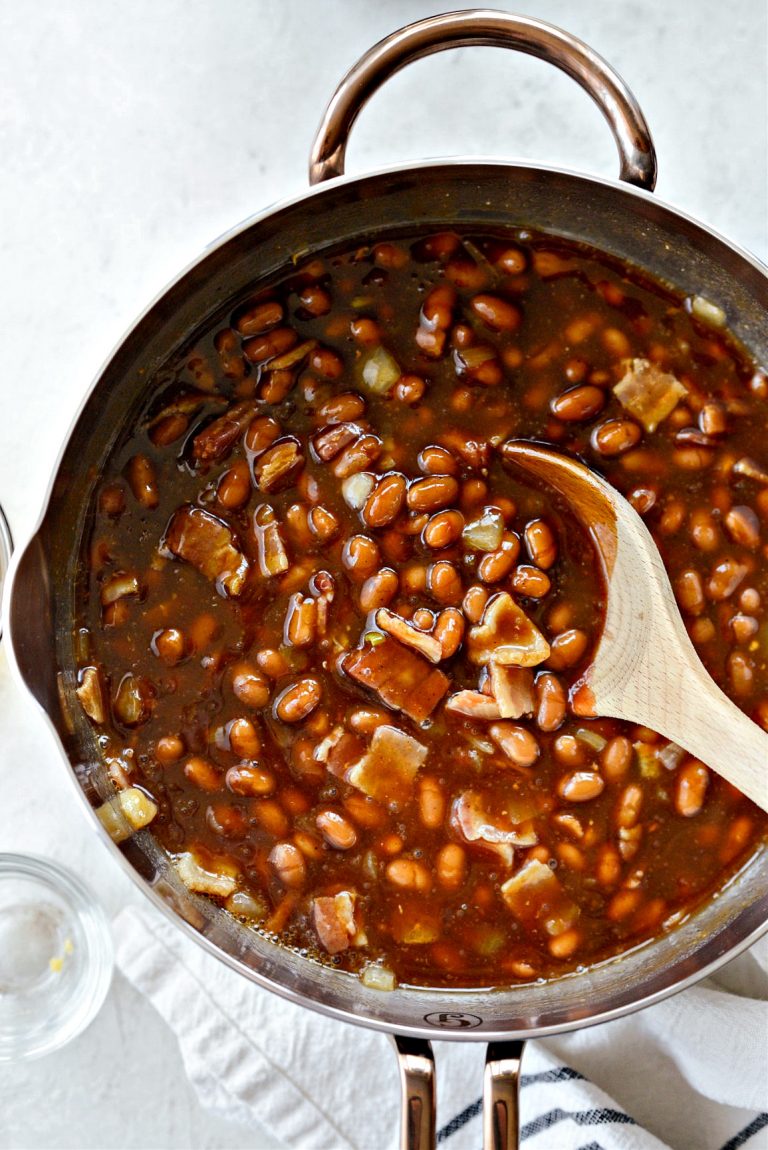 Stir it all together until combined.
Put a lid on it.
Next, place the beans on the middle rack of your preheated 350° oven and bake for one hour.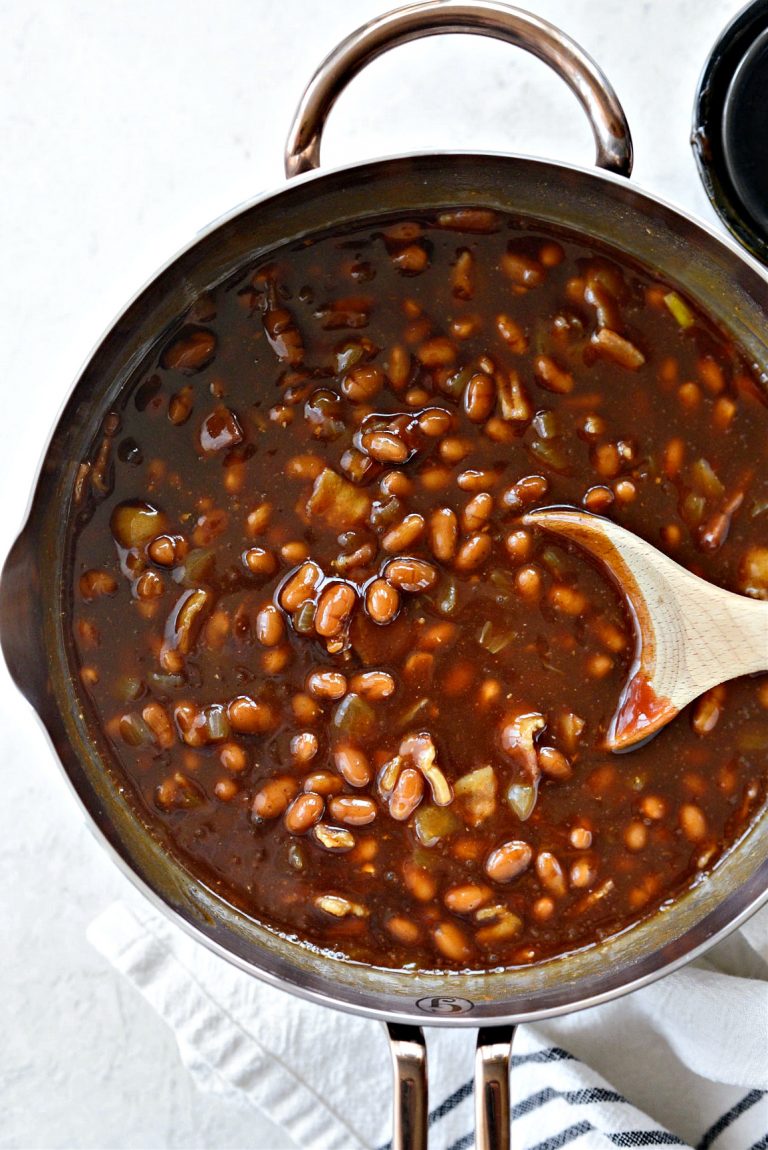 Stir the baked beans every twenty minutes, leaving the pot uncovered for the final 20 minutes. They'll be too hot to serve right away so make sure you give them a little time to cool. During this time they'll have a chance to thicken up a tad.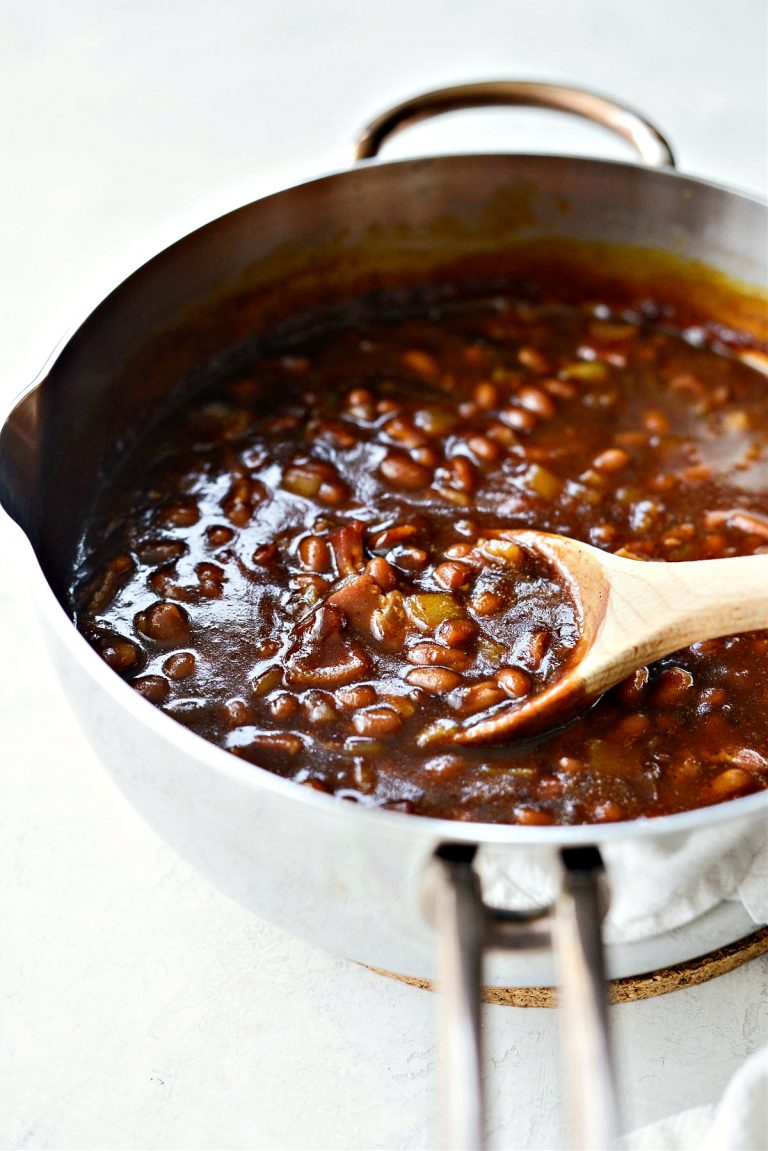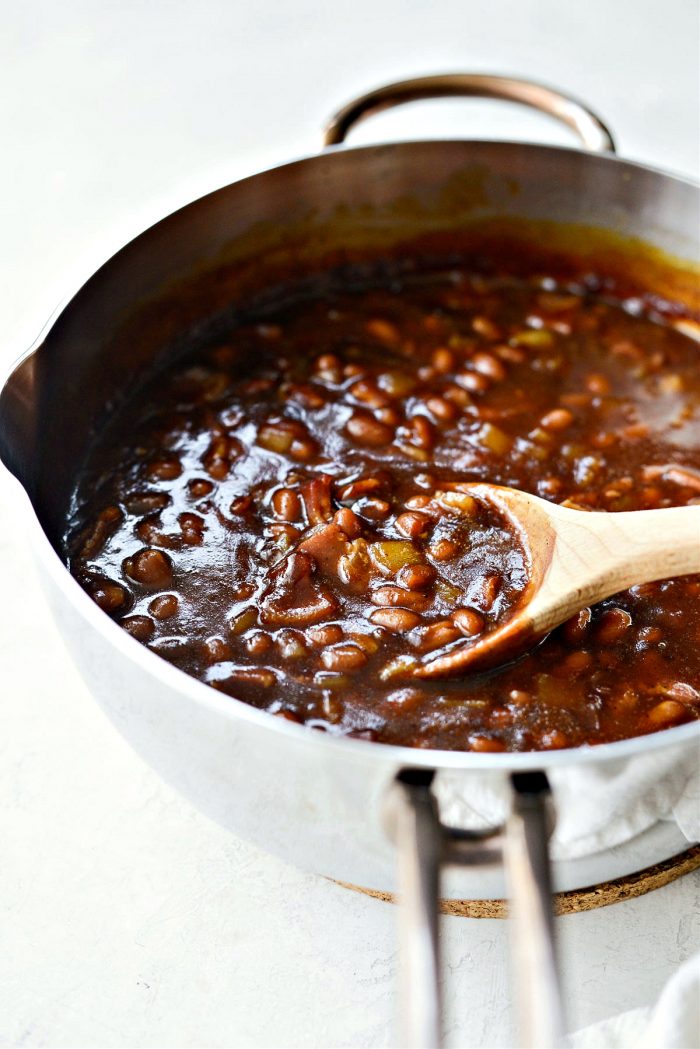 Besides being phenomenal, they're easy and extremely versatile. You can whip these one-pot baked beans up in 10 minutes, pop them into the oven and they're ready in an hour. Serve with hamburgers, hot dogs or your holiday ham. They go with just about anything.
And they will fill your home with the most amazing smell!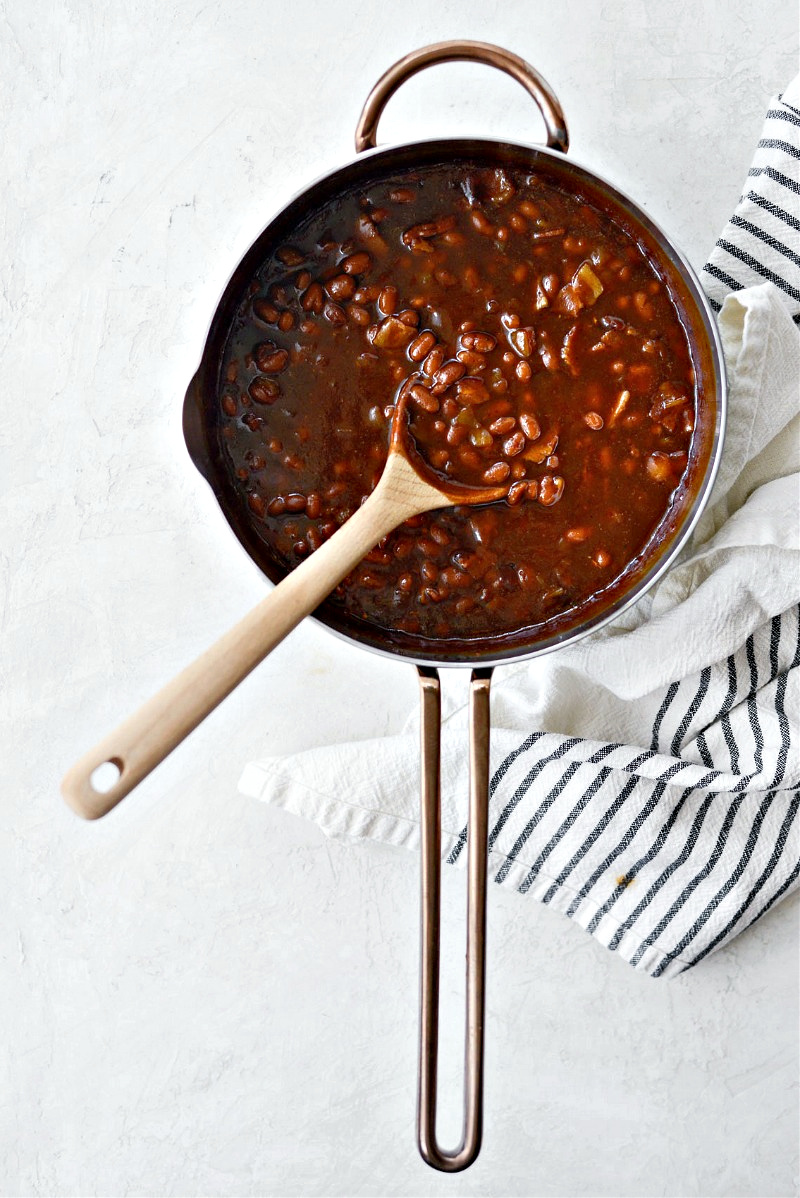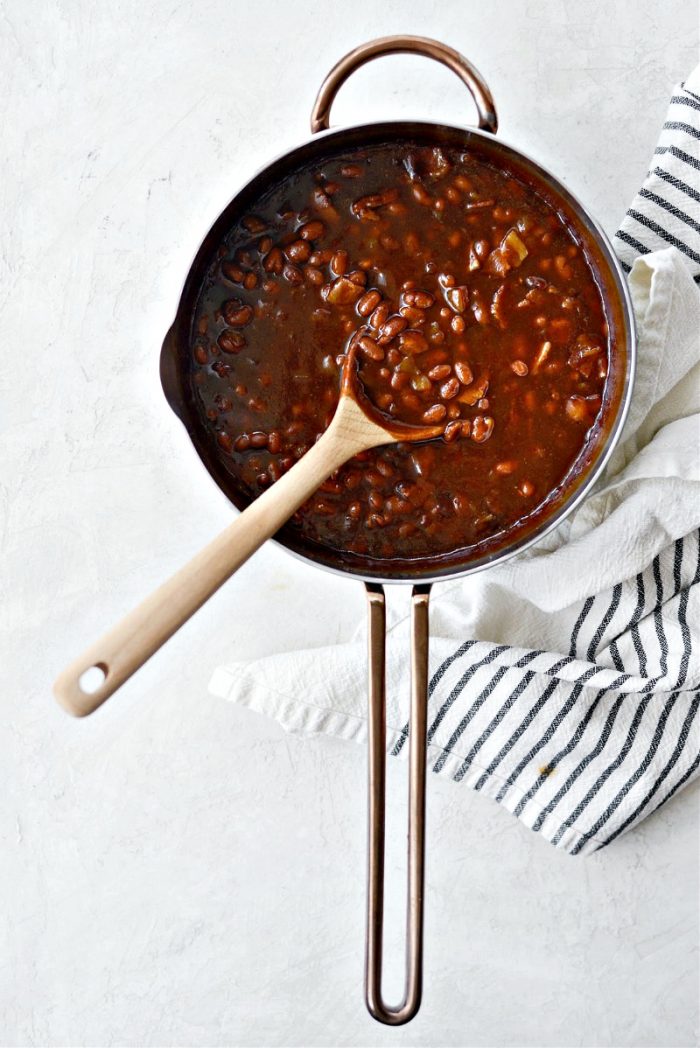 NOTE: Some may feel and have voiced that these are not from scratch because of the cans of beans used. You're correct. However that doesn't mean this recipe isn't delicious! If it makes you feel better, buy organic pork and beans. This recipe has been in my family for quite some time and it's perfection and I will never change it. 🙂
However, I did make scratch version of these homemade Baked Beans that you can find in my cookbook!
Enjoy! And if you give Homemade Baked Beans a try, let me know! Snap a photo and tag me on twitter or instagram!
Yield: 8 servings
Homemade Baked Beans:
A treasured recipe from my childhood! These semi-homemade baked beans are a staple with ham at Easter or serve at any summer cookout!
Ingredients
4 slices bacon, diced
1/2 cup yellow onion, diced very small
2 (15 ounce) cans organic pork and beans, or use your favorite
1/2 cup ketchup
1/4 cup un-sulphured molasses
1/4 cup dark brown sugar, or light brown sugar
1/2 teaspoon ground clove
1/2 teaspoon ground mustard
Instructions
Preheat your oven to 350°.

Add the bacon and onion to a 3 quart dutch oven or sauce pan (that has a lid) on medium heat.

Sitr and cook until the onions are soft and the bacon is cooked. Remove the pan off the heat to a heat safe trivet.

To the pot add the beans, ketchup, molasses, brown sugar, ground clove and mustard and stir to combine.

Cover and slide the pot onto the middle rack of your preheated oven. Bake for a total of one hour, stirring every 20 minutes. Uncover and bake for the last 20 mintues.

Allow the beans to cool a bit before serving.
Serving: 1g, Calories: 196kcal, Carbohydrates: 41g, Protein: 6g, Fat: 2g, Saturated Fat: 1g, Polyunsaturated Fat: 1g, Monounsaturated Fat: 1g, Cholesterol: 8mg, Sodium: 584mg, Potassium: 556mg, Fiber: 6g, Sugar: 18g, Vitamin A: 77IU, Vitamin C: 3mg, Calcium: 89mg, Iron: 2mg
This post may contain affiliate links.
Buy the Cookbook: Simply Scratch : 120 Wholesome Homemade Recipes Made Easy Now available on Amazon »
THANK YOU in advance for your support!