This Mexican slaw is filled with fresh vegetables like peppers, carrots, jicama, jalapeno and cilantro and then tossed in a cumin lime dressing.
How was your weekend? Hopefully it went by slowly and didn't fly by like mine did.
We went to our good friend's house for dinner on Friday, which is always fun. Then on Saturday, in the morning I had my Zumba class and then opened a few windows- because it was 55 degrees!!- and did a ton of spring cleaning. Pat and I had a date night and went to our favorite Mexican restaurant and split chicken fajitas for two- so much fun.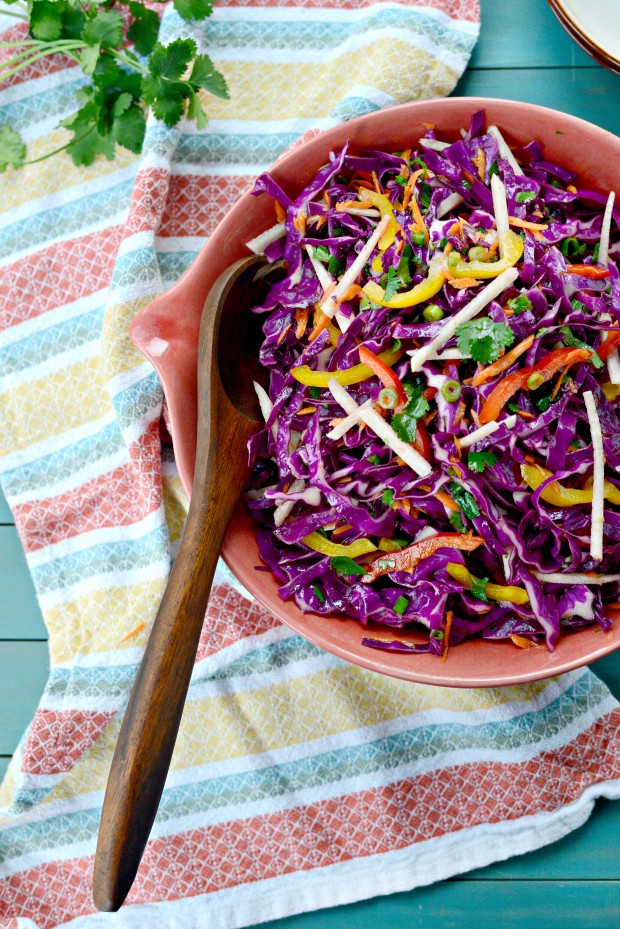 The flavors of my favorite cuisine inspired this colorful and crisp vegetable slaw.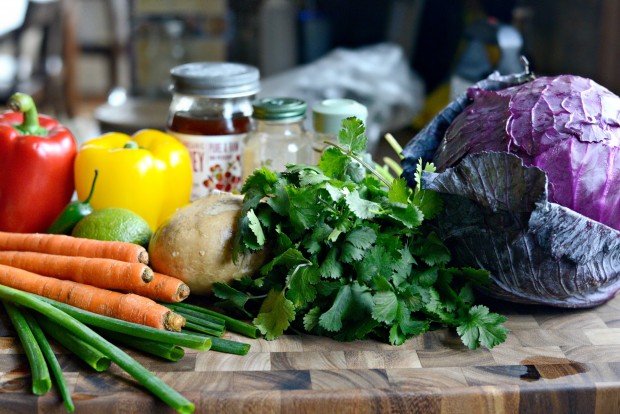 Vegetables like red and yellow bell peppers, carrots, jicama, jalapeno, cilantro and purple cabbage are tossed in a light lime and honey vinaigrette spiced with cumin, coriander and a pinch of chili powder- making this perfect if you're watching calories or if you want a egg and/or dairy-free slaw option.
Start by slicing or shredding up 4 cups of purple cabbage. It's totally okay to eyeball it here.
Next, slice 1/2 of both the red and yellow bell peppers into thin strips. Use a vegetable peeler to remove the waxy skin off of a small jicama, slice it into planks and then into matchsticks- you'll want 1 to 1-1/2 cups. Peel and grate two medium carrots and slice 4 green onions.
Lastly, mince up a small jalapeno- leave the seeds and ribs if you want more spice, and roughly chop a large handful of fresh cilantro- about 1/3 to 1/2 cup.
Next, add it all into a large bowl and toss together. Set that off to the side and whip up the cumin lime dressing.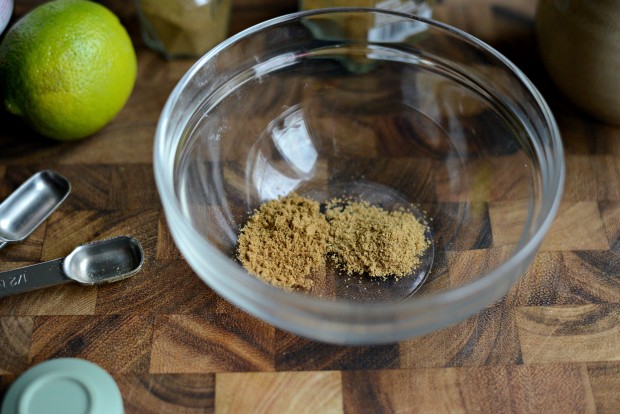 Then add 3/4 teaspoon of cumin and 1/2 teaspoon of coriander to a small bowl.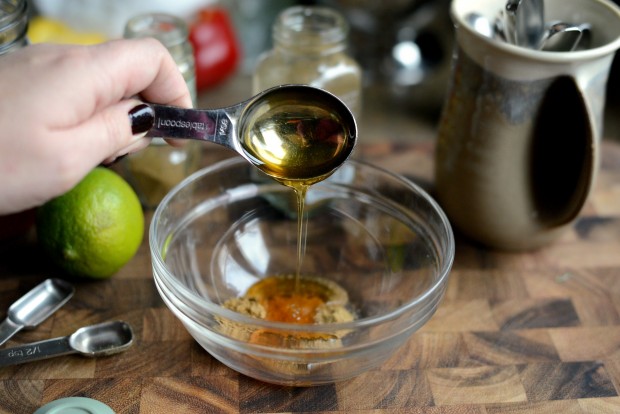 Next add in 1 tablespoon honey and then the juice of 2 limes or 1/4 to 1/3 of a cup.
While whisking, pour in 3 tablespoons olive oil.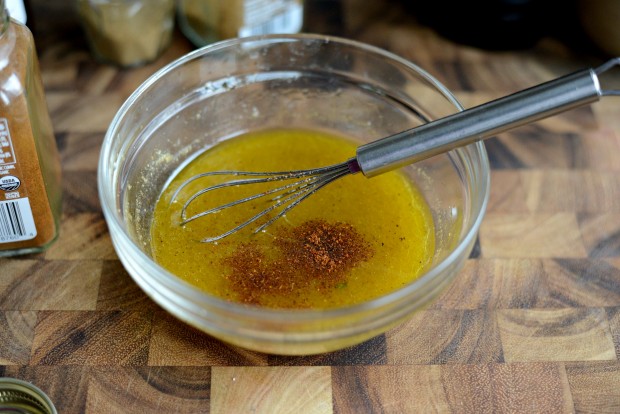 And then add a generous pinch (1/8 to 1/4 teaspoon) chili powder.
Lastly, taste and season with a pinch of kosher salt and a few grinds of fresh black pepper.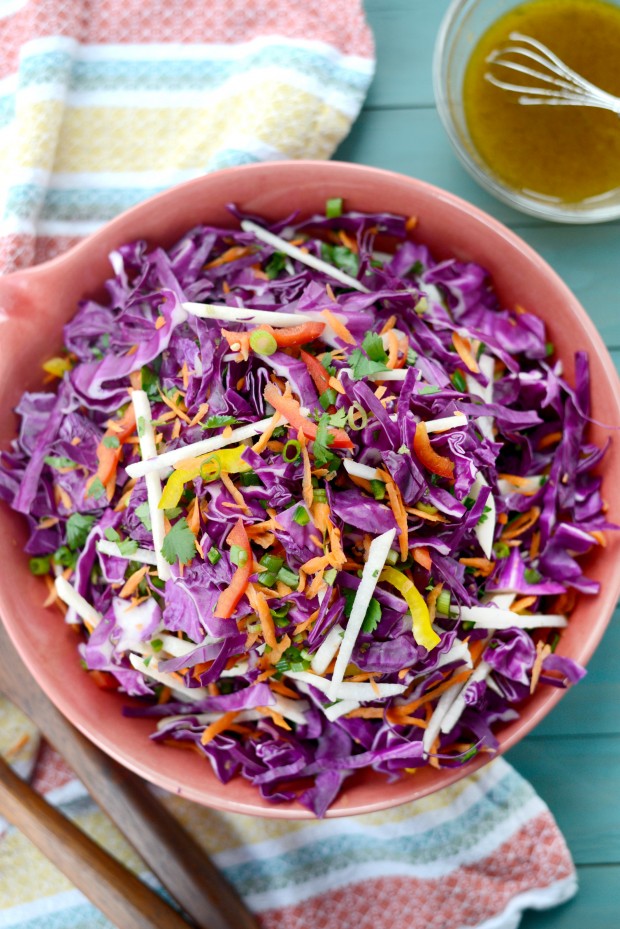 A little bit of advice, if making this in advance- prep all the veggies and make the dressing. Then toss the dressing with the vegetables together right before serving. This keeps everything fresh and crisp, and the cabbage from bleeding into the jicama. That's not to say that you can't enjoy this the next day. I enjoy it for a few days afterwards, it's just not as pretty… but if it's just you than there's no one to give a care. This can be a healthy side dish to chicken or fish, or top to top your favorite tacos- which I may or may not be sharing with you in the next few days. (stay tuned!)
Enjoy!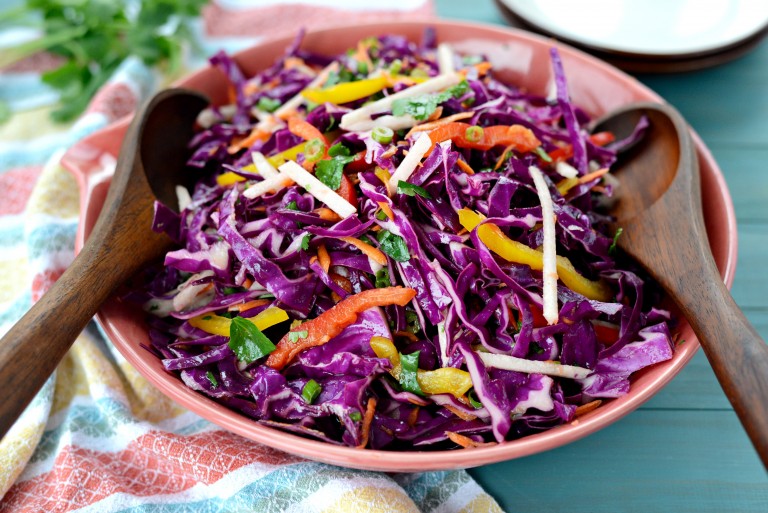 My cookbook Simply Scratch : 120 Wholesome Homemade Recipes Made Easy is now available! CLICK HERE for details and THANK YOU in advance!
Yield: 4 servings
Mexican Slaw + Cumin Lime Dressing
A color mix of fresh veggies like purple cabbage, jicama, carrots and bell peppers tossed in a light and healthy cumin lime dressing.
Ingredients
FOR THE SLAW:
4 cups sliced purple cabbage
1½ cups sliced jicama
1 cup grated carrots
1/2 red bell pepper, sliced into thin strips
1/2 yellow bell pepper, sliced into thin strips
4 green onions, sliced
1 small jalapeno, seeded for less heat, minced
1/3 cup chopped fresh cilantro
CUMIN LIME DRESSING:
3/4 teaspoon cumin
1/2 teaspoon ground coriander
1/4 teaspoon chili powder
1 tablespoon honey
1/3 cup fresh lime juice
3 tablespoons olive oil
kosher salt, to taste
freshly ground black pepper, to taste
Instructions
Toss the slaw ingredients into a large bowl.

In a small bowl measure in the cumin, coriander and chili powder. Add in the honey and lime juice, then whisk in the olive oil. Season with salt and pepper to taste.

Toss the slaw in the dressing right before serving.
Calories: 189kcal, Carbohydrates: 23g, Protein: 3g, Fat: 11g, Saturated Fat: 2g, Polyunsaturated Fat: 1g, Monounsaturated Fat: 8g, Sodium: 55mg, Potassium: 542mg, Fiber: 6g, Sugar: 12g, Vitamin A: 7144IU, Vitamin C: 122mg, Calcium: 78mg, Iron: 2mg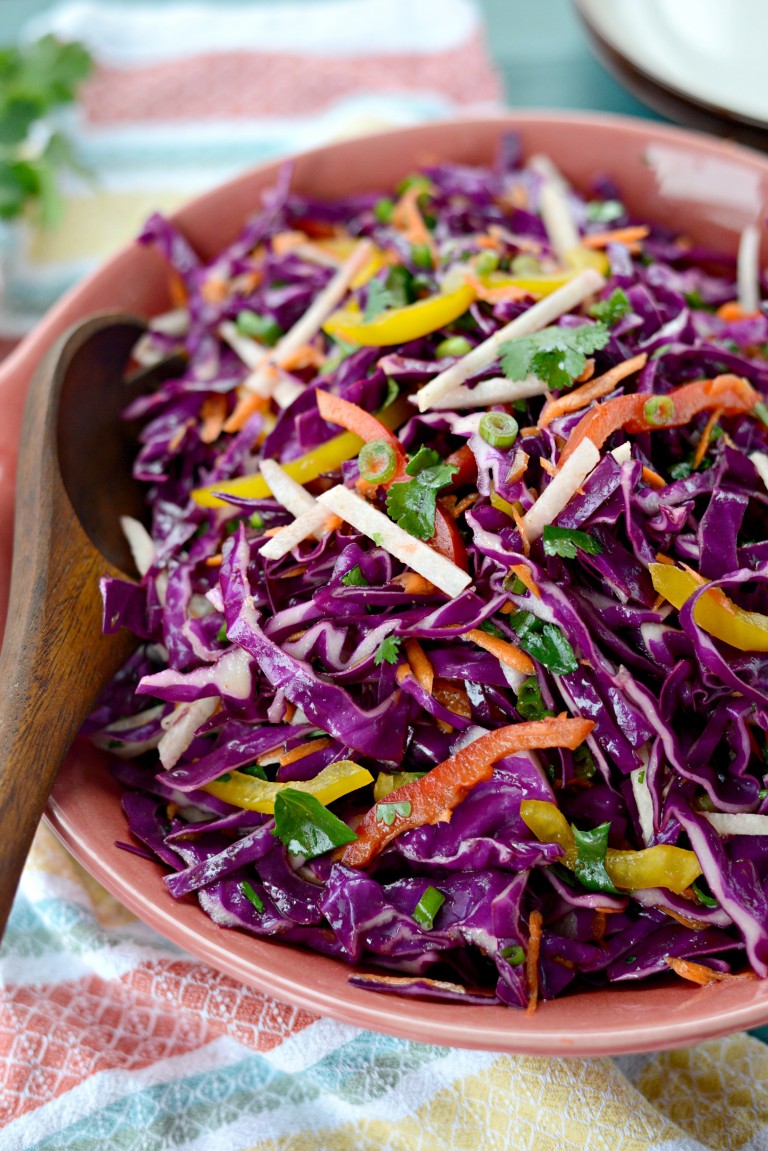 This post may contain affiliate links.
Buy the Cookbook: Simply Scratch : 120 Wholesome Homemade Recipes Made Easy Now available on Amazon »
THANK YOU in advance for your support!