These triple berry bran muffins and healthful and nutritious. I use a combination of blueberries, blackberries and raspberries for maximum berry deliciousness.
Are you a bran fan?
Even though I was the pickiest kid alive, I've always like bran. To this day I still love a bowl of bran flakes (cereal) with raisins, I eat Cracklin' Oat Bran out of the box as a snack and of course I enjoy the occasional bran muffin.
These muffins were inspired by a road trip. When our kids were little, every summer my bff Nichole and I would pack them up and take them to the west side of the mitten for a mini vacation. One particular time we were on our way back to our hotel after going to Michigan Adventures (a kid-friendly amusement park) and we totally got lost and wound up at some farm. We stopped to collect ourselves and purchased a pint of strawberries and the best strawberry bran muffins I've ever tasted. Okay, so the only strawberry bran muffins I've ever tasted, but still they were GOOD.
Now these aren't strawberry because the strawberries at my grocery store were looking more white than a deep red and thought I'd just save the strawberry bran recipe for another time. However the organic berries looked amazing, so triple-berry is what you get. I hope you don't mind.
To Make These Triple Berry Bran Muffins You'll Need:
wheat bran
buttermilk
whole wheat flour
baking soda
baking powder
kosher salt
brown sugar
honey
applesauce
egg
vanilla extract
raspberries, blackberries and blueberries
Feel free to mix it up with strawberries or all blueberries. If making an all blueberry muffin, you'll need about 1-1/2 cups of blueberries.
Add the 1-1/2 cups of wheat bran (I'm using Bob's Red Mill) into a medium bowl.
Pour in 1 cup of buttermilk.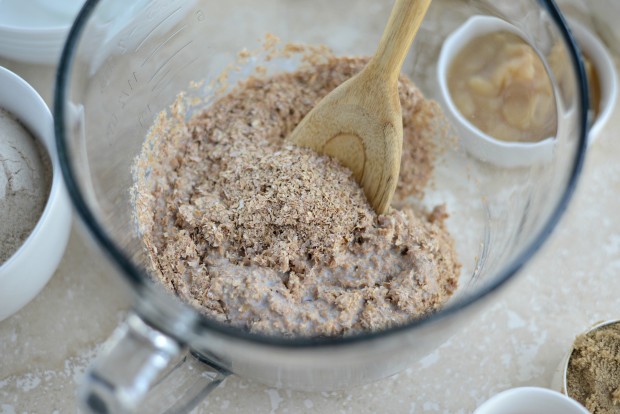 Stir until the bran has absorbed all of the buttermilk. Set that off to the side for a moment to get the rest of the muffin ingredients prepped.
Place 1 cup whole wheat flour into a bowl and in 1-1/2 teaspoons of both the baking soda and baking powder plus 1/4 teaspoon of kosher salt.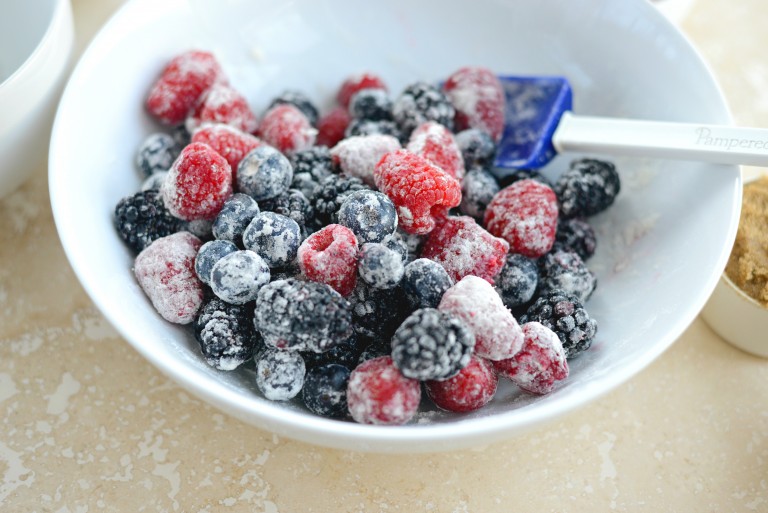 In a separate bowl place, gently toss 1 cup blueberries, 3/4 cup both raspberries and blackberries with 1 tablespoon of all-purpose flour together, then set them off to the side.
Add 1/2 cup of unsweetened applesauce, 1 egg, 1/3 cup of both honey and dark brown sugar plus a 1/2 teaspoon of vanilla extract to the bowl with the bran and buttermilk.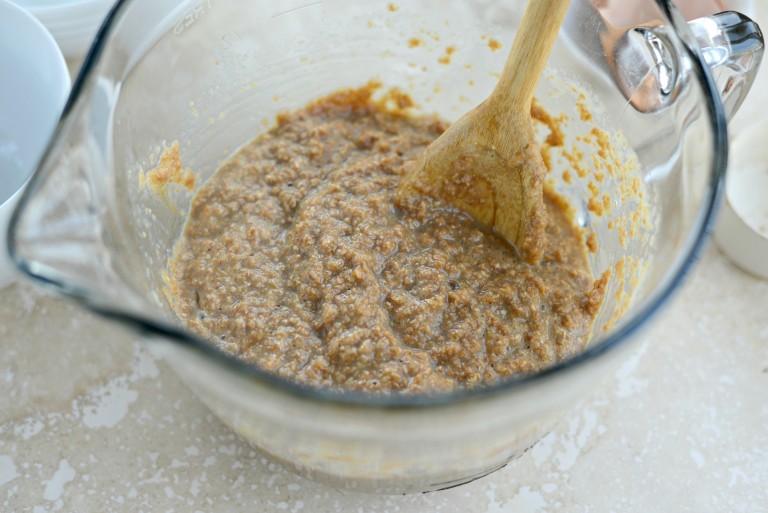 Stir until combined.
Pour the wet ingredients into the bowl with the dry and stir until just combined.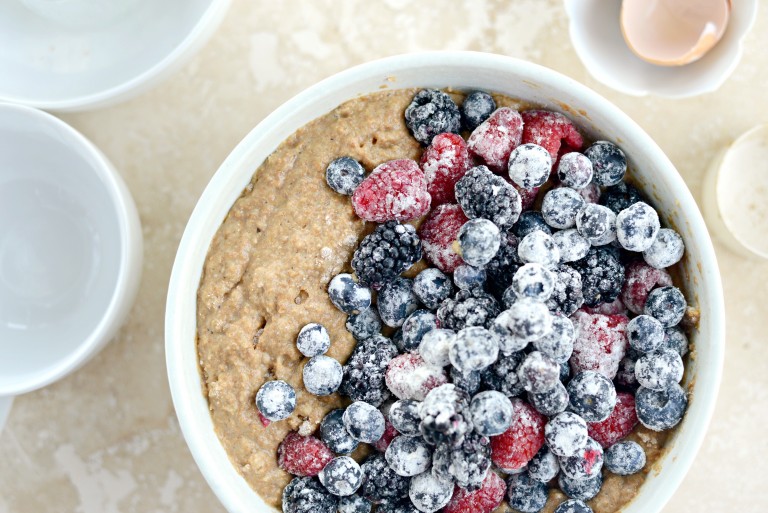 Add in the berries.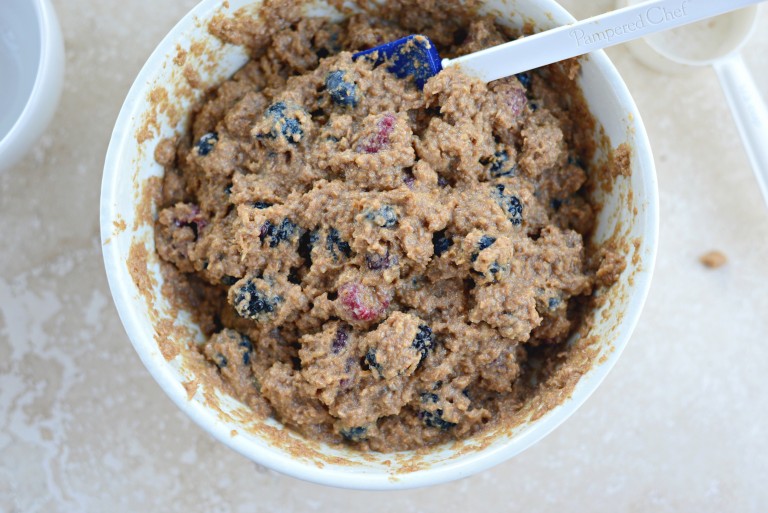 Gently fold them in with a spatula.
The batter is light and fluffy making this job super easy.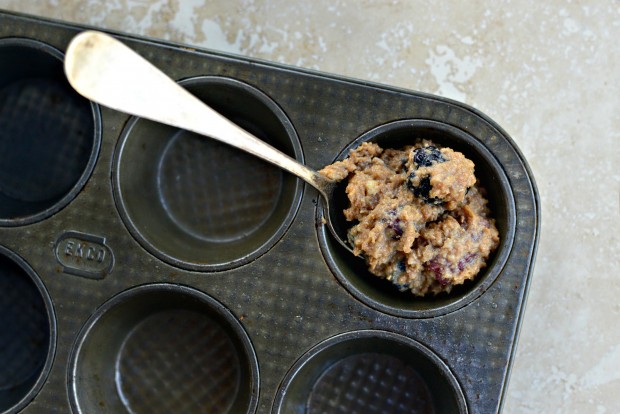 Divide the batter by spooning into a well greased standard 12-cup muffin tin.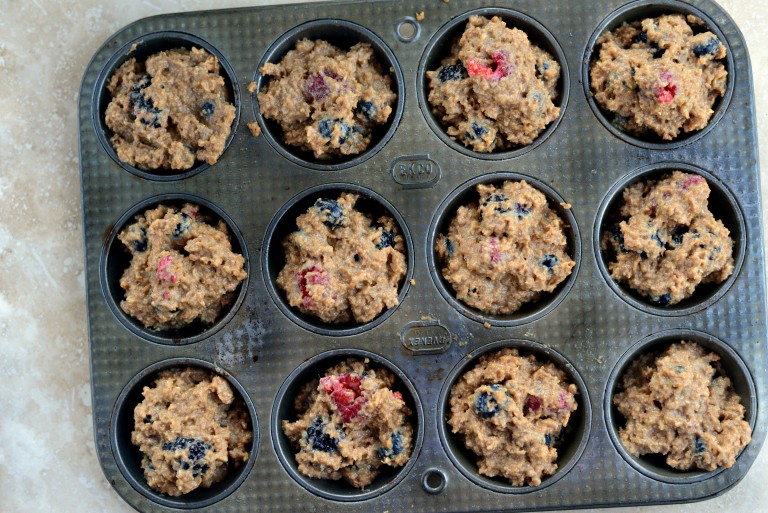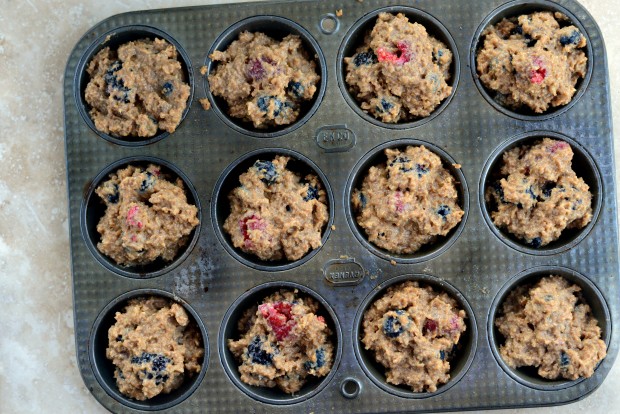 Slide the pan into your preheated 325° oven and bake for 22 to 24 minutes on the middle rack. Like most muffins I make, I like to sprinkle the top of each muffin with a little raw (turbinado) sugar before baking. It will give a nice sweet and crisp top to the muffins, but it's totally optional.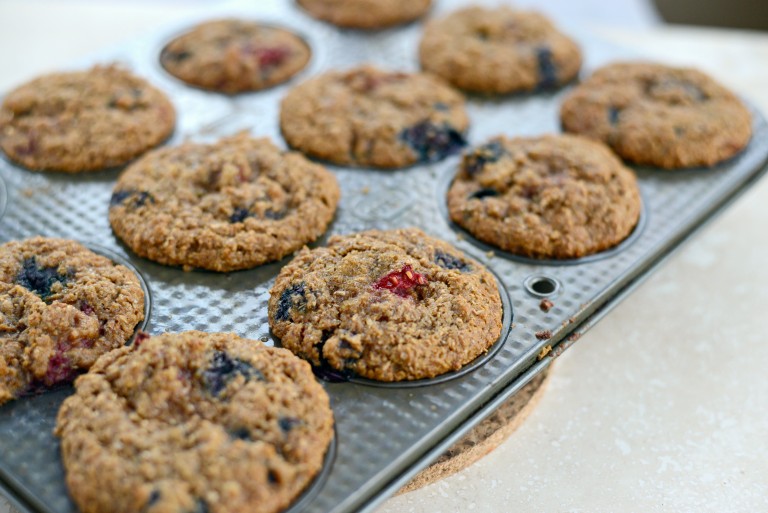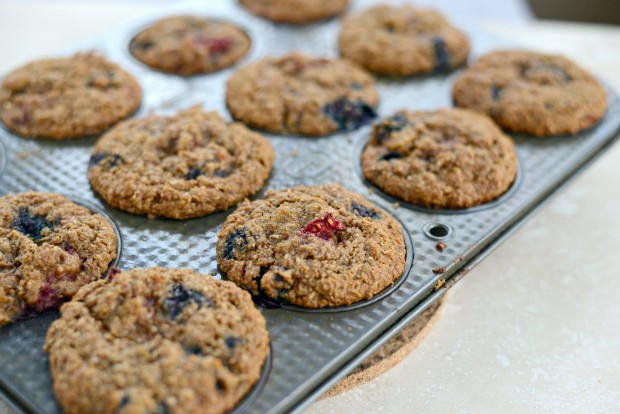 These muffins are done when you insert a toothpick and it comes back clean but with maybe a few crumbs attached.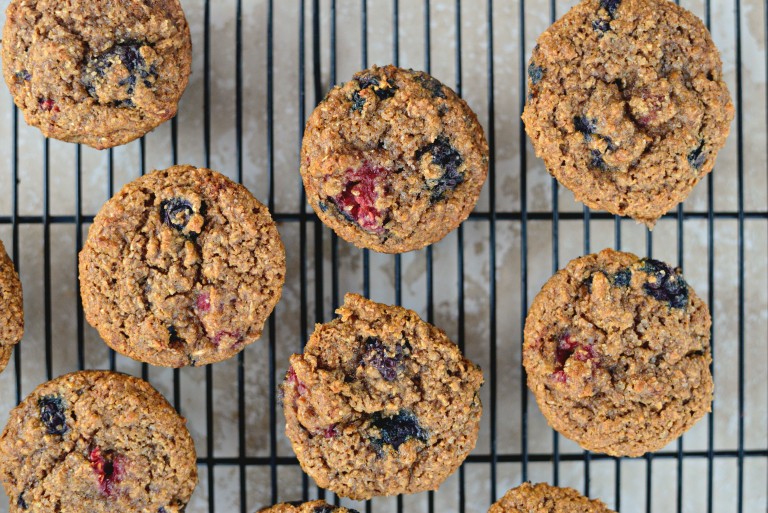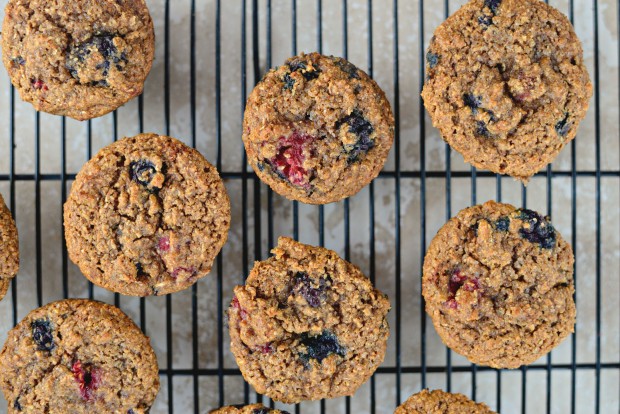 Allow the muffins to cool in the pan for 20 minutes before running a thin spatula around the edges. Gently lift these out of the muffin pan and place onto a cooling rack.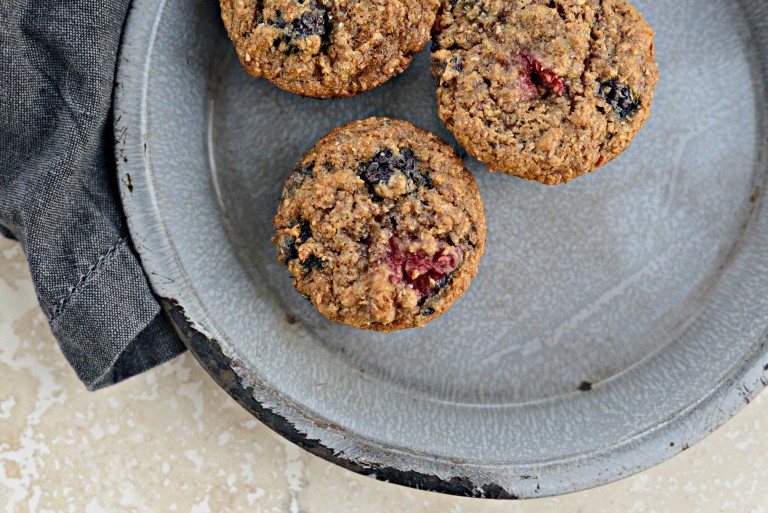 These are really good still warm from the oven.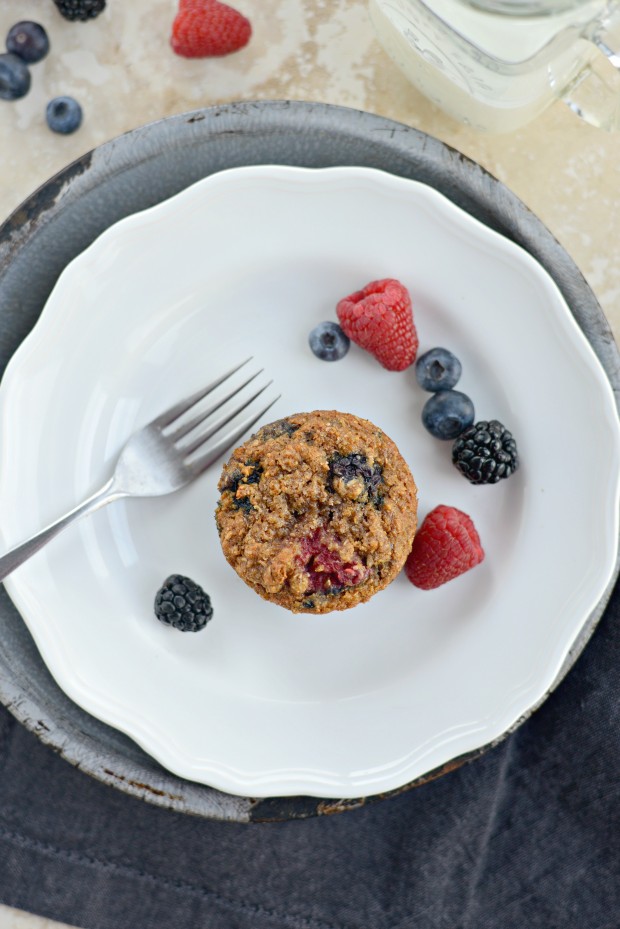 And they're REALLY good the next day with a cup of tea or coffee or orange juice.
They're so extremely moist that they don't need butter- although that's not a terrible idea, of course.
Perfect sweetness. Perfect wholesomeness. These fiber-packed bran muffins will keep you full and satisfied.
Click Here For More Muffin Recipes!
Enjoy! And if you give this Triple Berry Bran Muffins recipe a try, let me know! Snap a photo and tag me on twitter or instagram!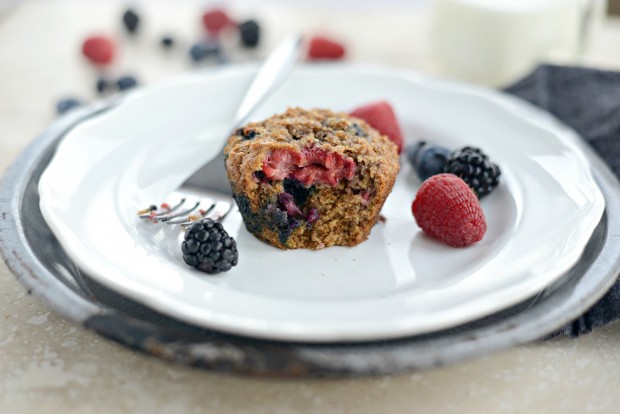 Yield: 12 servings
Triple-Berry Bran Muffins
Fresh blueberries, raspberries and blackberries add a burst of flavor and sweetness to these healthy bran muffins.
Ingredients
1½ cups wheat bran
1 cup buttermilk
1 cup whole wheat flour
1½ teaspoons baking powder
1½ teaspoons baking soda
1/4 teaspoon kosher salt
1/2 cup unsweetened applesauce
1 large egg
1/3 cup honey
1/3 cup dark brown sugar
1/2 teaspoon vanilla extract
1 cup fresh blueberries
3/4 cup fresh raspberries
3/4 cup fresh blackberries
1 tablespoon unbleached all-purpose flour
Instructions
Preheat your oven to 325 degrees and spray a 12-cup muffin tin with cooking spray. (I use my olive oil mister)

In a bowl combine the wheat bran and the buttermilk, stir and set off to the side while you prep the rest of the ingredients.

In another bowl, combine the whole wheat flour, baking powder, baking soda and salt. Stir to combine.

To the bowl with the wheat bran, add the applesauce, egg, honey, brown sugar and vanilla. Stir to combine before pouring into the bowl with the flour. Stir until just combined and scoot off to the side.

Gently toss the berries with a tablespoon of all purpose flour until coated, then add them to the bowl with the muffin batter. Gently fold the berries into the batter.

Divide the bran muffin batter into the prepared muffin tin. Sprinkle with turbinado sugar (if using) and slide the pan onto the middle rack of your preheated oven.

Bake for 22 to 24 minutes, or until a toothpick comes out clean with only a few crumbs attached. Rotate the pan halfway through to ensure even baking.

Allow the muffins to cool in the pan for 20 minutes before running a knife or offset spatula around the edges and removing. Transfer the muffins to a wire rack.

These muffins will last for a few days on the counter.
Serving: 1muffin, Calories: 142kcal, Carbohydrates: 32g, Protein: 4g, Fat: 2g, Saturated Fat: 1g, Polyunsaturated Fat: 1g, Monounsaturated Fat: 1g, Trans Fat: 1g, Cholesterol: 18mg, Sodium: 268mg, Potassium: 212mg, Fiber: 6g, Sugar: 18g, Vitamin A: 88IU, Vitamin C: 5mg, Calcium: 75mg, Iron: 2mg
This post may contain affiliate links.
Buy the Cookbook: Simply Scratch : 120 Wholesome Homemade Recipes Made Easy Now available on Amazon »
THANK YOU in advance for your support!