These Mexican Hot Chocolate Pecans are slightly sweet, only a smidgen spicy and a whole lot delicious! Perfect for your next holiday party!
One thing I love just as much as the whole salty-sweet thing… is the chocolate-cayenne combo. I first saw this recipe on Tasty Kitchen and I was completely sold. Hook. Line. SINKER!!
Whenever I find a recipe that has cocoa and cayenne pepper in the ingredient list I get all giddy inside. In this recipe the cayenne doesn't really add a dramatic spice factor, but there is a slight warmth that creeps over the back of your tongue that is quite fabulous.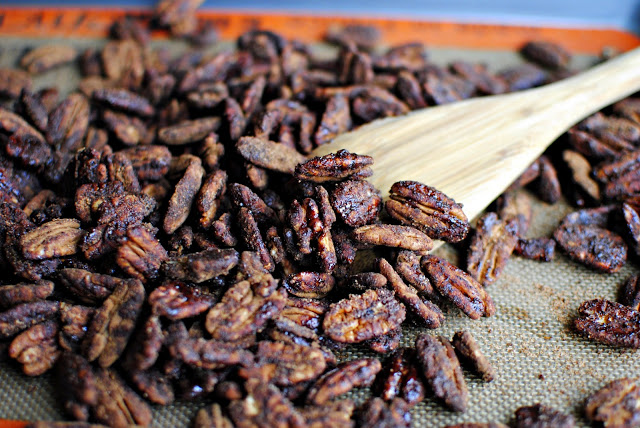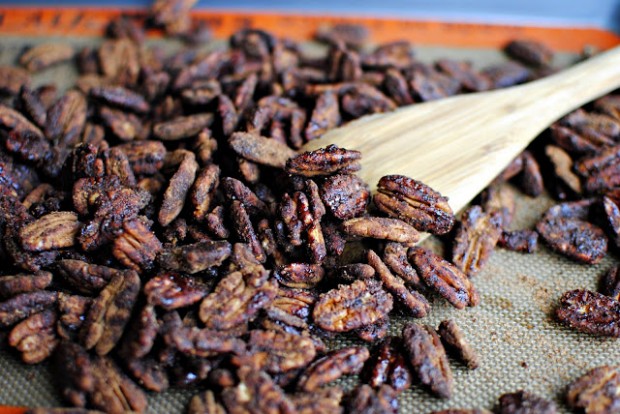 These nuts are the perfect little accessory to any festive party or lazy rainy day for that matter. Like a pair of pearl earrings or black heels, they just simply work. They're highly addictive with their crispy-cocoa texture and the subtle heat from the cayenne that'll no doubt leave you and your guests pondering what, why and how are these are so dang fantastic?
But if pecans aren't your thing, try mixing it up with some almonds. Really any nut would work just fine! I brought these choco-spiced pecans into work and shared them with my friends, most of which printed off this recipe immediately, and I found myself wishing I hadn't shared because in no time they were gone, fast. Too, too fast. 🙂
The goods.
Start by adding regular ol' sugar to a medium bowl.
Then throw in some cocoa powder. Careful, that stuff ends up everywhere.
Then add in the teaspoon and a half of cinnamon and the half teaspoon of ginger.
And a pinch of cayenne and allspice. (Psst… this is the secret weapon!!)
And that's pretty much it.
Just stir until combined. Go ahead and take a whiff, smells heavenly amiright?
Now separate the yolk from the whites.
Discard the yolk or save it if you like to make butter cream frosting so you can then eat it with a spoon.
Whip up the egg white until small peaks form.
Add in the roughly 4-1/2 cups of pecans.
Stir…
…until every nook and cranny is coated with foamy egg whites.
Add in the cocoa mixture.
And toss until the pecans are well coated. You will have some left over cocoa mixture, but hey… that's totally okay.
With a slotted spoon, scoop them onto a lined cookie sheet. I used the slotted spoon because I wanted to keep that extra cocoa mixture in the bowl and not on my cookie sheet.
Spread the Mexican hot chocolate pecans evenly and pop them into a preheated 250° oven and bake for 20 minutes.
Remove, stir and bake for an additional twenty. *Notice they still look wet and sticky*
After that, the pecans were dried and perfectly toasted. The recipe calls for up to an hour, so use your best judgment.
Store in an airtight container or if hosting a party, scatter these nuts in little candy dishes throughout your house. To share or not to share, that is the question!
Enjoy! And if you give this Mexican Hot Chocolate Pecans recipe a try, let me know! Snap a photo and tag me on twitter or instagram!
Yield: 16 servings
Mexican Hot Chocolate Toasted Pecans
These Mexican Hot Chocolate Toasted Pecans are slightly sweet, only a smidgen spicy and a whole lot delicious! Perfect for your next holiday party!
Ingredients
16 ounces pecans
1 egg white
2/3 cup white sugar
1/4 cup unsweetened cocoa powder
1½ teaspoon cinnamon
1/2 teaspoon ground ginger
1 pinch cayenne pepper
1 pinch ground allspice
Instructions
Preheat your oven to 250°.

Line a cookie sheet with a silpat or grease with butter or coconut oil.

Mix the sugar, cocoa powder and all the spices in a medium bowl and set aside.

Beat the egg white with a whisk until it is thick and frothy and small peaks form.

Add in the pecans. Stir to coat.

Next, add the cocoa mixture and combine until the nuts are evenly coated.

Scoop the nuts with a slotted spoon onto the prepared pan and place in your preheated oven for 20 minutes.

Remove, toss and place back in the oven for 20 more minutes.

After the first 40 minutes, check your nuts to see if the cocoa/sugar doesn't crumble off of the nuts. If it does, place it back in the oven for 20 more minutes, otherwise let cool slightly and serve!
Serving: 1ounce, Calories: 233kcal, Carbohydrates: 13g, Protein: 3g, Fat: 21g, Saturated Fat: 2g, Polyunsaturated Fat: 6g, Monounsaturated Fat: 12g, Sodium: 4mg, Potassium: 142mg, Fiber: 3g, Sugar: 9g, Vitamin A: 19IU, Vitamin C: 1mg, Calcium: 24mg, Iron: 1mg
This post may contain affiliate links.
Buy the Cookbook: Simply Scratch : 120 Wholesome Homemade Recipes Made Easy Now available on Amazon »
THANK YOU in advance for your support!