This lighter fettuccine alfredo is so scrumptious! A deliciously fun and lighter twist on the beloved and classic fettuccine alfredo.
Ohhhhh heyyyy there pretty pasta.
Please don't let this bowl of deliciousness fool you… it's not just a pretty face-err pasta. It's actually not so bad for you. Note that I didn't say the word healthy because it's still a pile of saucy carbs. What I did manage to do is shave off… ohhhhhh like over a THOUSAND or two calories. Give or take.
Typically I don't like to brag. But in the case of fettuccine I just have to. So here it goes. Actually, you might want to sit down. I've been working on a fettuccine recipe that didn't call for butter and particularly one that wouldn't curdle on me. So I've scaled it down from two sticks of butter to… wait for it… two tablespoons of olive oil. I know. I know! It's pretty much all kinds of ridiculous. Now I didn't skimp on the cheese, so don't worry there. It's just lighter and well great.
FUN FACT: Two sticks of butter is 1,680 calories. I Googled it.
First things first get all your prep done first.
Grate and measure your cheese, measure the broth and heavy cream and finally, dice up a medium shallot and two cloves of garlic.
Oh and measure out a quarter cup of dry white wine… or if you prefer not to use wine then just add a quarter cup more of the broth.
In a deep skillet, measure out two tablespoons of olive oil and heat over medium temperature.
Once hot, throw in the diced shallot.
Cook until soft, about 2-3 minutes.
Mine got a little too brown while I tried to snap the picture… don't be like me. Now add in the minced garlic and cook for a minute.
Add in the white wine and let bubble for a minute or two.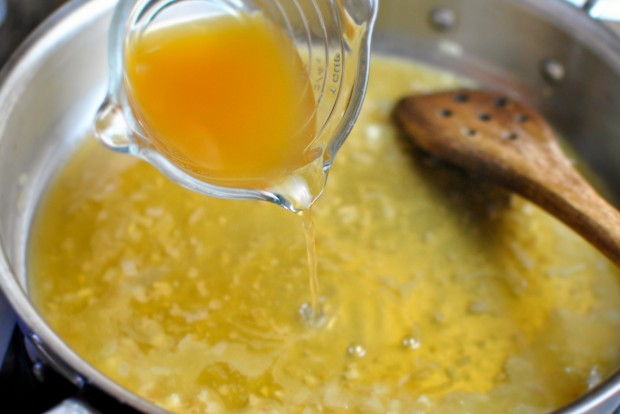 Next pour in the cup of chicken broth…
Along with 1/3 cup of heavy cream. Traditionally fettuccine calls for 3/4 cup that's 616 calories, folks… crazy.
Stir and simmer until the sauce thickens and starts to coat the back of your spatula.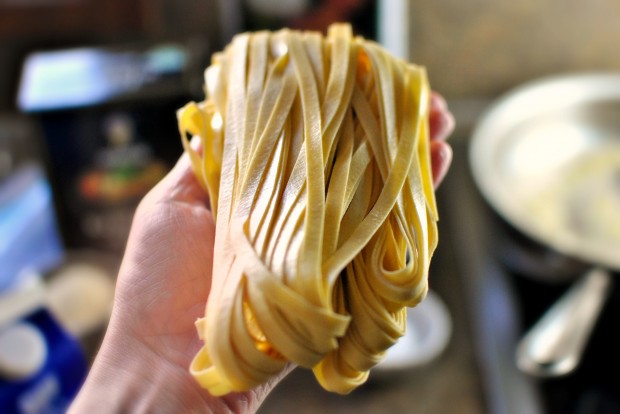 Meanwhile, season the pot of boiling water and drop in the fresh pasta. It should only take about 3-4 minutes, so now is the perfect time to drop it in. I personally prefer fresh over a box of dried fettuccine. Until I get my pasta attachment for my Kitchen Aid, it's the best I can do.
Here's where I forgot to take a picture of stirring in the cheese. Gah! I know! TRUST me on this, you'll want to grate the cheese yourself. Buying pre-grated cheese is a bad idea unless it states that the only ingredient is parmesan. Otherwise, it won't really melt into the sauce, I bet it's because usually pre-grated cheese is coated in an anti-caking substance that keeps the cheese from clumping together which then clumps in your alfredo sauce, riddle me that? If you aren't up for grating it by hand then cut off pieces and process it in a mini food processor until it's finely "grated".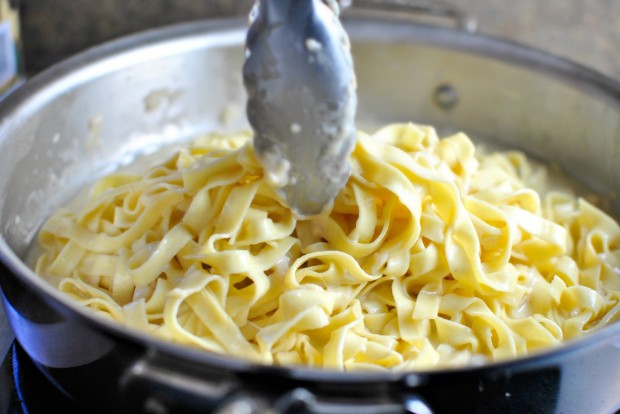 Reserve a 1/2 cup of pasta water before draining the pasta into a colander. Kill the heat under the pan, add the pasta into the cheesy sauce and toss to coat. If you find the sauce to be a tad too thick then pour in a little of the pasta water.
Taste and season with salt and black pepper to your preference.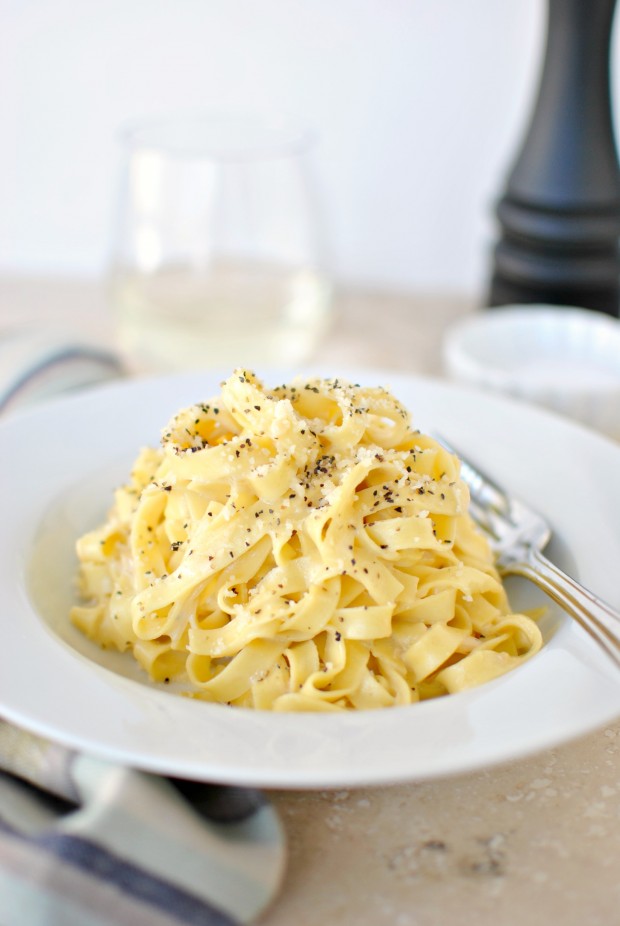 Serve with more black pepper and a sprinkle of Parmesan cheese.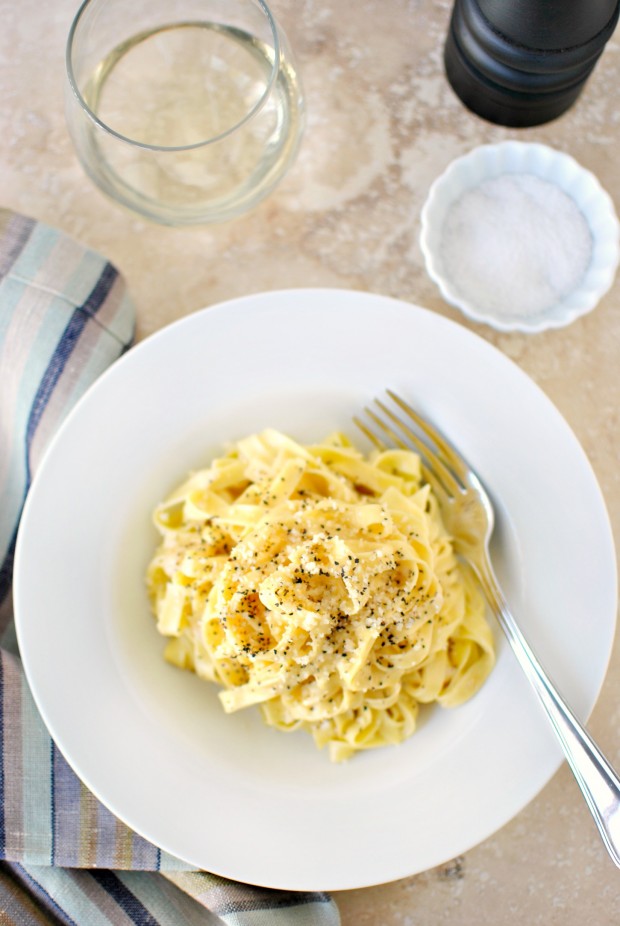 I have to say, my husband is my official fettuccine taste-tester…and he approves.
Oh and guess what?! This lighter fettuccine alfredo didn't curdle. WIN.
The moral of the story is this; if you're looking for that ultra rich and buttery classic fettuccine recipe this lighter fettuccine alfredo clearly isn't it. But if you're looking for a way to enjoy alfredo without feeling like you need to run a mile after each bite… then this is your jam.
It's alfredo on the lighter side and the fresh noodles really takes this dish over the top… well that and the cheese, of course.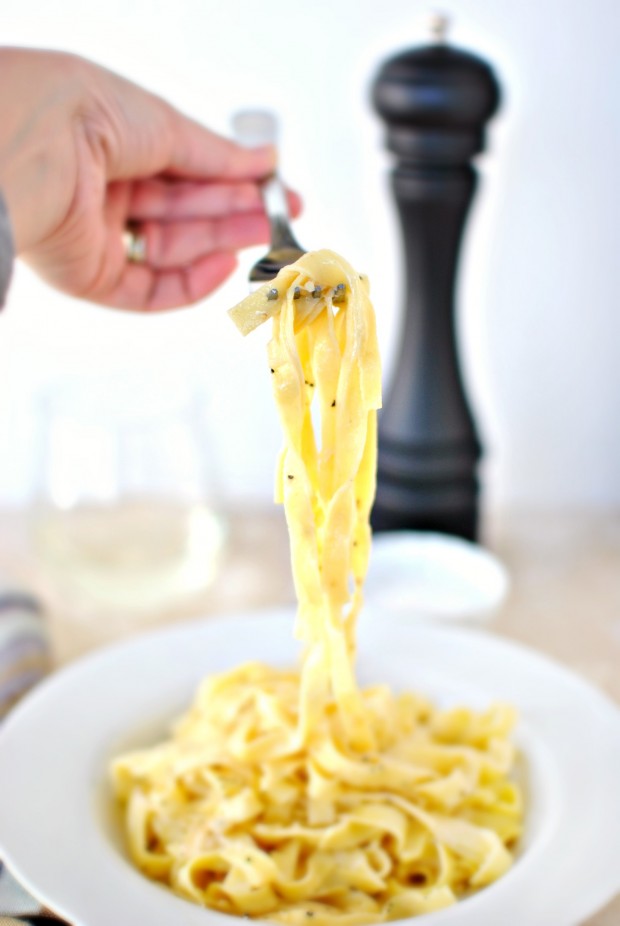 Speaking of bites… NOM!
Enjoy! And if you give this Lighter Fettucine Alfredo recipe a try, let me know! Snap a photo and tag me on twitter or instagram!
This post may contain affiliate links.
Buy the Cookbook: Simply Scratch : 120 Wholesome Homemade Recipes Made Easy Now available on Amazon »
THANK YOU in advance for your support!