In this lemon Dijon grilled chicken recipe you only need 6 ingredients and 15 minutes. What's not to love about this scrumptious marinade?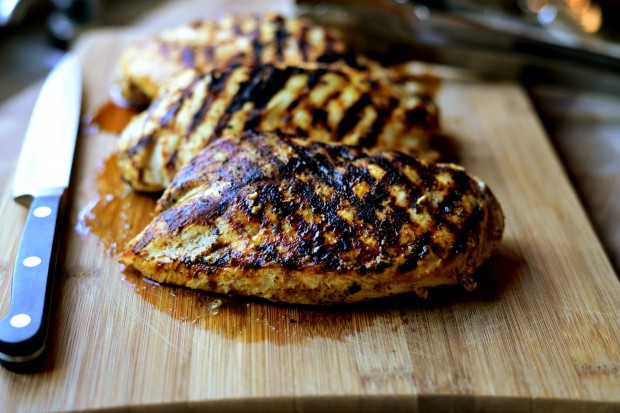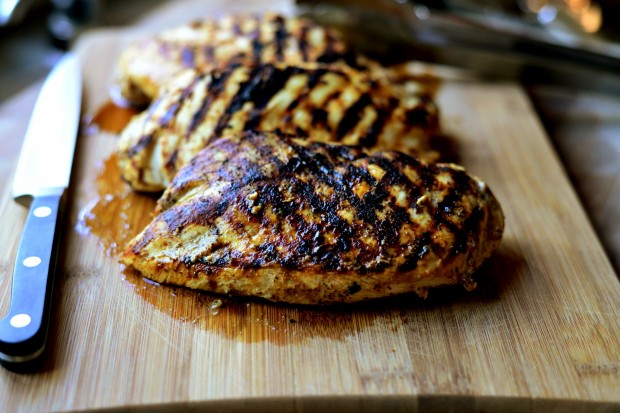 Who doesn't like a 6-ingredient, 15-minute marinade recipe?
Who also doesn't love it when they go out to grill only to find that their propane tank is e-m-p-t-y? Like all that I could hear was the click-click-click of the igniter and then nada, zip, zilch happened. I didn't really want to believe I ran out of gas, secretly I was hoping my grill was broken because between you and me… I don't love it. It's just too small for my grilling tastes. I want a beast of a grill that can cook a huge meal over it and well, this one isn't big, like at all.But yeah, it was just out of propane. Drat.
Luckily I have a cast iron grill pan to fill in for the job. But it did double my "grilling" time since I could only grill two pieces of chicken instead of all four at once. But oh-well, at least my grill isn't broken. Note the sarcasm.
To Make This Lemon Dijon Grilled Chicken You Will Need:
Dijon mustard
large lemon
extra light olive oil
marjoram
coarse ground black pepper
4 boneless, skinless chicken breasts, pounded thin
kosher salt
This lemon Dijon grilled chicken marinade is pretty dang scrumptious. I know there are a lot of Dijon-lovers out there just like me and this recipe doesn't disappoint. It literally takes 5 minutes to whisk together, pour it over the chicken and then an additional 15 minutes while the chicken comes up to room temperature.
Easy-peasy.
Start by measuring and adding in 1/4 cup of your favorite Dijon mustard.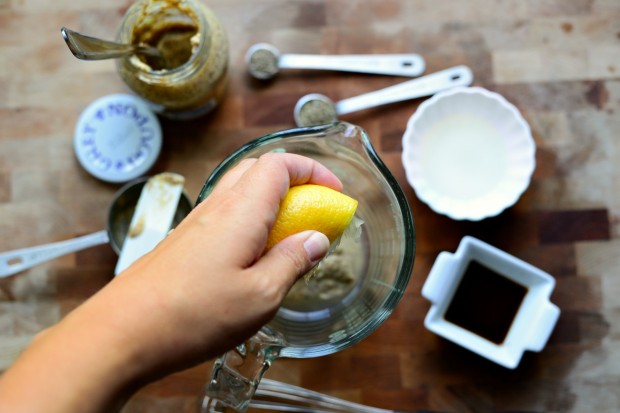 Squeeze the juice from 1 good-sized lemon.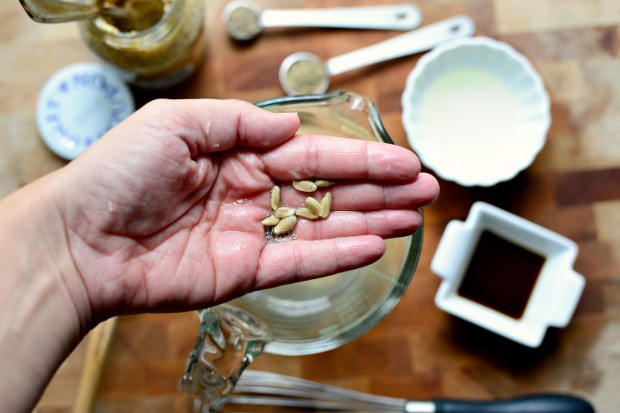 Do your best and avoid adding in the seeds.
Add in 1 teaspoon olive oil. I like to use extra light when grilling or roasting, but you use what you have.
Next add in 2 teaspoons of Worcestershire sauce for some savory goodness. Try my homemade-from-scratch Worcestershire sauce recipe!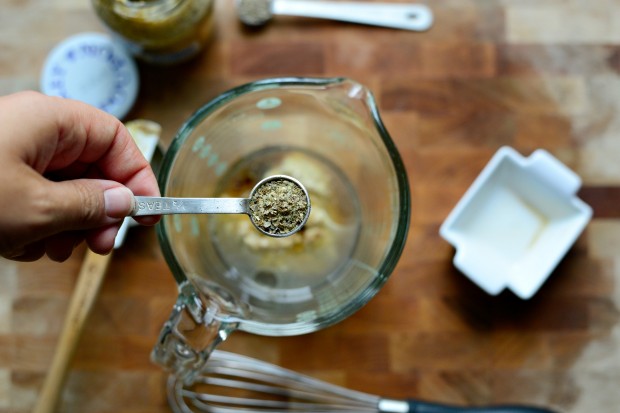 A 1/2 teaspoon of marjoram. Italian seasoning would work well too.
Lastly add in 1/4 teaspoon of coarsely ground black pepper.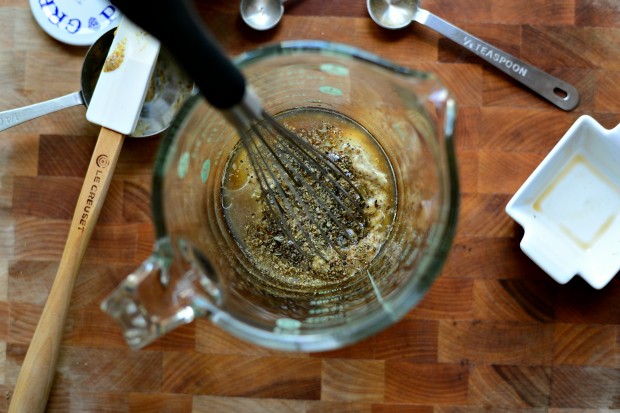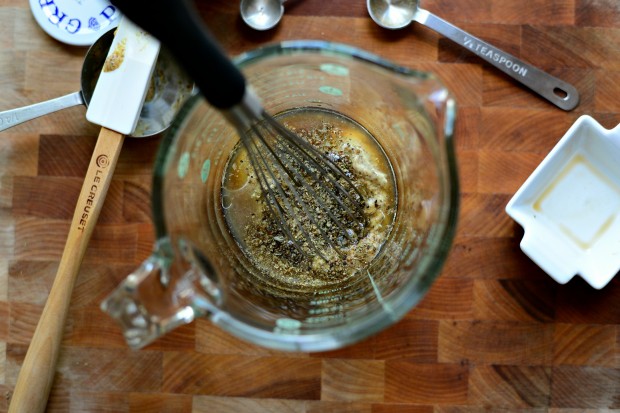 Get a whisk…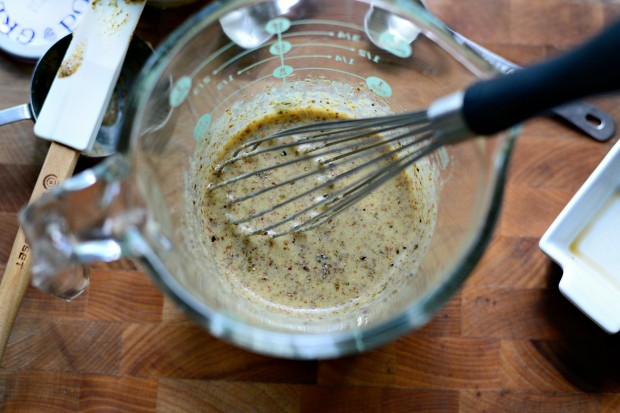 And blend until smooth.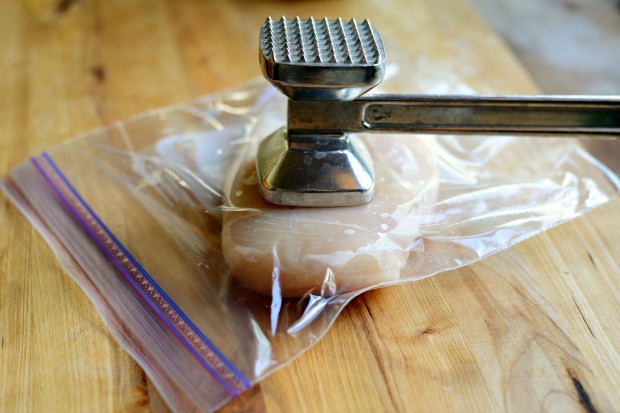 When grilling chicken I like to do one of two things. I either slice the chicken breasts in half horizontally so they are thinner OR I bust out my meat tenderizer, slip the chicken breasts between plastic wrap (or in this case a re-sealable bag zipped halfway) and pound the thicker part to match the thinner side. I base the decision to-pound-or-not-to-pound by my level of laziness.
So there it is, a flat…
…and super thin chicken breast.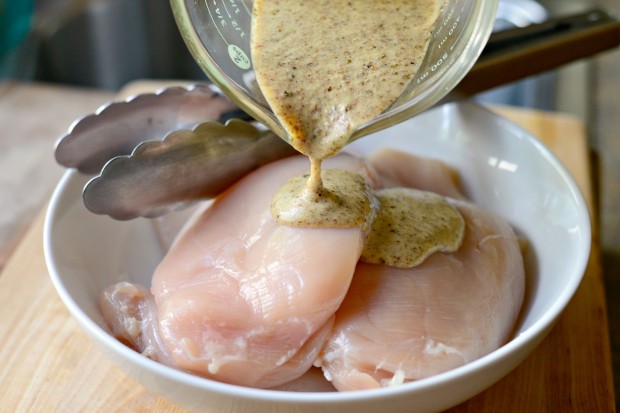 I place the four pounded breasts into a bowl and poured the lemony Dijon marinade over top.
Now it just gets to chillax while you preheat your grill or grill pan. Whether you're grilling in or outdoors, preheat to medium/medium high. Season the chicken with salt before cooking for about 6 minutes a side. I adjust the temp as I go so I get good grill marks and not over cook the chicken. It's a fine line, but I walk it daily.
That's it. I grilled up four, two I diced up and added to a chopped salad and saving the other 2 for lunches throughout the week.
Ps. the extra charred one in front is MINE.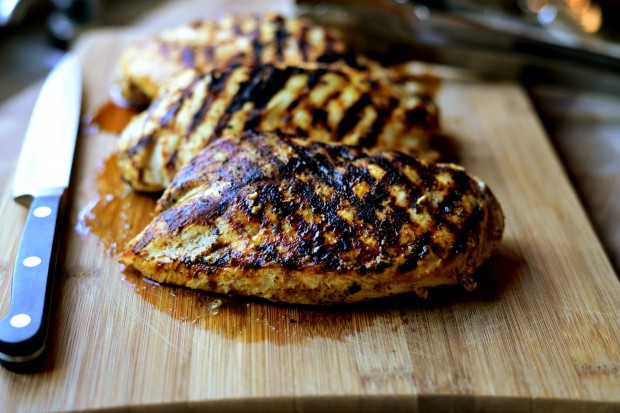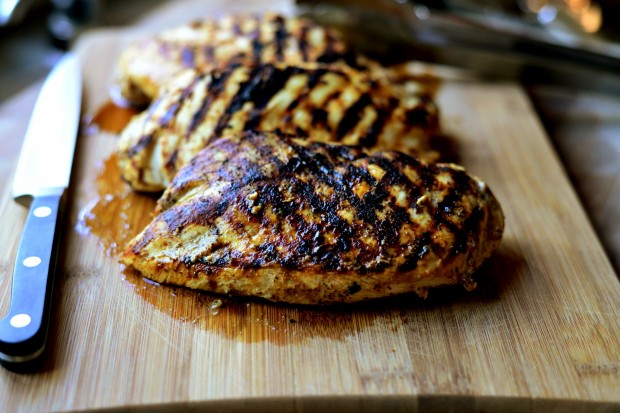 Enjoy! And if you give this Lemon Dijon Grilled Chicken recipe a try, let me know! Snap a photo and tag me on twitter or instagram!
Yield: 4 servings
Lemon Dijon Grilled Chicken : a 15-Minute Marinade
This Lemon Dijon Grilled Chicken is perfect as is or for topping a salad. Six ingredients and 15 minutes is all you need!
Ingredients
1/4 cup Dijon mustard
1 large lemon, juiced
1 teaspoon extra light olive oil
2 teaspoon worcestershire sauce
1/2 teaspoon marjoram
1/4 teaspoon coarse ground black pepper
4 boneless skinless chicken breasts, pounded thin
Instructions
In a measuring cup combine mustard, lemon juice, olive oil, Worcestershire, marjoram and black pepper.

Place the thin chicken breasts into a bowl, pour the marinade over prepared chicken and toss to coat. Leave the chicken on the counter for at least 15 minutes.

Preheat a grill to medium/medium-high and grill for 6 to 8 minutes a side. Adjust the heat accordingly.

Remove to a cutting board, tent with foil and allow the chicken to rest for 5-8 minutes before serving.
Serving: 1g, Calories: 159kcal, Carbohydrates: 4g, Protein: 25g, Fat: 5g, Saturated Fat: 1g, Polyunsaturated Fat: 1g, Monounsaturated Fat: 2g, Trans Fat: 1g, Cholesterol: 72mg, Sodium: 338mg, Potassium: 503mg, Fiber: 1g, Sugar: 1g, Vitamin A: 55IU, Vitamin C: 16mg, Calcium: 26mg, Iron: 1mg
This post may contain affiliate links.
Buy the Cookbook: Simply Scratch : 120 Wholesome Homemade Recipes Made Easy Now available on Amazon »
THANK YOU in advance for your support!