This vegetarian Lemon Chickpea Soup is deliciously light and lemony. A simple one-pot soup of tender vegetables, pasta and chickpeas is topped with generous amounts of grated parmesan and a sprinkle of parsley. Recipe serves 8 in about 45 minutes.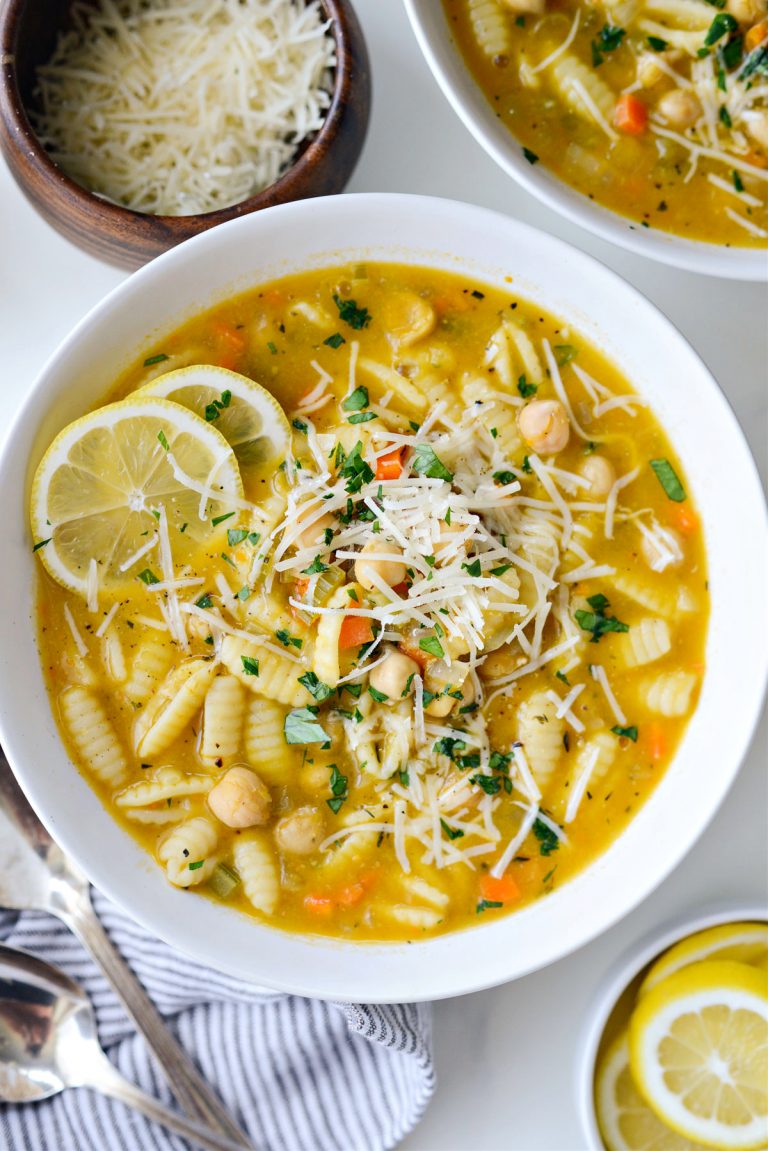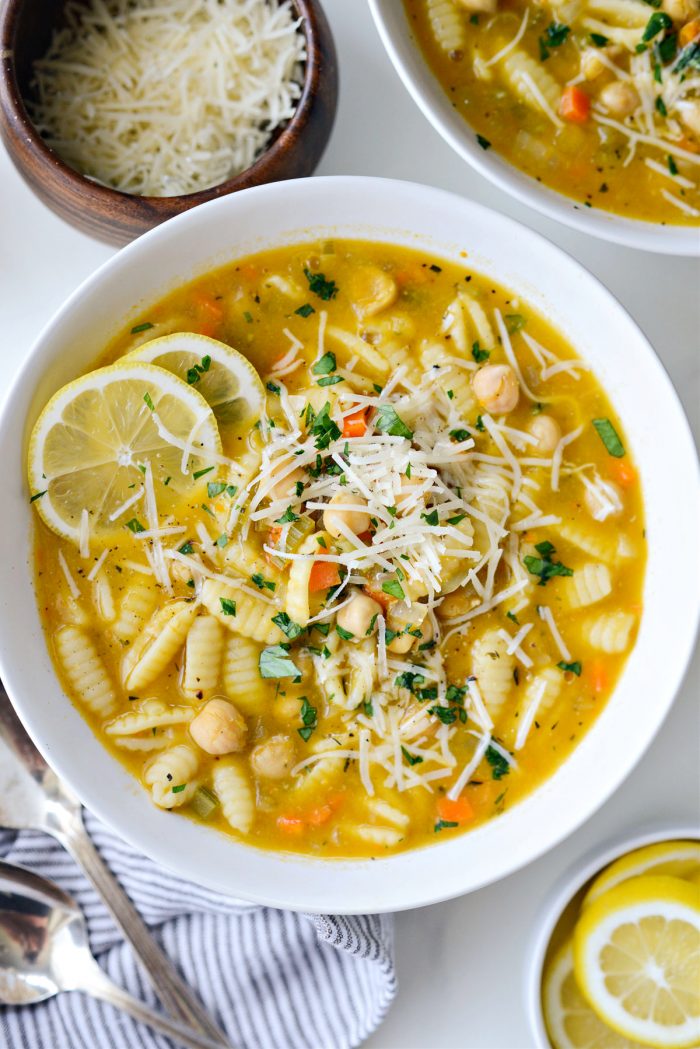 Is it ever not soup season?
Okay so maybe I take a break over summer (unless gazpacho is on the menu) but until then, I still enjoy soup throughout most of spring. Because of Michigan's unpredictable weather, snow is a possibility still in April. On the day I made this, it was dark and stormy and this golden vegetarian number was the bright spot of the gloomy yet cozy afternoon.
It's a simple soup recipe, sauté the classic trio of veggies i.e. carrot, celery and onion in garlic infused olive oil. Add thyme, chickpeas and broth before simmering. I thicken the soup up by pureeing a few ladles of chickpeas – this also adds amazing texture. Lastly add in the pasta (which will also help thicken the soup) and once tender, squeeze in the juice of a small lemon. So easy.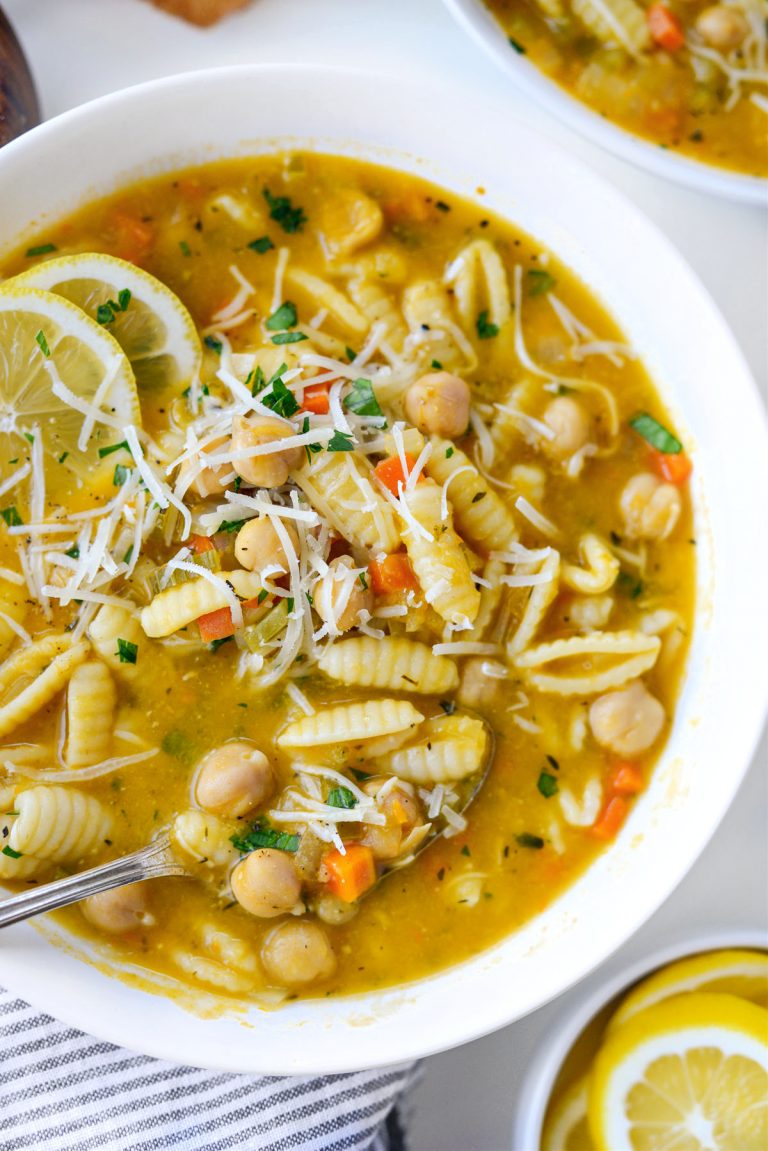 This was an instant favorite. Light and bright with lemon, addictive earthy flavor and incredible texture. Can you tell I love this soup?
To Make This Lemon Chickpea Soup You Will Need:
garlic infused olive oil
celery
carrot
yellow onion
kosher salt
white pepper
fresh thyme
cooked chickpeas (garbanzo beans)
low-sodium vegetable broth
water
pasta
lemon juice
grated parmesan cheese – for serving
minced fresh parsley – for serving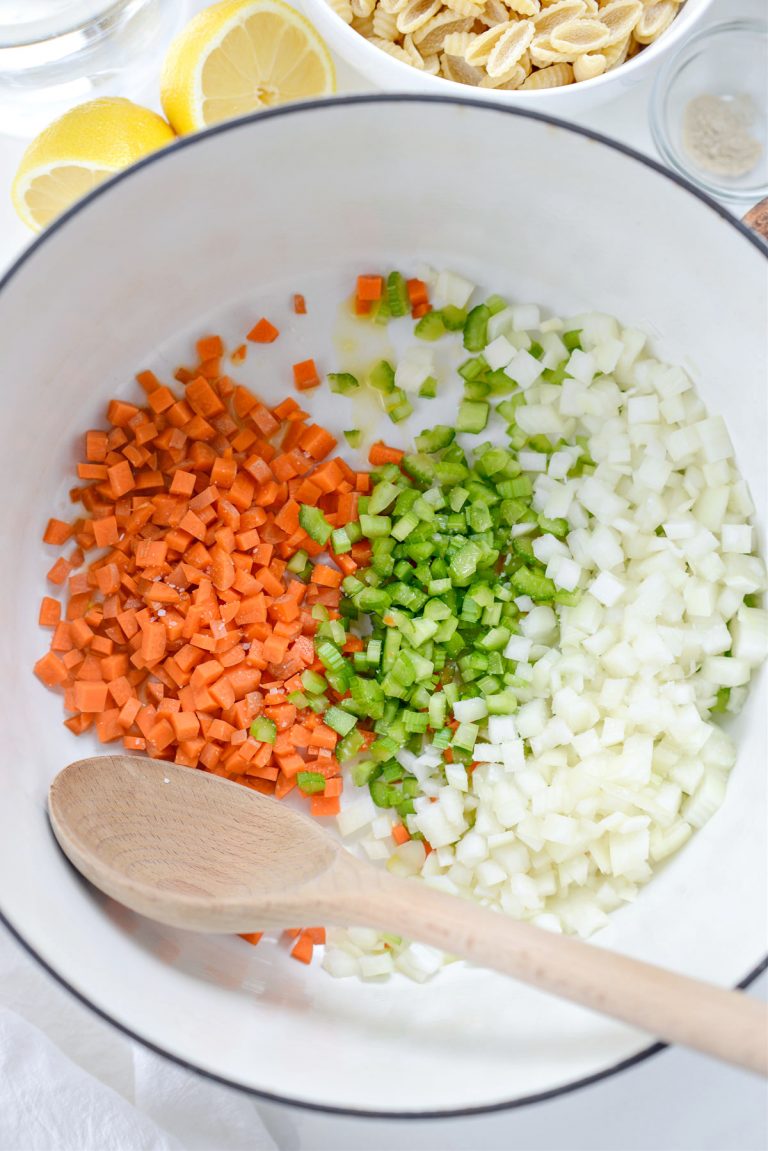 In a dutch oven or soup pot, measure and add 2 teaspoons garlic infused olive oil, 1 diced medium onion, 1 diced medium carrot and 2 diced short stalks of celery with a pinch of kosher salt. Stir and cook until tender, about 8 to 10 minutes.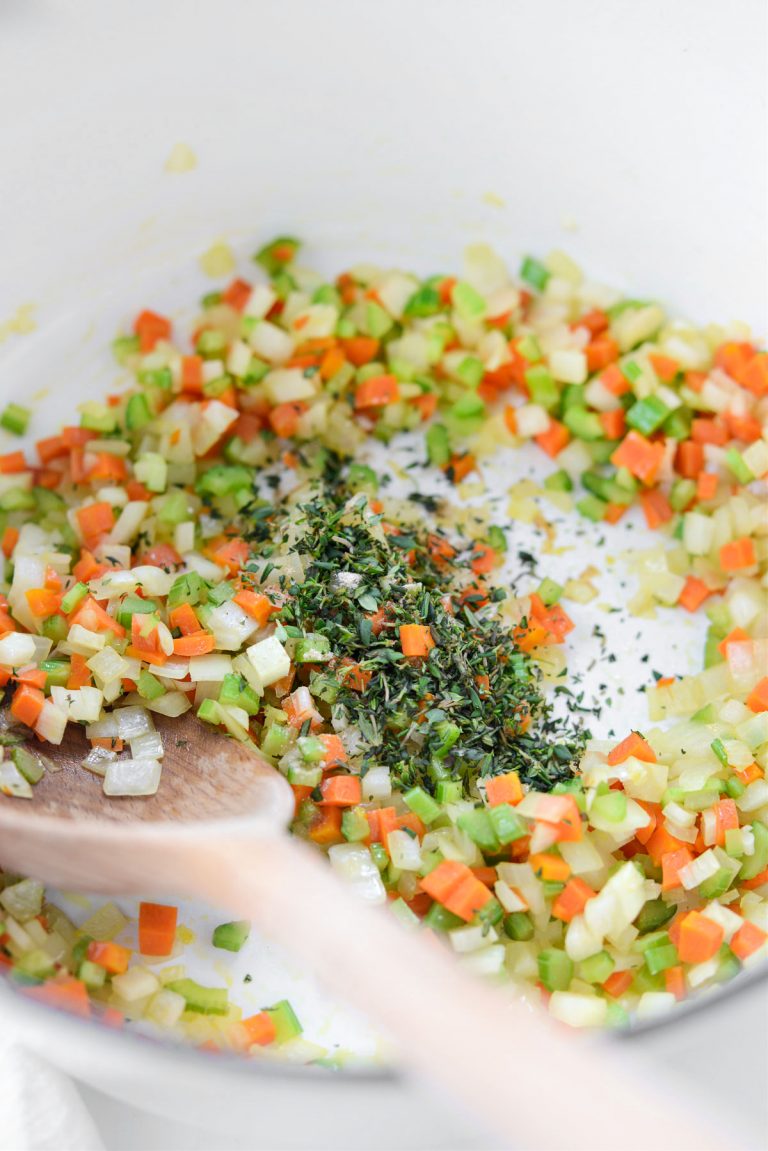 Once tender, add in 1 teaspoon minced fresh thyme leaves and 1/4 teaspoon white pepper.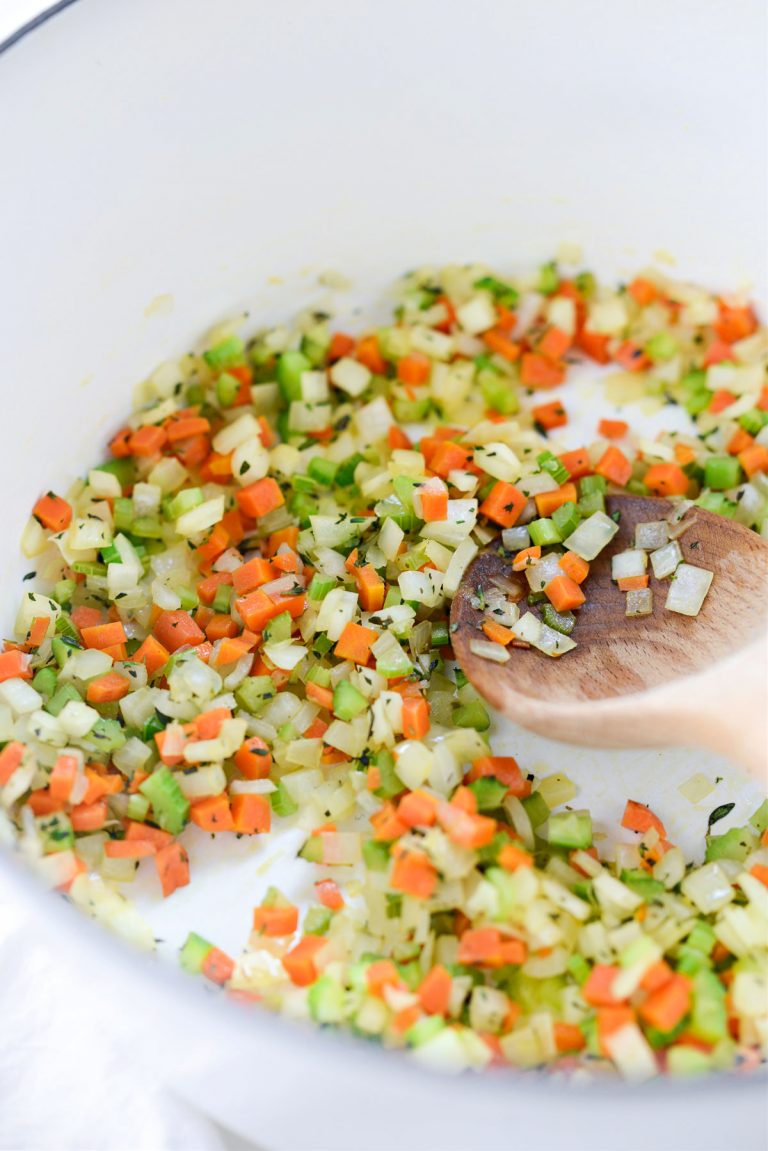 Stir and cook 1 minute.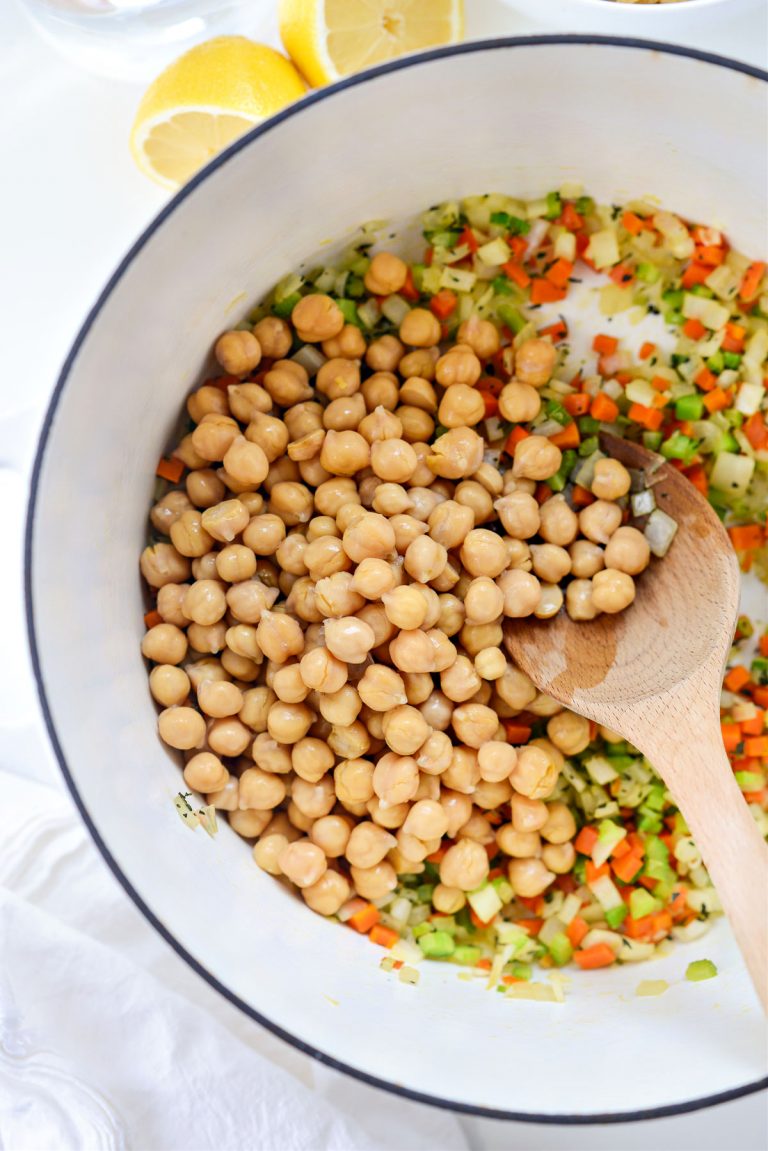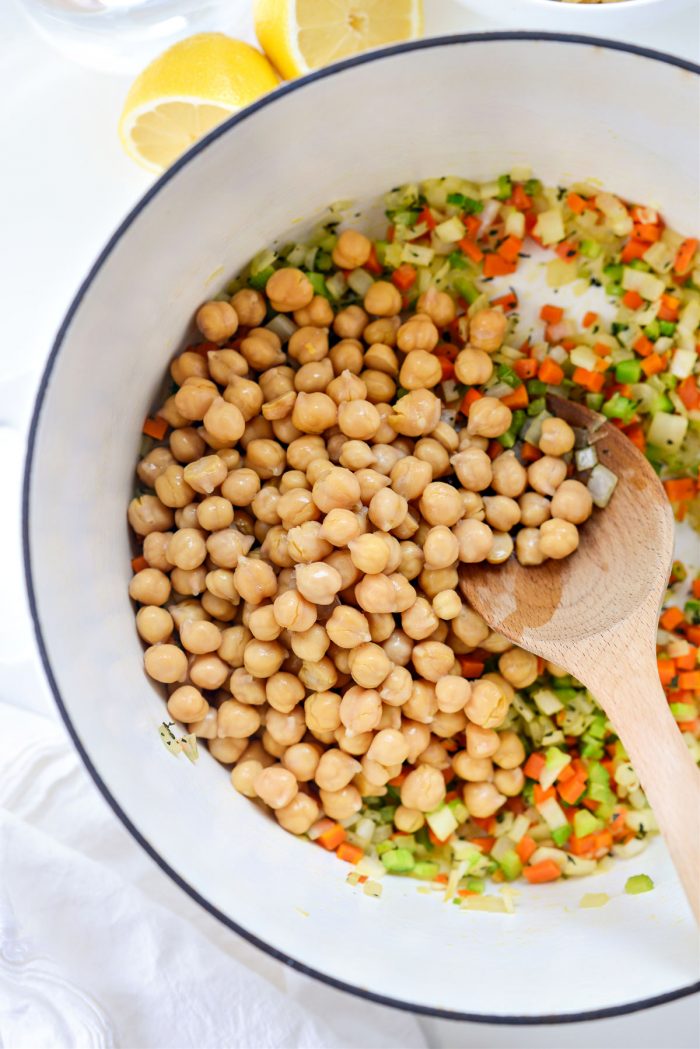 Add in 1 (15 ounce) can drained and rinsed chickpeas.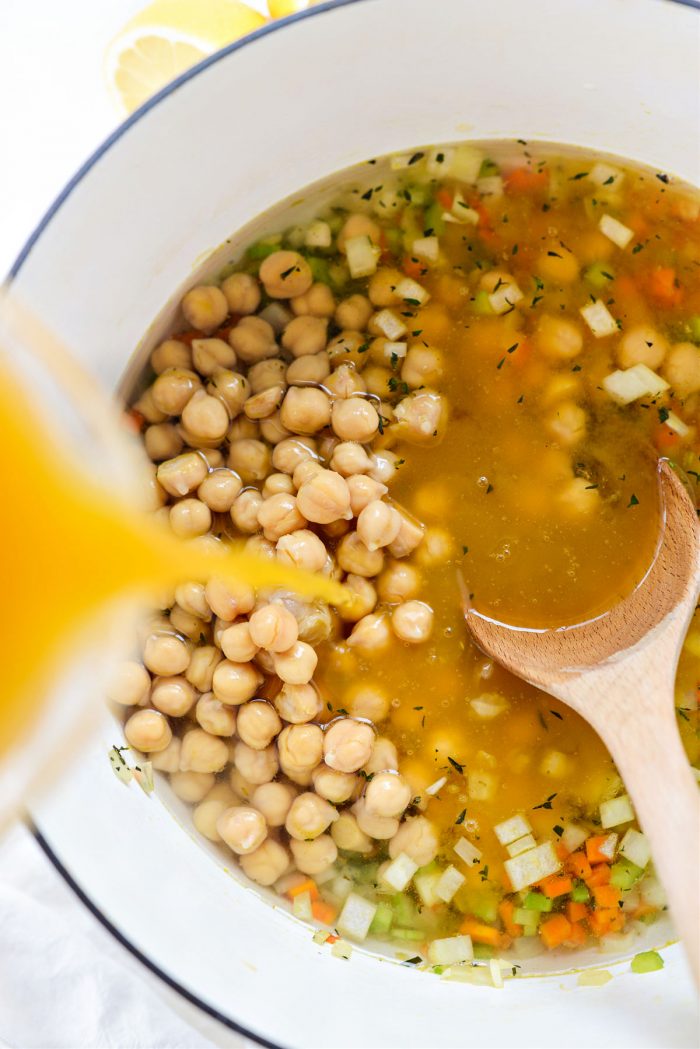 Pour in 1 quart (4 cups) low-sodium vegetable broth and 2 cups water.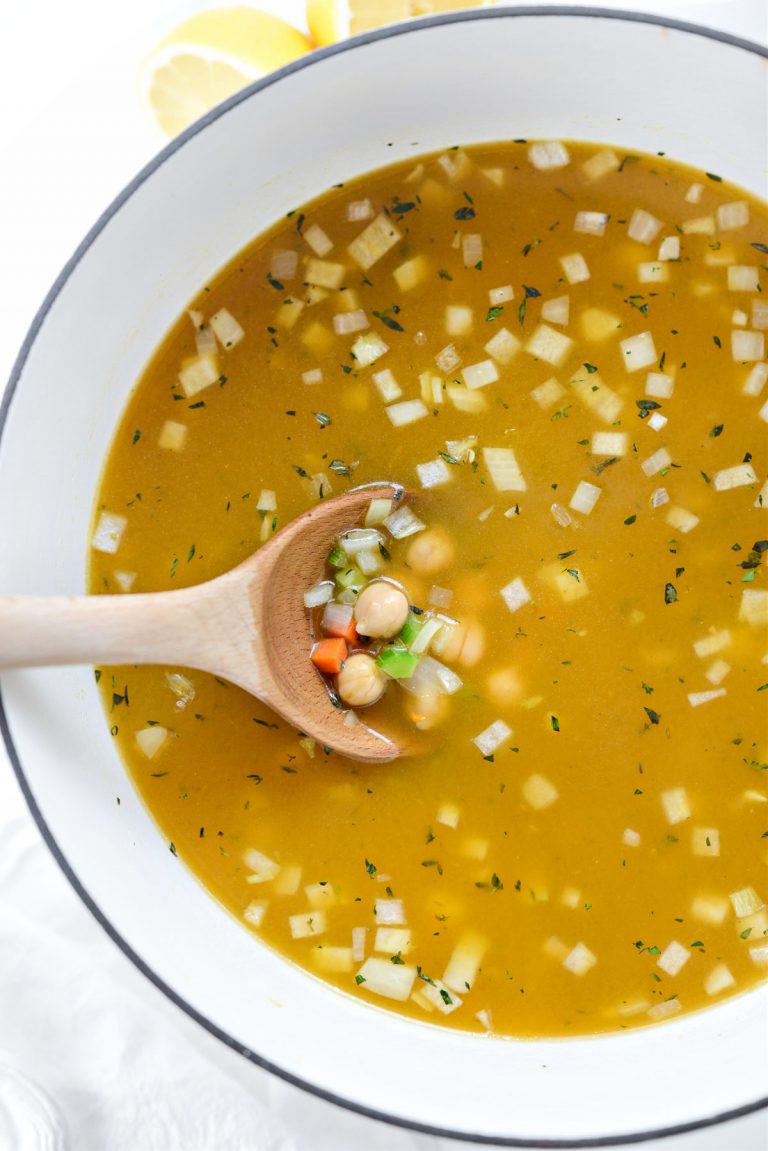 Stir and bring to a simmer.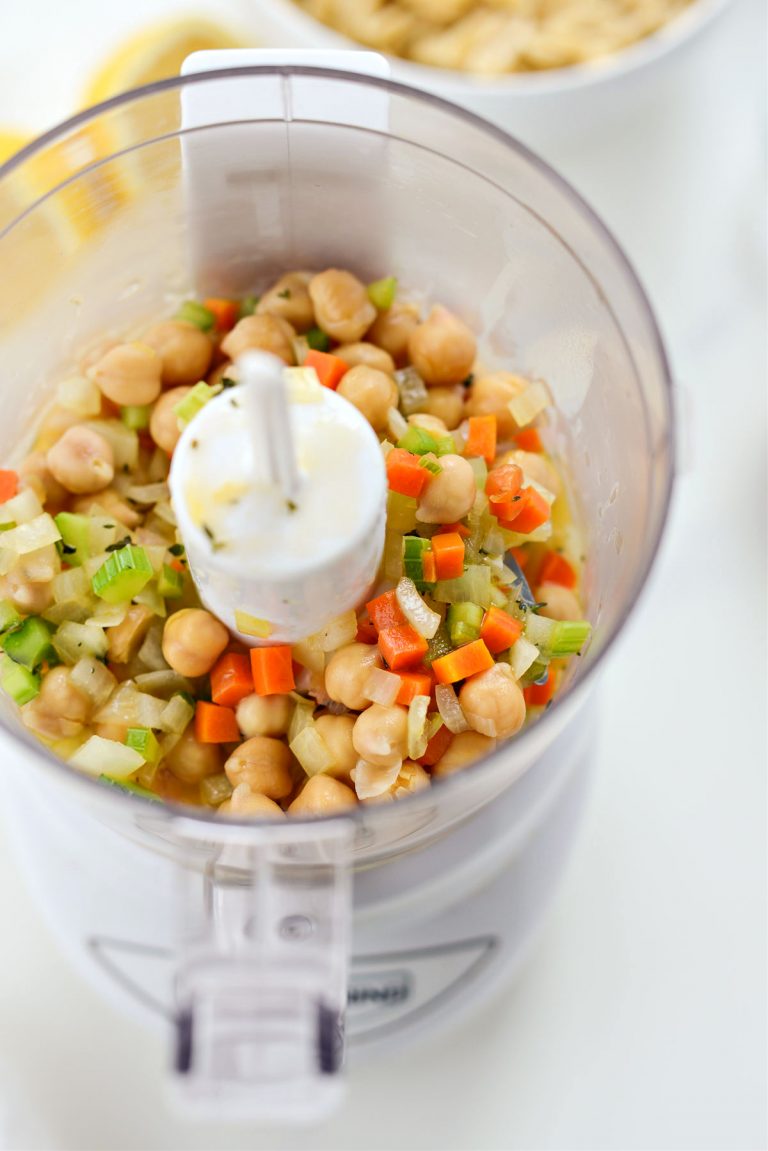 After the soup simmers for about 10 minutes, strain out a few spoonfuls of chick peas and veggies and add a splash of the broth.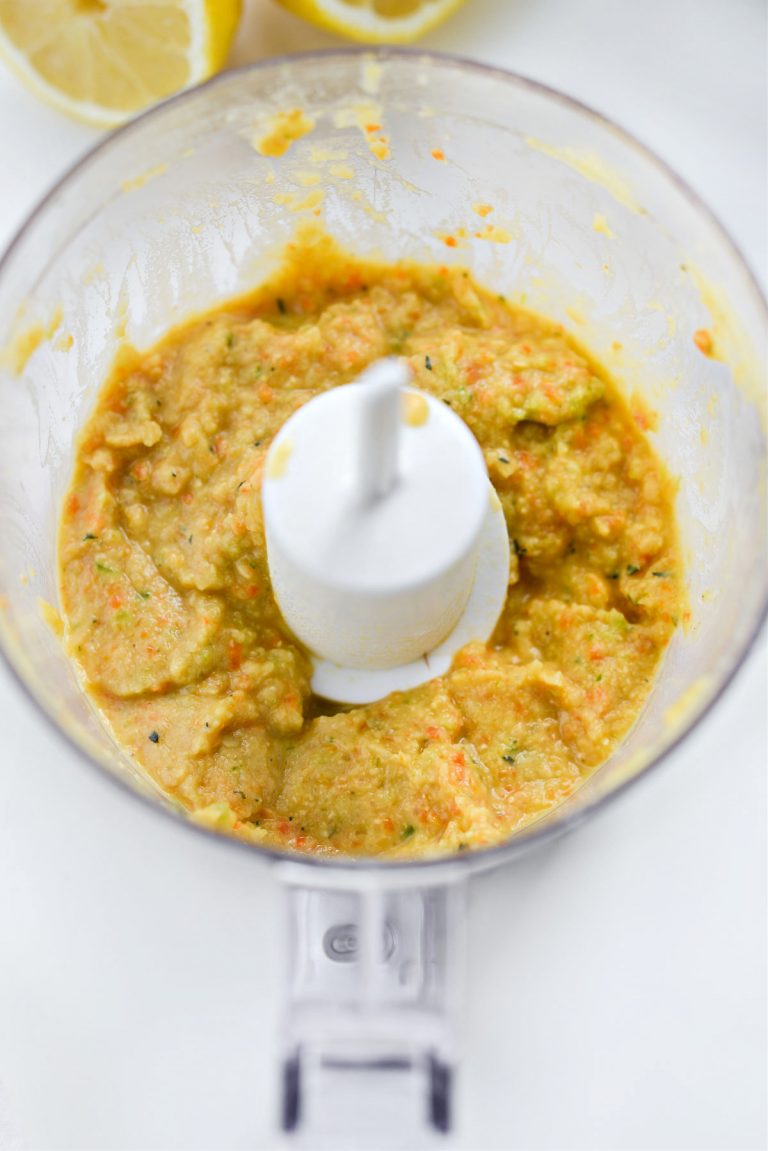 Pulse until smooth. Doing this will give this soup body by thickening it a bit.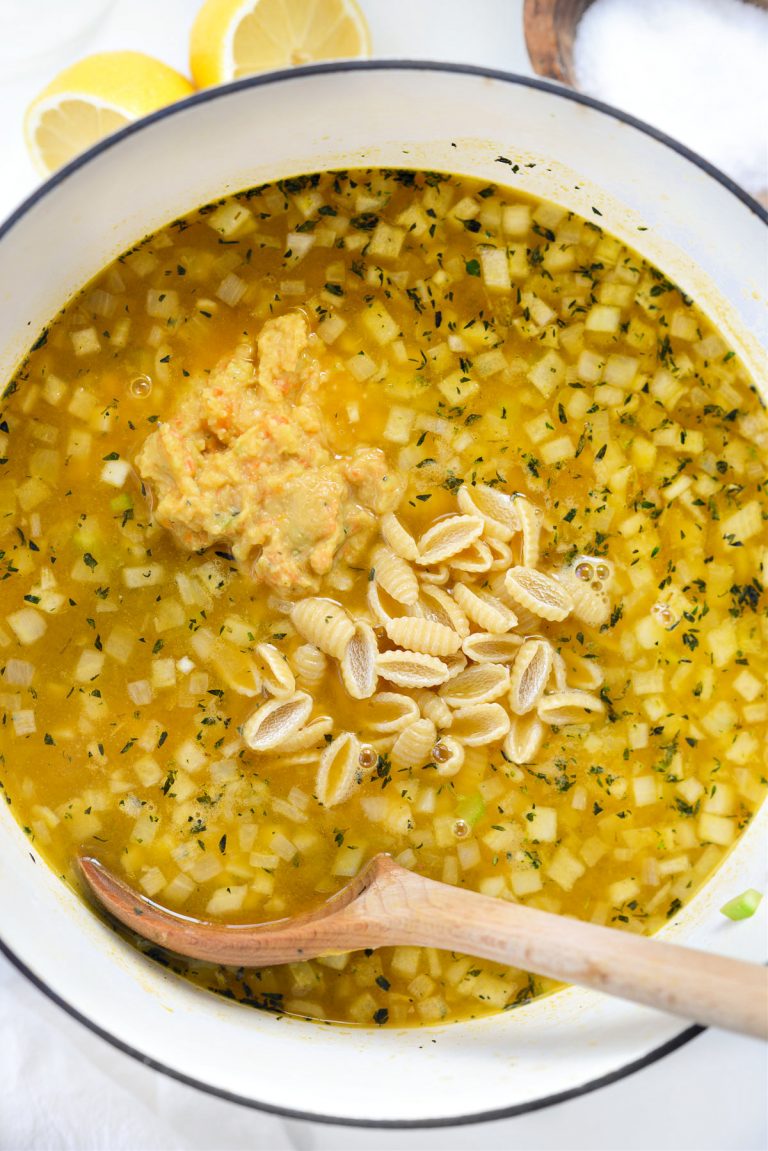 Add the purred beans and 8 ounces dried pasta (I'm using cavatelli) and bring to a simmer. Cook the pasta until tender, about 12 to 15 minutes.
Cooking the pasta in the soup will also help thicken up the soup, so I usually add another cup of water if the soup is too thick.
Squeeze in the juice of 1 small lemon (or more to taste) and season with kosher salt to your liking (for me it was 2-1/2 teaspoons) and white pepper.
Ladle the soup into bowls and top with freshly grated parmesan cheese and minced parsley. I also love to serve this with sourdough bread.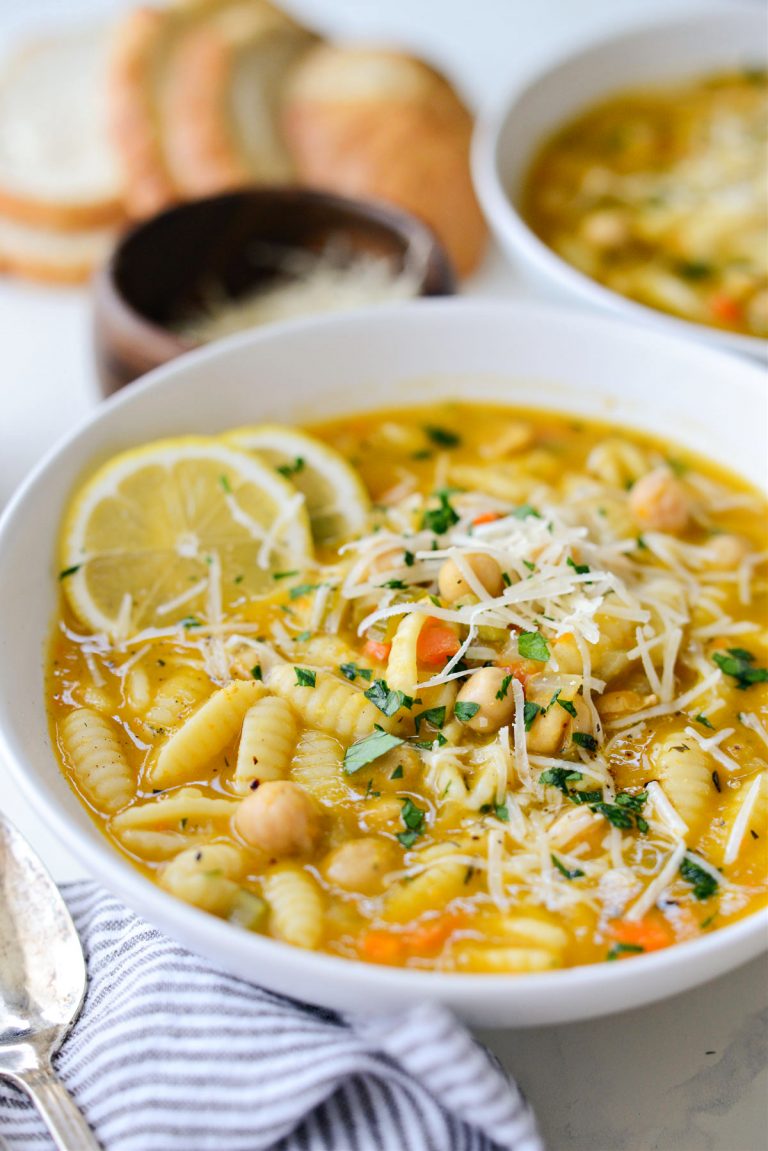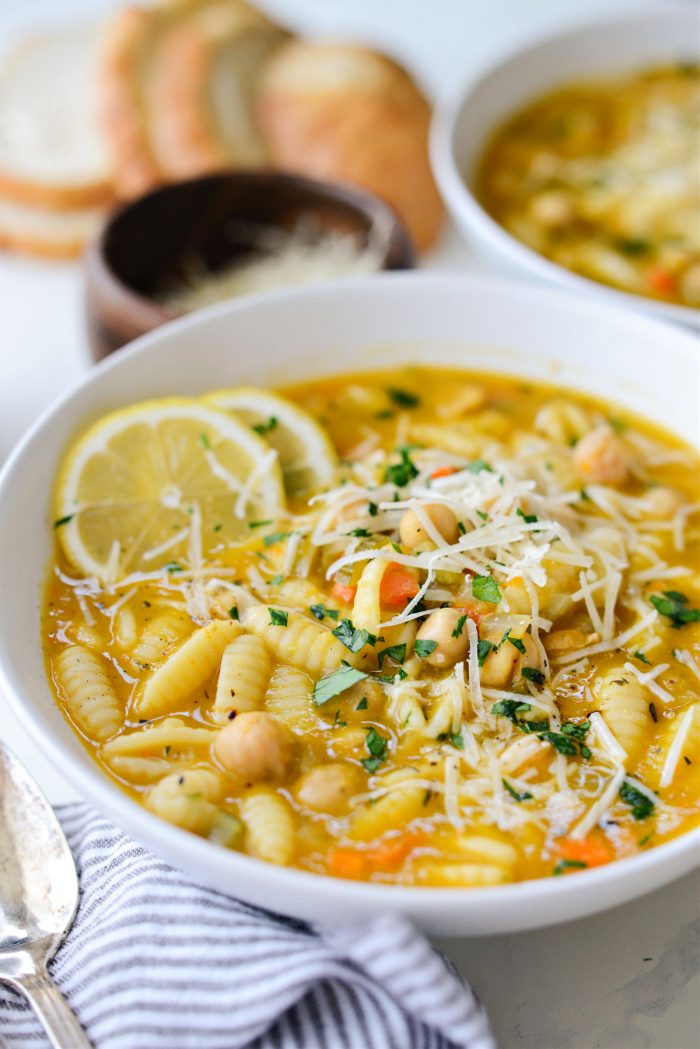 This lemon chickpea soup is a feel good soup.
A soup I crave.
And I absolutely love the lemon, chickpea and parmesan combo and the texture of the soup is a 10 out 10.
#chefskiss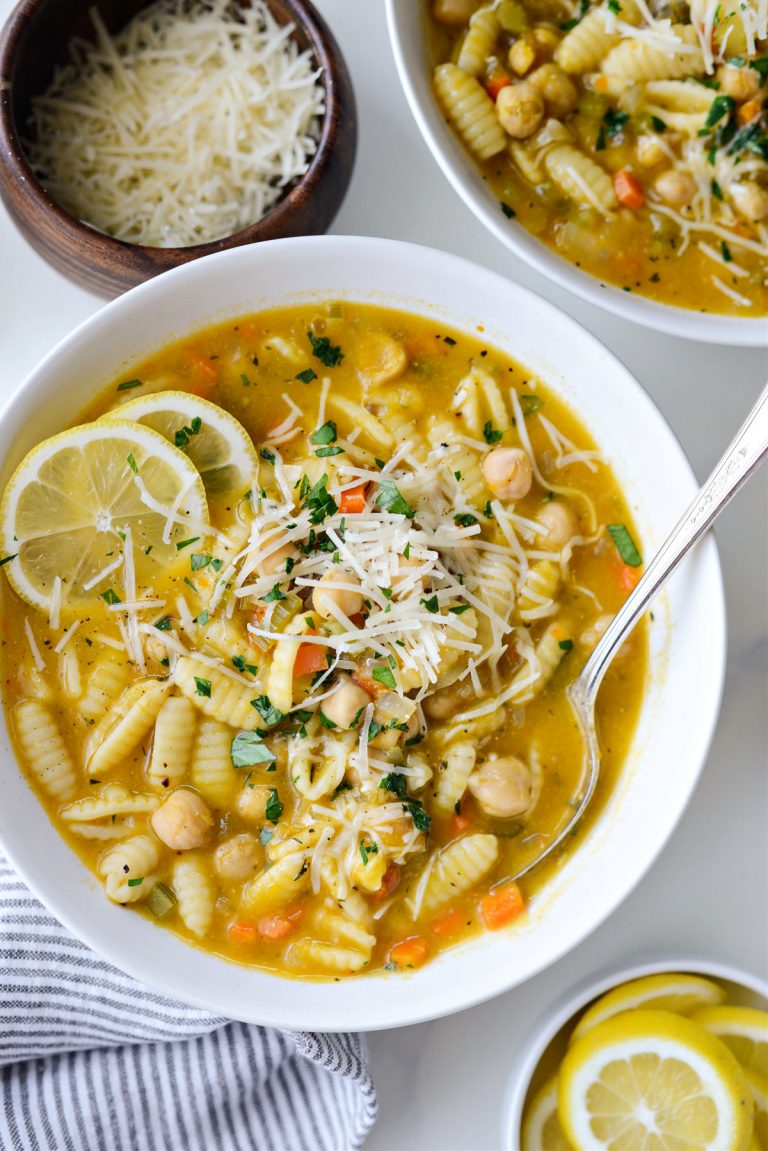 Enjoy! And if you give this recipe a try, let me know! Snap a photo and tag me on twitter or instagram!
This post may contain affiliate links.
Buy the Cookbook: Simply Scratch : 120 Wholesome Homemade Recipes Made Easy Now available on Amazon »
THANK YOU in advance for your support!