This lemon broccoli almond quinoa is so simple to whip up! Toss broccoli with shallots and garlic in a hot wok (or skillet) and cook for just a few minutes before tossing in cooked quinoa, fresh lemon juice, salt & pepper and a drizzle of olive oil.
First of all, those who emailed me recipes (because of that slump I was/am in) THANK YOU! Seriously, I'm so lucky to have you all!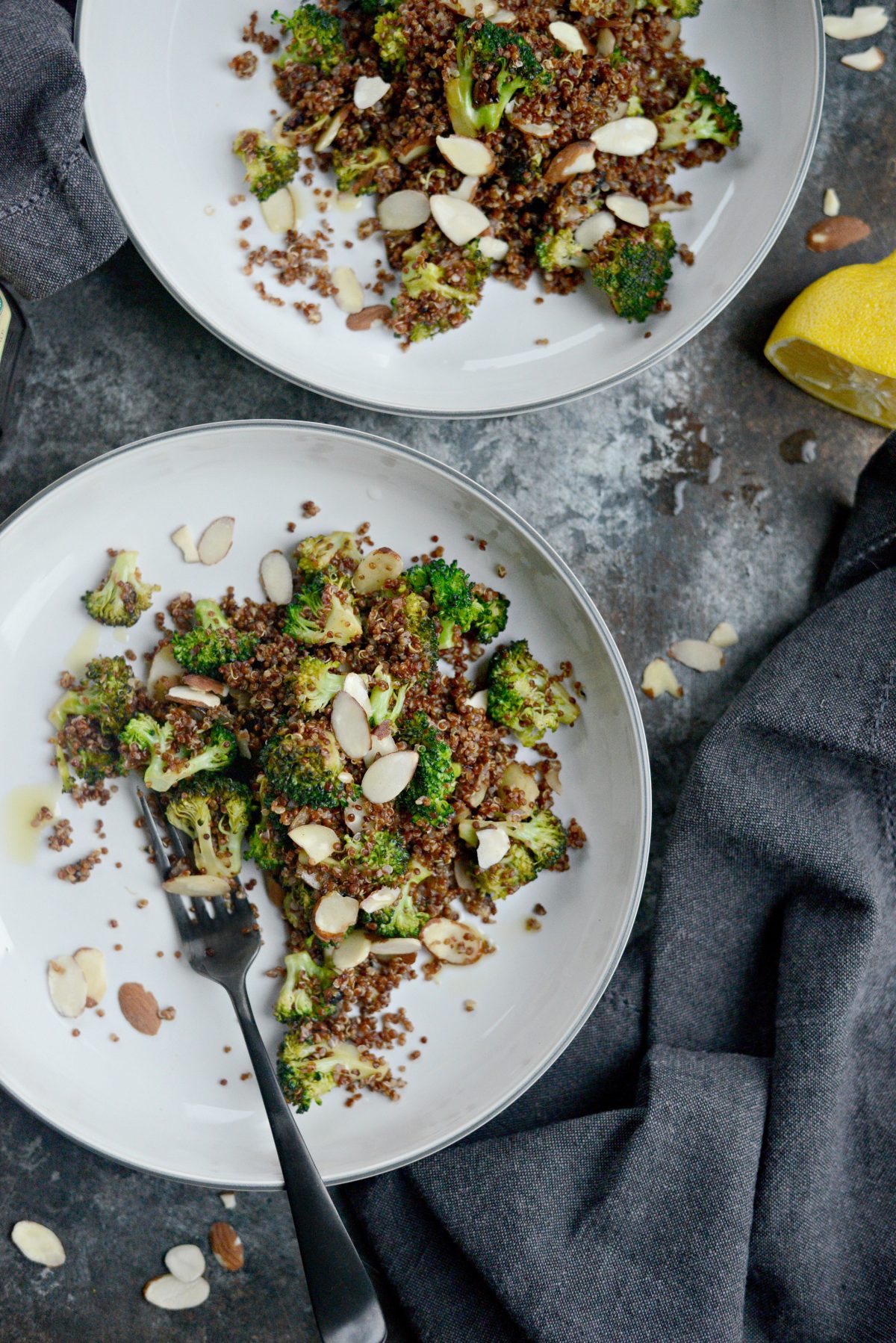 I hope you like broccoli! It's my most favorite of all the vegetables. Roasted preferred, but my second favorite way to prepare it is to stir-fry it. Basically, any method that yields a caramelized broccoli is my method of choice.
So this little ditty can be a side dish to grilled chicken or fish or can be serves as is for a light meatless main dish. And it takes only a few minutes to whip up. I know you like the sound of that.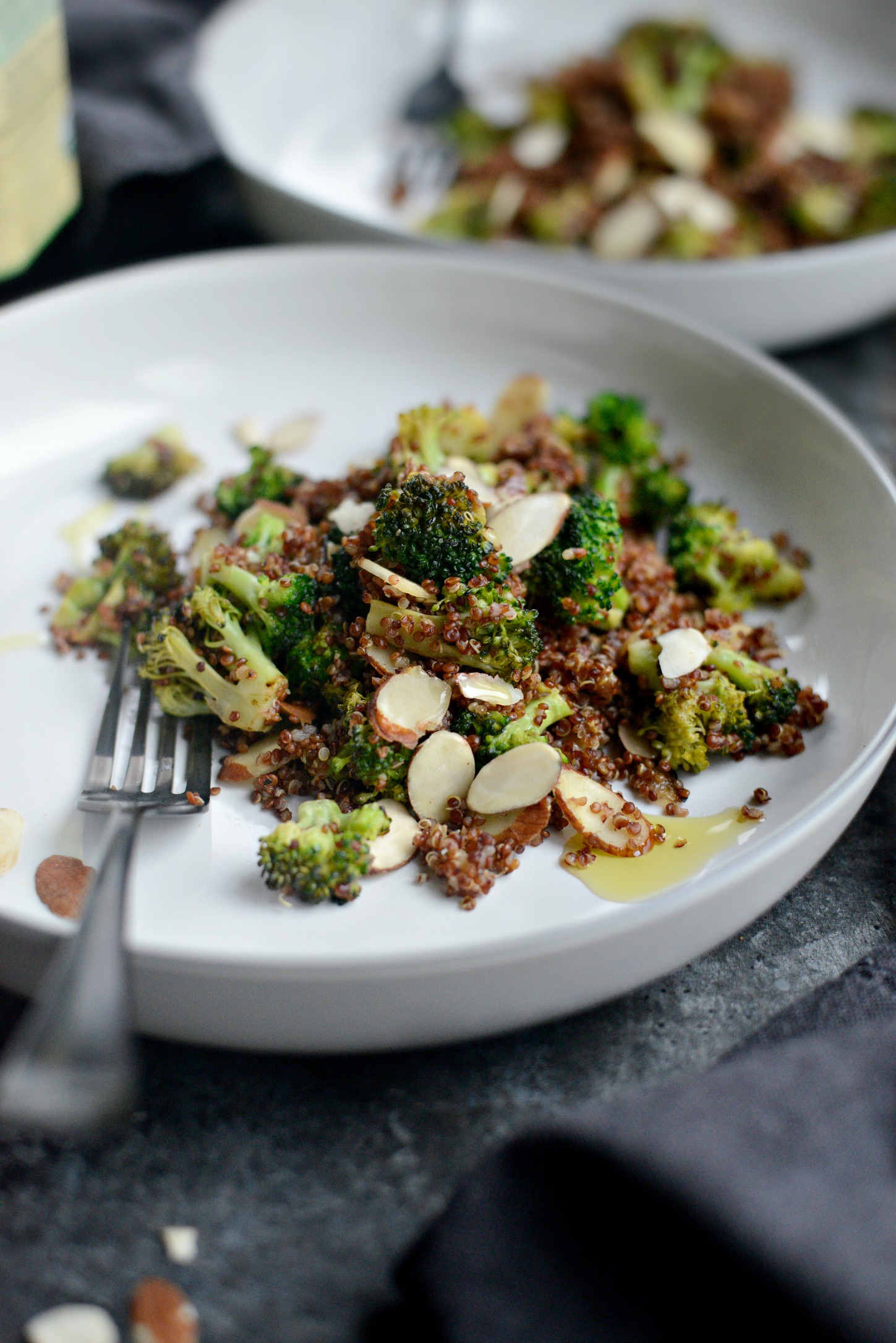 It was raining buckets here today, so I made this light and bright lemon broccoli almond quinoa for a quick and simple lunch. Afterwards when I was done cooking, photographing and cleaning up, I curled up on the couch with one of those plates you see (but with a few extra spoonfuls added to it) and enjoyed listening to the rain coming down.
I know a lot of people dislike the rain, on good hair days I do too! But being home with nowhere to go, except when I have to shuttle kids to practices, it's one of my favorite kind of days.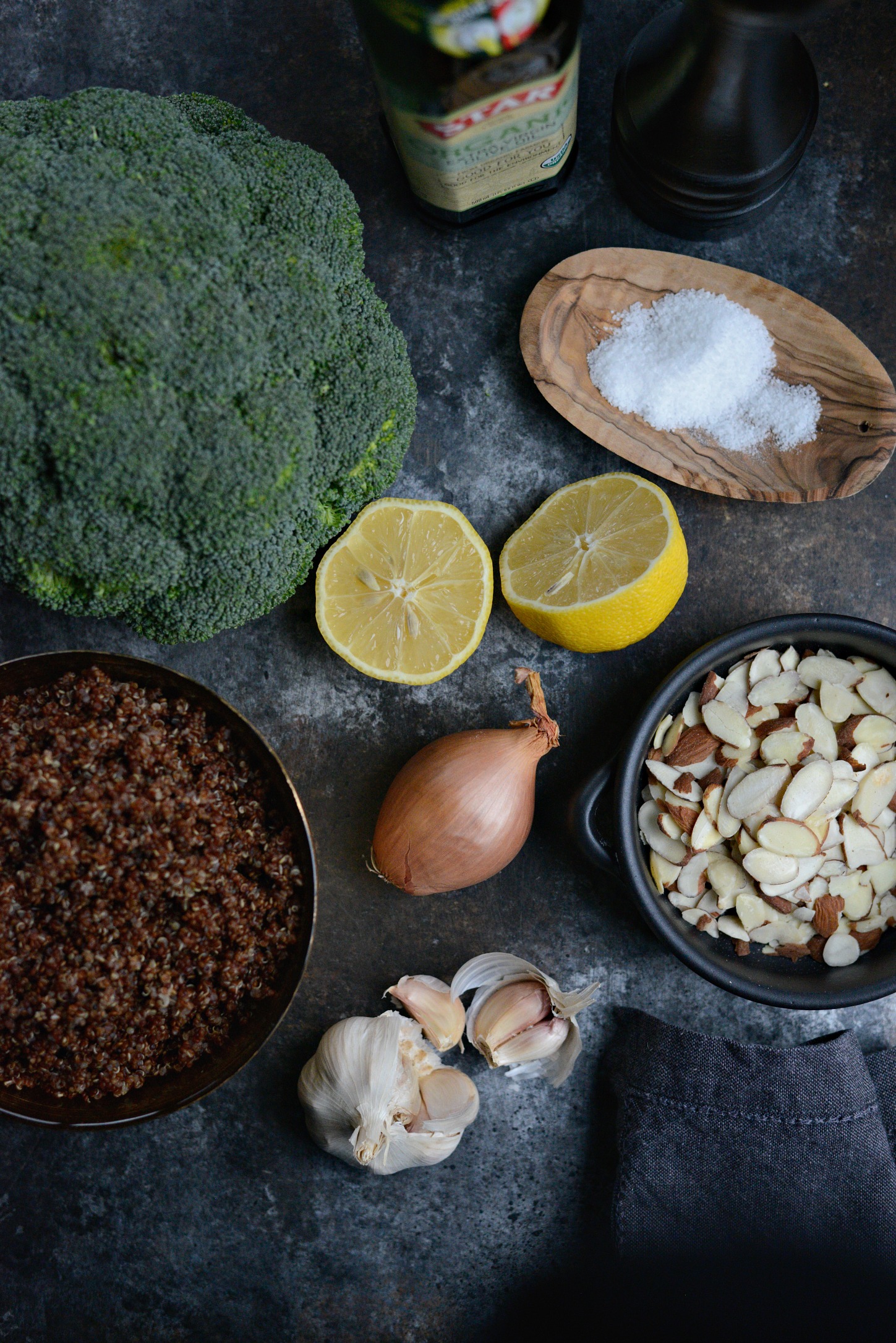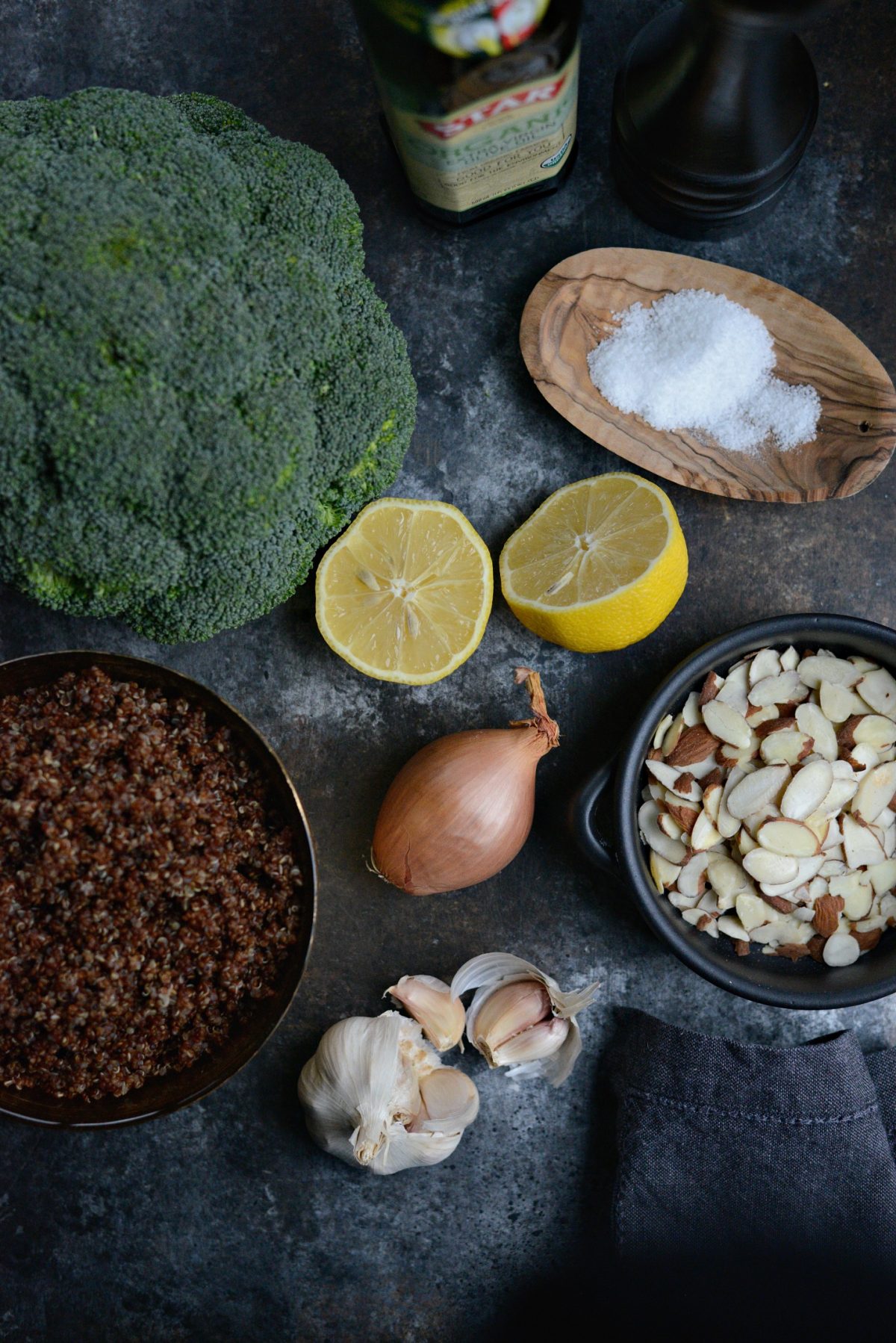 Look how simple the ingredients are! A big fat head of broccoli, perfectly cooked quinoa, lemon, garlic, a shallot, olive oil and salt & pepper.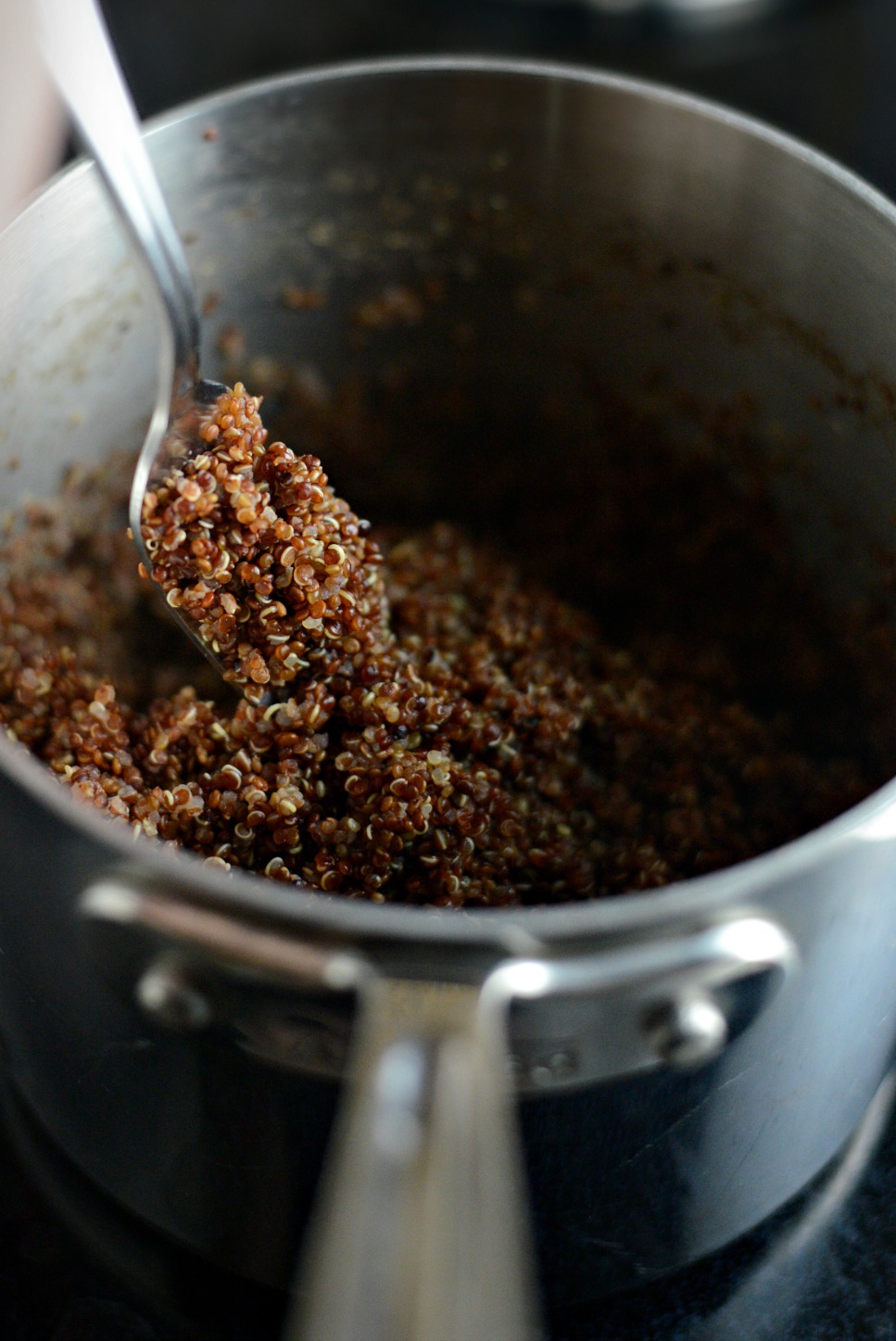 If you missed it, I shared the BEST way to cook quinoa the other day. Here's the link to the step-by-step!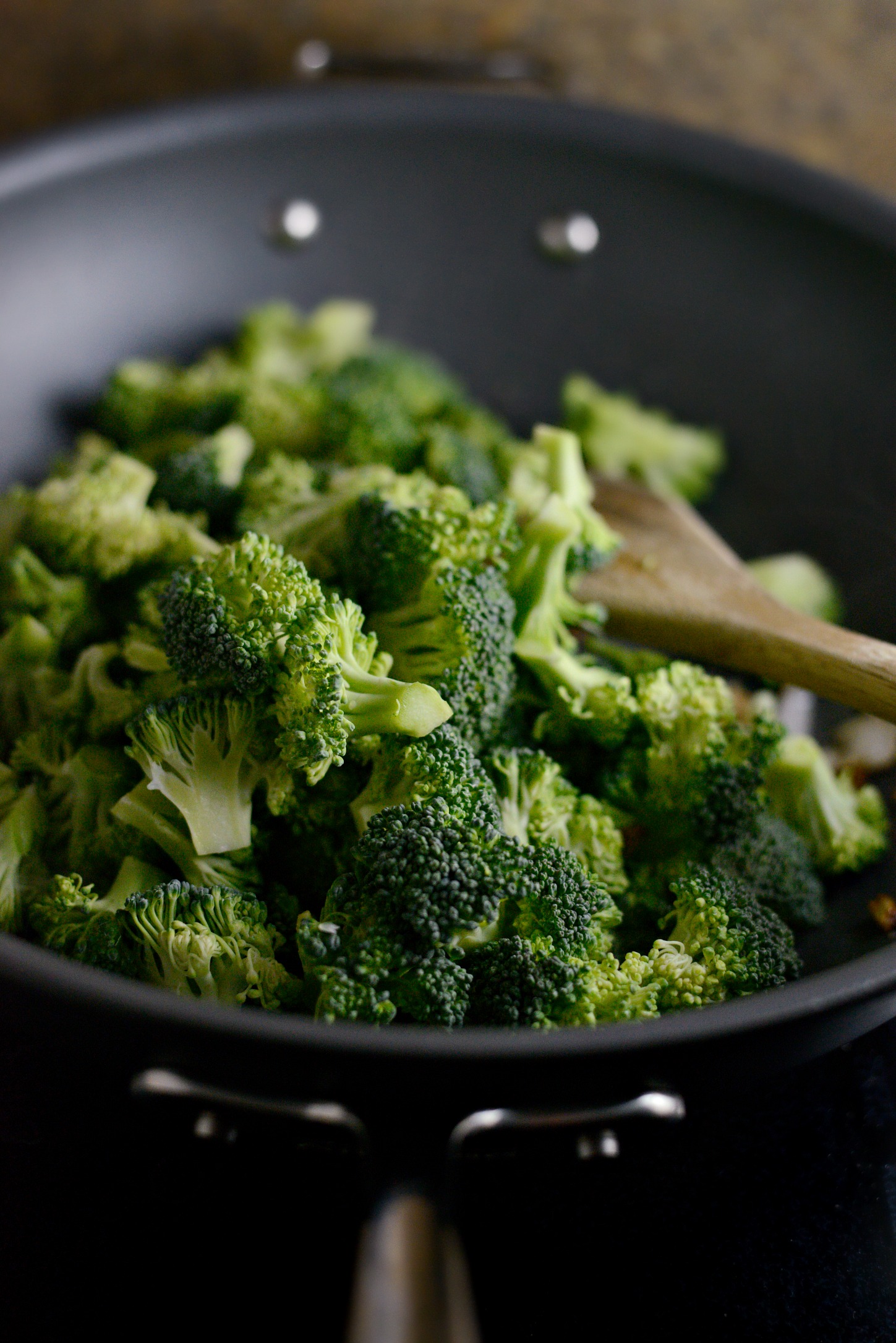 Okay, first things first, heat a 12-inch chefs pan or wok on medium-high heat. Add in a tablespoon of extra light olive oil and once the pan is hot, add in the chopped shallot, minced garlic and about 8 cups (or so) of broccoli florets. Toss, toss, toss the broccoli until it's tender, yet still bright green and with some caramelized spots.
Then, squeeze in the juice from half a lemon…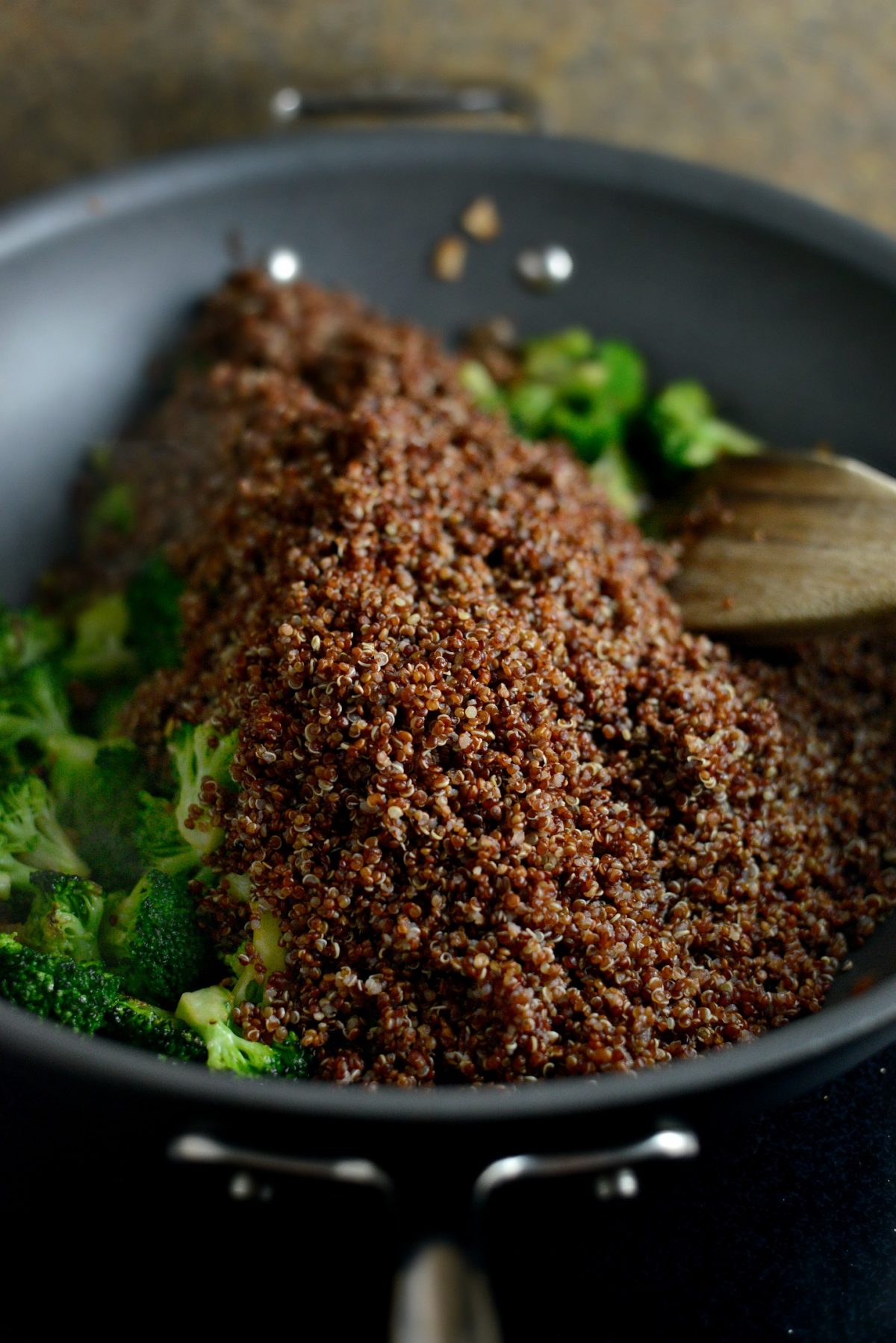 …add in the cooked quinoa. I'm using red quinoa, but any will do.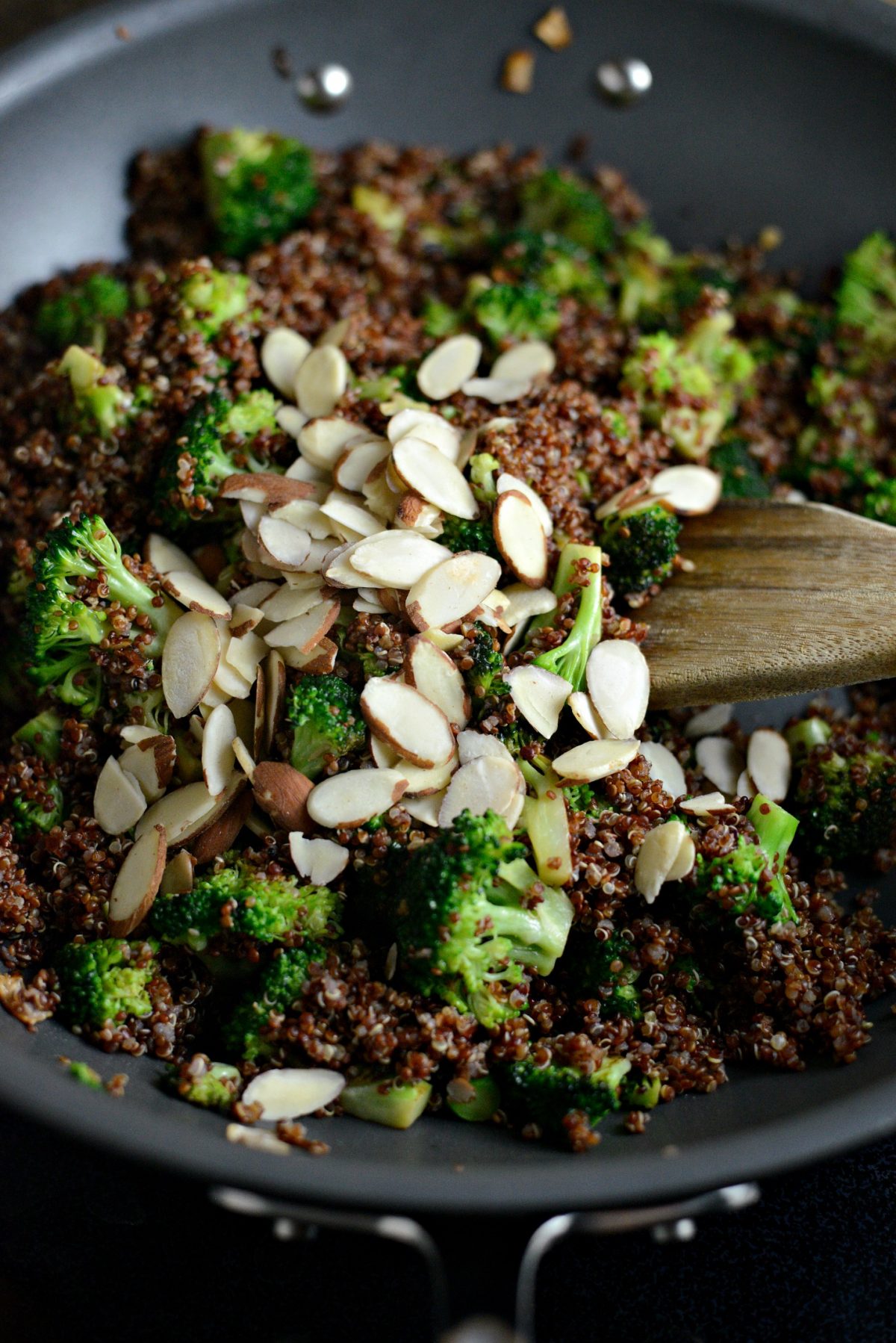 Then throw in 1/2 cup of sliced almonds. Bonus points if you toast them first!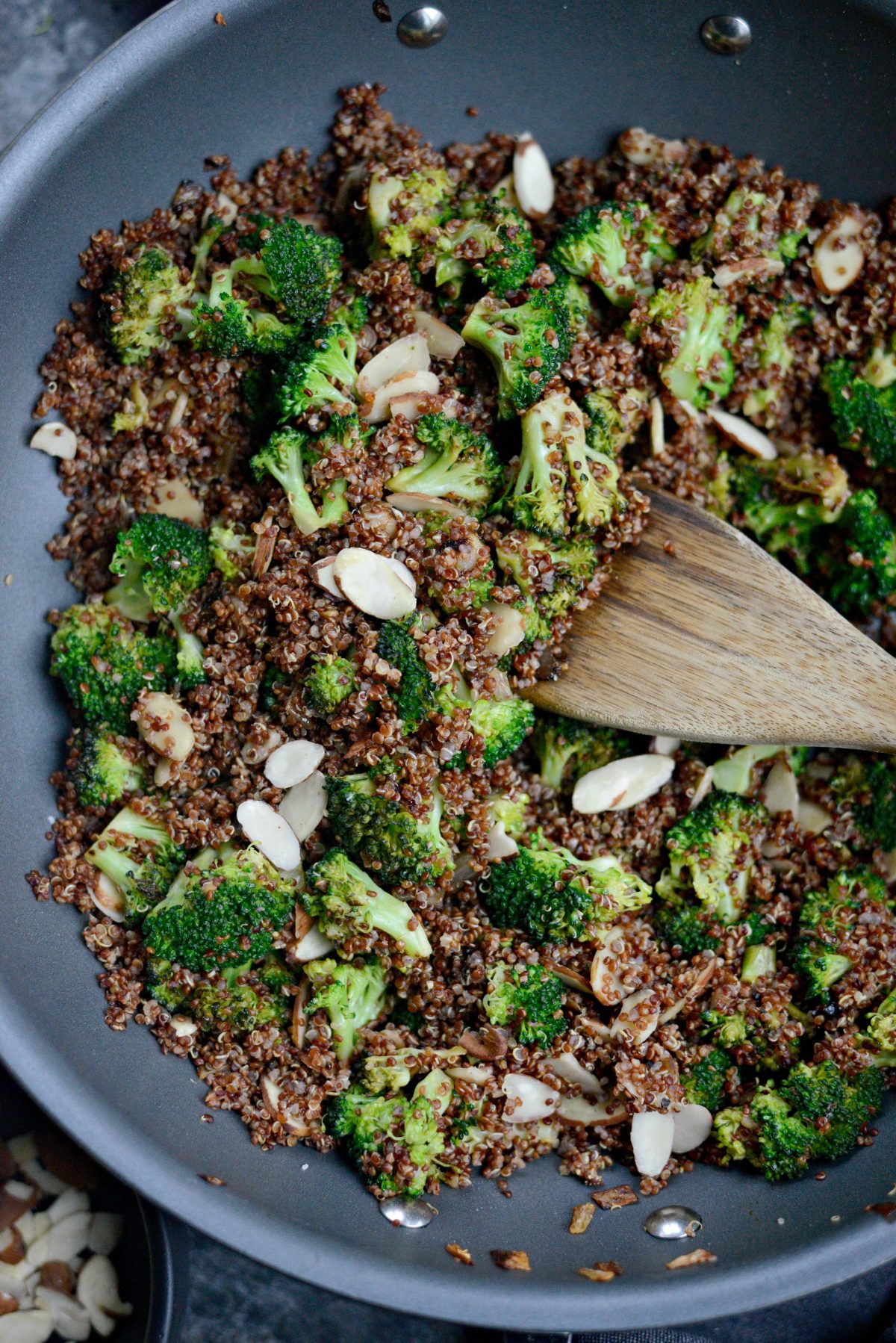 Toss, stir, toss, stir and serve.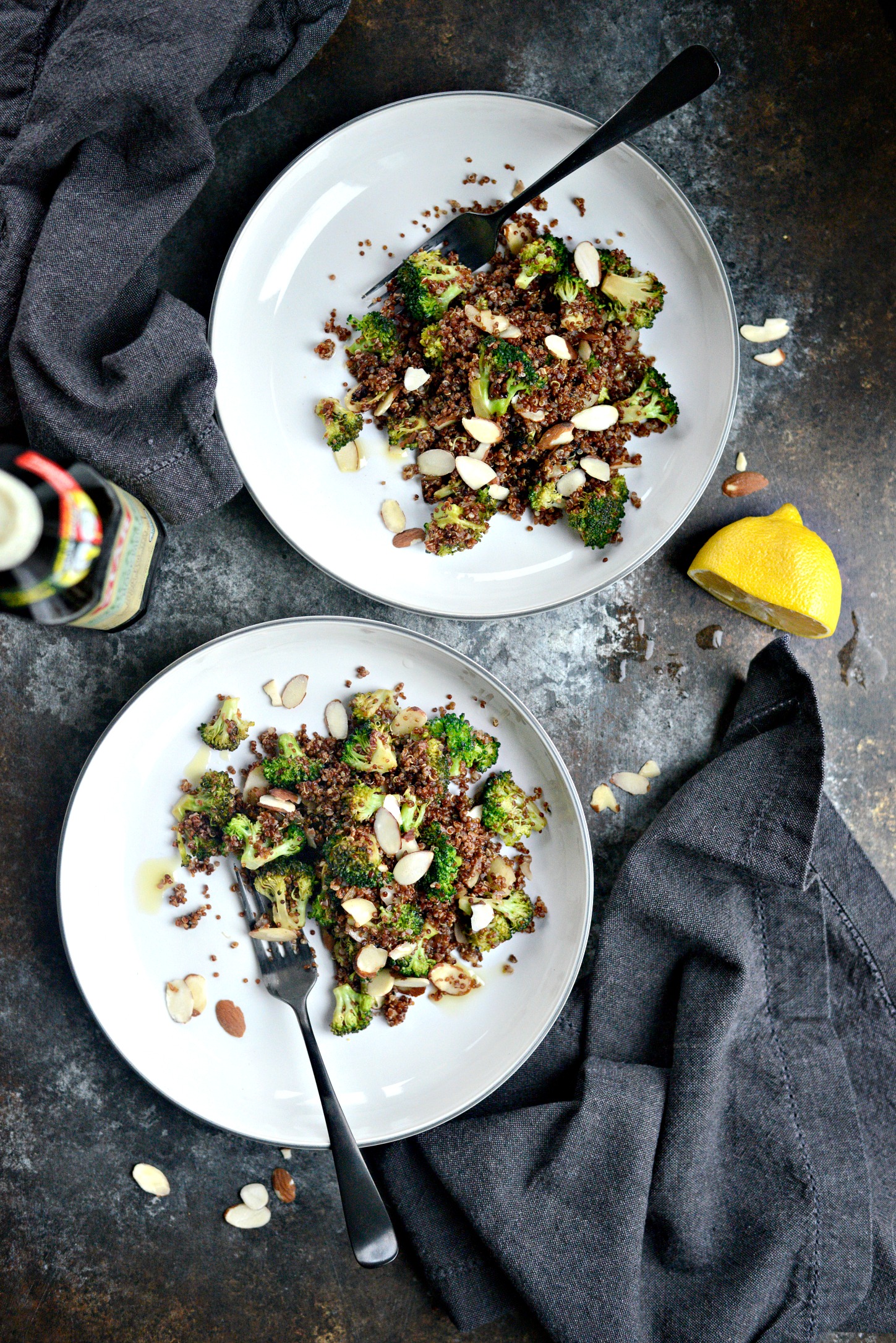 I served this lemon broccoli almond quinoa with an extra little squeeze of fresh lemon juice, a drizzle of good extra virgin olive oil and a pinch or two of salt. I like my salt. A lot.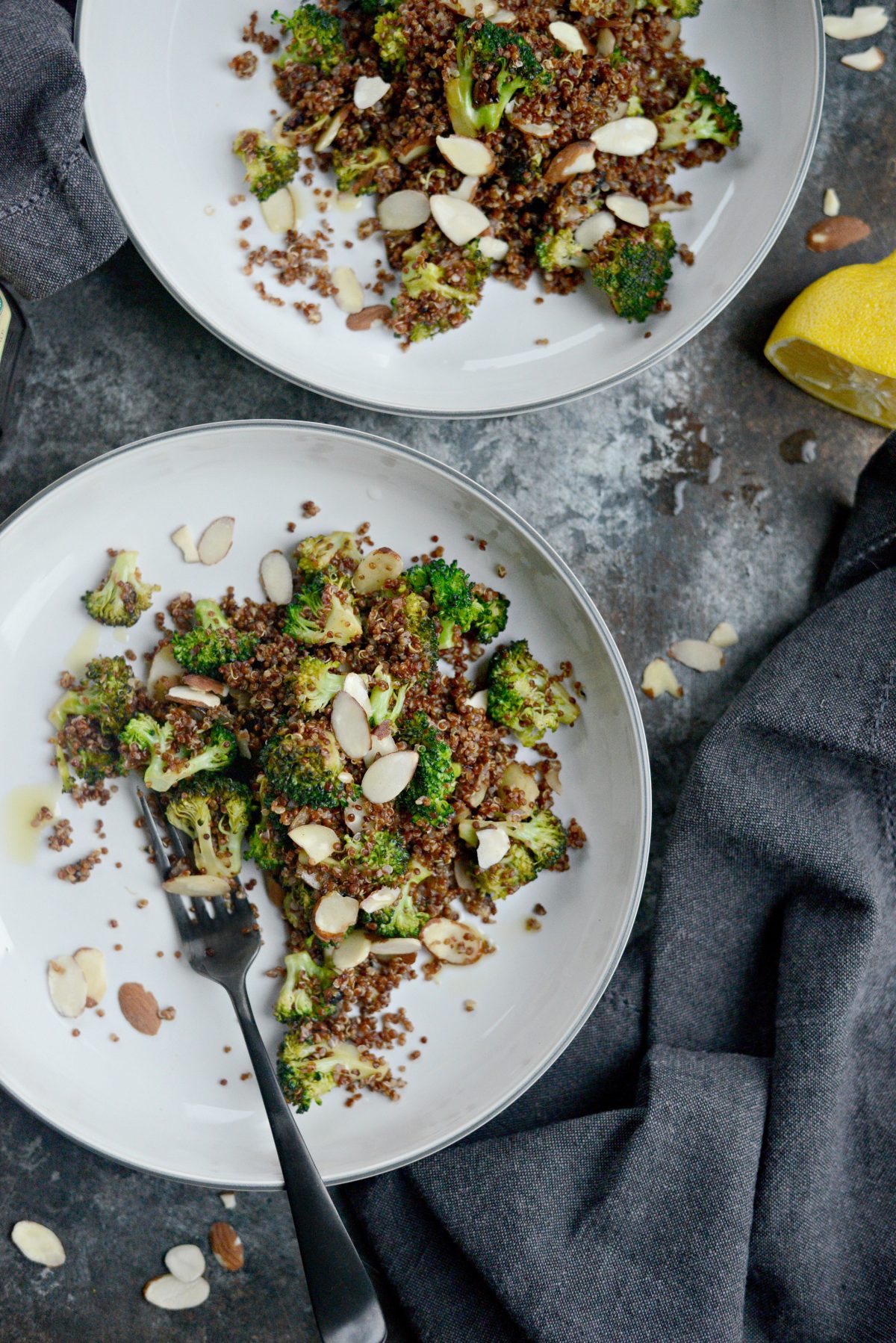 Enjoy!
My cookbook Simply Scratch : 120 Wholesome Homemade Recipes Made Easy is now available! CLICK HERE for details and THANK YOU in advance!
[this post contains affiliate links.]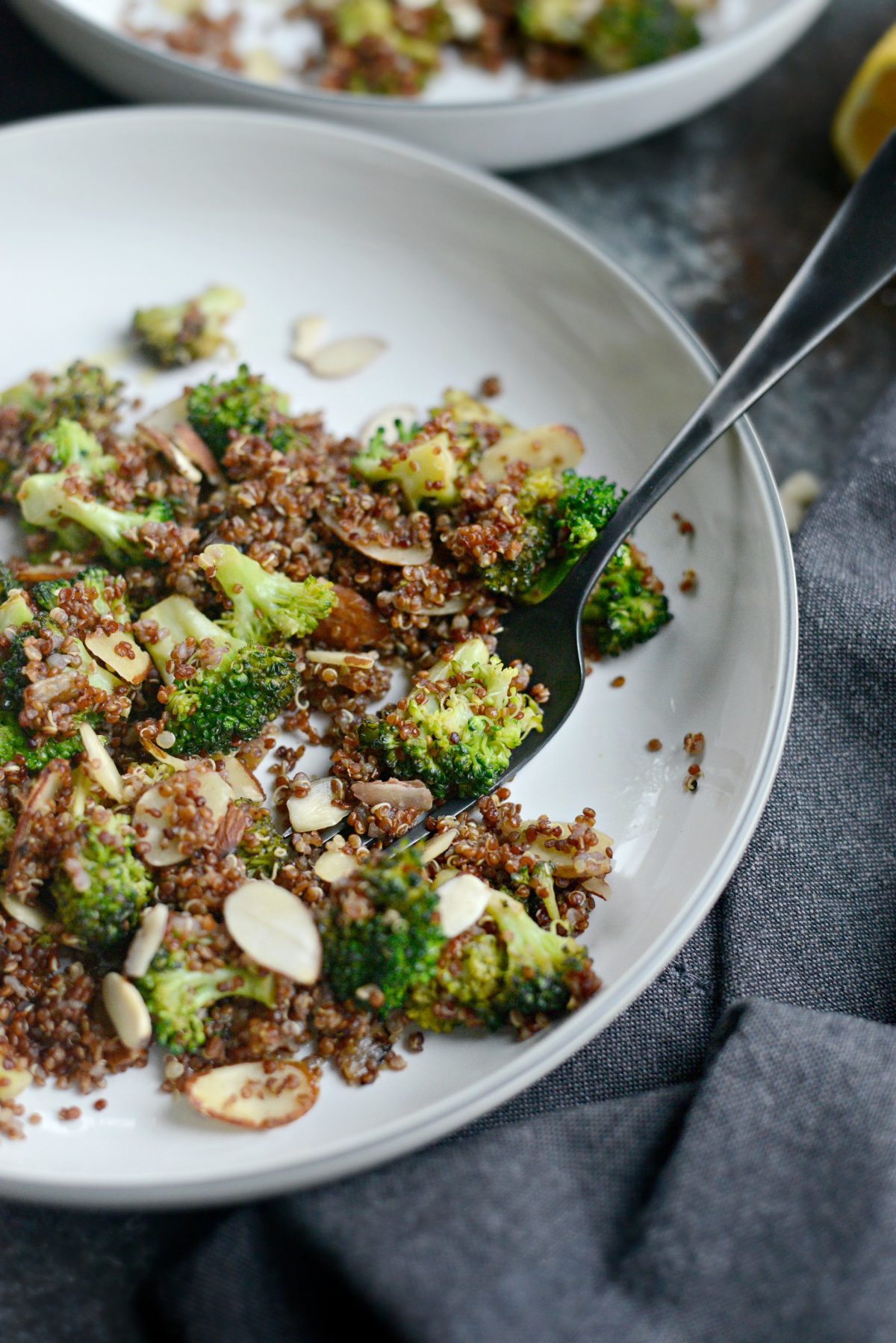 And if you give this recipe a try, let me know by snapping a photo and tagging me on twitter or instagram!
This post may contain affiliate links.
Buy the Cookbook: Simply Scratch : 120 Wholesome Homemade Recipes Made Easy Now available on Amazon »
THANK YOU in advance for your support!