This kale brussels sprout chopped salad is filled with chopped kale, brussels sprouts, asparagus, broccoli, green onions, pepitas and poppy seed dressing.
I'm thinking kale and brussels sprouts in the same recipe title might be a little risky.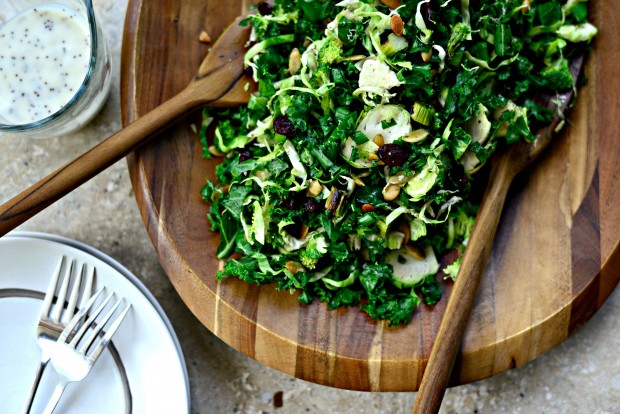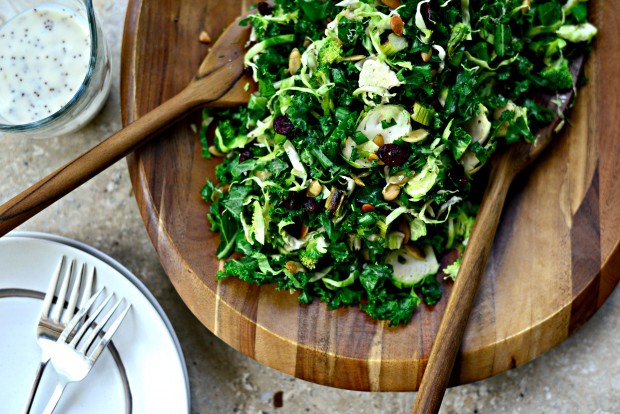 BUT kale and brussles in the same salad?? Is pretty dang tasty. And healthy. And green.
But those aren't the only green going on in this salad, oh no-siree. There's broccoli, green onions, grilled asaparagus and toasted pepitas, which believe it or not are green. It's a green power salad to say the least.
My aunt brought a very similar salad to a family gathering and I attacked it and piled a good healthy portion on to my plate.  Or not so healthy portion depending on how you want to look at it. I never did end up getting her recipe, so I just figured it out on my own. Basically grab all things green plus pepitas and craisins. DONE.
Confession: this is the first time in the history of me owning a food processor that I've used the slicing disc. Don't ask me why. I guess I never wanted the extra dirty dishes… but in this case it shaved off lots of time and resulted in perfectly sliced brussels. Now just throw those into a large mixing bowl.
Then I stripped off the leaves from a bunch of kale. Rinsed and spun them dry before chopping into smaller pieces.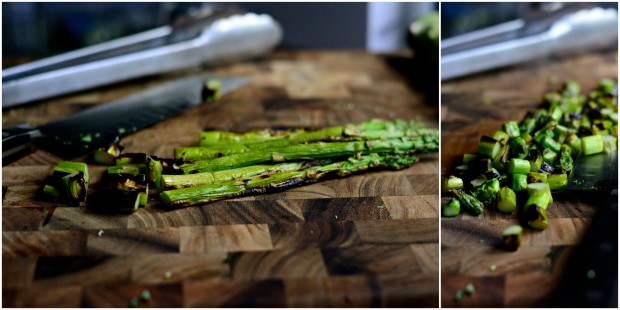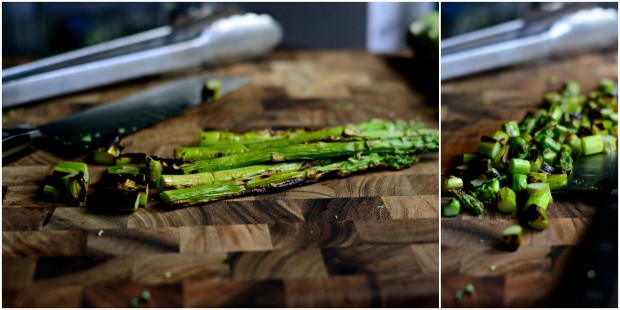 In the meantime, I grilled up some asparagus. Just quickly brush with olive oil and grill until tender. Then slice into 1/4-inch pieces.
To the bowl with the brussels; add the chopped kale…
OH! I also chopped up a cup of fresh broccoli florets- add those in as well.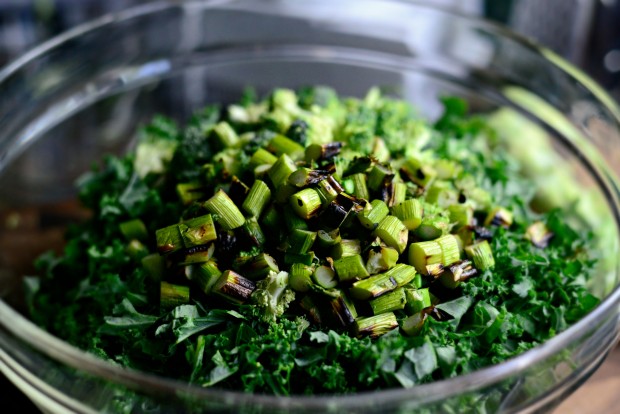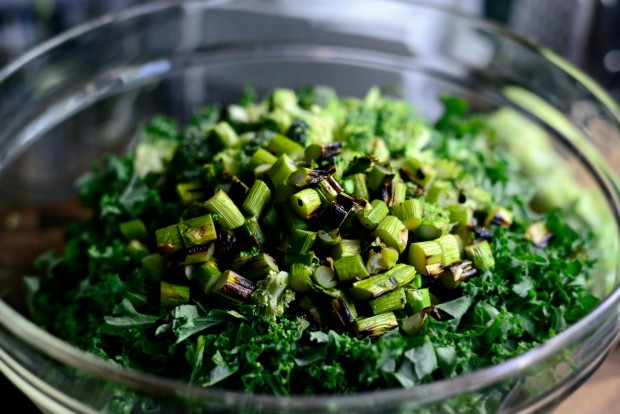 …the chopped grilled asparagus…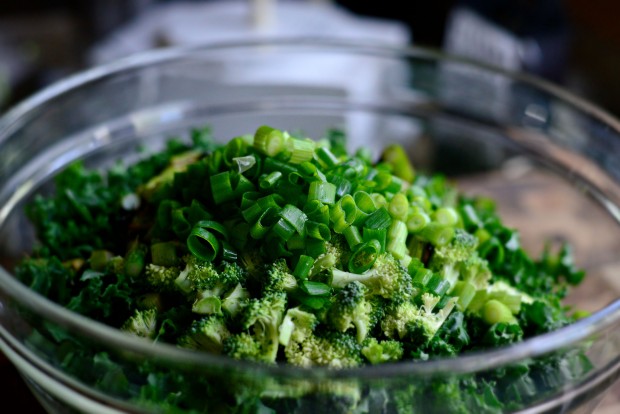 The dark and light green parts of 3 green onions (sliced)…
3/4 cup of toasted or roasted pepitas (salted or unsalted it's up to you).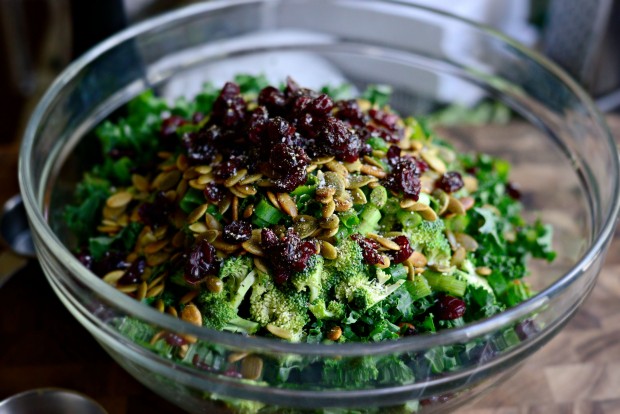 Lastly add in 1/2 cup of craisins and season with fresh ground black pepper and a pinch of kosher salt.
Squeeze in the juice of 1 small (or 1/2 of a large) lemon.
Give the kale brussels sprout chopped salad a little toss…
And serve!
You could most definitely serve this crunchy green monster of a salad with a drizzle of olive oil and along with that lemon juice and call it good. However my aunt had poppyseed dressing which means I made a batch of my honey poppy seed dressing that I shared early this year and friends, it's killerrrrr.
Green. Crunchy. Healthy. Delicious. Nutritious.
That's all you really need to know.
Enjoy! And if you give this Kale Brussels Sprout Chopped Salad recipe a try, let me know! Snap a photo and tag me on twitter or instagram!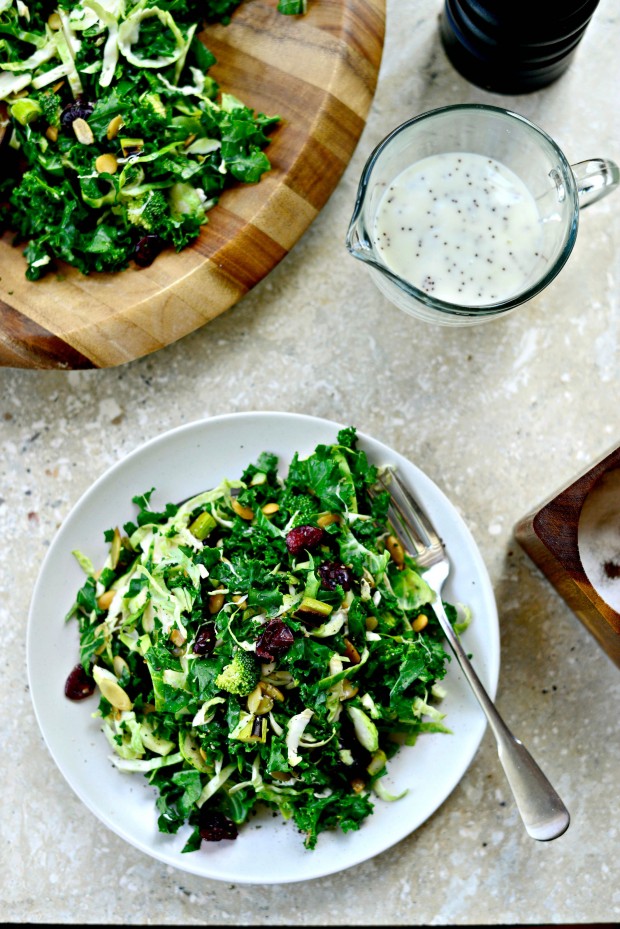 My cookbook Simply Scratch : 120 Wholesome Homemade Recipes Made Easy is now available! CLICK HERE for details and THANK YOU in advance!
[this post contains affiliate links.]
This post may contain affiliate links.
Buy the Cookbook: Simply Scratch : 120 Wholesome Homemade Recipes Made Easy Now available on Amazon »
THANK YOU in advance for your support!