Italian Meatball Sandwiches; delicious meatballs nestled in Italian bread, draped with fresh mozzarella and toasted to perfection.
I told you I was on a sandwich kick.
And this one is an oldie-but-goodie. A classic if you will. I first posted this sandwich over two years ago and decided to "re-blog" this when my youngest was endlessly begging me to make it for dinner. As you know, I love a great sandwich… and this might be my favorite but then again don't I always say that?!
To Make These Italian Meatball Sandwiches You Will Need:
beef chuck
ground turkey
egg
shallot
garlic
fresh parsley
Italian breadcrumbs
freshly grated parmesan
olive oil
tomato sauce
dried basil
garlic powder
red pepper flakes
sugar (optional)
slices of mozzarella cheese
Italian baguettes (depending on size)
I try never to claim that a recipe is "the best", but these meatballs are definitely tops! You don't even have to put them on a sandwich. In a bowl accompanied by a fork will do perfectly fine.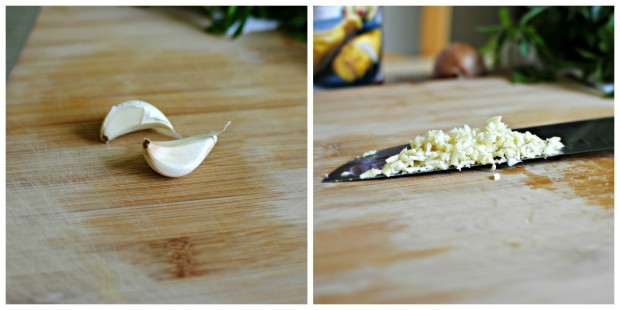 Start off by smashing, peeling and mincing up two gloves of garlic.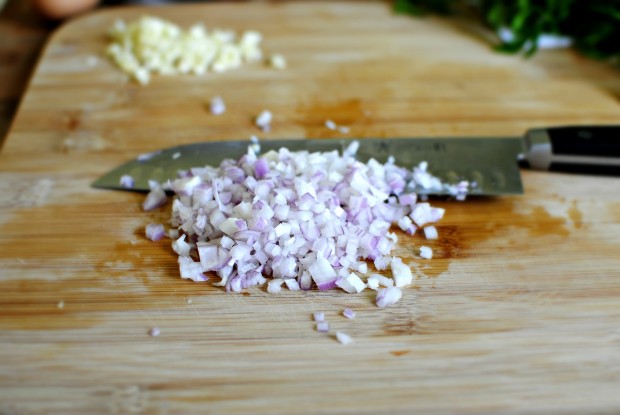 Grab a good sized shallot and dice it up into small pieces.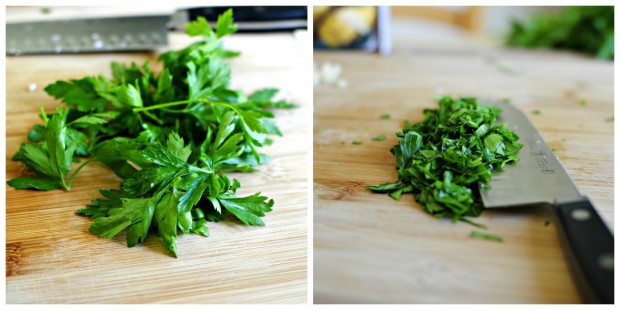 Take a handful of fresh parsley and give that a rough chop as well. Anyone else love the smell of parsley? Its freshness smells like summer to me.
Lastly grate the fresh parmesan and scoot it off to the side.
I think the mixture of lean ground turkey and ground chuck is stellar for meatballs. The fat from the ground chuck is just enough to make these moist (ugh. I hate that word) and the texture perfect!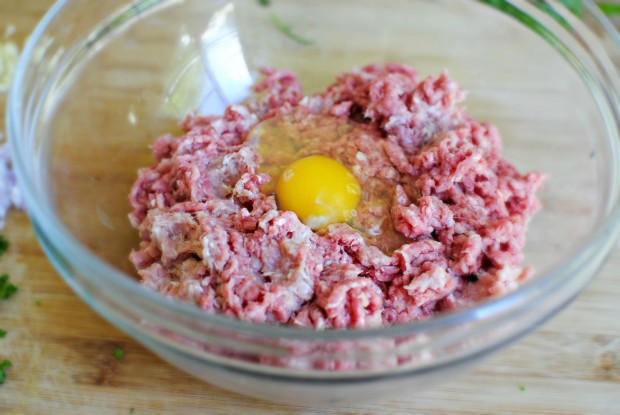 Lightly mix up the ground meat in a large bowl and add an egg.
Then add in the ground Parmesan and the Italian bread crumbs.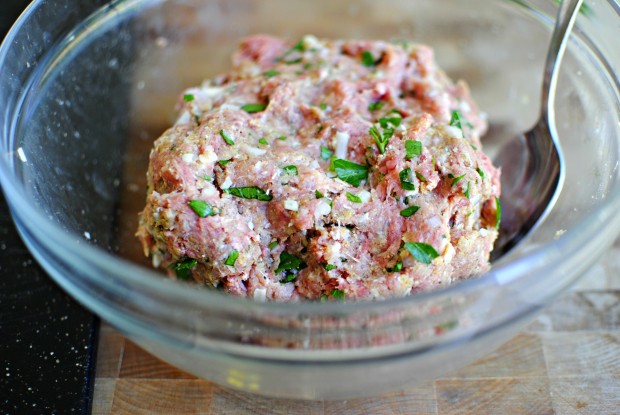 With your perfectly clean hands, lightly mix the ingredients until everything has come together.
Try your best not to over mix.
I use a heaping tablespoon to measure out each ball.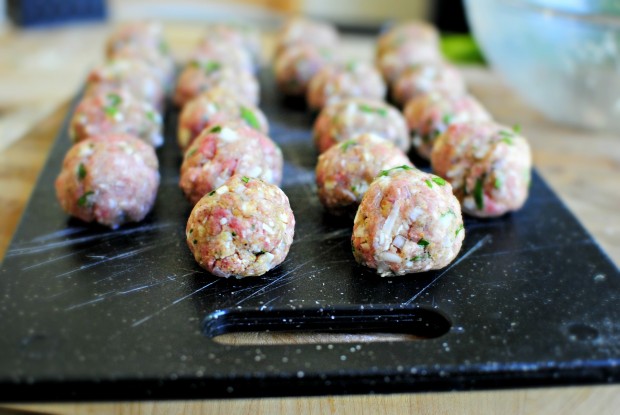 Heat a tablespoon of olive oil in a large non-stick pan over medium heat and continue to roll out the meatballs. You should have about 18-20 meatballs.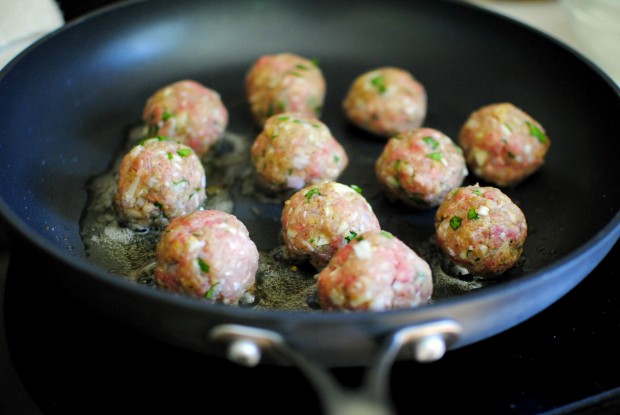 Then add about half a batch of meatballs to the hot pan (adjust the heat if you need to) but you should hear a beautiful sizzle sound when you add them in the pan.
When that side forms a brown crust, turn and repeat, until the sides are a deep brown.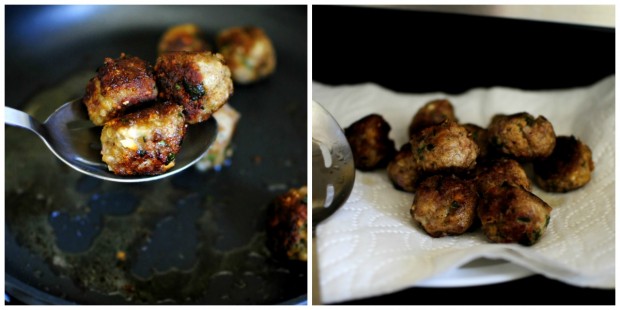 When the meatballs are finished and cooked through, remove them to a paper towel lined plate and repeat with the remaining meatballs.
While those are browning… start the meatball sauce!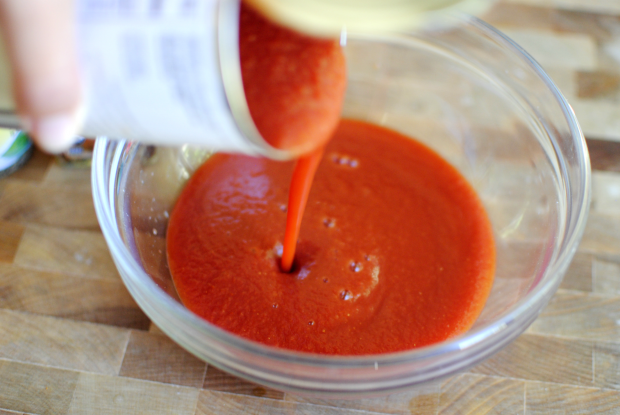 Four ingredients. super simple. and super delicious!
Remember the meatballs have so much going on you don't need an overwhelming sauce! Start this off by adding a 15 ounce can of tomato sauce in a bowl.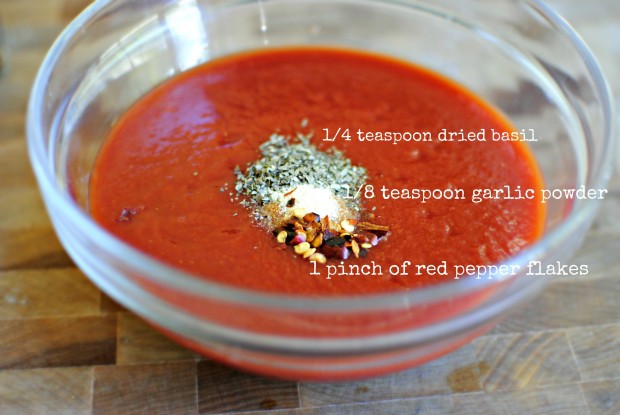 Add in the basil, garlic powder and red pepper flakes (you can add a small pinch of sugar if you'd like too!).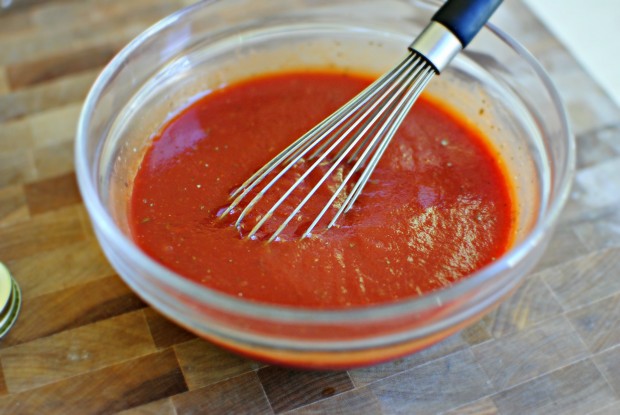 Give it a good stir!
When all of the meatballs have had their time in the pan, reduce the heat to low. Give the pan a few minutes to cool down and slowly add in the tomato sauce. It will probably start bubbling and spitting at you but that's okay just start stirring and scrape the bottom of the pan and get all the brown bits!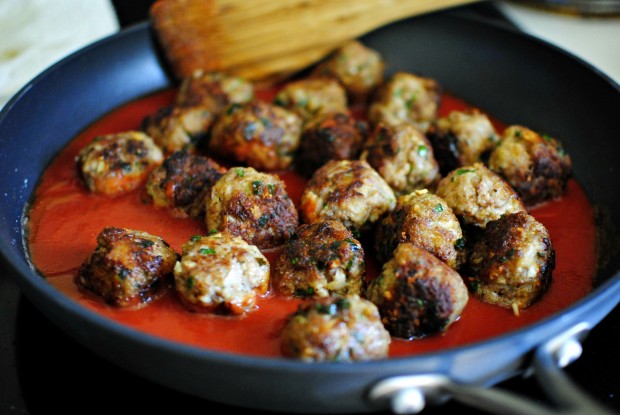 Add the meatballs and let it all simmer for about 10 minutes over low.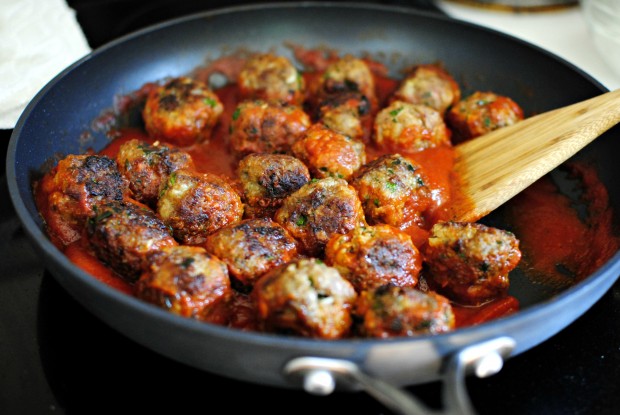 Give it a little toss and simmer for 5 more minutes or until the sauce has reduced a tad and is thick.
Pre-heat your oven to 450° and get your baguette ready. Cut in half and dig out a trench on both halves. It gives a nice place for the meatballs to rest.
Layer with the meatballs on the bottom half of the loaves.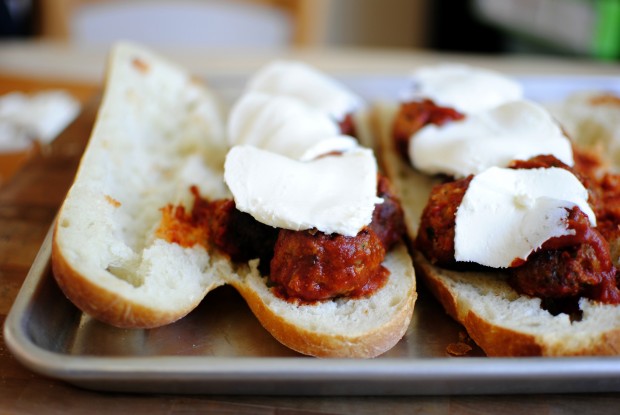 Then top with slices of fresh mozzarella. When the oven is pre-heated, slide the pan-0-sandwiches onto the middle rack and watch carefully, they only need 8-10 minutes to toast up!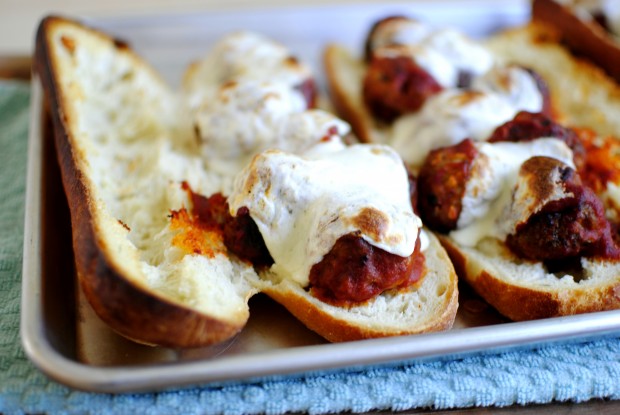 Remove the Italian Meatball Sandwiches from the oven when the cheese melts and is all bubbly and golden brown.
And smells heavenly.
AHHH… looks so good doesn't it!!! I had a large baguette and a smaller one which made about 4-6 servings out of this entire recipe, but that depends on the size of the loaf of bread and how hungry you are!
Now I urge you to make these Italian Meatball Sandwiches for your man, your bestie or yourself… either way I promise you'll definitely love these!!
Enjoy! And if you give this Italian Meatball Sandwiches recipe a try, let me know! Snap a photo and tag me on twitter or instagram!
Yield: 4 servings
Italian Meatball Sandwiches
Delicious meatballs nestled in Italian bread, draped with fresh mozzarella and toasted to perfection. This recipe is a family favorite!
Ingredients
FOR THE MEATBALLS:
3/4 pound ground beef chuck
3/4 pound ground turkey
1 large egg
1 shallot, finely diced
2 clove garlic, finely minced
1 handful parsley, chopped
3/4 cup Italian breadcrumbs
1/4 cup freshly grated parmesan
olive oil
FOR THE SAUCE:
1 (15 ounce) can tomato sauce
1/4 teaspoon dried basil
1/8 teaspoon garlic powder
1 pinch red pepper flakes
1 pinch sugar, optional
TO MAKE THE SANDWICHES:
slices mozzarella cheese
2 Italian baguettes, depending on size
Instructions
Combine all of the meatball ingredients, and mix until just combined.

Use a heaping tablespoon of the meatball mixture to form about 18-20 meatballs.

Pre-heat some olive oil in a large pan over medium to medium-high heat.

Working in batches, cook the meatballs on all sides until deep brown in color. Remove the cooked meatballs to a paper towel lined plate and repeat with the remaining meatballs.

Reduce the heat to low and make the sauce.

In a small bowl combine tomato sauce, basil, garlic, red chili pepper flakes and sugar. Pour it into the meatball pan.

Add the meatballs back in and simmer for 10 minutes, cook for 5 more minutes or until the sauce has reduced and is thick.

Meanwhile pre-heat your oven to 450° and prepare the sandwich bread, cutting the bottom half a little thicker than the top half and dig out some of the bread in the center to create trenches for the meatballs to rest in.

Arrange the bread on a large sheet pan and on the bottom half of the bread top with a few meatballs, a little of the sauce, then slices of fresh mozzarella.Place the sheet pan it in the oven and watch carefully for about 8-10 minutes.

Remove when cheese is melted and bubbly, place the top half of the bread onto the sandwich and with a sharp knife cut in to half.
Serving: 1g, Calories: 451kcal, Carbohydrates: 18g, Protein: 42g, Fat: 23g, Saturated Fat: 9g, Polyunsaturated Fat: 2g, Monounsaturated Fat: 9g, Trans Fat: 1g, Cholesterol: 159mg, Sodium: 518mg, Potassium: 594mg, Fiber: 1g, Sugar: 2g, Vitamin A: 280IU, Vitamin C: 3mg, Calcium: 143mg, Iron: 4mg
This post may contain affiliate links.
Buy the Cookbook: Simply Scratch : 120 Wholesome Homemade Recipes Made Easy Now available on Amazon »
THANK YOU in advance for your support!