Wow your guests and serve this boozy Irish Whiskey Cake on St. Patrick's Day. A simple, vanilla and sour cream bundt cake brushed with an Irish whiskey glaze. Slice, drizzle with extra glaze and top with whipped cream or a scoop of vanilla ice cream on the side. Will serve 12 to 16.
I was on a hunt for an Irish whiskey Cake Recipe.
Something different to make for St. Patrick's Day that wasn't the typical Guinness and chocolate combo. Every recipe I found seemed to be the same and calling for instant vanilla jello pudding mix. Obviously I was looking for something more from scratch. Luckily, I stumbled upon this recipe online written in the Denver Post. A whiskey cake recipe that did not call for instant pudding!
Essentially Irish Whiskey Cake is a tangy vanilla bundt cake that's brushed with a vanilla-orange Irish whiskey glaze. I only modified this it slightly, like swapping in Irish whiskey and using vanilla extract instead of scraping a vanilla bean for the glaze instead. But oh many, if you're a boozy dessert person, then this is for you!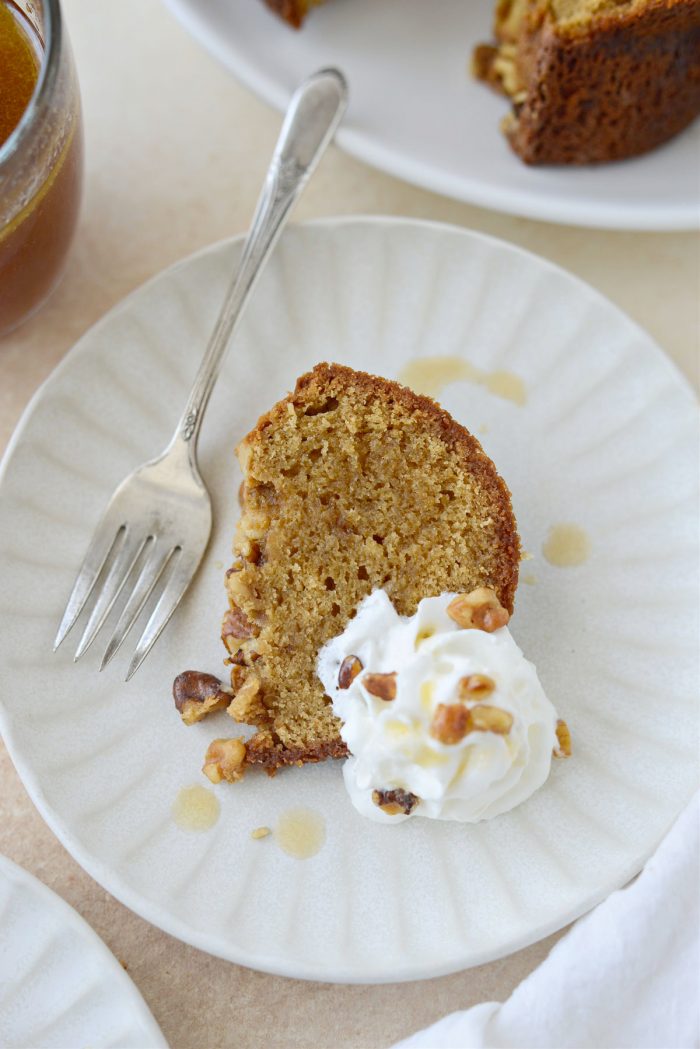 Slice and serve with whipped cream and a few extra spoonfuls of the Irish whiskey glaze.
To Make This Irish Whiskey Cake You Will Need:
melted butter
unbleached all-purpose flour
baking soda
kosher salt
unsalted butter (softened)
dark brown sugar
granulated sugar
sour cream
eggs
vanilla extract
chopped walnuts or pecans (or both)
light brown sugar
orange juice (fresh squeezed)
Irish whiskey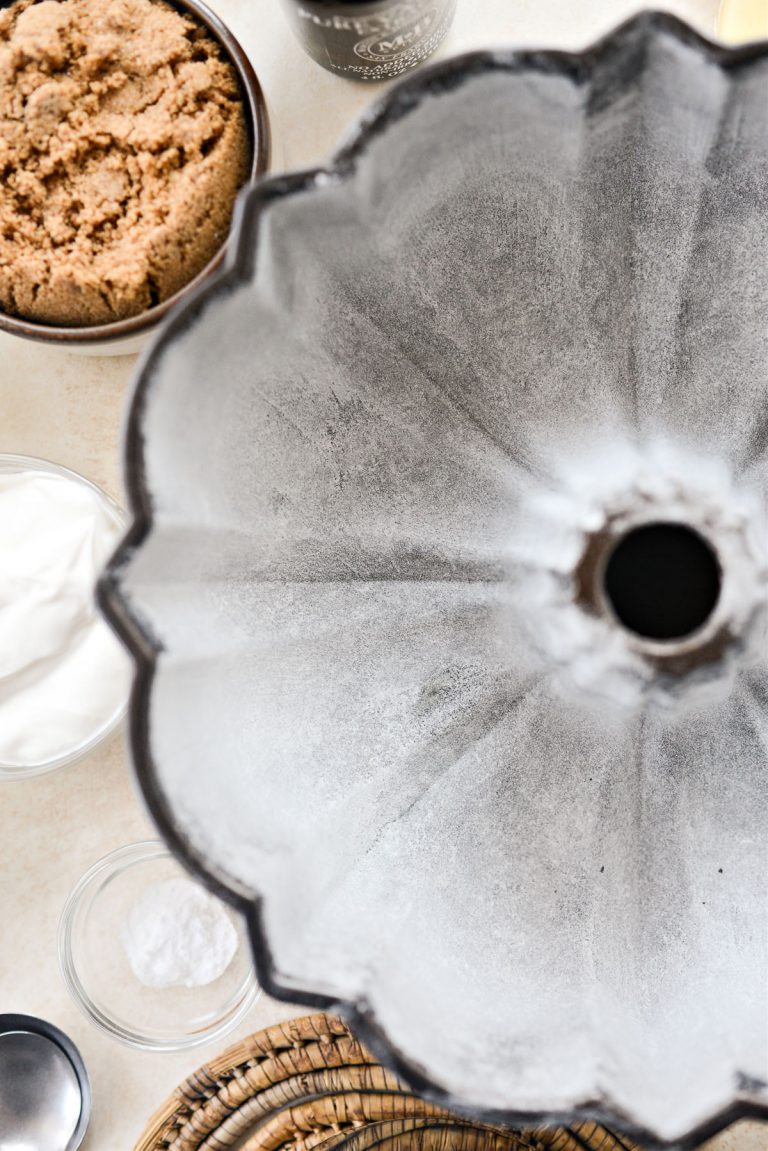 Preheat your oven to 325° and brush the inside of the bundt pan with some of the melted butter (leaving the remaining in the pan for the glaze). Lightly add a little flour ot the bundt pan, tapping out the excess flour. Set aside.
In a mixing bowl, measure and add 2 cups unbleached all-purpose flour, 1/2 teaspoon both baking soda and kosher salt. Whisk to combine and set this off to the side as well.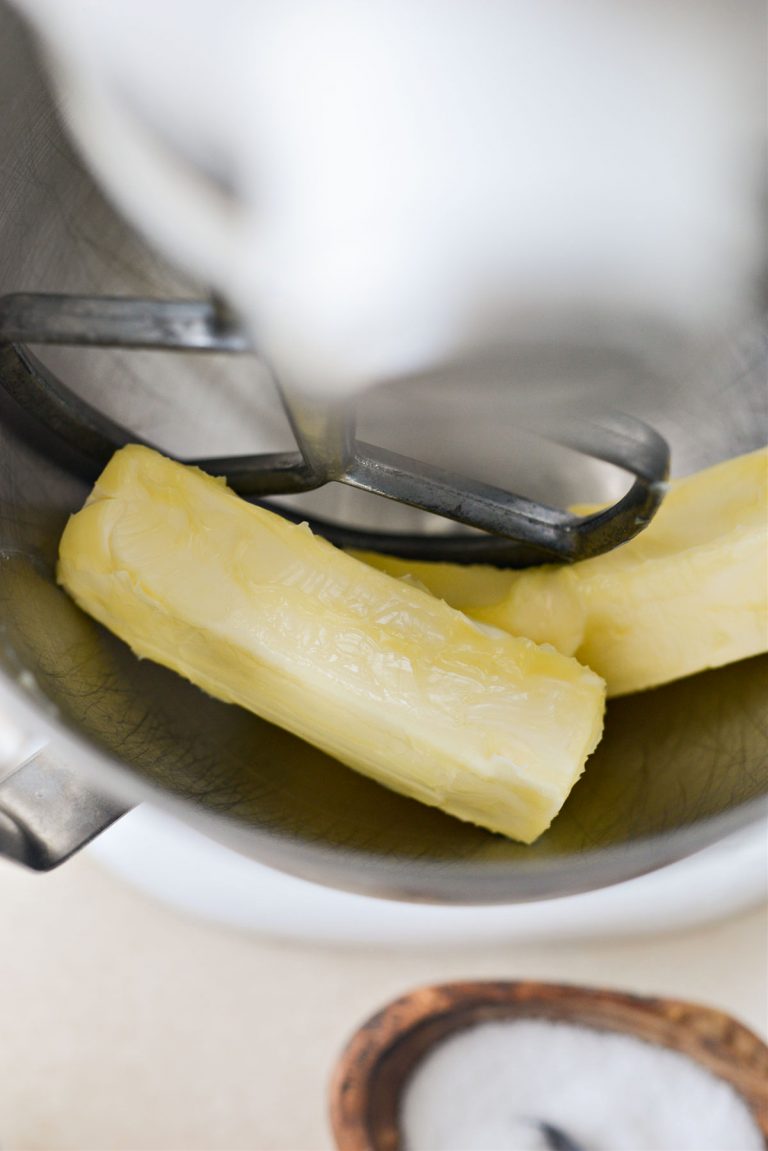 In the bowl of your stand mixer, fitted with the paddle attachment, add 1 cup (2 sticks) softened unsalted butter.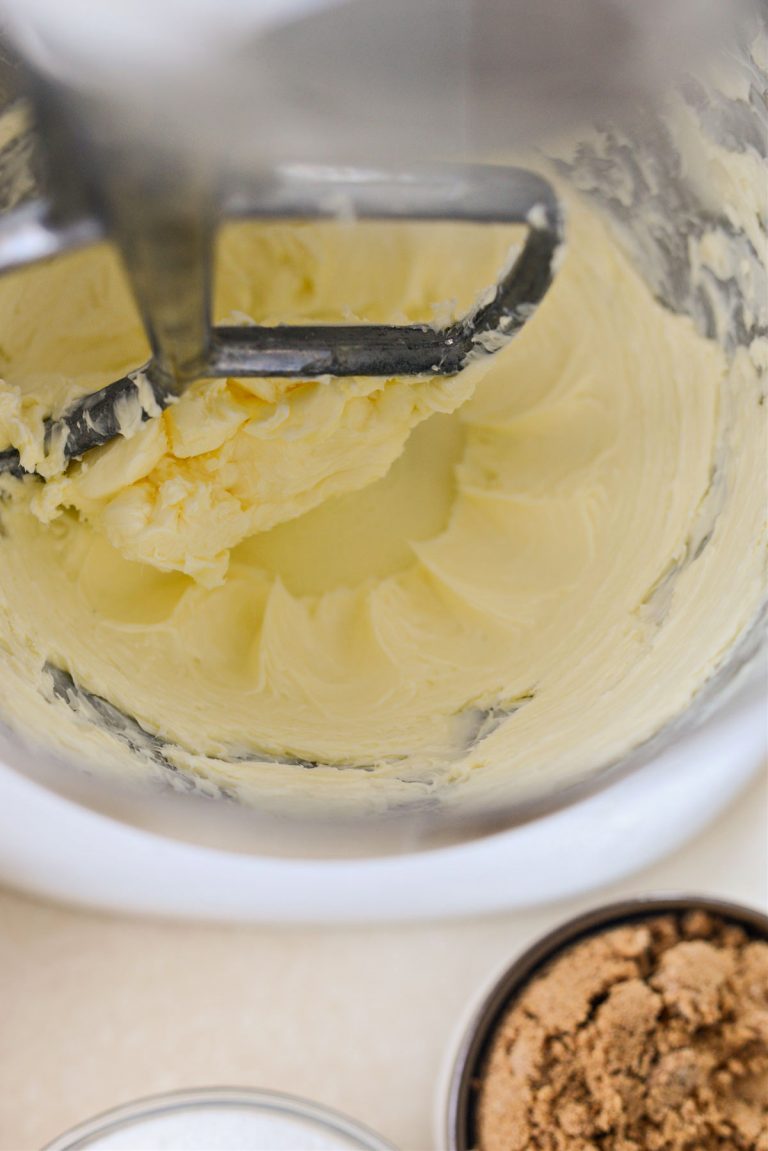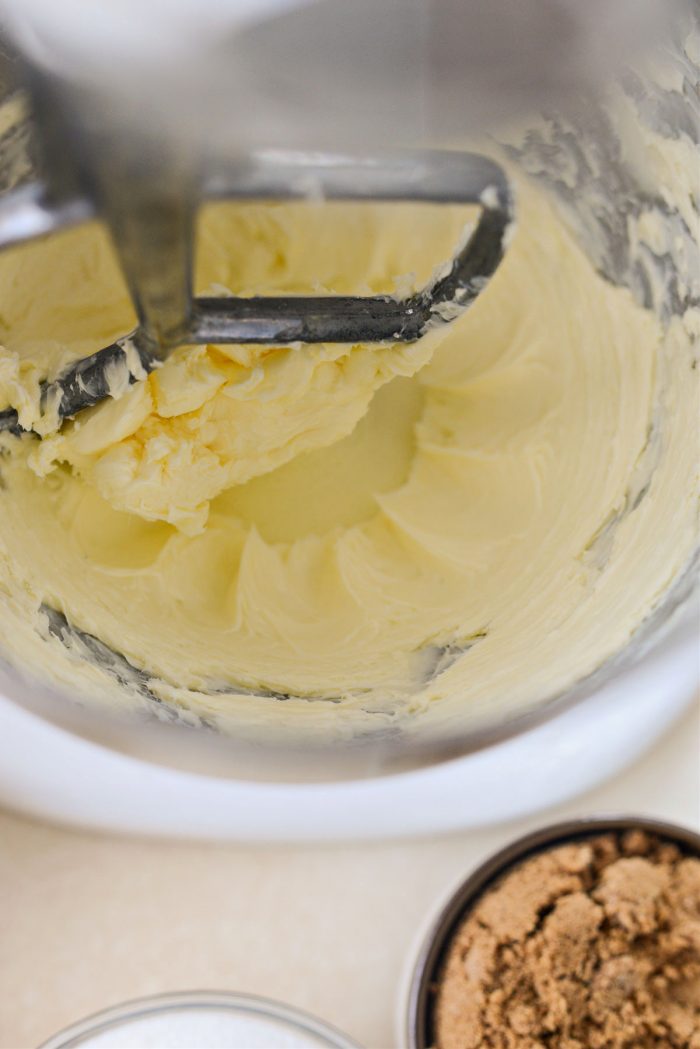 Mix for 4 minutes on medium to medium-low speed until creamy and pale yellow in color.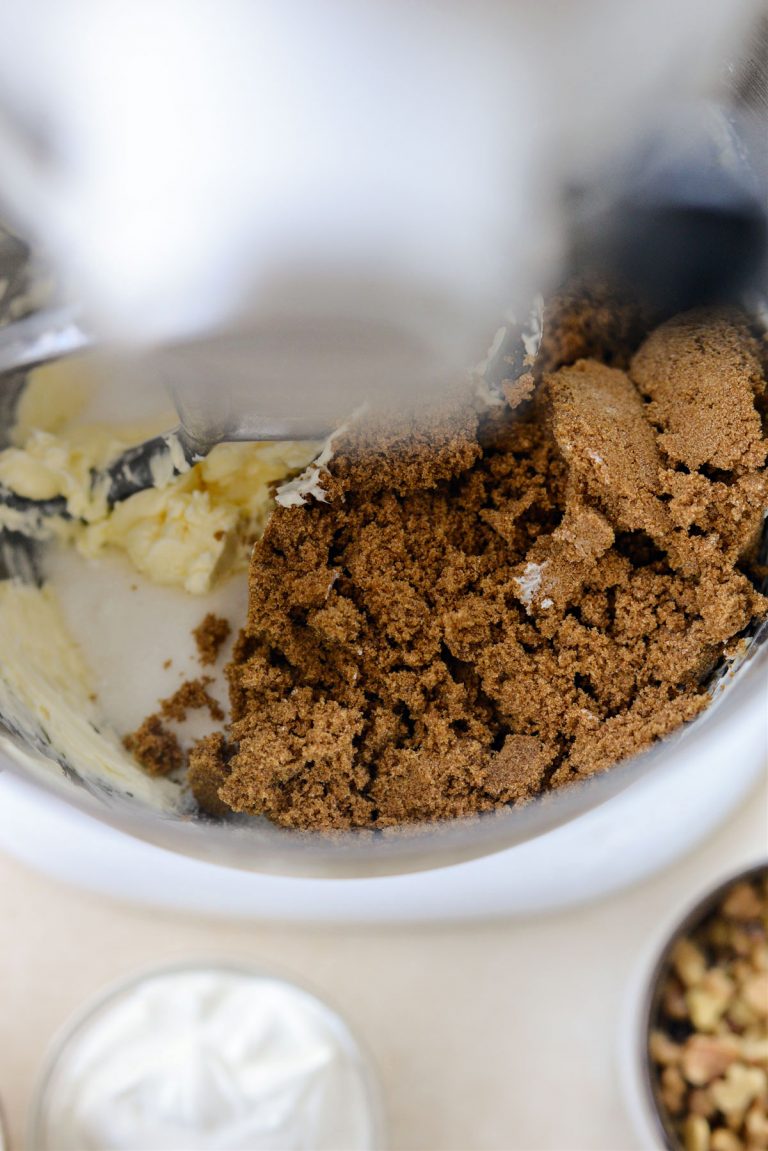 To the creamed butter, add 1 cup each granulated sugar and dark brown sugar.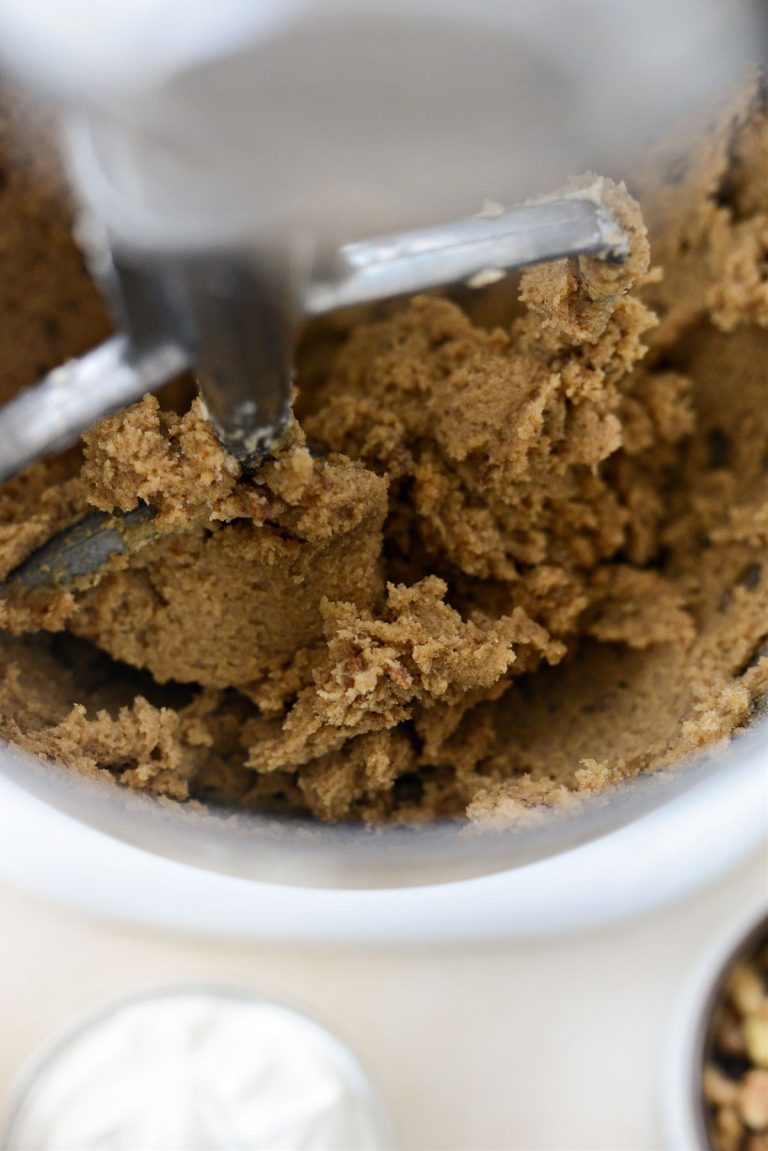 Continue mixing for 2 more minutes. This should be fluffy like.
Next add in the 1/2 cup sour cream.
Mix until combined.
Crack in each egg, mixing well after each one.
With the last egg, add 2 teaspoons vanilla extract.
Lastly, gradually add in the dry ingredients.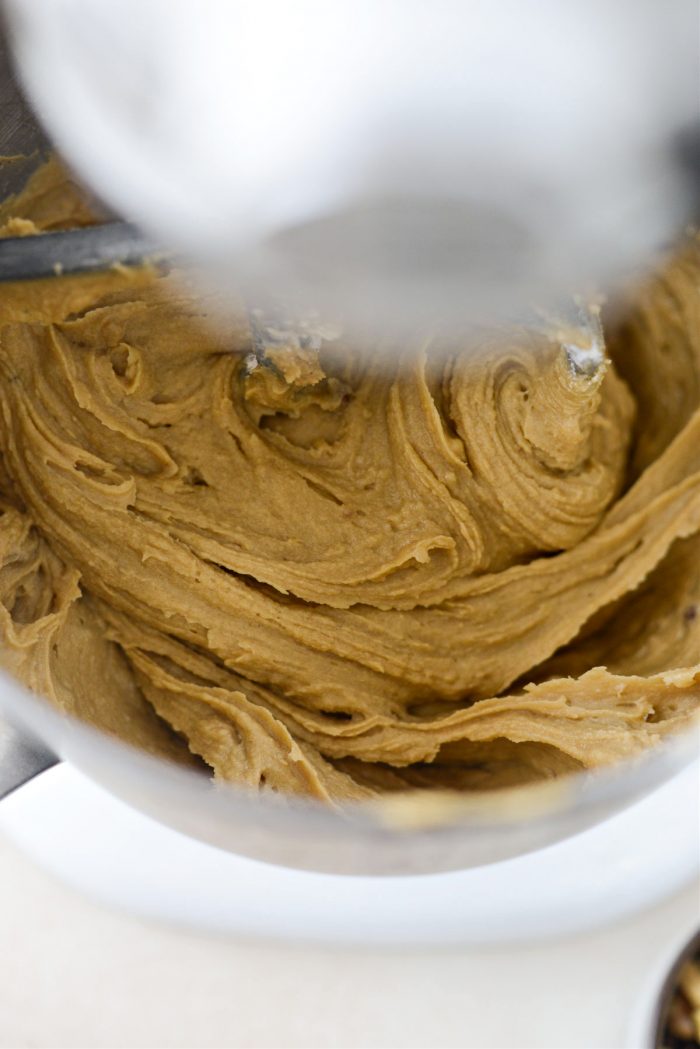 Stop mixing once incorporated.
Spoon the batter into the prepared bundt pan.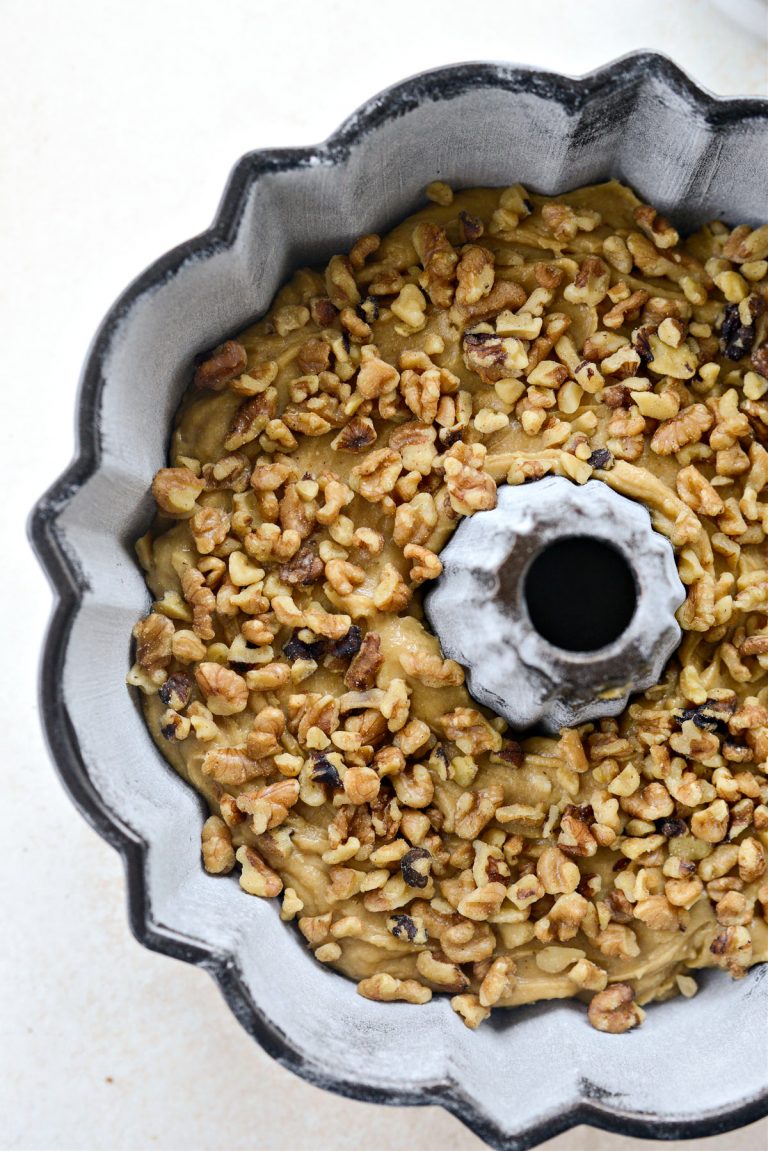 With the back of the spatula, spread the cake evenly and top with 1 cup chopped nuts. I really liked walnuts in this recipe, but pecans would work well too.
Bake on the middle rack in your preheated 325° oven for 45 to 50 minutes or until a tester comes out with only a few crumbs attached.
Once baked, invert the cake onto a wire cooling rack (I set it into a rimmed pan) and allow to cool 1 hour.
Once the cake has cooled, make the glaze by combining 1/2 cup light brown sugar, 1/2 cup Irish whiskey, 3 tablespoons freshly squeezed orange juice, 1 teaspoon vanilla in with the saucepan with the remaining butter from earlier. Heat over medium-low, stirring until the sugar has completely dissolved.
Brush generously all over the cake.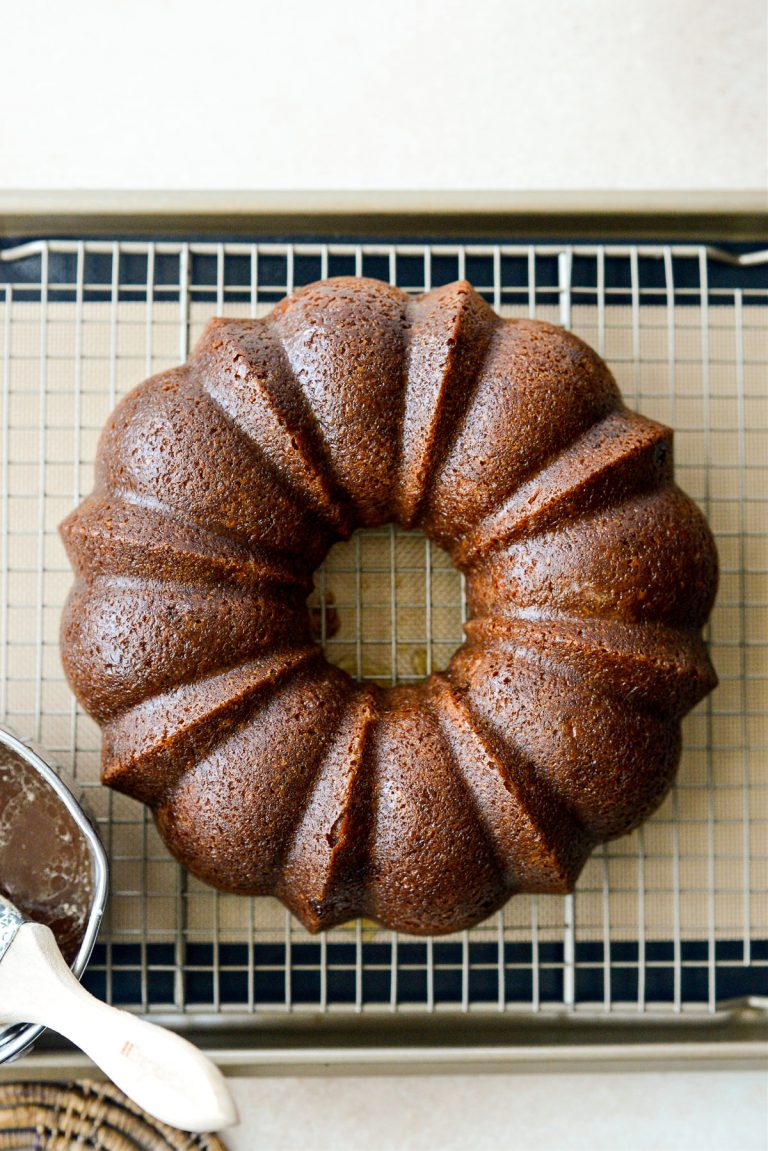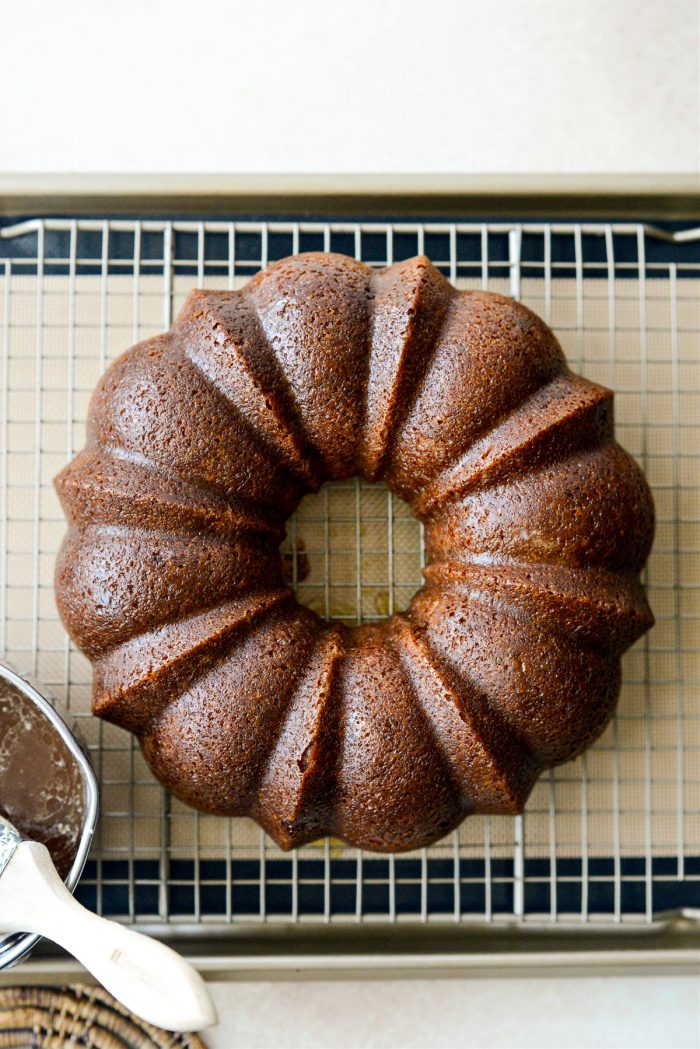 That shine tho.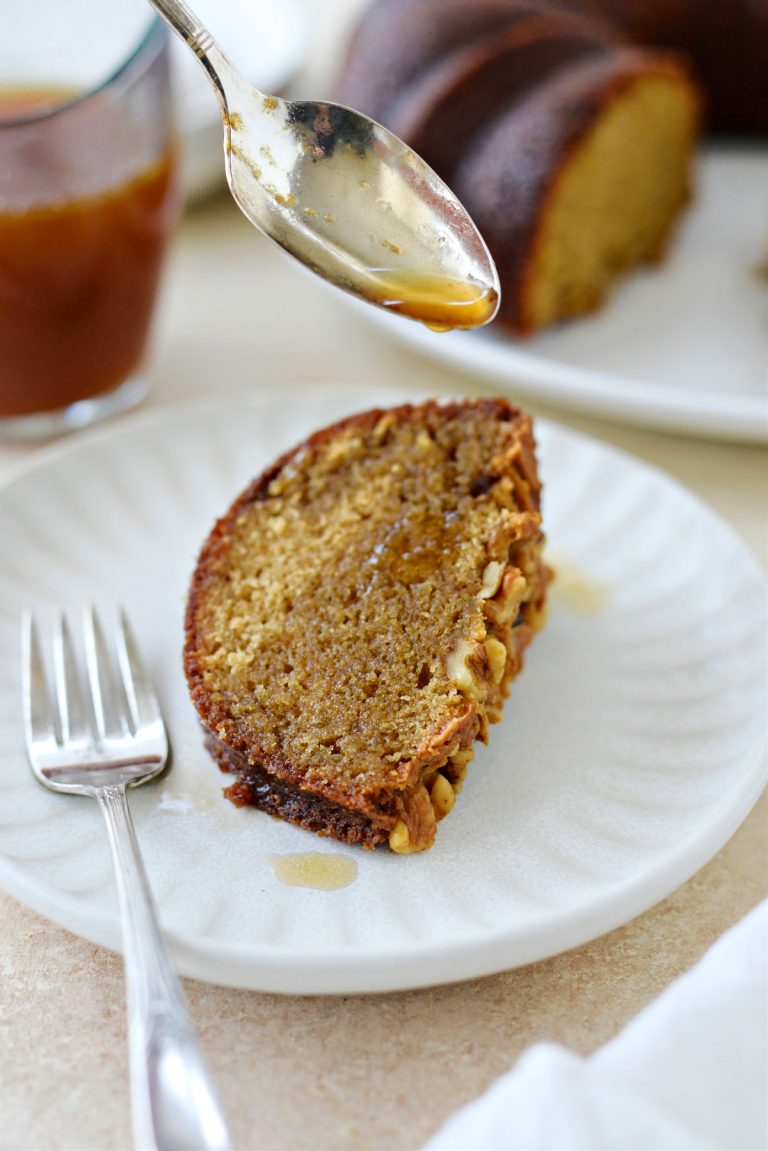 Slice and serve with an extra drizzle of the whisky syrup.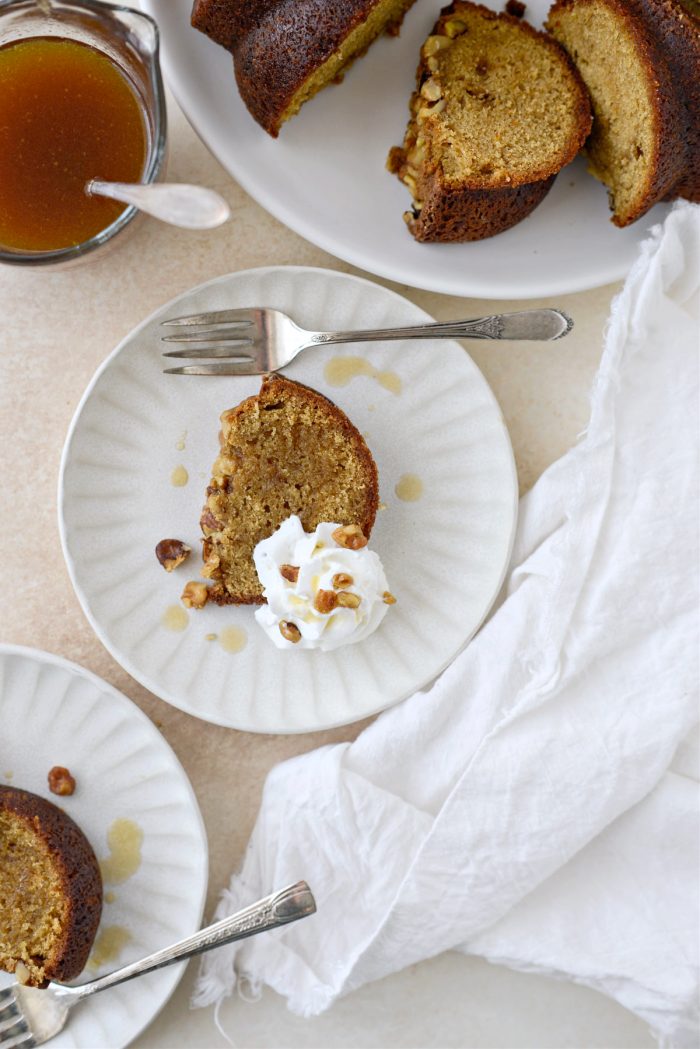 Top with a little whipped cream! Prepare your tastebuds for this incredible boozy cake.
Click Here For More St. Patrick's Day recipes!
Enjoy! And if you give this Irish Whiskey Cake recipe a try, let me know! Snap a photo and tag me on twitter or instagram!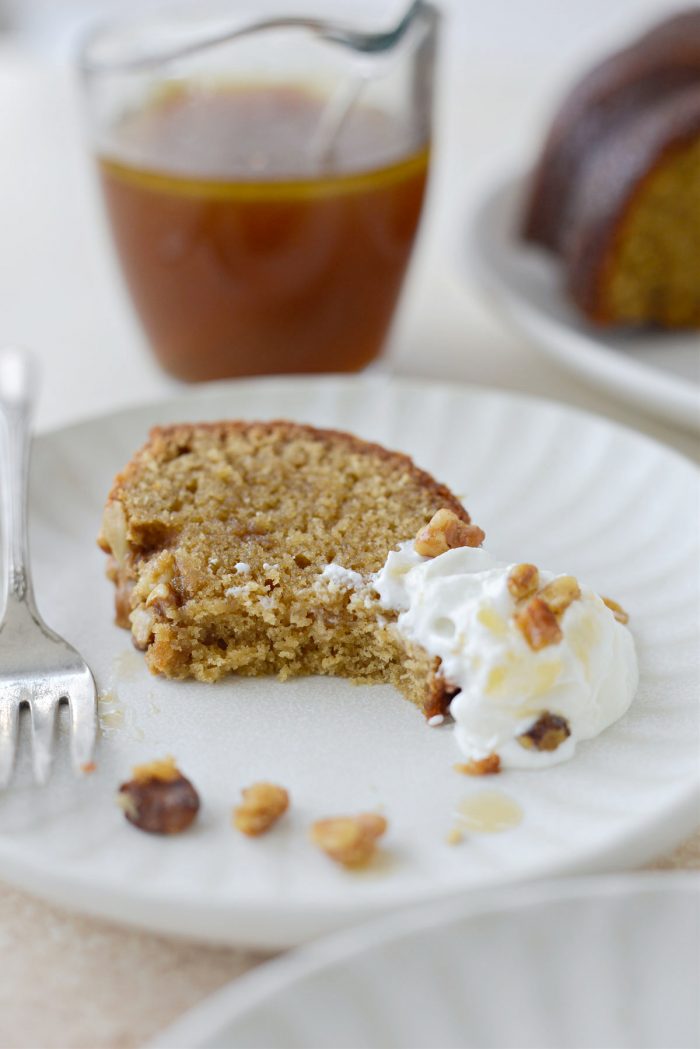 This post may contain affiliate links.
Buy the Cookbook: Simply Scratch : 120 Wholesome Homemade Recipes Made Easy Now available on Amazon »
THANK YOU in advance for your support!